Food scene / Tokyo
Getting a taste for it
Dining out in Japan's capital never ceases to raise the culinary bar. We've picked out three venues that serve to highlight the city's eclectic mix.
Tokyo's food scene continues to evolve, diversify and mop up influences while managing to remain ever so Japanese. This restaurant remix – led by chefs with experience abroad – could only work here. Young Japanese chefs used to have to spend years chopping giant radishes before being allowed near anything complicated. And yes, such apprenticeships still keep the industry ticking, but there's a lively new set of smarter restaurants too.
1.
Breaking the mould
Kabi, Meguro
It takes a healthy dose of self-confidence – and a middle finger raised to convention – to choose a name like "Mould" for your restaurant. The Japanese equivalent sounds no more appetising than it does in English – but that hasn't hurt the popularity of restaurant Kabi.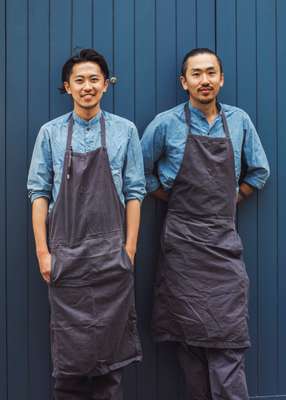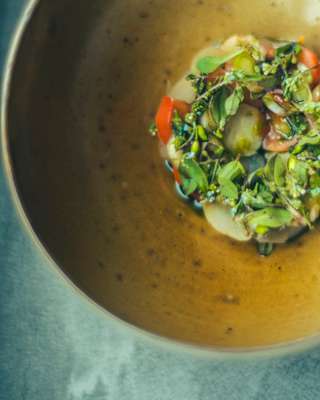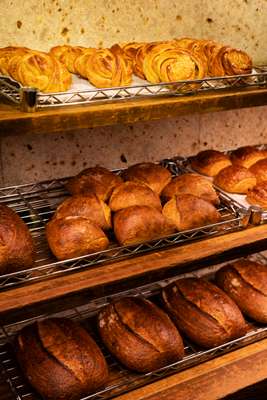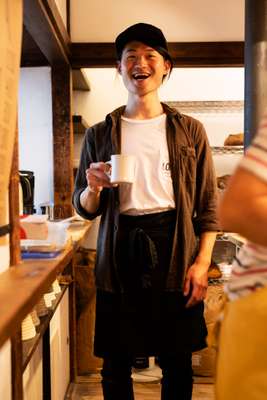 In the two years since owner-chef Shohei Yasuda and his sommelier partner Kentaro Emoto threw open their doors, Kabi has become one of the busiest dining spots in Tokyo. They took over a rundown merchant's shop that was built half a century ago, stripped it back to its timber frame and refurbished it with a look that owes as much to Scandinavian as to Japanese tradition. Chefs and waiters here wear indigo-dyed uniforms and work to a soundtrack of funk, soul and hip-hop that wafts its way through the exposed rafters and spills out onto the pavement.
There are tables but most people like to sit at the spacious counter to watch Yasuda work. His background lies in fine dining: La Cime in Osaka and Kadeau in Denmark (both with two Michelin stars) and, in between, a spell in Tokyo at Tirpse. The training is evident in the finesse he brings to his tasting menu. The Nordic influences are strong too: think cured fish, foraged greens and fermented foods. In his backrooms he stacks up jars upon jars of pickles; miso and soy sauce play no part. However, he does make good use of koji: the rice-based mould that underpins the fermentation of saké.
This embrace of fermented food, incorporating both homegrown and overseas traditions, reflects a growing interest among chefs in Japan. And it is, of course, the underlying message in the place's name.
"We may use Japanese ingredients but Kabi is not a Japanese restaurant," says Yasuda. It's true of both his cooking and his outward-looking attitude. No surprise that Kabi has become a favourite for pop-ups and collaborations with visiting chefs. Oh, and don't forget the second-floor bar – it hosts the best parties.
2.
Slice of the action
Vaner, Yanaka
A generation ago, Tokyo was not the place to look for good bread. If you weren't interested in pulpy white, light-as-air cuboids of Igirisu-pan ("British bread") – these days the term shoku-pan ("bread for eating") is more widely used – your options were limited. Sure, there were a couple of French-run boulangeries turning out baguettes of reasonable quality. The international supermarkets usually had some mass-produced San Francisco "sourdough" and you might even find some German pumpernickel. But the only way to get hold of wholesome fresh-baked rye or wholewheat was to bake it yourself.
However, small-scale independent bakeries have popped up in the past decade. Most are in residential districts, where overheads are lower and they can build up a following. Few places feel more removed from the centre than Yanaka. The neighbourhood, one of the last in the city to keep a low-rise traditional character, is best known for its Buddhist temples. But for the past year and a half it's had a new object of pilgrimage: Tokyo's first (and only) Nordic-style bakery, Vaner.
It's a 15-minute uphill hike from the nearest station to Yanaka. Vaner occupies an 80-year-old timber minka (traditional house), one of a cluster of handsome old buildings that have been saved from redevelopment and converted into a community space.
Tsukasa Miyawaki is Vaner's energetic young baker and he learnt his trade in Scandinavia, primarily at Ille Brød in Oslo. His signature, a handsome sourdough made with Japanese wheat, into which he blends imported heirloom emmer and spelt, stands up against the output of his mentors. Yet he is still working out how to adjust his production cycle to allow for Japan's dry cold in winter and intensely humid heat in summer. You can't help but think that he'll rise to the challenge.
3.
Restricted access
Pellicule, Kamiyamacho
When you're dining out in Tokyo, exclusivity is less a matter of money, more a question of access: introductions may be required and often reservations can only be booked by existing customers. There's also another level: many restaurants are hidden away.Because they have regular customers and recommendations spread by word of mouth, they have little need to advertise their presence.
Pellicule is a classic example. Specialising in superior French bistro cuisine with an emphasis on steak, it has built up a strong following in the two years since it opened. It lies at the top of a flight of shabby stairs behind an unmarked door in an anonymous building that had already seen better days a decade ago. And it runs at maximum capacity every evening – which is hardly surprising, since it can only seat seven people. You sit at a simple wooden counter that runs the length of the narrow room; it is so tight that you have to squeeze into your seat sideways and once you're in, there's little to look at apart from the cramped, cluttered kitchen.
Pellicule's clientele gather for the food but settle in for the banter. Shoehorned in, chatting with owner-chef Nobuhiro Koga (known to one and all as Nobu-san), sharing wine and jokes, this is Japanese dining at its most intimate – and exclusive.
Tokyo dining, address book:
Kabi
Meguro 4-10-8, Meguro-ku
kabi.tokyo
Vaner
Atari 2, Ueno-Sakuragi 2-15-6, Taito-ku
+81 (0)3 5834 8137
Pellicule
2F, Kamiyama Building. Kamiyamacho 9-17, Shibuya-ku
+81 (0)80 1798 4107