My cabinet / Antarctica
Icely does it
Japan's sure-footed team of scientists and engineers head out into the cold to monitor our atmosphere.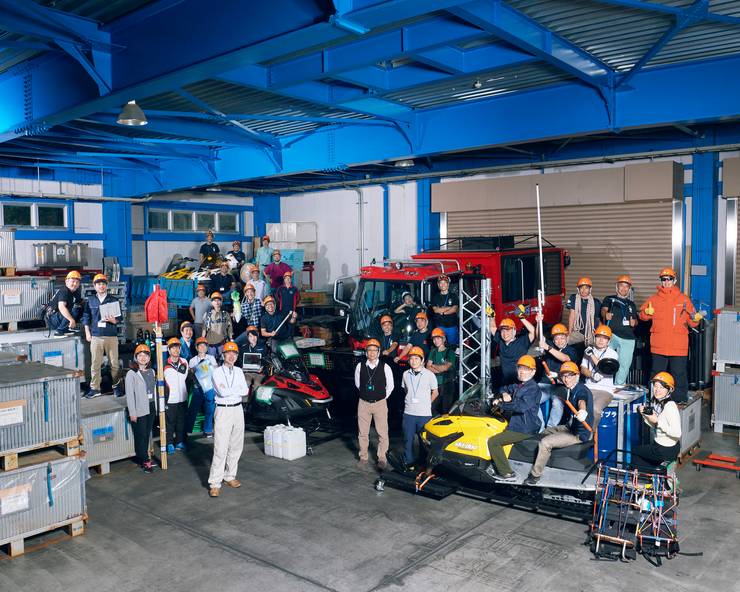 Station established: 1957
Location: East Ongul Island, Antarctica
Staff: 29 in winter, 71 in summer
There are warmer places to spend the summer than atop a glacier in Antarctica. But for Shigeru Aoki, travelling to the world's southernmost continent is always an exciting prospect. As the head of the 61st Japanese Antarctic Research Expedition, the Hokkaido University oceanography associate professor leads a team that is spending four months at the bottom of the Earth monitoring changes in the planet's atmosphere and oceans.
In late November, Aoki left Japan with a crew of geologists, meteorologists, marine biologists, civil engineers, doctors, chefs and mountaineering guides. They flew from Tokyo to Australia's west coast where they boarded the Japanese icebreaker Shirase, along with 1,000 tonnes of food, supplies, snow vehicles and diesel fuel. "I'm hoping for scientific results on a par with past epoch-making discoveries," says Aoki.
Japan established Syowa Station back in 1957 but this crew's first stop is Totten glacier, in eastern Antarctica, where they will use unmanned submersibles and other hi-tech equipment to find out whether warmer seas are thawing polar ice at a faster rate. But it's not all work and no play: Syowa Station has a gym, bathhouse and bar with a billiards table and karaoke machine. The chefs have planned lavish meals for New Year's Day and birthdays. Aoki, an amateur saxophonist, hopes that there will be time to practise. "There might even be enough musicians for a performance."
---
Shigeru Aoki
Summer expedition leader
Aoki is in charge of the Japanese Antarctic Research Expedition summer team. The 53-year-old went on his first Japanese Antarctic Research Expedition in 1997 and has travelled there every other year. He has packed his Roland Aerophone digital instrument and is keen to take to the stage with it during his stay.
---
Toshiro Umeda Construction and civil engineer.
"He looks intimidating but has an artisan's temperament."
Masato Yoshii General affairs.
Takami Sasaki IT technician.
"Comms master with a sweet voice."
Rintaro Matsushita Research technician.
"He's Japan's future."
Kazuya Suzuki Construction and civil engineer.
"A pillar of tolerance."
Akira Watanabe Research monitor.
"An expert in studying ecosystems aboard ships."
Kazuhiro Sugita Machinery and equipment.
"He pours his soul into the buildings' upkeep."
Hiroshi Tateya Chef.
"In charge of sating the team's appetite."
Takakazu Sato Environmental conservation.
Kensuke Tadome Researcher.
"He's a skilled lichen hunter."
Mitsuteru Kuno Research monitor.
Yusuke Muramoto Machinery and equipment.
"The team's oasis of calm."
Hideharu Kojima Doctor.
"The life of the party."
Tomoyuki Onomura Research technician. "
The resident sea-ice expert."
Takeshi Tamura Researcher.
"Garrulous team motivator."
Yoshiki Haishima Machinery and equipment.
"A master of snow vehicles."
Kazuya Ono Researcher.
"Core of the physical oceanography observation research group."
Kaihe Yamazaki Researcher.
"An ocean physics sleuth."
Kota Muramatsu Machinery and equipment.
"Patron saint of Syowa Station's infrastructure."
Takashi Yamamoto Researcher.
Hiroyuki Ujiie Telecommunications.
"Artisan of the airwaves."
Yukihisa Akada Field assistant.
Takahiro Yoda Chef.
"Young master of Chinese cuisine."
Yosuke Kokubo Field assistant.
"He's an ice-field commandant."
Takara Teramura Public relations.
"Unflappable public-relations ace."
Tetsu Ochiai Antenna technician.
Sakae Shirayama Monitoring observation.
"A wealth of talent."
Misuzu Nakanishi Doctor.
"Someone to rush to at any time."
Mika Higuchi General affairs.
"She's a leader with an artistic streak."
Shinji Takamura Field assistant.
Hiroyasu Kumagai Deputy summer expedition leader.
"A goldmine of wisdom and a wordsmith."
Yuichi Aoyama Winter expedition leader.
"He's a polar research Hall of Famer."
Jyo Sato Research monitor.
Noriaki Obara Research monitor.
"A super-technician who can solve any problem."