Architecture / Tokyo
On its game?
As preparations for the Tokyo Olympics enter the home straight, we assess whether the city has the infrastructure in place to deliver a world-class tournament.
When the curtains are raised on the 2020 Olympics, all eyes will be on Tokyo – and not just for the sport. Design is a Japanese speciality and the capital is undergoing a significant revamp in the hope of hosting both the best-looking and most sustainably minded Olympics yet. With cranes still present on the streets of Shinjuku (the epicentre of the events), locals worry whether additions on the architecture and infrastructure front will be ready in time. And rightly so: things haven't been helped here by several false starts and dubious design decisions, including accusations of a plagiarised logo and a sudden change of stadium architect (don't mention the mascot design either).
But a good sports story is all about drama and if we're going to trust any host city in the world to pull off the equivalent of a spectacular injury-time winner on the urban front, it's Tokyo. As the city gets ready for its big moment, we've selected the architecture and infrastructure mobility additions that will entertain the world in 2020.
Sustainability goals
It's hoped that the Tokyo Olympics will be the most environmentally friendly to date thanks to initiatives such as the campaign to make 5,000 medals out of recycled mobile phones and powering venues with renewable energy. With that in mind, at least five arenas from 1964's Games will be reused – progress for the Japanese, who still favour razing and rebuilding over preservation. Other positives are the new wooden arenas and infrastructure changing Tokyo's concrete legacy – thoughtful designs that blend in with their surroundings and add some intimacy to vast stadiums.
---
URBAN DEVELOPMENT
After the event
Four city projects set to deliver that all-important post-Olympic legacy.
1.
Harumi Athletes Village
Chuo
Medal hopefuls will gather on a massive artificial island in Tokyo Bay. Once an underdeveloped waterfront area, this village will house 21 buildings for accommodation, along with gyms, parks, a shopping centre and a dining hall. After the Olympics all 15,000 air-conditioning units used in the facilities will be donated to the regions affected by the Tohoku earthquake and tsunami, and residential units will be renovated and converted into eco-friendly apartments.
Although the global spotlight is on Tokyo, the Olympics necessitate co-operation between Japan's regions. Harumi Village's Plaza is being constructed by borrowing timber from 63 local governments and the wood will be subsequently used to create a florist, a café and a media centre under one roof. Once athletes leave the premises, the wood will be returned to its origins and reused for public facilities such as benches and bus stops. 
3.
Miyashita Park redevelopment
Shibuya
Shibuya's previously run-down park is getting a much-needed makeover. The elevated space was developed into its current aerial form back in 1964. It's only fitting that the local authorities are set to revamp the area into a green oasis just in time for the 2020 tournament. Arches brimming with greenery will provide shade at facilities designed for sporting and other public events, including a terrace for those seeking refuge in the middle of a bustling metropolis.
4.
Ikebukuro redevelopment
Toshima
Ikebukuro aims to draw culture-thirsty crowds to its four parks. A large-scale redevelopment initiated for the Olympics to revitalise the area will benefit the district in the long term. Naka-Ikebukuro Park will boast a new complex with eight theatre spaces, while Global Ring amphitheatre – with a capacity of 1,500 – will become the highlight of West Exit Park. Recently inaugurated red, electric Ikebuses will ensure that guests can find their way to the parks without any hassle.
---
Olympic venues
Pride of place
Five key arenas – both new and upgraded – drawing as much on classic Japanese construction as modern innovcation.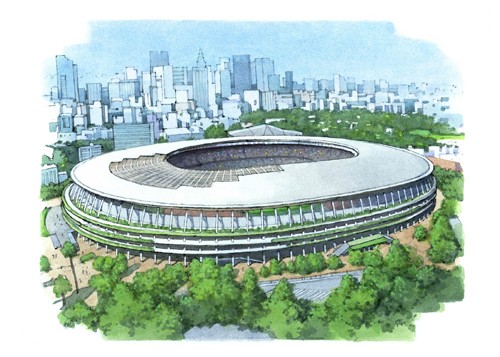 New National Stadium
Shinjuku
It's an understatement to say that Kengo Kuma's National Stadium represents Tokyo's future vision. Late London architect Zaha Hadid's spaceship-like proposal was scrapped to be replaced with a simpler 47-metre-high lattice structure with a design chiming with nearby forests and shrines. The lumber for the roof was sourced from across the nation, including disaster-hit areas, and native species of greenery will be planted on the exposed terraces, paying homage to the beauty of Japanese nature.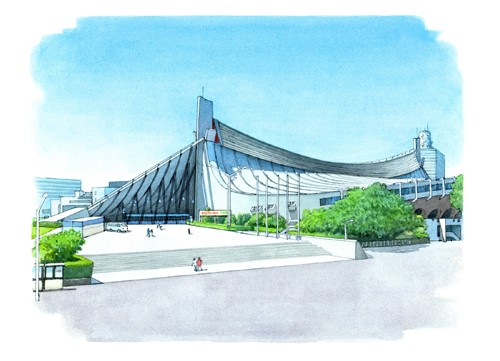 Yoyogi National Stadium
Shibuya
Pritzker prize-winning architect Kenzo Tange's arena came to be the architectural symbol of the 1964 Games. It's widely recognised as a national landmark that daringly combines western modernism with traditional Japanese architecture. In contrast to Kuma's design, Tange mainly used exposed concrete columns and steel for his sweeping suspended-roof structure. The stadium recently underwent refurbishment to improve earthquake resistance and provide more accessibility for its 10,200 spectators.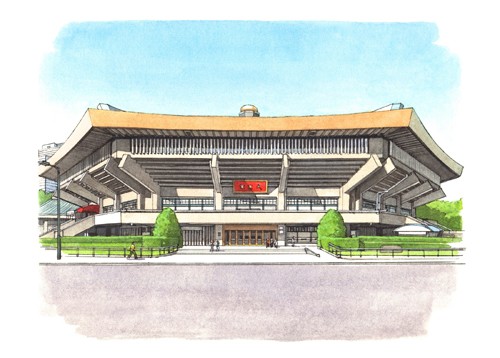 Nippon Budokan, with its octagonal roof inspired by Mount Fuji, is a sacred place for martial arts. It was here that judo first appeared in the Olympics and it will host karate's tournament debut in 2020. Pioneer of Japanese modernism Yamada Minoru modelled the arena on Horyuji Temple's Hall of Dreams in Nara. Interestingly, Kuma's National Stadium was also inspired by the same complex's pagoda building.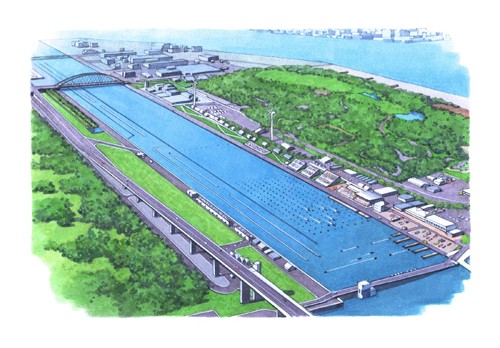 This reclaimed island is planted with pine trees and lush evergreens but that hasn't always been the case: the Olympic venue for upcoming equestrian cross-country competitions was a landfill site. Since 2008 it has been slowly transformed into Umi no Mori (Sea Forest) through numerous tree-planting events, helped by private businesses and volunteers. By 2023 it will open to Tokyoites as a recreation area.
Ariake Gymnastics Centre
Koto
We'll be seeing an abundance of wooden architecture at the Games and nowhere is this more apparent than in this venue's exterior. The arena will feature a 120-metre-long arched wooden roof – the largest of its kind in the world – and slanted walls inspired by the engawa verandas in traditional Japanese homes. Despite initial plans to use this building only for the Olympics, it will remain as an exhibition hall for a further 10 years.