From fantastical anime to upbeat electronica and art shows that interrogate the relationship between man and machine, Japan has much to offer those looking to jump-start their imaginations.
1.
ON REPEAT
'834.194'
Sakanaction
Sapporo-born band Sakanaction have been a mainstay of Japanese charts since the mid-noughties. After six years without releasing new music, the quintet is back with 834.194. A reference to the distance between the studio where they recorded their previous album in Sapporo and their current studio in central Tokyo, the record is a welcome comeback.
The tracks continue their tradition of mixing rock, pop and electronica and have a noticeable 1980s touch that's heavily influenced by the Japanese City Pop movement. "Wasurerarenaino" is a delight; make sure you also watch the song's video, a heartfelt tribute to 1980s Japan featuring both pastel-hued palm trees and shoulder pads. Our personal favourite is "Kikitakatta Dance Music Liquidroom Ni": infectious and very dancefloor-friendly.
'834.194' is available now
---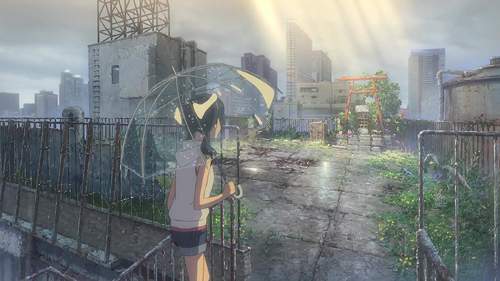 2.
BIG SCREEN
'Weathering With You'
Makoto Shinkai
When 2016's Your Name broke global box-office records, writer-director Makoto Shinkai was quickly pegged as the "next Miyazaki". No pressure for this follow-up then. Despite their different visual sensibilities, Shinkai matches Miyazaki's affectionate nods to Japanese culture and tradition, along with his fantastical backdrops and heartfelt emotion. Weathering With You features a teen runaway who falls for a girl who possesses the power to make rain stop falling on Tokyo. Expect another masterful blend of drama and stunning visuals scored by soaring pop-rock ballads.
'Weathering With You' is released in the UK on 17 January
3.
SMALL SCREEN
'Idaten'
NHK
In 1912, marathon runner Shiso Kanakuri made history by being the first Japanese athlete to compete in the Olympics in Stockholm. Almost half a century later Masaji Tabata, a Japanese swimming coach, rose to national attention by securing Tokyo the right to host the 1964 games.
These two figures are the focus of national broadcaster NHK's popular drama series Idaten. The programme, which started broadcasting in 2019 in the lead-up to the 2020 games, is the latest of NHK's Taiga dramas. Featuring a different figure from Japanese history for each series, the dramas are 45-minute-long episodes that air on the station every Sunday night. Japan takes this TV tradition very seriously: it's been running since 1963 and budgets are said to be similar to a theatrical film release. 'Idaten' is on air now
4.
ON STAGE
Kabuki
National Theatre, Tokyo
With its traditional costumes, elaborate colour-blocked make-up, emotive music and over-the-top acting, seeing a kabuki performance is a full sensory assault (that doesn't require a crash course in Japanese to be understood and enjoyed). The ancient art form is still going strong across the country and the National Theatre in Tokyo's Hanzomon is at the heart of the scene.
The complex, built in 1966, houses two spaces: a main 1,610-seat theatre and a more intimate one that can host 590. Shows run throughout the year and tickets can be bought for single acts if you'd rather not commit to an entire show. The National Theatre also regularly hosts Japan's two other major historical theatre forms: noh and bunraku.
Performances are on year-round
Who you'll see on TV
Travelling to Japan for the Games? Here's a few faces you'll probably spot on telly during your stay.
Shuzo Matsuoka
Perma-tanned former tennis pro Shuzo Matsuoka, a one-time Olympian and Wimbledon quarter-finalist, now has a lively career as a sports pundit and variety-show regular. The subject of numerous internet memes, he brings relentless good cheer to the small screen.
Miho Nonaka
Advertisers are queueing up to secure the services of outstanding professional climber Miho Nonaka. She recently won gold for Japan at the World Beach Games, an Olympic warm-up event – and will be one to watch when sport climbing makes its Olympic debut in 2020.
Foorin
No parent in Japan has been able to escape Paprika, broadcaster NHK's theme tune for the 2020 Olympics. Since its release in 2018, this infuriatingly catchy song has been absolutely everywhere. The song is performed by Foorin, a group of five suitably cute primary- school children.
5.
ON CAMERA
'Eiko Yamazawa:What I Am Doing'
Top Museum, Tokyo
It's extraordinary to see a woman born into a strict Japanese society throw aside convention to become one of the key photographers of the 20th century. Eiko Yamazawa was born in 1899 and studied traditional nihonga painting before setting up a commercial portrait studio. Two study trips to the US in the 1920s and 1950s led to the abstract photography that marked her work from then on. The title of this show refers to pictures of her own photographic materials, shot in the 1970s and 1980s and rendered as sculptural objects. "I was determined not to make the same sort of work as everyone else," she wrote.
'Eiko Yamazawa' is on until 26 January
---
6.
ON SHOW
'Future and the Arts: AI, Robotics, Cities, Life – How Humanity Will Live Tomorrow'
Mori Art Museum, Tokyo
It is appropriate that a city with such a future-forward reputation is putting on a major cross-disciplinary show about the hopes, fears and fantasies that technology generates. Following the Mori's two groundbreaking shows, Medicine and Art and The Universe and Art, artists, designers and architects, often working in collaboration, imagine futures in which we could be "liberated from labour" or "enslaved" by machines. How will technology shape our cities, buildings, bodies and societies? How will it change the way we imagine ourselves? An exploration of utopian and dystopian dreams.
'Future and the Arts' is on until 29 March
7.
TO VISIT
Enoura Observatory
Odawara, Japan
Photographer Hiroshi Sugimoto is famous for his large-format photo seascapes. He was no architect when he set out to create an ocean-facing observatory in the Hakone mountains. The complex includes two performance stages, a tea house and an amphitheatre with views of the Pacific.
The observatory is best visited at winter solstice; as the sun rises over Sagami Bay on the shortest day of the year, a 70-metre metal tunnel directs the brilliant rays and projects them onto a stone at the other end. Once you've reached the observatory via a short bus trip from Odawara, you'll enjoy wonderful views of the cliffs and fishing villages below.
Enoura Observatory is open Thursday to Monday
8.
ON SALE
Sotheby's Japanese department
London
Collectors of Japanese art and artifacts were under-served for about a decade as many auction houses' Japanese departments took a long hiatus – but international player Sotheby's has recently reopened its own. "Japan has been in recession for two decades and the art market softened but in the past three to four years we've seen a dramatic change," says Mark Hinton, Sotheby's head of Japanese art. Sotheby's has decided to stage two sales per year – in November and May – where lots range from Meiji-Taisho lacquerware to Hokusai prints. Estimates range from £1,000 up to £400,000 (€1,160 to €463,400). For the time being the sales are being held in London but the department is developing online auctions so that an international public can get involved too.
"London has always had a strong collecting base of Japanese art: we have the V&A and British Museum on our doorstep," says Hinton. Buyers from Scandinavia, Taiwan, Hong Kong, the US and Japan have also showed a keen interest. And the demographics of those bidding are changing too. "We're certainly beginning to see a younger generation," says Hinton. "People are becoming more interested in Japan – the more they travel there, the more they fall in love with it. And they have realised how wonderful Japanese art is."
Sotheby's Japanese sales are held in November and May
---
9.
IN PRINT
'The Ten Loves of Mr Nishino'
Hiromi Kawakami
The relationship between a person's thoughts and their environment is Hiromi Kawakami's subject for this short, sharp novel, now in a new translation. The author's minimal and restrained style perfectly suits her subtle way of questioning human perception. Much of the imagery Kawakami evokes plays on the idea of deception: on these pages we encounter dragonflies that multiply impossibly mid-flight, a character whose name – Maow – gets mixed up with a cat's cry and plenty more beautiful, if surreal, metaphors.
By meeting all those who protagonist Mr Nishino has loved, we get to know our central character from many different perspectives. Nishino's resulting cubist portrait is also a deep meditation on how we can be sensitive and understanding.
'The Ten Loves of Mr Nishino' is out now
---
10.
ON NEWSSTANDS
'Subsequence'
Japan
Founded in Harajuku in 2000, Hiroki Nakamura's fashion label Visvim has grown to become one of the world's most influential (and enigmatic) streetwear brands. Now it has decided to dabble in publishing with the release of biannual, bilingual magazine Subsequence.
In line with the label's ambition to cultivate a cult-like air, Subsequence only has a limited run of 2,000 and its features span art, crafts and beyond. Given its subject matter and price (€54) it's more coffee-table book than regular newsagent fare. It is printed in a generous quasi-broadsheet format that gives lush photography space to breathe on page. Copies of the magazine can be snapped up online, in Visvim shops and select international retailers.
'Subsequence' is available now