Oslo International School / Norway
Best in class
School architecture needn't be grey, dull and uniform. The inspired redesign of Oslo International School by architects Jarmund/Vigsnæs is not just ticking style boxes but proves that an exciting study environment has a noticeably calming effect on its pupils.
Education authorities wanting to do something more with their classrooms should look to Oslo International School. Redesigned by Norwegian architects Jarmund/Vigsnæs, it is a light-filled space with riotous splashes of colour, curving, organic-shaped buildings and a rather retro-looking lobby filled with Vitra chairs and tables. Given that most education boards and their architects continue to play it safe, this design is a refreshing alternative to the dreary, uninspiring interiors of the average school. It's more than a style makeover, too: teachers report that students are more calm and relaxed in the new environment.
Oslo International School is located in the quiet suburb of Bekkestua, a 15-minute drive from Oslo's city centre. About 570 children with 50 different nationalities, aged from three to 18, are enrolled at the private school. Walk the corridors and you'll hear a medley of languages – just 22 per cent of students are Norwegian. Lessons are taught in English and the teachers we meet are foreigners.
Director Barbara Carlsen gives us a tour of the new school. She came to Norway from England in 1973 after studying Norwegian as part of her degree at Newcastle University. Weaving in and out of the classrooms and corridors, she explains how the school needed extra space and a more flexible design to accommodate the unpredictable flux of students – children regularly come and go as expat parents hop between jobs.
So far, new additions include a library, lobby, science labs and lower-primary school block for children aged between three and seven. The old building, a drab one-storey block built around a central courtyard, has also been revamped with a fresh lick of paint and new ventilation. Completed in phases so that the school could stay open, a new wing for music, drama and physical education will be ready by 2010.
In an open-plan studio in central Oslo, Einar Jarmund, co-founder of Jarmund/ Vigsnæs, talks through the project. Jarmund set up the firm with Håkon Vigsnæs in 1995. It specialises in small-scale buildings, working mostly in Norway. The architects chose to retain the "low-key character" of the existing school structure by designing the new learning and play areas around it, to contrast with its "repetitive-looking" structure. "There was a need to be gentle with the design," says Einar, referring to the curving forms of the science labs, library squeezed into the old courtyard.
While most schools meekly blend into their surroundings, this is a design that stands out. The colourful striped walls of the new lower-primary block create a strong identity. Constructed from 12 different coloured fibre-concrete panels, the design references the multiple colours of the students' various national flags.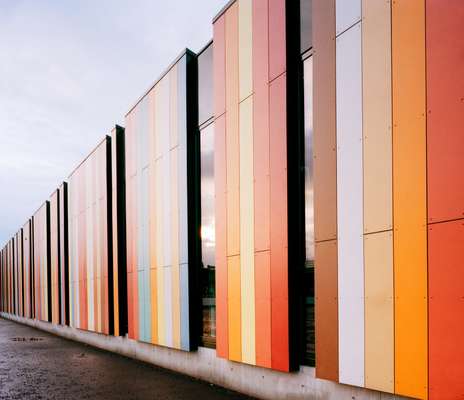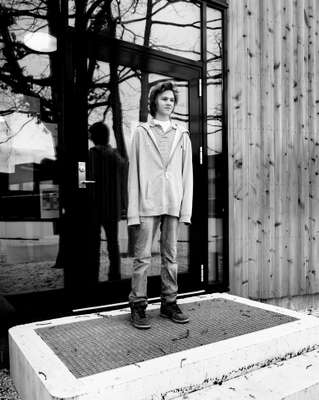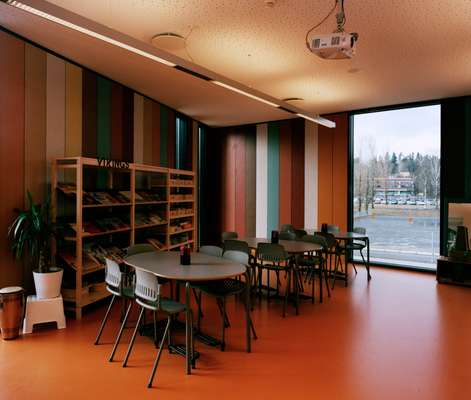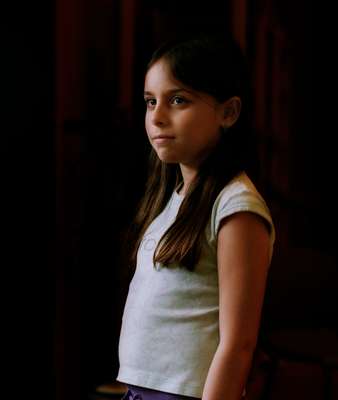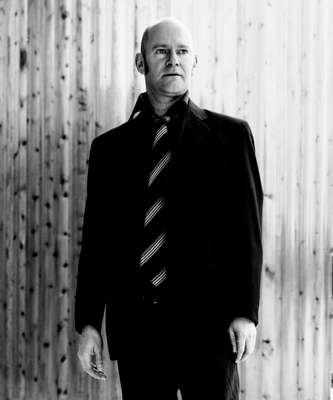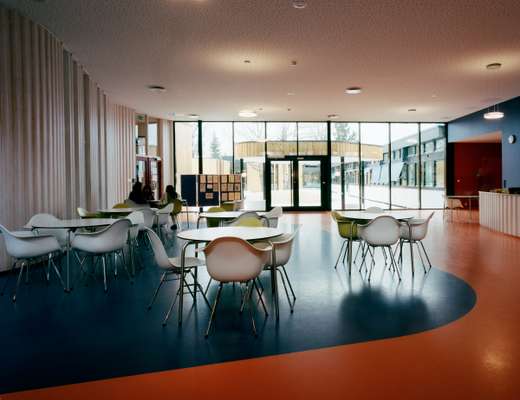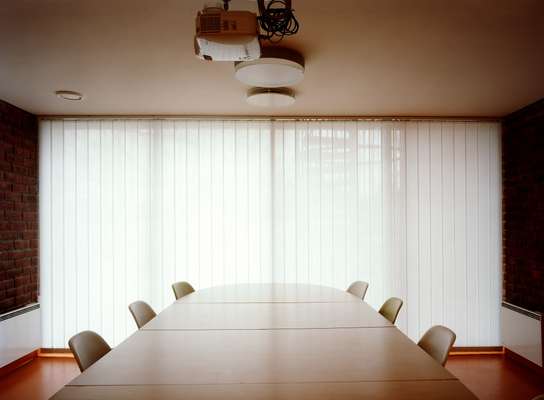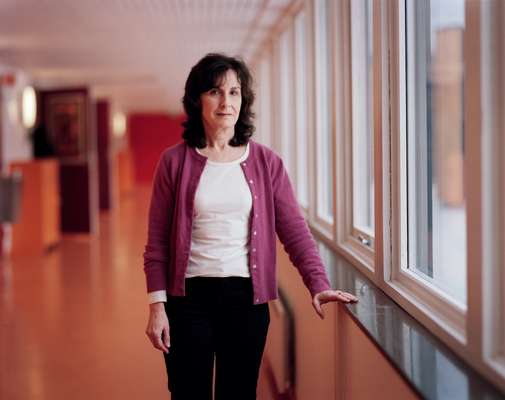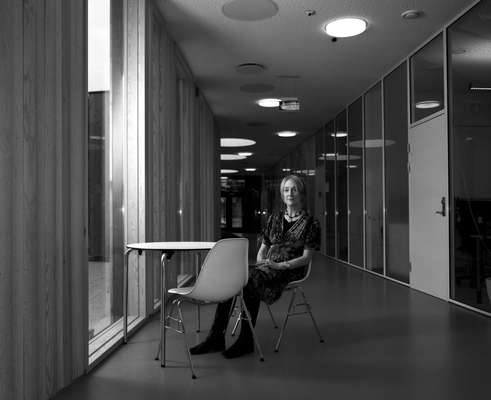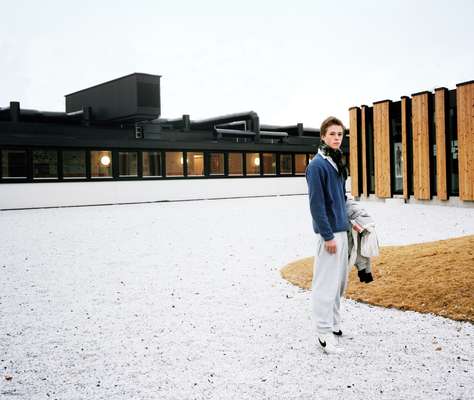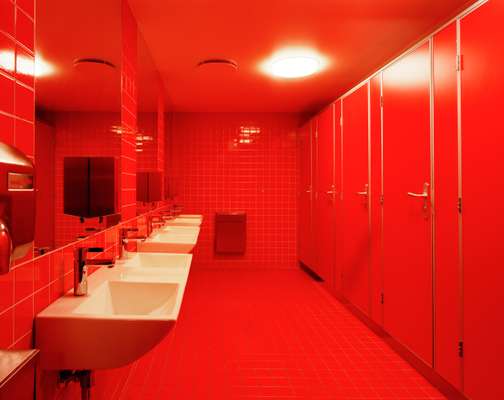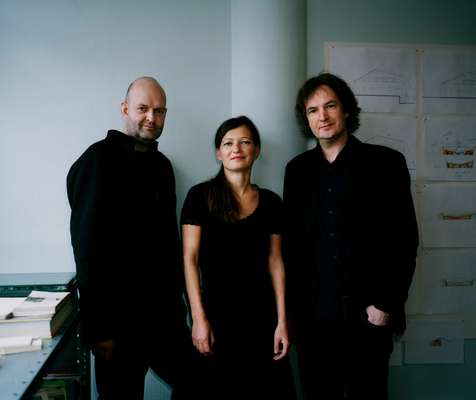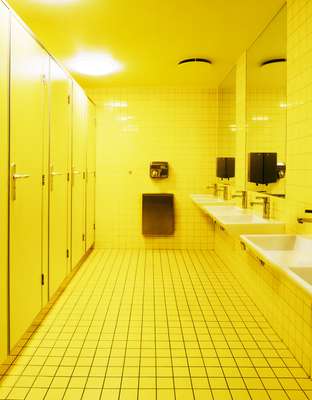 "In the past 10 years architecture has been kind of grey; it's nice to play with colours," says Vigsnæs, as we walk through the school grounds. Even the loos are bold colour statements, tiled bright red for girls, daffodil yellow for boys and blue for teachers. But not everyone is keen on these sunny splashes – one student thinks the brash colours are a plot to stop them hanging out there.
In the lower-primary block a curving courtyard provides a private, safe area for break time. Classrooms are positioned around this central focal point. Sue Danielsen, the vice-principal of the lower-primary school, thinks the design helps give "a feeling of inclusion", an important factor given that children can often feel isolated at school – especially when in a foreign country.
The former playground is covered with white gravel and studded with oversized concrete stools. It's known now as the "quiet garden" but with its lone grassy hill it looks in need of a bit more planting. This mix of indoor play areas creates intriguing spaces and a greater sense of community. Clever positioning of windows means you can see across into the other buildings, a vital factor for security.
It's gratifying to see craft playing a role in the design too – the library, reception area and science labs are all constructed using undulating panels of pine. No tacky plastic or cold metal finishes here; the wood adds a homely, rustic touch so often lacking in sterile school environments. Smart custom-made furniture and fixtures, ranging from red lockers through to sci-fi-looking skylights and robust lab desks, give the school a co-ordinated look. The use of different materials, such as the orange rubber flooring and patterned acoustic lining on the ceiling, give rise to unusually tactile, sensuous environments.
Investing in functional, safe and innovatively designed schools should be a priority, but unfortunately is still largely overlooked, particularly in the public sector. Oslo International School with its playful, holistic design, proves there can be another way.
It didn't revamp the Oslo International School but Fielding Nair International is an architectural and planning firm specialising in school design. Based in Florida and Minneapolis, the practice has built schools across the world from Indonesia to New Delhi. Prakash Nair is co-founder.
Which countries are leading the way in terms of school design?
Few countries can be credited with leading the way in school design but some are doing a better job than others – Australia, New Zealand, the Netherlands, Singapore and Finland. The UAE and Qatar are making noises about taking the leadership in school design but have not done anything really inspiring. The US has potential to up the ante and almost has to if it's to remain a significant world power in the coming decades.
What will the school of the future look like?
Schools as we know them will be replaced with globally connected small community learning centres located in non-traditional buildings in the heart of neighbourhoods. They will stay open day and night, all year round.
What are you currently working on that you're excited about?
A shared learning facility in one of Canada's most economically and socially deprived neighbourhoods in Saskatchewan. We're also revamping the design of the entire educational system in the Cayman Islands and working on a series of schools that are transforming communities in Victoria, Australia.
[fieldingnair.com])http://fieldingnair.com)
What we would put in our school
We would sculpt our walls from the best building blocks on the market – Petersen Tegl charcoal-fired bricks. petersen-tegl.dk
Floors would be lined with hard-working but good-looking Mondo rubber flooring. This Italian-based company supplies running tracks in Olympic stadiums. mondoworldwide.com
Why skimp on lighting? We'd make sure a few Louis Poulsen Artichoke lights designed by Poul Henningsen were shining bright. louispoulsen.com
We'd fill our classroom with the Flip desk and chair set by Finnish designer Heikki Ruoho – we like its simple wood form. jarvi-ruoho.com
In the art room, expect to see sturdy sleek easel drawing boards by Japanese manufacturer, Cosine. cosine.com
For the kindergarten we'd have Offecct's Playhouse set by Swedish designer Anders Breitholtz. The foam mat comes with building blocks. offecct.se
Our locker of choice is Mea, an ice-blue number by Norwegian manufacturer, Eskoleia Stål. It recently won an award for excellence by the Norwegian Design Council. Inside is a towel rail, mirror and slot for your laptop.
Top marks
Three schools we rate
School of Art, Design & Media at Nanyang Technological University, Singapore. Designed by CPG Consultants, we love its sweeping forms and turfed roof. cpgcorp.com
02 Yuyu-no-mori nursery in Japan by Environment Design Institute. A giant hanging play net connects the two floors. ms-edi.co.jp
Linden primary school in Switzerland. Architects Bünzli & Courvoisier prove even the simplest structure can be elegant.