Sis / Helsinki
Fast Finnish
In Finland, organic produce makes up just 1.5 per cent of the food market. One deli is feeding this nascent movement by creating a new fast-food retail concept that combines fresh, healthy fare with well-thought-out design.
When sisters Anu Syrmä and Kaisa Leikola launched Sis, a chain of deli-cum-cafés in Helsinki, they wanted to bring something different to the Finnish high street: healthy fast-food served in welcoming, cosy spaces.
Since February this year, two shops have opened and a further eight are in the pipeline (the third deli is due to open at the end of April). Locations vary in size from a tiny four-seater spot to more spacious venues. The sisters are on the lookout for locations in high-traffic areas. Not quite 24 hours, the opening hours are nevertheless long – 07.00 to 22.00 on weekdays, 08.00 to 19.00 on Saturdays, and 09.00 to 21.00 on Sundays (so far just at one deli). With its mix of subtle branding, airy interiors, freshly prepared ready-meals and artisanal store-cupboard essentials, Sis stands out from other fast-food outlets characterised by strip lighting, plastic-trimmed interiors and even worse, plastic-tasting food.
"There is a lot of personal experience behind this," explains Anu, speaking from the sisters' makeshift office tucked away at the back of one of their shops. Accustomed to working long hours in the city, it was the lack of healthy food available to buy on the run that first inspired Anu to draw up her business plan in November 2006. Convinced by the concept, both sisters quit their jobs to launch the business, securing the backing of private investors. Neither had previous hospitality experience – Anu worked at Nokia and Kaisa for a local TV station.
Each day a selection of meals (based on the sisters' recipes) are cooked in a nearby kitchen and delivered to all the cafés. The food is made mostly from local, organic ingredients. Wholesome takes on Finnish favourites are popular – one of the bestsellers is a low-fat meatball and potato dish.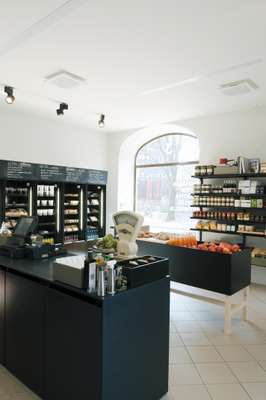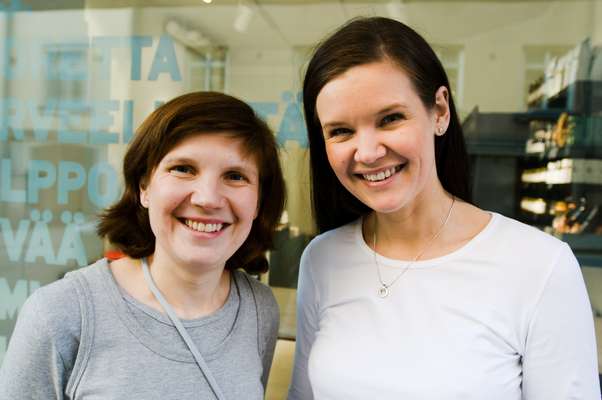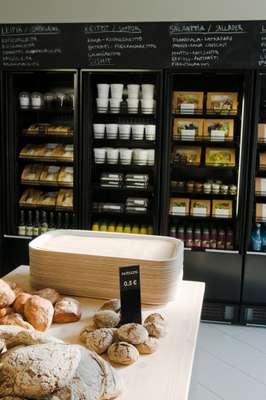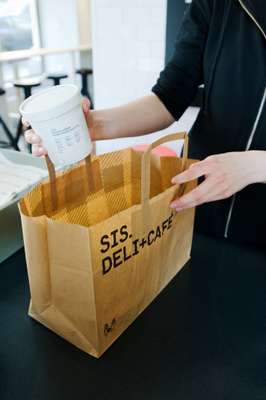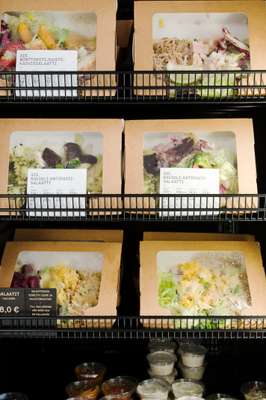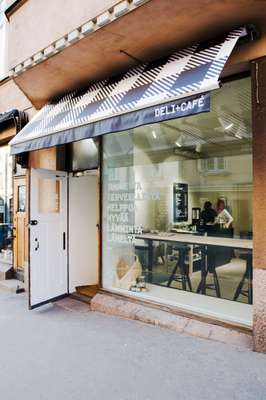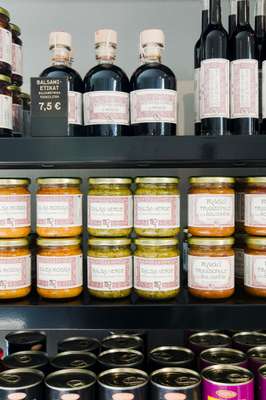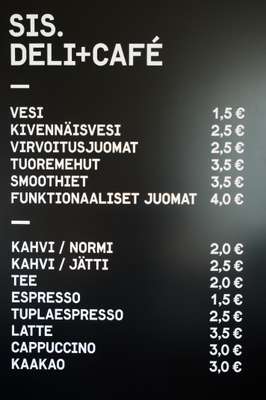 On the shelves you will also find freshly baked bread, handmade chocolates and a variety of organic and free-trade brands, such as Clipper and Green & Blacks. The organic food trend has been slow to take off in Finland – something that Sis hopes to address. "We want to make it easier for people to buy organic food, to find new products and to make the right food choices," explains Kaisa.
But it is the attention to design that could give Sis the edge in a volatile industry. The sisters appointed local design group Muotohiomo to create the brand identity, packaging and interiors. The design team are Aleksi Perälä, Noa Bembibre and Rasmus Snabb.
From the nostalgic image of the two little girls holding a basket that features on shop windows and napkins, to the black and white chequered motif on coffee cups and bags, Sis works hard to create a memorable and modern brand with strong, pared-down graphics.
Inside, the cafés feel spacious and homely. The designers say that classic French boulangeries and the simple deli on the corner were points of inspiration for the interior.
Some of the food is stocked in market-stall-style freestanding boxes. There is no crude point-of-sale in-formation cluttering up the view either. Instead, details are displayed on simple menus and tags. Custom-made tables crafted in Finnish pine are combined with Eero Aarnio's Rocket stools manufactured by Artek. Whimsical wall illustrations by UK-based graphic designer Klaus Haapaniemi add colour and playfulness.
With its health-conscious food and emphasis on design, Sis points the way to a new type of fast-food convenience chain in Finland and beyond.
The design team behind the Sis identity
Founded by industrial designer Pekka Toivanen and his brother Otto in 1992, Muotohiomo has become one of the most recognisable design firms in Finland. Based in Helsinki with a tight-knit staff of 12. The team specialises in communication and industrial design. Clients include Iittala, Nokia and Konecranes, an international crane and forklift company headquartered in Hyvinkää, north of Helsinki. Toivanen is also design director of Finnish furniture manufacturer, Isku.
Sis pasta salad
Former Finnish professional badminton player Pontus Jäntti, also an investor at Sis, advises on creating low-fat, nutritious ready-made meals like this.
Pihlaja jellies
Grandma's favourite: a pack of Finnish candy.
Amerigo 1934 balsamic vinegar
From the Michelin-starred Italian trattoria.
Sis fruit and nuts
A tasty snack that gives us something to chew over in meetings.
Monteriva coffee
Iconic retro packaging.
Organic Seed and Bean Company's chocolate bar
Fair trade chocolate with a fair cocoa hit.
Urtekram spiral pasta
Danish brand made in Italy with durum wheat.
Cup of Sis coffee
The mandatory morning pick-me-up.