Art Dubai / Dubai
Oil painting
Dubai and its neighbours have come to believe that even seven-star luxury and tax-free sunshine can seem stale without culture. Monocle visits Art Dubai to see who's buying and ask if an oil state can reinvent itself as a capital of culture.
It was a cultural desert. The oil brought prospectors then the money brought hustlers. Lightning-quick construction made a town of an outpost in a week, maps were redrawn monthly and laws stretched to accommodate overnight industrialisation realised by a migrant workforce underwritten by the promise of a pot of gold, but tented and fed by contractors with one eye on the bottom line and the other on the keys to the lock of the chain gang. There was oil and money in the Wild West too, but precious little art.
But who cares? In Dubai's ex-desert there are sundowners to go with the sunshine, prospects to discuss on the numerous golf courses. Middle managers drive Range Rovers, sport year-round tans, employ servants. There's a sense that 1880s British India has met 1980s British Majorca and they're getting along famously.
"The idea of Dubai having any sort of cultural scene was amusing to an international audience," says John Martin, director of Art Dubai, before this year's fair. The mastermind and easy smile behind the event is well aware of the reputation with which he is struggling. "They thought it was just shopping malls," he says. To some, Art Dubai seems as oxymoronic a scheme as Oil New York or Snow Saudi Arabia. But then Dubai has a ski slope so all irony melts here. Last year's inaugural Gulf Art Fair became this year's Art Dubai: a rebrand for which more than 400 galleries applied for some 70 stands to sell their wares to sheikhs and expat engineers. Some of last year's big galleries such as London's White Cube found sales slow and didn't bother booking their berths this time – the word was that western art wasn't selling here. The place that was lucky to have an art fair at all turned out to be finicky about the trotting-out of more Warhol silkscreens, more spots, more second-rate pieces by first-rate artists.
On setting-up day this year (32C in the shade), gallerists and their gangs of technicians – painters, hammerers, those qualified to squint down the body of a spirit-level – are hanging fine Indian paintings, surprisingly confrontational Iranian photography, witty sculpture and installation pieces from Pakistan. After just a year, then, perhaps Art Dubai has found its voice. And it speaks foreign.
"The man at the slaughterhouse told me, 'you'll have no problem getting a camel – don't you eat out in Lahore? Don't you eat kebabs? Camel gets eaten all the time.' Sure enough, a day later I had a meeting with the taxidermist and there it was," says Huma Mulji whose Arabian Delight, a taxidermied camel in a suitcase, was the Pakistan Pavilion's show-stopper.
According to Mulji, the stuffed beast manhandled into a trunk represents Pakistan's "sometimes forced" embrace of Muslim culture over its traditions. The piece was made for Art Dubai, part-funded by the fair and, according to the artist, is also "a pun on the idea of transporting culture to Dubai, about the absurdity of this whole place." In a way then, the camel is doing what camels do best: biting the hand that feeds them.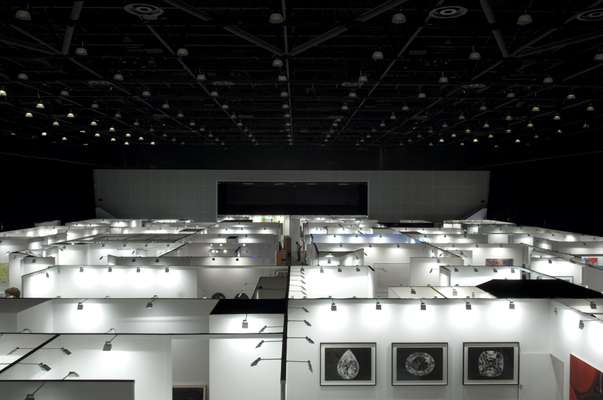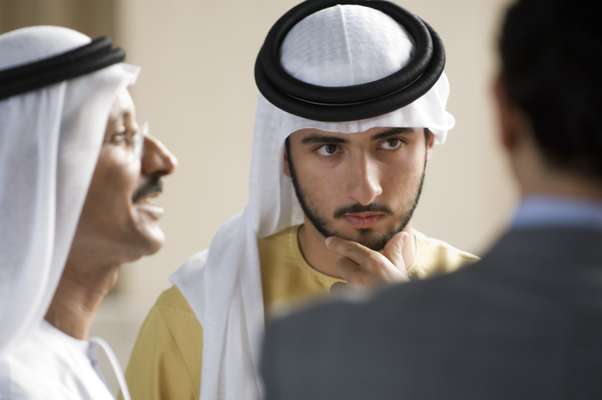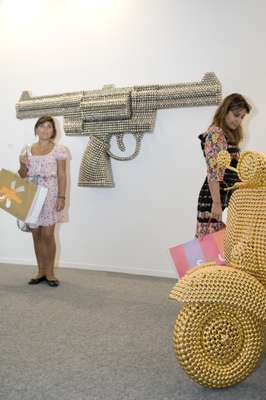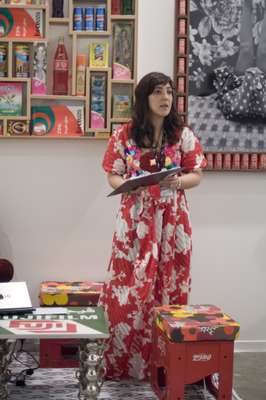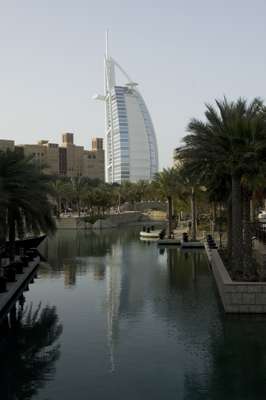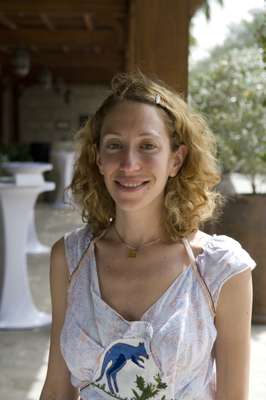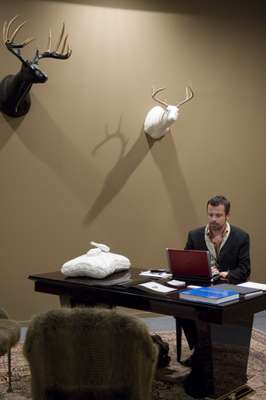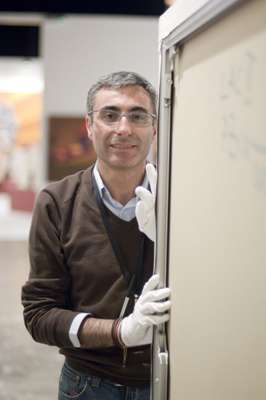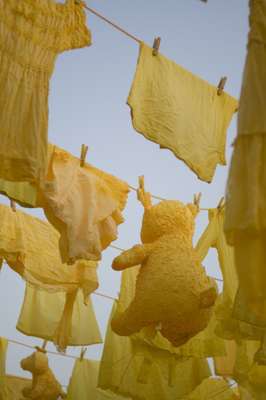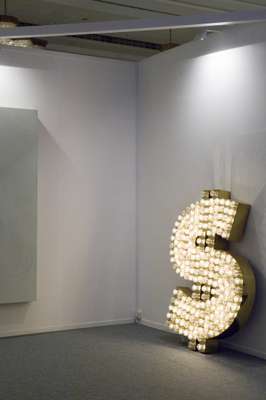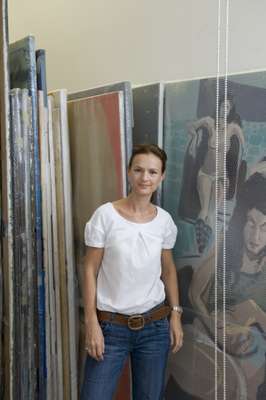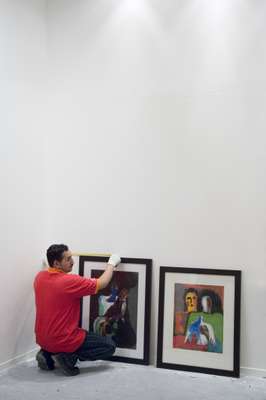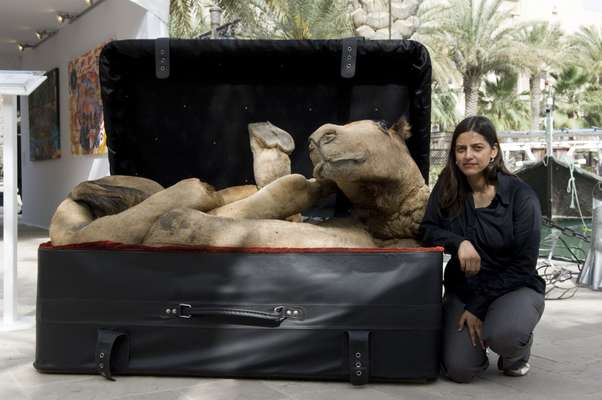 On patrons' preview day (34C), the breadth of work on the Pakistan Pavilion, under the banner Desperately Seeking Paradise, is being excitedly picked over. Rashid Rana's large rectangular sculpture allows the preview crowd a look at themselves in a dozen mirrored compartments; Imran Qureshi's Unlearning Miniature is a wall-sized take on cartography that questions US foreign policy. Mulji's 1001 Storeys features two Muslim showers – fixtures in every Middle Eastern lavatory – rearing up from a suitcase like serpents. Miniature loudspeakers garble in Urdu about the gilt-edged dreams of the would-be Pakistani workforce saving for their doomed airfare to Dubai. "They reflect the absurdity of the labour laws here, where people have their passports taken away and hire the boots of cars to sleep in," says Mulji. Can't they save up their wages to fly back to Karachi? "They're too ashamed to admit they're not living in a paradise."
Despite an unwritten censorship of works at the fair – a book signing in the downstairs Art Park (a crafty revamp of the Madinat Jumeirah's usually Merc-strewn car park) becomes a game of "spot the flesh", as a decency official has his way with a heavy black marker on some less-than-godly illustrations. Compared to London's Frieze Art Fair or even Sharjah Biennial, there are no outright shock tactics at Art Dubai, no overtly confrontational works and less experimental stuff – but the best work at the fair was definitely and sometimes defiantly politicised, interested, engaged and passionate. The region has been searching for strong contemporary art to counter sofa-friendly decorative doodles and cosy rural scenes. From India, Pakistan and Iran, art has come to Dubai to be inspected and sold.
Like a shark circling shallow water, Charles Saatchi bought Mulji's camel for a purported $8,000-$10,000 (€5,000-€6,300), small change for one of the more eye-catching exhibits. It is thought the piece will be displayed with the rest of his shopping spree in The Empire Strikes Back, a show planned for his new 6,500 sq m London space. Elsewhere, Farbod Dowlatshahi, partner at Dubai's B21 gallery and collector of "99 per cent Iranian art", picked up "six or seven pieces; another Ramin Haerizadeh [Iranian figurative photographer] but also some exciting Korean and Chinese things."
The regional auction scene, having grown out of absolutely nothing, is also cause to make galleries bullish. Bonhams' first Dubai auction at the beginning of March made Iran's Farhad Moshiri the first artist from "the region" to sell for over $1m (€630,000) at auction in a sale that fetched over $13m (€8.2m) in total and saw Ismail Gulgee's Polo Player go for $336,000 (€213,000) making him Pakistan's big-money record breaker.
Christie's opened a Dubai office in 2005, "originally not so much to sell art, but to reach clients here and get them to bid in other auctions around the world," according to William Lawrie, its likeable networking machine and specialist in Islamic and contemporary Middle Eastern Art. Lawrie will be thinking twice about diverting potential customers to London and New York, considering Christie's themselves sold $15m (€9.5m) of work at its latest Dubai auction. "The trick," he says, "is that 85 per cent of people here are expatriates – put them in a neutral place like Dubai and they start looking at their neighbours." Is it a matter of keeping up with the Joneses? "Well," Lawrie demurs, "there's an amazing cross-marketing potential – or cross-collecting potential."
Away from the fair's silver service and Veuve Clicquot tent, a good few miles down the shimmering Sheikh Zayed Road is Al Quoz, an industrial estate that squats like a parched toad on the side of the highway. This is where the two most highly regarded contemporary galleries in Dubai cosy up to auto repair shops and huge out-of-town refrigeration facilities. B21 and The Third Line have carved a niche as progressive galleries run by bright young women keen on showing edgier artists. Isabelle van den Eynde, the Belgian director of B21, specialises in Iranian work, among it that of brothers Rokni and Ramin Haerizadeh, known as much for their controversial subject matter as their rising star. "It's too easy to be controversial when you work from Tehran," says van den Eynde.
"Iranians act like Stasi – if you wear colours, dress too western – they'll call the police." At B21's stand at the fair, Ramin is showing gritty photos augmented with a watercolour wash, suggesting that the average Iranian street is a hotbed of skulduggery, that a paranoid state is making spies out of its citizens.
"These were stuck at customs for two weeks," giggles van den Eynde, waving at a wall-full of Rokni's figurative oils that suggest Matisse dreaming of the Arabian Nights. "They opened two boxes but luckily didn't go further because this [piece] is about a housemaid having sex with a donkey." Rokni's huge canvases are often obsessed with Persian myth, but also offer critiques of modern Iran: Typical Iranian Wedding is a gender-split (as is the custom at Iranian weddings) diptych that depicts booze-sodden dancing (un-Islamic), pot-smoking (illegal), lesbianism and boob jobs (presumably ungodly). "I had to take the risk – if they close the gallery and kick me out of the country, so what?" says van den Eynde defiantly before smiling, "Besides, people came to buy them off the back of my truck as I was unloading them."
But despite a couple of edgy artistic outposts, Dubai has precious little to call a contemporary art scene for students, collectors and gallerists. Although the skyscrapers, Cayennes and malls look like those of any other rich city of the first world, Dubai is an Islamic state ruled by a sheikh, his family and his unelected advisors. Despite hotel bars and bikinis on beaches, this is still a conservative country where only women attend art classes: it's women's work.
Back at the fair, the market is speaking for itself, often on bejewelled mobiles. "We can still have it – it's only on reserve!" shouts a handsome Emirati to his abaya-clad wife in front of Maryam Shirinlou's War and Peace, on a stand from Shanghai. It's the sort of incongruously international scene John Martin must have imagined when he consulted his instinct and loan manager in 2005. Art Dubai may still struggle to impress the cultural credentials of a city-state grown fat on petrodollars, but its odd international genetics could equip it to act as patron and marketplace for a new corridor of wealth where gleaming towers offer enough empty wall space to hang the definitive Middle Eastern collection. Whatever that may be.
Farbod Dowlatshahi
Collector and partner at B21 gallery in Dubai
"When I like a piece of art, I buy it. My neighbours don't collect art, that's for sure, so one of my hopes for the fair is that it will get more Emiratis interested. I have 1,400 pieces, mostly Iranian. My favourites are at home and I hang works in my office, my mother's house, my house in Paris... If it were up to me I'd put all my art up on the walls, but my wife likes a more simple aesthetic. She's probably right, the pieces look better with some air around them. I don't collect to make money – but instead of putting all my money in the bank I want to enjoy it. To look at it."
Naila Abdullah
Student in visual communication in Dubai
"I'm finding the fair fascinating because I'm an art student. I think there are some strong pieces here: real art expressing not only personal feelings but global issues, especially on the Pakistani side. A lot of the international stuff inside, too — I never thought that sort of thing could be brought to Dubai. My course is very open-minded but I'm starting to specialise in creative advertising which is graphic design combined with advertising. But I'm keen on giving everything a try! I didn't see the camel, though. Did Charles Saatchi take it away?"