Japan International Boat Show / Yokohama
Up for sail
No sailing royals, an antipathy to ostentation and an unwillingness to take holidays has left Japan's recreational boat market in the doldrums for years. But the 'nation of rice farmers' is finally finding its sea legs: this year there were almost 50,000 visitors to the Japan Boating Industry Association's annual fair. Monaco it's certainly not.
On an unseasonably warm weekend in March, Yokohama is awash with blazers, chinos, docksiders and deep tans – the unmistakable uniform of the boating world and a sure sign that the Japan International Boat Show is in town for its annual four-day get-together. This is where the big players bring out their new cruisers, the technical brains exhibit the latest gizmos and the odd foreign boat maker braves tricky waters in search of that elusive Japanese customer.
This is the show's 47th year, but only its second in Yokohama. It's an apt venue, since Yokohama port – which will be celebrating its 150th anniversary in 2009 – is one of the few in Japan with a sizeable marina. The weather obliges, offering perfect sailing conditions and crowds watch as yachts zip across the harbour.
These elegant craft have to compete with the souped-up jet-skis known as personal watercraft – referred to by all here as "PWC" – that are introduced by an over-excited compère as they race across the water at terrifying speeds to a booming nu-metal soundtrack.
The (semi) scenic way to arrive is via the Seabass, a bateau mouche that deposits visitors at the Pacifico Yokohama convention centre. Last year, over 46,000 people came to the event and great things are expected for this year. Two hundred and eleven exhibitors – 90 per cent Japanese – are in attendance, showing their wares both indoors and outdoors at the temporary marina. Half the show is devoted to motor boats and the rest split between equipment and accessories, engines and a handful of sailboats.
For an island nation, the Japanese are remarkably uninterested in leisure boating. According to Ichiro Yokoyama, Japan's top boat designer, it's cultural. "History made us a nation of rice farmers, not sailors," he says. "The country was cut off for years – no boats came in or out." Yokoyama is standing next to the Actus, his neat 5m day-sailer. A queue of admirers hovers, waiting to pay their respects to this charmingly modest man.
The Actus's rival for best-in-show is the beautiful mahogany runaround from the family-owned Sano boatyard. Sano has been in business in Tokyo since 1800; Ryutaro Sano now runs the firm with his brother Minoru and son, Tatsuya, who is the 10th-generation boat builder. One of their custom-order boats costs €127,000, but they only make one a year.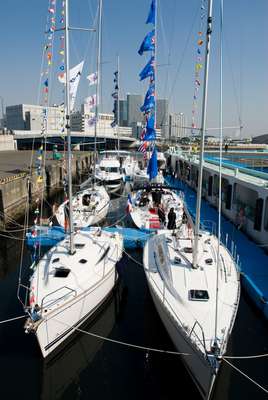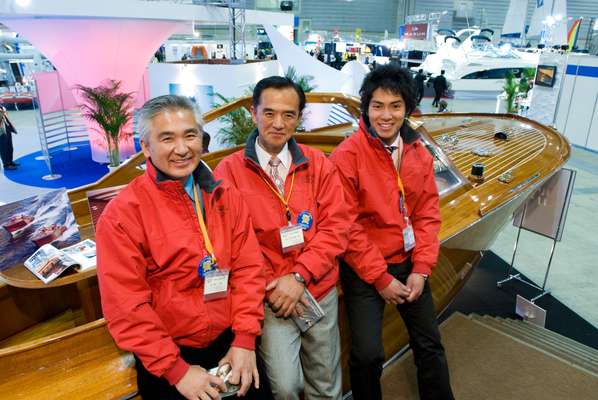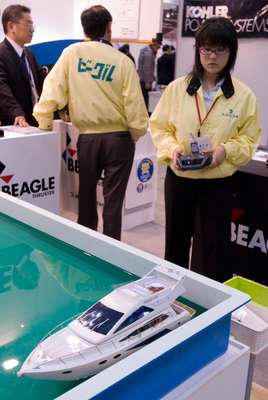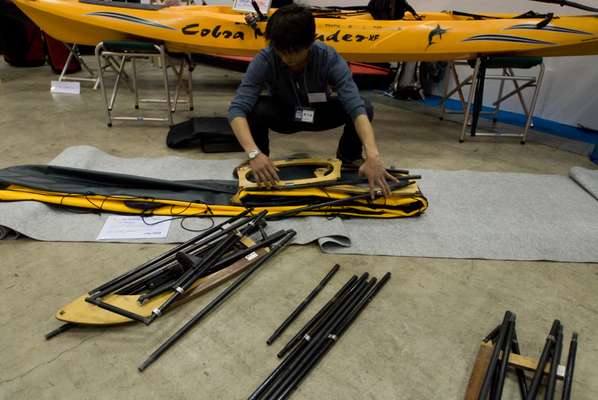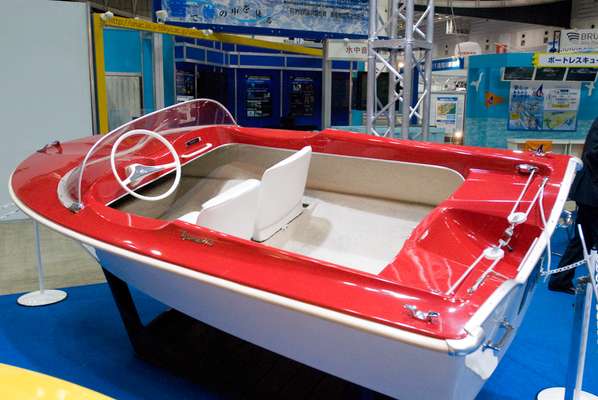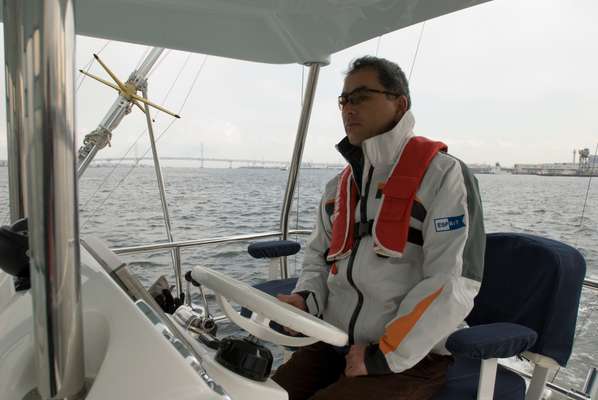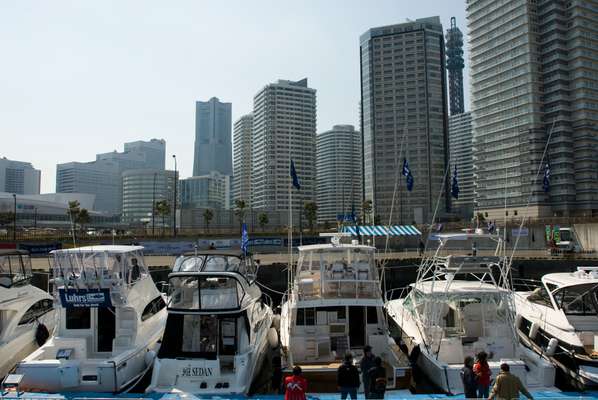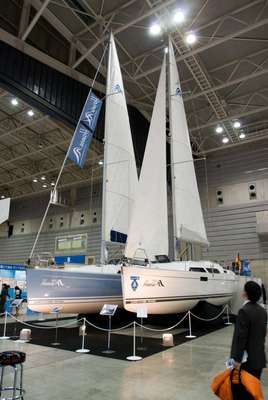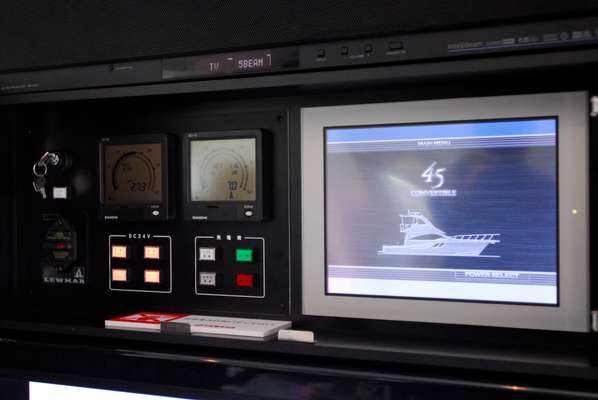 In general, the Japanese don't buy showy boats. Status symbols are a bit naff and there aren't the marinas to berth a big boat. It's also down to the licence situation; buy anything over 24.3m and you have to upgrade to the same licence for something the size of the Titanic.
At the Lagoon stand salesmen welcome a crowd of window-shoppers eager to see inside their luxury catamaran. They seem to think the chances of selling one are slim. "This boat is 7.5m wide," says one, "and marina berths here are usually only 5m."
The other problem is the Japanese style of holidaying. "In France, people might take a month in the summer and go sailing; in Japan people go abroad or go somewhere on the shinkansen just for a few days. It's a pity the Japanese royals don't sail." The big sellers in the Japanese market are convertible fishing cruisers: motorboats that combine fly bridges and fishing apparatus with a comfortable interior. Market-leader Yamaha is launching its new line, Exult, with a 14m convertible that comes with its own monogrammed crockery and glasses, Toto washlet and two bedrooms.
At ¥134m (€860,000) it's not cheap but the boat sellers insist there is a market in Japan, usually described as IT company owners who are looking for a vessel that can take them somewhere such as Oshima, an island two hours south of Yokohama. Then there's the ever-growing retiree market – wealthy pensioners in good shape and with time on their hands. "Japanese customers like buying Japanese boats," Yamaha's Ritsu Kadota says. "They know that the after-service will be reliable." Along with the likes of Honda, Kawasaki and Suzuki, Yamaha already sells its outboard motors abroad but it would like to sell complete boats too. This March, Yamaha made its debut appearance at the Dubai Boat Show, showing the new Yamaha 35, a boat with the distinct look of a floating bachelor pad. The firm needs to look at re-releasing its Hiflex-11 from 1962 – the most stylish mini power boat on show.
Sailing boats make up a tiny share of the Japanese market and those present at Yokohama are all non-Japanese: Hanse from Germany, and Jeanneau and Benétéau from France. Danish maker X-Yachts has brought its X-35, a racing cruiser that could happily go round the world or tootle around Yokohama Bay.
Shoppers who aren't in the market for a boat could at least buy into the look with shoes from Dubarry or waterproofs from Gill. It's surprising that there's nobody in Japan making good sailing clothes but there is some great kit – Fujinon's Techno-Stabi binoculars, which remain steady no matter how much the boat is pitching, or lightweight folding kayaks from Fujita Canoe in Kyoto.
The whole Japanese boating fraternity is present, from the Japan Coast Guard and the Japan Boating Industry Association to almost every boat club and marina development in Japan. Even the radio-control model boat contingent has a stand with a paddling-pool display.
Japan might not do much in terms of team events, but it does produce outstanding solo sailors. Record-holding Minoru Saito has an entire stand devoted to his forthcoming circumnavigation of the globe – his eighth – at the age of 74. As if that wasn't hard enough, this time he's going to make it even more challenging by going west around the world, against the prevailing winds.
At the Furuno stand, crowds crane to see the company's latest fish-finding device. Furuno is the world leader in radar equipment and it would be impossible not to catch something with this technology. Next door, Yuji Mitsugi is showing his low-tech kagura – rubber squid with a concealed hook and glinting shell to attract the fish. Mitsugi claims that with three of these, fishermen can catch a tonne of tuna in an hour. "That's why Japanese fishermen are the best – they know all the tricks," he says.
In the boating world, Japan is synonymous with outboard engines. Yamaha, Suzuki, Honda, Nissan and Toyota all have marine divisions and in 2007 the ratio of boat versus boat-engine sales from Japanese manufacturers was 1:9.
Yamaha
The industry leader in Japan. Marine products account for 16.5 per cent of its total business (motorbikes are 60 per cent). In 2007 its worldwide marine sales were ¥289.9bn (€1.8bn), 90 per cent of which came from engines and wet bikes (PWCs). Of the 850,000 outboard engines sold worldwide last year, 370,000 were Yamaha.
Yanmar
Founded in Osaka in 1912 and renowned for its agricultural machinery, Yanmar Marine (a subsidiary founded in 2002 and headquartered in the Netherlands) applies its diesel engine technology to boats.
Tohatsu
Designed the OB-2, the first outboard motor in Japan in 1956. It continues to develop new products and customers come back for its durable, low-emission boat engines. In 2005 Tohatsu built a 34,000 sq m state-of-the-art factory in Nagano.