My last meal / PARIS
Amanda Lear
Singer, model, muse, actress and close confidante of many a major star, the 'disco Marlene Dietrich' returns to the restaurant where she used to dine with Dalí and tells us how her affair with David Bowie got off to a shaky start.
"I don't like fancy food and it's terrible to live on champagne and caviar. I never drink a drop of alcohol, I don't smoke and my sex life is awful. So there's only food left. At my ideal dinner party I'd invite Picasso and Frida Kahlo, and a musician such as Mozart. Also Hitchcock; I'm mad about Hitchcock. The problem today is that we still have great artists but they haven't got the flamboyance of before.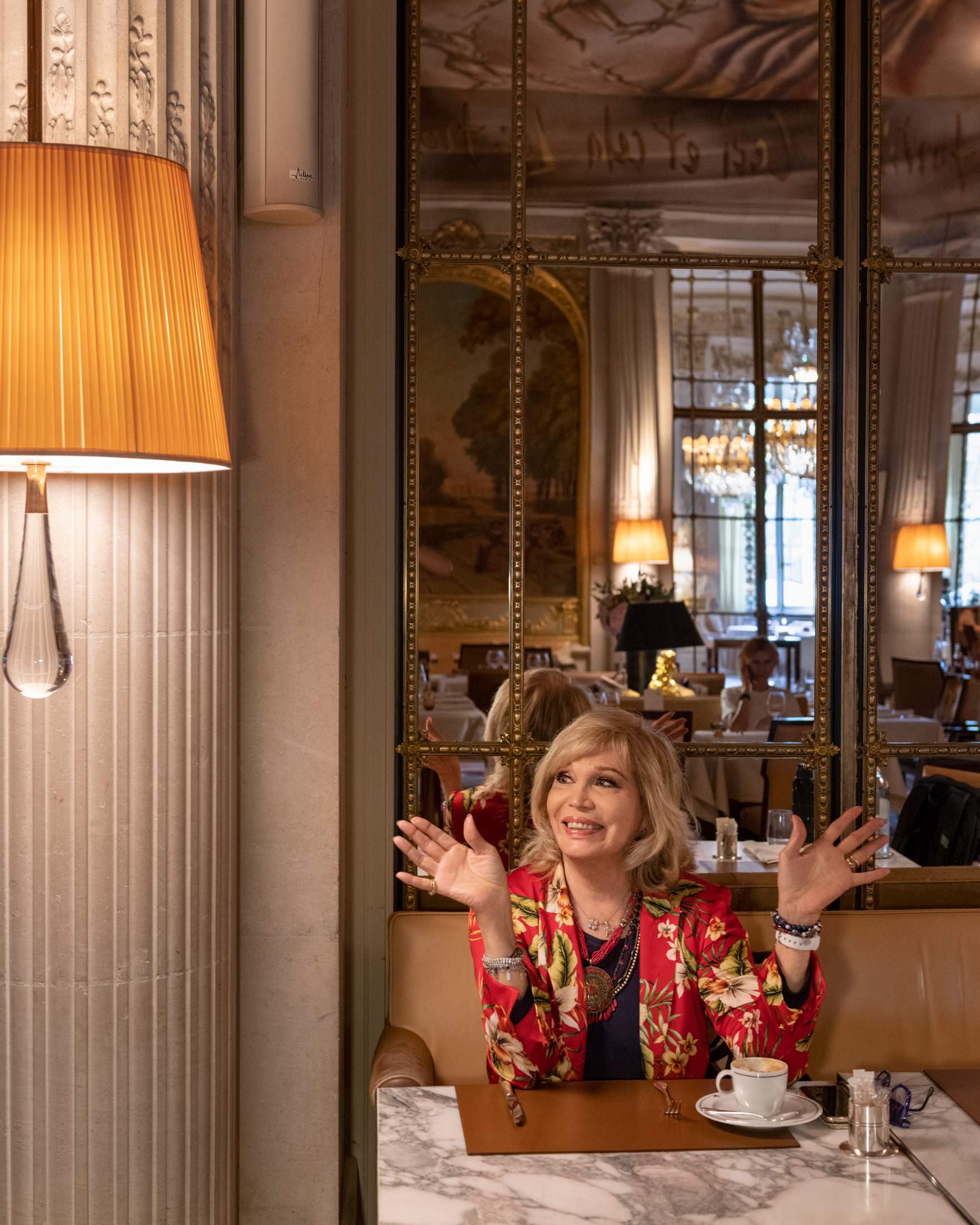 The first time Salvador Dalí took me to lunch was here at Le Meurice hotel. He stayed here all the time. I was a student and I'd never seen such luxury. For many years I was with Dalí; I followed him to New York, to Spain. At the end of our relationship I started singing. I was also the cover model on that Roxy Music album [For Your Pleasure, 1973].

It was then that David Bowie fell in love with a photo of me. My friend arranged for us to meet. At the time I lived in Chelsea, London, and used to see a lot of The Rolling Stones too. When I met Bowie he had a cold and looked revolting – he was not my idea of gorgeous. But we had a great love affair; he was the first person to say, 'Amanda, you should sing.' And I said, 'I am just a model.' He said, 'You have a voice and you should use it.'

Bowie decided I'd be one of his recording artists but I soon realised that nothing was happening. Then I got a call from the German record company Ariola, who said they liked my voice. The Germans always like a blonde with a husky voice, smoking cigarettes in a club. They wanted to launch a disco Marlene Dietrich.
I decided that if I was going to do a show, I wouldn't rely on my voice. I'd put it all on the visuals and get four gorgeous boys to dance. I was the first singer to use dancers in my shows.

When I was back in Paris I took a room at the Meurice. Dalí was staying here and said that he couldn't sleep knowing I was above his room. He was jealous: when a young porter asked me for an autograph Dalí said, 'But your records are shit.' I replied, 'They aren't shit, they are disco.' The more success I had, the more I moved away from Dalí but every time I come back to the Meurice it brings back memories. For lunch Dalí insisted on the Royal Swan: a swan-shaped sweet full of cream. He loved the presentation.

One ingredient I can't live without is garlic; I put garlic cloves everywhere. My English friend says I stink of garlic. I love the Mediterranean diet: greens, vegetables, tomatoes, salads and lots of things in the colour red. My speciality is bruschetta; it's amazing and costs nothing.

I'm more famous in Italy than anywhere else. They still love the star charisma in Italy; less so in France. Italy is a country of beautiful girls. You know the type: Sophia Loren, big tits. I thought I'd never make it as I'm tall and blonde but the opposite happened. I fell in love with Tuscany; I like the easy living. I adore Spain also: Dalí made me discover the specialities in Catalonia and one of them was very surrealistic: lobster with chocolate sauce. It sounds and looks disgusting but the mixture of salty fish with sweet cocoa is just wonderful, exquisite.

I have a good relationship with the fashion industry. When I arrived in New York with Mary Quant, my agency sent me to Diana Vreeland, who liked my cheekbones. I was going to bed at six in the morning; I didn't want to make a career as a model. I recently did a session with a photographer where I was dressed in Saint Laurent holding an albino python. They gave it a rat to eat so the photos have a snake with a big half-swallowed rat; it was so funny. I like Jean Paul Gaultier; I've catwalked for him.

People ask to hear my secret of survival in this industry. I think I've stayed around this long because of my incredible curiosity. What's interesting is tomorrow. What are we going to do? Who will I meet? Who's going to fall in love with me?"
Profile:
Amanda Lear is a singer, actress, TV presenter and painter. There is an air of mystery surrounding her early life but she is thought to have been born in 1950 in Vietnam. Having startexd her career working for designer Mary Quant, she later became Salvador Dalí's muse. In the late 1970s she began a career as a singer and achieved European success before taking to television, mainly in Italy, in the 1980s. Lear still works as a recording artist and actress, and remains a fashion muse. Many rumours have arisen to challenge Lear's contentions about her birthplace, age and gender. Lear has invited such questions and rejoiced in them. Want proof? One of her hit songs is "I'm A Mystery".
To eat:
Heritage tomatoes, olive condiments and herb pesto.
Tarte du jour: blueberry.
To drink:
Sparkling water and a cappuccino.
Venue:
Le Meurice hotel is on Rue de Rivoli in Paris's 1st arrondissement and its Restaurant Le Dalí was inspired by the Spanish painter who regularly met Lear here in the 1960s and 1970s. The restaurant's current incarnation was designed by Philippe Starck and opened in 2007. The food is a blend of traditional French classics and the best Mediterranean cuisine. Neither the creamy swan nor the chocolate-covered lobster that Lear refers to are on the menu now.
228 Rue de Rivoli, 75001 Paris; dorchestercollection.com