Briefing / Global
Architecture
Briefing
From a French-influences Montréal studio to a green building in the heart of Taipei, we highlight some of the design industry's best new works.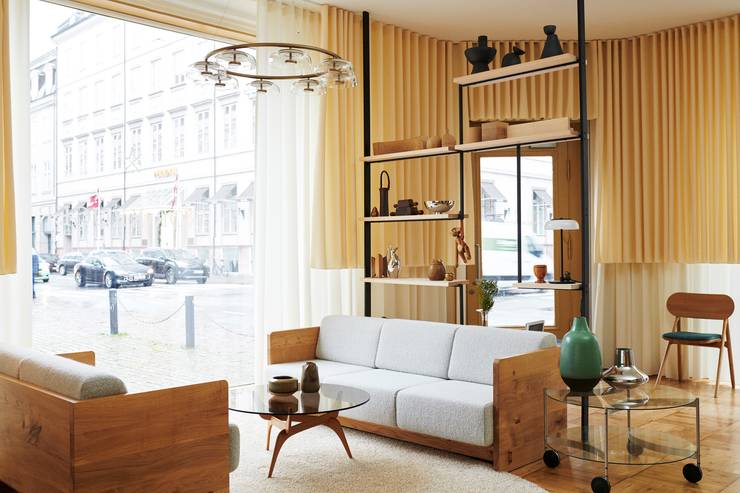 Timeless appeal
COPENHAGEN
When it comes to design, the best results take time. Just ask Danish furniture brand Brdr Krüger, which waited 133 years to open its first showroom. Situated in a rococo building in central Copenhagen, Brdr Krüger balances heritage with the contemporary, proudly displaying old carpentry tools on the walls while the floor is dotted with furniture pieces shaped more recently in the company's factory north of the city. The brand is known for its minimalist wares so the grandeur of the historical setting has been softened by a pale monochrome palette courtesy of Danish firm Bunn Studio.
brdr-kruger.com
---
First-class design
SINGAPORE
Tucked into Terminal One at Singapore's Changi Airport, the Qantas First Lounge is a new space created to streamline an experience of relaxation and refreshment through clever design. "The focus is on helping travellers prepare for their next destination," says industrial designer David Caon, of Caon Studio, a regular Qantas collaborator that recently overhauled its Dreamliner interiors.

Teaming up with architects and interior designers Akin Atelier for the project, Caon deployed a cool material palette of Carrara marble, oak and large-chip terrazzo that creates a relaxed but sophisticated tone. A clever use of perforated walls divides the areas while retaining a sense of openness; this is enhanced by smart lighting from an A-list cast of brands. Joe Colombo Coupé floor lamps, Flos IC wall lights and more Aussie design talent in the form of Studio Henry Wilson sconces create a soothing environment that is easy on the eyes of long-haul flyers. Contemporary European furniture companies – Walter Knoll, Massproductions and Carl Hansen & Sons – provide comfortable seating options while tropical plants in the lounge reflect Singapore's native flora.
qantas.com; caonstudio.com
Show and tell
BY Nolan Giles
By the time you read this I'll have worn the soles of my trainers bare on the sprawling floors of Köln Messe at the IMM furniture fair in January and will have done the same – in another pair of shoes – at Paris's Maison et Objet design fair. Even for the industry's most ambitious globetrotters, design weeks in Stockholm, Melbourne, Toronto and Indaba make for an intimidating itinerary in early 2020. For furniture companies (whose products tend to be central to these events) this growing calendar of events, fairs and shows is becoming a bit too much to bear.

But while "too many design weeks" was a consistent theme of conversations that I had with furniture companies in 2019, so too was the international growth story of their brands. Asian and North American markets are growing in importance for these industry-leading European companies, so you can only imagine even more hectic international calendars in the years ahead.Is this sustainable? Probably not. But experiencing a piece of furniture in person is the only real way to understand the value of the product: how it fits into a space, how it feels and the atmosphere it helps to create. The organisers of Milan Design Week – the king of all such events – know this well. It will beef up operations again this year, capitalising on its must-visit reputation.

Major furniture companies such as Knoll in the US are taking a different approach, emphasising brand-specific events on home soil to bring an international audience to them. But for most firms the major marketing challenge remains keeping on top of a relentless schedule. While I make the dizzying dash from one trade-fair hall to the next, I'll be gathering their ideas for a solution.
Singaporean firm Woha continues its work in improving architecture within Asia's dense urban landscape with its first project in Taichung, Taiwan. At Sky Green, a mixed-use development that aims to set a new standard for sustainability in the metropolis, shrubbery grows from (and drapes over) generous planter-laden balconies. "One building can't change a city but we hope that Sky Green is the first of many more," says Mun Summ Wong, founding director of Woha, which worked closely with design experts from Taichung's Feng Chia University on the project.

The façades – pioneered by Woha – naturally cool the building, while providing the city with valuable green lungs. Suspended courtyards that seem to float in the sky mark the upper levels of the development, giving residents quick access to green oases above the bustle of Taichung.
woha.net
---
Studio profile
ATELIER BARDA —
montreal
A decade ago, French architects Antonio Di Bacco and Cécile Combelle left Paris for Montréal seeking a change of pace. But their plan to stay for a year was upended when they saw the potential to open a studio there. "In France it's more crowded but here we saw an empty field of opportunity," says Combelle. The pair formally founded Atelier Barda – whose work now spans architecture, interiors and furniture – in 2012.

Today, Atelier Barda is among Canada's most exciting design studios. Its success is, in part, rooted in its "French touch". "When we began we didn't know that we had a 'French touch'," says Combelle. "It was always somebody else who'd say that there was something different to our work; that it had a European feel."

While Montréal luxury fashion retailer Ssense tasked UK architect David Chipperfield with designing its first bricks-and-mortar shop – five storeys of raw concrete and stainless steel in the city's Old Port – it was Atelier Barda that designed its office's expansion in 2017. Located in an old textile district, the offices are pared back: white ceramic tiles meet unpainted plaster walls that still bare pencil marks. Atelier Barda's offshoot furniture-design studio, Foraine, furnished the office with locally manufactured wicker-backed chairs and terrazzo coffee tables. "The materials contrast with the rawness of the architectural space," says Di Bacco.

Atelier Barda's keen eye for materials means that its designs, while spare, have plenty of warmth. In the Laurentian Mountains north of Montréal, the atelier has designed Maison Gauthier, a house on an equestrian farm. While it boasts a red-brick façade, which is punctuated by a single arched opening, the interior is built from concrete, lime plaster and oiled oak. "We choose materials that will develop a patina, that will live as the project evolves with time," says interior designer François Olivier-Gouriou. "For example, we might produce 15 different samples of a wood because we want a particular finish, texture or feel. It might not be something you'll notice in a picture but it's something we put so much time into."
atelierbarda.com
---
Notable projects:
1.
Maison Gauthier, Montréal
An unlit, curving corridor carries visitors from Maison Gauthier's entrance into its main living areas, where tall windows frame horses trotting by. "It's like a striptease," says Olivier-Gouriou. "The project always uncovers something new as you walk through it."
2.
Ssense headquarters, Montréal
Atelier Barda was partly inspired by Japanese brutalism when designing Ssense's offices. Fusing a minimal interior with interesting materials – plaster, steel, wicker and terrazzo – makes the space a natural extension of Ssense's strong brand identity.
3.
Résidence Villeneuve, Montréal
Converted shopfronts can make for great homes but their large windows can lead to a lack of privacy. Atelier Barda's clever design shields the house's private spaces from view while allowing plenty of light to filter through.