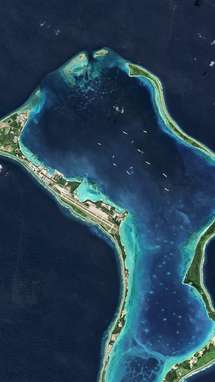 Give and take
CHAGOS ISLANDS —
SOVEREIGNTY
Between 1967 and 1973 the UK evicted the entire population of the Chagos Islands, an archipelago in the middle of the Indian Ocean that it had acquired from Mauritius two years earlier. Mauritius would subsequently claim that agreeing to the deal was the price of its eventual independence in 1968 and late last year the UN's International Court of Justice declared the occupation illegal. As a result, the UN General Assembly (UNGA) ordered that the islands be returned to Mauritius but its deadline for the UK to comply has now elapsed. Mauritian prime minister Pravind Jugnauth says that the UK's ownership of the Chagos Islands is illegal.  

The interesting question is why the UK is willing to court such opprobrium in defence of so remote a possession. The answer is the needs of its most important ally, the US. Back in 1965, as well as acquiring the islands from Mauritius, the UK concluded a deal to lease the biggest Chagos Island, Diego Garcia (pictured), to the US to build a naval and air base handily located for operations in Africa and the Middle East. The outpost is now home to more than 1,500 US personnel and the lease is currently due to run until 2036.
"The US base on Diego Garcia is an important resupply facility for the US navy," says Dr Sidharth Kaushal, research fellow in sea power and military sciences at Rusi. "The UK is very unlikely to give way on this as long as it remains militarily critical to America."

Diego Garcia is famously secretive: no journalist has ever visited and there is speculation over its links to extraordinary rendition. The base resupplies US navy ships and submarines and the airfield has been used to launch raids into Afghanistan and Iraq. There are other reasons why the UK and US might be unenthused about returning such strategically significant real estate to Mauritius, even though Jugnauth has said that he would be willing to allow US military operations to continue. Mauritius enjoys friendly relations with China: the two countries signed China's first free-trade agreement with an African country last year. "Defying the UN is not a great diplomatic look for the UK," says Kaushal. "But returning Diego Garcia to Mauritius would not just be relinquishing sovereignty to Mauritius but to a country where China is increasingly influential. So it is hard to expect this will happen."
Leading the charge
CANADA —
ARMED FORCES
In November the Toronto Scottish Regiment held a small ceremony at the Canadian army's HQ in Ottawa to mark a change in its leadership. The unit's incoming leader marked a milestone for the country's armed forces. Margaret Stawarz is the first woman to lead an infantry regiment within any of the branches of Canada's military. "Becoming a regimental sergeant major is an incredible honour for any soldier, male or female," says Stawarz. "[But] if my story can serve as a catalyst for others to pursue their aspirations, that's truly humbling."

Stawarz's appointment is the latest push to increase the number of women in the military's ranks; according to figures released at the beginning of last year, women account for just 15.7 per cent of personnel. The goal is to reach a quarter by 2026.
Who's buying and who's selling? We keep you abreast of significant defence deals.
In the basket: 24 Calidus B-250 light-attack aircraft
Who's buying: United Arab Emirates
Who's selling: Calidus
Price: $620m (€557m)
Delivery date: To be announced
This is the first sale made by Calidus of its B-250 – a single turboprop light-attack fighter aircraft built largely from carbon fibre. It is also the first time that the UAE air force has bought a domestically built plane: Calidus was founded in Abu Dhabi in 2015. The B-250's most obvious rival is the Embraer Super Tucano, a propeller-powered combat aircraft useful in counter-insurgency operations. It has been operated or ordered by nearly 20 air forces; Calidus will hope that it has launched a plausible competitor.
---
---
Homes for all
TORONTO —
HOUSING
Suburbs of major cities can be dull places but Innisfil, a rural town of 36,000 about 80km north of Toronto, is developing a progressive vision for a transit-oriented suburb – and others would do well to take note. The town recently released its masterplan for a future smart city dubbed the Orbit, motivated by the arrival of a new regional train station in 2022.

With Toronto's pricey housing market pushing people further outside the city, the Orbit hopes to accommodate up to 150,000 residents on 260 sq km of largely untouched land over the next few decades. The town's planners are collaborating with Toronto architecture firm Partisans, which has looked to urban-planning precedents – from the grids of ancient Rome to the garden-city movement of the early 20th century – to inform the Orbit's design. "The idea is to capture a much bigger population in a smaller area to prevent sprawl," says Alex Josephson, co-founder of Partisans.

Preliminary plans are for four residential and commercial towers built above the train station, with a 3.5km linear park running alongside the train tracks. New technology will improve sewage treatment, traffic and the power grid, says Josephson. Another priority was creating a pedestrian-friendly town, helping residents to get around faster and rely less on cars – a rarity in North America.