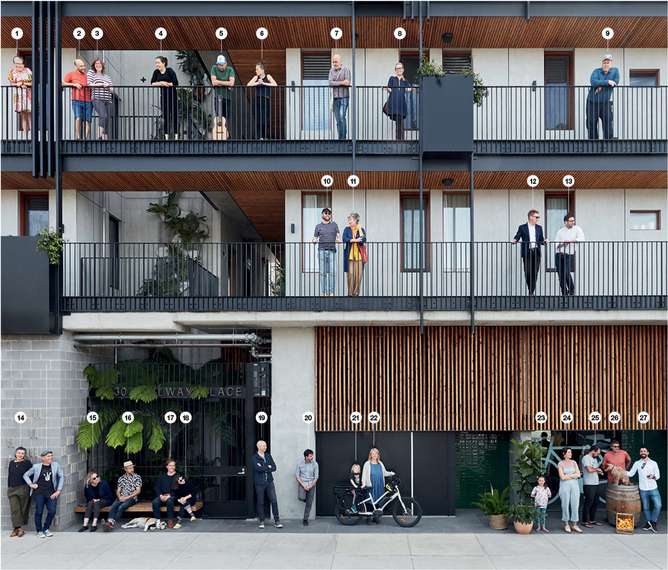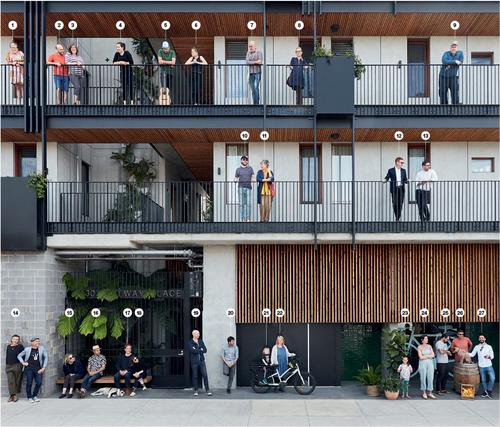 Established: 2014
Location: Melbourne
Completed projects: 3
Live projects: 9
A decade of rising house prices has made buying a home increasingly difficult for the average Melburnian. And at the same time, the apartments being built are often uninspiring. "When working on housing projects we either resigned or were fired when the client wouldn't deliver on critical sustainability measures," says architect and Nightingale Housing co-founder Jeremy McLeod.
Finally fed up with Aussie developers McLeod took matters into his own hands. In 2013 he convinced a handful of Melbourne architects to invest in a 24-apartment housing complex in Brunswick called The Commons. "We designed it for human occupation rather than to satisfy a spreadsheet," he says. Seven years on, McLeod and his team have franchised the model under the Nightingale Housing name. The developer has added 71 affordable apartments to Melbourne's housing mix, with another 339 in the works.
Nightingale 2 opened in 2019. Framed by eucalyptus trees, there's a noticeable absence of a carpark. The balcony-edged apartments are also missing second bathrooms and laundries. Instead, the roof is a communal laundry area with sweeping city views and a vegetable patch – the ground level is home to a wine bar and landscape architects' office. There's a palpable sense of pride among the Nightingale 2 community. With McLeod's help, they've built an affordable and sustainable slice of utopia.
Jeremy McLeod
Co-founder
After studying environmental design and architecture, McLeod and Tamara Veltre founded Breathe Architecture in 2000 to design beautiful and sustainable homes. In 2014 the duo set to work on solving Melbourne's housing crisis and founded Nightingale Housing with the support of six of the city's best architects.
Sally MacPhail Resident. "Defender of the environment."
Matt Daniel and Nareeda
Lewers Residents. "Sustainability advocates and expectant parents."
Vera Pavey Resident. "Crossfit enthusiast."
James Kenyon and Cara
Jeppersen Residents. "El Mariachi and social-justice warriors."
David Gibbins Resident. "Militia cyclist."
Siobhan McKenna Resident. "Resident psychologist."
Chris Gooding Resident. "A big Richmond Football Club fan."
Patrick Kennedy Investor and Kennedy Nolan Architects co-founder. "Raconteur."
Rachel Nolan Investor, Kennedy Nolan Architects co-founder. "Force of nature."
Damian Iles Town planner and director of Hansen Partnerships. "City advocate."
Paul Miziewicz Co-ordinator of Statutory Planning at Darebin City Council. "Making magic happen."
Tamara Veltre Co-founder. "The solid foundation of Nightingale Housing."
Heather Shand Chris's mum."Feeding the troops."
Mat Ward Resident. "Publisher, fancy dresser, owner of lazy bulldog Penny."
Dan McKenna Senior project lead at Nightingale Housing. "The glue that holds Nightingale together."
Jess Wood Community and communications at Nightingale Housing. "Our voice and heart."
James Legge Board director at Nightingale Housing, Nightingale 2 project architect and co-founder of Six Degrees Architects.
Gavin Ashley Better Cities lead at Hip V Hype. "Sustainability guru."
Milo & Renee Kludas
Residents. "Midwife, mum to the cutest kid on the block. And Milo, the cutest kid."
Murphy Tan Child of Fran Hale and Steve Tan.
Fran Hale Founder at Peachy Green. "Landscape designer for lovers of green."
Steve Tan Co-director, landscape architect at Peachy Green. "Also lover of Fran."
Stephen "Stiff" Farrell Angel investor and Fairfield local. "Good sport, great man."
Maurizio Lepori Manager, Mister Bianco. "More Italian than Robert De Niro."