Interiors / Rouen
In with the Old
Time and many thoughtless refurbishments have diminished French architect and designer Maxime Old's legacy. But, thankfully, two of his most glorious interiors have been preserved in Rouen.
The vaulted wooden ceiling of Rouen's Halle aux Toiles looks like the hull of an upturned boat. Its red arches and sculptured extractors reflect in the gleaming parquet below. The adjoining fumoir (smoking room) is just as flamboyant; polished brass balustrades and leather banquettes sit by bottle-green curtains, cherry-red Formica panels and light fittings that fan up and out like popping fireworks.

The interior of this municipal complex, an anomaly in Normandy's august capital, is the work of Maxime Old, the descendant of a long line of Parisian cabinet-makers in the Faubourg Saint-Antoine. His atelier kitted out some of France's most fêted postwar interiors, including trans-Atlantic ocean liners such as SS France (1961), the First Class lounge at Marseille airport and various French embassies, from Oslo to Ottawa.
Old's atelier designed and produced original furnishings for each project. For France's grand cruise ships (or paquebot), he crafted steel-framed deck armchairs and onyx bridge tables. Archive photographs of the First Class Fontainebleau salon on the SS France show a tessellated marble dancefloor surrounded by mustard-coloured lounge chairs on pointed aluminium legs. "Many of these interiors were redecorated and effectively destroyed," says Guy Pessiot, who is in charge of heritage for the city of Rouen. "Here in Rouen, we have two unchanged places. They are complete, working examples of Old's oeuvre."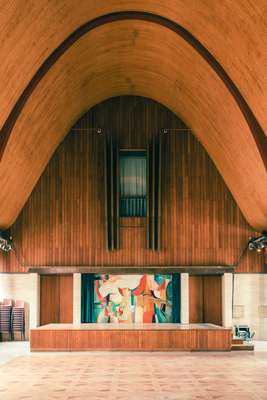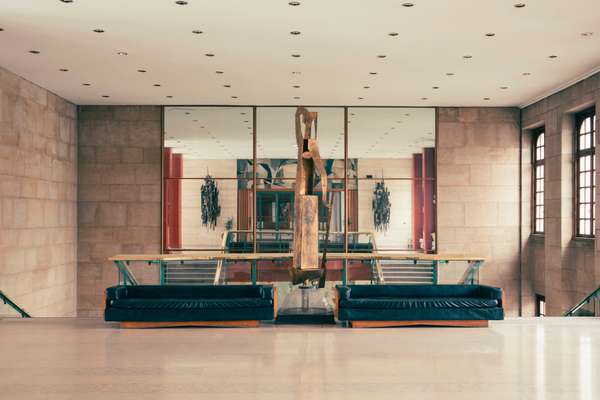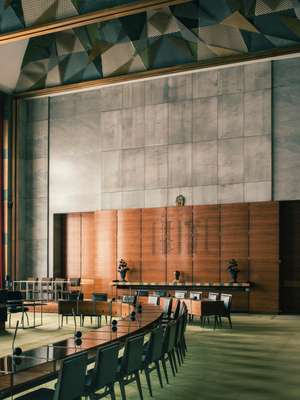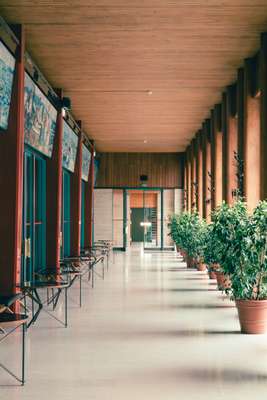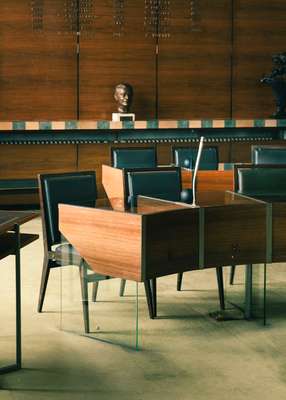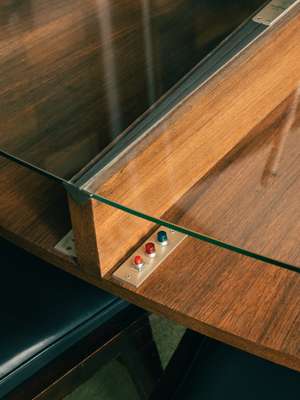 Old's work for the city of Rouen came at the behest of a previous client, Doctor Robert Rambert, who was also deputy mayor. Having suffered devastating bombardments in 1944, the city was several years into a large-scale reconstruction project when it called upon Old. After completing the Halle aux Toiles in 1960, he was commissioned to reimagine Rouen's council chamber in a contemporary style. In 1962, with the help of designer Raymond Subes, he set about creating a khaki-green ceiling installation using coloured metal panels, employing doors clad in bronze-and-stone effect material and commissioning an abstract metal screen, which flanked the council delegates. Today every piece is still in use. Though a little worn, Old's wooden "council chair" and soft olive-green carpet is just the same. "[With Old's work] we are at the end of art deco but arriving in the period of style international," says Pessiot. "Old was interested in new materials: Formica, plastic, metal. In Rouen they have been in constant use for half a century. We're committed to preserving them."
The transitory nature of Old's commissions and the bespoke approach of his creations have conspired together to dilute his legacy. Old is far from a household name in France. His son Olivier thinks that this is partly to do with his father's prolific talent. "When I was a young engineer, I would visit [my father] every evening," says Olivier, perching on one of his father's deck armchairs on Paris's rue Coquillère. "There was always a new design on his drawing board. Maxime Old was so creative that in effect he made a series of prototypes. He never went to mass production. I have 3,000 numbered drawings in the archives; each one details a fully realised design. It's a ratio of one per week over the course of his career."
Aiming to restore his father's legacy, Olivier has teamed up with gallerist Anne Jacquemin to reissue Maxime Old classics. The pair have created the Paquebot France Collection that produces (to order) pieces from the Fontainebleau lounge in workshops in France. They have also created new pieces using Old's trove of unrealised sketches. "We have made a dining table in brass and alabaster, in the spirit of Maxime Old," adds Jacquemin.
The gallerist thinks that Old lacks the fame of other designers such as Jean Prouvé precisely because of the scope and variety of his work. "To recognise Maxime Old's work you have to be an expert," she says. "I think this is why his success is not the same as someone like Jeanneret or Prouvé. But I hope that we can bring it back to him."
Reconstructing Rouen
With a port not far from the mouth of the Seine and a monopoly on river traffic the northern French city of Rouen prospered in the medieval era. Now it is known for its soaring Gothic cathedral and half-timber houses. Bombardments in 1944 destroyed much of its urban fabric and a large-scale reconstruction effort followed. Led by architect Jacques Gréber, it resurrected the old buildings but also embraced the modern. Look out for the slick 27-storey Tour des Archives (1965) or Louis Arretche's postmodern Church of Saint Joan of Arc, which commemorates the saint in the Place du Vieux-Marché where she was martyred, and resembles an abstract upturned Viking boat.