Womenswear / London
Making the cut
Rejina Pyo's eponymous label was struggling to take off but a bold last-ditch collection launched the brand sky high.
Three years ago, Rejina Pyo was on the brink of closing her fashion label. The South Korean-born London-based designer had been working with a sales agent for two years but her clothes were not shifting. The agency advised her to quit. She contemplated it – but not before designing one last do-or-die collection, for spring/summer 2017. "I hadn't been doing 100 per cent what I wanted to do," says Pyo. "I thought I would make this final-chance collection and if it didn't work out, it would be because I'm not talented enough."
But it did work out. Pyo followed her instincts and designed a collection that she wanted to wear: oversized trench coats in windowpane check, below-the-knee kilts in pleated fabric and masculine button-up shirts made feminine with ribbons that tied around each cuff. A marigold-yellow midi-length dress called Jamie, meanwhile – with sculptural puffed sleeves ballooning from dropped shoulders – swiftly sold out.
"It became my most famous dress," says the Central Saint Martins (csm) graduate, who founded her self-funded label in 2014 after winning €25,000 prize money from a fashion award in the Netherlands. "I always loved that shade of sunflower because it's so golden and earthy but has some classical character to it," adds Pyo.

Spring/summer 2017 was the first time she had put that hue into a collection. Pyo had always been told that no one would buy that particular shade because, she says, "It was so difficult [to wear] with blonde hair and it didn't suit most skin tones. But so many women, no matter their complexion, wore the Jamie dress."
Sitting at her desk in her studio, dressed in an oversized twill safari dress with military pockets and a belted waist, Pyo embodies the sort of low-key everyday elegance for which her brand is renowned. Petite in stature and with a mane of ebony hair, she has a warm demeanour and a down-to-earth manner that is evident in her designs. Treading the line between fashion and function, her clothes – wardrobe staples with directional twists, architectural silhouettes and a saturated colour palette – are flattering and easy to wear. "I would hate for myself or my customers to look like a fashion victim," she says.
The label has expanded rapidly. Two years ago, Pyo had one part-time pattern-cutter; she now employs a team of 14 and her studio, on an unassuming residential street in Finsbury Park, north London, buzzes with chatter and whirring sewing machines. Pyo has now bolstered her offering to include shoes, bags and jewellery. She also opened her first pop-up shop in London in 2018. Last year she unveiled a handful of men's looks during her spring/summer 2020 show and picked up the emerging womenswear talent prize at the Fashion Awards in London. She is one of the most exciting and thoughtful young designers working in the industry today.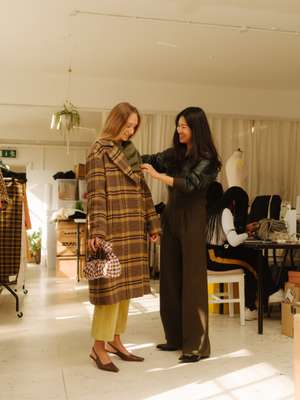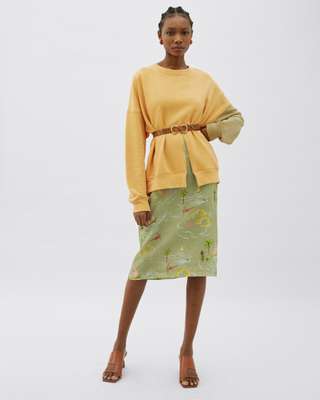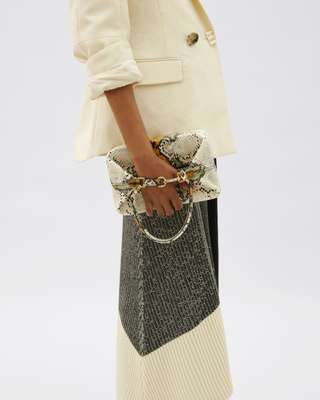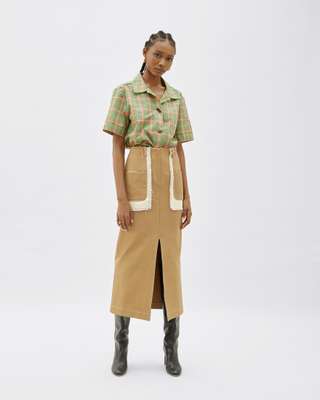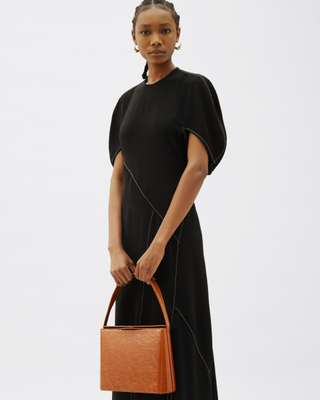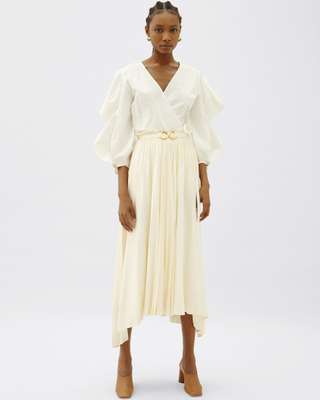 Where she was once clamouring for stockists, now she counts blue-chip retailers including Liberty and Selfridges in London, Nordstrom and Forty Five Ten in the US, and Lane Crawford in Shanghai among her wholesale accounts. It's hard to believe that the brand almost suffered a premature demise – but Pyo insists that her struggles proved to be an excellent learning opportunity.
"The 2017 collection made me really honest," she says. "Having the limitation of funds meant that every piece had to work because I couldn't afford to get it wrong." Such is the importance of the spring/summer 2017 collection that key pieces, including that Jamie dress, are still available to buy exclusively on her website. She continues to apply the same strict budgeting to her design process, beginning with a retail price in mind and working backwards to cost-engineer pieces that her customers can afford. "I think, 'OK, there's a luxury dress for £2,000, a cheaper one for £200, so somewhere in between is my price,'" she says. "From there, I calculate the wholesale department-store margin to figure out what I can spend on making it. Then, within that, this is the cost I can spend on fabrics for this dress. With those limitations you work really hard to achieve what you want."
For Pyo, hitting the "contemporary market" price point, in which garments typically sell for between £200 to £1,000 (€240 to €1,200), is key. "I want to make clothes that my friends can afford," she says. Others in the industry had told her that she needed to up her prices. "But what was the point in being another luxury brand making really expensive garments?" she says.
Pyo's customer is considered at every stage of her process. "I always think, 'What is her salary, can she afford to spend £700 on a dress?' As a designer, you need to know who your clothes are sold to. It has to make sense in the real world."
This laser focus extends to the style of her designs. Pyo only puts one or two evening dresses in each collection; everything else can be worn day to night, from work to weekend. "Women don't need 20 evening dresses in their wardrobe," she says. Pyo thinks that her female point of view gives her an advantage over male designers. "They have never been pregnant or bloated. They have no idea how we're going to feel sitting down to dinner in tight clothing."
Her clothes often feature "fit-and-flare" silhouettes that sculpt the waist but billow around the lower abdomen. "I'm not designing clothes for a stick figure who is 16 years old with no boobs and no bum," she says. "I have zero interest in designing body-con clothing." Pyo is evidently a natural grafter. Having moved to London alone aged 25, with little money and an "inability to speak a word of English", she enrolled at csm and worked part-time in retail to support herself financially. She says that this gave her practical real-world experience as to what women bought and how much money they would, or could, spend.
She also made many "expensive mistakes" soon after launching her brand, having gleaned few manufacturing contacts or practical business insights from csm. Her first collection missed the buying window (the four-week period where buyers spend their budgets for the forthcoming season); she had no idea such a thing existed.
She then spent a significant sum renting a booth at a trade fair in New York without realising that she needed to make buyer appointments months in advance. Her stall was empty for the duration of the show; she sold almost nothing. "It was an expensive, brutal lesson," she says. "But I'm glad I learned it. It's in my bones that if I don't sell this collection, I won't be able to make the next one. Everything has to work in a resourceful way."
Pyo's initial naivety has been replaced by shrewd business acumen. Her US ready-to-wear orders ship directly from the company's factories in Seoul to capitalise on South Korea's free-trade deal with the US; this spares her the 25 per cent import tariffs she'd be faced with if exporting from the UK.
But the ever-humble designer downplays her successes, despite the fact that Rejina Pyo is one of Net-a-Porter's fastest-growing labels, with sales more than doubling in the last year. Pyo says that she is still "figuring things out and learning every day".
She might be modest – just like her clothes – but the brand's potential is off the chart: a small unisex line has been unveiled, there are ambitions to open a bricks-and-mortar shop and she is also eyeing the introduction of homeware to the Rejina Pyo world. Let the learning continue.
---
Spring/summer 2020 collection:
The art-inspired collection (pieces pictured) blends earthy oranges and marigolds with workwear silhouettes for men and sculptural shapes for women. Hand-painted prints decorate skirts, shirts and trousers, and fabrics are focused on sustainability.