Round-up / Austria
Austria for beginners
Need to pass for a local? Look no further than our illuminating line-up of facts and anecdotes about this prolific nation. Just don't forget to drop in a cheeky innuendo or two for good measure.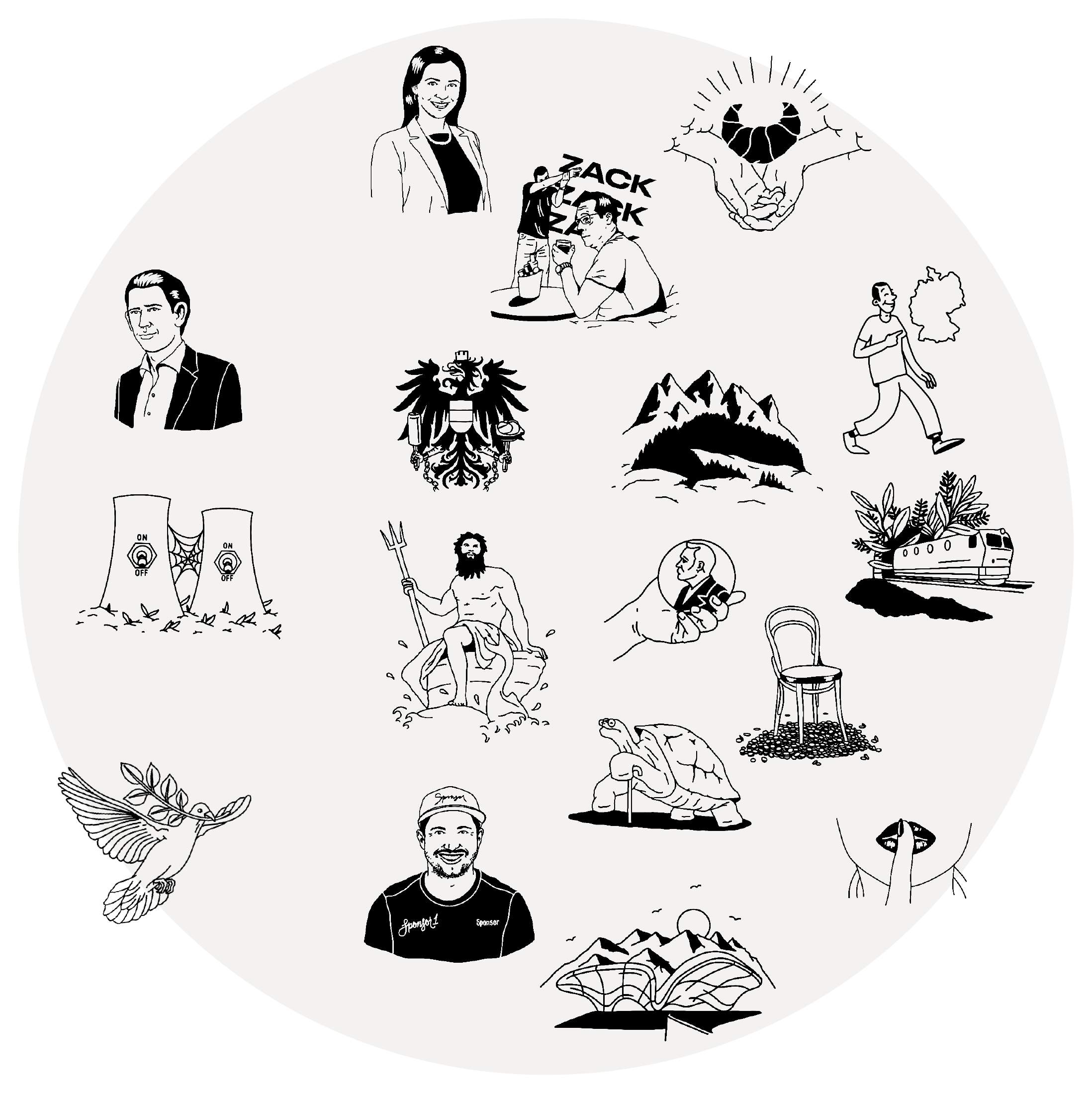 At 33, Austria's chancellor Sebastian Kurz is the world's youngest current state leader and is already at the helm of his second government.
Austria's first-ever federal coalition government of the People's party (ÖVP) and the Greens was sworn into office in January with a pledge for the country to become carbon neutral by 2040. It marks a dramatic shift from the ÖVP's previous coalition with the far-right Freedom party.
Austria completed its first commercial nuclear power plant in the 1970s but it never produced a single watt of electricity. A referendum in 1978 rejected nuclear power and quashed the plant before it could go into operation.
Austria is one of the few European countries with military conscription. Conscripts help in domestic disaster relief, while hospitals and care homes rely on the many young Austrians serving their time in civilian rather than military service.
Austria is militarily neutral, a condition that cleared the way for it to avoid the divided postwar fate of Germany. Instead, Austria has focused on supporting UN peacekeeping operations since joining the bloc in 1995.
Holding political-party membership significantly increases your chances of being awarded higher-end public postings at schools, hospitals, transport and public companies. For decades posts were split between Social Democrats and the People's party, though there are newer national entrants, such as the Freedom party.
The new cabinet is gender balanced and includes Austria's first minister with a refugee background (justice minister Alma Zadic). The Greens are in charge of a super-ministry that includes energy, transport and technology portfolios.
Say the words "Zack, zack, zack" to an Austrian and they'll likely recall the "Ibiza scandal" that brought down Heinz-Christian Strache. The former Freedom party leader and deputy chancellor said those words in a video pledging government contracts to a Russian woman in exchange for favourable news coverage.
Every time you sit down to breakfast you can thank Austrians for your feast. The croissant was invented in 1839 by August Zang, an Austrian who ran a bakery in Paris, and Danish pastries were created by Austrians living in Copenhagen in the 1840s. Meanwhile, the cappuccino is derived from the Kapuziner, a milky coffee drink served in Vienna in the 1700s.
Austrian-born Hollywood director Billy Wilder once said: "The Austrians are brilliant people. They made the world believe that Hitler was a German and Beethoven an Austrian."
There are two Austrian flags. The basic one for citizens, which is based on historic Babenberg dynasty colours, has three horizontal stripes – red, white and red. When the flag is flown by the government, it includes the Austrian coat of arms, the federal eagle with broken chains, to symbolise the country's liberation after the Second World War.
Nearly two thirds of the country is covered by the Alps, providing thousands of kilometres of hiking trails for every ability. There are 13 peaks higher than 3,000m – perhaps better left to the expert climbers.
The Stiftskeller St Peter in Salzburg claims to be Europe's oldest restaurant: it dates back to the year 803. It is partially built into a rock face and includes 11 historic rooms with space for more than 600 guests.
Nearly a third of the energy consumed by Austrians comes from renewable sources, in particular hydroelectric power and bioenergies – one of the highest rates in Europe.
Austrian empire citizen Baroness Bertha von Suttner was the first woman to win the Nobel peace prize back in 1905, writing one of the 19th-century's most influential books, the anti-war novel Lay Down Your Arms (1889). She was referred to, one hopes ironically, as the "generalissimo of the peace movement". Austria is the 10th-biggest producer of Nobel prize-winners: there have been 22 so far.
While the art of hand-painted signage has faded in most parts of the world, businesses in Austrian cities such as Graz still aim to stand out on the high street with well-crafted boards. Agencies such as Moodley and Bruch bring contemporary touches to sign design.
Designer Helmut Lang was the king of cool in the 1990s, pioneering minimalism and androgyny in his New York runway shows. He left his brand – and, for the most part, fashion – in 2004 and moved to Long Island to work as an artist.
The Schönbrunn Zoo in the Palace Gardens dates back to 1752, making it the oldest operating zoo in the world. It was set up by Emperor Franz I as a private menagerie of rare animals.
The first ever mass-produced item of furniture, the Thonet No 14 chair, came out of Vienna. Designed by Michael Thonet in 1859 and made from beech wood, some 50 million units had been sold by 1930. It is still the world's most-sold chair.
Trains are very big business in Austria. The ÖBB Nightjet – the Austrian Federal Railways' night train across Europe – has been applauded since its 2016 launch for promoting a slower, more eco-friendly way to travel.
Austria is sixth in the medal tally in the Winter Olympics and has hosted two Winter Games (in Innsbruck in 1964 and 1976). However, Marcel Hirscher, one of Austria's greatest ever athletes, has just hung up his skis. The 30-year-old slalom specialist won a record eight consecutive World Cup titles.
22.
Caring for craftsmanship
The Wiener Werkstätte, a Viennese co-operative that brought together artists, architects and designers, was a leader in modern design from 1903 to 1932. More recently, the Werkraum Bregenzerwald has become a modern model for helping artisans across woodwork, ceramics design and painting.
Innsbruck might seem like a sleepy ski city but in the design world it's something of an Alpine mecca for top architects. While Zaha Hadid's Bergisel Ski Jump set a daring tone in 2002, in the years since, global firms such as Oslo's Snøhetta have set up shop here, beautifying the city and the region.
Austrians are not direct like Germans or some Anglophones. In fact, if you are too direct, they won't know what to do with you. Deals are cut behind the scenes, business appointments take hours to get to the matter at hand and there's always a subtext. Make jokes with a lot of irony and innuendo and you'll fit right in.
K+K, an abbreviation seen on guild signs on shops mostly in Vienna, means Königliche und Kaiserliche (monarchic and imperial) and denotes purveyors who were once suppliers to the royal court. Luckily, many of these small family businesses have survived.