Briefing / Global
Cities
Briefing
Croatia's Kvarner Bay in the limelight, Buenos Aires' mayor stands his ground and China's cities experiment with recycling.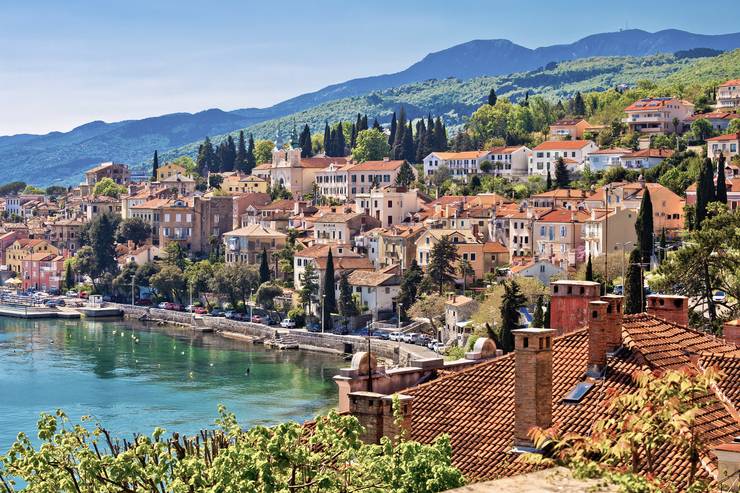 Stepping out
CROATIA —
TOURISM
The opening of Rijeka's reign as European Capital of Culture for 2020 coincides with nearby Opatija's spectacular six-week annual carnival. Despite their proximity on Croatia's picturesque Kvarner Bay – a mere 18km separates the two – Rijeka and Opatija have quite distinct characters.The former is industrial and Croatia's third-largest city. The latter is barely a tenth of its size.

What both have in common is their Habsburg heritage, owing their success to the arrival of the Austrian Southern Railway in Rijeka in 1873. The line brought a steady stream of sun-seeking Europeans to Opatija, which soon boasted an abundance of stylish accommodation options. "The Austrian connection was of crucial importance to Opatija's development," says the town's deputy mayor, Emil Priskic. "Friedrich Julius Schüler, director of Austrian Southern Railway, built hotels and villas by the sea modelled on the Austro-Hungarian architecture of the time, followed by the promenade and Opatija's famous parks. In 1889 the Austrian government formally declared Opatija the first climatic resort on the Adriatic."

It was a destination fit for an emperor. Franz Joseph I was in the habit of spending the winter months in Opatija, escorting Kaiser Wilhelm II and other European royals along the renowned Lungomare promenade, still a popular coastal walk. Priskic says that Rijeka's Capital of Culture status has reaffirmed its present-day links with Austria. Part of that bonanza is the 27 Neighbourhoods project, which links communities in the Kvarner region to towns and cities across the EU. Opatija's partner is Vienna.

"We have established good co-operation in the fields of ecology, environmental protection and the sustainable development of tourism," says Priskic of the latest tie-up with the former imperial capital. He also notes that Austrian visitors remain Opatija's "most common guests", not least when Hotel Kvarner hosts its annual Viennese Ball in September. Where better to party like it's 1899?
---
Carrot and stick
CHINA —
ENVIRONMENT
A recycling initiative introduced in Shanghai last July is now being rolled out in other cities. Mandatory garbage-sorting will be brought to Beijing and Shenzhen in May. So will it work? The carrot for diligent residents comes in the form of credits towards everyday items. The stick is fines and lower credit scores. "The scheme works because it's interactive," says Jingru Zhang, an assistant professor at Shanghai Jiao Tong University. But, she says, busy Shanghainese have found collection schedules difficult; the schemes in Beijing and Shenzhen are likely to be more flexible. Cities struggling to encourage recycling should take note.
---
Q&A
HORACIO RODRÍGUEZ LARRETA
Mayor
Buenos Aires
Buenos Aires mayor Horacio Rodríguez Larreta has positioned himself as a future Argentine presidential candidate. He won a second term in October, and his one-time boss and political mentor Mauricio Macri was defeated by the Peronist Alberto Fernández in October's presidential race. Larreta credits his success to an inclusive approach.
Your party struggled to win voters in the last election. What did you do differently?
Our main focus was to keep working as we had since our very first day: visiting each of our 48 neighbourhoods, staying close to every citizen and listening to their demands and needs. We have been able to build a political space where people of different backgrounds – but the same values – come together.
What were the biggest successes of your first term?
Today Buenos Aires is more inclusive, egalitarian and diverse, with a greater awareness of the importance of promoting gender equality and environmental protection. This could only have been done by working with the three million citizens of Buenos Aires who now participate in every project, from the smallest transformations of a park to the design of viaducts.
What are your priorities for your second term?
Further transformation of the public education system by expanding digital, robotics and programming courses from nursery to the last year of high school. Improving public health and working against climate change by adding 100 hectares of green space and 100,000 trees to improve air quality.
Is your goal to be the next president of Argentina?
My commitment is to the people of Buenos Aires. At the national level there is a new government. We will collaborate in every possible way. If the government succeeds, we all do. The welfare of our citizens must always be above any political differences.