Culture / Vienna
Having a ball
Vienna's world-famous party season has been a feature of life in Austria's capital for two centuries. We meet the businesses keeping the tradition alive.
The first time you walk into Austria's centuries-old Imperial Palace for a traditional Viennese ball is otherworldly. Six double-layered crystal chandeliers, a frescoed ceiling, opulent satellite rooms; this private part of the Hofburg – once the royal residence – is impressive enough as an events venue but to be there for what most attendees describe as "a part of Austrian history" is unique.
For one evening, as the rest of the world hurtles into a brave new year, you're in a banqueting hall lined with ushers in 18th-century court attire (buckled shoes, stockings, many ruffles), surrounded by a sea of tailcoats and floor-length ballgowns. This is a world where debutantes in white dresses and tiaras are presented to society, where Austria's Habsburg emperors and empresses crop up in conversation and where midnight is marked by a quadrille. "The way people dress, the music, the waltz – like the monarchy, this is our culture," says Silvia Köhler-Barta, part of the organising committee of the Pharmacy Ball, one of many guild-association events held at the Hofburg. "People come from all over the world to see this."
Give or take some formalwear and a change of venue, similar scenes play out across Vienna more than 450 times over the course of three months. Coinciding with the German-speaking world's carnival period, Ballsaison dates back to the Congress of Vienna in 1814-15. Once exclusively high-society, there's now an event for everyone, from the lgbt-friendly Rainbow Ball to the International Atomic Energy Agency's Staff Association Ball to the Chimney Sweep's Ball (those without sweeping experience also welcome). Often anyone can buy a ticket, although the fee for some events is prohibitively expensive.
It's also big business. The events range in size from 600 attendees to 6,000 and attract more than half a million people every year. Every person spends an average of €290 on the ball, according to the Vienna Chamber of Commerce. Roughly €110 of that goes on preparations such as hair styling, clothing and all-important dance lessons, followed by €180 on the event itself, including the ticket, food and wine. That's a whopping €150 million generated for the local economy within the space of just a few months.
"It's definitely our busiest time of year," says Clemens Höllrigl, owner of 65-year-old clothes shop Kleiderverleih Rottenberg. "We make about 60 per cent of our annual revenue in this period." The 9th-district store is regularly recommended as a place to rent (or buy) everything required to meet the strict dress codes, from patent oxford shoes to extravagant dresses, and includes a fitting and cleaning service. "I would say that about 70 per cent of those customers are non-Austrians," she says. "They come from all over the world but especially from China and Japan." And that's not all. Every ball requires dozens of behind-the-scenes companies to run properly, from caterers that can knock out hundreds of sausages to technical specialists who can set up stages in listed buildings. With budgets that can run into millions of euros, securing a contract with an organising committee can be lucrative.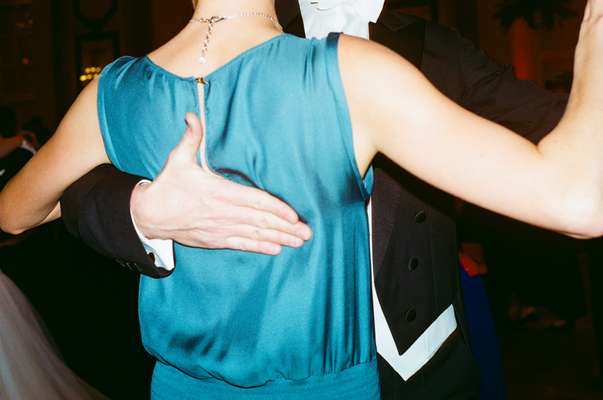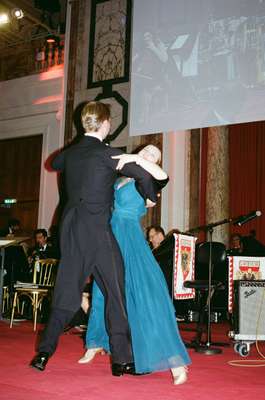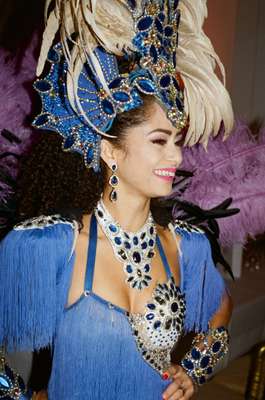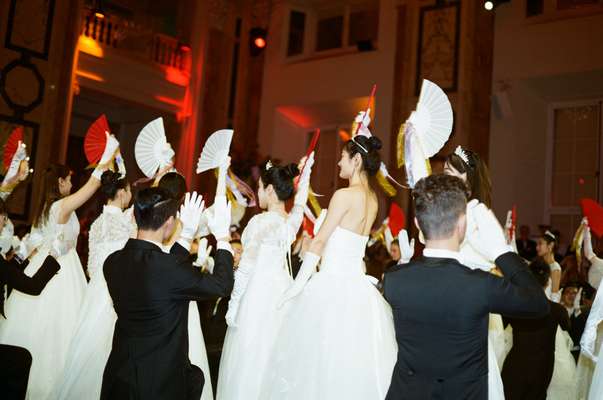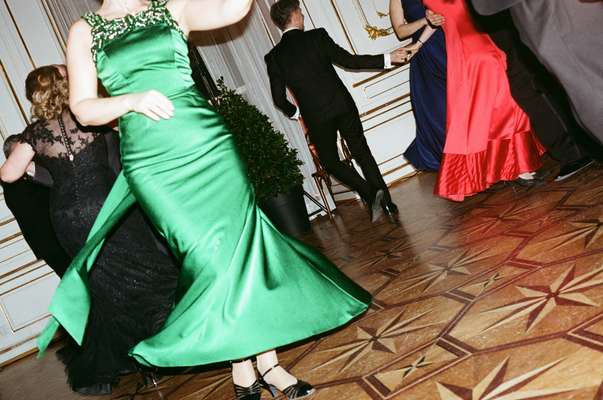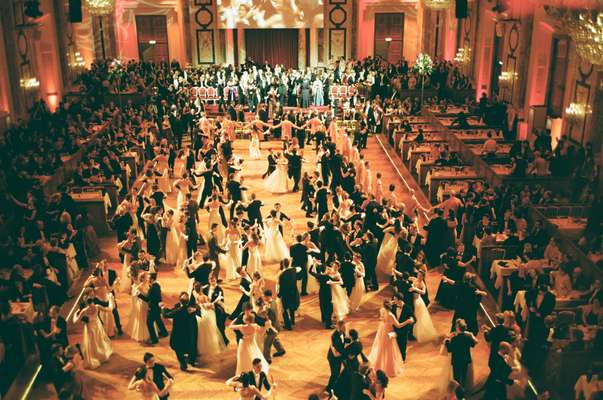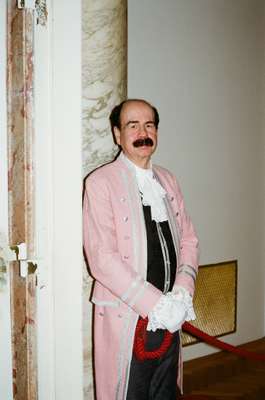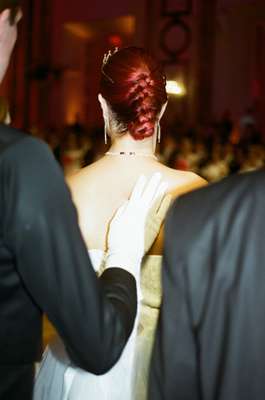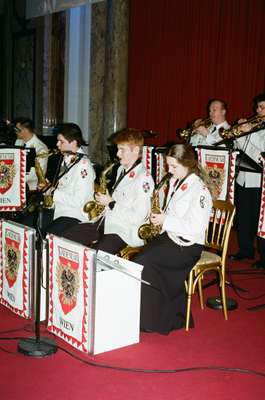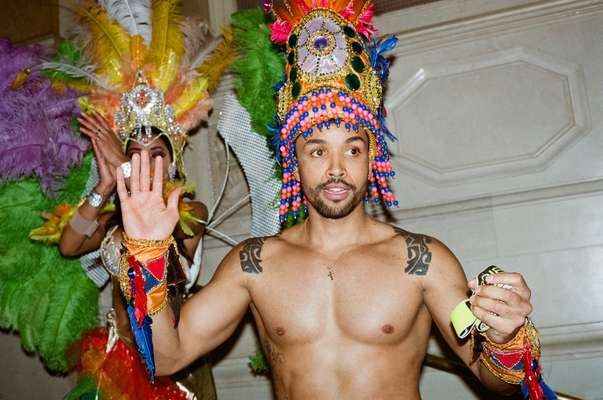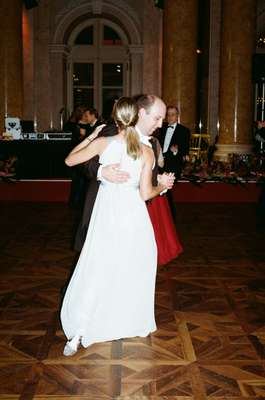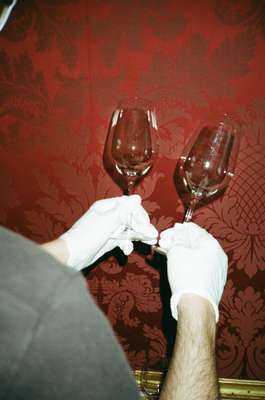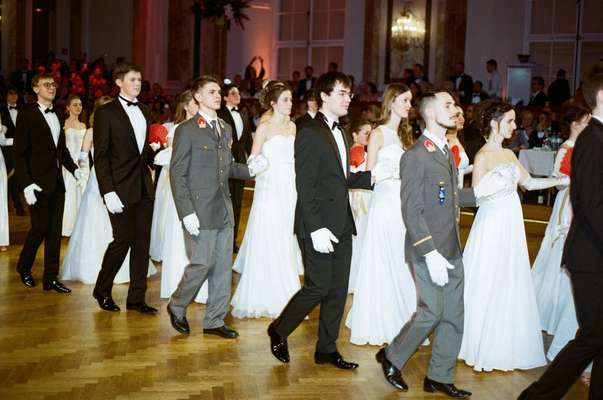 "We have been in the ball business for about 20 years and they provide about 25 to 30 per cent of our annual revenue," says Michael Hitzler, the owner of family-run flower supplier Blumenkultur. He works with sister company Baumkultur, which provides plants, on about 15 balls every year, from the largest, the Coffeehouse Owner's Ball, to smaller ones such as the Pharmacy Ball, which he's been busy setting up for at the Hofburg when monocle meets him.
"We always try to choose Austrian plants wherever possible, although the heliconia you see here tonight are from abroad," says Hitzler, gesturing at pots of exotic-looking spiky red stems that line the main staircase. "For this event there are about 250 plants and between 8,000 and 10,000 flowers, including the very small ones," he says. "By the end of the night they will almost all be gone because they are very popular souvenirs for ballgoers."
Viennese balls in numbers
1.5
Tonnes of Sacher sausage served at the Hofburg balls
40,000
Glasses washed at the Hofburg balls
€4.7m
Revenue for the Opera Ball. Profits go towards the opera's budget
51
Hours to convert the Opera House into a ball room and then dismantle it again
1.5 million
People watch the Opera Ball on TV
€23,600
For a 12-person box at the Opera Ball, ticket and catering not included
Also busy with last-minute preparations is Motto Catering, which for the past two years has provided roast beef canapés, goulash, thick Sacher sausages, Heuriger-style plates of cold cuts and the like to all Hofburg balls. "I still have some sideboards to do and some glasses to move around," says on-site manager Michael. "I'm here seven days a week at the moment – it just doesn't stop during these two months. But it has to be special; that's our job."
For some companies, working on the balls is not so much about money as exposure. Die Mietbar (The Rent-bar) lets pop-up bar and buffet structures. Although it works with more than 30 major balls, including all those at the Hofburg and the Rathaus (city hall), these jobs only account for about 2 per cent of its annual sales; its main work is corporate events and parties. "Still, it is a good advert for us as there are many politicians and businesspeople [at the events]," says sales manager Michael Hagen. "We also produce special products for those customers; for example, we built a recreation of Vienna's historic Zum Schwarzen Kameel restaurant bar for the Opera Ball."
The glamorous event at Vienna's neo-Renaissance-style Opera House is arguably the highlight of the season, with Austria's head of state attending alongside celebrities and billionaires from around the world. The theme this year is the "Queen of the Night" from Mozart's The Magic Flute, reflected in everything from the artwork on the ladies' fans (by Austrian artist Hubert Schmalix) to the dark purple flowers used for decoration.
With €3.5m to spend on entertaining some 5,000 guests into the early hours of the morning, planning for the next year begins the moment that the ball ends.
"Most of it was organised before the summer," says Maria Grossbauer, head of the three-person organising committee. "We pre-order the flowers in August from a company in Salzburg called Doll that we have worked with for 25 years. When you need thousands of roses in one colour, for example, you need to think ahead."
About 50 carefully chosen companies are involved in the event; Swarovski. "We try to involve as many Austrian businesses as possible," says Grossbauer. "We are known colloquially as 'the state ball', so we need to represent the best sides of our country. Many companies such as [caterer] Gerstner have supported us for decades but we also get new ones in. These balls are a huge economic contributor in Vienna and nationally."
Back at the Hofburg, it's nearing 04.00 and the Pharmacy Ball is coming to a close. Most of the 2,000 or so guests have left but there are still several dozen couples waltzing determinedly to the orchestra in the main hall. Others have moved to the ornate throne room to jive to swing records or gone downstairs to the basement disco for a dose of Europop. Shoes have been changed or kicked off entirely. Hairdos and bowties have come undone. And, as predicted, all of the flowers are gone.
On top of being great for business, these balls fulfil a function that you can't quite appreciate until you've experienced it for yourself: they are a portal to a time when different generations with similar interests regularly dressed up and enjoyed themselves together.
"This is a great ball for dancing," says one elderly guest, a doctor married to a medical journalist, as she sits down and rubs her feet with a contented sigh. She's been coming here for years. "The Doctor's Ball next week has nicer decorations, in my view, but it's just too packed to dance properly. And, after all, that's what we're here for."
Five more balls:
Confectioner's Ball
One for those with a sweet tooth, with around 3,000 cake-related prizes and a show-bakery of Viennese bakers and confectioners.
zuckerbaeckerball.com

Philharmonic Ball
Held at Vienna's Musikverein, the concert auditorium is transformed for one night only into an elegant ballroom with music by the Vienna Philharmonic Orchestra.wienerphilharmoniker.at

Flower Ball
The City Hall's interior gets a colourful makeover with some 100,000 flowers laid out in artistic arrangements.
wiens-gartenverein.com

Coffeehouse Owner's Ball
Regarded by some as a mini Opera Ball, it is the only event to use all of the Hofburg's ballrooms. With 6,000 guests, it is the season's largest.
kaffeesiederball.at

Academic's Ball
Famous for all the wrong reasons, this ball is organised by the far-right Austrian Freedom Party (fpö). It regularly draws large protests thanks to its reputation as a social gathering for male fraternities, known as Burschenschaften, with radical nationalist views and other extremist figures.
wiener-akademikerball.at