Music / Austria
Leader of the pack
Transcending the worlds of fashion and music, DJ Wolfram Eckert is bringing Austrian music back into the spotlight. He tells us about his globetrotting adventures.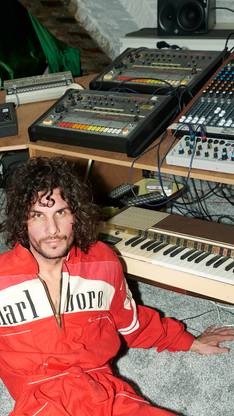 If Wolfram Eckert looks like he's just stepped out of a fashion-week event, that's because he has. When we meet the Austrian DJ at a recording studio in Vienna, he has just returned from Paris having played a gig for Prada.
Known by his stage name Wolfram, he is a darling of the fashion world not just because of his eccentric dress sense but also because his brand of smooth electronica is perfect for the catwalk. "I like music that is not so serious," he says. "My music is good to listen to while you move; it gives you energy."
His elegant Eurodance tunes are, of course, appropriate for occasions beyond the runway. But maintaining a tight link with the luxury industry has been a boon for Wolfram: it has given him the sort of in-crowd fame that helps with making valuable contacts.
At parties Wolfram has gathered a varied cohort of collaborators, many of whom appear on his latest album Amadeus, which was released last September. There's German Eurodance legend Haddaway, whom he met following a DJ set at a Marc Jacobs event in New York; their collaboration resulted in the captivating "My Love Is for Real". The two also shot the song's video together, frolicking in the idyllic Austrian Alps in a sort of camp version of The Sound of Music. Then there's Pamela Anderson, whose vocals appear on the tropical-sounding "What Is It Like". "It was because of Vivienne Westwood," says Wolfram of the unlikely connection. "She's a good friend of [Anderson's] and I was playing at the Westwood party. We became friends and she suggested that we should make some music." Grace Jones is also a fan: so much so that she booked him to play at her 70th birthday party. "I was super nervous," he says. "While I was DJing she was dancing naked in front of me."
Despite spending much of his time waltzing through a relentless partying schedule, he lives away from the world's fashion capitals in Vienna's 6th district, after growing up in the countryside. It's a courageous choice considering that Austropop hasn't travelled quite as widely across Europe as some music from other countries.
"In the 1980s, Falco was number one all around the world," says Wolfram. "In the 1990s the lounge/downbeat scene in Vienna was led by Peter Kruder and Richard Dorfmeister. Everyone wanted a remix with them: Madonna, Depeche Mode…" For Wolfram, though, Austrian music's reputation abroad still has to contend with a much bigger name from the past. "The most streamed artist from Austria is Mozart," he says, his dark curls falling across his forehead. "Some people thought that I should call myself Wolfram Amadeus but if you compare yourself to Mozart, you just lose."
Wolfram's passion for DJing began when he was 15. One Christmas Day he scratched the festive record that his dad was playing; a fight ensued. As an apology for the scuffle, his father gave him his first turntable. That's when Wolfram started trying his hand at mixing. His pseudonym at the time was Diskokaine and the music was heavily inspired by the Italo-disco music of the late 1970s and early 1980s (a genre that Wolfram still loves).
A collaboration with Swedish duo Sally Shapiro gave him his first international break; the album that they made in 2006, Disco Romance, gained critical acclaim. His solo debut album finally landed in 2011, with a delightful selection of high-energy songs.
And with a few singles in the pipeline for later in the year, a partnership on the cards with UK record producer Rex the Dog and performances booked in Köln, Warsaw and at the Berlinale, the next few months should continue to feel like an irresistible crescendo.
---
'S' Klane Glücksspiel'
Voodoo Jürgens
A cabaret-inspired number by the Tulln-born chart-topper.
'Voodoo Sonic'
Parov Stelar
More like what you would hear in a futuristic nightclub than at a dark-magic seance.
'Get It Up'
Gerhard Heinz
You would get the innuendo even without us telling you that Gerhard Heinz made his name soundtracking porn movies.
'Never Let You Go'
Waldeck
Austria is the country of electro-swing. This tasteful example comes from lawyer-turned-musician Waldeck.
'Bungalow'
Bilderbuch
This is a mish-mash of styles – and a danceable one at that.
'Zoo'
Leyya
A soft calming song with a saxophone edge by this Vienna-based pop duo.
'Boys Toys'
Mavi Phoenix
Linz-born Phoenix combines genres with this interesting mix of pop and rap.
'Bring Mich Zu Den Sternen'
Kurt Razelli and Matthias Strolz
This epitome of old-school Eurodance is required listening for enthusiasts of the genre.
'All My Friends Are Rich'
Filous
Delightful (and cheeky) easy-listening pop by this young producer-cum-musician.
'Kangaroo'
Leo Aberer
A tropical-sounding summery hit, complete with some very un-Mitteleuropean steel drums.