Briefing / Austria
More than Mozart
Who are the contemporary heirs to Austria's artistic heroes? From darkly poetic films to specialist record shops, here's a selection of distinctively Austrian cultural highlights.
'Nobadi'
Karl Markovics
A tale about a cantankerous old man who hires an eager Afghan asylum seeker to help bury a body could have, in other hands, formed the basis of an uplifting comedy-drama. But this is an Austrian film and Austrian audiences typically like their movies dark, disquieting and ambiguous. The picture begins as you might expect: the curmudgeon is callous and suspicious before softening towards his young companion. But nobody could predict what Nobadi has in store in a second half so tense that it plays out almost like a theatrical chamber piece. Writer-director Karl Markovics is unflinching in his commitment to unsettle: the driest, blackest humour and gore dovetails with touching moments of compassion and revelation.
---
'The Ground Beneath My Feet'
Marie Kreutzer
Perhaps the most high-profile Austrian release of 2019, Marie Kreutzer's meditative film offers a refreshing and grown-up take on the psychological drama. The Ground Beneath My Feet follows Lola, a fiercely committed careerist who seemingly has no interests, friends or family. At least that's what she lets her colleagues believe. In fact, she spends her time caring for a sister, Conny, who suffers from schizophrenia. It seems like we're about to veer into psycho-thriller territory – are Lola and Conny the same person? But Kreutzer teases us without sacrificing depth. This is a mature drama that explores mental health, rather than using it as a mere plot point.
---
'Movements of a Nearby Mountain'
Sebastian Brameshuber
A near wordless 80-minute fly-on-the-wall documentary about a man salvaging scrap parts from derelict cars might sound less than compelling but Sebastian Brameshuber's beautiful and unassuming film is surprisingly riveting. It chronicles the day-to-day life of laconic Nigerian mechanic Cliff as he works and lives inside his garage in the shadow of the Austrian Alps. Cliff is a lonely kind of Dr Frankenstein breathing new life into old machines: the moments in which he saws, drills, drains and contorts motors would befit a horror film. At other times we watch in suspense as Cliff attempts to haggle with his most intransigent clients. It's a testament to Brameshuber's cinematic eye that he's able to build intrigue and visual poetry from such prosaic events.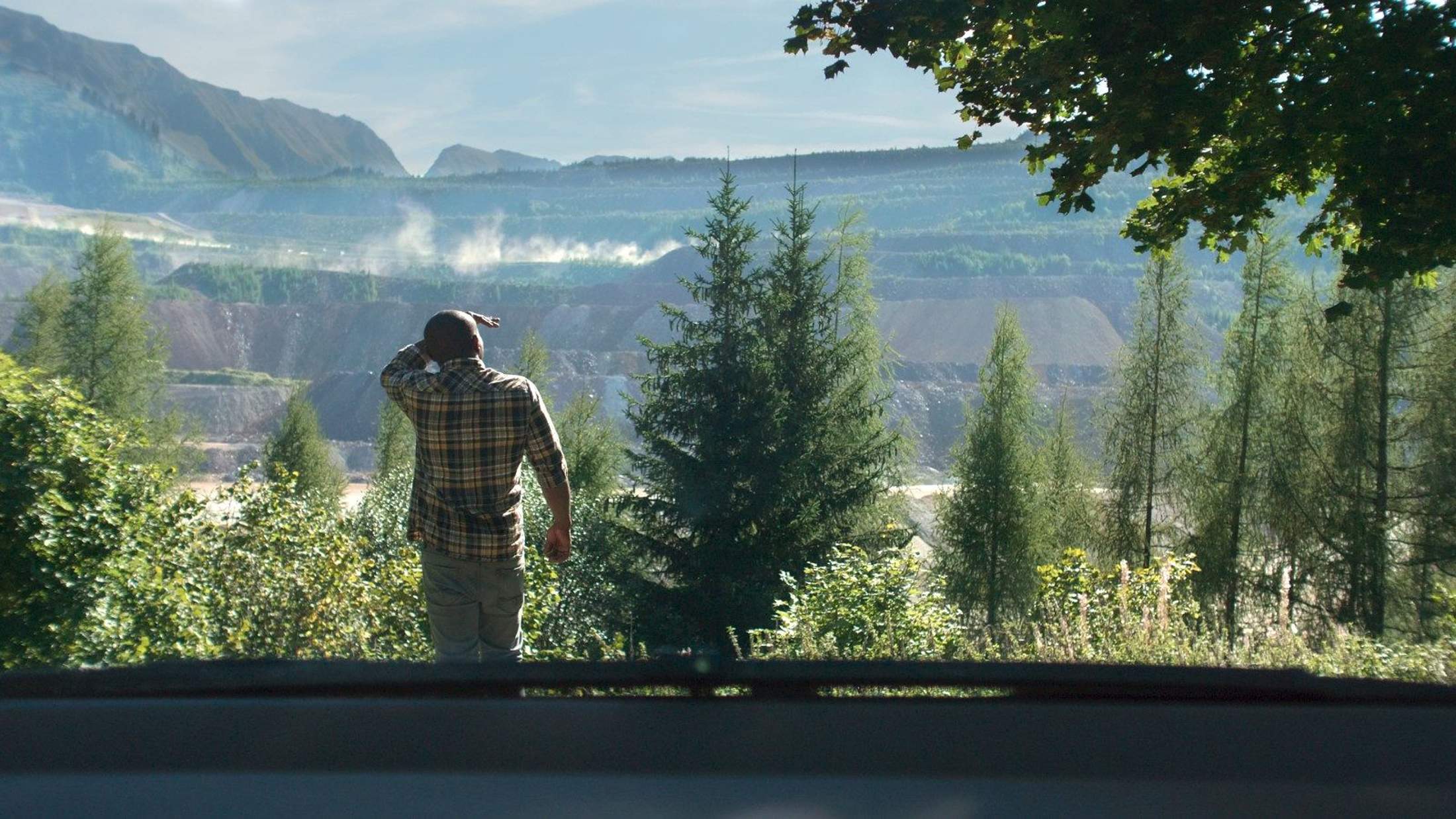 ---
'Vorstadtweiber'
ORF, Netflix
Austrian television doesn't usually cross borders but Vorstadtweiber (the title is a loose take on "Suburban Housewives") – a soap-opera-like exaggeration of Viennese high culture, including infidelity, corruption and even a very young chancellor — was not only the highest-rated Austrian show ever in its first season but also a hit in Germany (the show has sold in Latin America too). Adapted by Uli Brée from his own debut novel, Vorstadtweiber just aired its fourth season and, for German speakers who appreciate the twangy Viennese accent, it's definitely worth a binge on Netflix.
---
'M – A City Hunts a Murderer'
ORF, Now TV
In this six-part series the city of Vienna becomes the protagonist. Based on Fritz Lang's classic 1931 film, this modern retelling of his story about a serial killer of children (and the investigation that follows) is suitably eerie. It carries a theatrical tone and the amount of care given to each frame is staggering; continuous snowfall on the screen creates a silent, sinister world and the stylised, almost unreal images are ominous. David Schalko's directing brings comic relief to the horror of infanticide.
---
'Vienna Blood'
ORF, BBC, PBS

Vienna, 1906. A young English doctor named Max Liebermann is studying under Sigmund Freud. His keen interest in the criminal mind brings him close to Viennese police inspector Oskar Rheinhardt and a double act is formed. With his extraordinary perception and deep understanding of human deviance, Liebermann helps Rheinhardt solve the city's most mysterious murders. This three-parter is set in Vienna when it was a buzzing centre of science and art and its opera houses and cafés were seen as Europe's finest. There is more than a hint of Sherlock here: based on the Liebermann novels by Frank Tallis, the script is by Steve Thompson, a writer of the bbc's version of the Arthur Conan Doyle books.
---
Coop99
Vienna
Coop99 was founded in 1999 by film-school graduates (now leading directors) Jessica Hausner, Barbara Albert and Antonin Svoboda, along with Martin Gschlacht, who were frustrated with the lack of production companies in Austria making challenging, arthouse films. "Our main goal was to work with directors who have attitude," says Svoboda. They've certainly succeeded, producing Venice Silver Lion-winner Women Without Men, Hans Weingartner's 2004 Cannes Palme d'Or-nominee The Edukators and, more recently, Hausner's own Amour Fou and Little Joe.
---
Ulrich Seidl Filmproduktion
Vienna
Ulrich Seidl Filmproduktion is the brainchild of the eponymous director known for his provocative 2001 debut feature Dog Days. Two years later he founded his own production house with Veronika Franz. The company has developed a slew of experimental and offbeat features and documentaries by Seidl and Franz themselves – namely the Paradise trilogy, See I See and strange filmic essay In the Basement. It has also worked with film-makers such as Elfriede Jelinek and Andreas Horvath, whose film Lillian premiered at Cannes last year. Collaborations include 2014's Casanova Variations starring John Malkovich; a further 15 films are in production or planning.
---
Film AG
Vienna
Film AG is behind major Austrian features such as Egon Schiele: Death and The Maiden, Angelo and the forthcoming 7,500 starring Joseph Gordon-Levitt. A specialist in European co-productions, owner Alexander Glehr credits streaming services with providing a better platform for foreign films in anglophone markets and he is proud that they "have no fear" when it comes to collaborating even though "it's always more complicated". Film AG aims to create work grounded in Austrian film-making culture, not just global marketing trends.
---
Buchhandlung Fürstelberger
Linz
The independent bookshop might be an endangered breed in Linz but Buchhandlung Fürstelberger has held on despite being a neighbour of book chain Thalia's branch on the city's main shopping thoroughfare, Landstrasse. Now almost 150 years old, Fürstelberger is known for its generous assortment of Austrian fiction; check the schedule for evening events and book launches. There is also a strong selection of English-language titles and non-fiction, as well as stationery and children's literature.
fuerstelberger-at.buchkatalog.de
---
Phil
Vienna
A Viennese institution of more than 15 years' standing, Phil was briefly threatened with closure in 2016 but survived the scare to continue offering one of Vienna's best selections of books, dvds and LPs in a relaxed living-room atmosphere with drinks, snacks and desserts. Phil also hosts lectures, readings and DJ nights and a further draw is that the furniture is for sale. A satellite branch – Philiale – can also be found inside the grand Gartenbaukino cinema.
phil.info
---
Büchersegler
Graz
This airy shop by the River Mur sells fiction, poetry and biographies as well as children's literature and toys. The name Büchersegler ("book sailor") is a reference to owner Beatrice Baumann's love of the Baltic. Aptly, there's a miniature sailing boat in the middle of the shop floor. Baumann worked as a financial analyst before plumping for the book trade. It's a profession she clearly excels at: last year Büchersegler was named one of the country's best bookshops. Baumann and her staff also stage readings and events in schools and kindergartens across town.
buechersegler.at
---
Liber Wiederin & Wagner'sche
Innsbruck
This bookshop has a commendable selection that includes fresh English-language titles. Its name is a play on the words "liber" (Latin for "book") and "lieber" (German for "dear"), coupled with the surname of proprietor Thomas Wiederin. Around the corner is another hallowed emporium, Wagner'sche, which has an array of Austrian and world literature in various languages and also runs its own publishing house. Both shops encourage an interest in Austrian history and host readings and presentations.
liberwiederin.at; wagnersche.at
---
Kunsthaus Graz
Graz
The strange blue potato-shaped building in Graz's city centre isn't an alien spaceship but rather an exhibition space for modern and contemporary visual culture. Built in 2003 to mark Graz's year as the European Capital of Culture, it has become a quirky landmark and a place to catch intriguing exhibitions on architecture, photography, art, new media and sound. This year's prime draw is Where Art Might Happen, a look at the early heyday of the California Institute of the Arts featuring conceptual greats such as John Baldessari and Eric Fischl.
museum-joanneum.at/en/kunsthaus-graz
---
Secession
Vienna
Founded in 1897 by a group of renegade artists including Gustav Klimt, Josef Hoffmann and designer Koloman Moser (all of whom "seceded" from the city's formal artists' association), the Secession is known for its stunning art nouveau building and for being artist-run since its inception. Recent exhibitions have featured established greats such as Ed Ruscha and rising stars, including Iranian painter and video artist Tala Madani. What's more, Gustav Klimt's restored "Beethoven Frieze" is on permanent display in the basement.
secession.at
---
Kunsthaus Bregenz
Bregenz
The Kunsthaus Bregenz, designed by Pritzker prize-winning Swiss architect Peter Zumthor, has always prompted artists to respond to the blocky concrete building's vast interior spaces. As a result, much of the contemporary art shown here is site-specific. Exhibitions are often thought-provoking and a little risky for such a small city; the museum is worth a detour from nearby ski resorts such as Lech and St Anton. Simon Fujiwara and Jeff Wall have recently mounted solo exhibitions and coming up this year are shows by Bunny Rogers, Anri Sala, Dora Budor and Peter Fischli.
kunsthaus-bregenz.at
---
Museum der Moderne
Salzburg
Sitting atop the Mönchsberg Ridge overlooking Salzburg, the Museum der Moderne (Museum of Modern Art) is an airy multistorey space mixing presentations from the museum's collection with monographic and thematic exhibitions. A second venue in the city called the Rupertinum, set inside an atriumed townhouse, offers extra space for shows that often span both venues. Current show The Tip of the Iceberg rethinks and remixes objects from the museum's collections; an exhibition of work by Vienna-based artist Marina Faust will take place later this year. Plus, there's no better view of the city than from the upper-terrace restaurant.
museumdermoderne.at
---
Albertina
Vienna
This inner-city museum is a paradise for those who love prints and drawings; the collection comprises one million Old Master prints (including the 500-year-old "Rabbit" by Albrecht Dürer) and 65,000 drawings. The museum also mounts thematic and historical exhibitions as well as single-artist shows on the likes of Keith Haring or Austrian painter Maria Lassnig. The Albertina is ramping up its contemporary activity this year with the Albertina Modern, which opens in the former Künstlerhaus in March. Its first exhibition is titled The Beginning: Art in Austria 1945–1980.
albertina.at

---
Galerie Nächst St Stephan Rosemarie Schwarzwälder
Vienna
Tucked into a second-floor apartment-like exhibition space in a building near St Stephen's Cathedral, this is the city's oldest continually running gallery site. It was founded in 1923 and has been owned and managed since the 1970s by the elegant and affable Swiss-born Rosemarie Schwarzwälder. Shows here are consistently intriguing and beautifully put together; they feature a long list of challenging artists such as Katharina Grosse, Herbert Brandl and Imi Knoebel.
schwarzwaelder.at
---
Thaddaeus Ropac
Salzburg
Thaddaeus Ropac, Austria's leading international art dealer, started off in Salzburg in the 1980s and now has spaces not only there (a grand villa overlooking the Mirabell Gardens) but also in Paris and London. More than 60 artists are on the roster, including Gilbert & George, Georg Baselitz, Anselm Kiefer, Cory Arcangel and Valie Export, a recent subject of one of the gallery's many exhibitions.
ropac.net
---
Galerie Krinzinger
Vienna
Ursula Krinzinger (along with Rosemarie Schwarzwälder) is a driving force of Vienna's gallerist matriarchy; her programme has been provocative and ambitious since she founded her business in 1971. This is the gallery that made Viennese Actionists such as Günter Brus famous but Marina Abramovic and many other well-known non-Austrian artists have shown here as well. There's also Krinzinger Projekte across town, which tends to show younger artists, many from Asia and the Middle East. The gallery has also sponsored residencies in Sri Lanka, Croatia and Hungary.
galerie-krinzinger.at
---
Filmcasino
Vienna
It would be difficult to miss Filmcasino when walking along Vienna's Margaretenstrasse thanks to the large and charming neon sign that towers above the entrance. While the cinema was first founded in 1911, its current design evokes the 1950s. The 254-seat theatre screens a diverse range of independent and international arthouse flicks in their original languages with German subtitles. Filmcasino also plays host to special events: from B-grade horror-film festival Slash to a film series aimed at Vienna's elderly.
filmcasino.at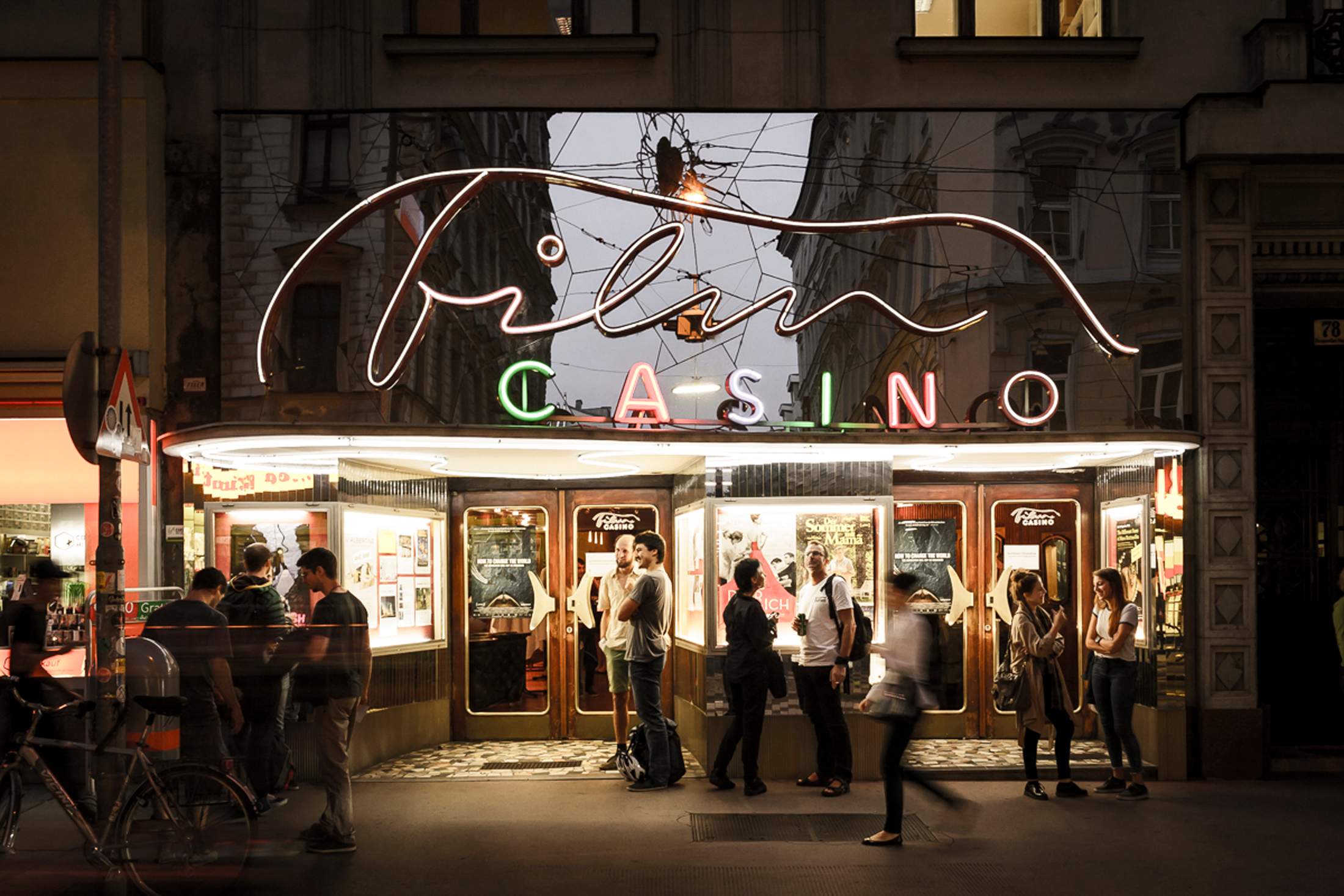 ---
Metro Kino Kulturhaus
Vienna
Filmarchiv Austria – responsible for preserving Austria's rich film history – purchased Vienna's Metro Cinema in 2002, converting it into the first permanent theatre to screen its catalogue of 264,000 films. The building dates from 1893 and its original wooden balconies and sweeping staircases remain. Filmarchiv has added event and exhibition spaces to display its archive, which includes 16,000 film posters.
filmarchiv.at
---
Kiz Royalkino
Graz
Thanks to its multilingual programme, Kiz Royalkino was formerly known as the Royal English Cinema. It might be small by modern cineplex standards but it remains the best place in Graz for foreign films (check its programme for lesser-known titles from Sweden, China, Macedonia, Serbia and more, all presented in their original languages with German subtitles). It's also a Festivalkino, meaning that its three halls are used for the annual Diagonale Film Festival, an event that's highly recommended if you want to discover the diversity of contemporary Austrian cinema.
kinoinfo.at
---
Minerva Records
Salzburg
Opened in 2016 by musician Jürgen Vonbank and his girlfriend Irene Kafedarova, Minerva Records features a catalogue of some 4,000 LPs – two thirds of which are electronica, including titles from Vonbank's own label, Night Defined Recordings. There's also soul, funk, hip-hop and jazz. "What we do is very niche, very non-commercial," says Vonbank. The couple have to rely on other jobs to offset costs but they feel that it's all worth it; one of their goals is to bolster Salzburg's music culture by hosting DJ sessions and events.
minervarecords.com
---
Substance
Vienna
Set in hip Neubau, Substance is an independent record shop with a vast collection of new and vintage vinyl and CDs. The obscure offerings span many genres, from electronic to reggae, including albums by British DJ Erol Alkan and Dutch dubstep act 2562. But what has earned it a following among music enthusiasts at home and abroad is its selection of rare books, magazines and artist merchandise.
substance-store.com
---
Inandout Records
Graz
Founded in 1996 by music lovers Tino Kopanakis and Christian Mathans, Inandout Records has grown from a tiny shop to one of Austria's biggest vinyl specialists. Its 15,000-strong catalogue of LPs crosses all genres (except classical and schlager pop) and draws famous DJs.
inandout-distribution.com
---
Cabaret Fledermaus
Vienna
The original Cabaret Fledermaus was opened in Vienna's historic Innere Stadt district in 1907, with lavish interiors designed by some of the biggest stars of Austria's Jugendstil movement, including Josef Hoffmann, Gustav Klimt, Oskar Kokoschka and Koloman Moser. It was shut down shortly before the outbreak of the First World War, then revived nearby in 1967 when Fledermaus (German for "bat") became closely associated with the birth of Austropop. Today it's Vienna's best place for disco and funk and also hosts themed costume parties.
fledermaus.at
---
Elektro Gönner
Vienna
A longtime fixture of Vienna's nightlife scene, the Elektro Gönner occupies a former electrician's shop of the same name, an example of the commendable Viennese trend of repurposing empty spaces. Taken over by a group of architects in 2004, the minimal design provides the perfect backdrop to its music of choice: house DJs play daily and there is the occasional live concert – be sure to check the programme. The Gönner also doubles as an art space hosting exhibitions and there is outdoor seating for balmy summer evenings.
elektrogoenner.at
---
Postgarage
Graz
Opened in 2003 in a former artillery-cum-riding school, Postgarage has become integral to Graz's nightlife. Its two floors host a variety of events spanning mainstream pop, alternative rock, jazz dancing nights and DJ sets from hosts at fm4, Austria's youth-oriented radio station. The club is part of an organisation that helps up-and-coming artists find affordable working and performance spaces.
postgarage.at
---
Salzburg Festival
Salzburg
Every summer, while tourists clog the streets of Salzburg on The Sound of Music day trips, the city takes the rather more refined role of hosting what some argue is the world's best classical music festival. It began a century ago with the staging of a morality play but has become a magnet for the world's finest musicians, who perform in locations such as baroque palaces and a purpose-built theatre hewn from the mountainside. The artistic approach is modern, daring and bold but the audiences telegraph a sense of tradition. The highlight of a night can be the interval, when opera-goers parade in their full Austrian finery.
salzburgerfestspiele.at
---
Superfly
Vienna
A privately owned radio station named after the legendary Curtis Mayfield album, Superfly plays classic funk and soul as well as some spoken-word programming.
superfly.fm

---
Ö1
Vienna
The highbrow branch of state broadcaster orf's Ö1 leans towards classical music, talk and documentaries. "Mittagsjournal" at 14.00 has news in English.
oe1.orf.at

---
Antenne Steiermark
Styria
Austria's first private radio station plays a mix of pop, hip-hop and indie rock.
antenne.at