Spas / Czech Republic
Raising the spa
Czech spa town Marienbad remains a relic of the Austro-Hungarian empire. What it craves is the international recognition that reflects its regional significance. And as global interest in wellbeing grows, now is the time to dip your toes in its healing waters once more.
In the 19th century, Marienbad embodied the golden age of the Austro-Hungarian empire. The healing waters of the spa town in today's Czech Republic attracted the crème de la crème of society, including Austrian emperor Franz Joseph I and Britain's King Edward VII, whose well-documented meeting in 1904 established Marienbad as a significant political, social and cultural centre within Europe. It also lured luminaries, writers and musicians to its springs, including Nietzsche, Kafka and Chopin. Now the historic town is hoping for a renaissance: it has applied to become a Unesco world heritage site, as part of the "great spas of Europe", and anticipates the committee's decision this summer.
The lush valley, whose springs were first documented in the 1500s, was given the name Marienbad, or Marianske Lazne, in 1808, when Dr Johann Josef Nehr opened the first spa on the forested lands of the Tepla monks. It swiftly evolved from its humble roots thanks to a visionary urban plan designed by Jiri Fischer and landscape architect Vaclac Skalnik. The picturesque town with its stately spa-style buildings, opulent colonnades, royal golf course and grand concert hall progressively rose to fame and has since been immortalised in numerous poems, novels and paintings.
When I arrive at the train station in Marienbad, I expect to find a place "as pretty as anybody could require", as Mark Twain put it. On my way up the main road, I keep my eyes peeled for the neo-Renaissance mansions I've heard about and finally spot one tucked away in a thicket of trees. Gradually the streetscape transforms into an endless succession of buttercream façades in architectural styles ranging from neo-classical to neo-baroque. It's as if I've travelled through a time warp into the 19th century.
Spas such as Marienbad flourished throughout the Austro-Hungarian empire from eastern Tyrol to western Transylvania. They profited from the dual monarchy's cosmopolitan nature and the development of railways in the mid-1800s, which made it easier for people from all walks of life to travel to these towns. The West Bohemian Spa Triangle – consisting of Marienbad, Carlsbad and Franzensbad – became a particularly popular destination. Not only was it a place sought out by those in ill health, it was also a place to socialise and perhaps even make a good match. In 1821 the 73-year-old Goethe famously fell in love with, and later proposed to, the 17-year-old Ulrike von Levetzow; suffice it to say, it did not end well for the poet. Such trysts aside, the main order of the day, then as now, was to drink and bathe in the mineral waters.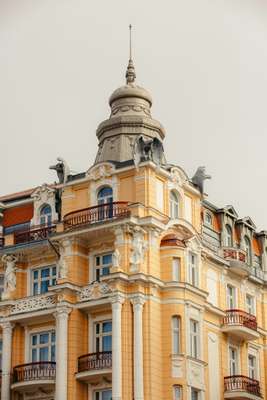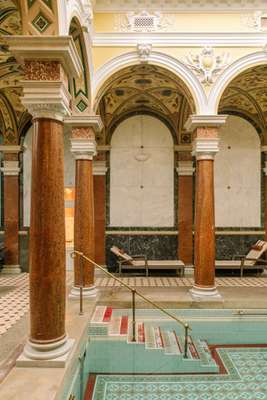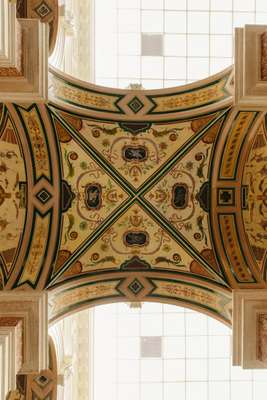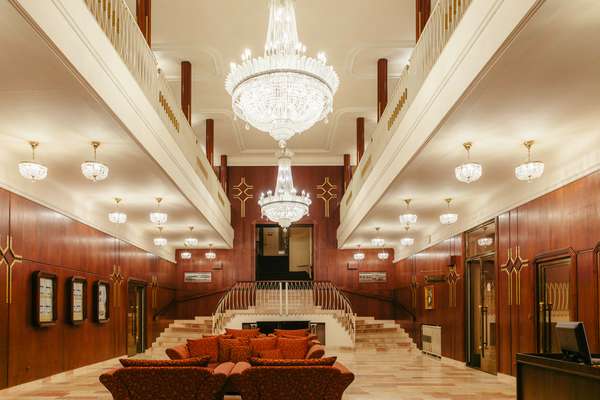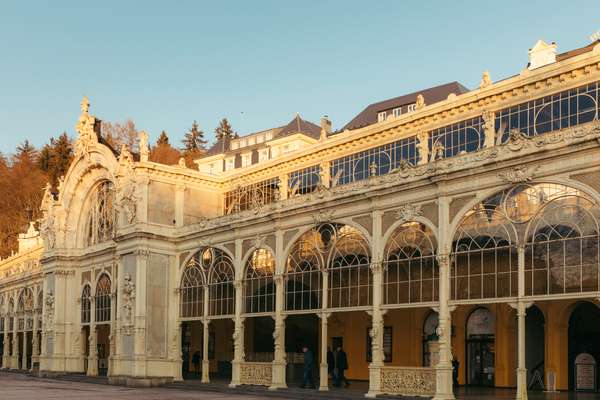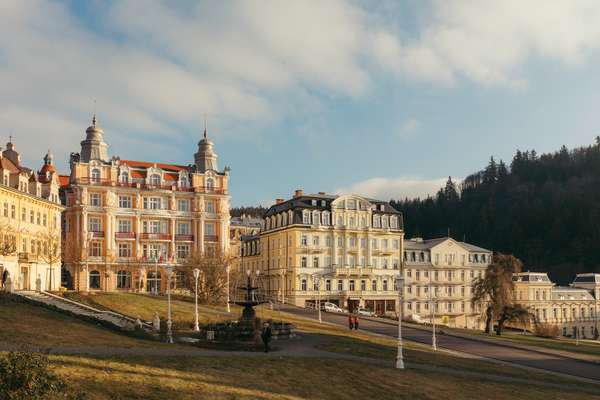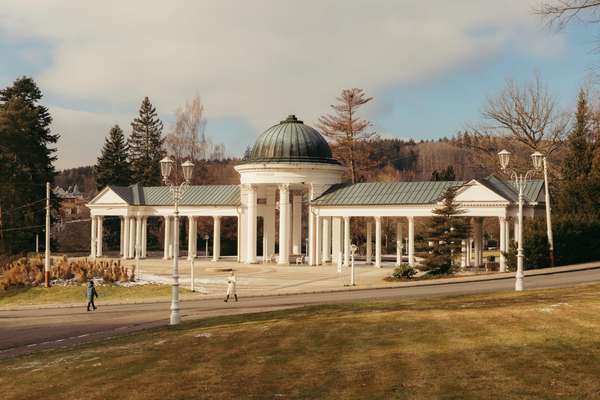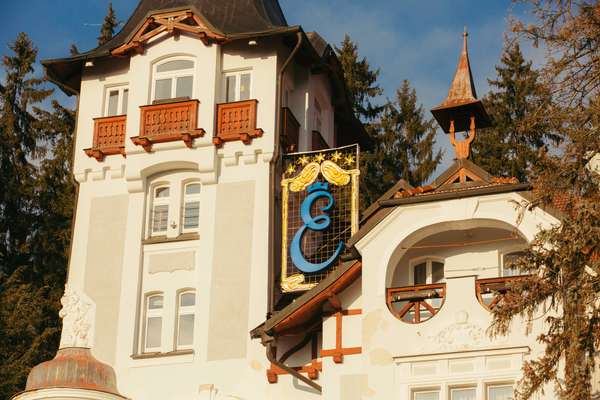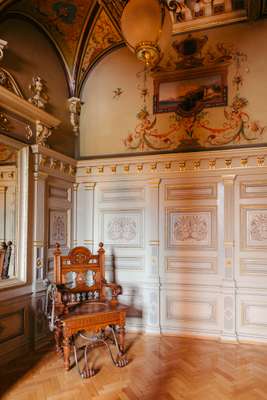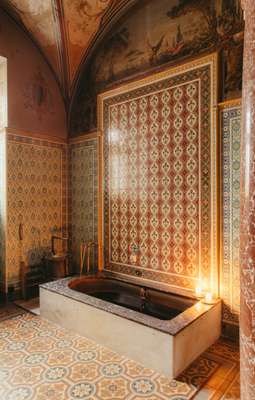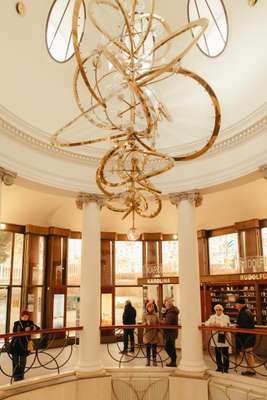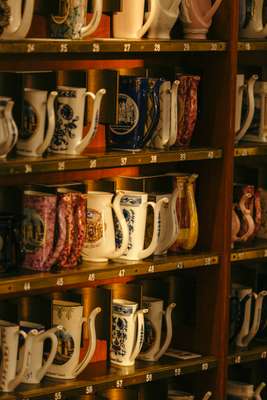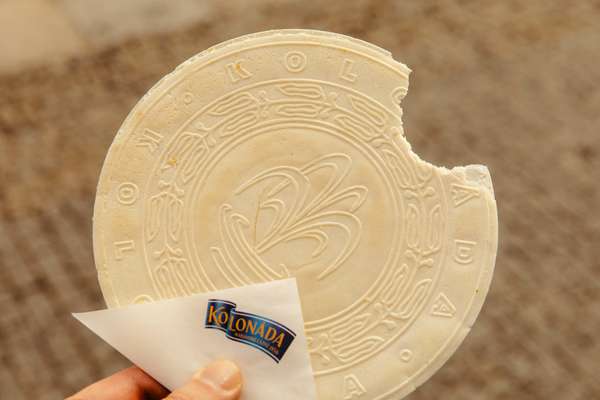 These days 300,000 visitors come to Marienbad every year to tap into the vintage splendour of the Habsburg monarchy. Yet like so many spa towns, Marienbad is a shadow of its former self. It is no longer a melting pot of society; instead it's a tranquil resort for silver foxes. The town faded from view, in particular during the four decades following the communist coup d'état in 1948. But now it is staging a comeback. Its calendar is packed with festivals and events, including regular concerts by the resident West Bohemian Symphony Orchestra – the oldest of its kind in the Czech Republic – and musicians from around the world.
"We host 1,500 events a year," says Marienbad's mayor Martin Kalina – not a bad feat for a town with a population of just 12,800. "Our greatest era spanned the 19th and 20th century but we have been seeing a small uptick in visitors and are anticipating those to skyrocket if we are to become a Unesco world heritage site. Cesky Krumlov [a picturesque town in southern Bohemia] had few tourists before it was named a Unesco site, now it has three million a year," he adds, as we sit in his temporary office while the town hall across the street is undergoing a much-needed refurbishment.
The Czech Republic currently has 14 Unesco sites – about twice the average of any other country. If Marienbad were to become the 16th great spa of Europe, it would boost tourism but also put a strain on the small town. Many residents are already priced out of the historic centre – something that Kalina is eager to combat. "We want to offer our residents affordable properties and hinder foreign investors from buying up places without living in them, thereby raising the cost of living," he says. "The money we are hoping to get from Unesco will be invested in infrastructure and culture. My vision is to remain focused on our spa tradition."
Marienbad is home to some 40 springs, around which grand hotels have sprung up over the centuries to accommodate the growing numbers of visitors. The largest employer in town is Ensana, Europe's leading health spa operator, which has 26 properties across Hungary, Slovakia, Romania, the UK and the Czech Republic (of which 10 are in Marienbad). The gem of its portfolio is the 97-room Nove Lazne Ensana Health Spa Hotel, which was established in 1828. As the finely uniformed porter takes me inside, I'm relieved to find that many historic elements have been kept intact after countless renovations, including the neo-renaissance-style façade, the elaborately decorated Royal Spa Cabin (in which King Edward VII received his regular treatments), the ornate Roman Spa mineral-water pool and the Casino (which hosts concerts and events rather than rounds of roulette).
"The growth of national health services as well as the pharmaceutical industry overshadowed the traditions of spa culture," says Mark Hennebry, chairman of the recently rebranded Ensana Health Spas, as he takes a seat in one of the hotel's many spacious guest rooms. "We are trying to revive it. There's a growing awareness of health and wellness and we're now seeing an opportunity to expand to more historic towns that have a history of healing," he adds, noting that Ensana first invested in hotels in 1993. "Right now we are focused on revamping the final wing of Nove Lazne so that it will be ready for the start of the main season in spring."
The majority of guests hail from neighbouring Germany and stay for one to two weeks of treatments but the place is also popular with Russians, Czechs and Israelis. Hotel manager Karel Kalivoda is keen to attract more visitors from the Czech capital and beyond. "I was born in Marienbad and am personally invested in its development," he says. "I love the history, the buildings and the surroundings. I want to keep everything as it is for the new generation. At the same time, there are many things that I want to improve at our hotel, such as offering more modern treatments, expanding the pool and refining our restaurant menu." Kalivoda would like Marienbad to stay ahead of wellness trends, just as it has in the past: forest bathing was already part of the cure prescribed to prominent guests including Sigmund Freud and Thomas Edison. "Many of our loyal clients are very conservative and they are resistant to change; they always ask for room 210 and table 63," he says. "So our aim is to make gentle modifications and reach the service level of the leading European hotels." When I arrive in the dining room, I'm greeted by a sunny waitress and shown to a table; I'm told that it will be mine for the entirety of my stay. Many of the diners – most of them retirees – are acquainted already, as most treatment packages require a two-week stay and many clients return year after year. A convivial older gentleman stops at my table and, as I'm travelling alone, asks whether I'm an artist. "I've met so many wonderful young musicians here," he says. It turns out that he's a musician himself and has been coming to Marienbad for decades – for the music, the company and the treatments, of course.
During the day hotel guests wander down the halls wrapped in white bathrobes. Their itineraries are packed with treatments: mineral baths to improve circulation, massages to relax sore muscles and inhalations to soothe respiratory discomforts – not to forget the drinking cure. Every spring has its own health benefits; the most popular seems to be Ambrose, the "spring of love". It was this water that Goethe was prescribed when he lost his heart to the young Ulrike. And, it seems, not much has changed. I meet my own "Goethe" – alas, less eloquent – as I wander past the reception. I politely greet him and in return he kisses my hand. I escape down one of the labyrinthine floors but the strict timetable and set tables make it impossible to hide. Without invitation he gives me his room number.
In many ways, Marienbad feels somewhat stuck in time. The grand hotels here still have an old-school charm of the kind celebrated in Wes Anderson's The Grand Budapest Hotel. What's more, the staff – many of whom are locals – genuinely care. And just as they did in the old days, visitors still gather around the Cross spring to fill their porcelain cups with healing water before strolling down the neo-baroque colonnade. While the high society might no longer holiday here, the opening of spa season in May remains the highlight of the year.
Marienbad's future is palpably tied to its past and there's a hint of nostalgia in the air. But what is more apparent is the desire to reach new heights. Everyone here is hopeful that the town will be inscribed on the Unesco world heritage list but they're also keen to keep Marienbad as it is. They want to welcome guests seeking an experience, not a new profile picture. Marienbad might not be as glamorous as it once was but for now, at least, it still feels authentic. These days, a rare tonic.