Vienna's Kaffeekultur is world famous and so are its teeming cake counters. We meet the folk behind the city's best Mehlspeisen and ask how the capital cornered all things confectionery.
"This is a typical Viennese café," says Hans Diglas, hoisting a hand past the wood panelling, red leather chairs and a chandelier, then stopping his gesture over the tranche of gooey Scheiterhaufen between us. This custard-topped cinnamon, sugar, almond, raisin and rum dessert – and countless treats like it – have become integral to Vienna's kaffeehaus culture.
We're sitting in Vienna's 1st district at marble-topped tables in one of the restaurants that Diglas's grandfather founded in 1923. And we're chewing over a serious topic in Vienna's culinary coterie: cakes. Diglas's spot on Wollzeile isn't the biggest, oldest or grandest café in town but, across this site and five other restaurants, it turns out some 2,000 slices of dessert a day.
Austrian Mehlspeisen (think tortes, pastries, cakes) remain a staple of city life in Vienna. While the rest of the world is ditching dairy, giving up gluten, shunning sugar and watching its waistline, little has changed here since the high old Habsburg days. Cake culture in Vienna dates back to the early 18th century, when the aristocracy competed for personal chefs to cook ever more indulgent creations. Many chefs of the highest repute arrived in Vienna from Bohemia and Moravia, and brought their own culinary customs and ingredients with them. Tastes and taste-makers arrived in the beating, bohemian heart of the Austro-Hungarian empire from as far west as Italy and as east as Romania. "Dobos torte came from Hungary, poppy seeds arrived from Moravia and cheese-curd is typical of the Austrian Alps," says Severin Corti, a food journalist and restaurant reviewer for Austrian daily Der Standard. "These things got mixed up in Vienna, where all these influences came together." Like a thick cake batter on an unfloured surface, they stuck.
What started as a preserve of the rich, pompous and powerful became more democratic by the early 20th century. This is when the city's historic cafés – including Central, Sperl, Schwarzenberg, Museum, Gerstner and countless more besides – played host to the artists, architects, painters, politicians and writers of the day. After the First World War, the price of sugar and coffee beans tumbled further and transformed cakes from luxury products to treats for everyone.This is when larger chains of Konditorei, such as Aïda, popped up alongside the wood-panelled cafés of yore and became popular with the masses. Today Aïda has six branches throughout the city and is a high-turnover family favourite offering everything from traditional apfelstrudel, marzipan-rippled Esterhazy cake and Kaiserschmarren (shredded pancakes with icing sugar, apparently beloved by the former emperor) to more modern riffs on the art, such as brownies with cbd oil and vegan, gluten-free and diary-free cakes.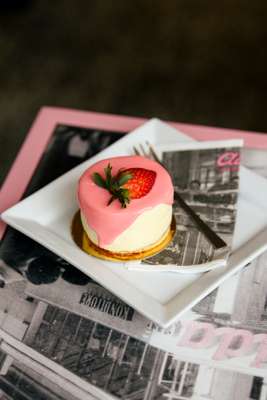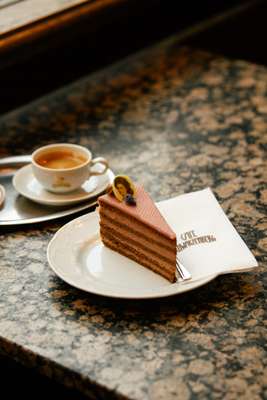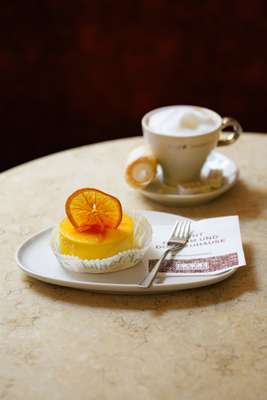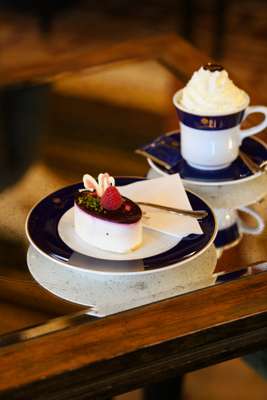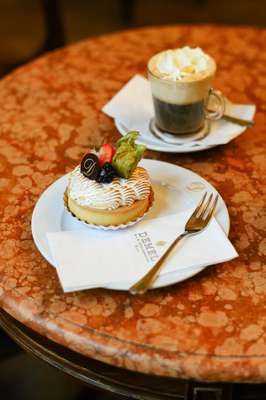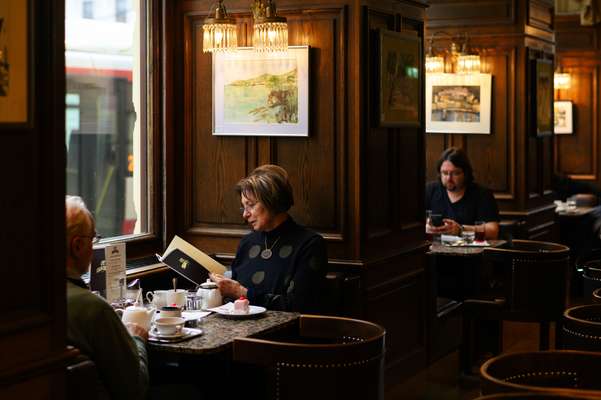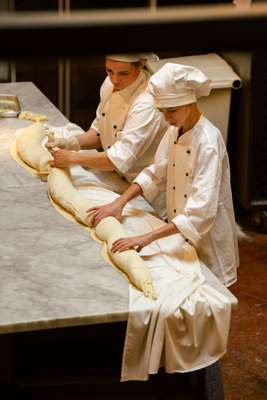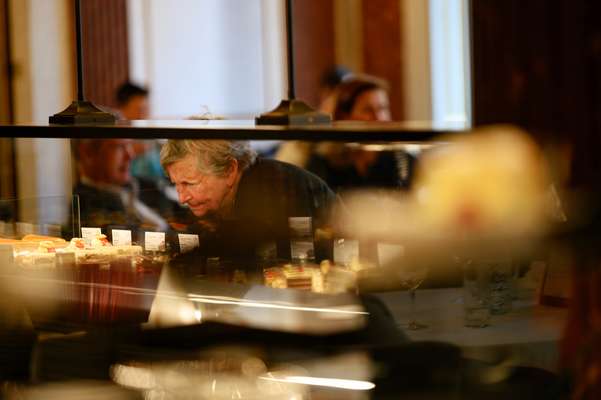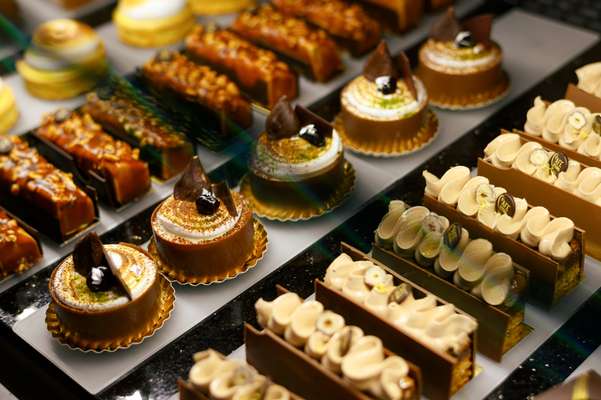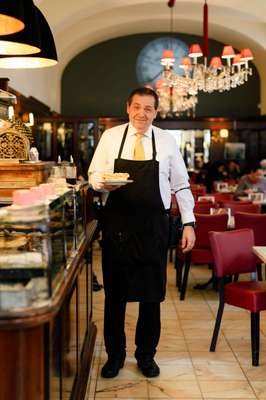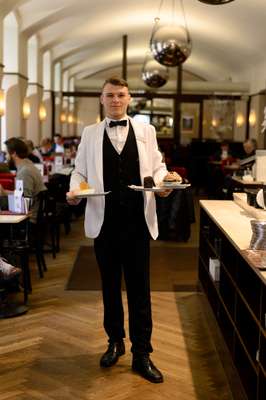 Many of the desserts for which tourists flock to the city's cake counters have stories as colourful as the confectionery itself. At times it feels as though you can hardly sit down without being reminded that Mahler, Freud, Wagner, Strauss, Trotsky and Klimt adored it here. Few can visit Vienna and avoid having Mozart's balls thrust in their face (Mozartkugeln are, thankfully, made from chocolate). It's at these times that the city feels more like a museum than a living, breathing metropolis.
The Sacher Hotel Wien, opposite the Vienna State Opera, is a five-star affair but on sunny days its small, plush café is full of tourists hankering for a slice of the Original Sacher-Torte. The dense, literally jam-packed sponge is served with a dollop of whipped cream; its tranches have the density of collapsed stars and a colour as black as the fillings in the teeth of anyone who dared eat it regularly.
The recipe was first dreamt up by Franz Sacher in 1832. The 16-year-old prodigy wowed diplomat Klemens von Metternich, then the entire establishment, with his decadent creation that still draws visitors today. The cake even kicked off a long-running feud over the ownership of the recipe. The Hotel Sacher won and other cafés, including the beautiful Demel on Kohlmarkt, demurred from its claim. Instead, Demel sells the Eduard-Sacher-Torte, which has just one layer of apricot jam. Some take on the cake is available almost everywhere.
The Sacher has history in spades but anyone expecting to encounter a slice of the Austro-Hungarian highlife, or even the hotel that served as a backdrop to Orson Welles' 1949 film The Third Man, should think again. Sidle up today and you're more likely to find foreign tourists posing for photos than princes or spies sitting under the sconce lighting and oil paintings. It's a bit of a show and one that, at times, feels more geared towards Instagram than intimacy.
As food journalist Corti suggests, canny marketing has made the cake into big business. "If you talk to Austrians, most wouldn't dream of eating a Sacher torte," says Conti. "It's quite dull compared to what patisserie is today," he adds, nodding to the merits of producers such as Kondetorei Oberlaa or a small patisserie named Violas in the 8th district. "[But] you can send [a Sacher torte] to Saudi Arabia and it will stay the same," says Conti. "You could roll a tank over it and nothing would happen because it's so solid and thick and dense," he says. "It's made for being given away and not eaten yourself. It works amazingly well, though." The Sacher bakery turns out 360,000 of the things a year and the adjoining shop – replete with tortes, toys and even rubber ducks – is busy every time monocle passes.
At Hotel Imperial on the Ringstrasse the torte tale has a new angle – literally. In the much-repeated lore, this square take on the cake – chocolate-glazed, buttercream stuffed and with marzipan – was whipped up by another young scullion to impress the Kaiser Franz Josef at the opening of the hotel in 1873. We're told that the torte wasn't baked because the kitchen boy (also 16) wasn't high-ranking enough to use the oven. But the veracity of these saccharine sketches of royal favour and a grand past aren't really the point. The truth is less important than the feeling it creates: one of simple nostalgia and what the Austrians call Gemütlichkeit, a lose coverall wonder-word encompassing all manner of cosiness.
Hotels and cafés here are more than happy to oblige eager tourists. It's lucrative considering that visits to Vienna rose from 9.8 million in 2009 to 16.5 million in 2019. "As long as so many tourists are happy and expect these kind of cakes, it looks like a healthy business," says Conti with a giggle, perhaps acknowledging that healthy might not be the operative word. "And judging by the incredible queues outside Café Central or the Sacher shop, they do and are."
Back in Café Diglas the morning mist at the window is lifting and the hiss of the milk-frother and clatter of cups are rising ahead of a busy lunch service. Unlike some of the bigger brands, the café's cake-making operation is, as the owner describes it, Ehrlich (honest) and the mood is warm and welcoming. His cakes are sliced on request, as he reminds me, and made at the whim of the chef every morning on nearby Fleischmarkt. The batches are then pedalled over on a bike; leftover cakes are never served the following day. Diglas's wife makes her own, including a cheese-curd dumpling, and the children help manage the other five food businesses around the city. Do they feel a responsibility to follow the long sweet history of Vienna's café culture? "I hope not," says Diglas with a smile, before politely refusing a forkful of the raisin-flecked Scheiterhaufen.