Observation 1 / Austria
Weighing in
Two mavericks still check the mittel-rifts of Austrians with the scales empire. Our correspondent steps on the plate.
London has its red telephone box. Vienna has... the red weighing scale? These antique beauties are easy to miss, hidden across the city in parks, streets and train stations. Toss in a 20-cent euro coin (or, once upon a time, an Austrian schilling), step up on the metal platform and watch the large steel dial move, publicly displaying the effects of that extra strudel you ate (I waited until after dark to hop on a scale on Karlsplatz).
The oldest machines still in use hark back to 1922 and all of them were made by Dutch firm Berkel. Now, though, almost 400 are owned by Andreas and Karin Popp, a couple from rural Pinkafeld in Burgenland, about an hour south of Vienna. They snapped up all of the remaining machines across Austria over the past 30-odd years (bar a few that remain in private hands). Andreas, a 55-year-old tinkerer and collector, makes the replacement parts himself, while his wife Karin handles the business. We're allowed to visit Andreas's workshop on the condition that he isn't photographed. He'd prefer not to be recognised because he's been robbed twice on his rounds collecting the coins despite speeding up his routine. "I've got it down to two minutes," he says.
A modest and unassuming man who clearly takes pride in his work, Popp shows me how he tests the accuracy of the scales by piling on 20kg weights one at a time and tweaking the dial settings. Upstairs he has an old machine that still takes schillings. He throws one in and I hop on again (the weight displayed is a bit less than my attempt at Karlsplatz; it's pre-strudel this time).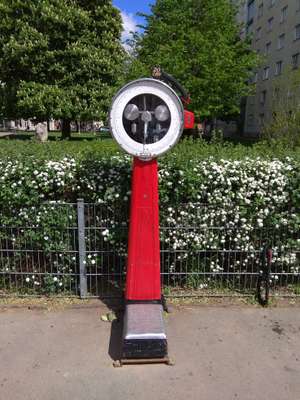 The Berkel scales were a popular part of early-to-mid 19th-century Vienna as the public here and elsewhere started taking a more direct interest in health and looking slim. But in the 1970s that interest turned to shame, weight became a more private matter and production of the Berkel scales was halted in 1978. When Andreas, a young technician at Vienna's Burgtheater, was offered an opportunity to take over one of the main businesses that managed the scales, he decided to take a chance and follow his passion, buying the company piece by piece and keeping his theatre job until he had refurbished enough scales to make a living. Andreas is coy when it comes to talking finances but says that the scales have always brought a steady income – enough to live a "modest life" – thanks in part to modifications he's made to the design over the years to enhance their durability. The biggest dilemma, he says, was what to charge when he converted all the machines from schillings to euros between 2001 and 2002. One schilling had been the cost ever since the 1960s. He and Karin settled on 20 cents (about 2.8 schillings), fearing people would be scared away by anything higher.
Today, some communities are waving their fees for the space to persuade the Popps to keep their scales there, and one was gifted to Vienna's Technical Museum for posterity. But, Andreas says, the city has shown little interest in their maintenance and he doesn't know what will happen when he retires. "I'm a dying breed," he says. If Vienna wants to keep its scales, it had better weigh its options fast.
---
Grumpy old Vienna
The view from here
There's really only one place to go if you want to find grumpy Viennese: coffee houses. Waiters here have long been famous for it – and it's different from that arrogant, haughty style you get in Paris. To discover this for myself, I enlisted the best expert I could find for an afternoon searching for the finest gruffness Vienna has to offer. "The important thing is not to take it personally," says Virginia Cermak, my mother, who has been going to coffee houses here since the 1980s; back then she visited two or three a day in between appointments. "I was on a mission to explore coffee houses," she says. "I loved the atmosphere – especially the traditional ones."
The toughest part? Paying the bill. "The lack of eye contact was taken to an art form," says my mother. "Sometimes I thought I might end up spending the night." And that, arguably, is part of the charm. Where else can you while away the hours with a newspaper, buy nothing but a coffee and not be kicked out? A Starbucks, perhaps, but it hardly offers the old-world charm of a Viennese coffee house.
Perhaps it's that laid-back pace that has helped Vienna consistently rank as one of the world's most liveable cities. And those grumpy waiters? It's hardly as bad as it used to be. "There isn't really a grumpy coffee house in the classic sense any more but service with attitude and strict waiters are still found in most Viennese cafés," says Christopher Wurmdobler, who literally wrote the (guide) book on Viennese coffee houses; an expert who is not my mother.
Wurmdobler gives the example of Café Westend, which "certainly had the grumpiest waiters in the city" until it was taken over by new management who put more of a premium on friendliness. Our experience confirms this: on a visit to Café Eiles, the one-time home of the grumpiest centenarian-looking waiter in Vienna (according to my mother), we are greeted by a cheery younger waiter. "Wow, we really bombed with this one," says my mother. Mind you, we still struggled to get someone's attention to pay the bill.