Showrooms / New York
Breaking news
Want to crack America? Fashion showrooms are the engines under the shining chassis of the industry. And Stella Ishii runs one of the most influential on the block.
Stella Ishii is powerful. She can make a fashion brand a success. She can crack markets for both fledgling and established designers. Yet in an industry where every stylist, editor and buyer seems to be going for full exposure, she's also someone whose influence is under the radar to anyone outside the fashion world. So how does she deliver win after win? She runs one of the most successful showrooms in New York.
Ishii's career began in her native Japan, where she helped Commes des Garçons become a global brand in the 1980s and early 1990s. After moving to New York she opened a US showroom for Italy's Staff International and from there launched Martin Margiela and Vivienne Westwood in the States. Then, 20 years ago, she founded her own showroom, The News, and set about doing the same for Alexander Wang and Common Projects.
Ishii dresses like a 1990s skater – baggy men's jeans, long-sleeved graphic T-shirt, Vans – but buyers from the highest-end shops in the US and Asia, who rely on her fashion nous, visit her several times a year to stock up on the best independent brands. Ishii's office is on the fourth floor of a building in Soho; a space that spans a full block between Broadway and Mercer Street. On the eve of New York Fashion Week it teeters on the brink of chaos. Racks of men's clothes are being moved around on the sheet-metal floors of the former factory space; they should have been put away to make way for womenswear but buyers are still trickling in to see labels such as the relaunched Sergio Tacchini (preppy tennis wear reimagined by Public School's Dao-Yi Chow), Purple Jeans (denim so distressed it's better described as traumatised) and her biggest brand Common Projects. Occasionally a nanny wheels a toddler in a pushchair across the floor: The News has a crèche for employees' children.
Ishii gives us a tour of her labels and Kuon from Japan stands out. The brand's handsome jackets make heavy use of boro, a "visibly mended" quilted denim popular with farmers, and sakiori, an elaborate weaving technique. Next to the colourful clothes are a pair of moodboards. "Kuon has won awards in Japan," says Ishii "But things are different here, so I try to help them with that. The guys were here for a presentation so they brought all their ideas and we had a merchandising meeting. A jacket woven entirely from sakiori costs about $3,500 [€3,190], so we said, 'Give us a touch of sakori on a white T-shirt or on a trim; something at a more approachable price.'"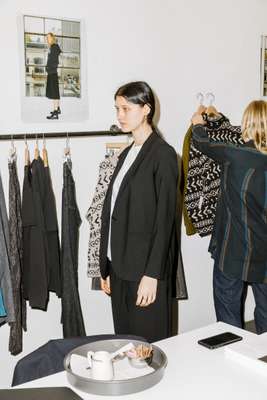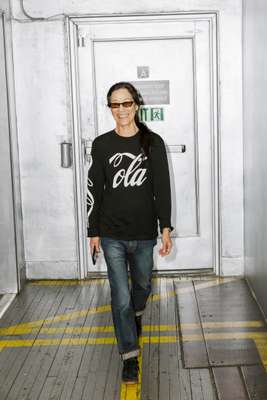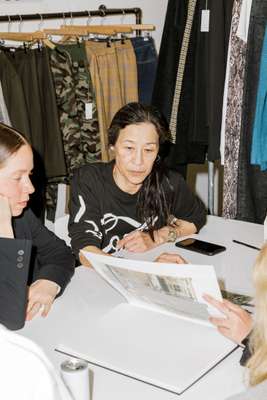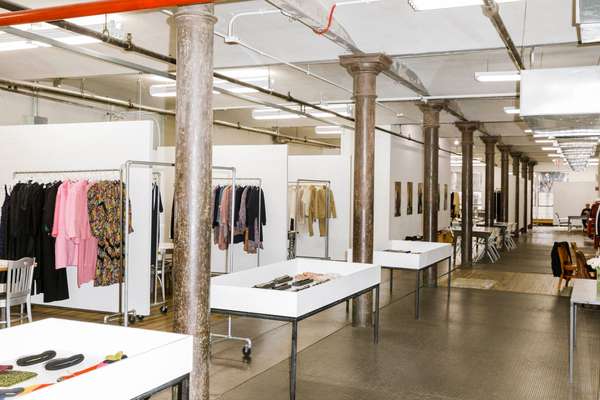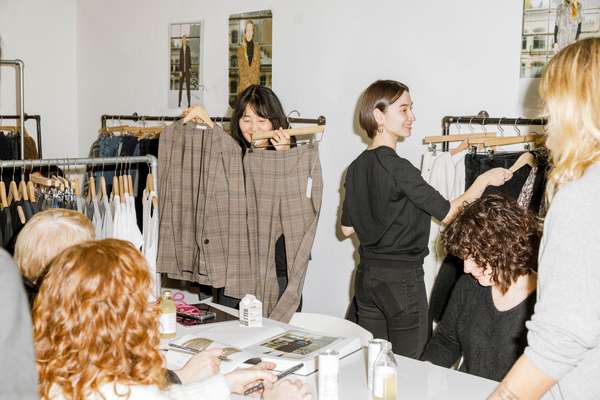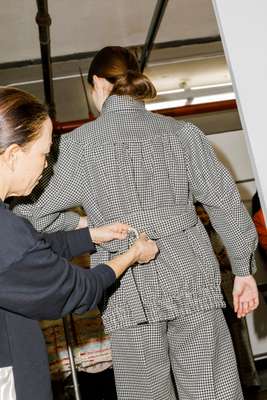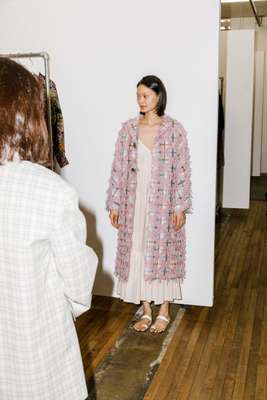 Is that something she does with all her brands? "Yes, it's really important," says Ishii. "Before we even receive the samples we're looking at the ideas, checking fabrics, saying, 'OK, if this is going to be made into a jacket, it's going to cost this much; maybe you shouldn't be choosing this fabric.' It's their label but I think we're able to help them and ourselves because we have to sell it at the end of the day. We have an idea of what will and won't work."
Ishii makes her money by selling clothes – The News takes 15 per cent of sales revenue, or 20 per cent if it also does warehousing and shipping – but her job isn't just about volume. She also builds brands by placing them in appropriate shops – whether Ikram in Chicago, Noodle Stories in Los Angeles or Beaker in Seoul.
The Academy New York
"aw20 is the second season of women's ready-to-wear from Swaim Hutson, formerly designer and founder of Obedient Sons & Daughters. This collection is rooted in menswear but made for women and tailor-made in the US."
Parish
"A considered uniform of meticulously designed pieces made from recycled, organic, natural and biodegradable fibres, with an emphasis on reducing water, chemicals and energy use. With a consistent use of understated branding codes, the Parish tribe is uniquely apparent yet never trying too hard."
6397
"Founded in 2013 by me and my team, it's a wardrobe of essential pieces for everyday wear. At first it was rooted in denim and T-shirts. Now it's a full collection of offbeat staples, from suits to knitwear and denim, with a nod to youth and counterculture and a sense of humour.
South2 West8
"The newest menswear collection from Tokyo-based Nepenthes Company, the "youngest brother" of Engineered Garments and Needles. South2 West8's origins are the needs of the dedicated fisherman: there are technically proficient parkas, multi-pocketed fishing jackets and river-waders alongside more quotidian garments. It's a new genre where sports and the outdoors meets fashion."
Kuon
"Also based in Tokyo, designed by Shinichiro Ishibashi. With roots in traditional Japanese textiles boro and sakiori, and with fabrics worked with the technique of sashiko, Ishibashi designs with a masculine presence but a highly imaginative and elegantly lyrical sensibility."
Despite the rise of e-commerce, "if you choose the right stores they're really showing how your label translates". "They're expanding your customer base and that only helps your e-commerce," adds Ishii. "Our minimum for orders is usually $4,000 or $5,000 [€3,650 or €4,560] per label because if a shop buys less than that, they're not really representing the brand – it's just a few pieces hanging there," she adds. "We don't work a whole lot with department stores. I have nothing against them but with speciality shops the owners are the buyers and they just get it more; there's more heart – it's not just a commodity. People say, 'Retail is tough and blah blah blah.' But the speciality shops we're working with are doing great."
When Ishii takes on a label it's a long-term relationship. In order to assess a brand, "I always give it at least three seasons," she says. "You need to see how they approach spring, how they approach fall and then you see the next season." That's part of the reason buyers trust her. "They know that if we're behind a brand there's something there," she says. "We're serious and the brand is serious."
The trouble with helping someone build a label is that they might outgrow you. Although The News has some brands that could go it alone but choose not to. "Common Projects sell well enough to do this but they don't want staff," says Ishii. "They would rather focus on design and enjoy their lives." But other labels, such as Alexander Wang, have left and taken their sales in-house. "Very often it's because it starts to perform, their business grows and they don't want to be in a multi-brand showroom," she says. "They think,'We're paying this much to The News; with that we can have our own space, our own team.'"
How does she feel when that happens? "It's a little bit sad because you've put so much into it," she says. Then her eyes brighten. "But it means I have space to find another new brand."
Brands launched
Alexander Wang, Common Projects, Band of Outsiders, R13. Introduced Sacai and Officine Generale to the US market. Launched The Row in 2006 – a "tiny, beautiful assortment of T-shirts, leggings, dresses and one or two tailored pieces".
Number of employees
21 at the Soho showroom/office; four at the warehouse.
Number of shops it sells to
Between 200 and 250.
Number of labels it represents
11 women's; 10 men's.