Briefing / Global
Business
Briefing
Japan goes west to seek new openings in Russia, how retail is helping bushfire-afflicted New South Wales and the shoes start-up putting a spring in your step.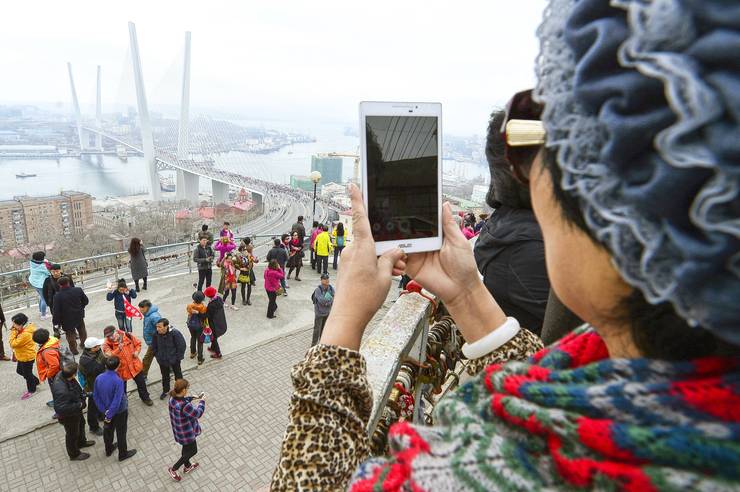 Fresh air
JAPAN AND RUSSIA —
AVIATION
Japan Airlines (JAL) and All Nippon Airways (ANA) have a geography-distorting sales pitch for their new flights to Vladivostok: travel to Europe in less than three hours. Technically, Vladivostok is in Asia but that hasn't stopped Japan's two largest airlines, who recently began offering direct flights to Russia's far east within weeks of each other. Both carriers launched with several flights a week from Tokyo's Narita airport but jal now flies daily. Previously, only Russian carriers have connected Japan and Vladivostok.
A city of 600,000 residents with Soviet-era monuments and clashing architectural styles – Russian baroque, art nouveau and German gothic – Russia's easternmost city is more open to visitors than it once was. For more than three decades during the Cold War, Vladivostok was a base for the Soviet Union's Pacific fleet; non-Russians were not allowed to visit. But it's now increasingly popular with Japanese tourists and business travellers. Tokyo-based travel agency his reported an 81 per cent jump in bookings to Vladivostok last summer, compared to the same period in 2018. Not as many Japanese tourists visit Vladivostok as Seoul or Honolulu, says Hirofumi Arai, research director at the Economic Research Institute for Northeast Asia in Niigata. "But I've been going to Vladivostok for years and recently I've noticed that a lot of young Japanese women, who weren't going in the past, are travelling there," he says.
Much of this is down to closer Japan-Russia economic ties. After Japanese prime minister Shinzo Abe proposed private-sector tie-ups at a meeting with Vladimir Putin in 2016, Moscow relaxed visa requirements for Japanese nationals. Dozens of Japanese businesses are now venturing to Russia's far east to explore farming, energy, healthcare, housing and urban-planning deals; some are considering freighting goods to Europe using the Trans-Siberian Railway, rather than sea-shipping them. This bilateral openness has been bringing more Russians to Japan, with last year's 120,000 visitors setting a new record. JAL and ANA are hoping to tap this growing demand but both airlines also have a more ambitious goal in mind – that of promoting Narita International Airport on the outskirts of Tokyo as a regional stopover for flights between Southeast Asia and other parts of the world.
---
Training activity
CANADA —
FOOTWEAR
Buckle up: the appetite for activewear is still huge, with the market expected to grow 6.5 per cent a year to reach $547bn (€498bn) by 2024. Standing out in the crowded field is smart new Canadian start-up Casca, which sells only one type of shoe: the Avro. Available in various colours with a leather or knit outer, the minimal trainers have strengthened heel support, with an orthotic footbed and the option of 3D-printed custom insoles. The company has sold a few thousand pairs since launching two months ago and expects to be profitable within two years. "Casca was created for the active, modern professional," says co-founder and chief design officer Kevin Reid. "These are performance shoes that could take you from work to play and back without skipping a beat."
casca.com
---
New territory
AUSTRALIA —
RETAIL
Amid one of Australia's worst ever bushfire seasons, Grace Brennan, a former Sydneysider turned New South Wales sheep farmer, decided to help save her corner of the world – through retail. "I had long been obsessed with the beautiful boutiques in towns surrounding me, each with their own character and style," says Brennan. "But cashflow had dried up and small businesses were really suffering."
Years of drought, population exodus and economic hardship meant that these businesses could no longer count on local clientele – and the fires were the last straw. So, in October, Brennan set up Buy from the Bush, a showcase website promoting about 25 rural entrepreneurs, designers and artists. In the first six weeks, Buy from the Bush generated an estimated au$2.6m (€1.56m) in revenue for featured businesses. They reported a sixfold increase in turnover on the same period last year and 10 times as many visitors to their websites. Some boutiques and galleries have had to hire new staff to cope with the demand.
"People want to help drought-affected communities but they just don't really know how," says Brennan of the project's rapid takeoff. "I had a feeling that if I could showcase the talent and creativity of people living in the bush, city consumers would buy in."
buyfromthebush.com.au