Restaurant / Helsinki
Finishing touch
A 1930s restaurant has been revived by chef Helena Puolakka and designer Ilse Crawford. We pull up a chair.
"To me, this has always been the Finnish restaurant," says Saku Tuominen. The restaurateur is leaning back in a Aalto 611 chair on the indoor terrace of Helsinki's just reopened Savoy restaurant in Kaartinkaupunki. It's a surprising statement from Tuominen, a key figure behind many of Finland's most successful dining spots, including the two Michelin-starred Chez Dominique, which closed in 2013.
The oak and leather chair isn't the only design icon in this 1937 space, which overlooks Helsinki's Esplanadi park. Everything here – furniture, surfaces and floorplan – were designed by Alvar Aalto with his wife Aino. When Tuominen, along with his partners (all chefs) took over Savoy last year, they had a dilemma: the interiors and kitchen needed work but this modernist landmark was considered by many to be untouchable. "Something needed to be done," says Tuominen. "The place felt more like a museum than a lively restaurant."
Tuominen and chef Helena Puolakka enlisted British designer Ilse Crawford to restore the place to its former glory. When Savoy opened in the late 1930s, it was the meeting place of the young nation's cultural, business and political elites. For Finland, these years were a belated belle époque, a period of economic growth and cultural revival. The Aaltos' designed it in just that spirit. "It was a rowdy and lively place but it also reflected the progressive ideals of modernism," says Crawford. But over the years Savoy became so iconic that it lost its vim. It had become an institution, almost stagnant. "This often happens with establishment restaurants," she adds. "They are operated in a mechanical way, not by the culture of the place."
For Crawford and her Studioilse team, reviving Savoy's spirit was never going to mean radical redesign. "The place just needed some love and a lot of repair," she says. But, she adds, that the job took meticulous planning. "I wanted to understand Alvar's and Aino's thinking and the restaurant's original spirit."
The first thing they tweaked was the seating plan. Crawford's team changed some square tables for round (so diners don't sit with their backs to one another). Then they treated the original wood and, in what was one of the boldest design choices, changed the upholstery, replacing the dark blue hues, a legacy of the 1990s, with lighter fabrics for a fresher look. Some of the furniture that the Aaltos designed for Savoy is no longer in production. Undeterred, Crawford commissioned design firms Artek and Made by Choice to reproduce them with the same original details. The team also changed some lamps and shades to improve the quality of the lighting in the dining room. "It is unusual for architects to have this level of control when designing a space," says Crawford. "The Aaltos, both designers in their prime in the 1930s, clearly put a lot of time and love into this design and I'd like to think that they would be proud of what I've done."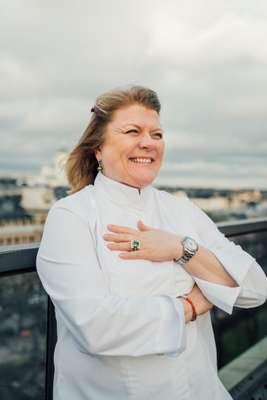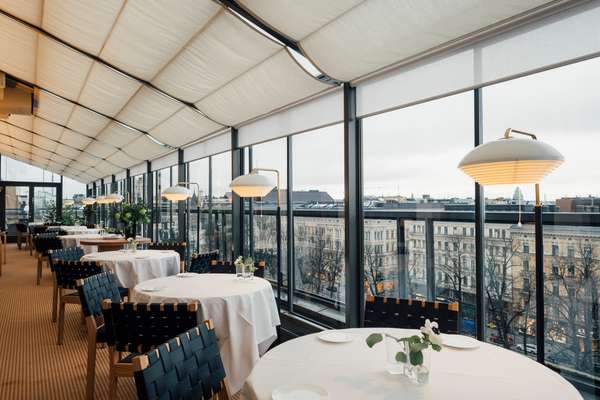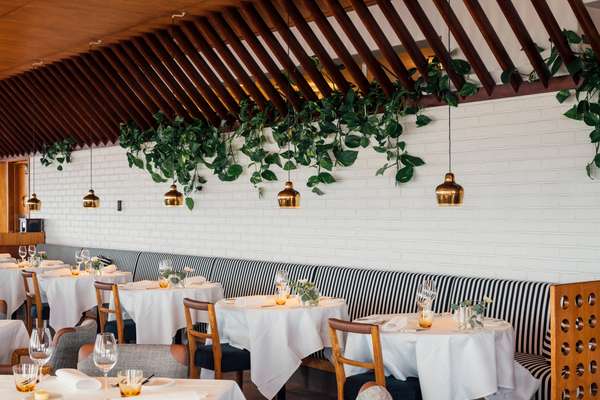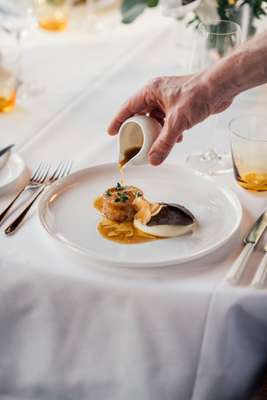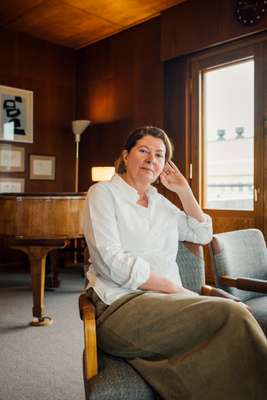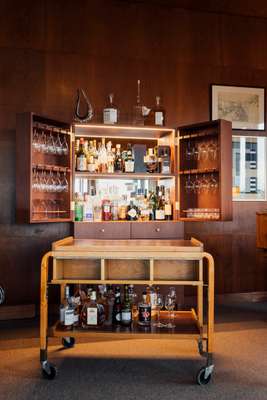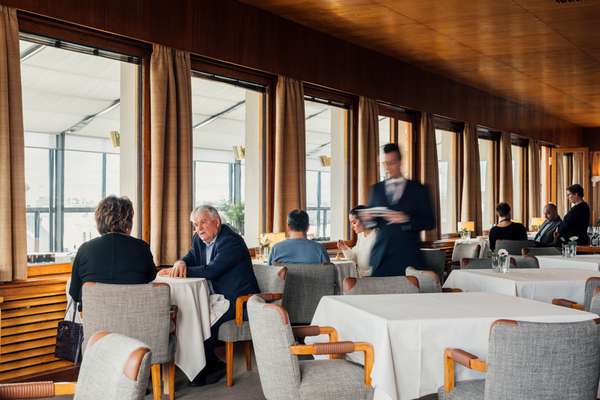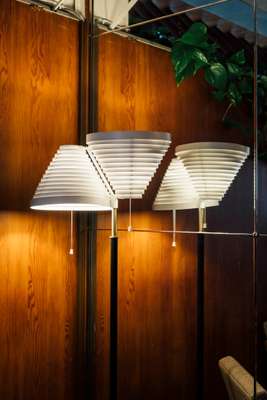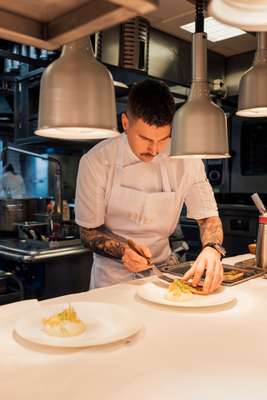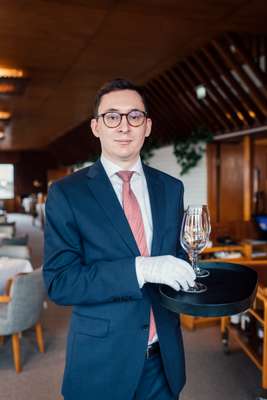 Less visible but equally important changes were made in the kitchen. Tuominen hired chef Puolakka, who had worked with Crawford before and at top restaurants in London and Paris. On monocle's visit, as Savoy is about to open for lunch, Puolakka is directing the two-dozen or so kitchen and waiting staff in a mixture of French, English and Finnish. The staff look up to her, with a touch of reverence. There is a similar veneration in Puolakka's attitude to Savoy itself. "You don't say 'no' to Savoy," she says quickly, when asked what made her leave London's fine dining scene for Finland.
"But it was clear that there was much work to be done here. Savoy felt overly formal and lost in terms of the kind of restaurant it wanted to be," says Puolakka. For her, it was about stripping Savoy's kitchen back to the basics and focusing on good Finnish ingredients and vegetables from the rooftop garden. The new menu is one of Finnish classics with French and a hint of Russian influence. Staples like wild reindeer, Arctic char and Baltic herring are accompanied by crudités, foie gras and vorschmack (an Eastern European dish of ground meat, potatoes, beetroot, pickles and sour cream). Complicated New Nordic cooking, which characterises much of the Helsinki dining scene, is not in Savoy's dna. "This place oozes relaxed luxury and classic design," she says. "I want the food to reflect that."
Tuominen is confident that Savoy will regain its place as a go-to in Helsinki's dining scene. But this does not mean catering just to cultural and business bigwigs – as the old Savoy tended to. "That was not the Aalto spirit," he says. "Savoy is a place of elegant nonconformity and of long evenings filled with jazz, inspiring conversations, great food and good cocktails." We'll drink to that.
savoyhelsinki.fi
---
Where else to eat in Helsinki:
BREAKFAST: Ekberg, Kamppi: This historic Helsinki café has been a meeting point for the Finnish bourgeoisie since 1852. Ekberg is best known for its pastries, made in-house.
ekberg.fi
LUNCH: Story at Vanha Kauppahalli, Kaartinkaupunki: Story makes salmon soup the traditional way: lots of cream, butter and quality salmon. "It's a simple dish so the quality of ingredients is everything," says chef Jere Hänninen.
restaurantstory.fi
LUNCH: Sea Horse, Ullanlinna: This 1930s gem is a monocle favourite. The menu is a window on Finnish cuisine. Must-tries include fried herring with beetroot, cabbage rolls with wild mushrooms and steak with fried onions.
seahorse.fi
DINNER: Carelia, Taka-Töölö: In a former pharmacy with period interiors, the food marries French brasserie with classic Finnish.
ravintolacarelia.fi
DINNER: Palace, Kaartinkaupunki: The 1950s restaurant Palace, which earned Finland's first Michelin star, closed in 2016. It reopened the following year as Hans Välimäki's return to the top table.
palacerestaurant.fi
DRINKS: Holiday Bar, Katajanokka: Cocktails such as sea-buckthorn daiquiri, bright interiors and a lively outdoor area.
holiday-bar.fi
For more tips, see Monocle's Helsinki Travel Guide, which is published by Gestalten and is available to buy now. Head to monocle.com/shop for more.