HQ audit / Turin
Home from home
While many corporations remain faceless and sterile, coffee giant Lavazza has built an elegant workspace that inspires its staff and Turin's community.
Since opening a small, downtown grocery shop that specialised in roasting coffee in 1895, the Lavazza family has helped to fuel Turin's economy by providing residents with their daily caffeine fix. Even today, despite having become a global group with more than 4,000 employees and operations in more than 140 countries, the company's owners haven't forgotten their roots. So when they first started searching for a site to host the new head office a decade ago, the family decided against moving from the Piedmontese capital. Instead, they chose to give back to the city that they have called home for the past 125 years by helping to reinvigorate a neglected neighbourhood, the one-time industrial district of Borgo Aurora.
The result was the company's €120m Nuvola headquarters, a complex of seven spaces that opened in 2018 and is part office and part public space. As well as housing the company's 700 on-site employees, anyone is welcome to wander around a large portion of the campus – people can even join Lavazza employees for lunch at the company canteen. Although the neighbourhood lacks the picturesque porticos that most associate with Turin, the office is a multifunctional space and includes a gourmet restaurant, company museum, event space and even the ruins of a fourth-century Christian basilica.
The building
Causing a stir

Milan-based practice Cino Zucchi Architetti oversaw the office's design and, right from the off, the aim was to avoid walling off the corporate compound from its surroundings. "Global companies often build these autonomous 'magic castles' and close themselves inside," says Cino Zucchi. Instead, he convinced Lavazza's owners to place the canteen outside, separated from the main building by a landscaped piazza. This allows staff to get some fresh air and stretch their legs after eating. It's a clever strategy that seems to have worked. When MONOCLE visits, the piazza is full of employees milling about after lunch, while an elderly man is escorting his grandson on a bicycle across the square.
Zucchi ensured that residents could access the area without having to go around the large lot, which is also home to the Institute of Applied Art and Design. Visitors use the same entrances as staff to access the ground-floor Lavazza shop, museum and events space, La Centrale. "The idea is to foster openness and social exchange," says Zucchi. "The place is part of the city not detached from it."
It's in the reception area, with its soothing grey-and-cappuccino colour scheme, that guests first get a glimpse of the corporate inner sanctum. Rising above is a sculptural staircase in Aurisina limestone with metal railings inspired by the work of late Turin architect Carlo Mollino. The undulating structure provides peeks of workers moving about upstairs.
"Today the job of the architect is to hide things but here I wanted to show the inner workings a bit," says Zucchi. "It creates a kind of Piazza di Spagna, where you have people going up and down the steps to the lobby." It's also popular with the staff, who tend to prefer using the staircase to the lift.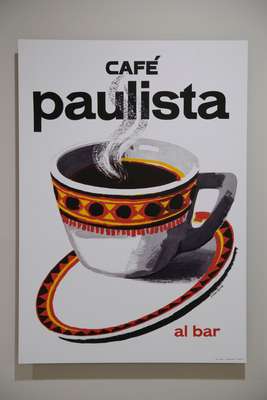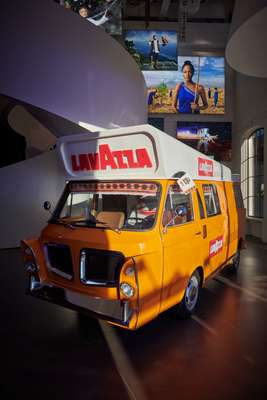 Keen to avoid a typical glass façade, Zucchi wrapped the main tower in a curtain wall of vertical ribbon windows within an aluminium grid. On top of this there is an alternating bronze-and-rust colour scheme that produces a visually striking chromatic effect. "The façade has a three-dimensionality that gives it character and serves as a calling card for the brand in place of a big logo," he says.
Lavazza in numbers:
700 Employees at Lavazza HQ
4,000 Employees worldwide
64 Percentage of revenue generated from markets outside Italy
€1.87bn Revenue in 2018
€87.9m Net profit in 2018
50 Coffee schools worldwide, training 30,000 baristas, staff, consumers and more every year
The interior
Room to breathe

To decorate the 30,000 sq m of office space, Lavazza turned to gtp, a Turin-based design firm that had already developed the company's retail spaces and corporate interiors elsewhere in Italy and abroad. gtp took colours inspired by nature – leafy green, coffee brown, deep red berry, dark orange – and incorporated the royal blue used by Lavazza as its corporate marker.
The interior includes a combination of shared desks, meeting rooms and gathering points furnished with high stools around tables for brainstorming and chatting with colleagues. For calls or video conferencing, Framery privacy pods are placed near windows through which employees can admire the nearby Alps as they discuss work inside soundproof chambers.
gtp founder Michele Aruanno says that the aim was to avoid the sight of repetitive rows of desks. "Workstations in an office are only used 50 per cent of the time," he says. "We have areas for informal meetings as well as more private and protected ones for formal or virtual meetings. We also have areas where people socialise, spaces for breaks with water dispensers and corners with sofas."
The furnishings are a mix of well-known design brands – Vitra office furniture and Artemide lighting – as well as customised solutions such as wood-panelled coffee vending machines. There are also a number of on-brand details, including coat stands topped with espresso cups, parking spaces painted with coffee beans and displays in corridors showing past advertising campaigns.
The spaces
Perfect coffee break
For the company's canteen-cum-café, the brand sought advice from Italy's slow-food movement and the result, Bistrot, boasts a daily-changing menu with three different counters serving vegetarian fare, street food and traditional Italian and Piedmontese dishes. On the day MONOCLE visits, the offering ranges from classic margherita pizza and simple wholegrain rice dishes to tortellini pasticciati and stuffed calamari.
The 280-seat space spreads across two floors and is usually bathed in sunshine thanks to the addition of skylights and large windows overlooking the piazza; light and soft tones on the floor and ceilings make the space feel airy. Furniture includes suspension lamps from Karman and Vitra chairs designed by Jasper Morrison. As the canteen is open to outsiders, staff often share the space with students from the on-site design school and other residents of Turin, which adds to the welcoming atmosphere. "My parents are up from Rome to visit so it's great to be able to bring them along," says Veronica Rossi, a sustainability manager at Lavazza. "It's an inviting space that serves good food."
Next to the canteen is a former power plant that Zucchi converted into La Centrale, a huge event space used for festivals, conferences and more. Lavazza shares the space with Condividere, a restaurant concept that the coffee company dreamed up with Spanish chef Ferran Adrià. Here the public can try tapas-style snacks and signature drinks. Elsewhere on the ground floor of the main building, staff can work off stress in a gym or unwind in the recreational area playing table football with customised figures representing Carmencita and Caballero, iconic cone-shaped characters from Lavazza's early television-advertising campaigns.
Of course, coffee breaks are a big deal here. So while smart-looking coffee vending machines are found throughout the facility, Lavazza went the extra mile with its third-floor café. The elegant setting features art deco-inspired seating and a museum-like display of stovetop espresso-makers from over the decades. It's a relaxing place to grab a coffee and – together with the impressive on-site museum, which explores the history of the brand and coffee cultivation – a fitting reminder of Lavazza's legacy.
The café connects to a meandering terrace designed by Zucchi that provides quiet spots for staff to catch up with each other, sit with a notebook or simply unwind and admire the cityscape. "This layout gives people the freedom to choose how and where to work," says Alessandra Bianco, chief public relations officer at Lavazza. "You can recharge your batteries by sitting out in the sun to find inspiration."
The verdict:
The Lavazza campus represents a new way of addressing the relationship between a private company and a city. Rather than being a sealed-off compound, it fosters openness and tries to be a good neighbour. For staff, the inviting spaces throughout the complex offer places for brainstorming, chatting and interacting with colleagues in formal and informal settings, recognising that, often, the best ideas arise when you're not at your desk. Our only note is to consider adding some better seating options in the reception area – the current circular benches are sterile and uncomfortable.