Experiences / Global
Icing on the cake
Experiences, from hotels and high-end restaurants to exclusive balls and rallies (and yes, some cakes) are helping luxury brands connect with more of our lives – and stand out from the pack.
You might think that Louis Vuitton, Celine, Loewe and Givenchy only sell clothes and accessories but Jean Baptiste Voisin, chief strategy officer of those brands' parent company lvmh, has other ideas. "We are not in the business of satisfying basic needs," he says. "We sell dreams."
Traditionally, luxury has been easy to identify (and flaunt) and hard to access: exclusivity and scarcity are part of what you pay for. But now that the idea of luxury might mean logo-adorned socks available to anyone with a smartphone and postal address, brands need other ways to make sure that their products and identities remain special. Increasingly that means the hard-to-crack world of experiences, which can range from in-store approaches, such as art galleries (Alexander McQueen) or hidden rooms (Stella McCartney), to entirely separate businesses, such as hotels (Loewe, Bulgari) or exhibitions (Dior). While the idea of providing experiences is hardly new, brands are scaling fresh heights in an attempt to woo and keep today's shoppers.
Customer seduction often begins over a meal – perhaps cake if you're in Japan. "In Tokyo a kind of foodie experience mixed with fashion has emerged," says Martin Webb, ceo of Communion, a luxury fashion PR agency in Japan. In Ginza alone there are cafés and restaurants by Gucci, Armani, Chanel, Dunhill and Bulgari, and they're not there because of the high margins on coffee. "People who can't afford Bulgari jewellery right now can still have a cake," says Webb. "The café doesn't earn Bulgari much money but when those customers are ready to make a jewellery purchase that's where they'll go." Why? They already have a relationship with the brand. This logic also underpins Tiffany's Blue Box Café in London and New York.
There are only so many things you can do with coffee but luxury brands really differentiate themselves with restaurants. There's nothing unusual about a high-end label having a restaurant but there is a marked change in the level of ambition with which they're now being undertaken. In Osaka, Louis Vuitton recently opened Sugalabo V, a hyper-luxurious offshoot of an exclusive Tokyo restaurant on the prestigious World's 50 Best Restaurants list. Sugalabo V is an impressive expression of Louis Vuitton's premium credentials: furniture from the brand's Objets Nomades collection and the opulent retro-futuristic interior fits perfectly with women's artistic director Nicolas Ghesquière's clothing and accessories.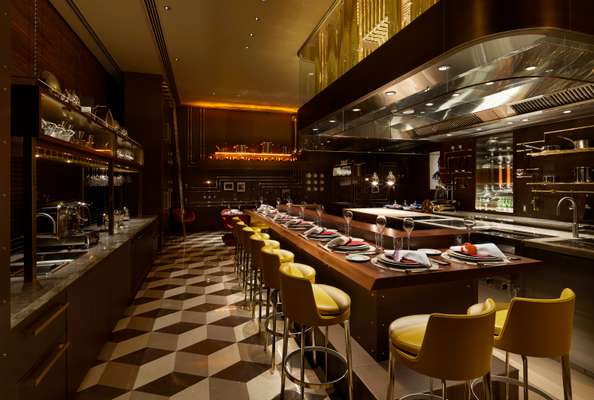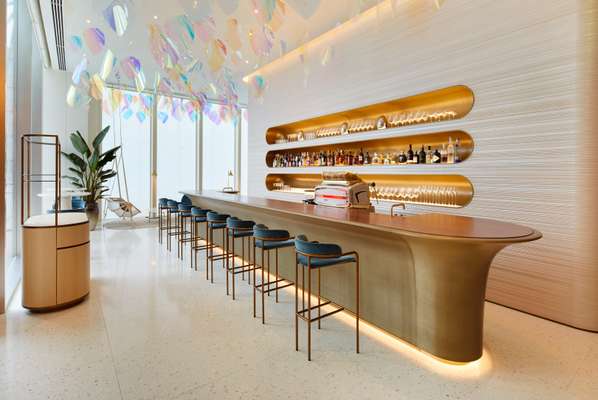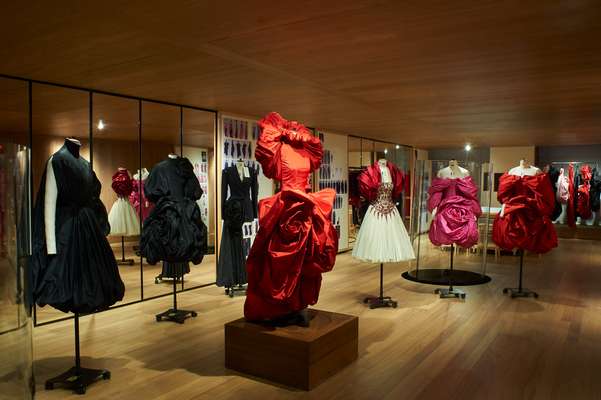 In Florence and now Los Angeles, Gucci has one of the world's most respected chefs, Massimo Bottura, running its restaurants. Like Gucci's creative director Alessandro Michele, Bottura is an award-winning creative with a deep love and understanding of Italian tradition, and a desire to push it in unexpected directions. It's the kind of collaboration that boosts the prestige of both parties.
Bottura is also going to helm the new Ferrari restaurant, set to open later this year at the brand's headquarters in Maranello. In addition to being a PR move to bolster Ferrari's claim to being representative of a broad swathe of "Italian excellence", the restaurant serves a prosaic but important purpose, says Swetha Ramachandran, investment manager of luxury brand equities at gam Investments in London. "If you're invited to one of Ferrari's launches in Marinello there's not a lot to do on-site for your companion who might not be as car-crazy as you are," she says. "So this is a shared experience that you can have with your partner or the friend you came with beyond the auto aspect."
As well as the restaurant, Ferrari has built an experience that creates a need for its products, not merely a desire: it hosts its own amateur races around the world, where only Ferraris can compete. "I think the luxury car brands are a good example of how the customer experience is an integral part of the brand value," says Webb. "Lamborghini will have a track day when all the Lamborghini owners in Japan get together and race one another. In Japan there are two Ferrari owners' clubs – it's a big networking opportunity."
The idea of an experience that creates a tangible need for what you make isn't limited to car companies. "Valentino puts on a very grand ball in Tokyo every year," says Webb. "There aren't that many occasions for ladies to dress up in fancy dresses here – there's no Japanese Tatler for example, as there is in pretty much every other Asian country. So the brand creates the occasion. Valentino customers are essentially buying dresses to wear to the ball." Gucci has a monthly dance party for its coolest customers at its Aoyama boutique, which offers a less formal version of the same idea. "Brands have to provide experiences for the use of the product, whether you want to put your sports car through its paces or wear your Chanel jewels to the latest art opening at the Chanel Nexus Hall gallery," says Webb.
These events reach a broad group of customers beyond the attendees – through social media. "Before social media you wouldn't find out who wore what until it appeared in the fashion publications," says Webb. "But now the focus is on how many posts you can get while the party is actually happening. So the incentive for brands to invest in events has heightened – there's more you can get out of it."
So what's next? lvmh's fashion brands already have museums, restaurants and hotels of their own. How long, then, until they move beyond hospitality and get into the travel business? "You might argue that we're already in it," says lvmh's Voisin. "When we do a big event like a fashion show, we invite vip customers and we organise everything from flights and accommodation to what to do in the city while they're there," he says. "For the launch of a high-jewellery collection – where pieces start at €50,000 to €100,000 and then the sky's the limit – you invite people to a beautiful place for them to relax. Then you introduce the collection to them and have a conversation about it. It's not necessarily the moment when you want to transact; it's the moment when you want to tell the beautiful story behind each piece. [This makes it] very emotional when you decide to choose a piece."
The bonds between brands and customers are strengthened by experiences, even if the relationship is a bit one-sided. But, from a brand perspective, experiences imbue their products with memories, which go some way to justifying the prices of goods when they are eventually bought. This "emotional" connection, as Voisin puts it, helps to re-establish the exclusivity that luxury brands have lost: while your handbag or shirt might be the same as someone else's, the memory of how you felt when you chose it is yours alone.
Three luxury brand experiences:
Gucci Osteria da Massimo Bottura, Los Angeles:
Italian restaurant at the top of Gucci's Beverly Hills shop.
M&NMO room, London:
Invite-only space in Stella McCartney on Old Bond Street, with one-off pieces and capsule collections.
Ruinart 1729 Hotel, London:
One-room "hotel" with an interior by Loewe creative director Jonathan Anderson.