Inventory / Tokyo
Modern history
Facing demolition, the Dai-ichi Bank building had seen better days. But at the 11th hour, and with a nod to its illustrious past, the site has been rejuvenated as K5 hotel.
It wasn't so long ago that an empty building in the middle of Tokyo was fit for one thing only: demolition. That was also set to be the fate of the Dai-ichi Bank building in Kabutocho, an overlooked neighbourhood not far from the Imperial Palace. The structure, which dates back to 1923, had even been stripped in preparation for its demise. But then developers Heiwa Real Estate, who also own the Tokyo Stock Exchange next door, had a change of heart and hired designers and founds tenants to transform the stately old gent into a new development called K5. All in just 14 months.
"At the beginning, this project was going to be just a hotel," says Akihito Takano from Heiwa Real Estate. "But as it went on, we came up with the idea of a 'micro complex'." So, in addition to the 20-room hotel, there's also a café, restaurant, library bar and basement beer bar, each one run by a leader in their field.
From east to west
K5 is in Nihonbashi, Kabutocho, an area that was at the heart of Japan's rush for westernisation in the 19th century. The Tokyo Stock Exchange was founded here and so too were the country's first banks.
The history of the wider area stretches back centuries. More recently, Mitsui Fudosan has been sprucing up the area, which is full of shopping and eating options. Its modern look is deceiving: there are many famous and historic businesses here.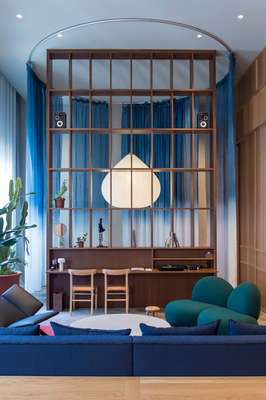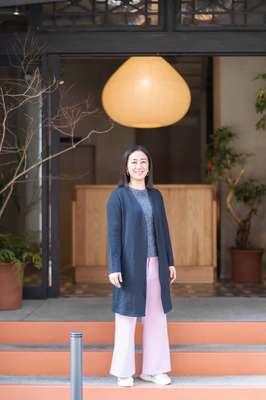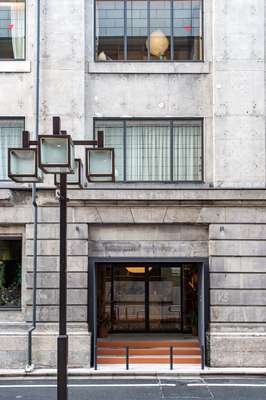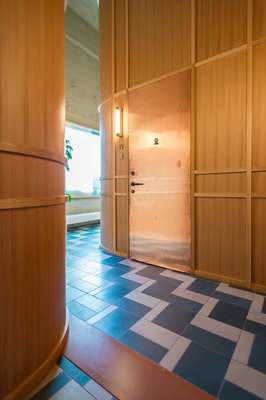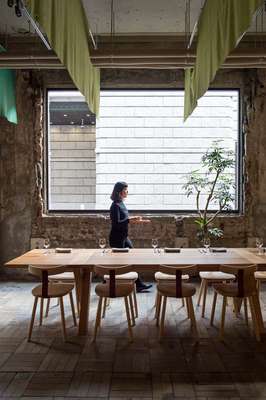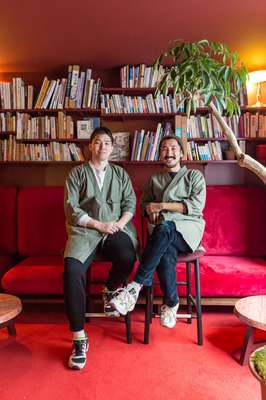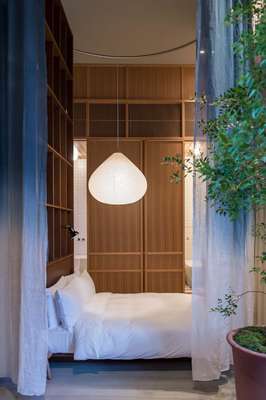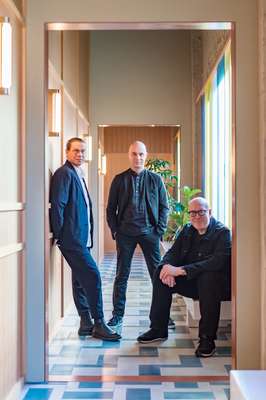 The core production team is a young trio – Takahiro Honma, Akihiro Matsui and Yuta Oka – who have come together to create a new firm called Ferment. They worked with Tokyo design entrepreneur Teruo Kurosaki, who called on his old acquaintances, Stockholm architecture firm Claesson Koivisto Rune, to tackle the building. "It's rare to find these old classical-style buildings in Tokyo," says the company's co-founder Eero Koivisto. "It wouldn't be unusual in Stockholm or London but this is one of the few buildings that survived the 1923 earthquake and the 1945 firebombing."
"Nobody had really noticed the building or thought of doing anything with it," says Ola Rune, Koivisto's colleague. "You have a highway on one side and the Tokyo Stock Exchange on the other." But when Koivisto, Rune and Mårten Claesson visited, they could immediately see the potential. "We could see that it was beautifully proportioned," says Claesson. "Very Western neo classical but also super Japanese in its detailing – or rather lack of detailing." The guest rooms are large by Tokyo standards and make full use of the building's big windows. There are traces of the old building throughout: the original oak parquet floor survives in the restaurant and the corridors are preserved in a state of pleasing imperfection – even the old builders' marks have been kept for posterity. To complement the original features, the architects designed 20 new pieces for the hotel – from the 7 metre-long oak table for the restaurant to a pencil that's made in Japan. They worked with Japanese company Time & Style on the furniture and young carpentry firm adx lined the bedroom and corridor walls with cedar veneer.
The interior is an imaginative mix with plenty of craftsmanship: hand-dyed curtains, custom-crafted floor tiles in a blue hue inspired by Kyoto's Katsura Imperial Villa and unlacquered copper on the elevator walls, which will acquire a patina over time."Hotel rooms tend to be soulless and standardised," says Claesson. "We've tried to avoid that: this is more like a real home that has been formed over years."
Why Nihonbashi?
The name Nihonbashi refers to a bridge, originally built at the beginning of the 17th century and considered the starting point of five major roads heading out of Tokyo. The current bridge dates from 1911. Plans are afoot to remove the tangle of expressways that run above it.
The restaurant, Caveman, is a spin-off of the much-admired Scandi-Japanese restaurant Kabi in Meguro blending influences from Japan, France and Denmark. Top marks go to the morning brunch, which includes fresh bread from Tokyo bakery Vaner, a selection of homemade jams, smoked butter, house pancetta and fluffy egg soufflés. Dinner at Caveman is also very popular.
Elsewhere, a café is run by Meguro roasters Switch Coffee, whose owner Masahiro Onishi is an old friend of the Kabi crew. "I first heard about this project in April last year when Shohei [Yasuda] dropped into my coffee shop and told me that he was opening in a new location and asked if I could join in," says Onishi. "And here I am." The basement is a first taproom for New York's Brooklyn Brewery. A snug cocktail bar and library is the work of seasoned bartender Soran Nomura and Kai Tanaka, who owns another popular Tokyo spot called The Open Book. Inspired by Eiichi Shibusawa, who founded the Tokyo Stock Exchange, this bar, Ao, has an erudite book collection and serves tea during the day. "Not just green tea either," says Nomura. "Japanese black teas and other teas from Taiwan, Vietnam and around Asia." At night the menu moves on to cocktails. "I'm thinking about an oolong-tea-infused gin and tonic," he says.
While Kabutocho has many appealing qualities, green space isn't one of them. The hotel compensates with an abundance of potted plants, spectacular specimens sourced by Yardworks, a nursery founded by Kei Amano in Yamanashi. "I can't think of another hotel with trees in the bedrooms," says Rune. Heiwa Real Estate isn't stopping with K5. It has a number of properties nearby and plans to continue working on this historic area's revitalisation."It's great to see another part of Tokyo," says Rune. "Whenever we come here we're in Roppongi or Aoyama. But while doing this project I've been staying here. For me it's a new Tokyo – and I love that."
k5-tokyo.com
Neighbourhood guide
Ozeki Lantern
The Tokyo outpost of a maker of chochin (lanterns) in Gifu in central Japan. Its best-known products are the Akari paper shades designed by Japanese-American sculptor Isamu Noguchi.1-2-6
Nihonbashi-ningyocho
ozeki-lantern.com
Koami Jinja
There is always a small crowd at this popular shrine, which is believed to bring luck to those who pray there.
16-23 Nihonbashi-koamicho
koamijinja.or.jp
Taimeiken
This Western-style Japanese restaurant has been a fixture since 1931. Expect all the classics: omuraisu (rice omelette), Hamburg steak and crab-cream croquette. Go up to the fifth floor of this building to find the compact Kite Museum.
1-12-10 Nihonbashi
taimeiken.co.jp
Bank of Japan
There are plenty of interesting buildings relating to the neighbourhood's financial pedigree, among them the old building of the Bank of Japan, built in 1896.
2 Chome-1-1 Nihonbashi-hongokucho
boj.or.jp
Nihonbashi Mitsukoshi
This classic department store – Japan's first – opened in 1904. It was recently given a makeover by Kengo Kuma.
1-4-1 Nihonbashi-muromachi
mitsukoshi.mistore.jp
Haibara
Founded in 1806, this shop with 200 years of history and a long association with the art world, specialises in Japanese washi paper, postcards, fans and chiyogami paper boxes and notebooks.
2-7-1 Nihonbashi
haibara.co.jp
Mitsui Memorial Museum
Housed inside the Mitsui Main Building, this museum showcases the Mitsui family collection of Japanese art. Among the 4,000 pieces are paintings, calligraphy, tea utensils and Noh costumes.
2-1-1 Nihonbashi-muromachi
mitsui-museum.jp
Kiya
The modern exterior might suggest otherwise but Kiya is an old business: it has been selling kitchen knives since the 1790s (when Tokyo's fish market was in the neighbourhood). The place to come for serious professional knives and easier stainless-steel ones, plus pots and utensils too.
2-2-1 Nihonbashi-muromachi
kiya-hamono.co.jp