Retail / Japan
Platform economy
With rail-passenger numbers predicted to fall, retail is keeping operators' finances on track.
Originally a stop on the Koshu Kaido, an Edo-period pilgrimage route to the capital, Tokyo's Shinjuku station has long been a thoroughfare. Welcoming more than 3.5 million passengers a day, it is the world's busiest railway terminal. But as a business, shopping and entertainment hub, it's also a destination in its own right. With Japan's ageing, shrinking population set to travel less and less, it's a formula that's being rolled out across the country as railway operators increasingly bank on making their stations do the heavy lifting.
"There's a great demand within the concourses and station buildings for what we call a 'third place' between home and work," says Teruyuki Omote, an executive officer overseeing retail and real-estate development for JR East, Japan's largest railway firm by revenue and one of several major developers involved in Shinjuku station. "It's somewhere to take a short rest, enjoy a small indulgence, find something new or stop by on impulse. Today stations are a place to enjoy and spend some time."
The potential for railway stations to offer more than just transport options has long been obvious to even a casual visitor to Japan. Terminals such as Shinjuku are leviathans in Japan's retail industry, with intense foot traffic leading to sky-high annual sales of ¥900,000 (€7,474) per square metre. In 2014 stations and adjacent areas accounted for about 15 per cent of the ¥122trn (€1trn) in national retail sales, according to the latest government statistics. In the Tokyo metro area, that figure rose to almost a third of the region's ¥35trn (€300bn) in retail takings, while in other major cities, such as Osaka and Fukuoka, it's more than a fifth.
Now operators such as JR East are pushing to increase that by moving further away from passenger transport and more into retail and real-estate development. Japan's population has been in decline since 2010 and is predicted to continue to fall – from 126 million today to 110 million by 2040. Coupled with the rise of remote working and autonomous vehicles, it means that fewer people will take trains, threatening a "drastic profit loss", according to a JR East report. The solution is deceptively simple: focus on the strengths of what stations can offer – especially retail – and target older customers.
JR East has been adopting some version of this strategy for years across the dozens of sites it operates or has stakes in. Newoman mall, its most recent major project in Shinjuku, is a perfect example. The seven-storey complex opened in 2016 and boasts more than 100 shops, bars and a food hall, plus a daycare centre, a women's health clinic and a members-only rooftop garden – not the sort of things you could get online. It's aimed at working women in their thirties, a decade older than those catered to by the firm's mainstay, its Lumine department stores.
To say that the approach is working is an understatement. Three decades ago passengers accounted for almost all of the firm's revenue. Now retail, real estate and services account for 30 per cent of revenue and the aim is to increase that to 40 per cent by 2027. JR East recently posted a 26 per cent operating-profit margin in its real-estate segment, which includes shopping centres alongside other retail and office developments, and hotels.
And it's not stopping there. Beginning in 2018, it rolled out a five-year plan for ¥1.4trn (€12bn) in new outlays, namely retail and office development in and around stations, including a new ¥500bn (€4bn) project at Shinagawa. Facilities will include a hotel, condos, a convention centre, offices and even an additional station, Takanawa Gateway, designed by architect Kengo Kuma, who's also behind Tokyo's new Olympics National Stadium.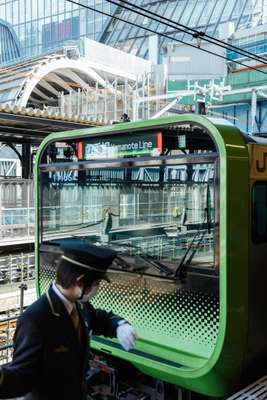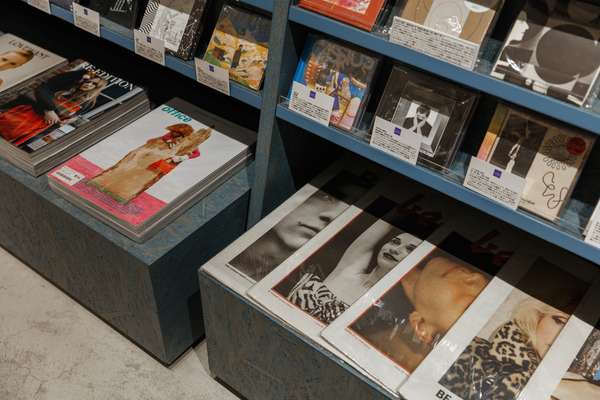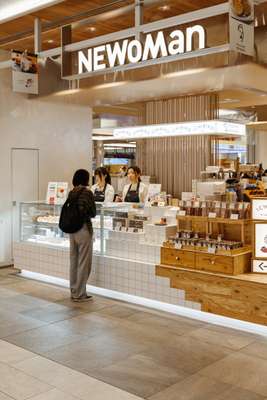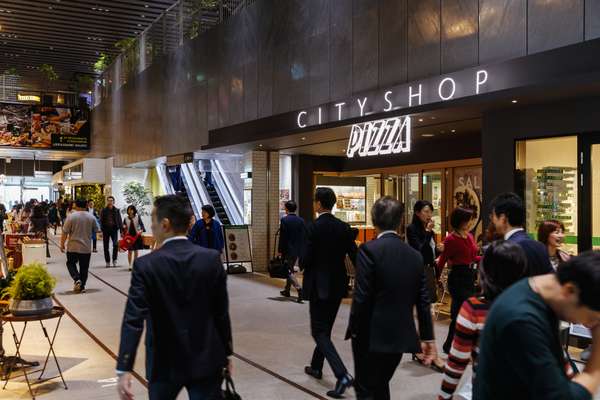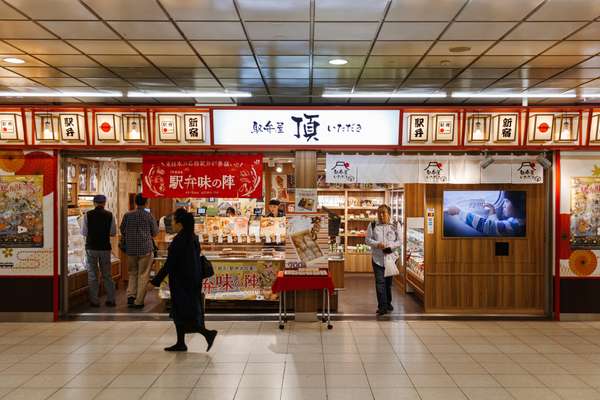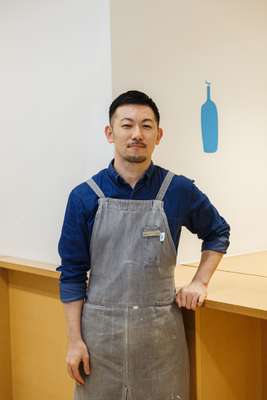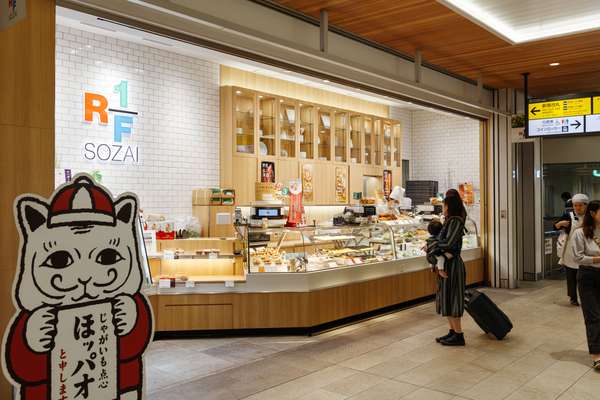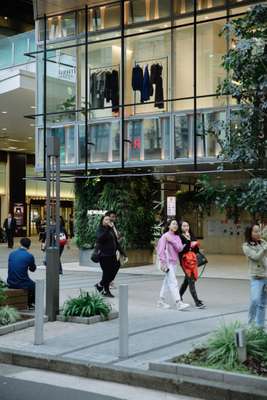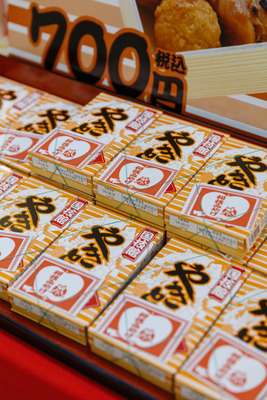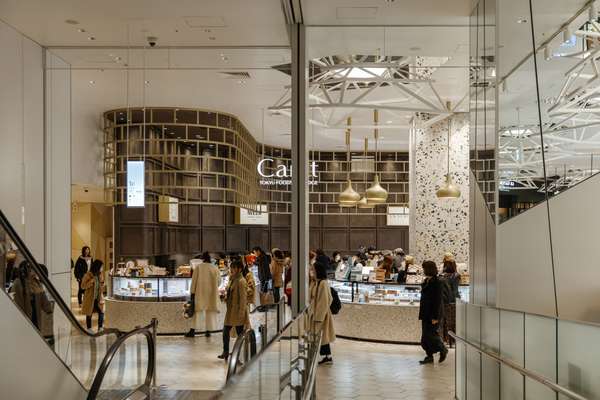 The firm's success has been so pronounced that now it is even attracting overseas executives. "People come from all over the world to study our stations," says Omote. "There are so many of them – not just railway companies but other organisations too. We receive a lot of requests for meetings, personnel exchanges and even to send over trainees. They see a real gap between their stations and Japan's. They are surprised and impressed."
For international companies looking to get into the Japanese market, such as Oakland-based Blue Bottle Coffee – which has a quarter of its 16 outposts in stations or nearby – such spaces are key. "As a new foreign brand, these locations have really helped to raise awareness of us," says Ryo Itoh, who is in charge of the company's shop development in Japan.
Those hoping to ape Japan's success might be comforted to know that its stations weren't always like this. Decades ago they were places to pass through quickly, somewhere in which the white-collar salaryman could slurp down a bowl of ramen and grab a packet of Mild Seven cigarettes. But Japan National Railways' 1987 separation into a handful of geographic divisions (known as the JRs), followed by the privatisation of the largest firms, sparked a major shift. When Shinjuku – meaning "new inn" – started really expanding in the late 1990s, it became an early example of how railway operators could boost their profits by redeveloping train yards and adding shops, restaurants and offices.
Many other operators soon followed suit. A short train ride from Shinjuku, for example, takes you to Shibuya station. Known globally for the millions of selfies taken at its pedestrian crossing, the area surrounding the station has been the epicentre of many a teenage fashion trend and has more recently become home to a booming hi-tech start-up scene. Now Tokyu Corp, which runs two of the seven rail lines that pass through the station, is hoping to bolster revenue by redeveloping the terminal and its surrounding areas through new investment totalling ¥208bn (€1.7bn) to turn the area into a world-class business, innovation and entertainment hub. It's a smart choice: the conglomerate's main subsidiary is citywide operator Tokyu Railways but its most profitable business is real estate, which now accounts for about one fifth of its ¥1.2trn (€10bn) revenue and almost two fifths of its operating profit.
Japan's five busiest stations by average daily passenger traffic:
3.5 million
Shinjuku, Tokyo

2.7 million
Ikebukuro, Tokyo

2.5 million
Shibuya, Tokyo

2.4 million
Yokohama*

2.3 million
Osaka*

Source: Ministry of Land, Infrastructure and Transport, 2018
*Includes Shinkansen stations in the same city but in separate locations.
Tokyu Corp has opened five developments around the station in the past eight years and has three more coming over the next decade, partly in an attempt to expand Shibuya's typical shoppers beyond teenagers and twentysomethings. The most recent ribbon-cutting was in November for the 47-storey Shibuya Scramble Square, a mixed-use complex developed with JR East and Tokyo Metro subway. Packing in more than 200 shops and restaurants – from big-name brands including Givenchy and Balenciaga to smaller retailers such as the independent bookshop, Shibuya Publishing – as well as a rooftop viewing deck with hammocks, it's aimed at an older and wealthier clientele. An outlet of Paris-based Japanese patisserie Mori Yoshida, for example, says that the target customer for a ¥1,000 (€8) Mont Blanc puréed chestnut tart is the 50-something man with a sweet tooth.
"Up until now, Shibuya's image was of youngsters," said Scramble Square's president, Noriaki Takahide, in a recent TV interview. "We want to change that to a more mature image."
This shift in focus is also happening outside Tokyo. At JR West's Kyoto station, the nation's second largest by floor space (Nagoya is first), much of the enormous Hiroshi Hara-designed building is devoted to the high-end Isetan department store, Japan's equivalent of Nordstrom or Galeries Lafayette. Rounding out the venue are more shops, a theatre, a hotel and an observation deck offering a near 360-degree view of the city. Non-rail businesses currently account for almost 40 per cent of JR West's ¥1.5trn (€12bn) revenue and are seen as critical to reaching ¥2trn (€17bn) in turnover by 2030. "With a shrinking population, it's hard to imagine that we could achieve that with just rail," says the firm's Ryouma Kanajiri.
Further south is the JR Hakata City complex which, on top of the dozens of usual shops and restaurants, also has a retro stand-up saké bar tucked into a subterranean passageway, a rooftop Shinto shrine and even offers its own spring water. The station has become an attraction in its own right, hosting almost 73 million visitors a year and boosting mall revenue by nearly 5 per cent in 2018 to almost ¥119bn (€1bn). Sensing an opportunity, one of the operators, JR Kyushu, now hopes to replicate that success in five new regional developments. The largest is scheduled to open next year in Kumamoto Station and boasts a cinema, restaurants, a hotel and a wedding chapel with a banqueting facility. And why not? It's clear that while the Japanese might not be buying as many train tickets in the future, stations will continue to play a huge role in daily life. All aboard!
---
Monocle view
The station as shopping mall
By Fiona Wilson, Tokyo bureau chief
In Japan, shopping and travel go hand in hand. Every regional airport and major station is bursting at the seams with shops (and food). Once the railway companies had cottoned on to the potential of using their stations as springboards into retail, there was no stopping them.
Every big station now has a shopping development built into it, above it or next to it. Fukuoka's JR Hakata Station is topped by 10 floors that are filled with more than 200 shops, including Margaret Howell and Muji, as well as a rooftop garden and a basement restaurant floor. These shops are not mere platform kiosks (although those are here too) but full-on shopping centres.
Railway companies are now competing with Japan's big property developers. Their retail teams scour the world for fresh fashion and food brands that will attract the time (and money) of busy commuters. One of the longest queues at Tokyu Corp's Shibuya Scramble Square is for Échiré, an expensive French butter brand whose pastries make for highly prized gifts.
Tokyu has also brought in small brands, such as Japanese music and fashion label Bonjour Records from Daikanyama and Shibuya Publishing and Booksellers, an independent bookshop in nearby Tomigaya. Limited editions and seasonal goods are all flagged up for customers – this sense of never-ending change ensures that interest doesn't flag.
How stations can succeed
1.
Change it up. As many commuters use the same stations every day, they can easily tire of what's on offer, says JR East's Teruyuki Omote. "If tenants aren't selling, they move or change how the items are sold. And in some cases they vacate. We have to be half a step ahead of the customers."
2.
Think about the basics. "The most important thing is: don't just plonk down a store in a station and expect things to sell," says Omote. If you want shoppers to linger and keep coming back, think about "how things are displayed, the atmosphere in the station concourse, the colours and the lighting. There's no excitement in a utilitarian station."
3.
Real estate is key. Most Japanese rail operators own the land that they build on, which makes a huge difference. "The profit margins are very high because there isn't any cost [for rent]," says Ryota Himeno, a retail and property analyst at JP Morgan Securities in Tokyo.