Briefing / Global
Politics
Briefing
Norway's young environment minister, US election endorsements and why the UAE is looking to Mars.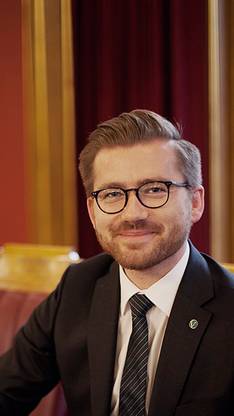 Q&A
SVEINUNG ROTEVATN
Minister of climate and environment
Norway
Sveinung Rotevatn became Norway's minister of environment and climate in January and, at 32, is a young man with big responsibilities. He speaks to monocle about the country's upgraded climate goals and why younger politicians can be less stuffy than their older peers.
What do young politicians like you bring to the table?
New perspectives, I hope. Not wanting to criticise any of my colleagues but you probably do become more rigid over time. That's why I think being young can be an advantage – not just because of the perspectives we bring but because I hope that young people can relate to us and that they get a different image of politicians, other than just a grey mass.
Does the younger generation have a better chance of tackling climate change before it's too late?
One shouldn't downplay the Thunberg effect but it is the responsibility of us "adults" to fix this now. There is no time to wait for another generation. We are the first crop to witness the effects of global warming and the last one that can do anything about it.
Norway is already a leader in electric cars. What will help meet its new target of reducing emissions at least 50 per cent below 1990 levels by 2030?
The government hopes to realise a cost-effective solution for full-scale carbon capture and storage in Norway. During the first phase we should be able to store up to 1.5 million tonnes of co2 per year. The storage site will also be open for other European actors and can be expanded to store up to 5 million tonnes of co2 annually. The government also wants to halve the greenhouse-gas emissions from the maritime sector by 2030. We are witnessing an electric revolution in our fjords, with the introduction of about 80 electric ferries by 2022.
How do you balance Norway's dependence on oil and gas with the need for deep cuts to global climate emissions?
A co2 tax was introduced already in 1991. There are strong measures in place to limit emissions from the Norwegian petroleum activities. The government announced plans to increase the climate target for 2050 to [reduce emissions by] 90 to 95 per cent compared to 1990. Norway's biggest energy company Equinor will invest nok50bn (€4.9m) in switching to renewable sources by 2030.
Any tips on sustainable living that you practice?
I'm nowhere near perfect when it comes to my own personal carbon budget and I don't really expect others to be either. The easiest way is by taking small steps in our everyday lives. Fly only when you need to. Buy an electric car. Order a delicious salmon rather than a boring piece of meat. Oh, and when you do, make sure it's Norwegian.
---
Famous friends
USA —
POLITICS
Politics has long been intertwined with US celebrity culture. Here's where the country's more politically savvy public figures have been placing their support for the Democrats in 2020.
Kevin Costner, actor
Endorsing: Pete Buttigieg
The star campaigned for Buttigieg in Iowa and New Hampshire ahead of the states' first-in-the-nation votes.
Isaac Mizrahi, fashion designer
Endorsing: Michael Bloomberg
Mizrahi, whose eponymous fashion label is headquartered in New York, praised Bloomberg's stance on lgbt issues.
Susan Sarandon, actress
Endorsing: Bernie Sanders
The Oscar-winning thespian has backed Sanders's brand of democratic socialism.
Adam Rippon, Olympic figure-skater
Endorsing: Elizabeth Warren
The 30-year-old Olympian has praised Warren's plans for welfare reform.
Cher, singer
Endorsing: Joe Biden
The veteran songstress threw her support behind the former vice-president ahead of February's Democratic debate in Las Vegas, where she is currently performing.
---
The space race has a latecomer. The United Arab Emirates joins the US, Europe and China to lead one of four missions set to reach Mars in 2021. Its probe, which is set for liftoff in July, will collect the first holistic picture of its climate over the course of a year. "Almost all of the 250 people involved are below 35," says Sarah Al Amiri, science lead for the government programme. Since the project launched in 2013, courses in aerospace engineering and space sciences have flourished, while factories that manufactured plane parts now also produce complex components for spacecraft. "We want to shift from being a science user to science producer," says Al Amiri. "Space is an amazing driver for innovation."