Advertising / Global
Something to ad
Out-of-home advertising – one of the oldest forms of promotion – is thriving in the modern market.
The bluish glow from a giant television in the background illuminates Jean-François Decaux's chiselled features. The 61-year-old speaks with a gentle French accent but looks like a Manhattan Mad Man: a slick of silver hair, firm handshake, polished loafers.
We're sinking into a vast sofa in a capacious mahogany-furnished office in central London. Everything here is supersized, which is hardly surprising when you consider that Decaux is in the business of big things: namely, running billboards and advertising displays that light up the likes of Fifth Avenue and Hong Kong International Airport. Together with his brother, Jean-Charles, he runs JCDecaux, the world's leading out-of-home (OOH) advertising company. The French juggernaut – started in 1964 by the siblings' father – amassed nearly €4bn in revenue in 2019 by selling adverts that adorn airports, train stations, public amenities and street furniture.
Unusually, given that many old-school media players have been upended by the ascendance of online and social-media advertising, JCDecaux and its contemporaries are holding firm. OOH advertising – a term that encompasses most ads displayed in public – makes up 6.5 per cent of the global ad market. Its annual revenues total $39bn (€36bn) and are growing. (Television has shrunk from 37 to 29 per cent of the market and print from 37 to 11 per cent; internet advertising now comprises 47 per cent of all spend.) "Globally [OOH] is the only traditional media business that is not really losing share of the ad pie," says Decaux. "The numbers speak for themselves."
A few blocks away at the HQ of Clear Channel, JCDecaux's main competitor, former England footballer Gary Lineker is reading a book. Beside him a sultry model embraces a hunky sailor; nearby, actors Dev Patel and Armie Hammer look concerned. We're in a room called The Playground and these are prototypes for real ads, explains Justin Cochrane, the affable CEO of Clear Channel UK. Lineker's bus-shelter ad for Walkers crisps and fashion designer Jean Paul Gaultier's sailor dalliance are to scale. Yet Patel and Hammer's Hotel Mumbai campaign, and the angular head-height black structure that frames it, is a tiny replica of the 23 metre-high Chiswick Towers that loom over London's busy M4 motorway.
"These are examples of interesting stuff you can do to bring things to life," says Cochrane. With the Walkers ad, commuters could tweet about the campaign and, in real time, Lineker's digital clone would pick up a bag of crisps and eject it from the display, which was a cleverly disguised vending machine. Gaultier's ad, meanwhile, ran in shopping centres and used facial-recognition technology to depict a different scene depending on the gender of the passerby (which seems ripe for causing offence but that's another matter).
A major reason why OOH is succeeding is because it's made the most of digital tools, as The Playground demonstrates. Outdoor ads can now be interactive screens exploding with moving images; they need not be conventional paper-and-paste billboards. "Digital is an opportunity for OOH, as opposed to being a threat like for most other media companies," says Decaux.
Beyond visual pyrotechnics, large outdoor digital ads offer a very efficient business model. A paper billboard site can only be occupied by one brand, usually in two-week blocks. By contrast, up to six advertisers generally populate a digital panel at a time, rotating every 10 seconds; their combination can change throughout the day. Thus the number of potential advertisers on any site skyrockets: Cochrane estimates that Clear Channel has a million "postings" a year across the UK's 32,000 paper bus-shelter sites compared to 5.2 billion posts across its 2,000 digital equivalents. With that comes lots more money.
Digital also appeals to brands because they can decide exactly when their ads are shown. "People are in a sensible mood early in the week so that's when banks and insurance companies like advertising," says Cochrane. "One bank only bought 52 Tuesday mornings across all our digital estate because no one's thinking about insurance on a Friday night." Quite right. Friday nights are for fun: film campaigns, meal deals and new barbecues.
Digital panels will never totally dominate OOH (they currently represent less than 5 per cent of inventory in the UK) because they're expensive and don't make sense for lower foot-traffic spots. In any case, the greatest asset of OOH is the intrinsic nature of this type of advertising. Many ads are now viewed in the palm of your hand, which makes a tennis court-sized billboard in Times Square seem especially impressive. "This is a brand that's spending money to be in your face," says Claire Beale, global editor in chief of advertising trade magazine Campaign. "OOH is a show-off medium: it almost has a peacock's tail effect."
The straightforwardness of a billboard – a sign on a street – works both ways. On one hand, it can be tricky to track how effective ads are in driving traffic to brands, which can be considered a shortfall in an age obsessed with stats, says Richard Huntington, chief strategy officer and chairman of Saatchi & Saatchi London. On the other hand, brands are wary of advertising online where their campaigns might appear alongside unsavoury content. OOH avoids context issues; it's also generally cheaper than TV or certain online channels.
Billboards gain their magic from the fact that we view them while in a crowd. "As consumers we're hungry for a shared experience because there aren't many of them anymore," says Beale. "So standing with 15 other people experiencing this commercial message on a bus shelter is actually kind of a feel-good thing. So much of our life is staring down at a screen, which is a very isolated media experience. Out-of-home advertising is the last remaining mass media – alongside cinema. So it has power."
Many firms are deploying this power effectively. Lately the medium has proven irresistible to luxury brands and (counterintuitively) internet titans. In 2019, Burberry promoted its new monogram via a light show that beamed the red-and-beige tessellation across 34 buildings in Hangzhou, China, while Facebook turned to billboards in an attempt to regain public trust after its data-breach scandal. And Led By Donkeys, an anti-Brexit group, pastes past statements from UK politicians onto billboards across London. The point is to highlight the hypocrisy of leaders' comments; blowing them up into larger-than-life signs that won't recede into the online ether gives them a special intensity.
Although current events in Hong Kong and China are causing consternation for OOH companies ("Obviously it's hard to sell advertising in a subway that is closed," says Decaux), broadly speaking the future looks bright. That's because of the global mass migration of rural folk into metropolises: 55 per cent of the world's population lives in cities; in the next 25 years it will grow to 68 per cent. "So we will deliver more and more eyeballs," says Decaux. "At the end of the day this is what matters for advertisers."
It's just as well that this plucky format thrives. "While rightly much of the conversation now is about using data signals to target a consumer using online media, we still need to fly the flag for OOH, this hyper-public form of [communication]," says Huntington. "Advertising can't be reduced to a conversation about targeting; that edits out so much of what's truly effective about what we do."
---
Watch this space
Cities around the world are capitalising on the success of out-of-home advertising with sizeable billboards splashed with brands' campaigns.
1
Downtown, New York
Where Calvin Klein chooses to invest long term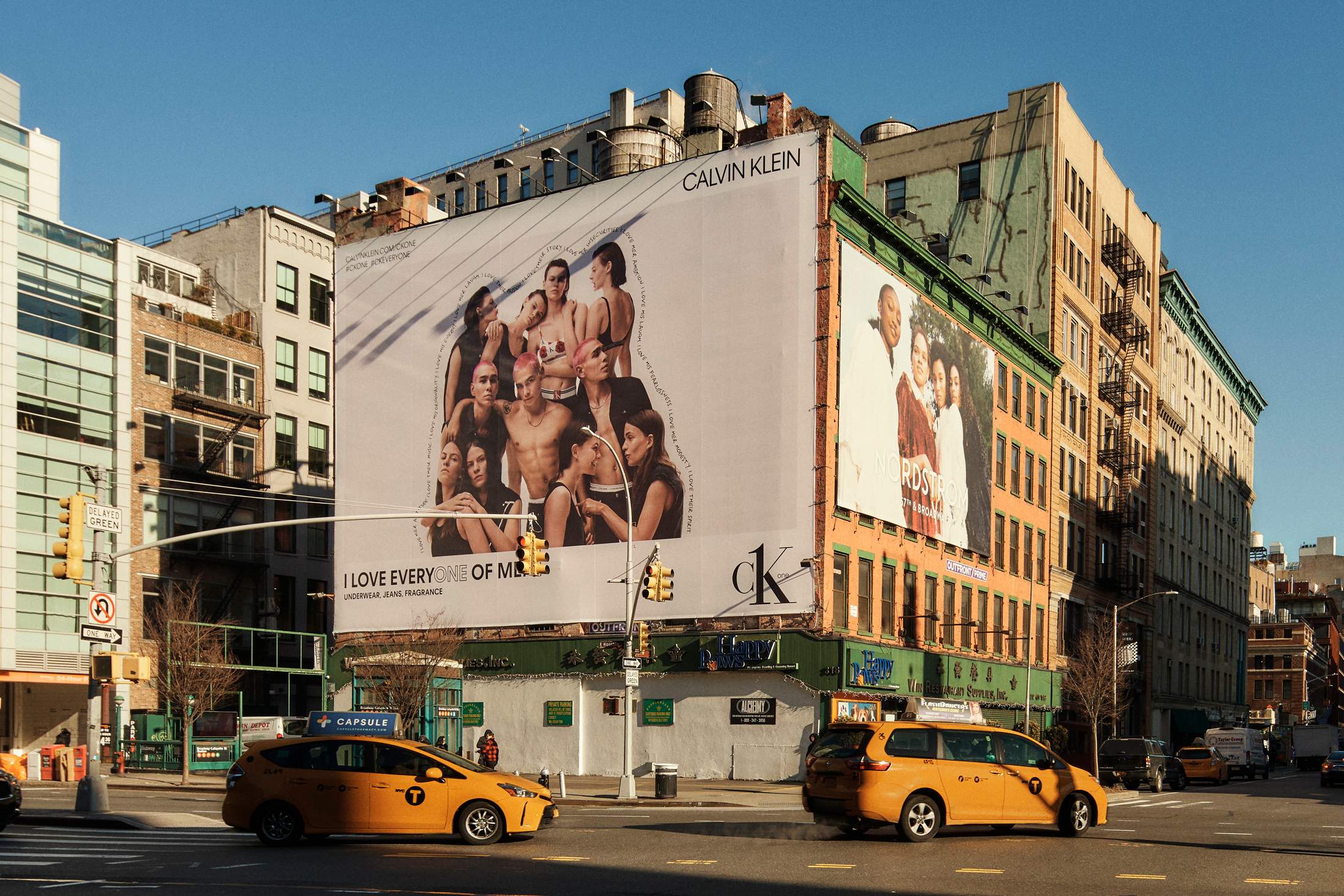 Times Square might be the most famous advertising location in New York but there's a spot on the corner of East Houston and Lafayette streets that has far greater cachet. For one, the billboard we're talking about – a whopping 16 metres by 23 metres – stands in downtown Manhattan on the edges of the shopping districts of Nolita and Soho (meaning plenty of footfall). Plus, it's on one of the city's main east-to-west traffic corridors and right next to a subway entrance.
This might explain why Calvin Klein purchased the exclusive rights to advertise here more than 10 years ago (back when Van Wagner owned the site but since acquired by Outfront Media). It's a deal that is due to run until the end of 2021. Looking to ogle a giant, boxer-clad Justin Bieber? Now you know where to go.
16: Times a year the Calvin Klein ad changes
4-5: Hours taken to remove and replace an ad
114,300: Estimated daily views of the Calvin Klein ad
---
2
Gangnam, Seoul
In South Korea's capital, size matters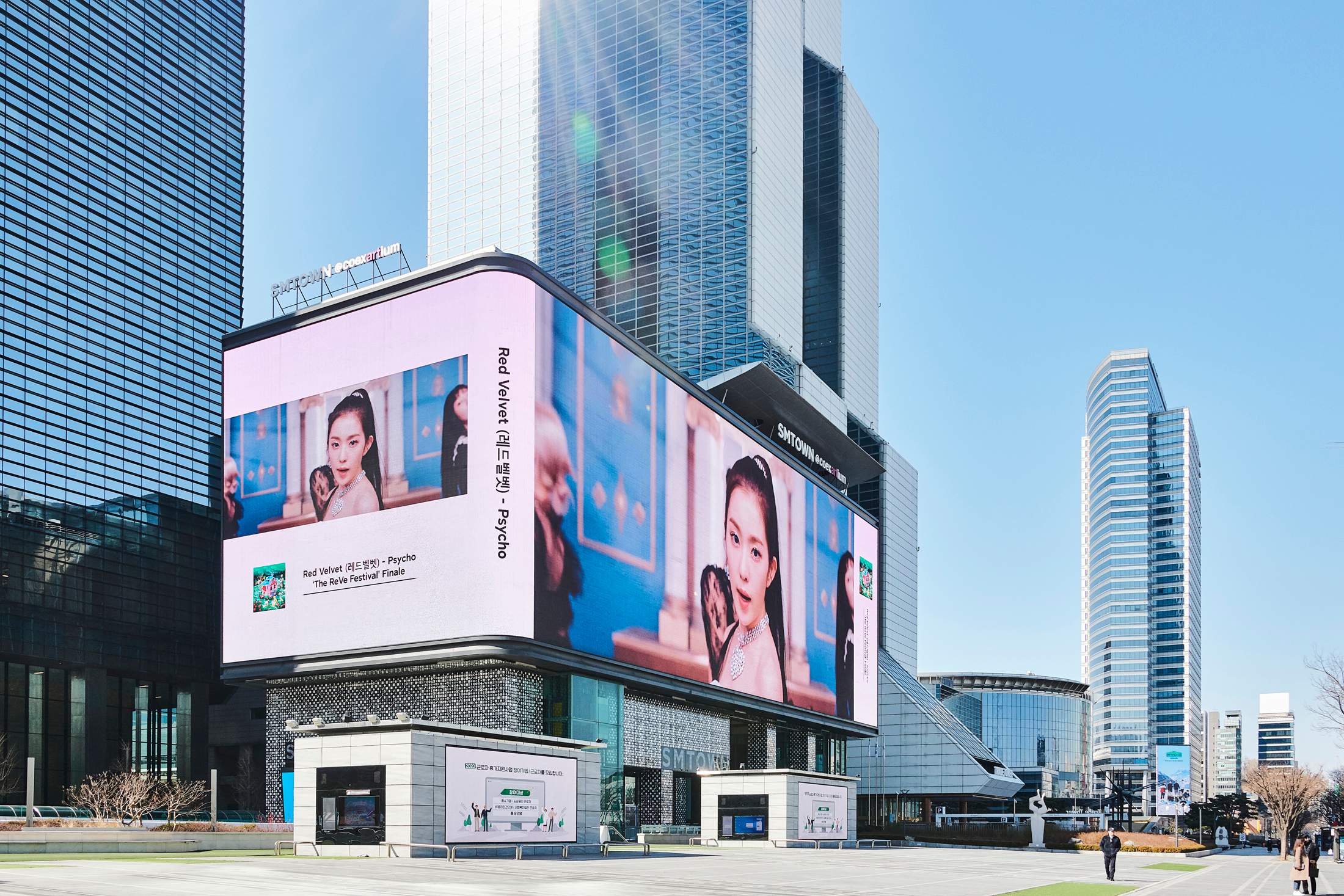 Ever since the Korean International Trade Association authorised a "no limit" policy on the size of ooh advertisements in Seoul's Gangnam district, outdoor ads have been making waves with onlookers, in particular the curved led screen outside the area's SM Town convention centre.
The HD screen is the size of four basketball courts, which makes it the biggest billboard in the country and prime real estate for K-pop and Hallyu (Korean wave) promotions. "Samsung, Hyundai and other Korean electronics used to be the main advertisers," says Han Kwangseok, an advertising and public-relations professor at Namseoul University. "But foreign brands are beginning to take over." Ads on the led screen cost about krw50m (€38,000) per account.
1,620 sq m: Total surface area of the billboard in Gangnam
KRW235bn (€183m): Official budget to install more screens over the next four years
---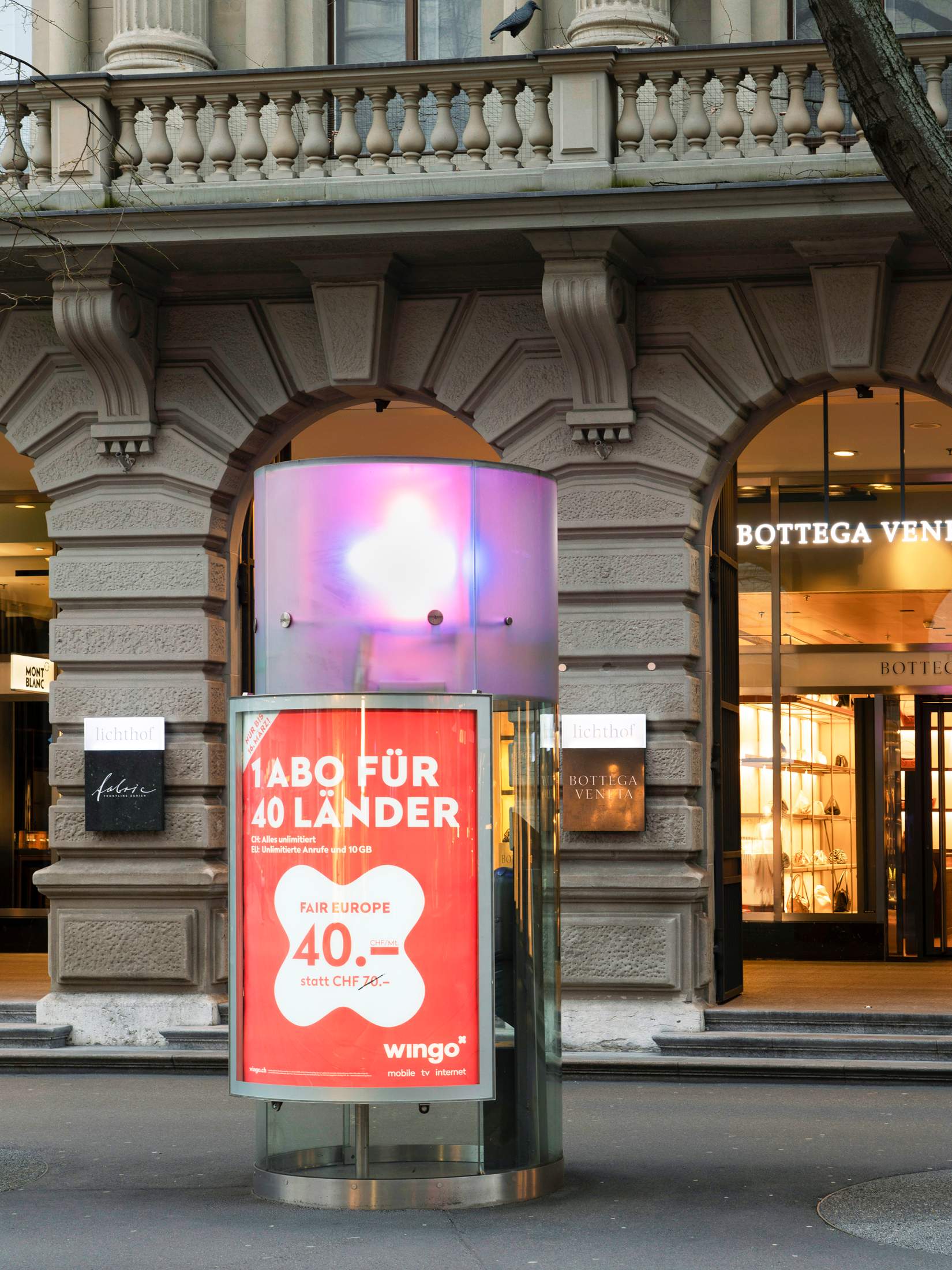 3
Bahnhofstrasse, Zürich
In Switzerland it's all about making the right call
Public telephone booths might have disappeared from most high streets but they remain a fixture of Zürich's Bahnhofstrasse. Switzerland's largest advertising company, APG – in charge of two thirds of the country's billboards – first introduced phonebooths that doubled as poster-display columns in the 1930s. The successful Telecab 2000 model (a sleek, transparent glass cylinder) was introduced in the 1990s and is still a favourite, not least because of the pleasant sound it makes when opening the door. Nowadays these booths might not be used for making calls very often but they remain lucrative pieces of real estate on Zürich's streets. About 150 of the spaces are still operational across Switzerland and have recently been upgraded to offer free domestic calls. 
81 per cent: Swiss citizens favour outdoor ads
CHF462m (€435m): Spent on outdoor advertising in Switzerland in 2018
10 per cent: Media spend on OOH ads 
---
4
Piccadilly Circus, London
A big city demands bright lights – and lots of them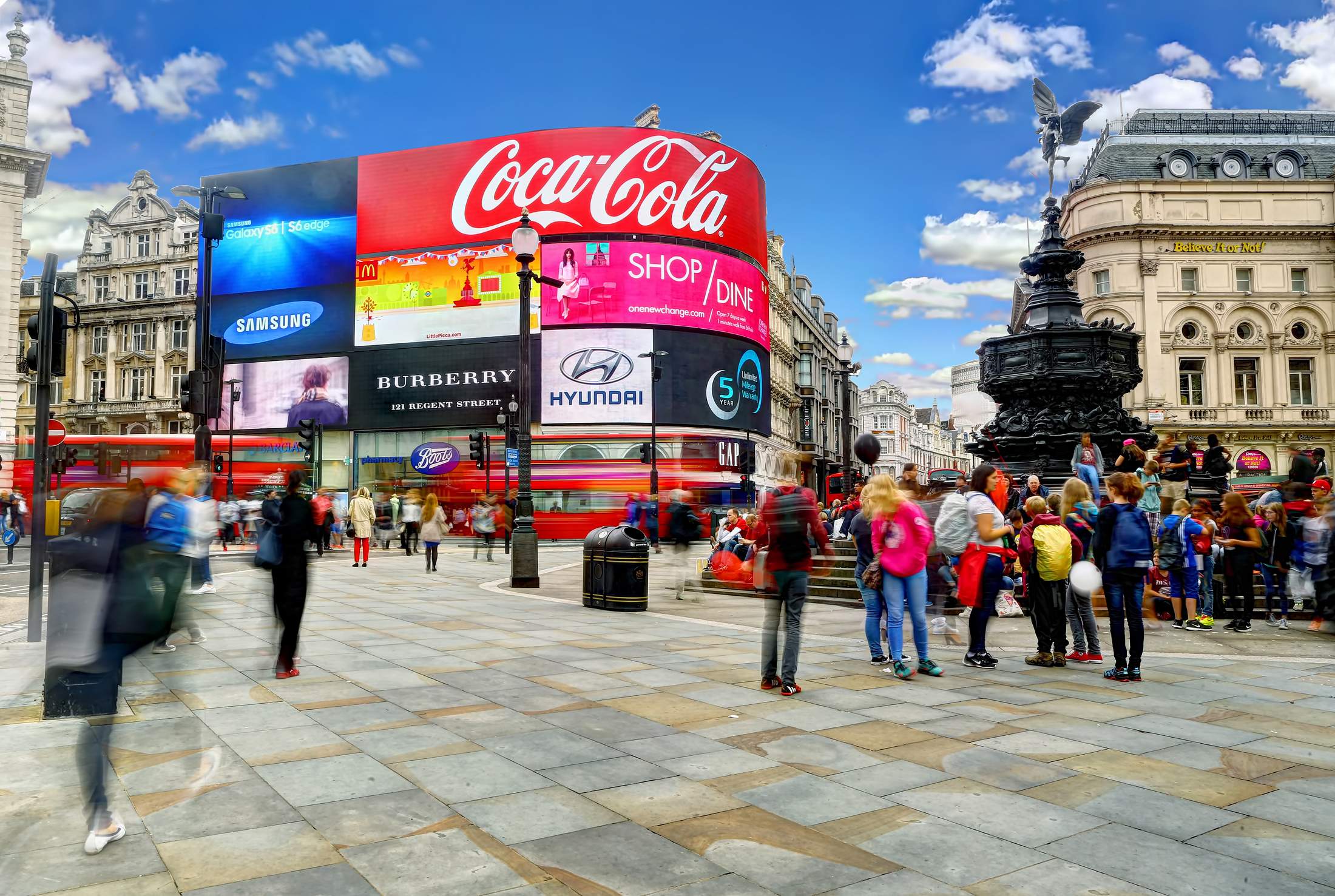 The illuminated billboards that sit high above the pavement between London's Glasshouse Street and Shaftesbury Avenue were first made up of light bulbs advertising Perrier in 1908. They featured neon lights promoting the rather less cosmopolitan Bovril in the 1920s, then turned into digital projectors beaming ads for TDK tapes and Sanyo hi-fi in the 1990s. Today they project Samsung, Coca-Cola and Pride (the gay type, not the London beer) in crisp LED.
The last time the largest spot became available (TDK vacated in 2015), it cost about £4m (€4.8m). And the billboards appear to be more important than the buildings they are attached to: the owner has demolished their interiors to make way for new offices but didn't dare touch the advertising displays.
11 million: Pixels on Piccadilly Circus screens
100 million: People pass through a year
50 per cent: UK advertising market held by out-of-home advertising (by revenue)
---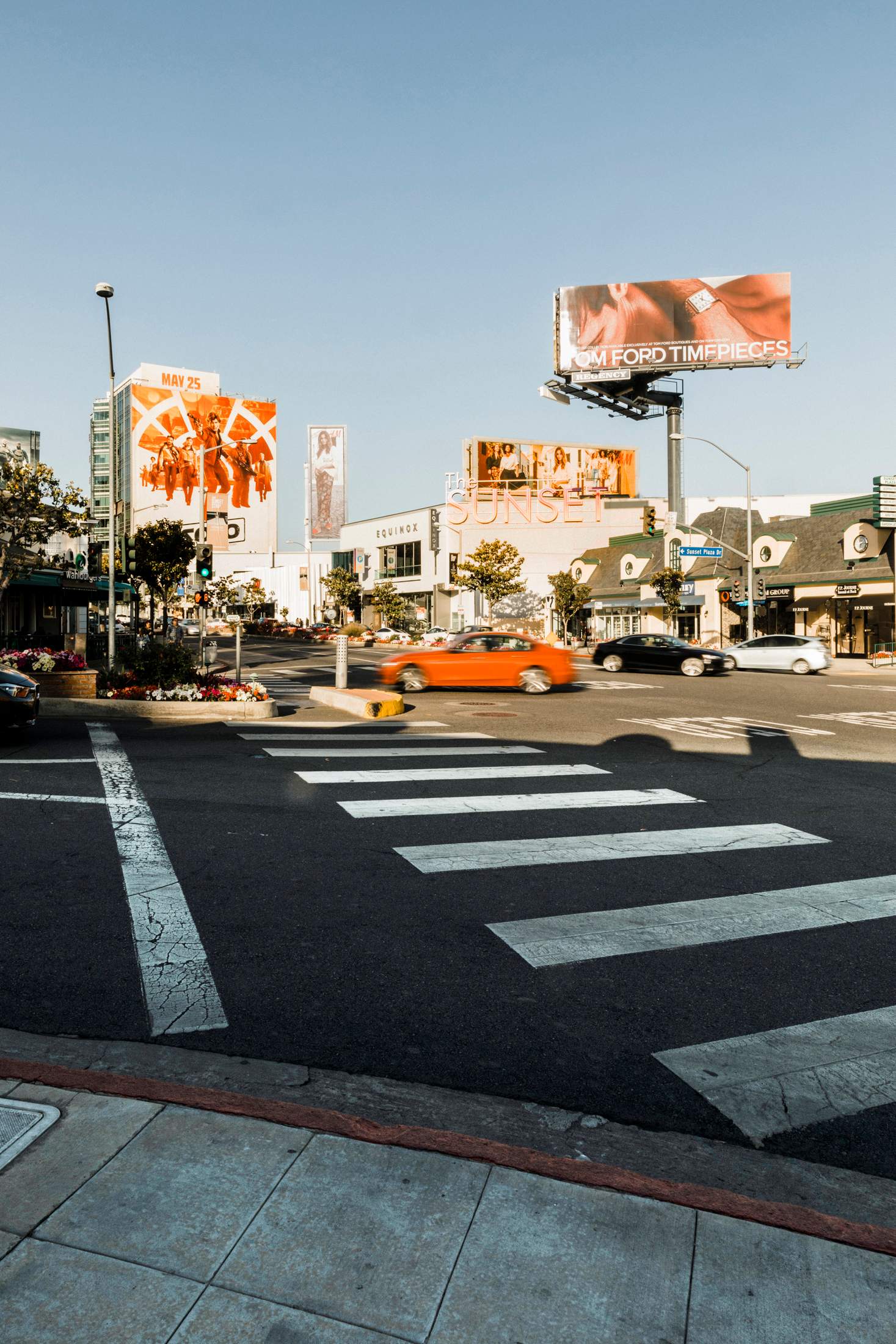 5
Sunset Boulevard, Los Angeles
Big billboards are an easy sell in this city of cars
Back in the 1960s, the very first sign went up on Sunset Boulevard to promote The Doors; today a cruise along the strip will reveal adverts ranging from film and TV to music. Securing a space is a costly affair and prices vary according to size and precise location. Apple has a long-term contract for one of the most expensive billboards in Los Angeles, near the Chateau Marmont hotel – with a price tag of $60,000 (€55,000) per month. Netflix, on the other hand, bought 32 billboards from Regency Outdoor Advertising, which has 400 around LA. The move has turned the streaming giant into the largest billboard owner along Sunset. In this car-centric city, it should come as no surprise that this is still the most effective form of advertising.
$35,000-$60,000 (€32,000-€55,000): Average price per month of a billboard on Sunset Boulevard
1.3 sq m × 4.5 sq m: Average size of a billboard on the strip
$400 (€370): Average price of production
---
6
Trams, Hong Kong
All eyes are on the city's trundling transport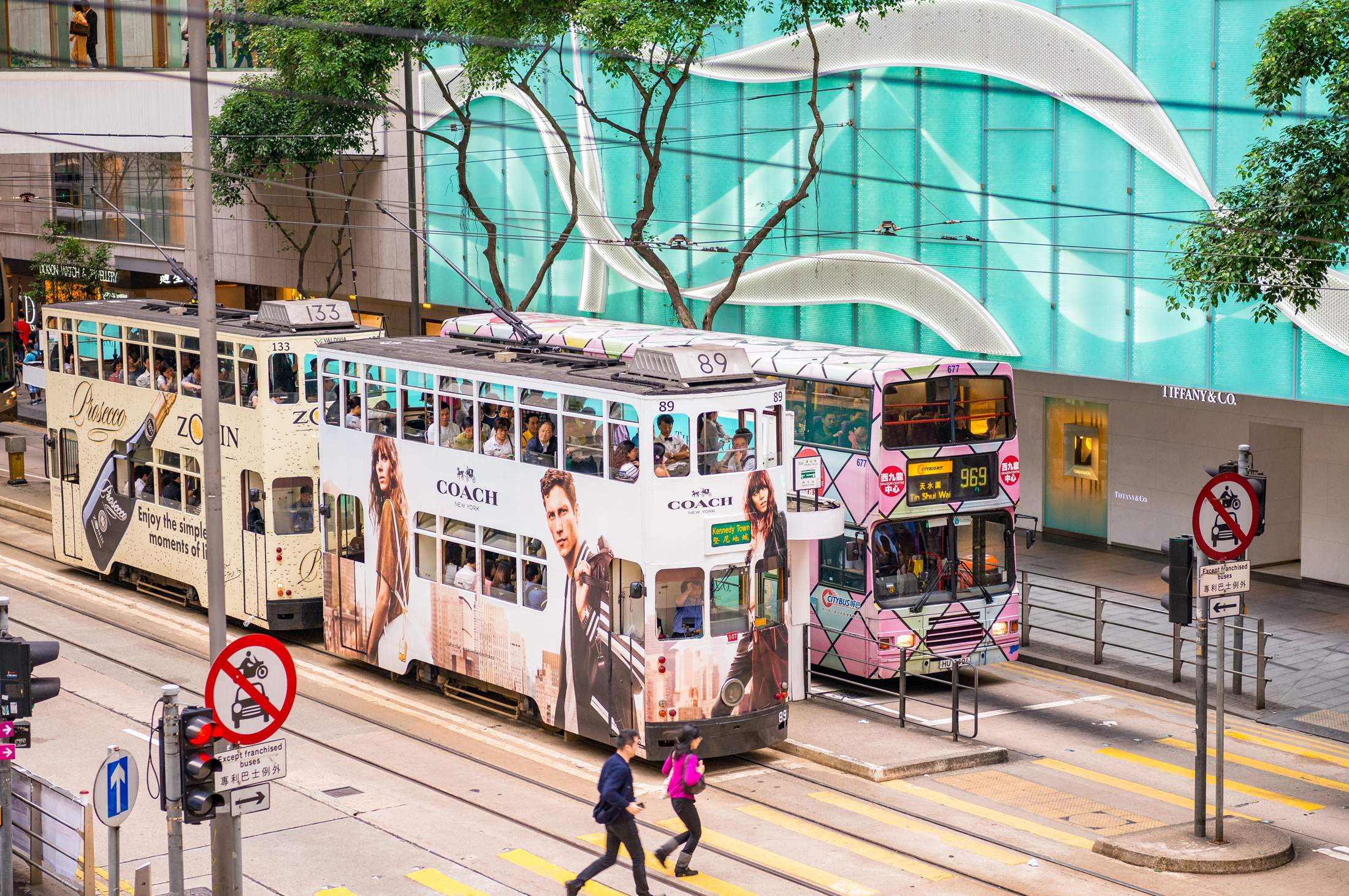 The side of a double-decker tram is one of the most coveted advertising spots in Hong Kong. This 115-year-old mode of transport is intent on keeping up with the times: last year its French-owned operator Hong Kong Tramways fitted five of the 160-strong fleet with LED panels so that advertisers can stand out in the evening. Advertising on these digitised trams costs three times as much as a regular tram. Campaigns do face certain limitations: no flashing lights or moving imagery, so as not to distract other road users.
The tram's speed, or lack thereof, is a major selling point. "We are very unique because we are slow," says Nixon Cheung, head of commercial and brand for the tramways. It's hard to miss these billboards-on-wheels as they trundle through premier business and tourist areas.
8 metres × 4 metres: Size of tram (side on)
70 million: Passengers per year
45 km/h: Tram top speed
---
7
Citywide, São Paulo
Despite a clampdown, this hotspot found a workaround
In 2006 the Lei Cidade Limpa (Clean City Law) changed the landscape of São Paulo. The statute banned outdoor advertising in public spaces, meaning that all the city's billboards had to be removed. Although the measure was controversial, residents soon became used to the city's new look. But not everyone complied: LED panels kept proliferating illegally across neighbourhoods so city hall adjusted the law in the hope of regulating the situation.
Besides having to stick to strict rules about dimensions depending on their location, the panels can now only advertise products sold by the shop in front of which they are displayed. Despite being low on billboards, the city is far from ad-free: newsstands and bus stops carry ads, while the display space on outdoor clocks is managed exclusively by JCDecaux.
1,000: Street clocks by JCDecaux with ads
26 september 2006: Official implementation of Lei Cidade Limpa
2,638: Newsstands in São Paulo (with ads)
---
8
Shibuya, Tokyo
Loud, proud and an attraction in its own right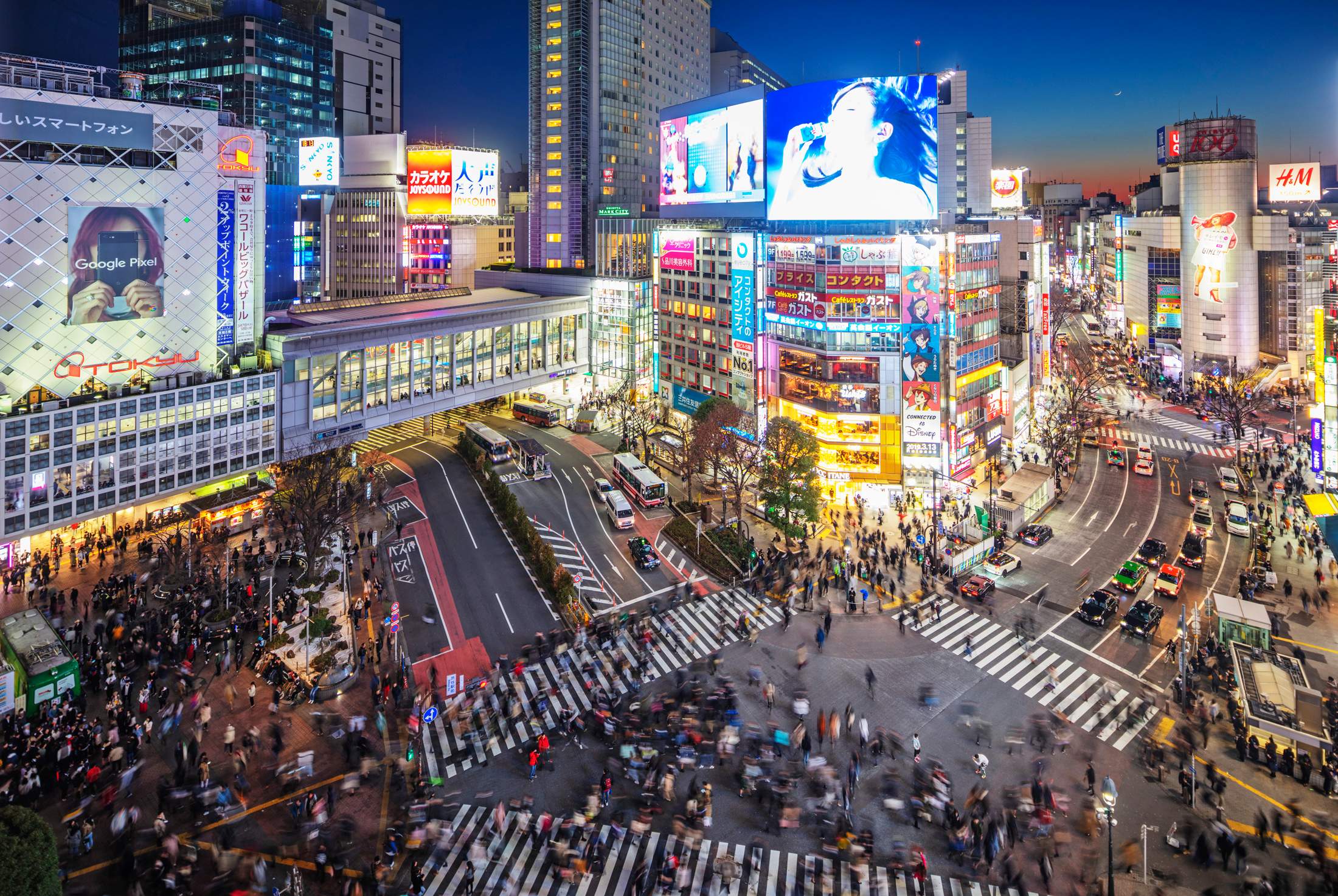 What can brands do to stand out in Tokyo, where billboards are seemingly omnipresent? Well, they can hire a space overlooking Shibuya crossing, where up to 3,000 pedestrians walk through a visual-and-audio shower every time the traffic lights change.
A set of three panels on the side of Tokyu Department Store, above the Hachiko dog statue, is one of the most sought-after spots here, setting companies back ¥14m (€118,000) for a two-week presence. A mere seconds-long clip on the crossing's giant LED screen costs ¥1m (€8,400) a week. "Technology such as 5G is going to change outdoor advertising," says Shunsuke Kondo, a manager at ooh advertising company Kesion. "But analogue billboards will never disappear, especially in Shibuya."
¥320bn (€2.6bn): Spent on outdoor ads
4.9 per cent: Of the total advertising spend in Japan that belongs to ooh ads
2.2 per cent: Year-on-year growth in 2018 for total advertising spend
Ode to the billboard
By Robert Bound
Billboards are the best because they are the biggest: brazen branding, clean communication, pure advertising, scale. And size matters. Billboards are a fantasy: they are both all talk and all trousers. Since Jared Bell stretched his circus-promoting posters over timber backboards in 1835, the US has had to deal with the fact that its finest artworks are billboards. The artists that have riffed on them – especially Richard Prince but even Roy Lichtenstein and Ed Ruscha – come second to the wicked promises of Madison Avenue.
Seeing a pack of cigarettes the size of a car (Marlboro in the US) was otherworldly; seeing an over-spilling push-up bra on the scale of, well, two cars (Wonderbra in the UK) was unforgettable. Big things stick in your memory. Billboards, designed to be seen at 80km/h from the window of a cruising car, are lessons in brevity. They sell (or sold) a notion (like Marlboro Country), or a shape (like the VW Beetle) and a simple line ("Think small"). The billboards on Sunset Boulevard sell nothing less than dreams, of course – those and fame itself at 15 metres tall.
Drive west from London towards Heathrow Airport and the Westway rises over the houses of Shepherd's Bush – and so the brands rise to meet the road. Sky TV's HQ is one big poster for televised football (does it even have windows?); an Audi showroom mimics a gargantuan automotive vending machine. Even in brand-snubbing Berlin, a Mercedes-Benz dealership hovers above the highway to Schönefeld Airport.
For years architecture has aspired to the boldness of the billboard. And we too might desire a thing so simple that it can be instilled in a few trite words on a huge roadside rectangle. Billboards are all about belief and, personally, I do.