Tascas / Lisbon
Taken to a tasca
Even as fine dining makes its mark in Lisbon, the city's traditional tascas – with their modest but comforting dishes – are enjoying a revival.
Tucked behind an unmarked door in Lisbon's Chiado neighbourhood is Das Flores, a small café that has been serving humble, homespun weekday lunches for the past 43 years. It's 11.00 and the sloping street outside is quiet. Inside, though, the Fernandes family is in full flow getting the tasca – an unpolished but charming brand of Portuguese restaurant – ready for lunchtime service. Das Flores's owner, José Fernandes, who started his day at 05.30 with a run to the market for fresh seafood and meat, is now chopping carrots. His wife, Carminda, is watching two large pots bubbling on the hob with the specials: prato do dia (daily dish) of rabbit and seafood rice. Their daughter Susana is busy separating change and taking calls by the register. Arrive at Das Flores past 12.15 and you'll have to wait outside for a table. Even though it has just three members of staff, four hobs and 22 covers, the restaurant serves more than 70 plates every lunchtime. "Things have to be ready so that everything runs smoothly and people don't have to wait," says José.
Tascas are, in many ways, extensions to Portuguese homes, spaces where familiar faces serve homemade food without ceremony, airs or graces. The place is boisterous but it's not a party mood exactly; it's more like a busy family lunch. The food is similar: bells and whistles are forgone and the recipes are time-tested and simple. All of the city's many remaining tascas serve a regular menu and one or two daily specials. As if governed by an unspoken accord, there is usually duck rice on Mondays, stew on Wednesdays and baked cod on Fridays.
Historically tascas including Das Flores were built around coal stores and owned by Galicians. They served wine or beer and petiscos (snacks) alongside their coal and timber for the winter. Over time many changed hands and were taken over by Portuguese patrons. Little else, however, has changed. The prices are still modest (rarely exceeding €12, dessert and coffee included) and the interiors are simple and homely. No architects or decorators have left their mark here and, from the outside, tascas might even seem unattractive: paper tablecloths are the norm, the lighting is either sparse or blue-white and TVs often hang in corners. It's a world away from the polished bistros and Michelin-starred munch that has cropped up to cater to tourists around Lisbon.
The kitchen in any tasca is often run by the owners and rarely employs anything as fancy as a trained chef. As such, some of the finer points of food presentation are non-existent but there is a sense of pride in keeping things this way. "My goal here is not to create a museum, it's to serve honest food," say José, proudly. Change is incremental, dining spaces and kitchen extensions are often haphazard; children might join the family firms and add a few dishes. Despite Lisbon's cutting-edge food scene and rising visitor numbers, Lisboetas seem to enjoy the steadfast constancy of the tasca model.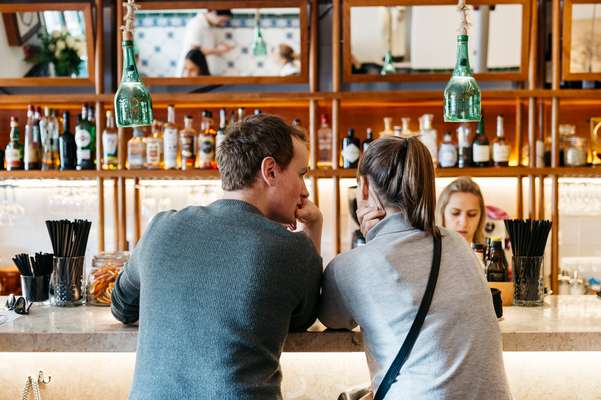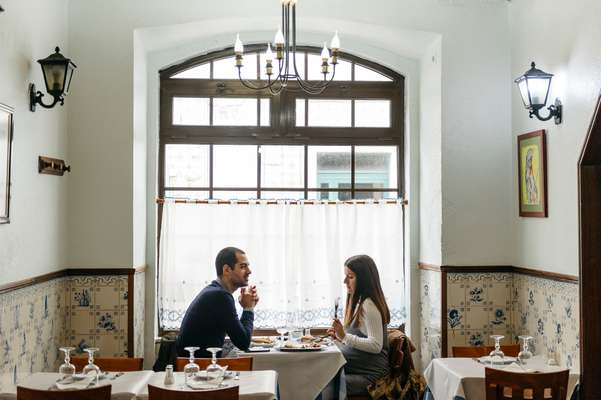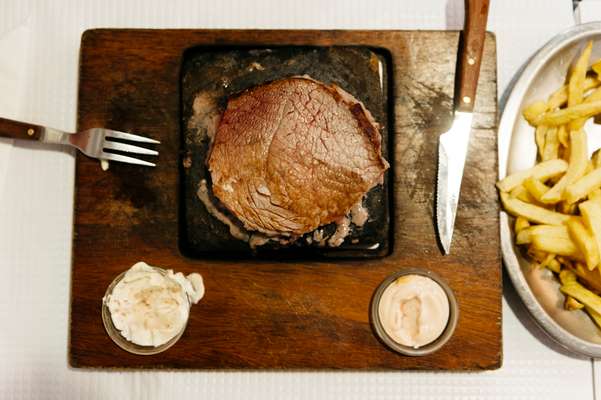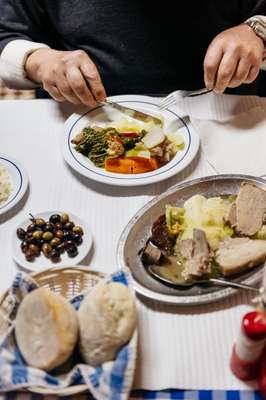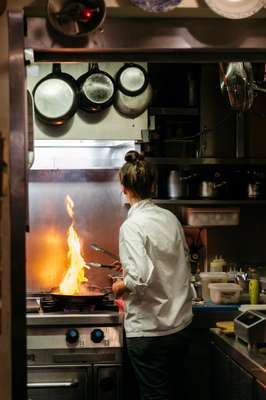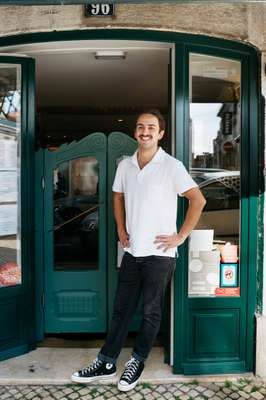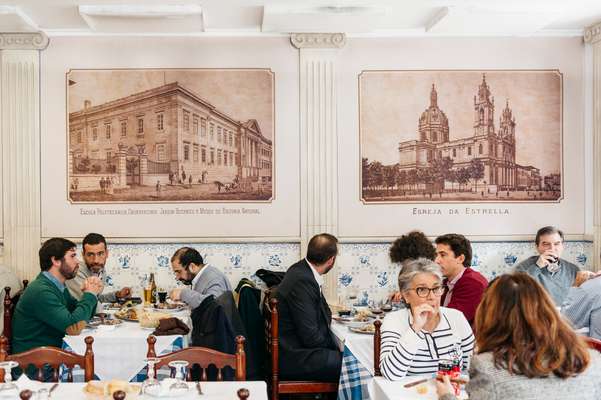 At 12.15 people arrive at Das Flores, greeting the owners by their first names, with two kisses and pats on the back. "I have customers coming here in their third generation," says José. "Some people no longer call for reservations, they have a permanent table booked," says Susana. Customers also greet each other and, although they dine on separate tables, their proximity allows conversations to carry across the room. Being true neighbourhood institutions, tascas' clientele also reflect the demographics of their surroundings. As it is in the commercial district of Chiado, Das Flores's customers include fur-coat-wearing ladies, sharp-suited lawyers and government officials from the nearby Ministry of Economy.
What to eat:
There is much more to Portuguese cooking than cod. The country did nose-to-tail before it was hip. Here are some tasca classics that are only for the brave.
Caracóis
In the summer months most tascas will put out a sign that reads "Há Caracóis" (we have snails). They're served with salt, oregano and garlic.
Iscas
Cow's liver in thin strips and served with plenty of onions. It's better than it sounds.
Moelas Guisadas
Considered a delicacy, this chicken gizzard stew includes wine, tomatoes and garlic.
Arroz de Cabidela
This rice stew acquires its dark hue from being cooked in chickens' blood.
Alheira
During the Inquisition Portuguese Jews made this bread and game sausage to disguise their kosher tradition.
Over in the Zé da Mouraria tasca in a Moorish part of the nearby Alfama district, a hungry restaurant-goer is waiting anxiously for his friends to arrive to be seated. "I don't work in the area but Zé da Mouraria has the best cod in town so it's worth the drive," he says. The environment here is livelier than at Das Flores and walls are lined with pictures of personalities who've dined here alongside Virgílio Oliveira, the restaurant's owner since 2000 (the name is a hangover from the previous owner, a Galician). "Over there is chef Avillez, there is the fado singer Mariza and there the guys from the main radio station," says a waiter with a gesture. All tascas serve large portions but this one has a reputation for generosity. One dish will feed three people, which means that bigger groups tend to come here and share. The demand was such that Oliveira had to expand the restaurant into an adjoining room and later open a second, dinner-only, outpost nearby. The number of staff has grown too but there is still a sense of family as Oliveira's two sons work at the unambiguously named Zé da Mouraria 2 nearby.
As time passes most tascas stay the same but others go through subtle makeovers. In Lisbon's smart Príncipe Real district, Faz Frio looks, at first glance, more like a trendy modern bistro than a classic tasca. The interior is characterised by elegant lighting and marble countertops but the bones have been here for the past 100 years. Its century of service means that Faz Frio has been designated a loja com historia (historic vendor) by city hall, which means that some elements such as the tiles on the walls, the slab flooring and a wooden sculpture of a sailor are now listed.
"This place was owned by three sailors and used to be very popular in the area but unfortunately it was run decadently after they died," says Jorge Marques. His family, who owned the building, decided to buy and revive Faz Frio a little over a year ago. Giving it a refresh included hiring staff and raising the quality of the ingredients as well as the presentation of the dishes. "We kept the old menu, though, with a different type of cod every day – as it used to be done," says Marques.
There are also several examples of younger generations buying traditional tascas and restoring their former glory. In an otherwise lifeless part of hilly Alfama, berths at Taberna do Sal Grosso have become coveted and queues commonplace since it was reopened five years ago. Younger owners have kept the formula of traditional food, hearty servings and kind service but added the odd craft beer, vegetarian option or "slow-cooked" pork dish.
As Lisbon changes, however, time will tell whether these new tascas will live up to their forebears. The aim is not to become a go-to place but to become places that people return to. But with popularity soaring, a swift demise of this charming tradition seems unlikely for now.
Address book: Lisbon tascas
Das Flores: Run by the Fernandes family since 1976.
Rua das Flores 76
Zé da Mouraria: Known for very big servings – don't go alone unless you're famished.
Rua João do Outeiro 24
Cantinho do Alfredo: Famous for its Thursday stew.
Rua General Taborda, 4
Casa dos Passarinhos: One of the signature dishes is steak cooked on a slab of rock.
Rua Silva Carvalho 195
Tascardoso: One of the last remaining classic tascas in the trendy Príncipe Real.
Rua de O Século, 242
Varina da Madragoa: Be sure to say "hello" to Veiga, a waiter who's worked here for 40 years.
Rua Madres 34
Faz Frio: Named for the back door that allowed fugitives to escape during the dictatorship.
Rua Dom Pedro V 96
Taberna do Sal Grosso: With only 24 seats, booking is essential.
Calçada do Forte 22