Observation 2 / London
That's a wrap
You need an expert curator, scissor lift and feather duster to put on a show at the V&A. Our correspondent gets to see more than a bit of ankle as the finishing touches are applied to an exhibition about kimono.
"What is that?" says Lisa, a lighting designer squinting at a blob projected onto a pristine white wall. "That," says her colleague Carolina, "is a very dirty lantern." Back up the ladder then to unscrew the offending "beam shaper" and give it a good huff and a going-over with a microfibre duster. Next, the lamp – a tungsten, not an led – will need more "202", which is a blue plastic filter that turns the quality of the light a little cooler.
Elsewhere, Mike is descending from the ceiling on a scissor lift, whistling merrily while the machine beep-beeps its safety soundtrack. Down on earth, he picks a nimble path through stepladders, trolleys and boxes. Did he have to take a test to drive his lift? "Oh yeah, they make you go through an assault course but with the platform 10 metres high," he says while negotiating a slalom of bubble wrap.
At London's v&a museum it's the final day of installation for Kimono: Kyoto to Catwalk, an exhibition that "aims to show the continued contemporary relevance of this beautiful garment," according to its curator Anna Jackson. "Actually, scratch that," she says. "What I really wanted is for this to be a fashion show – not a niche thing about old-fashioned Japan. It's all about dressing up in fabulous clothes."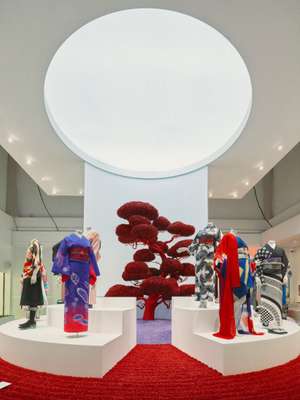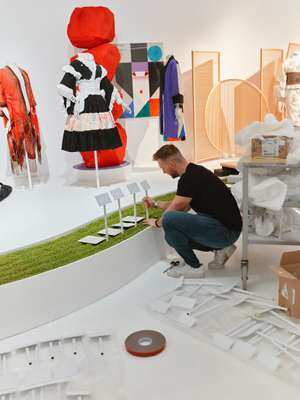 She seems to have got that bit right. Jackson casts her eye across the show's final room, a multitiered floating world of kimono updated for the 21st century, with designs by Akira Isogawa, Hiroko Takahashi, Yves Saint Laurent and Alexander McQueen. Film costumes – Toshiro Mifune's Sanjuro kimono draws a sword at the monkish robes of Alec Guinness's Obi-Wan Kenobi – are bathed in the light from a jumbo screen where clips from Memoirs of a Geisha mix with Freddie Mercury strutting on stage in floral-print, thigh-kissing silk. A nearby mannequin wears Mercury's even skimpier domestic kimono, demurely fastened but with a lot of (resin) leg thrust forward.
"This is still a feminine garment," says Jackson. "So this is the idea that the kimono allows a change of identity, a fluid sexuality." How did she decide which poses suited which mannequins? "Well, we want them all to seem animated. This one, yes, he is showing quite a lot of leg and, yes, that was our decision."
Throughout the exhibition rooms, technicians and specialists trundle trolleys of equipment; spirit levels are flourished and glass is polished. A rainbow-striped feather duster leans like a comedy prop next to a case of 19th-century illustrations of louche behaviour in Edo-era Japan. A tickling stick would certainly have come in handy.
Lilia Tisdall, a textile-display specialist, is moving a mannequin from its travelling base onto its permanent "turret" and I wonder where all the dummies are stashed. She warns me that a trip to the storerooms in the museum basement is not for the fainthearted. "It's really creepy down there," she says, while gesticulating with a pair of petite, disembodied feet.
At the end of the tour, Jackson's voice wobbles a little. The show is a passion project pitched a few years ago and on which she has been working long hours ever since. "All these garments have just been in my head and now that they're all in place you do think, 'God – this really works'," she says. "It's extraordinary. It is quite emotional and I'm hoping that the adrenaline will keep me going through the launch party." And then with a smile: "That and the wine."
'Kimono: Kyoto to Catwalk' is on at the V&A in London until 21 June