Design / Global
Draw upon this
We might not see much of our cities for now but great design is everywhere. From toy building blocks to inspirational theatres, there is plenty to savour in 2020.
Chances are that your diary is looking much emptier right now than in years gone by. The design calendar has undoubtedly suffered in 2020 but that's certainly not to say that great design work isn't being done. Ideas to combat climate change, improve our cities or simply make our lives a little more comfortable have been at the top of the agenda of the world's best architects, product creators and art directors for a while now – and many are finally blossoming.
Take, as an example, the work of late Brazilian architect Oscar Niemeyer. He was 104 when he took his last commission and this year, after nine years of construction, it will be completed. Sadly, now is not the right time to get out into the world and view works like this in person. But we cannot forget that these creative feats are happening. So it's worth taking a minute to appreciate our diligent designers and their continued efforts to make the world a more liveable and enjoyable place.
With this in mind, we called upon our editors across the globe to help us put together this tasteful glossary of good design in 2020. Some, like the authorship of Milan's most revered architecture title by one of the UK's most acclaimed architects, we can already dig into; others, like the refurbishment of a forgotten Japanese modernist masterpiece in Osaka, are something we will have to wait a little longer to experience. But good design goes on, it is worth waiting for and it will last for years to come.
---
Niemeyer's last masterpiece
Germany
By Florian Shiebeck
The ambitious Niemeyer Sphere is finally taking shape in Leipzig.
Oscar Niemeyer, Brazil's patron saint of modernism, was 104 when the owner of German railway-crane company Kirow Ardelt sent him a letter. "We have a chef who's going to leave us if we don't open a proper restaurant," he said. Niemeyer designed a radical concrete and glass sphere that was so difficult to construct that multiple companies failed. Finally, after nine years of construction, the restaurant is set to open later this year.
---
Celebrating the countryside  
Global
By Nolan Giles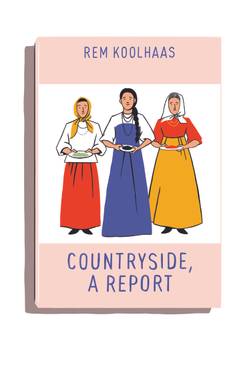 This timely dispatch reveals the radical potential of the countryside to change how we live.
Architect Rem Koolhaas believes that city dwellers underappreciate the countryside. His manifesto is set forth in this charming title released to coincide with an exhibition of his work at the Guggenheim, which was sadly cut short. Through text, infographics and dazzling imagery, Countryside, A Report looks at everything from how Siberians are managing rapid thawing due to climate change to how the Dutch are combining ancient techniques and complex data to revolutionise farming.
---
Theatre of architecture  
France
By Sophie Grove
An intentionally ambiguous space that rejects theatrical convention, the new Théâtre Maillon steals the show.
Why simply break the fourth wall when you can spin, pivot, swivel and manipulate it? With soundproof screens, portable seating systems and mobile stages, the new Théâtre du Maillon in the Wacken district of Strasbourg is a malleable forum for experimental theatre and dance.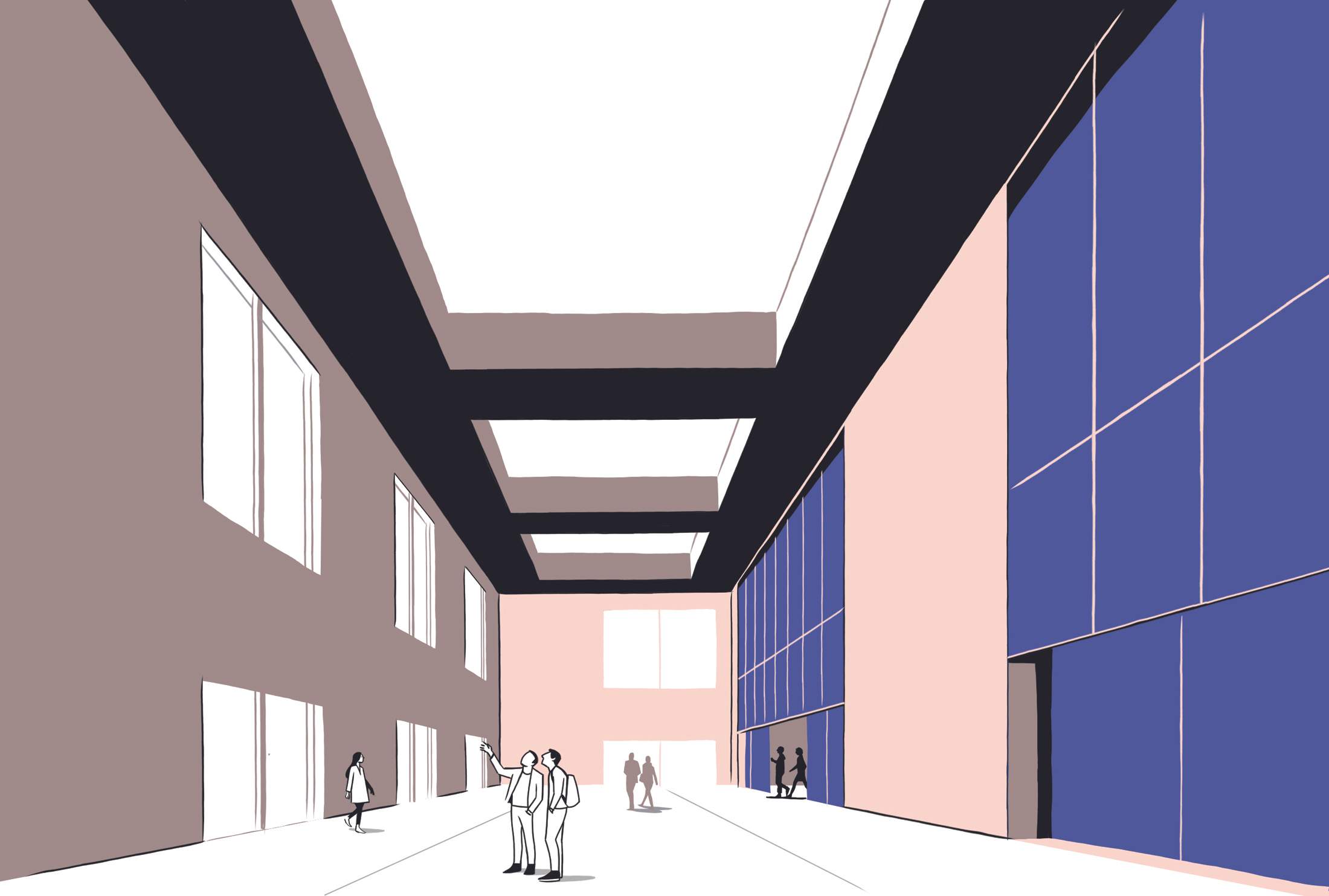 Architect Umberto Napolitano, who led the project for Paris-based LAN (Local Architecture Network), says that the building is a "factory for theatre", a "machine" for performance that rejects the traditional formulas of backstage and box office. It's a building that seeks to liberate Maillon's Franco-German director Barbara Engelhardt from spatial constraints and expand creative possibilities.

The Maillon is modular, nimble and infinitely flexible. Even the delivery courtyard turns into a stage. Visitors approaching this black rectangular form might not even be sure of its function; the theatre has several subtle entrances and large glazed panels that connect it to the street.
Emmanuel Macron was there to open it and we'll encourage as many fans of both the arts and architecture to be there when it reopens too.
---
Housing that will help us all
Sweden
By Florian Siebeck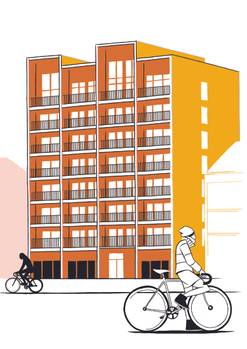 Timber towers are an enlightened way to build homes that are better for us – and the world.
"Climate-conscious architecture" is a term that we would like to hear more often. Danish firm CF Møller's newest residential project, for instance, is a pioneering timber construction. The Kajstaden Tall Timber Building is made entirely from cross-laminated timber and should be on the radar of every forward-thinking architect. Not only does it have a smaller carbon footprint, its timber form contributes to wellbeing thanks to improved ventilation and acoustic qualities.
---
Strong undercurrent  
Taiwan 
By James Chambers
There's a lot going on beneath the surface in Taiwan.
Asia is proving to be a rich source of urban regeneration projects for MVRDV. The Dutch architecture firm has now turned a struggling shopping mall in southern Taiwan into a public lido. Winy Maas and his team convinced Tainan city officials to preserve elements of the old structure and now residents of all ages can splash around inthe building's former basement-level food court. When crowds return, Maas is recommending going in bare feet to feel the new terrazzo flooring underfoot. What a cool idea.
---
New model for gaming
Denmark
By Nolan Giles
Mario gets a Lego makeover as the world's most inventive game-makers collaborate.
Nintendo is one of the most creative brands in the video-game industry. Despite the industrial design of its consoles, such as the portable Switch and the Wii, being celebrated, the company makes its money by glueing our attention to screens. At least that was until it unveiled a collaboration with Lego on a children's range focused on the Super Mario franchise. The Danish firm, which encourages creativity in children and adults alike, will lead us into Mario World later this year.
---
Building a legacy in print  
Italy
By Nolan Giles
Sir David Chipperfield applies his prowess and smart work ethic to the pages of Italy's 'Domus'.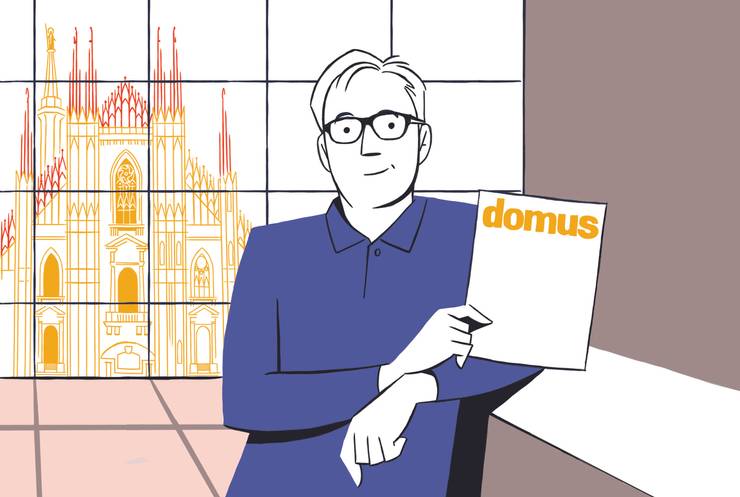 Sir David Chipperfield is known for work of painstaking precision honouring craft and material; he does not take design tasks lightly. And, three issues into the architect's year-long tenure as editor of Milan's architecture publication Domus, his detail-oriented approach is resonating across the magazine's pages. There are abstract covers, featuring the work of photographer Thomas Demand, and Chipperfield interviews architects such as Francis Kéré. We hope that this visionary work will continue throughout the year.
---
Right kind of restoration  
Japan
By Fiona Wilson
Melding tradition and innovation works a charm in Osaka.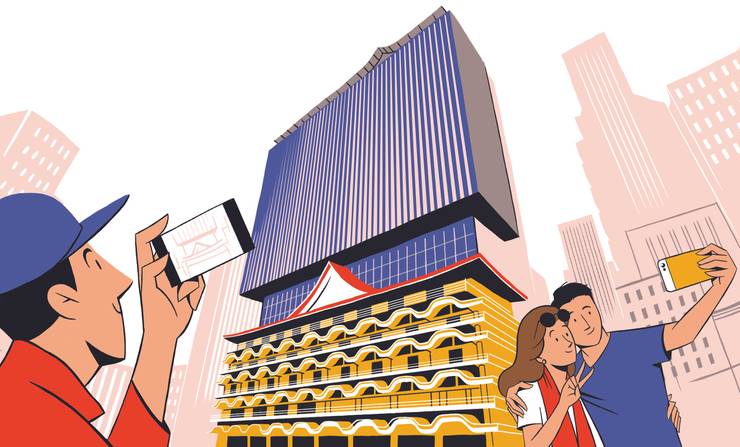 Building preservation is tricky in Japan, where change is part of the urban landscape. But when it came to Shin Kabukiza, the Osaka kabuki theatre designed by Togo Murano in 1958, developers called on Kengo Kuma, who lovingly incorporated the theatre's façade into a taller building. The hybrid structure is now home to the Royal Classic Osaka, a hotel filled with 100 artworks. What's more, it allows a much-loved city landmark to live on.
---
Perfect perch  
Sweden
By Sophie Grove
The Roadie, a lightweight, playfully designed aluminium outdoor sofa, encourages lingering in a sunny spot.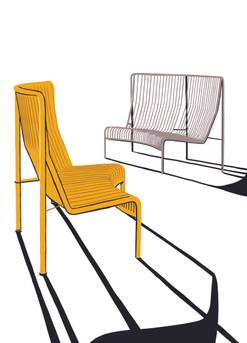 Public spaces in Scandinavia and beyond are set to become a whole lot prettier thanks to Stockholm's Massproductions, which unveiled this sturdy outdoor bench to great fanfare at Stockholm Design Week. The stackable, curved form of the Roadie bench is inspired by the Vauban barriers that proliferate at concerts. Unlike the linear (and often limiting) design of a classic bench, Roadies are sociable and designed to facilitate conversation – and even change behaviour. Put together, they form a convivial arc or even a circle.
A well-appointed bench can transform the under-exploited sunny nook of a garden or park (or even a balcony) and give us time to linger, read and think. This lightweight "outdoor sofa" gets us talking too. The Roadie is designed for ultimate flexibility: though it's 2 metres long, it weighs just 16kg so can be moved for hosting or to follow the elusive sun across the lawn. Its high-backed aluminium frame will support weary heads and comes with an optional cushion for those with a long novel to finish – or alfresco conversation to hammer out. The Roadie might have been inspired by generic crowd-control barriers but it's primed to get us talking.
---
Retrospective to remember
USA
By Will Kitchens
Catch the first US retrospective in more than 30 years of Donald Judd's remarkable vision.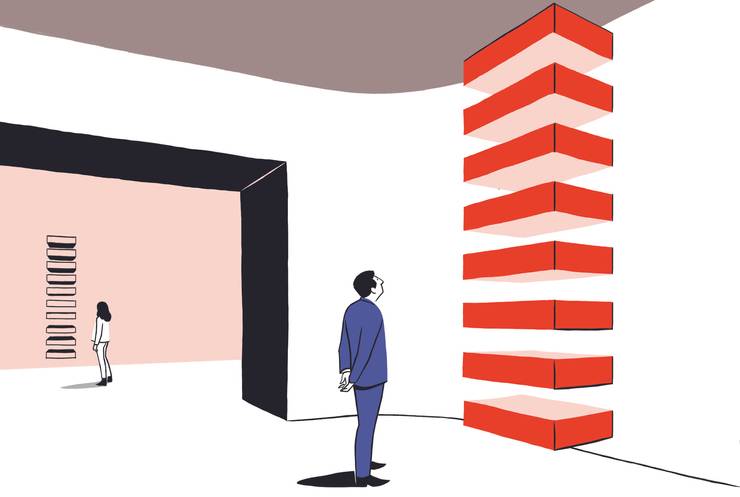 In March a retrospective of artist Donald Judd opened at Manhattan's Museum of Modern Art. Judd's career took off in the 1960s. Moving beyond abstract expressionism and the use of narrative, his geometric sculptures rely on a masterful use of materials and proportioning for their aesthetic value. Judd's similarly pared down furniture designs have influenced countless architects, furniture-makers and industrial designers. Marvel at his genius when the museum reopens.
---
No rest for the wicked
Thailand
By Nolan Giles
Bangkok's Samsen Street Hotel – a city landmark serving its community – embraces the dynamic chaos of the Thai capital.
While glitzy developments have sprung up across the Thai capital in recent times, Bangkok architect Chat Chuenrudeemol has devoted his practice to highlighting the city's more underappreciated urban elements.
So when a developer decided to transform what was a sex motel into a new youth-oriented hotel (essentially a fancy backpacker hostel), they knew who to call. Chuenrudeemol's  work varies from researching Bangkok's slums to create new public spaces in Thailand to designing modern homes from recycled timber.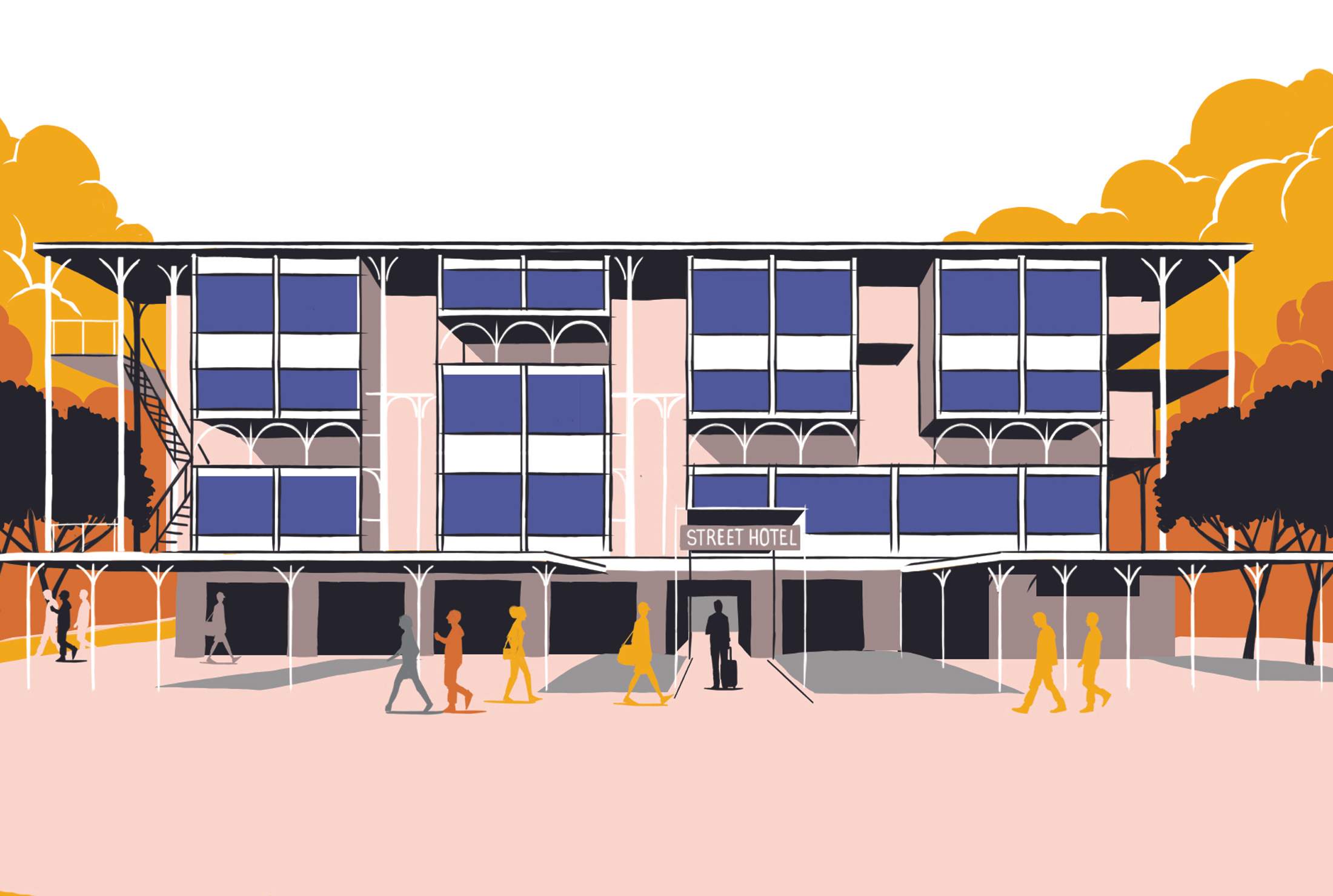 The outcome is a celebration of the real Bangkok. Scaffolding, inspired by the Thai city's vernacular, doubles as a live performance space, while a pulley system similar to that which the workers deploy in their makeshift villages relays supplies up from the restaurant to the bedrooms.
"It's designed so people don't stay in the room on their smartphones," says Chuenrudeemol, highlighting the "scaffolding-style" balconies in most rooms, where guests can sit, feet dangling in the air, and take in a film at the open-air cinema or admire those lounging by the pool below.
---
Event to unite us all
Italy
By Nolan Giles
How will we live together, asks the Biennale. The response is more pertinent than ever.
The Venice Architecture Biennale is the one event that the design world will need to lift its spirits. Even if August is too ambitious an opening date, we're confident that the 17th edition of the industry spectacle will go ahead at some stage. "The world is putting new challenges in front of architecture," says this year's curator, architect and scholar Hashim Sarkis. He couldn't be more right and we're confident that the global exhibitors he assembles will offer some compelling answers.