Design / UK
Ercol's furniture business lasted two world wars and it's still sitting pretty – here's how
Ercol has refined the craft of making fine timber furniture in the UK, elevating its design and quality. As the family firm named after founder Lucian Ercolani marks its centenary, we visit its factory in the Chiltern Hills to see how it champions craftsmanship and find out why, rather than resting on its past glories, it is looking to the future.
Based in a leafy spot in the county of Buckinghamshire, Ercol might only be a 45-minute train journey from London but this furniture brand feels more removed from the capital than the short distance would suggest. One clue comes in its name: a shortening of that of company founder Lucian Ercolani, an Italian immigrant. One hundred years after the young furniture-maker established Ercol in the UK, his passion for the well-made still resounds across the sprawling factory that the company now occupies. Here, everything from the sanding of stool seats and tabletops to steam-bending techniques for curving chair parts happens with stringent attention to detail.
"There are subtleties to the furniture-making – that you sometimes forget – that still inspire a sense of wonder when you see them on the factory floor," says chairman Edward Tadros. He's discussing the fine art of making an Ercol piece that Ercolani, his grandfather, designed. The model requires a series of skilful manoeuvres of varying degrees of difficulty to ensure that its components and wedge joints are positioned correctly. Much of the furniture-making that takes place here demands this type of effort – and the factory workers, after years of practice, make it look easy.
Tadros's now 40-plus year career with the family company only briefly overlapped with his grandfather's time. His recollections of the maestro are fond ones. "My real memory of him is as a friendly grandfather, who took me out fishing," he says. "We would have lunch and he would mix a bit of chianti into my orange juice – he was something of an eccentric." Wilder Ercolani eccentricities include him hurling a Windsor chair down a retailer's stairs when the potential buyer doubted the sturdiness of the piece. The founder, today affectionately referred to as "the old man", was also known for his tireless work ethic.
There's no doubt that Ercolani was a design and entrepreneurial maverick. After moving to the UK, he formed the company in 1920 at the age of 32, then expanded it during a furniture-making boom after the Second World War. It was at this point that he established the pieces that are today coveted by everyone from fashion designer Margaret Howell (who collaborated with the brand in the 2000s) to cult Japanese homes publication Casa Brutus.
With Italian flair tempered by an element of British modesty and incorporating references to the function-first Shaker furniture movement he'd discovered on a trip to the US, Ercolani created an extraordinary series of designs. Many are still in production at Ercol today. The Love Seat (a smart timber bench for two), for example, extols both simplicity and comfort in its design, while the classic Windsor Quaker dining chair has elongated spine-supporting spindles that form a characterful cocooning backrest – a style that has been much emulated. These are just two of many well-loved pieces dreamt up, designed and put into production at the higgledy-piggledy factory that Ercolani built in High Wycombe in the Chiltern Hills before the new production set-up was opened nearby in 2002. "It was an extraordinary site," says Tadros. "The old man built the factory on the side of the hill and it grew and grew in bits and pieces. We had 800 workers at one stage. We were working with English elm and beech and we would see whole families walking in to work."
While those glory days of UK manufacturing are long gone, Ercol remains a dedicated family affair. Tadros's son Henry is now international business director and says that his task is to move the company forward, although he's constantly reminded of the past. He jokes that Ercol vintage pieces are so popular and durable that their quality sometimes has an adverse effect on business. "The All Purpose chair is one of our classics from the 1950s and Lyle's – a Michelin-starred restaurant in the Tea building in Shoreditch – just bought 150 secondhand ones," he says. "Examples like this show this design's value 70 years later, so if we're selling a £400 Ercol chair, which might cost more than its competitors, we always have that argument of longevity."
Ercolani's pieces remain the calling card for the brand and a testament to its production quality. But Henry is hard at work shoring up the company's design credentials by commissioning new models that might become future classics. After industry acclaim for Ercol's 2019 Pennon table and it 2018 Von Collection of occasional furniture – each a modern interpretation of Ercolani's ideals that furniture be "fit for purpose, well made, honest and well designed", Henry is expanding the company's catalogue with a trio of Scandinavian designers. Danish studio Norm Architects, Norwegian designer Lars Beller Fjetland and Sweden's Jonas Wagell have all been commissioned to create new pieces for Ercol. They will be released this year to mark the company's centenary. A new logo and art direction will come soon after.
"It's about the physical durability and the visual durability, so you win on both ends," says Fjetland, when quizzed on the key ingredients of future-proof design. His Lo Collection of tables for Ercol highlights the beauty and elegance of the timber it is made from by emphasising the legs, which descend directly from the edges of the tabletop in an artful manner. "It is easy to make something really robust but it still needs to be appealing to this generation and to the next generation," he says "It needs to have the 'it' factor."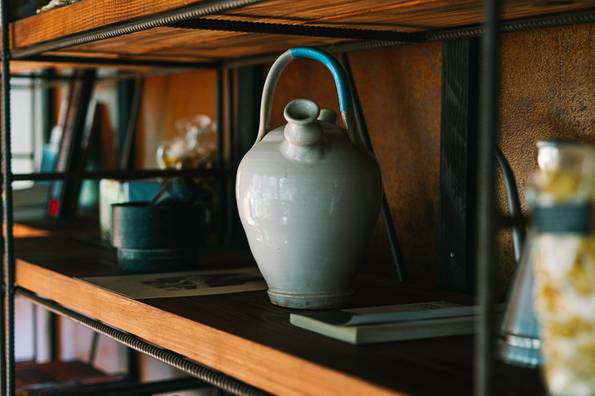 These tables, alongside seating and cabinetry from Norm Architects, are in production at Ercol's factory in Princes Risborough in Buckinghamshire. Designed by Norman Foster protégé Richard Horden and inspired by the glass and steel of the Louisiana Museum in Denmark, the building has stood the test of time since it was built in 2002. It is light and open in appearance and feel – a comfortable place to work. Ercol uses more manageable, imported Italian hardwood in its furniture now and manufactures some pieces, such as sofas for the new collection, in Italy. But this factory is still stocked with skilled workers and apprentices – a rarity in the UK.
Successful, with plans to turn over some £35m (€38.7m), by 2025 Ercol remains motivated by "the old man". Not resting on its laurels, it is gearing up for growth as Henry pushes the business further into foreign markets. "There's a huge amount of history here," says Henry, whose unbridled enthusiasm for both progress and perfection in furniture-making is surely reminiscent of Ercolani. "I've lived it all my life and so it's difficult to step back and think about what it all means. My father and I will always say that we're happy to be at 100 years – but we don't want to be wallowing in the past. It is always about looking forward: you have to be forward thinking, you have to be thinking about the next step."