Recipe / Global
Feed your curiosity
Restaurants are off the menu for many but there's no excuse for not eating well. Here we share some hearty, fuss-free and uplifting dishes that are simple to make and even easier to enjoy.
Someone once told me that, as a rule of thumb, you should throw away a cookbook if you hadn't touched it in the past 12 months. I smiled, maybe nodded – but I didn't listen. Instead, I think that recipes are there for reference and for when you need them. Keeping a cookbook on the shelf speaks to me of aspiration: of future dinner parties and impromptu puddings rather than the sense of failure and shame that some people feel as a result of not using them.
I'm not alone in my urge to hoard these hefty hardbacks either – well, not in principle anyway. Novelist Umberto Eco coined the notion of the "anti-library": an idea that stresses the merits of keeping a collection of books that you haven't read yet. They are there – like these recipes – to inspire, inform and uplift and, in this case, feed you too.
None of us could have predicted that vast swathes of the global population would be confined to their homes by their own governments (or that dry pasta, uht milk and pappy, batch-made bread would be the first things that panic-buyers stripped from the shelves). But here we are, many of us spending more time around the kitchen table than we might otherwise – sometimes on conference calls.
We thought that a few fulfilling recipes would come in handy for the cross-section of our readers who are in need of something a little restorative. So make sure you keep your cookbooks – and learn a few new recipes from us while you're at it. With any luck they will stay with you long after this particular malaise has passed and the dinner-party circuit picks back up again. Three chefs cook up some suggestions.
---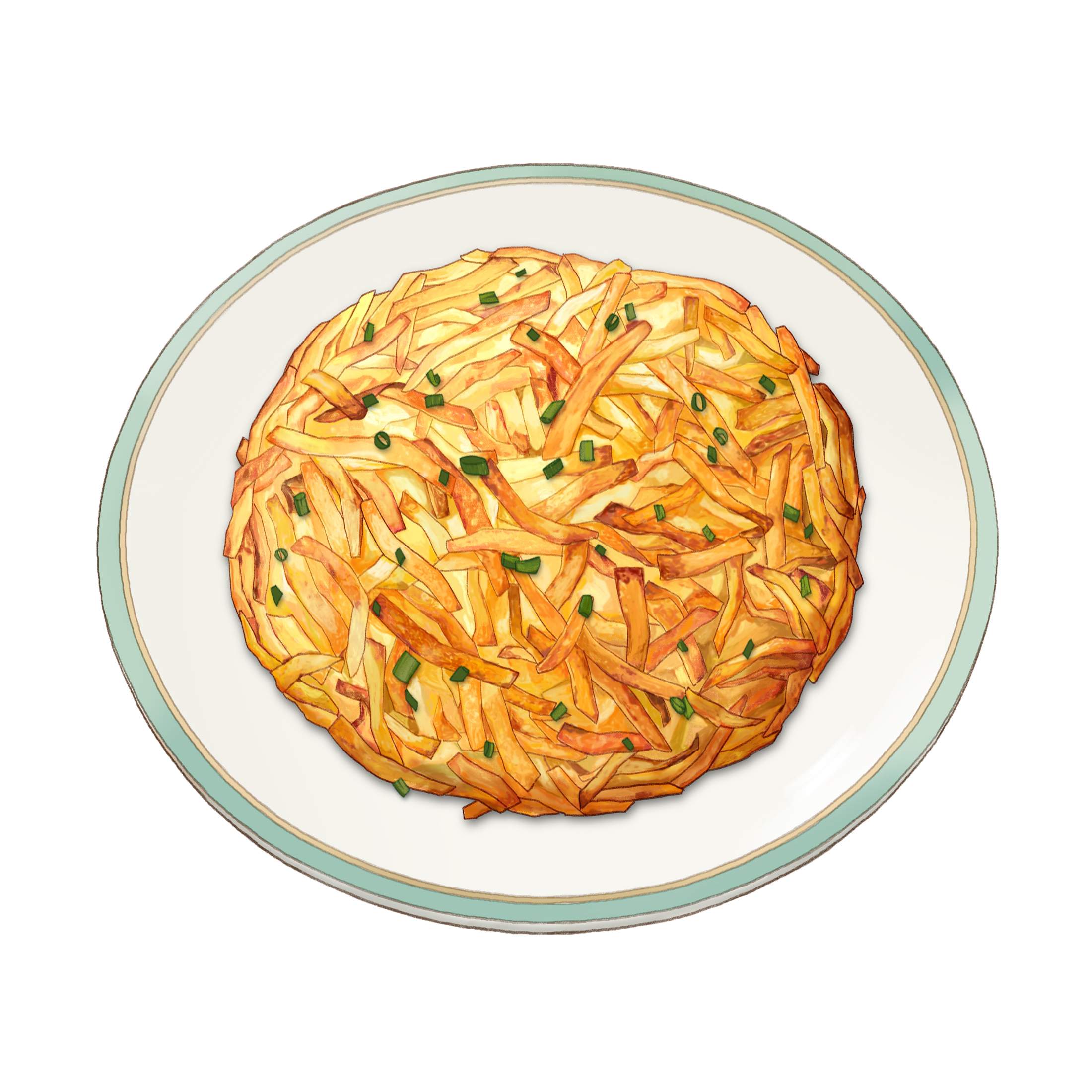 Writer Meredith Erickson takes inspiration from Mitteleuropa for a dish with butter and spuds.
675g Yukon gold potatoes
Kosher salt
110g unsalted butter
Freshly ground black pepper
Grated appenzeller or gruyère cheese (optional)
1. Place potatoes in a large pot over a medium-high heat and cover, just, with water. Add 2 tbsps of salt, simmer for 30 minutes until potatoes are tender on the outside but resistant in the middle when poked with a sharp knife. Drain and allow to cool.
2. Peel potatoes using the dull side of a paring knife and grate into a large bowl.
3. Melt 55g of butter in a large non-stick frying pan over medium heat. Transfer grated potato to the pan, stir to coat with butter. Stir occasionally for 3 to 4 minutes, season with 1 tsp of salt and 1 to 2 tsps of pepper, and stir. Melt remaining 55g butter.
4. Still on medium heat, press potatoes into a round shape with a wooden spoon. Press the edge of the rösti together to form a small wall, away from the edge of the pan. Gather all of the rösti from sides of pan.
5. Pour half of melted butter around the edge of the potatoes, lifting gently with a spatula so the butter can run under the rösti. Let rösti turn golden brown on the first side by frying for 7 to 10 minutes.
6. Place plate or large, flat lid facedown over the frying pan and flip out the rösti, add the remaining melted butter to the pan and fry the other side for 7 to 10 minutes.
7. Reshape the rösti so it's packed into a cake. Sprinkle grated cheese over the rösti 5 minutes before you finish cooking. Serve immediately.
---
2
RALPH SCHELLING
Panzanella (Tuscan bread salad)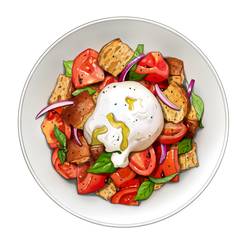 Swiss chef Ralph Schelling's simple but delicious take on a Tuscan salad packs some heft. The burrata topping is optional – but we would thoroughly recommend it.
1 red onion
1 clove of garlic    
1 chilli    
300g day-old farmhouse bread    
150ml best-quality olive oil    
600g tomatoes    
Salt    
Black pepper    
1-2 tbsps white balsamic vinegar or lemon juice      
85g basil    
4 small burrata (optional)
1. Preheat your oven to 170c.
2. Peel the onion and cut it into fine strips. Dice the garlic and chilli. Cut or break the bread into large pieces and mix it with the onion, garlic, chilli and half of the olive oil. Spread the mixture on a baking tray and bake for about 20 minutes or until it's crisp.
3. Remove the onion, garlic and chilli and put them into a bowl. Turn off the oven but put the bread back in so it stays lukewarm.
4. Mix a third of the tomatoes in with the salt, pepper and balsamic vinegar (or the lemon juice) and blitz them in a blender along with the remaining olive oil to create a dressing.
5. Cut the remaining tomatoes into bite-sized pieces and mix them with the tomato dressing and bread. Season with salt and pepper and serve with fresh chopped basil and the remaining olive oil.
6. Serve with or without burrata, according to taste.
---
3
AYA NISHIMURA
Grits with garlicky prawns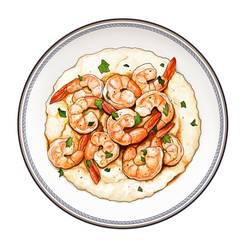 London-based food stylist and recipe writer Aya Nishimura shares a hearty recipe from the southern states. If you can't get your mitts on grits, then swap in either fine polenta, maize meal or coarse cornmeal instead.
100g grits (or fine polenta)  
550ml water (but check the cooking instructions on your packet if you're not using grits or are using "instant" grits)  
1 tsp sea salt  
2 tbsps unsalted butter  
20g finely grated cheddar cheese  
330g shelled, de-veined prawns  
3 cloves of garlic, peeled and finely chopped  
50g small cubes unsalted butter 
Juice of ½ lemon  
¼ tsp smoked paprika  
½ jalapeño pepper, seeds removed, finely chopped  
Hot sauce and chopped coriander to taste
1. Bring water to a simmer in a pan over medium heat, then add grits and salt. Mix grits with a whisk until they start to thicken. Turn heat down to low, keep whisking and cook for 30 minutes (or follow the instructions on your packet).
2. Once the grits are ready, add the butter and grated cheese, stirring until they're melted.
3. Set the pan aside and cover to keep warm.
4. Put the garlic and butter in a frying pan over medium-high heat. Once the butter starts to melt, add the prawns.
5. Cook until prawns turn pink on both sides. Season with salt and pepper. Add smoked paprika, chopped jalapeño and lemon juice, then stir.
6. Divide grits between two bowls, add the prawns and pour over some of the juice. Add hot sauce and chopped coriander to taste – and eat.
---
4
AYA NISHIMURA
Dutch caramel apple pancake
A joyously sweet, cinnamon-freckled pancake with a shot of rum to get you through.
60g plain flour  
½ tsp baking powder  
1 tbsp caster sugar  
Pinch of salt  
4 medium eggs, beaten  
240ml whole milk  
1 tsp vanilla extract  
2 tsps dark rum  
30g butter  
1 large red apple cut into   
10 wedges  
65g caster sugar
To serve 
1 tbsp caster sugar  
¼ tsp ground cinnamon powder
1. Mix flour, baking powder, sugar and salt in a bowl, add beaten eggs and draw the dry ingredients into them with a whisk – avoid leaving lumps. When fully incorporated, add the liquid ingredients.
2. Rest the batter for at least 30 minutes or prepare it the day before and keep it in the fridge overnight.
3. Preheat the oven to 220c (200c with fan).
4. When the batter is ready and the oven is hot, heat a 23cm ovenproof frying pan over medium-high heat. Add the butter to the pan and coat the bottom and sides.
5. Place the apple wedges in the pan, sprinkle with sugar and let it melt. Cook until the apple starts to brown (about 3 minutes each side) without burning the caramelised sugar.
6.Turn up heat and pour the batter over the apples. Cook for 1 minute, until the outside of the batter begins to set.
7. Put the pan into the oven. Cook for 12 minutes.
8. Sprinkle with extra sugar and cinnamon powder to serve.
---
5
AYA NISHIMURA
Turkish-style pizza
Our take on the Turkish contribution to the pizza family, lahmacun, is a crust-worthy addition to the style.
3 tbsps olive oil  
2 cloves of garlic, finely chopped  
300g minced lamb  
2 tbsps tomato paste  
2 tsps cumin powder  
1 tsp paprika  
1 tsp cinnamon powder    
½ tsp sea salt  
Crushed black pepper to taste  
2 Turkish flat breads (about 23cm diameter)  
2 tbsps olive oil
For the topping
1 small red onion, chopped  
20 cherry tomatoes, cut into small cubes
 
5g parsley, finely chopped  
5g dill, finely chopped  
¼ tsp sea salt 
½ lemon 
½ tsp sumac (optional)
For the yoghurt sauce 
4 tbsps yoghurt 
1 tbsp tahini  
1 tbsp water
1. Preheat your oven to 220c (200c for a fan oven).
2.Chop the topping ingredients.
3. Mix the yoghurt-sauce ingredients together.
4. Heat a big frying pan over medium heat, pour in 1 tbsp of olive oil and garlic. Cook for 1 to 2 minutes. Add the minced lamb, separating larger lumps as you cook. When mince starts to brown, add the spices and cook for 1 minute. Mix in the tomato paste and salt and pepper.
5. Lay flatbreads on a baking tray, spread 1 tbsp of olive oil on each; bake for 2 minutes.
6. Remove tray from oven, divide lamb mixture between the flatbreads. Return to oven and bake for 3 minutes.
7. Take the pizza out, sprinkle the toppings and season with salt, lemon juice and sumac. Drizzle yoghurt sauce over the top. Serve hot.
---
6
RALPH SCHELLING
Crab toast with lemon aioli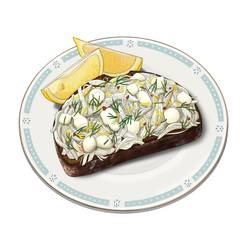 Schelling shares one of his secret time-saving snacks that feels – and tastes – fancy but actually takes no more than a few minutes to make. So it's perfect for those in a rush or reluctant – let's call them crabby cooks.
1 clove of garlic, diced  
3 tbsps olive-oil mayonnaise  
1 lemon  
4 slices of bread  
5 tbsps of olive oil  
350g cooked crab meat (white and brown)  
Bunch of chopped dill  
Toasted chilli flakes  
Salt and pepper to taste
1. To make the aioli, add the diced garlic clove to the mayonnaise along with the juice of half a lemon and the grated zest, then set all of that aside.
2. Brush the slices of bread with olive oil and put them in the oven on a baking tray until they're crisp (about 10 minutes).
3. Season the crab meat with the remaining olive oil, salt, lemon juice, dill and toasted chilli flakes.
4. Spread the spiced crab meat evenly on the toast, add the few remaining drops of lemon juice and salt and pepper to taste, and serve with the lemon aioli.
---
7
AYA NISHIMURA
Japanese-style Napolitan pasta
A staple of Japanese yoshoku (Western-influenced) fare, Napolitan pasta is distinctly different from its European forebear. The Japanese dish has a sweetish sauce and the pasta is intentionally overcooked and extraordinarily alluring.
2 tbsps extra-virgin olive oil  
1 clove of garlic, finely chopped  
1 medium-sized onion, sliced (roughly 250g)  
4 slices of unsmoked streaky bacon, cut into 1cm strips  
1 green pepper, cut in half lengthways then sliced across into strips     
4 button mushrooms, sliced  
Salt and white pepper  
200g spaghetti  
4 tbsps ketchup    
2 tbsps tomato purée
½ tbsp Worcestershire sauce
20g unsalted butter, cubed
To serve:
Sprinkle of parmesan cheese   
Tabasco sauce, to taste
1. Roughly chop the vegetables.
2. Bring a pot of salted water to the boil. Cook the spaghetti for 1 minute longer than the packet instructions suggest.
3. While the pasta is cooking, place a large frying pan over medium heat and add the olive oil and garlic until the garlic releases its aroma; add the onion and cook for 2 minutes; add the bacon and cook for another 2 minutes; then add the green pepper and cook for 2 minutes more. Finally, add the mushrooms and cook for a further 2 minutes.
4. Add the ketchup, tomato purée, Worcestershire sauce, salt and pepper to the pan. Stir it into the drained pasta until well coated. Then add the butter and mix it through.
5. Divide the pasta into two bowls. Serve with grated parmesan and a few drops of Tabasco.
---
8
MEREDITH ERICKSON
Bread soup with chicory and egg
Erickson picked up this tasty recipe at El Brite de Larieto in Italy's Cortina d'Ampezzo. In the Bel Paese it is often served with puccia, a kind of sandwich bread similar in consistency to a pizza crust. You can substitute ciabatta or panini and make the croutons from a country-style loaf. If wild chicory is hard to find, swap in endive, radicchio or dandelion leaves for a welcome hint of bitterness.
5 tbsps extra-virgin olive oil, plus more for serving  
1 onion, diced  
200g pancetta, diced  
1.4 litres low-sodium vegetable stock  
1 bun puccia bread, cut into 5cm pieces, plus 50g puccia croutons  
Fine sea salt and freshly ground black pepper  
1 bunch wild chicory, chopped into ribbons  
4 eggs 
1 tbsp minced chives  
1 tsp fennel seeds, toasted
1. In a Dutch oven, over medium heat, warm 3 tablespoons of the olive oil. Add the onion and pancetta and sauté until they brown lightly, say 5 to 7 minutes. Add the vegetable stock and bring to a boil. Add the bread, lower the heat, and simmer for 45 minutes.
2. Allow the soup to cool then ladle it into a blender or food processor and process on high speed until it's smooth and creamy. Adjust the seasoning with salt and pepper. Return it to the Dutch oven and keep warm over a low heat.
3. While the soup simmers, bring a large pot of salted water to a boil and fill a bowl with ice water. Add the chicory to the boiling water and blanch until wilted, 1 to 2 minutes. Lift it out of the boiling water, plunge into the ice water to stop the cooking, then drain.
4. Place a wide saucepan filled with water over high heat.
5. While the water is heating, line a plate with a layer of paper towels.
6. In a medium frying pan over medium heat, warm up the remaining 2 tablespoons of olive oil. Add the chicory and sauté for about 4 to 5 minutes until it's just starting to brown. Season with salt and pepper.
7. When the water has started boiling, turn the heat down to a simmer. Crack an egg into a small bowl, then gently pour it into the hot water to poach, swirling the water around it with a spatula or wooden spoon first to encourage the egg to take a nice shape. Repeat with the remaining three eggs. When the water returns to a simmer, set a timer and poach the eggs for 2 minutes, until the whites have just set. Then carefully transfer the eggs to the paper towel-covered plate without breaking them.
8. Ladle the soup into bowls. Gently place an egg in the centre of each bowl, then lay some wilted chicory next to it, add croutons and sprinkle each bowl with chives and fennel seeds. Add a splash of olive oil, then serve.
---
9
RALPH SCHELLING
Tamago sandwiches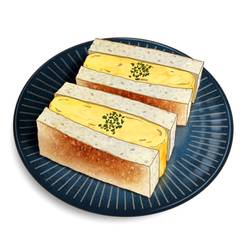 We finish with a mouth-watering take on a very simple, Japanese-style version of a staple snack: egg sandwiches.
8 eggs  
3 tbsps soy sauce  
2 tbsps mirin (a sweet rice wine)  
2 tsps peanut oil  
8 slices of bread  
1 tsp mustard
1.Lightly beat the eggs and add the soy sauce and mirin.
2. Brush a non-stick pan with a little oil, then heat it up and add some of the egg mixture. Flip the omelette and push it over to the edge of the pan, before adding more of the egg mixture and folding the existing omelette into the new one. Repeat this whole process 4 or 5 times to make a total of 2 omelettes. Cut each of them in half.
3. Toast the bread and spread it with a little mustard. Place the omelettes on top to make sandwiches. Trim off the edges of the toast, cut the sandwiches in half and arrange on plates. It's best enjoyed lukewarm.