Urbanism / Global
31. How we roll
This is the time to fix public transport and get people walking and cycling. Let's go.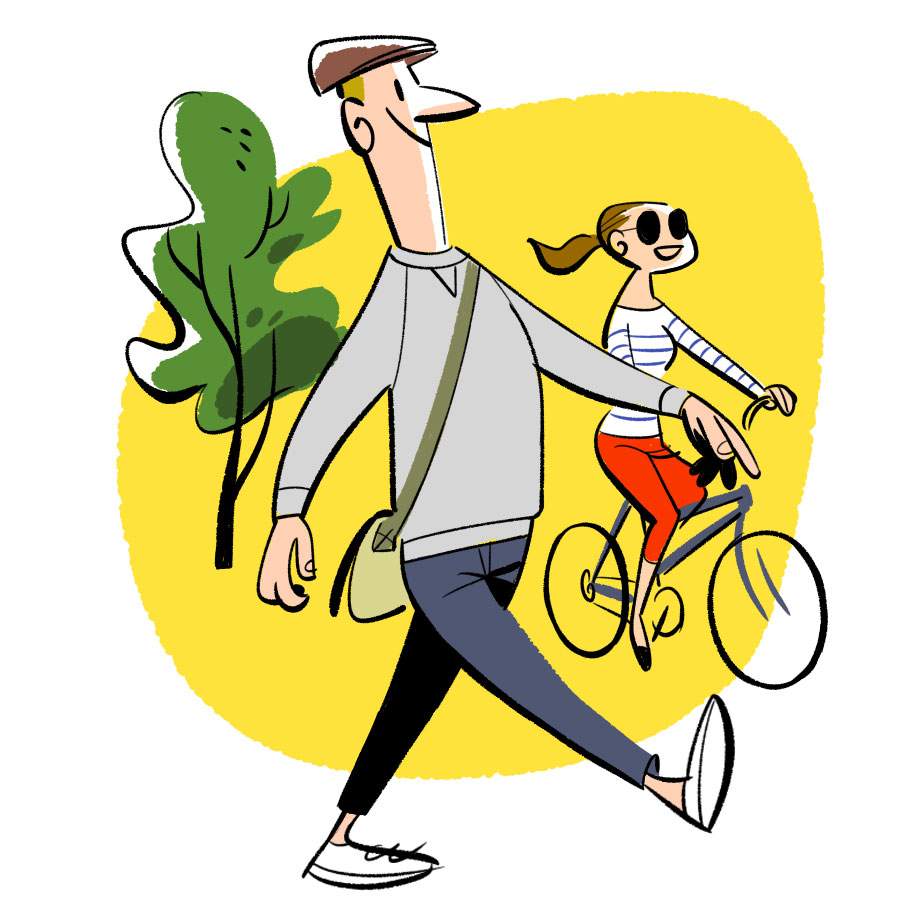 At precisely 06.15 every morning a set of low, rhythmic sonic booms washes over my Brooklyn flat. Usually half-asleep at that time, I groggily presumed it to be the subwoofer in someone's car. It wasn't until the coronavirus pandemic took most drivers off the road that I realised it was a train on the mta's Long Island Rail Road passing through a nearby station. It was like that scene at the end of post-apocalyptic zombie film 28 Days Later when the protagonist sees a plane and its vapour trail in the sky – a sign that the world has not yet ended. In the age of coronavirus, my noisy commuter train was his airplane: a comforting reminder that life rolls on.
It also provoked some sticky questions about what the world of transport will look like when this is all over. I am loath to believe that it's a good idea to get on that train – today or any day in the near future. I'm not alone: bus, train and subway trips between mid-January and early April were down 72 per cent, according to Apple data from 153 countries. It's a potentially devastating shift in demand for public transport, especially considering that in many countries its funding is based on rider numbers.
"It's natural to expect that people are going to have anxiety about any crowded situation until we have widespread testing and a vaccine," says David Bragdon, executive director at US-based advocacy group TransitCenter, which consults with transport authorities globally. "I think that transit agencies, as well as restaurants, concert halls, sports arenas and so on, will have to show the public that they are taking strong hygienic measures."
For examples on how to do it right, we can look to places such as Singapore, which employs an army of more than 50,000 professional cleaners, or Japan, where bullet trains are thoroughly cleaned in just seven minutes at terminals. These are societies in which public cleanliness is a priority, not an afterthought only considered when the "unthinkable" has occurred.
Yet even this might not be enough for some. Could the new travel habits we're picking up during lockdown become permanent? Bicycles, for example, have proven a popular way to move around while maintaining personal space, with cities from Bogotá to Berlin adding pop-up cycle lanes to respond to demand and bike shops classified as an essential service in the UK. For Mikkoh Chen, a Manhattan-based technology entrepreneur, the pandemic was the perfect prompt to try it out. "With the new normal being one walk per day, no public transport and rules to shelter in place, I felt the need for a little freedom," he says. "A bike provided that."
Most are opting to stick to walking. In response, city leaders are looking to turn formerly traffic-choked streets into pedestrian promenades, such as in San Francisco, which closed some 21km of tarmac. With so few cars on the road – the UK has seen numbers drop by up to 80 per cent – lockdowns have provided an unexpected glimpse into how our cities might work if other modes of transport took priority.
So what of the car in all this? Global ownership rates have been falling – in part due to the rise of cheap ride-sharing. Yet some predict a post-pandemic spike as commuters seek safety in their own space. It's too early to say for sure but some, such as Rea Stark Rajcic, co-ceo at Swiss e-car start-up Piëch Automotive, are bullish. "We build cars that are designed for private ownership and are objects for enthusiasts," says Rajcic, who is launching the Piëch Mark Zero, an electric-powered luxury coupe, by 2022. "We believe that such products will be in greater demand in the future."
While some argue that this is the beginning of the end for public transport, Transit Center's Bragdon insists that the pandemic has made its importance indisputable. "Ridership is down but those who are [using it] are almost 100 per cent essential workers needed to run healthcare, food distribution, water and sewer systems," he says. "It's actually proving to be indispensable in major cities today."
Lots of questions are still unanswerable. How long until we feel safe on a crowded bus during rush hour? How fast will the hard-hit car industry recover? Will these temporary bike lanes become permanent? We can recommend a few things. Municipal authorities need funding to keep essential services running and properly sanitised to cultivate public trust. Transportation start-ups – not just big car-makers – need support to pioneer clean, new technologies. And more space should be given to pedestrians and bikes to encourage people to walk and cycle.
The silver lining to coronavirus could be an opportunity to rethink the way we move around our cities. If it results in the rhythmic thuds of ever more trains, so be it – I'll happily trade a lie-in for that. 
---
About the author: McAllister is a monocle contributing editor based in New York, as well as a brand strategist and transportation specialist. He hopes that the US can one day take trains as seriously as cars.