At home with... / Global
Be our guest
We drop in on a wine journalist in Porto, an architect in Berlin and two designers in Toronto, and – between bites – discuss the delights of hosting at home.
1
Porto
Nuno Guedes Vaz Pires
By Ivan Carvalho
Photography Lara Jacinto
This journalist spends his days rating wine; hosting is a chance to enjoy it.
Wine journalist Nuno Guedes Vaz Pires spends a fair amount of time around a table debating a vintage's complexity with colleagues as he does blind tastings. But in his free time the editor-in-chief of Revista de Vinhos, Portugal's leading wine publication, swaps the confines of the office for his weekend home in the lush green hills of the Minho region, where he entertains and can enjoy a bottle or two without a spittoon in sight.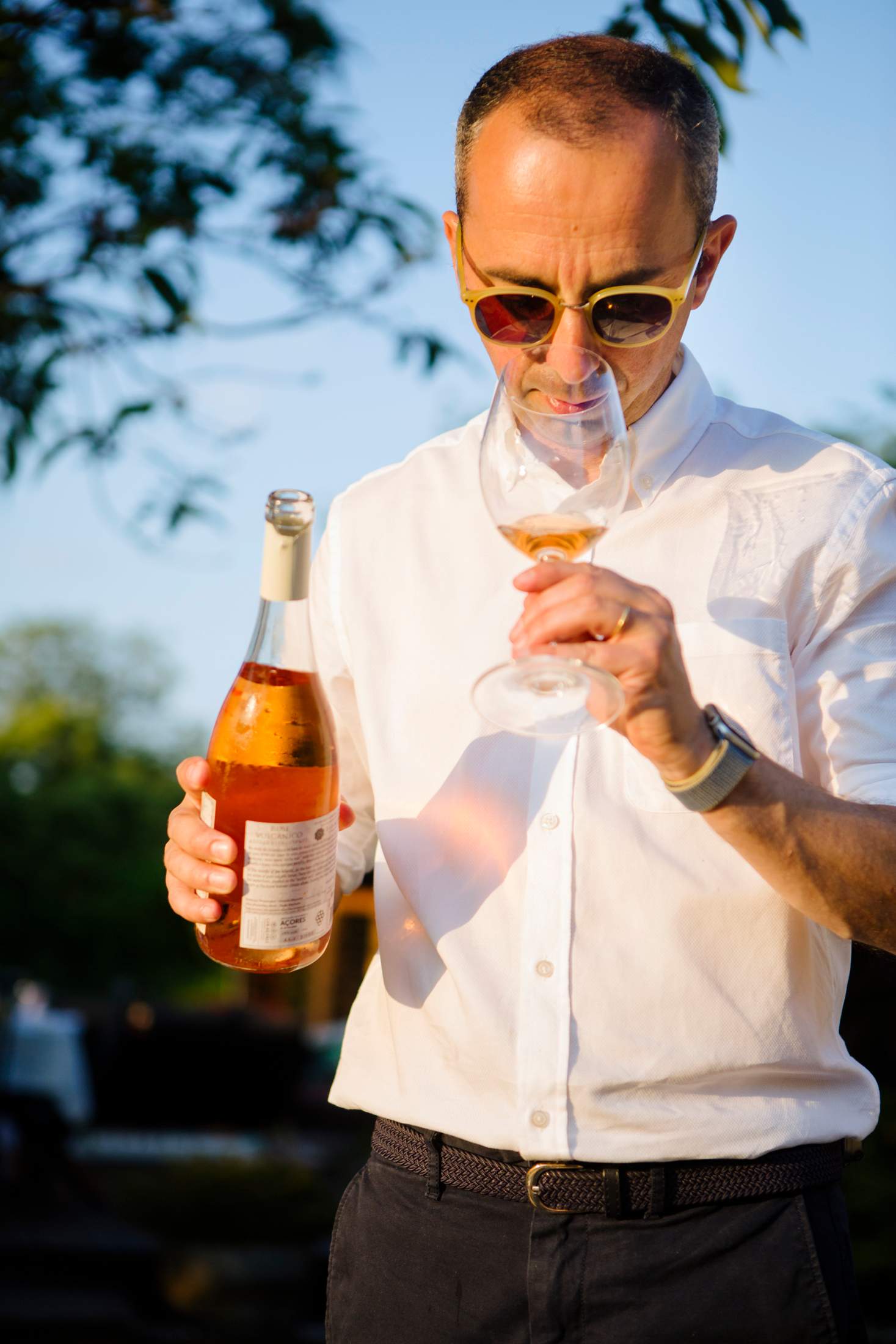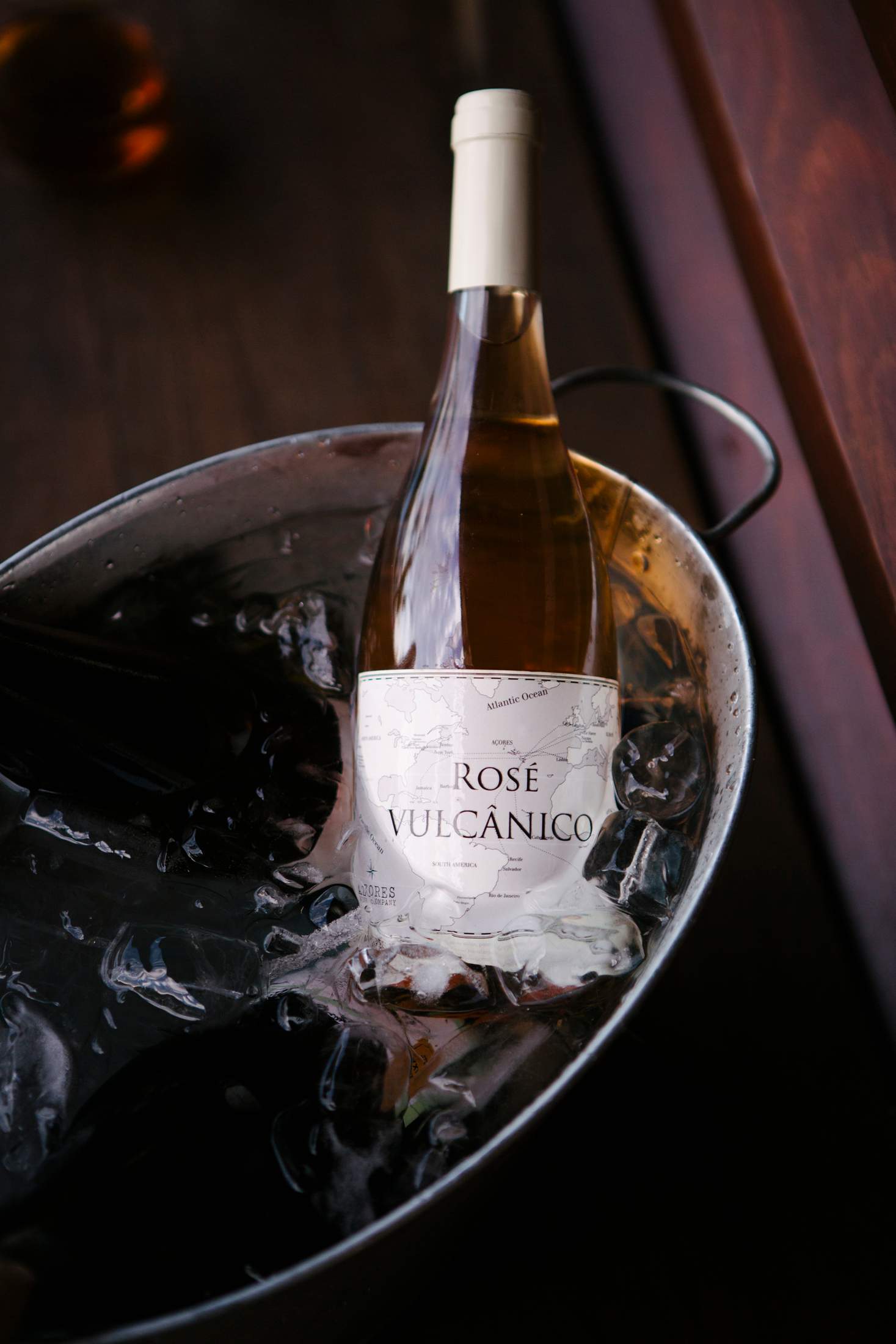 "Despite what people think, tasting sessions are hard work," says Pires. "I get real pleasure hosting friends and having them try wines without the fuss of assigning points." Perched on a hillside near Ponte de Lima, Pires's property abuts leafy vineyards. "The vines belong to my father-in-law but he sells the grapes to wineries; in our family, we prefer drinking wine to making it."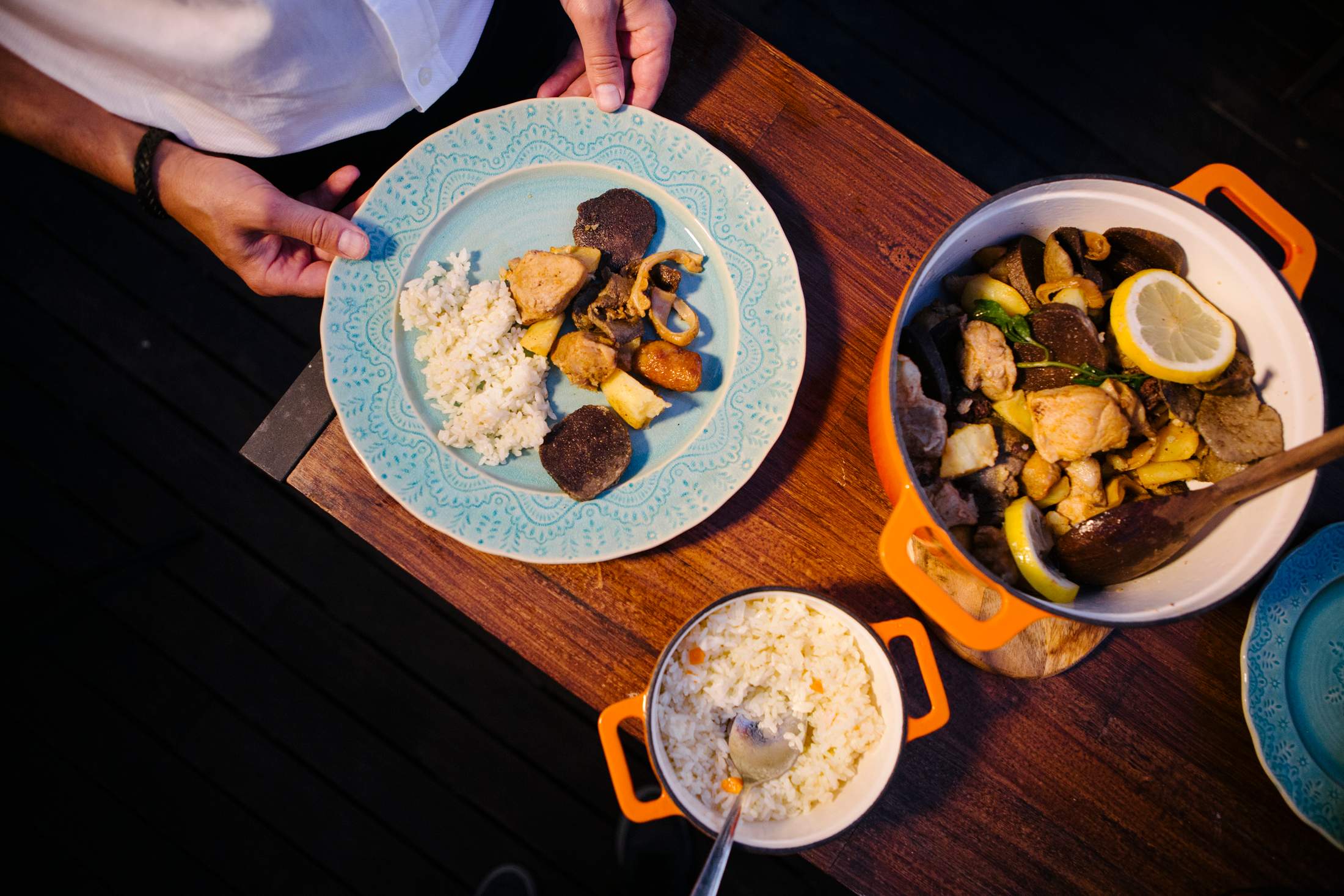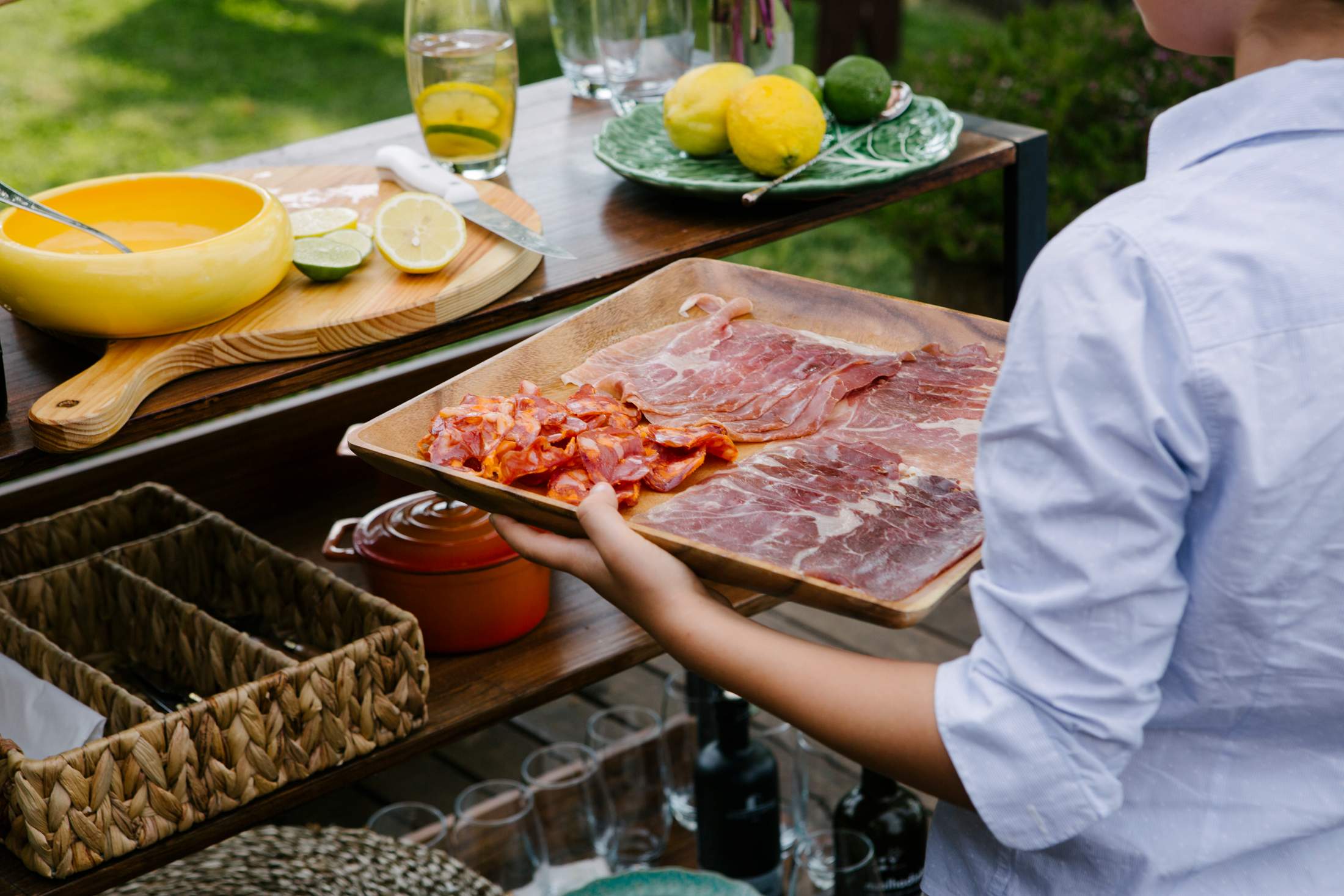 It's no surprise that he's put down roots in wine country – in this case the Lima sub-region of the Vinho Verde appellation. He and his magazine staff regularly visit producers across the Iberian nation to keep track of producers and shoot a weekly TV programme that airs on state broadcaster rtp.
Tonight, Pires and his wife Isabel are preparing a casual dinner for friends, each of whom is welcomed with a white port and tonic. Pires plucks lemons from the trees beside his home and adds a squeeze to the cocktails. "It's a classy drink that's great for hot summer days," he says.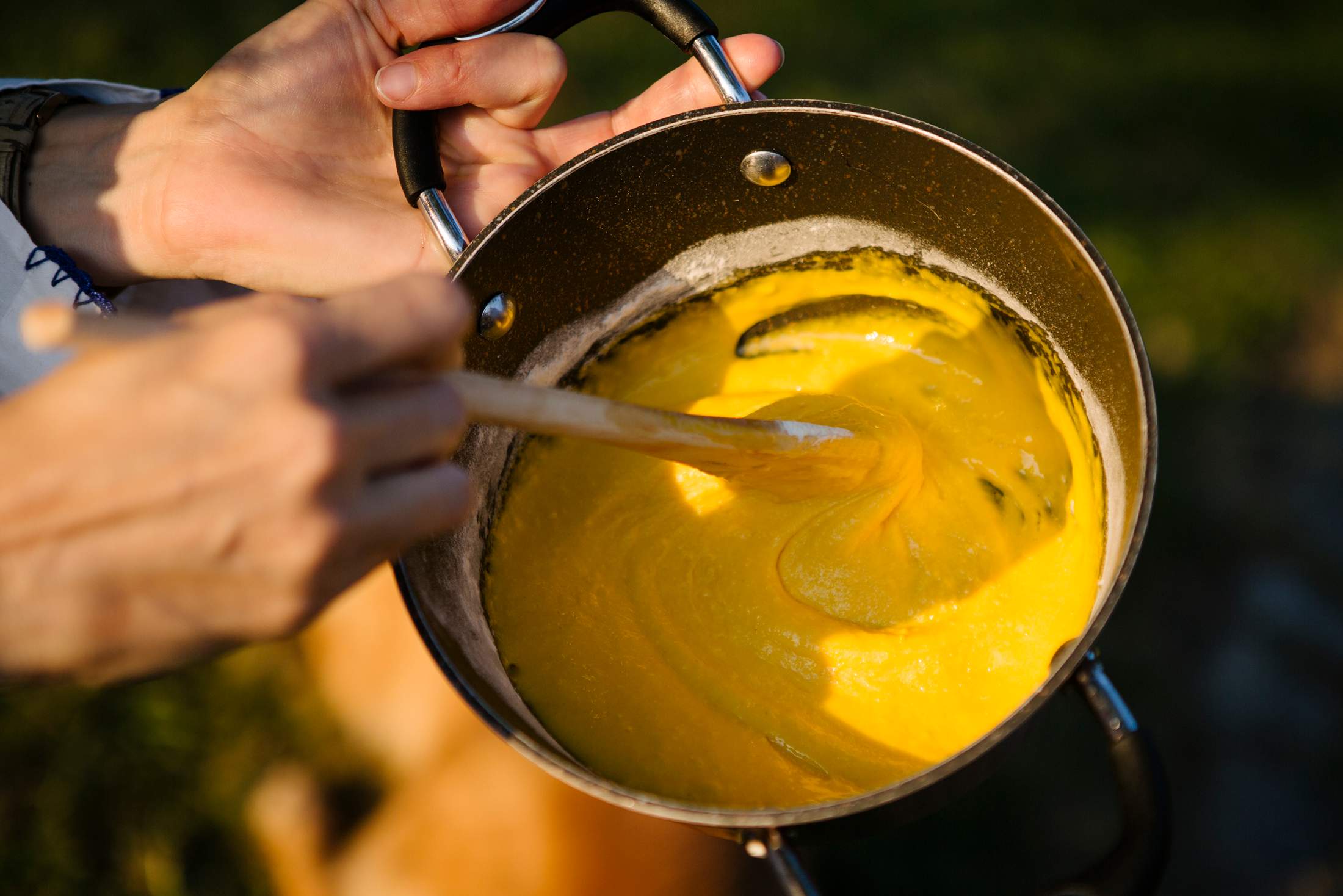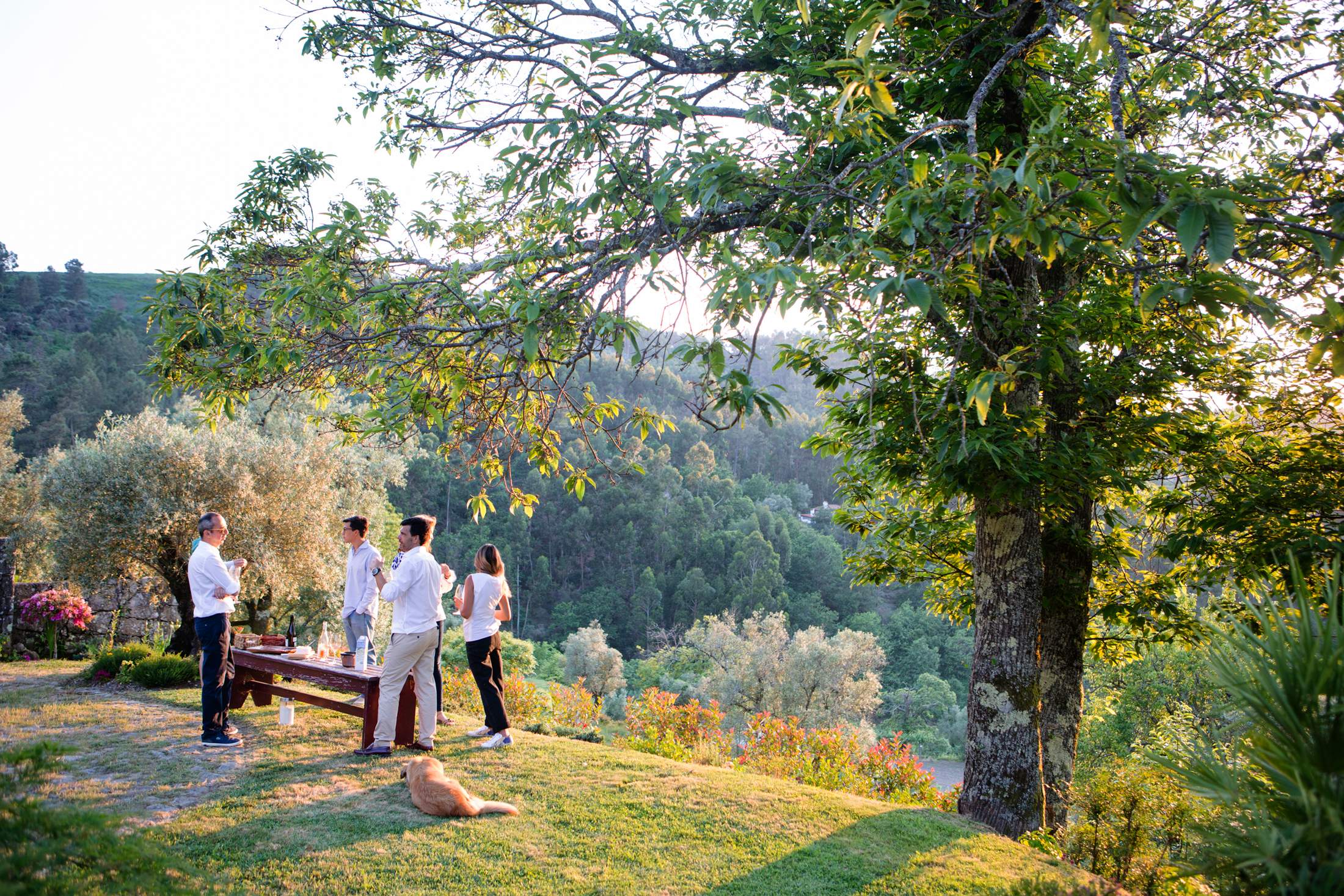 For nibbles, he has procured a trio of cheeses that includes a local goat's cheese that was bathed in alvarinho wine during the ageing process. "We often overlook the ways wine can be used in cooking," says Pires, whose publishing group keeps tabs on gastronomic trends as it prepares to revamp a recent acquisition, Brazilian food and wine magazine Gula.
As his sons Francisco and João play outside, Pires and his wife turn their attention to the main course: rojões à moda do Minho (a hearty regional stew). "You prepare a marinade with garlic, salt, pepper, paprika, bay leaves and vinho verde wine. The pork sits in it overnight and then is browned in lard."
Dessert is leite creme, the Portuguese take on crème brûlée, made with milk. When it comes to wine pairings, Pires looks to two producers in Lima who have made strides to change perceptions of a name that is mainly known abroad for soft, sparkling whites. "From Quinta do Ameal we have a loureiro, a native white grape that's found its way onto wine lists at upscale restaurants across the globe; from Vasco Croft, his Aphros inky-red vinhão shows the potential that is beginning to be tapped into," says Pires. "It's the same story across Portugal when we talk about wine."

For tasting notes of the latest vintages from Portugal and restaurant reviews, visit revistadevinhos.pt.
To eat: Cheese with chouriço and presunto (dry-cured ham); rojões à moda do Minho; and leite creme.
To drink: White port tonic; Rosé Vulcanico 2018; loureiro 2019; Aphros vinhão 2018; and Barbeito reserve 10- year-old madeira.
What we learned: Portuguese vintners offer single-varietal wines made from indigenous grapes; many are worth getting to know.
2
Berlin
Markus Miessen
By Kimberly Bradley
Photography Felix Brüeggemann
A self-designed home in Berlin gives this globetrotting architect a sense of adventure.
Architect Markus Miessen's practice of teaching, writing and exhibition design sees him travel between Los Angeles, London, Sweden and Kosovo. But home – where he lives with his wife, Lena Mahr, and sons Lino and Jona – is a self-designed apartment in Berlin's Prenzlauer Berg district. In the open kitchen, Mahr pulls flatbread crackers out of the oven to serve with fresh goat's cheese as a starter. "Pace yourself, there's a lot more coming," Miessen says to the boys.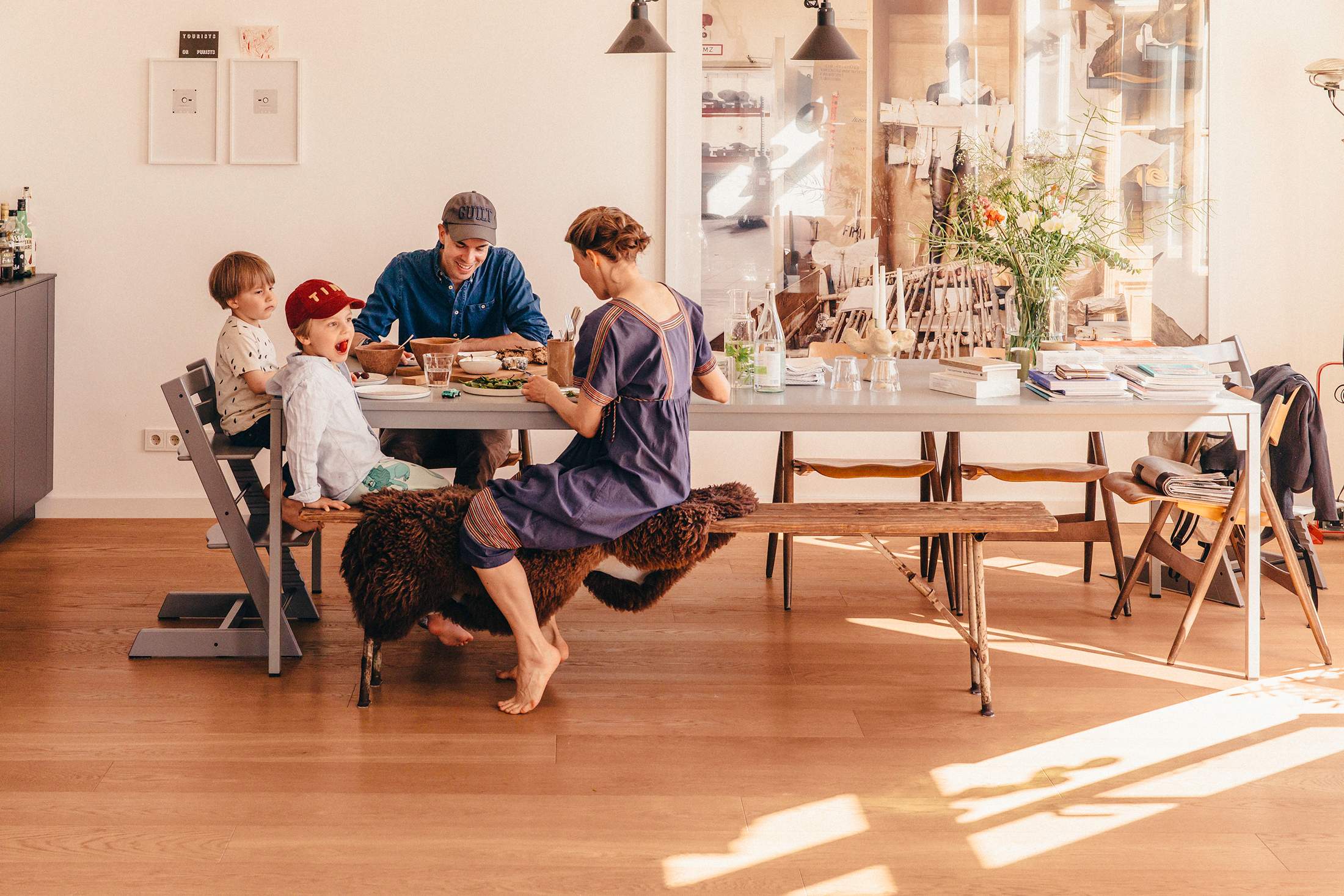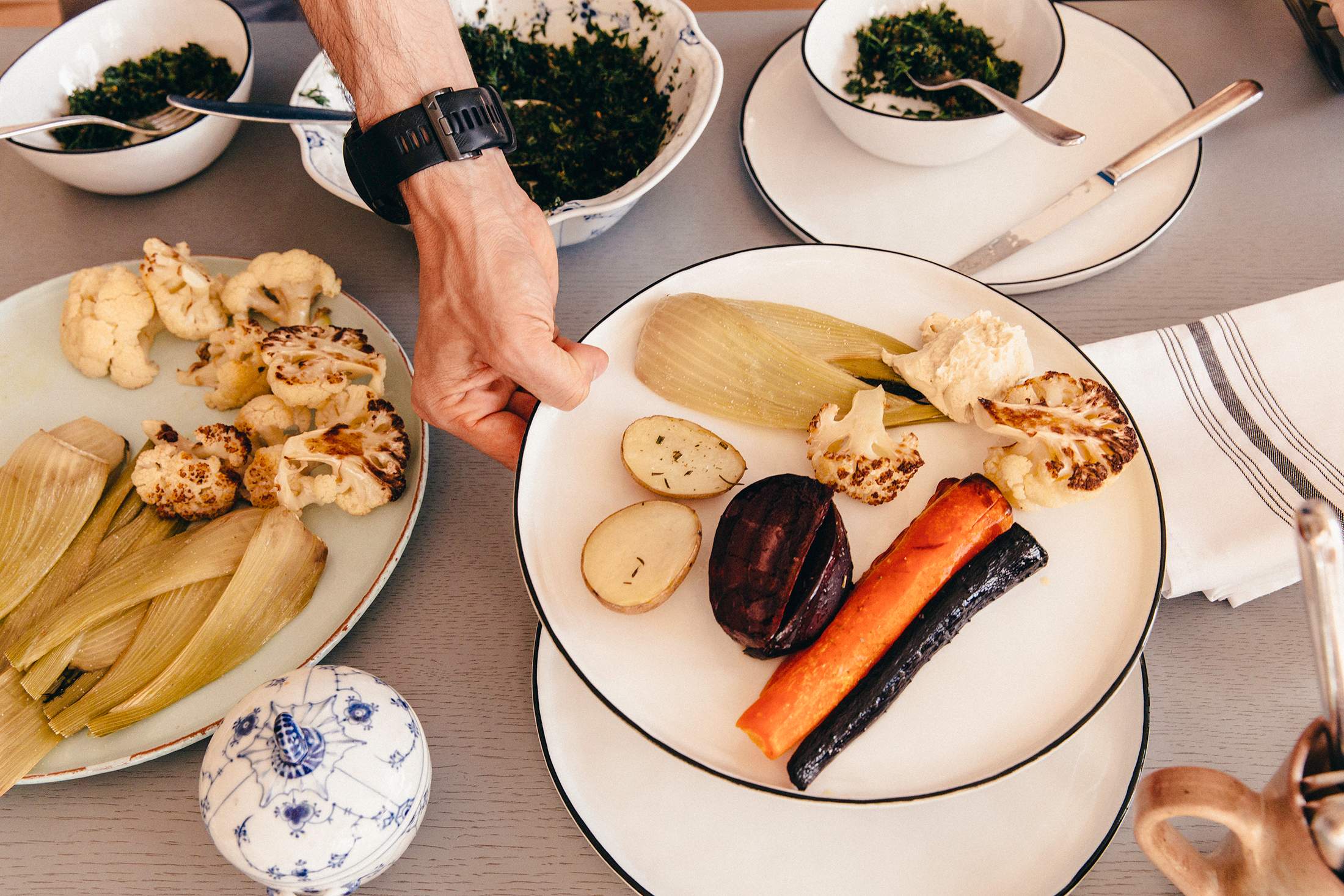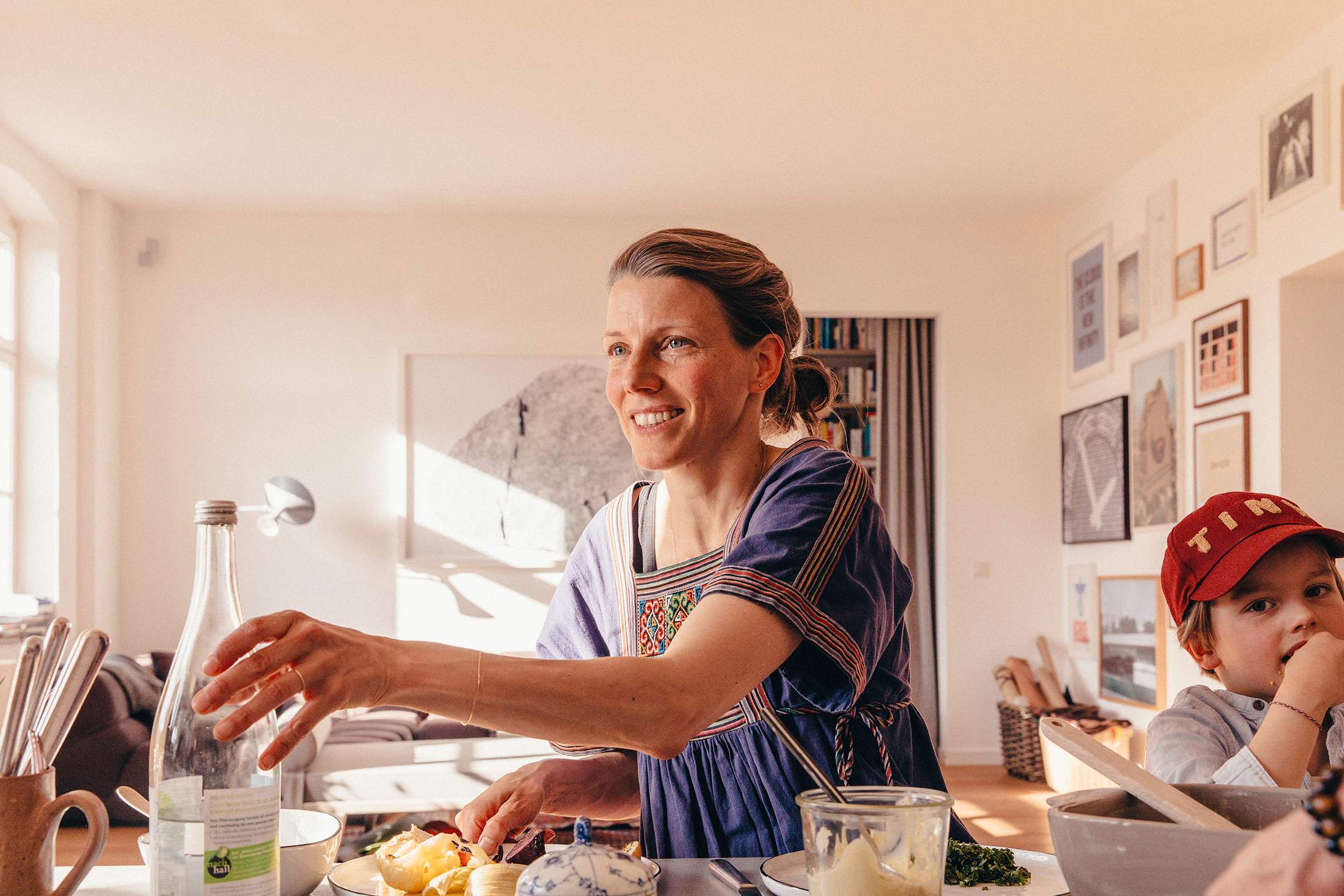 The architect has made a name for himself as an exhibition designer, having created the looks of events such as New York's performance-art biennale Performa and art institutions such as Gropius Bau in Berlin. But he has also worked with individual artists, designed furniture for New Tendency and put out a dizzying array of books on heady topics including spatial theory, which is put into practice nicely at home, we see. Mahr is an equally prolific graphic designer and art director, creating books, periodicals, corporate identities and exhibition graphics.
"When the boys came along we started cooking more, maybe twice a week for friends," says Mahr, explaining that it's easier to host guests than secure a babysitter. Tonight they're having a piquant salad and a pile of grilled root vegetables served with mayonnaise; there's no meat and it isn't missed. "I've cut way down," says Miessen, who along with his wife recently decided to embrace clean (but not ideological) eating and expand their repertoire. "About a year ago we started getting more creative," says Mahr. During Berlin's lockdown, the pair collaborated on an online cookbook, contributed to by artists, architects, designers and other creatives.
Who usually cooks? Miessen tips his head towards Mahr. After the boys retreat to watch a film before bed, she whips up something in the blender: a smooth, tasty ice cream-like dessert that's surprisingly sugar and dairy-free. The sun sets and conversations turn to what might happen to art and architecture in the near future, the importance of health, Berlin real estate and, well, a few tasty new recipes too.
To eat: Seed crackers with cheese, green and black olives and grilled peppers; herbal garden salad and greens with avocado and blueberries, dressed with a cashew vinaigrette; grilled root vegetables and sautéed carrot greens served with vegan mayonnaise; "ice creasm" (frozen banana whipped with raspberries) with raw cacao nibs and strawberries.
To drink: Still mint water; sparkling water; coffee with oat milk.
3
Toronto
John Pylypczak & Diti Katona
By Tomos Lewis
Photography Ian Patterson
These graphic designers keep a family flame alive over a firepit in the garden.
It's a warm afternoon in Toronto's leafy Bennington Heights neighbourhood, just north of downtown, and John Pylypczak is lighting the tinder in the outdoor firepit in his back garden in preparation for dinner. The wood crackles and flames lick the air, grazing the underbelly of the key utensil for this evening's meal: a brass goulash kettle, suspended from a metal trestle, dangling just above the fire. "We built this house six years ago," says Pylypczak, as diced cubes of bacon and onion
begin to sizzle in the hot oil. "And we told our architect that we wanted a firepit in the backyard where we can make goulash."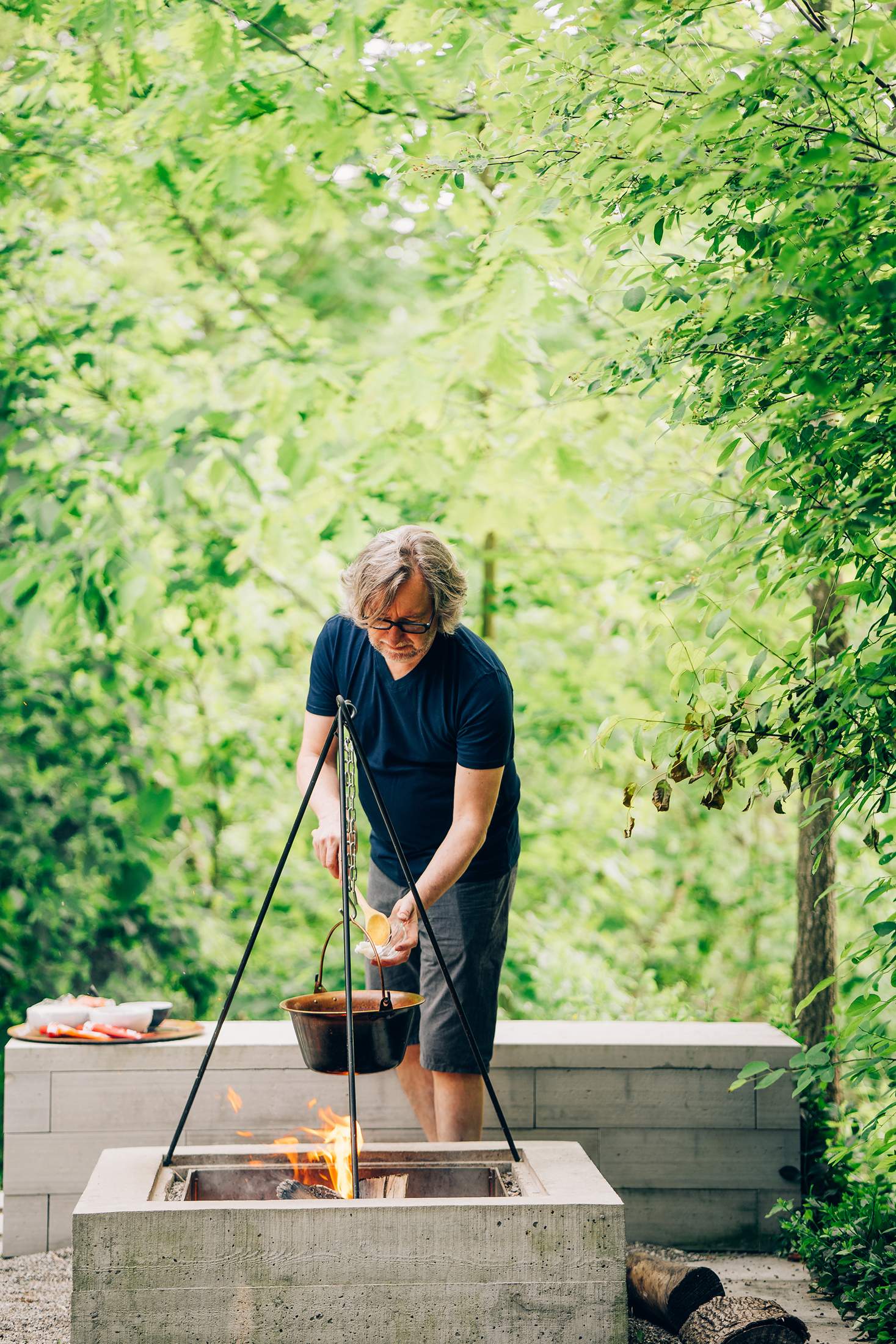 His wife, Diti Katona, explains that the dish is a family staple. Her parents, who owned a small bottled-soda company, fled Hungary in 1956 when Soviet authorities appropriated their business. "They thought, we're not sticking around for this," she says. "So they locked the front door, got on the train and crawled across the border." Katona's parents later relocated to Toronto, via Montréal, where they founded a delicatessen, Maggy's. "I loved it," she says. "The customers were the nicest part. It's where I got my yappiness from," she adds, laughing. 
Both graphic designers, she and her husband founded the Concrete design and branding agency in Toronto in 1988. Their clients are diverse, from multinational beauty brands to small-scale food and drink producers, and even the Canadian Red Cross. "We always want to do something different," says Pylypczak, of Concrete's repertoire. "We're optimists; so we're always wondering, when is that next project coming in?"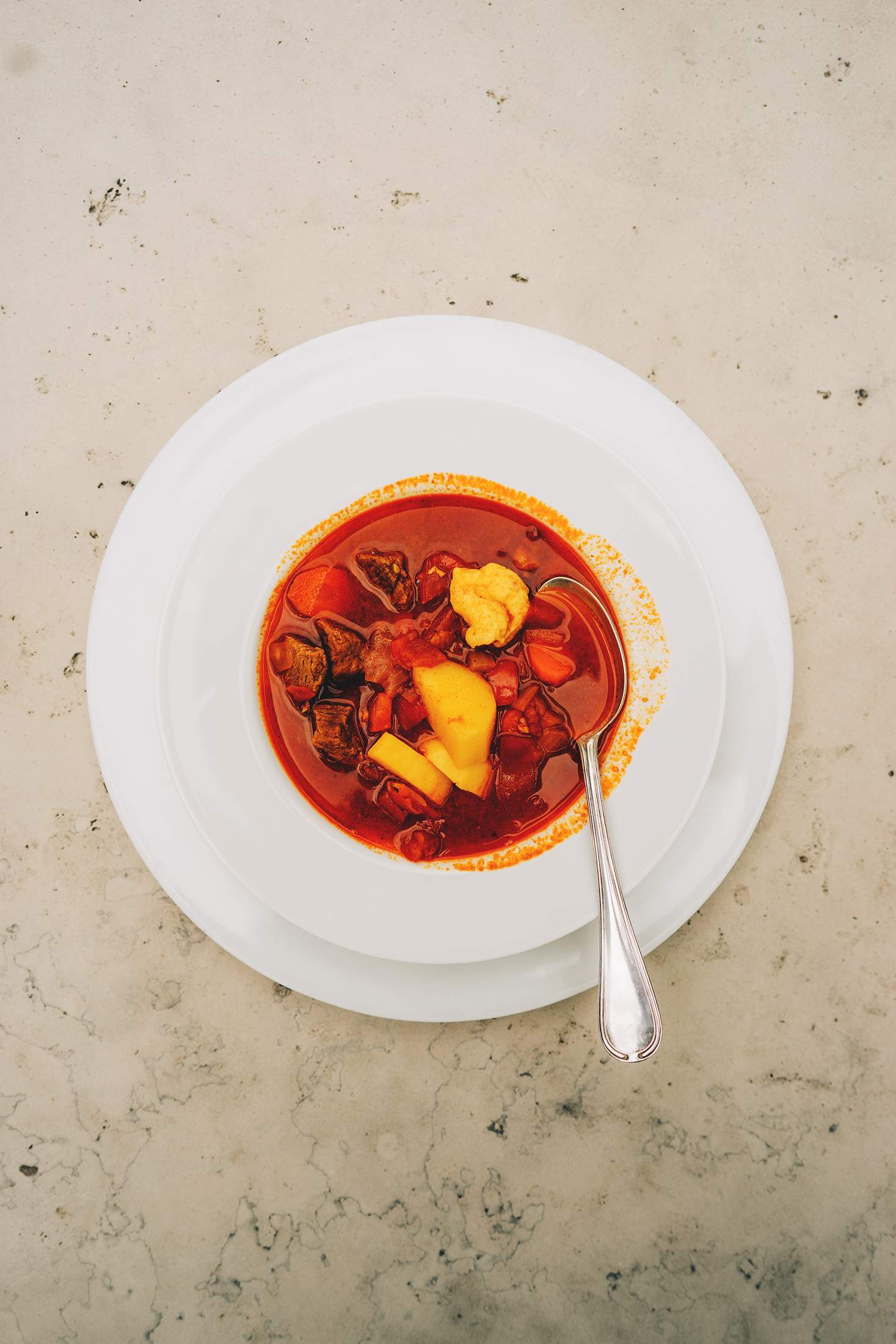 According to Katona, it's the commissions from bigger brands that allow them to partner with fledgling firms. "I've always been attracted to people who work really hard, who use their hands, who get what they're trying to accomplish," she says. It's an ethos that extends, indirectly, to life at home too. The couple's three-storey, board-formed concrete house is very open, with each floor stacked and staggered above the one below. It was designed especially for the family by the Toronto-based architect Angela Tsementzis and completed in 2014. "There had to be a timelessness about it and there's a good connection to the outdoor area," says Pylypczak. The garden backs onto the green fringes of one of the many ravines that thread through the city.
"We're the least formal people in the world, which can sometimes be a problem," says Katona. "Well, we're not slobs," adds Pylypczak, cheerily. "But we do love cooking for our friends. There's something about sharing food or a drink; it's a great thing," he says, as the cooking nears its end. "We only make the kettle goulash maybe once or twice a year," he adds. "It's great to do for a lot of people; we all sit around and drink beer and wait for the soup to simmer."
To eat: Kettle goulash; fresh baguette.
To drink: Sparkling water; Les Venerables chablis.