Blueprint / Global
Better living
Take it from us: we've spent more than a decade lifting the lid on ideal residences. Here is what we've learnt about how to build cosy homes that cater to all.
The project: Residential development.
The brief: Flexible living with generous social spaces.
Specifications: Plenty of timber and greenery throughout and spacious balconies.
Our residential development is much more than a nice place to live; its architecture helps to form a community and provides a sense of place for all who reside here. Of course, with its dashing timber exterior and well-appointed balconies, it is a handsome thing to behold but what is most attractive about this housing solution is its social design. This building's blueprint is one that emphasises quality of life at every turn. It provides amenities for everyone and blends public and private areas in such a way that creates a sense of comfort and security. With its varied apartment sizes and relaxed social vibe, it's the type of development that any tasteful resident would want to call home, from green-thumbed pensioners to design-conscious young couples.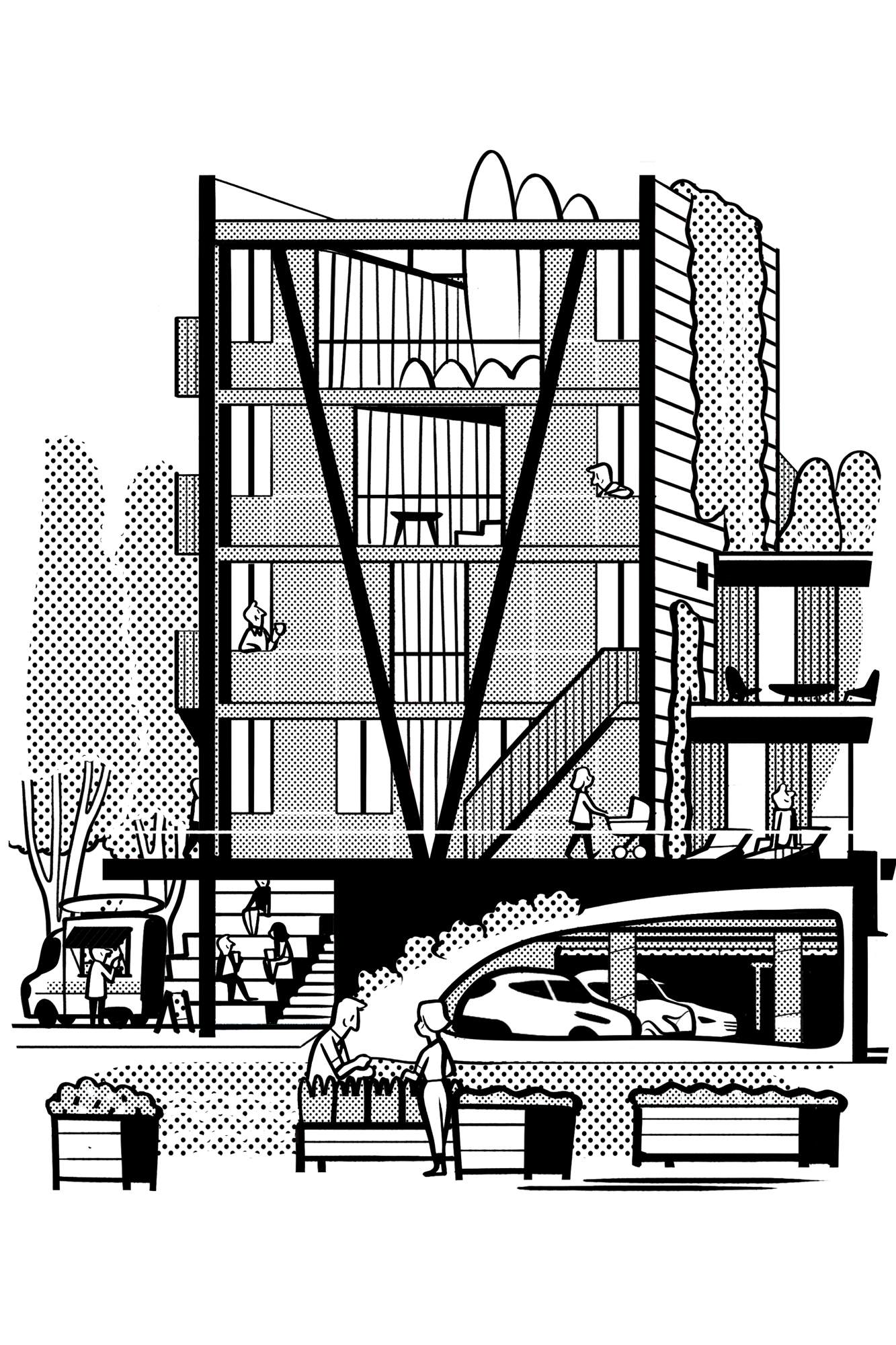 In many ways we're flipping the typical housing development on its head; rather than trying to maximise profit, we're building for community and wellbeing and creating a more meaningful kind of value. It's a model that still pays off, of course: better design means a lower impact on the environment and lower living costs for residents, and housing built with longevity in mind means that people are happy to invest a little more. By empowering community values, we also don't have to worry so much about security costs; upkeep of the grounds is left in the hands of those who live here. It's a better way to create housing and one that we encourage developers to take heed of.
---
Our housing development embraces its neighbourhood. While residents have plenty of privacy in their apartments, the building doesn't turn its back on the street. Access to lower-level homes is from wide-stepped stoops that help to form a social bridge between private and public areas.
---
Staircases to the higher levels means that entrances to the building are more varied than the typical foyer and elevator system. This gives residents the option of stretching their legs as they clamber up well-designed stairs, which weave around social spaces, creating an opportunity to wave or stay on for a longer conversation.
---
Plants and trees add much-needed life to a man-made development but they're even better when they are part of the architecture itself. By planting wisteria over nets in the most weather-exposed parts of the development, we provide a shady green wall to protect balconies from the sun. In autumn these green walls turn a beautiful shade of gold before shedding leaves so that the winter sun can warm the homes beyond the vines.
---
Our rooftop is an active one: a place for play, relaxation and a spot of gardening. The opportunity to form an environment for rooftop mingling in a space that is safe, private and very much a reflection of the building's fine architecture is one that no developer should waste. Ours is the benchmark for doing it right.
---
With all that room for play upstairs, street-level space is given over to communal gardens. Inspired by the urban allotments of Singapore, where residents of community housing blocks weave gardens into every nook and cranny, making areas that would otherwise be seen as dead space come alive. Besides providing residents with nourishment and a bit of green therapy, these are spaces where the older generation can pass on tips and tricks to the young. Our in-house brigade of seasoned gardeners feel empowered by their positions on ground level and can also keep a watchful eye on the site.
---
Not only does timber architecture look and smell great, this natural material also has proven health benefits: asthmatic residents will breathe easier and everyone who makes their home here will feel all the more relaxed. Tough, Austrian cross-laminated timber is used for the building's supporting framework; for more tactile touches, such as façades and fences, we've let our architects run wild with hinoki, beech and oak trimmings that also help give the building a naturally sophisticated appearance.
---
No expense is spared on outdoor furniture for residents, who we trust to move it around freely to form their own social settings – nothing is bolted to the ground here. We're thinking along the lines of Patricia Urquiola's outdoor furniture designed for Spain's Kettal and Italy's Cassina scattered throughout the development.
---
Nothing builds community like getting everyone together around a dinner table. That is what we do once a week thanks to a rotating series of menus from the city's best food vans (and ice-cream trucks).
---
Residential developers should never forgo the sunny outdoor room that is the balcony in favour of lowering building costs. Our building is balcony bliss. These spaces form the social architectural fabric that encourages all here to dine alfresco in the evenings and compete with each other for the liveliest planter boxes and most fertile tomato vines.
---
Multi-generational living is applied to the flexible apartment styles here, meaning that families can take over entire corners of buildings to cater for children, mum and dad, and gran and grandad too. But, of course, everyone still gets their much-needed privacy too. With apartment sizes that are not "one size fits all", a social and generational mix that matches that of the city beyond our well-made walls
is resolutely encouraged.