Blueprint / Global
On the record
A recording studio requires top technology and full comfort – as we learned when we launched our round-the-clock radio station in 2011. Here's how to fine-tune yours.
The project: Radio studio.
The brief: A cosy space with top-quality tools.
Specifications: Sound choices; nothing that goes bump on air.
Turning a lo-fi bedroom recording into a well-produced broadcast requires more than deft editing. Our recommended set-up invests in the right amount of efficient technology but also keeps things cosy. The best microphones and mixing desks ensure unparalleled sound quality but it's the atmosphere that encourages cheerful conversation and the odd confession. Location is fundamental: many radio stations are synonymous with their town or region; they are a place where commentary on the community can play out. Music-wise, radio stations can embody a city's mood – energetic in the morning, languid in the late afternoon – which is why it's important for a studio to have a view. Our ideal version lets passers-by peek in and welcomes them for a visit too.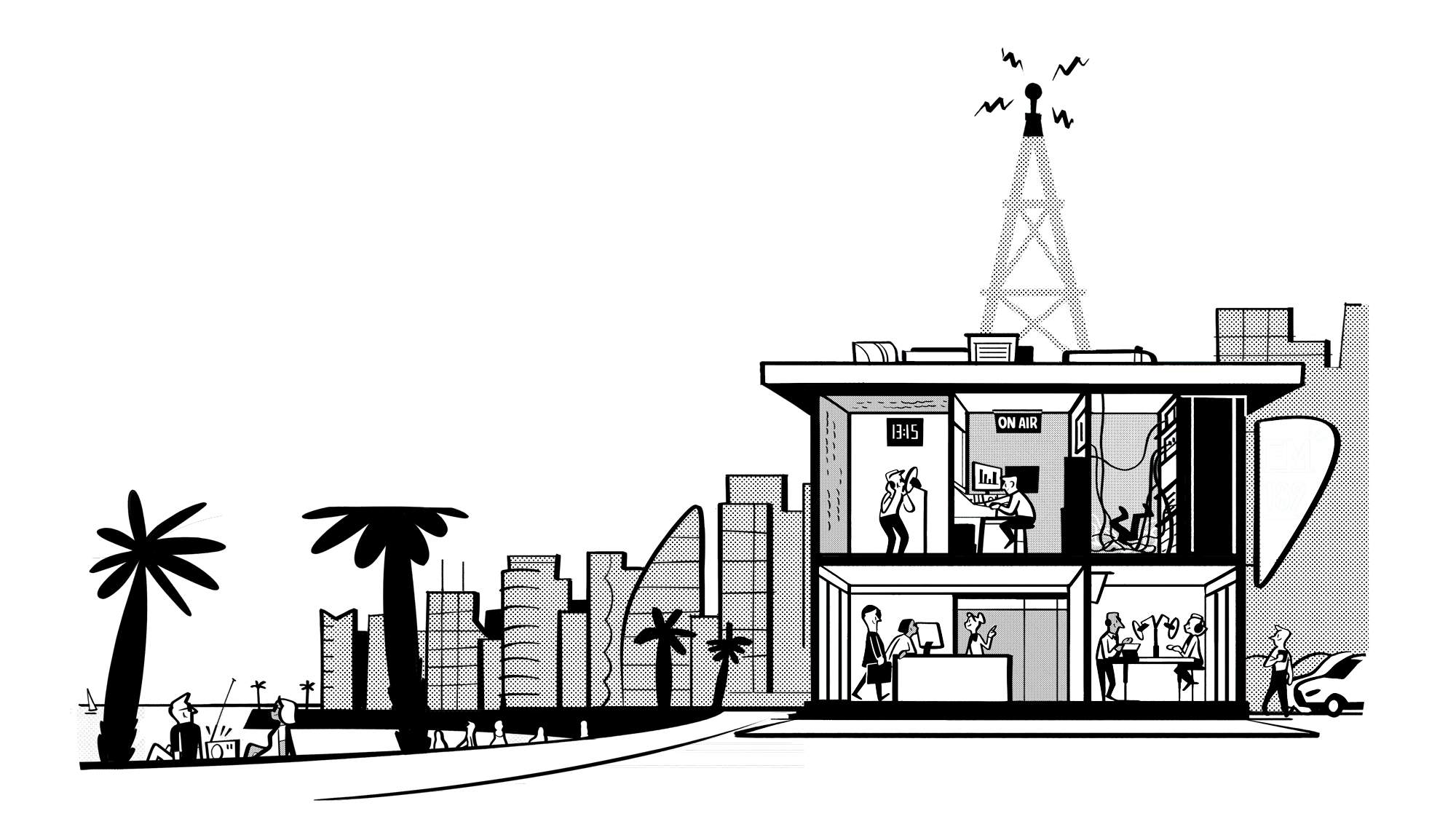 Citizens love to see how the news comes together and, in the name of journalistic transparency, our studio is fronted by a glass window so on-air activities are in full view. Hosts should feel the advantage of the see-through panel too: a pleasant vista keeps spirits high. Just don't go overboard: glass walls are a nightmare if they're not angled for sound diffusion.
Running a timely radio station requires precision, which is why high-quality equipment is a worthy investment. Bodet clocks help you deliver time-checks to the second; Sennheiser's HD 200 Pro headphones pack a powerful audio punch; and a Shure microphone is hard to beat for recording – ours is an SM7B Cardioid Dynamic, attached to a flexible arm that ensures it can be easily adjusted.
Everything in a recording studio should be inconspicuous. Our wooden desk has rounded corners. Chairs must be comfy but beware of armrests, which can bump against the table – well-balanced stools can also come in handy for a more casual set-up. And don't forget a touch-screen computer: nobody needs to hear your presenter doing some last-minute fact-finding.
The space should feel warm and inviting: goat-hair lining is a subtle (and soft)
way to insulate walls and dimmable lights help to set the mood for heart-to-heart interviews – all in the suffused glow of a visible (but not alarming) on-air sign.
5
Turn on but don't drop out
Technology in the radio world moves fast, which is why you want a modular mixing desks – so that parts can be swapped in whenever an upgrade is needed. No matter how advanced the model you buy, technical glitches will always catch you by surprise. Make sure you have a seasoned technician to call on when things go wrong.