Cosy corner / Japan
Point of view
Catching a train to Kyoto isn't just part of Tokyo-based architect Jun Aoki's weekly ritual – it's a chance for him to reflect and a constant source of inspiration.
"My favourite is a window seat on the Mount Fuji side," says Jun Aoki. "On the other side, the sun from the south is a bit too strong in the morning." The award-winning architect  has his seat reclined, shoes off, feet on the footrest and a book in hand. He is in his preferred seat – 1D – in Car 9 of the Nozomi Shinkansen departing Tokyo and heading to Kyoto. "This is a precious moment that I have alone to myself. I always read a book that has nothing to do with work; I can finish a book in a return trip."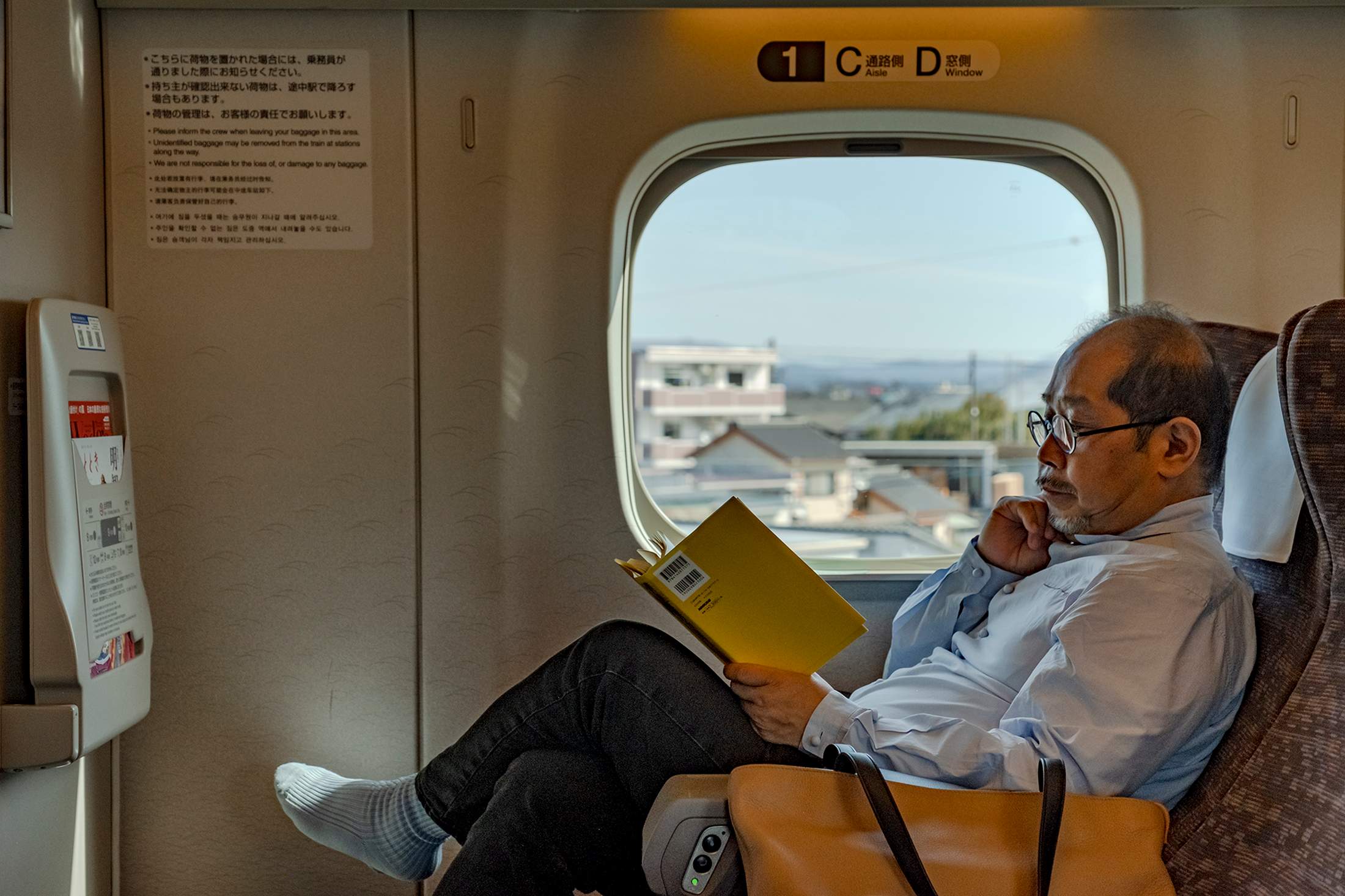 In 2015, Aoki won a competition to renovate the 1933 Kyoto City Museum of Art, which is home to a collection of modern Japanese and Western art. Since then the two-and-half-hour bullet-train journey has become a weekly ritual. "Usually, I catch the Shinkansen at 06.16; it's quieter in the morning and I can relax. When I go to Kyoto, I work from 09.00 until the last train back to Tokyo. It's a long day so I treat myself to Green Car [First Class]."
Travelling is second nature to Aoki. Born in Yokohama in 1956, the architect moved several times in his childhood. "I had a two-hour commute to university in Tokyo from Odawara," he says. "I used to sketch the changing landscape." Today he uses a notebook and a pencil. "One day in 1992, I forgot my sketchbook and bought a Kokuyo Campus notebook – the type that's available everywhere. Since then I've gone through about 160." Aoki's notebooks are an archive of his ideas, memos and sketches. Some of his ongoing projects include a residence in Tokyo, a new building for Louis Vuitton in Ginza and The Quay Club, a members' club in London's Canary Wharf.
The train speeds past Mount Fuji while a uniformed attendant walks down the aisle with her trolley. "Time flies when I design," says Aoki. "It's so fun that I feel I can do it forever. But there is a limit. I can maintain full concentration for six hours – beyond that I like to spend time doing things completely unrelated to work, such as reading or watching films."
"I had a two-hour commute to university in Tokyo from Odawara. I used to sketch the changing landscape"
The busy 63-year-old is the director of the newly opened museum in Kyoto. His renovation is striking, allowing the old building to shine, while adding crisp modern elements. Aoki runs his schedule with military precision. "My walk to work [in Tokyo] takes an hour," he says. "It's a mental warm-up. I need that empty time to think about nothing in order to be creative."
Repeating the same Shinkansen trip hasn't exhausted Aoki's curiosity. "You see the same scenery but you discover different things every time," he says. His only complaint? "The speed of a local train is ideal for watching the changing scenery; the Shinkansen is a little too fast."
---
The CV:
1956 Born in Yokohama
1980 Graduates from University of Tokyo
1982 Completes masters in architecture at University of Tokyo
1983 Joins architecture firm Arata Isozaki & Associates
1991 Establishes Jun Aoki & Associates
2000 Wins award for Aomori Museum of Modern Art
2004 Wins award for Louis Vuitton Omotesando
2020 Renovates Kyoto City Museum of Art