Recipes / Global
Season to taste
We share eight easy recipes, from a Sunday morning loaf to a light supper and some Vietnamese sandwiches to enjoy on the go.
ralph schelling 
Okonomiyaki
This Japanese version of the pancake fully rewards the intrepid shopper and chef. Makes four pancakes.
For the dough:
150g flour
1½ tsps baking powder
200ml water
3 eggs
1½ tsps salt

For the filling:
150g white cabbage
1 spring onion
100g squid (or prawns) in 1cm pieces
Okonomi sauce (such as Bulldog, available at most Asian supermarkets)
Japanese mayonnaise (such as Kewpie)
Powdered aonori (algae)
Katsuobushi (bonito fish flakes)
1. Mix the ingredients for the dough in a bowl.
2. Cut the cabbage and spring onion into 5mm strips. Add them to the dough with the squid or prawns, and mix. Pour roughly a quarter of the dough into a frying pan – like a pancake – and fry on a medium heat for about 4 minutes on each side.
3. Plate and top with okonomi sauce and mayonnaise, and finish with aonori, katsuobushi and diced spring onion. Enjoy it, then make the other three.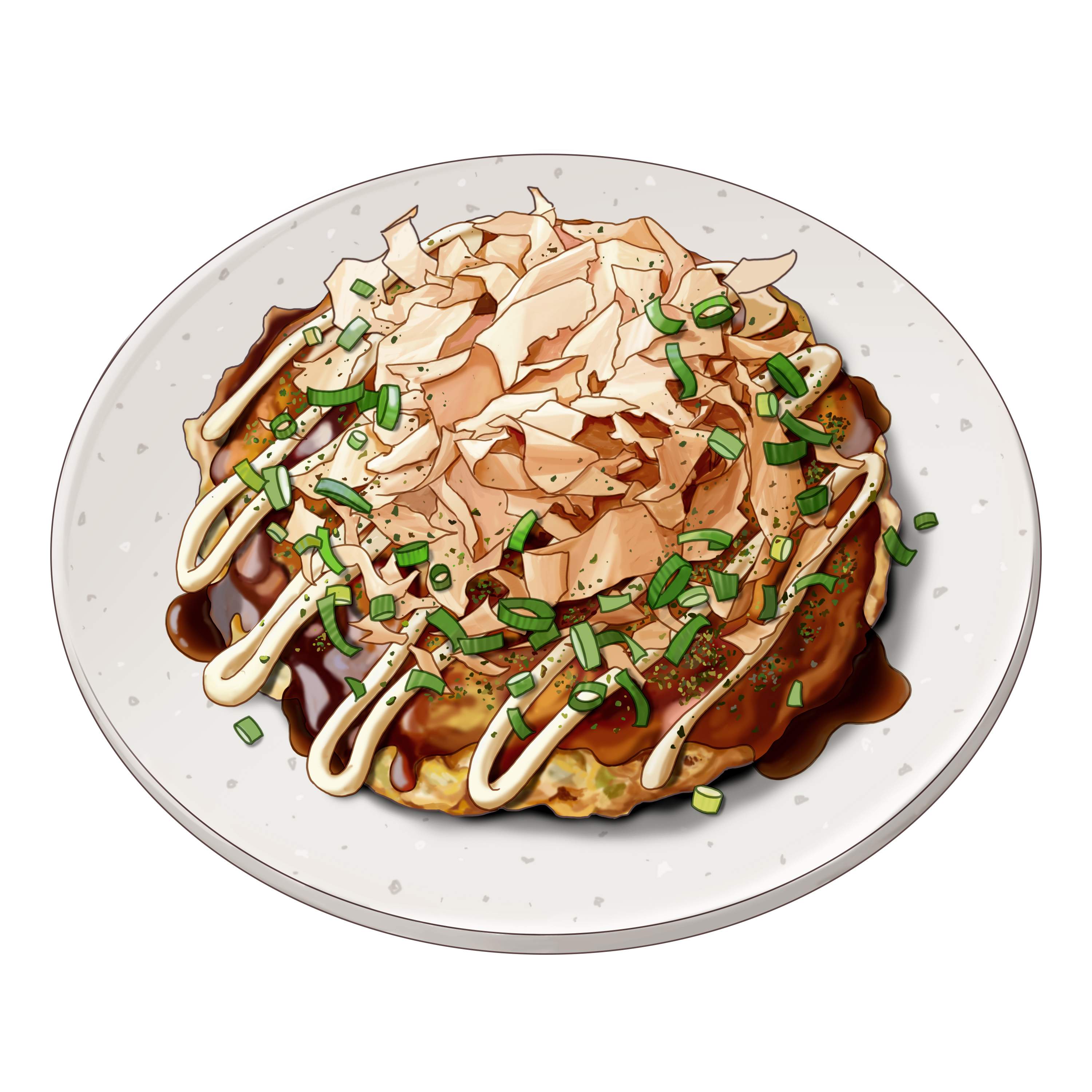 ---
ralph schelling 
Sunday brioche
Although this buttery beauty might need to rise three times to give it the correct texture, it can be made in a morning and then sliced, frozen and toasted.
800g strong white bread flour
35g fresh yeast
300ml milk, lukewarm
4 tbsps of white sugar
2 tsps salt
350g butter, soft
4 eggs
For the egg wash:
1 egg yolk
20ml milk
1. Combine the yeast, milk, sugar and salt with the flour. Knead for 5 minutes until elastic and glossy.
2. Cover and leave to rise in a warm place for 30 minutes.
3. Add the butter, bit by bit, and eggs, one at a time, to the dough. Knead for another 5 minutes or mix in a food processor with a dough hook.
4. Cover and leave to rise in a warm place for 30 minutes.
5. Grease the loaf tin with butter and add the dough, then leave to rise (for the last time) in a warm place for 20 minutes. Preheat the oven to 180c.
6. For the egg wash, mix the additional egg yolk with milk and apply it to the top of the loaf with a pastry brush just before it enters the oven. Bake for 45 minutes and leave to cool in the tin before turning out and tucking in.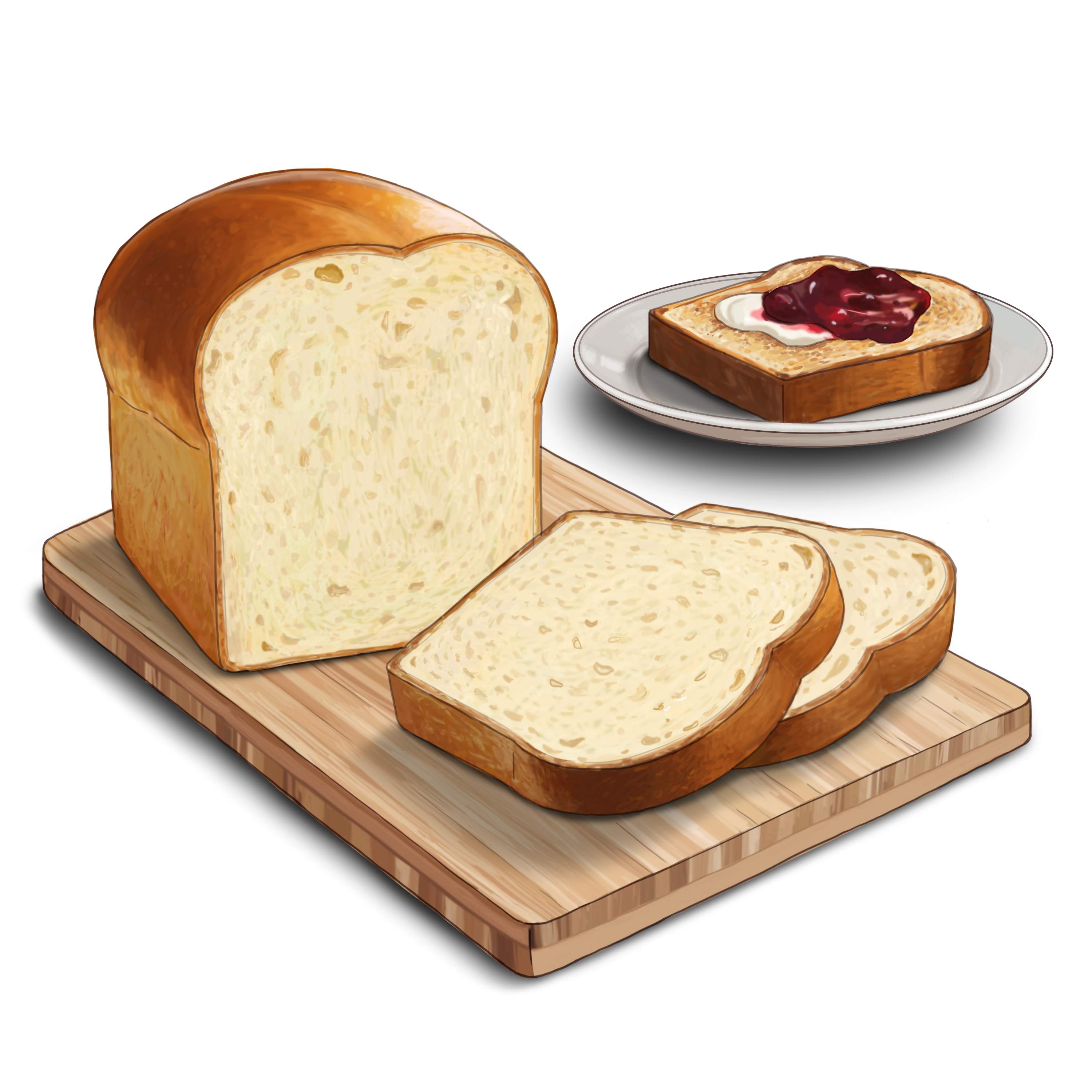 ---
aya nishimura
Breton galette
With plenty of gruyère and lashings of butter, a buckwheat crêpe is a French classic. Makes four galettes.
115g buckwheat flour
¼ tsp salt
1 large egg
60ml whole milk
50ml water
15g butter, melted
20g butter
4 slices of ham
4 eggs
60g gruyère, grated
1. Put the flour and salt in a medium mixing bowl and make a dent in the middle.
2. Whisk the milk, water and egg in a separate bowl until mixed.
3. Pour the liquid into the dent and whisk until there are no lumps. Set aside for 30 minutes to help the consistency. You can prepare the evening before but it also works if you're making the galettes straight away.
4. Pour the melted butter into the galette mixture. Melt a quarter of the rest of the butter in a frying pan. When melted, pour in half a ladleful of the batter and tilt to cover the bottom of the pan.
5. Cook for 2 minutes until the edge of the galette starts to crisp and come away from the pan. Flip the galette. Place the ham in the middle of the batter, then break the egg on top. Use a spatula to stop the egg from sliding off. Fold the 4 sides of the galette to make a square shape (as pictured).
6. Cover the pan with a lid and cook until the egg white is set but the yolk is still runny. Carefully lift the galette from the pan and plate it, then grate the cheese over the top.
7. Sprinkle black pepper and eat while warm. Repeat with the rest of the batter.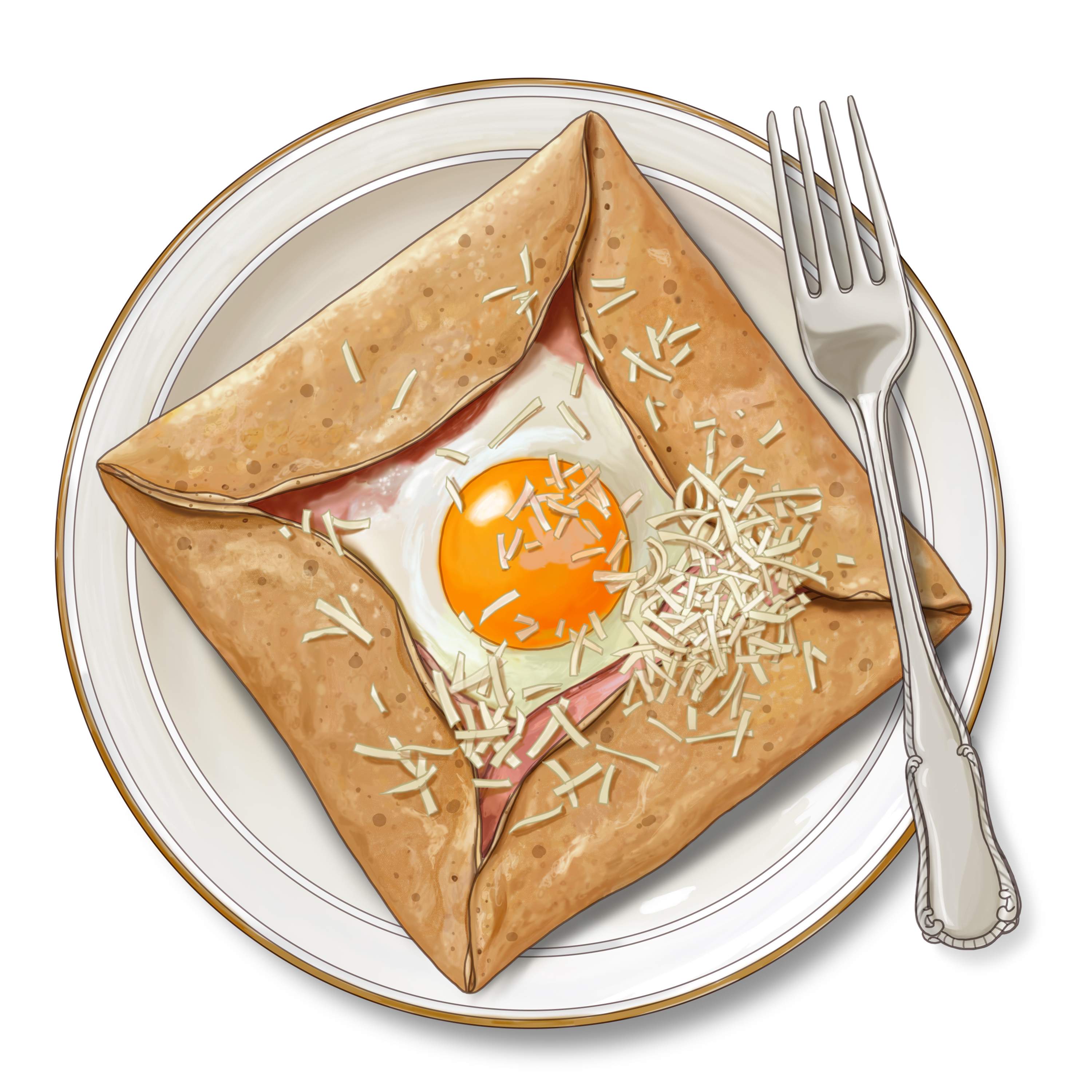 ---
aya nishimura
Bahn Mi Sandwich
This Vietnamese-influenced take on the sandwich has plenty of bite, lots of fresh herbs and a good side of sizzle. Some marinating and pickling is required so it's best to start before you're hungry.
2 large chicken-thigh fillets, skin and bone removed
2 cloves of garlic, crushed
1 tbsp fish sauce
1 tbsp light brown sugar
1 tbsp carrot, finely chopped into matchsticks
120ml water
60ml rice vinegar
50g sugar
¼ tsp sea salt
1 baguette, cut in half
2 tbsps mayonnaise
15g coriander, roughly chopped
1 red chilli, thinly sliced
1. Mix the garlic, fish sauce and sugar, and coat chicken with it. Marinate for at least 30 minutes or overnight in fridge.
2. To prepare the pickled carrot, pack the chopped carrot into a small jar. Mix the vinegar, water, sugar and salt in a saucepan and bring to a simmer over a low heat. Cook until the sugar and salt dissolve. Pour the hot liquid over the carrots, in the jar. Set aside to pickle for 30 minutes.
3. Preheat the oven to 180c.
4. Heat a griddle pan until it is very hot and smoky; cook the chicken for 3 minutes on each side, until griddle marks appear. Remove from the pan and place onto a baking tray.
5. Bake the chicken in the oven for 10 to 15 minutes, until cooked through.
6. Remove from the oven and let it rest for 5 minutes, then slice into 1cm-thick slices.
7. Cut the baguette to open it up and spread the mayonnaise inside. Add the chicken and pickled carrot. Sprinkle with coriander and sliced chillies to serve.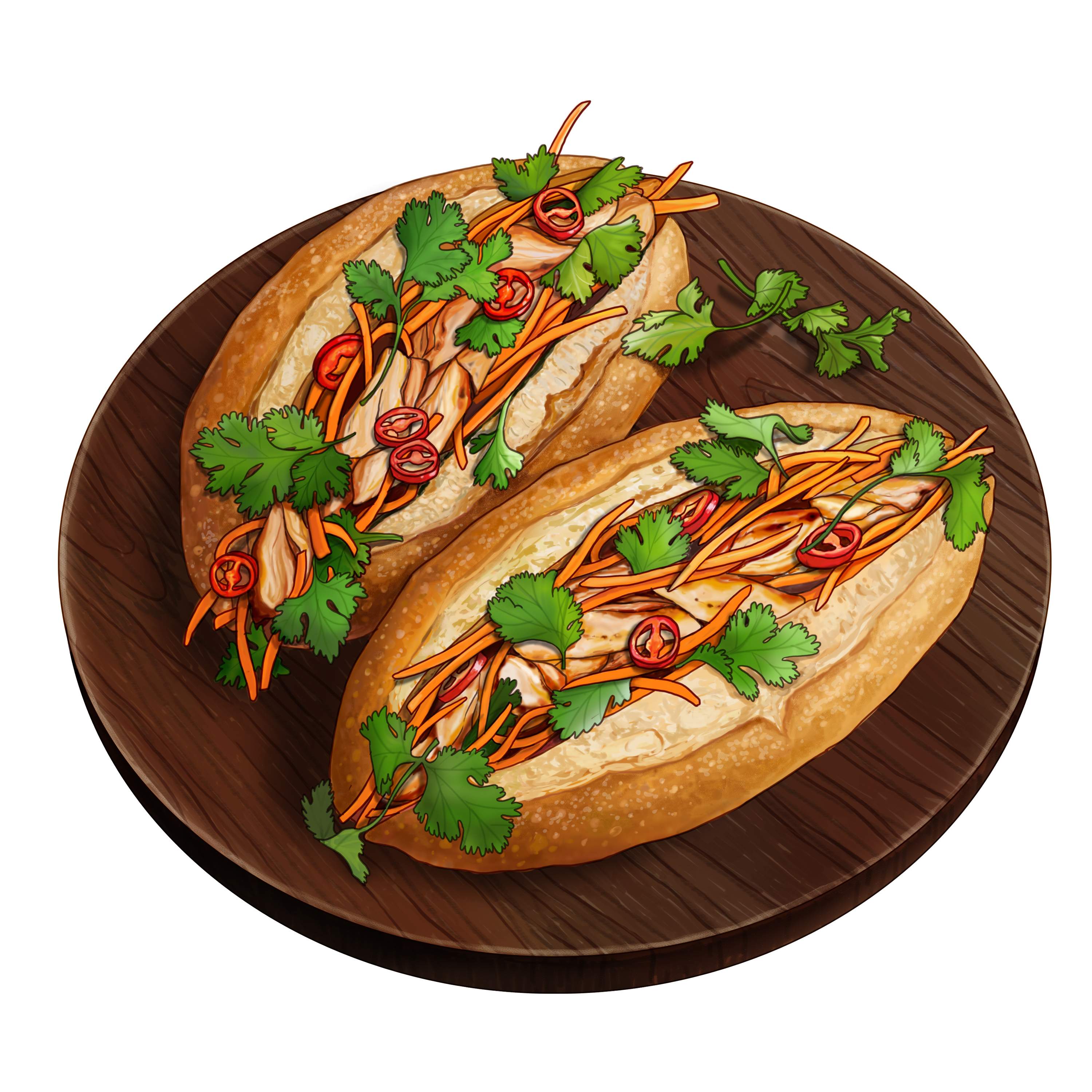 ---
aya nishimura
Asparagus carbonara
A simple riff on an Italian classic that's unctuous, eggy and deliciously rich.
10 asparagus, each cut into 3
60g prosciutto ham
1½ tbsps olive oil
3 garlic cloves, finely chopped
3 medium organic egg yolks
80g parmesan, finely grated
20 turns of crushed black pepper
200g spaghetti
Extra parmesan, black pepper
1. Heat 1 tbsp olive oil in a frying pan over medium heat, lay the slices of ham without overlapping. Cook until dark and crisp, then flip and repeat. 
2. Once cooked on both sides, remove from the pan and lay on kitchen paper to drain.
3. Add half a tbsp oil and chopped garlic to the pan and heat until golden in colour.
4. Bring water to boil in a large pan, add salt and spaghetti. Cook to packet instructions.
5. In a large mixing bowl, tip in the cooked garlic, egg yolks, grated parmesan and crushed black pepper, add 2 tbsps of starchy pasta water. Mix until everything is incorporated.
6. Add asparagus to the pasta and water for the last minute of its cooking time. When it's cooked, drain the water and add over the egg-yolk mixture. Leave it to stand for 1 minute.
7. Mix thoroughly with tongs to make sure the cheesy sauce coats the pasta evenly. Break the crispy prosciutto roughly and mix into the pasta. Save a few pieces to garnish.
8. Divide pasta into two wide, deep bowls, sprinkle crispy ham, extra cheese
and black pepper on top. Serve immediately.
---
ralph schelling 
Beef salad with kaffir limes and toasted chilli
This Asian-inspired beef salad from our Asian-inspired Swiss chef supplies a fresh hint of mint and coriander to counter the zing of chilli.
1 lime
2 kaffir lime leaves 
12g fresh coriander (with stems)
1 garlic clove
½ hot chilli pepper with seeds, diced
1 tsp cane sugar
250g beef fillet
Coarse salt
Black pepper
2 tbsps coconut oil
1 shallot
1 bunch spring leek
½ cucumber
1 mini lettuce
1 tbsp fish sauce (or soy sauce)
12g mint leaves
½ tsp roasted chilli flakes
1. Zest and squeeze the lime. Finely chop the kaffir leaves, separate the coriander stems (set leaves aside for later) and combine in a mortar with the garlic, chopped kaffir lime leaves, chilli and the cane sugar to form a paste.
2. Preheat oven to 130c. Season the meat and fry on a hot heat in a pan with half of the oil for a few minutes, until browned on both sides. Move meat to oven and leave for 15 minutes.
3. While that's cooking, finely chop the shallot, leek, cucumber and lettuce.
4. Mix the paste with the remaining oil, the fish sauce and lime juice.
5. Remove the meat from the oven when it's done. Slice it thinly and mix with the vegetables and sauce. Add diced coriander leaves and mint leaves, arrange in bowls, then serve.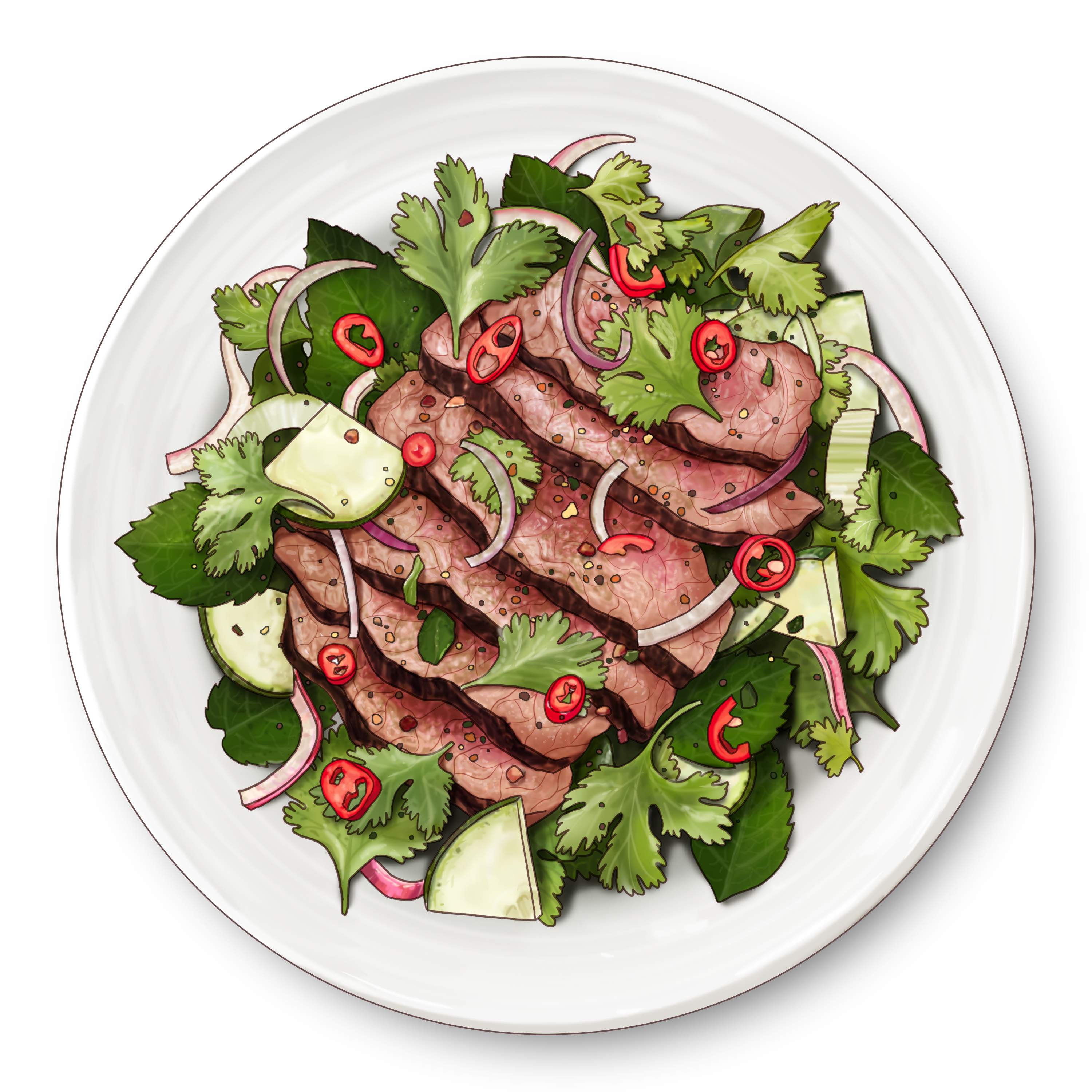 ---
ralph schelling 
Mussels with garlic breadcrumbs
This recipe for mussels is quick and simple. Give it heft with fresh bread.
1.5kg mussels
8 prawns (with head on)
100ml white wine
Half a lemon, sliced
100g breadcrumbs
6 tbsps of olive oil
½ pepperoncini (pepper)
2 garlic cloves, diced
25g parsley
Salt
Pepper
1. Preheat oven to 180c. Break bread into 1cm pieces. Mix with half the oil, the sliced pepperoncini and garlic on a baking tray lined with baking paper. Roast in oven for 15 minutes. Remove, cool and add parsley. Season to taste.
2. Clean mussels and fry in a pan in the remaining olive oil. Add prawns to the fried mussels then white wine and cook covered for 5 minutes. Discard the still-closed mussels and season to taste.
3. Arrange mussels with the stock in shallow bowls. Scatter with breadcrumbs to serve (with a slice of lemon). Simple, eh?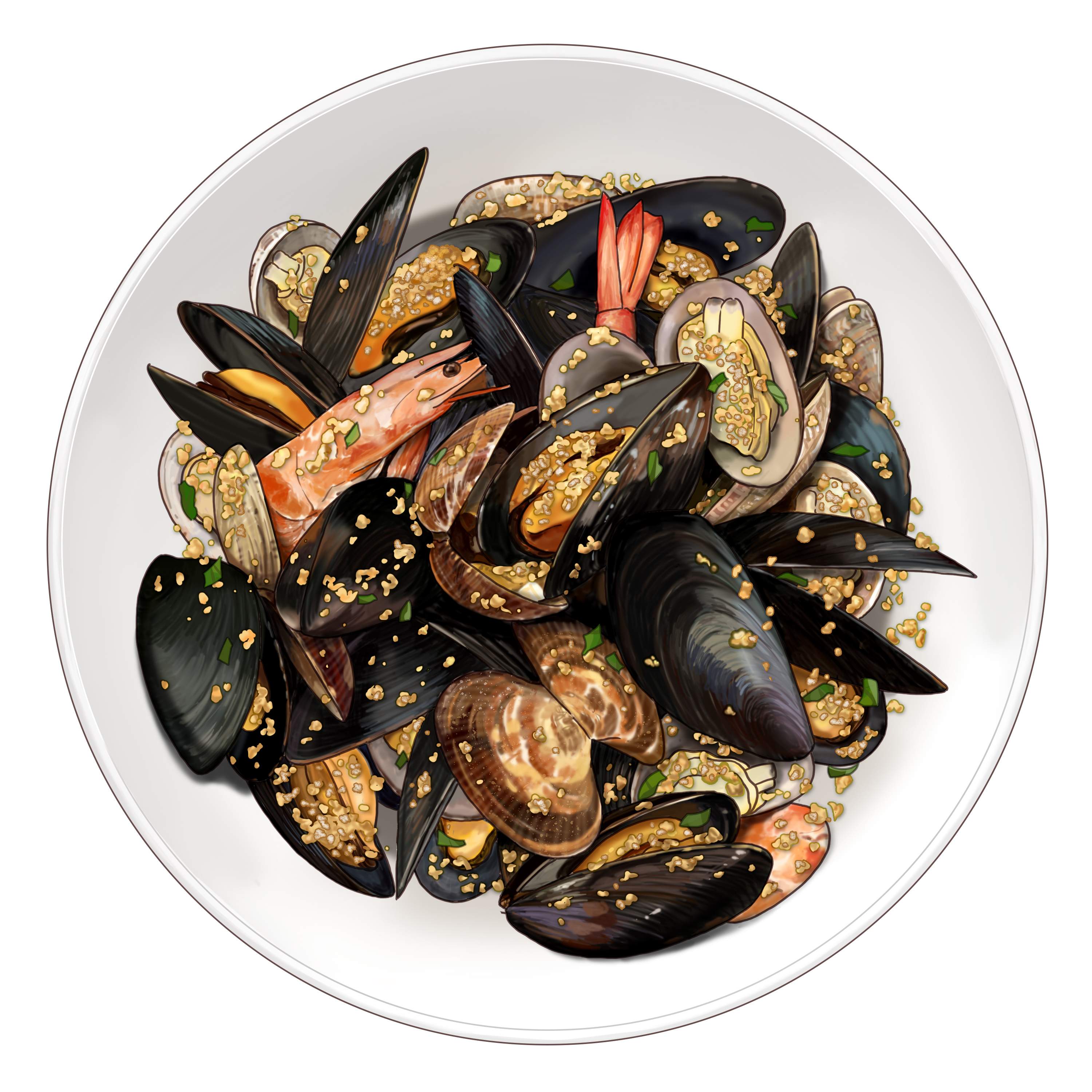 ---
ralph schelling
Persian omelette with spinach and dill
Here's a tempting herby crossover between a classic French omelette and a crêpe. It's good when served in strips to garnish a soup and also works served cold with cream cheese as an inventive starter. Serves two.
200g spring spinach
25g fresh dill
1 bunch of spring onions
6 eggs
130g flour
Salt
Pepper
2 tbsps olive oil
1. Chop the spinach, dill and spring onions coarsely and then mix them all together with three of the eggs.
2. Add the remaining three eggs then stir in the flour.
3. Heat the oil in a non-stick pan and fry the mixture in three portions – your omelette should be slightly thicker than a pancake – on both sides for about 2 minutes, then serve.