Blueprint / Global
Talk of the town
In the first part of our grand draft to upgrade urban living, we outline the sights, sounds, spaces and street life that should be the starting points for every city neighbourhood.
So, first things first, a confession: you can't simply commission the perfect neighbourhood from scratch. These tight-knit building blocks of cities are communities best forged over time. To flourish, neighbourhoods need many but not necessarily all the ingredients that we've detailed here, from layered architecture to walkable streets and greenery. Throughout the issue we seize on a few imagined ideas – including our own camper van to escape the city, an ideal radio studio, a residential development, a market and a department store – to inject some fun into city life. We've also suggested how they can slot together to create a rather decent urban oasis in the form of an exemplary neighbourhood.
In our plan for this ideal district we've allowed space for people to grow and kick back with nature, as well as places to shop, meet and natter. We've also thought through a few aspects of urban life that don't often make the blueprint: cities should offer aural delights as well as visual ones; natural materials and spaces for birds to roost can be as important as cycle lanes; somewhere to make things is essential, as is a local newspaper. And we've left some room for eccentricity and humanity. After all, what's a community without people in it to take pride in the place, look out for each other and form a sense of attachment with their patch?
So think of our imagined neighbourhood as something like a recipe (for something like a loaf of bread): it needs time to prove and improve, a little deft kneading, a relatively simple list of ingredients and a little life to bring the lot together. May we show you around?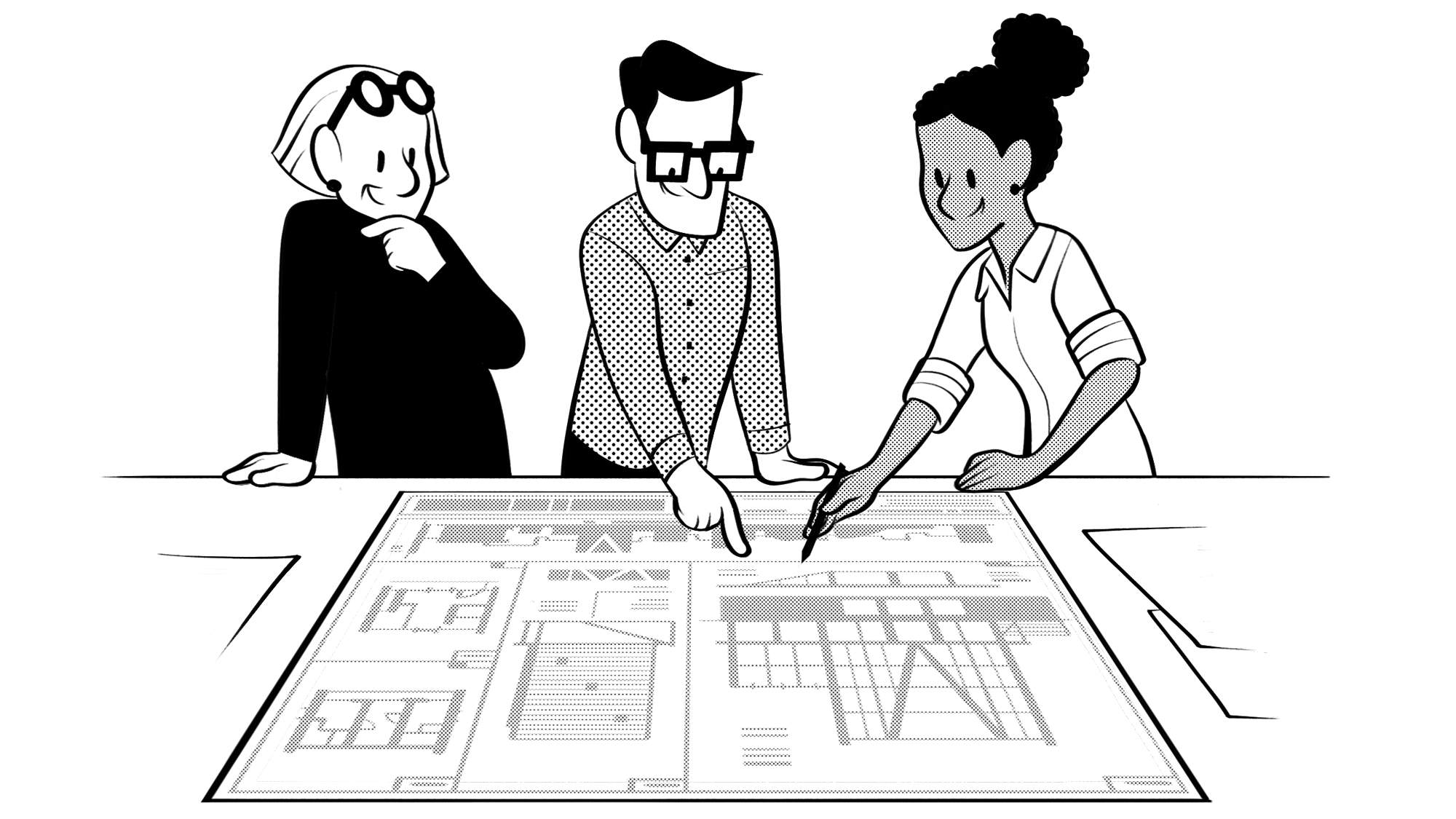 ---
The Blueprint: #1
The project: The ideal neighbourhood.
The brief: A city district that serves the needs and wants of its inhabitants so that they take pride in the area in which they live.
Specifications: Nature, culture, activity, accessibility and amenities should go a long way to engaging the community.
1
Build projects for people
Residential developments can be planned on a human scale with natural materials. If you can't shout up to a friend's window then perhaps it's too high. Density doesn't have to mean tall towers.
Cities should not only be visual but aural too. Think of the sound of water, for example, from drinking fountains or facilities where you can wash your hands. Make these from stone so they look and sound good – rather than just a kitchen tap bolted on to a public sink.
A mixture of housing stock takes into account that the world wants more than just luxury two-bedroom apartments. So let's make some room for the empty-nesters, silver set and bright young things of all backgrounds – what about adaptable spaces for generations to share?
A marketplace for fresh food – and in which fresh businesses can flourish.
Allotments, hives, rooftop farms and a nice community garden; pools, courts and space to run. Public health is vitally important and it requires investment.
Greenery and shared space in which to unwind and, ideally, clean water in which to plunge. Also some mature trees, please. It'll be a lifetime before those saplings can offer shade or limbs sturdy enough to climb.
Wide pavements for walkers and cafés to share and spill out onto. If we all took care of an extra few metres outside our door or beyond our private hedge, the city would start to look a little better tended.
Museums in the wee hours; perhaps a dive bar that hosts live music. 
A bandstand for public performances and upon which children can conduct fictional concerts and picnics can unfold when the ground is damp. The Victorians got this one right.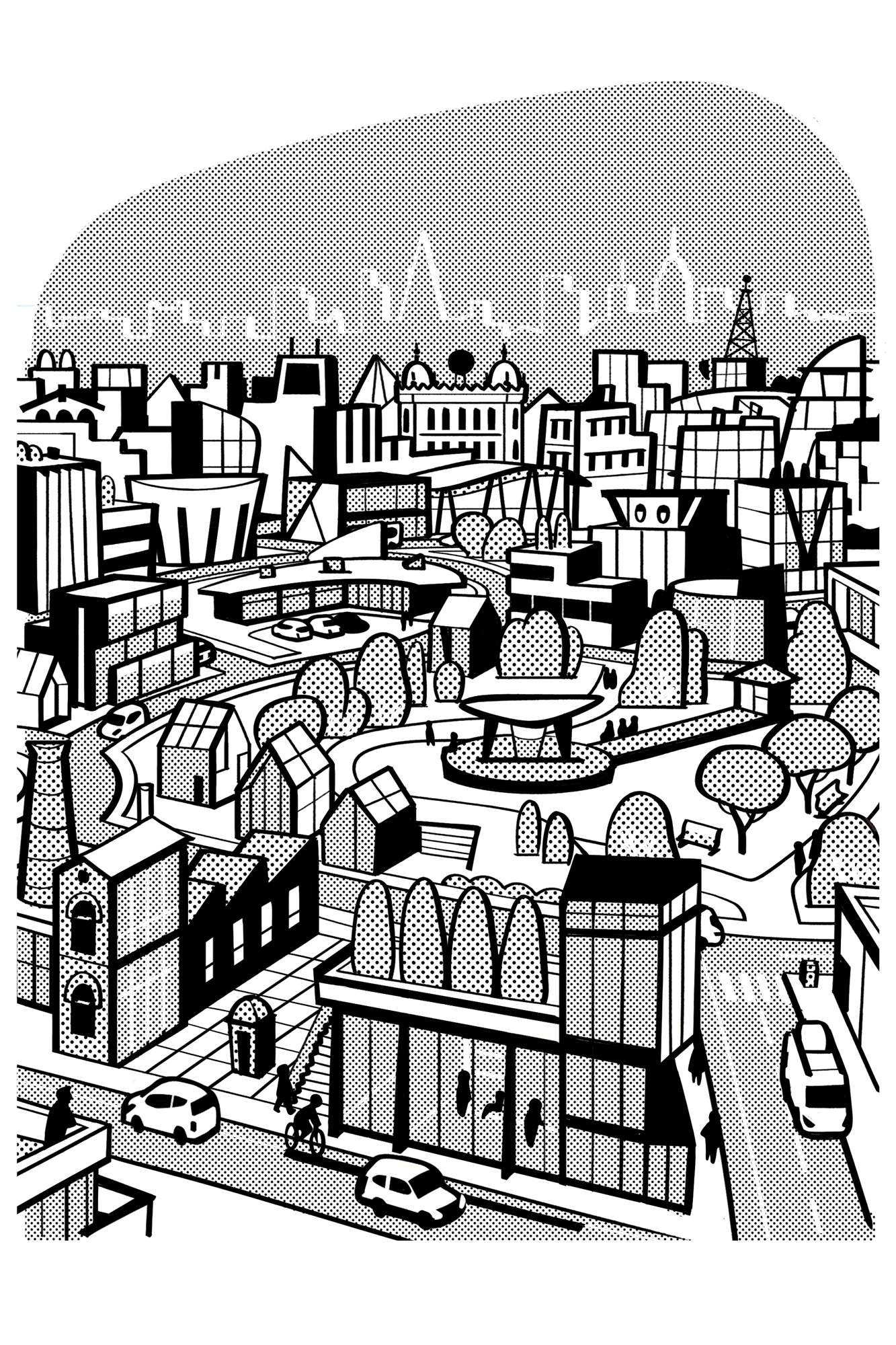 Maybe even a healthy rivalry with the next-door neighbourhood? They win at hockey but we're the undisputed kings of tiddlywinks; they have the best high school but our university is top. 
An encouraging wayfinding scheme helps to build a visual identity and enables newcomers to find their way.
It's important to remember what came before. Those handsome old factories are part of the area's inheritance; they should be celebrated and renewed rather than bulldozed and forgotten. We are the stories that we tell each other.
A local newspaper creates community, discourse and diversion, and can hold any useless, money-grabbing civic politicians to account. More media in general, please: a kiosk; a shopfront radio station.
Space for animals, such as bird boxes and bird bricks.
Parking that protects the cycle lanes, alongside some space to store bikes by the station. A good bus connection and boat service – and lots of crossings that make walking around the city easy.
A tasteful public sculpture or artwork shows a level of neighbourhood trust, investment and inspiration.
A free street library in a phone box can do wonders.
18
Oddity and imperfection
So the concrete university building or the postmodern pump house aren't to everyone's taste and the blue plaque commemorating the writer who was born there is on the wrong house. But it's OK. It is these sorts of quirks and misfiring monuments that add humour and humanity to our cities. Not everyone wants an identical house on an identical lane in suburbia; cities are best when we celebrate their difference rather than gun for homogeneity.
19
Life on different levels
Basements flats with unexpected gardens. Third-floor views from balconies
and rooftops. City living should be layered but also designed with the modesty of people's sightlines in mind.
Remember them? Our ideal one is for independents that deliver for the community precisely because they don't deliver to all corners of the country. There's the hardware shop that runs classes on renovating furniture and fixing up your house; the florist that supplies the area's businesses and cafés; plus staples such as the hairdresser and coffee house with spaces, cheap rents and flexible agreements to promote pop-ups and new businesses.
Not a branded company that offers to rent drills and 3D printers but a naturally soundproofed mews where hammering happens, clattering can be tolerated and things are made from wood, wicker, wax and metal in a hive of light industry. There's even a neighbourhood bottled beer and a small printing press from which the local rag springs every Thursday evening.
A physical point at which you can check for babysitters, garage sales, goings on and to help the neighbourhood stay connected – even if you don't fancy Sally's samba class or trumpet lessons with Terry.
From a modern town hall that can be hired to host weddings, concerts and the like to a bookshop with extra seating, a patio and a takeaway coffee hatch, we need to build comfortable places in which we can speak to other people.