Merchandise / Global
The Monocle Shop
It's time to embrace the season. Whether you're relaxing close to home this summer or exploring distant shores, we've put together an exclusive collection of smart clothing and handy accessories to ensure that you're always ready for the journey ahead.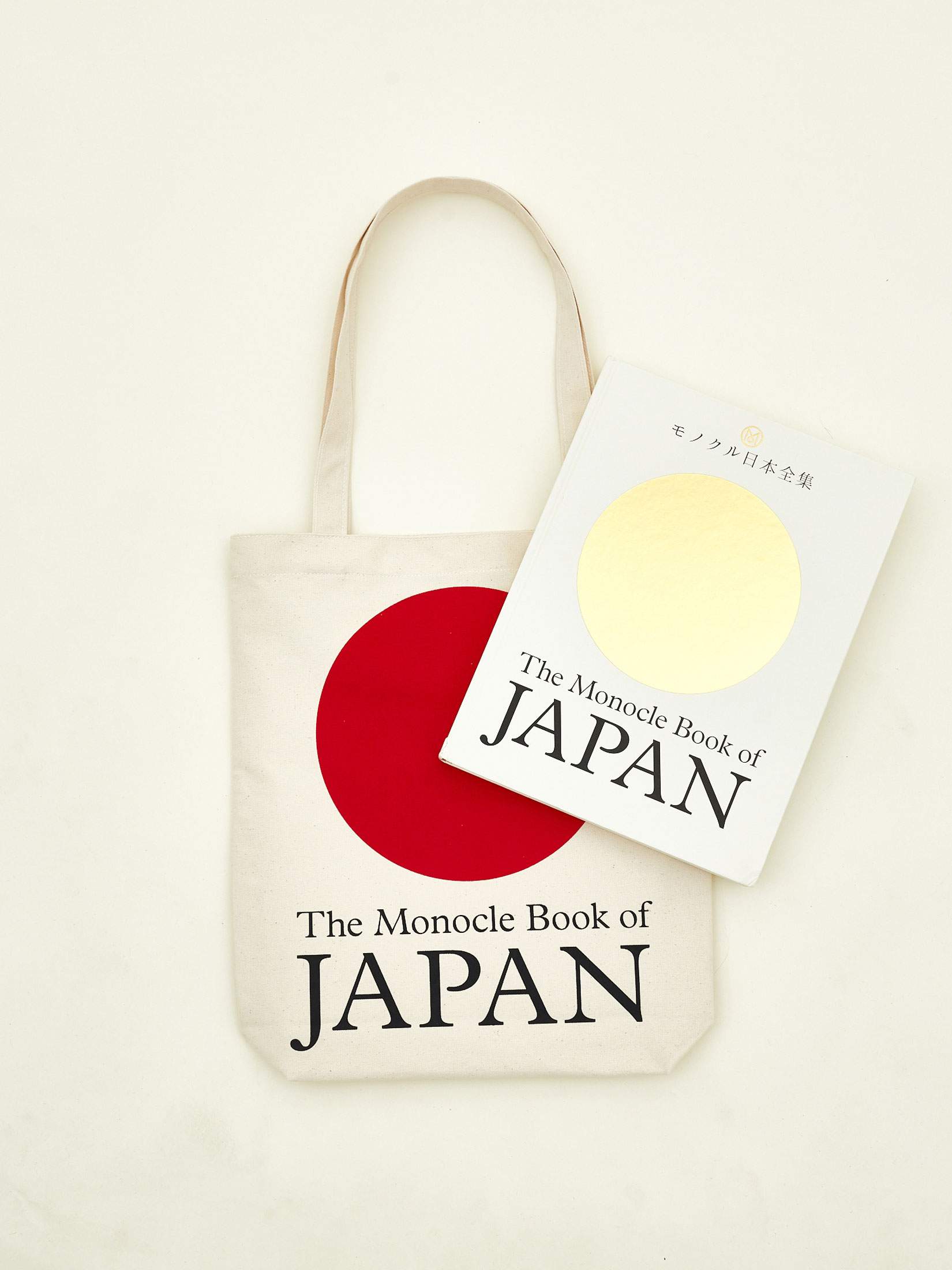 'The Monocle Book of Japan' and limited-edition tote
£65 (book and tote)
You can never have too many totes. That's why we've made a custom one to celebrate our latest release: The Monocle Book of Japan. Designed by us, it features the book's eye-catching cover and can be purchased as a set with the book.
material: Cotton.
dimensions: 40cm x 30cm.
made in: Japan.
---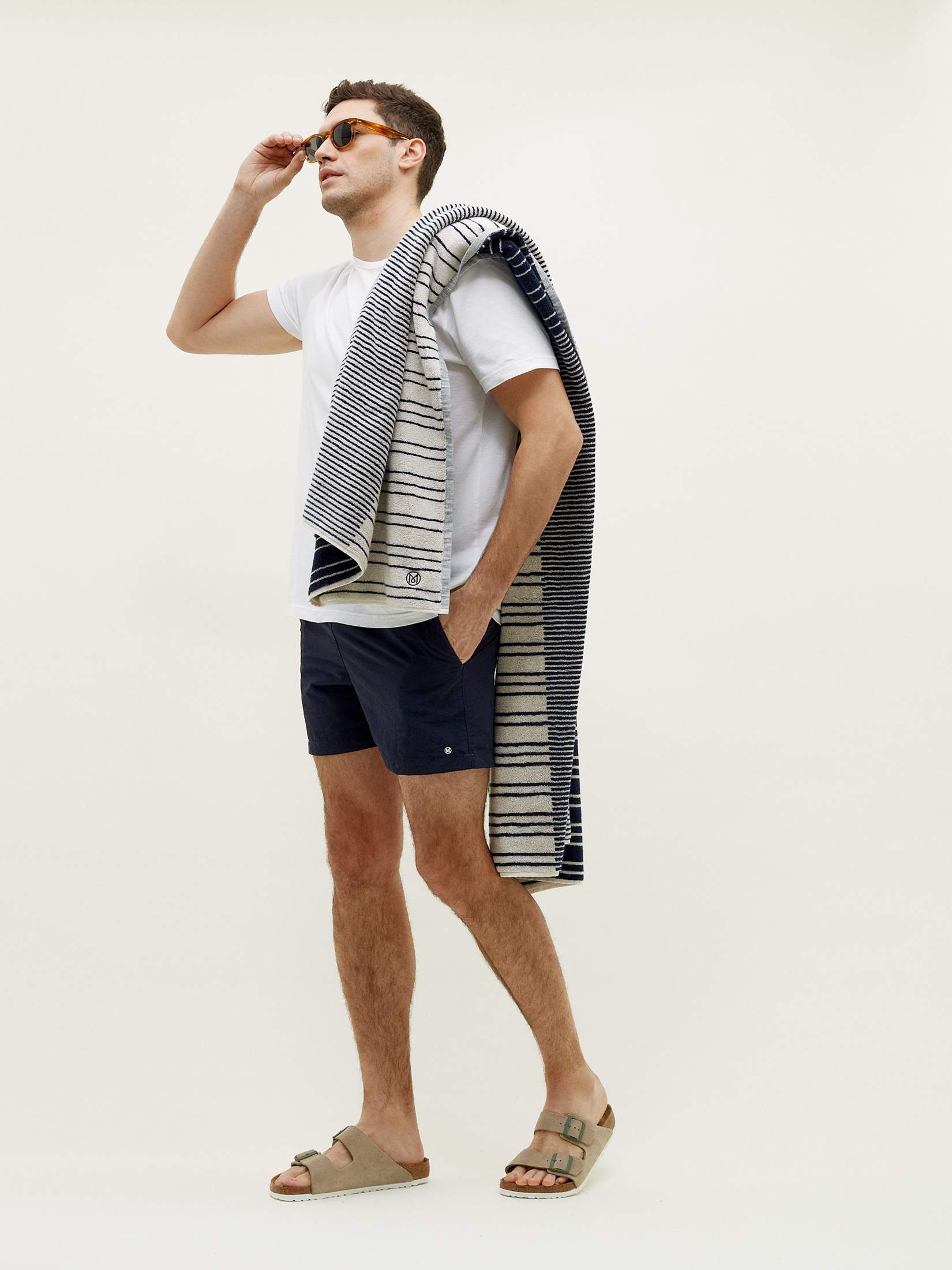 Tekla x Monocle striped beach towel
£95
This thick jacquard towel by Copenhagen-based textile brand Tekla is both soft and absorbent. The exclusive navy and light-grey striped design will add a smart tone to your beach edit.
material: Terry cotton.
colours: Navy and light-grey.
size: 100cm x 165cm.
made in: Portugal.
Monocle swimming trunks
£75
Made from lightweight and fast-drying fabric, the trunks are a high-quality no-fuss addition to your beachwear wardrobe, with an elasticated waist for a comfortable fit.
materials: Polyamide and polyester (lining).
colour: Navy.
sizes: s–xl.
made in: Portugal.
Article One x Monocle sunglasses Havana blonde
£295
These frames are hewn from hand-dyed, Havana blonde acetate by craftsmen in a small factory in the shadow of the snow-capped Dolomites.
material: Acetate.
colour: Havana blonde.
dimensions: 47-24-145 (glass shape).
made in: Italy.
---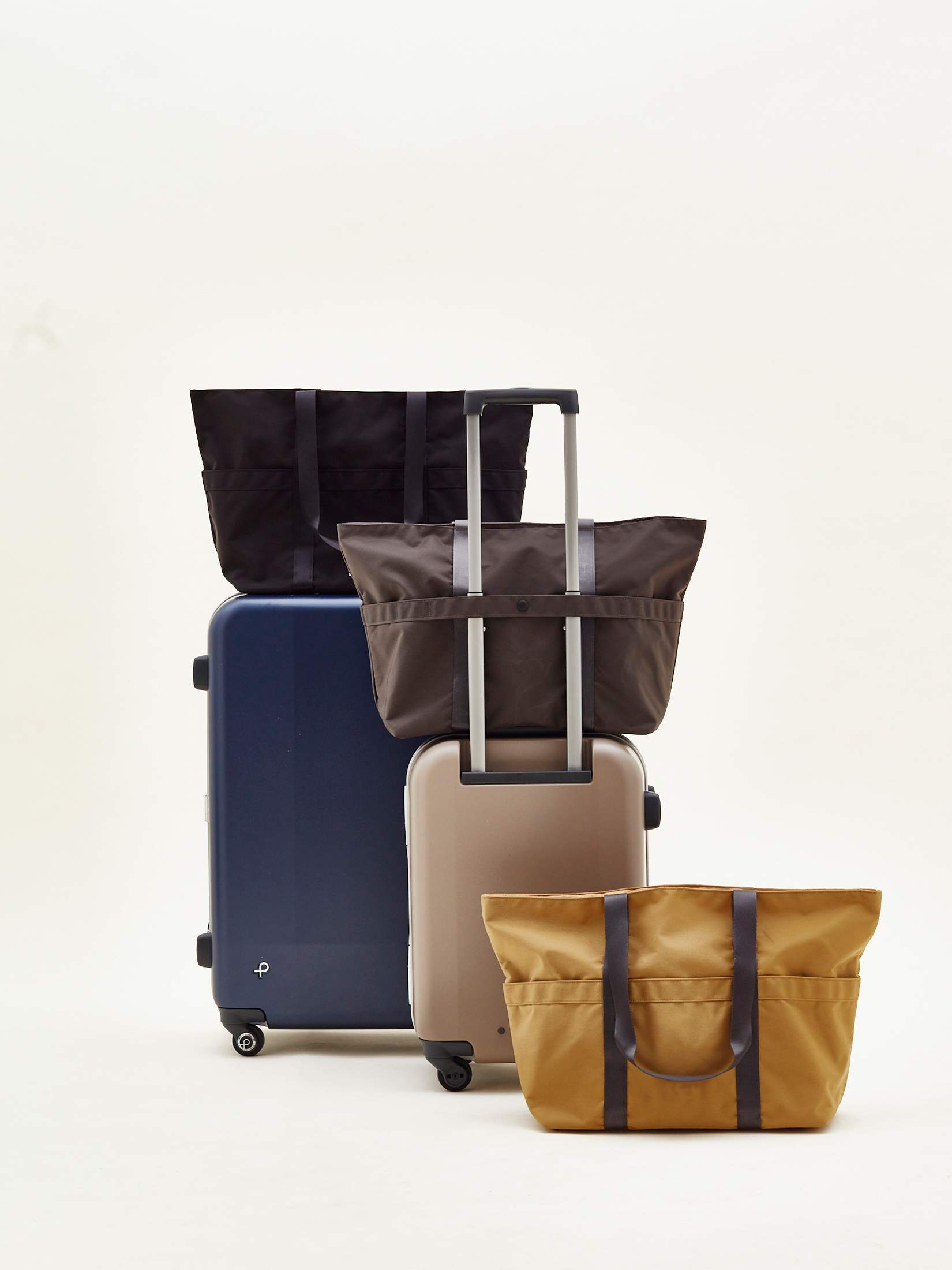 The world is on the move again. This durable corduroy bag can be attached to your suitcase and has plenty of pockets to store your belongings while on the go.
colours: Black, dark brown or sand.
materials: Corduroy and leather (handle).
dimensions: 33cm x 56cm x 18cm.
made in: Japan.
Proteca x Monocle Equinox Light U Carry-on suitcase (34L)
£560
This suitcase is smart, stable, silent and smooth to roll – just what you want from a carry-on whether you're travelling by rail, car or air. It's magnesium alloy frame and impact-resistant polycarbonate body have been engineered to be both light and sturdy. It's available in two limited-edition colours and comes with a handsome leather luggage tag.
materials: Polycarbonate blend (body); magnesium alloy (frame).
colours: Navy or warm grey.
dimensions: 53cm x 37cm x 25cm.
made in: Japan.
Proteca x Monocle Equinox Light U Check-in suitcase (80L)
£640
Whether you have a week's holiday or a longer getaway to make up for lost time, this stalwart piece of luggage will serve you well on all fronts. It's made in Japan by skilled craftspeople at the Ace Luggage Akabira Factory and its key features include an impact-resistant polycarbonate body, silent casters, tsa lock and ergonomic retractable handle.  
materials: Polycarbonate blend (body); magnesium alloy (frame).
colours: Navy or warm grey.
dimensions: 74cm x 53cm x 27cm.
made in: Japan.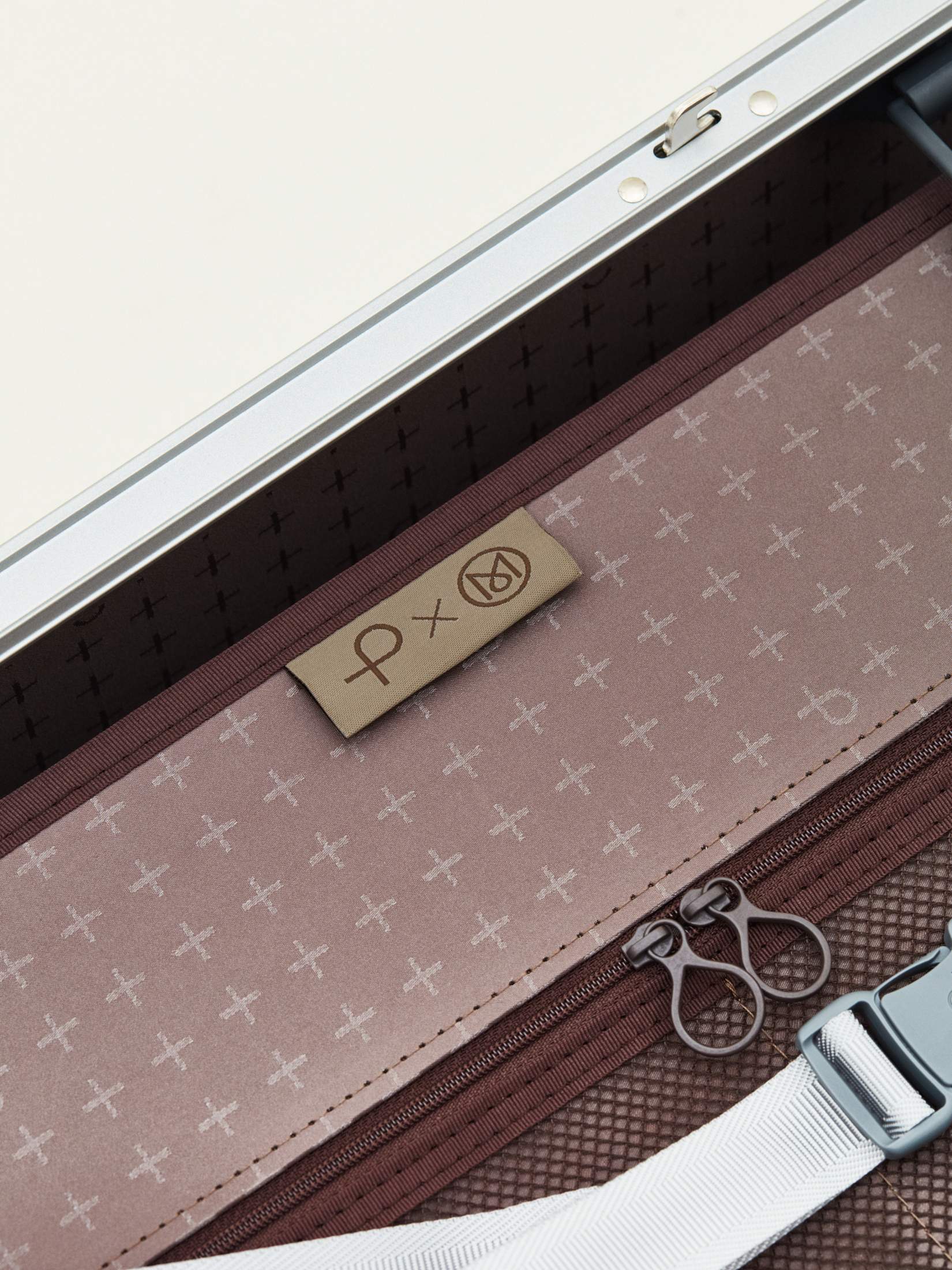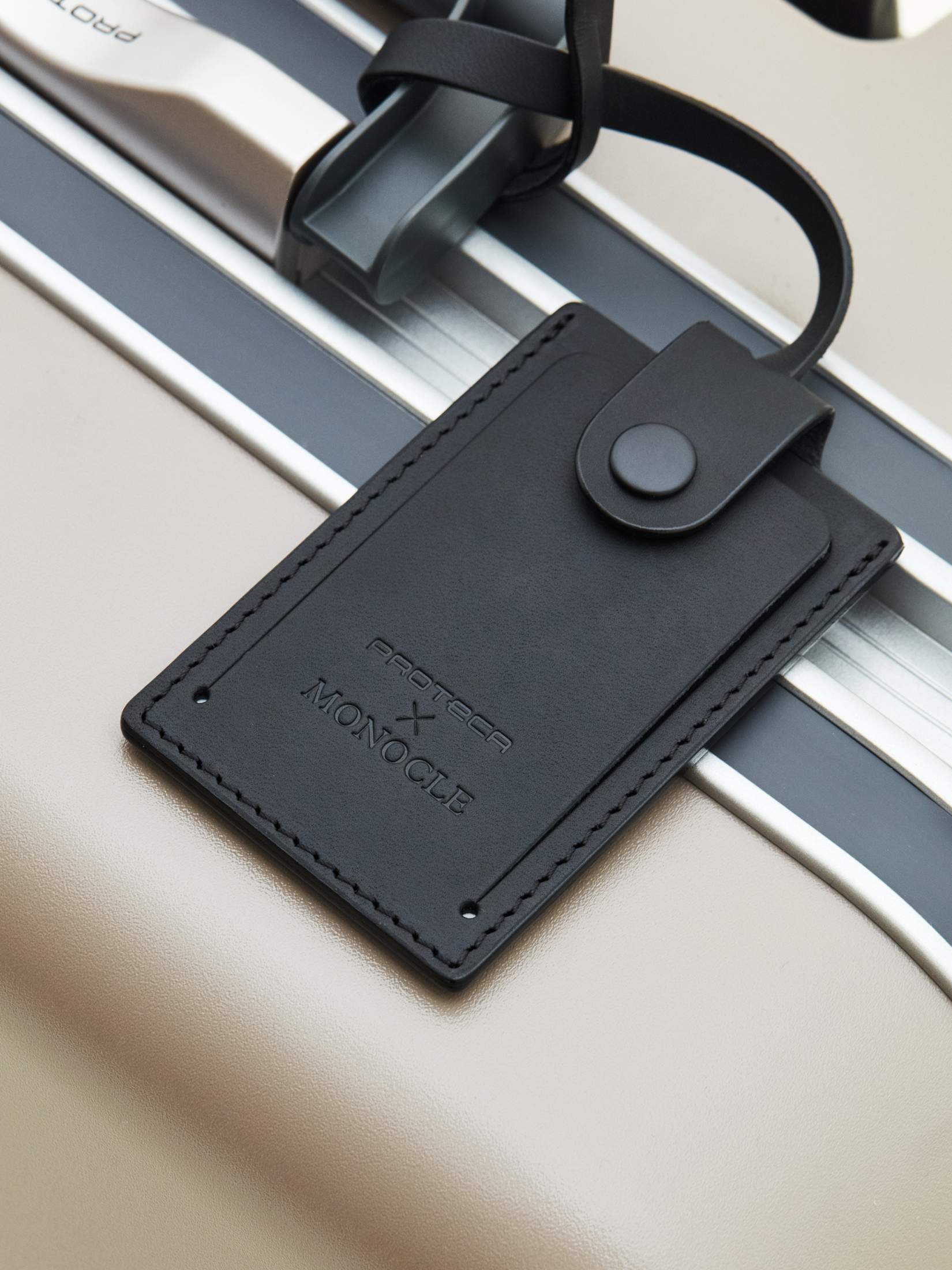 ---
Steteco x Monocle lightweight cotton shorts
£90
These olive-green shorts – designed in collaboration with Monocle and made in Japan – are a contemporary iteration crafted from breathable cotton with an elasticated waist. Pull them on for a casual day at home or a stroll in the sun.
material: Cotton.
colour: Olive.
sizes: s–xl.
made in: Japan.
---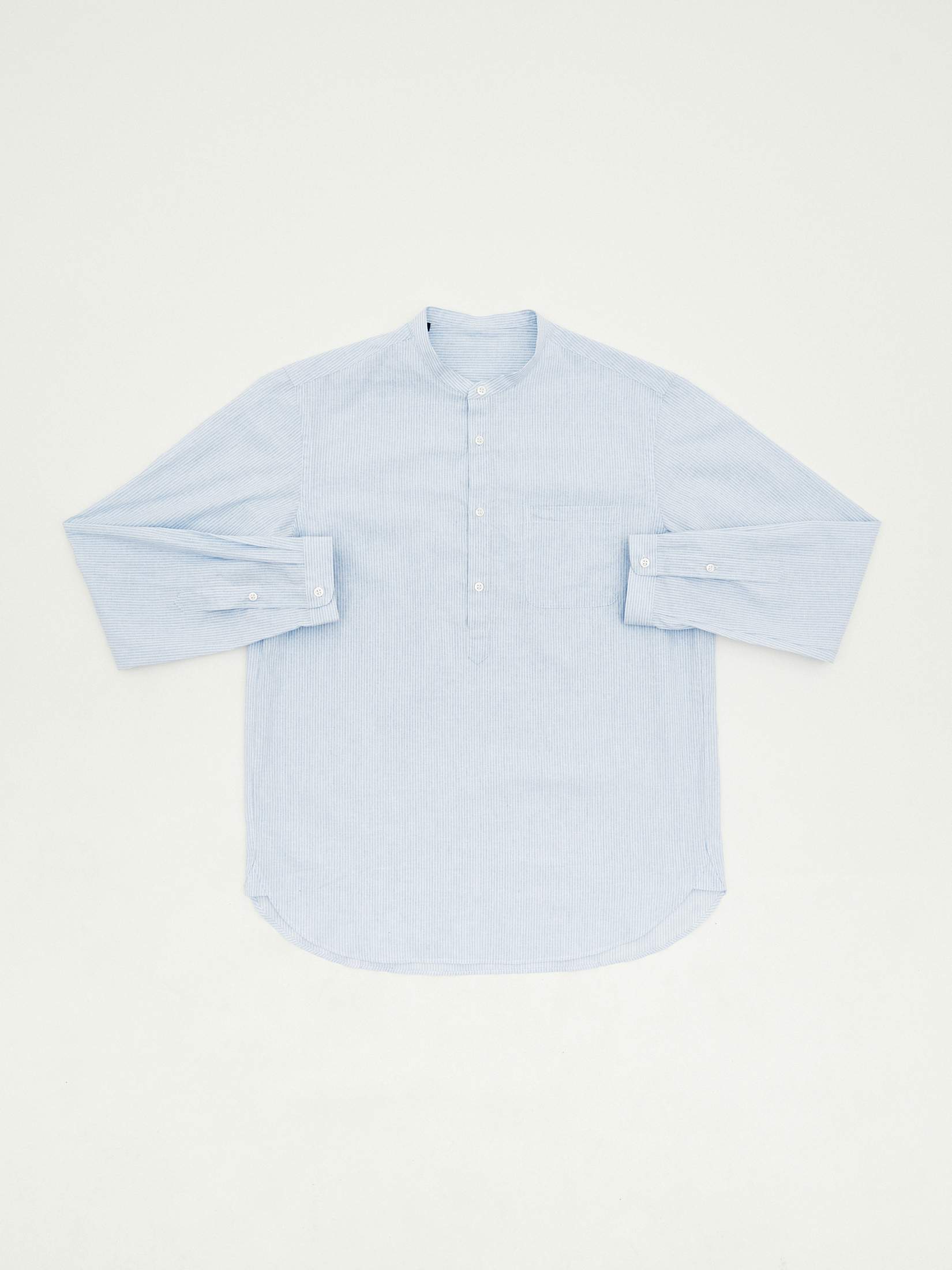 Monocle soft cotton/linen shirt with mandarin collar
£95
Make the most of your summer in this handsome pinstripe mandarin-collar shirt, designed by our in-house team. Made in Portugal from a blend of breezy cotton and lightweight linen, this smart-casual wardrobe staple is fit for most occasions.
materials: Cotton and linen.
colours: Blue and white
sizes: xs–xl.
made in: Portugal.
---
A Kind of Guise x Monocle cotton safari jacket
£295
Cut from light and breathable Swiss cotton, this safari jacket adopts a workwear silhouette and features a water-repellent finish. Details include signature horn buttons and four front pockets.
material:Cotton.
colours: Olive or navy.
sizes: s–xl.
made in: Germany.
---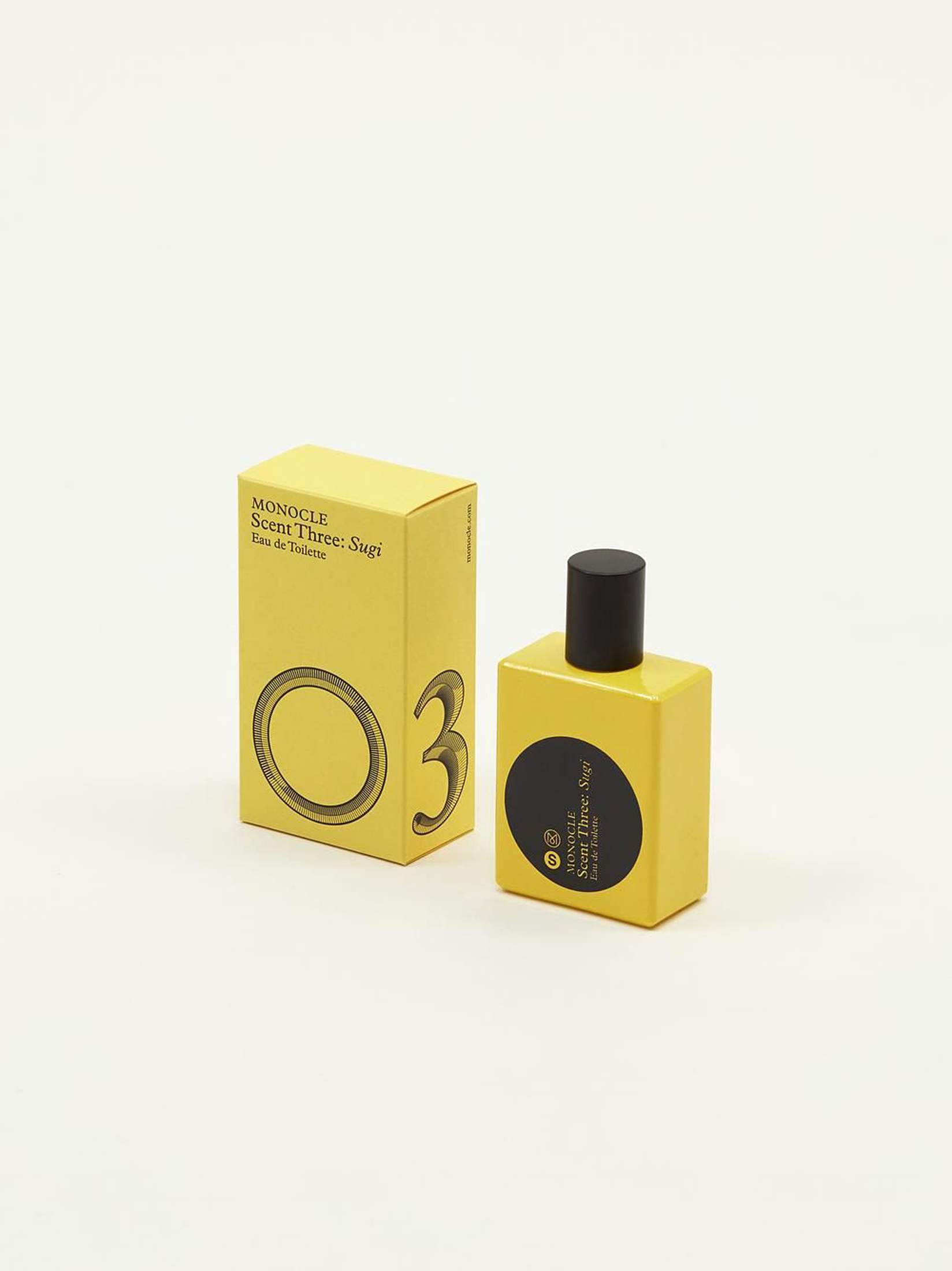 Comme des Garçons x Monocle Scent Three: Sugi
£80
Sugi – known as Japanese cedar – has a delicate, clean and energising fragrance. This is a refreshing scent that's light but sophisticated, with top notes of Mediterranean cypress giving way to pine and Haitian vetiver.
volume: 50ml.
made in: France.
---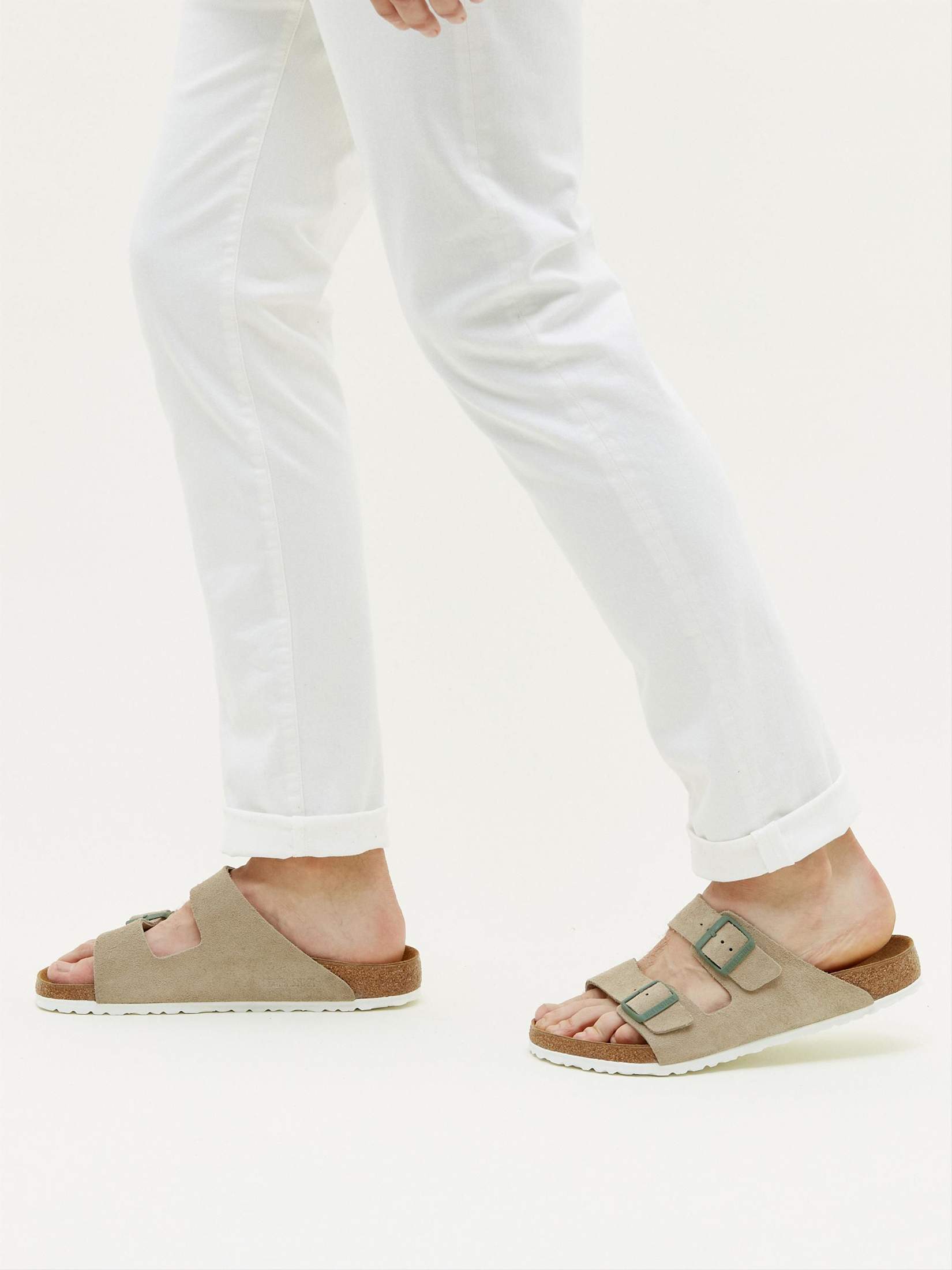 Birkenstock x Monocle Arizona sandals
£165
Fashions fade but style is eternal, as the saying goes. And that's why Monocle has teamed up with iconic German footwear firm Birkenstock for a timely refresh of the brand's beloved 1973 Arizona sandals. Monocle's in-house design team has added elegant touches to update the model for a well-heeled audience.
materials: Suede (upper and footbed lining); EVA (sole).
colour: Taupe.
sizes: 38–45.
made in: Germany.
---
Aroma x Monocle Yoshino hinoki diffuser
£60
This flameless diffuser is made from hinoki wood by Japanese aromatherapy specialist Aroma. It is accompanied by a bottle of bespoke essential oil developed exclusively for Monocle. The scent is of cedar wood, sandalwood and cardamom.
material: Hinoki wood.
dimensions: 11.5cm x 5.5cm.
made in: Japan.
---
Hender Scheme x Monocle card case
£145
Tokyo brand Hender Scheme is known for its inventive take on leather goods and traditional Japanese craftsmanship.
material: Leather.
colours: Olive, brown and imperial green.
dimensions:7.5cm x 11cm.
made in: Japan.
---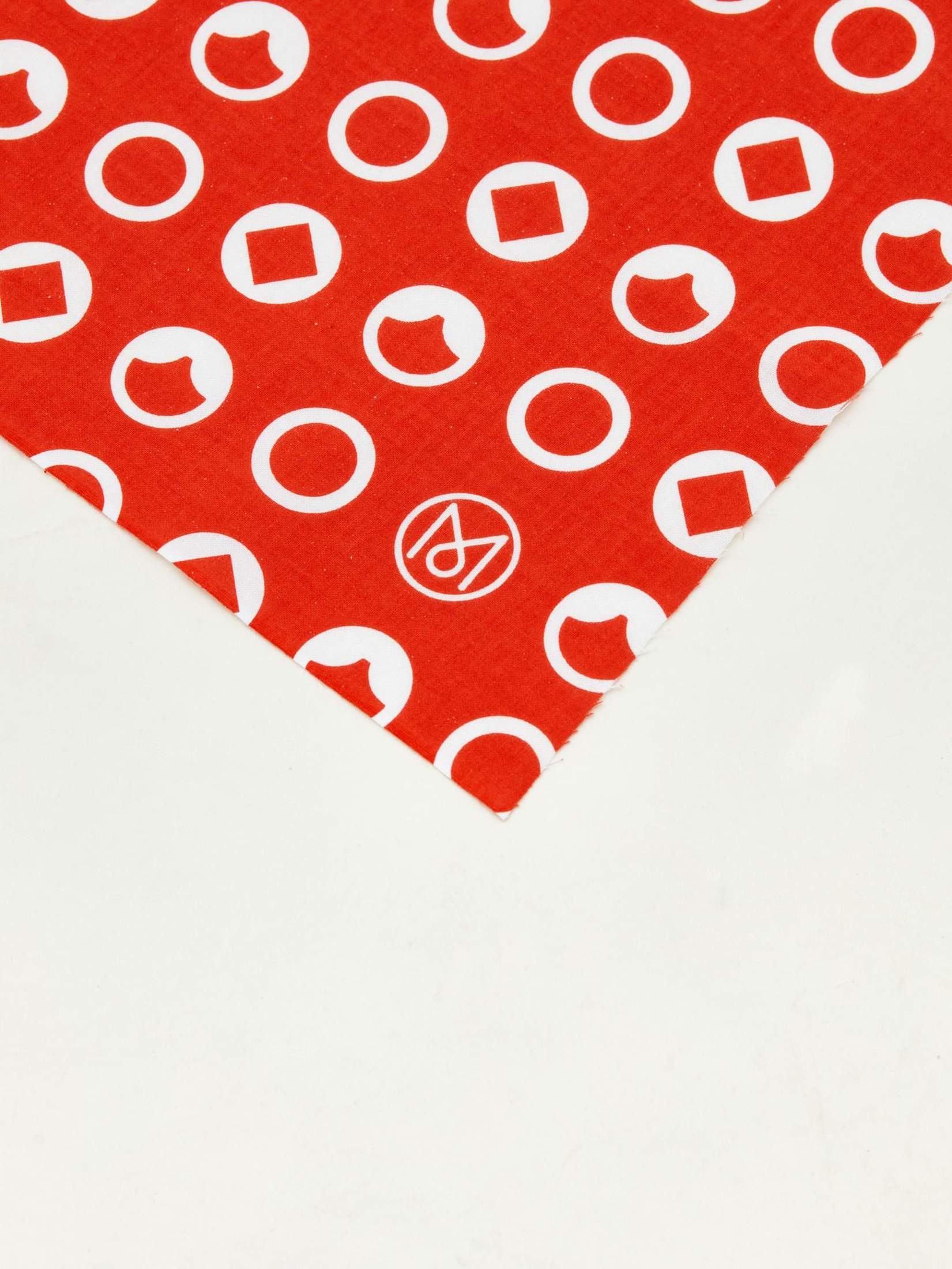 Our take on this Japanese staple – an oblong of woven cotton – is designed by our in-house team. Use it as an accessory or as gift wrap.
materials: Cotton.
dimensions: 90cm x 35cm.
made in: Japan.
---
Revo x Monocle SuperCD
£625
Dust off all those classic albums you have stashed away and listen to them in ultra high-quality audio with Revo's new SuperCD. This collaboration with Monocle allows users to enjoy a listening experience that is second to none. SuperCD is also compatible with Spotify Connect, internet radio and DAB.
dimensions: 20cm x 18cm x 34cm.
assembled in: Scotland.
---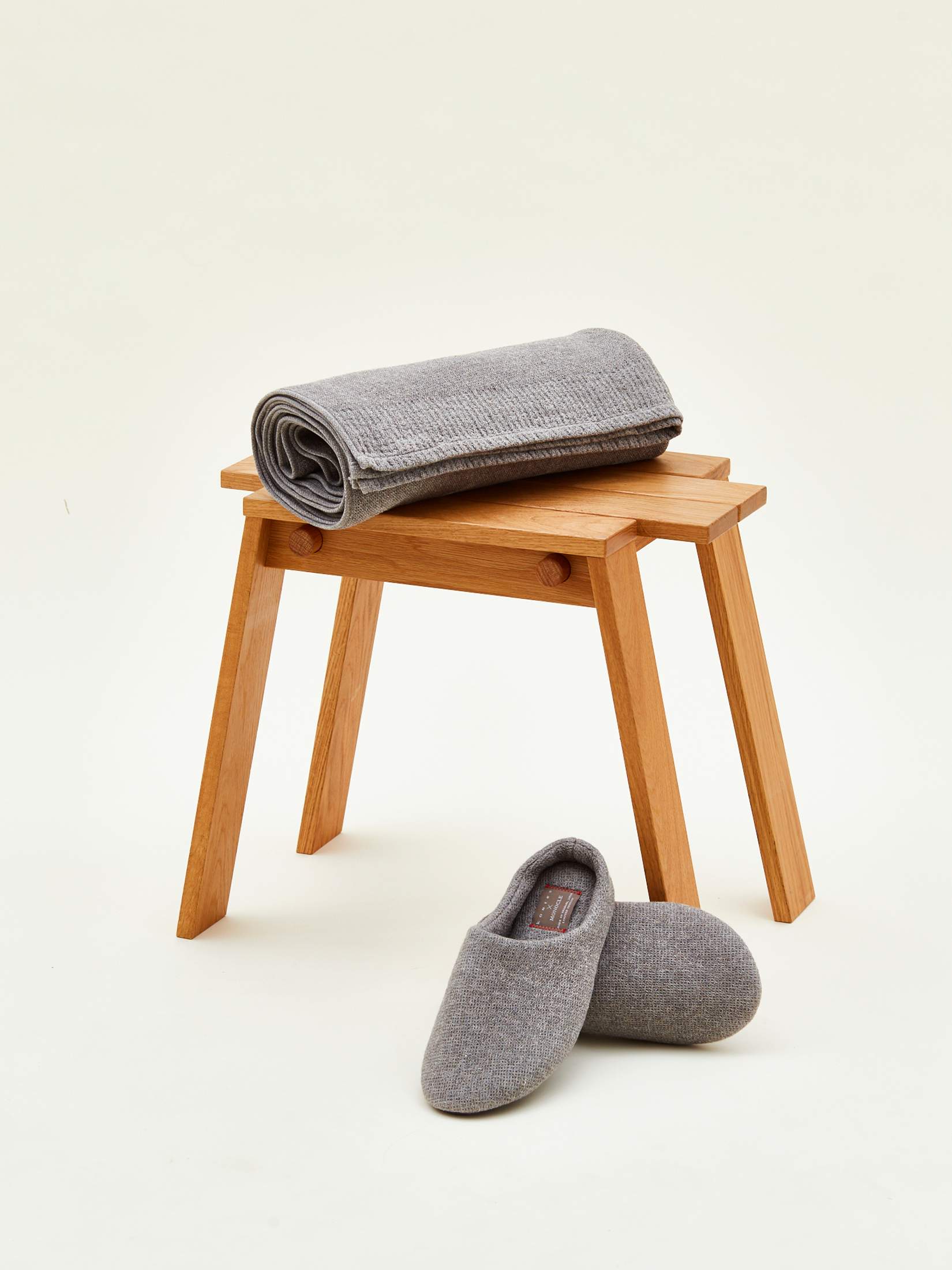 Kontex x Monocle Lana cotton towel and slippers
£60/£40
This towel is designed in collaboration with Japanese textile expert Kontex. It is particularly soft and absorbent – and goes perfectly with our Lana cotton slippers.
material: Cotton.
colour: Grey.
sizes:85cm x 180cm (towel); 40–44 (slippers).
made in: Japan.
Nikari x Monocle ITA stool
£350
We have joined forces with Finnish firm Nikari to bring you this handmade Ita stool, made in the village of Fiskars in Finland's oldest machinery workshop. Designed by our in-house team, the piece features a Monocle engraving. The oak stool has a unique shape that makes it easy to stack.
material: Oak.
dimensions: 45cm x 51cm x 34cm.
made in: Finland.