Blueprint / Global
Van of means
The most prosperous camper vans pay attention to both form and function. When creating your own, don't scrimp on the details – custom beer tap included.
The project: A camper van.
The brief: A roomy but nimble vehicle to whiz around in.
Specifications: Plenty of light and shade, plus hinoki wood.
Bathroom or no bathroom? It's the eternal conundrum when choosing a camper van. Do you plump for the most compact vehicle with the best looks and forsake ablutions? Or do you opt for something a little more spacious? After much deliberation we've decided to go for a fantasy camper van capable of heading to the beach for some surfing or the mountains for skiing (note the roof rack) in the slightly larger Class B category. Its comfort levels are high but, size-wise, it's a far cry from those boxy travelling homes and is nimble enough to manoeuvre easily. As much as we rate hygiene standards in Mitteleuropean campsites, there's nothing quite like having your own shower with quality fittings. As for our other camper essentials? Buckle up and read on.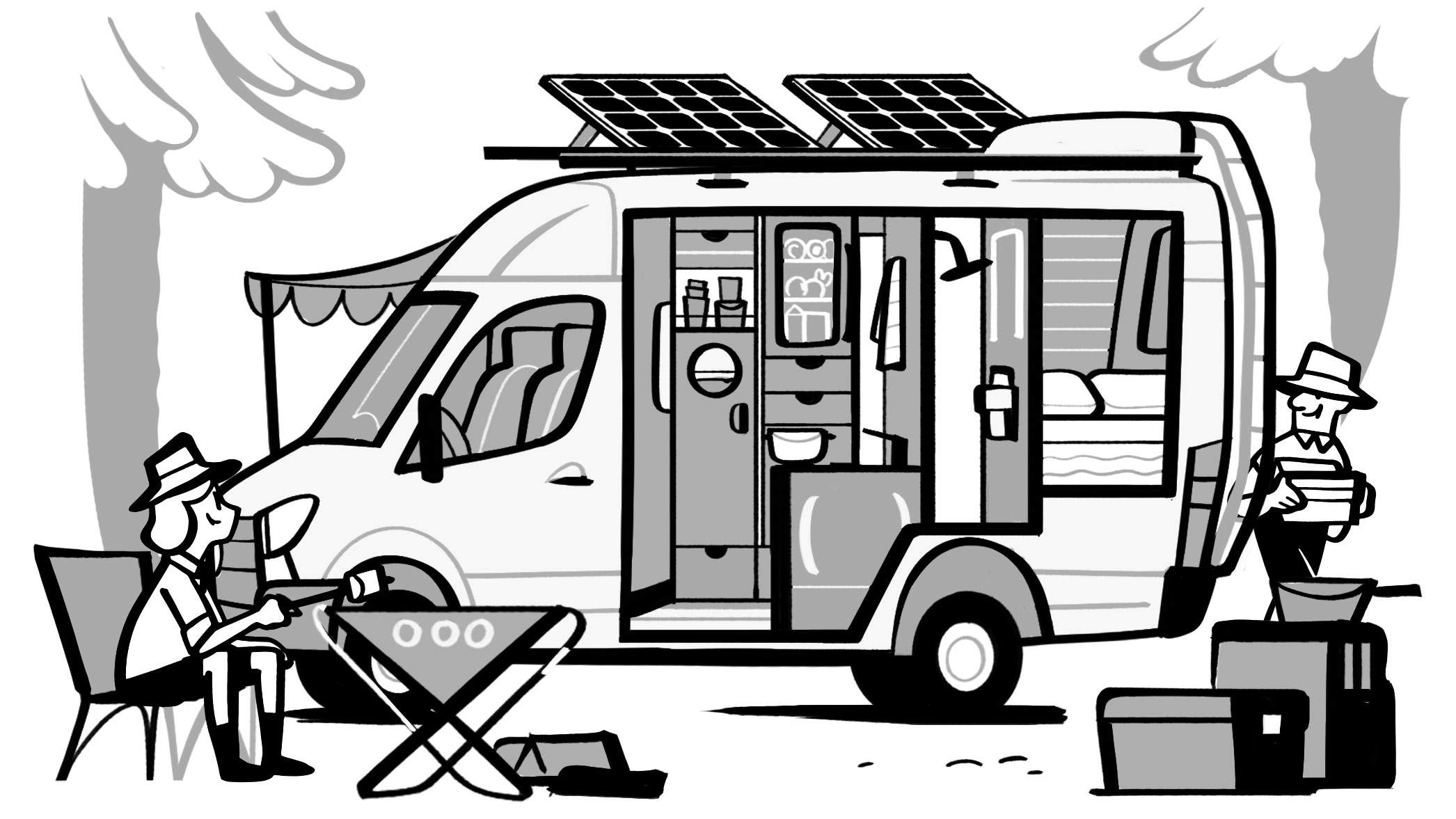 ---
Hinoki wood, a Japanese cypress, will line the interior and create that perfect
homely feel.
We've opted for more windows on the roof to let the sunshine in and increase that sense of freedom on the open road.
When stopping for an impromptu picnic, we need some sun protection. Recycled Swiss awnings are deployed via a retracta­ble system.
Our camper will have the most efficient solar panels – not to mention the best lithium battery technology – on the market.
Long drives are part and parcel of a camper van; as  is holing up inside when it rains. Our seating is taken care of by Italy's 
Inspired in tone by the Swiss Pinzgauer, our camper is olive green with tough matte-black metal trimmings.
We've left enough room to squeeze in a bathroom and shower unit, plus some
well-made Swiss fixtures.
RoomBox provides fold-up dining options. Don't forget a firepit and cooking ware from Snow Peak, plus furniture from Lafuma Mobilier.
A sliding bed can provide dual functions and increase living-room space. Hästens is best for mattresses and bedding.
Harry Thaler offers drinks cabinets that fold into walls and custom beer taps to
get the party started – just beware the size of the keg.