Briefing / Global
Food
&

Drink
Food-focused finds from Hong Kong to Vienna, and three companies providing meals on wheels.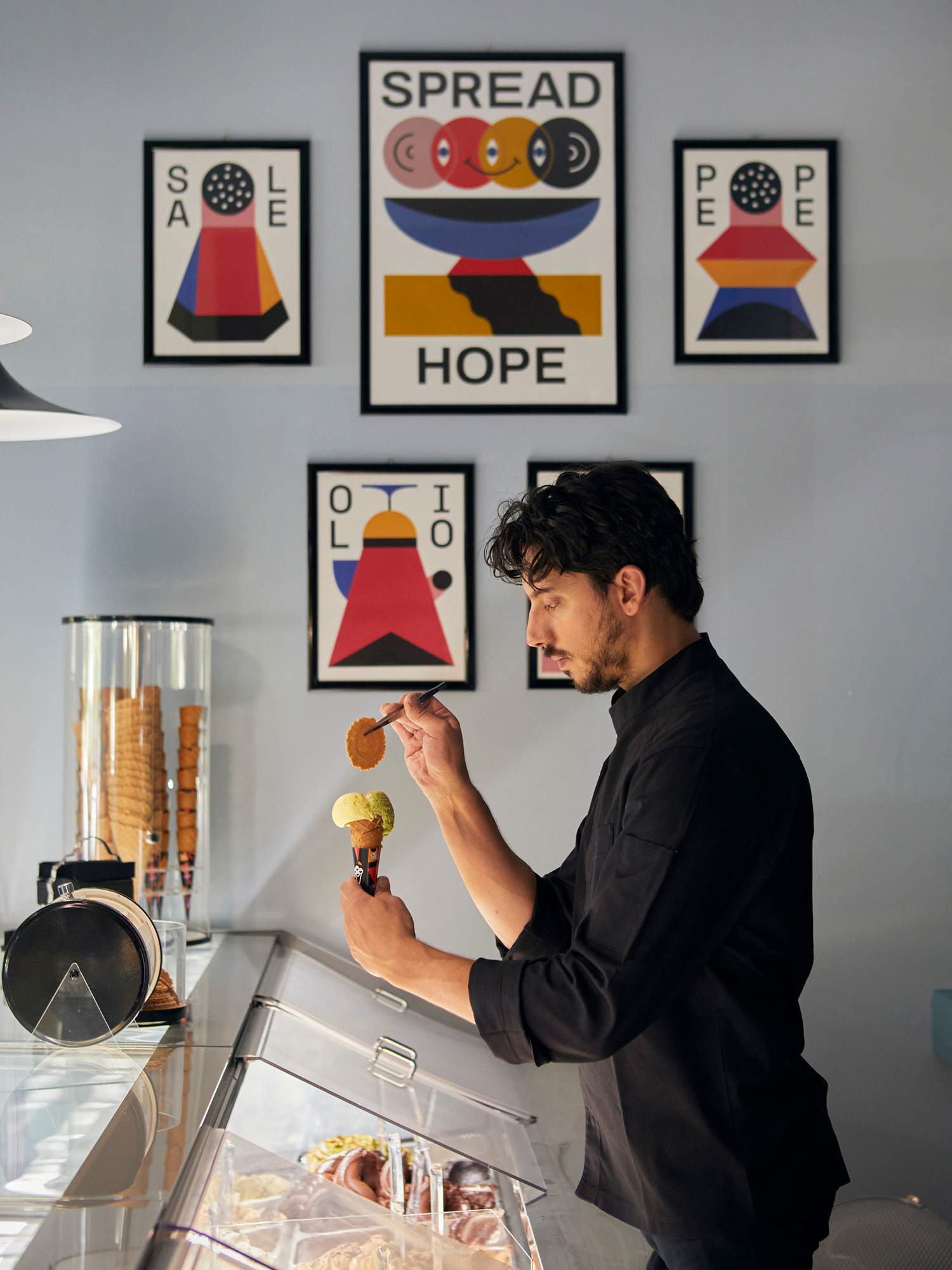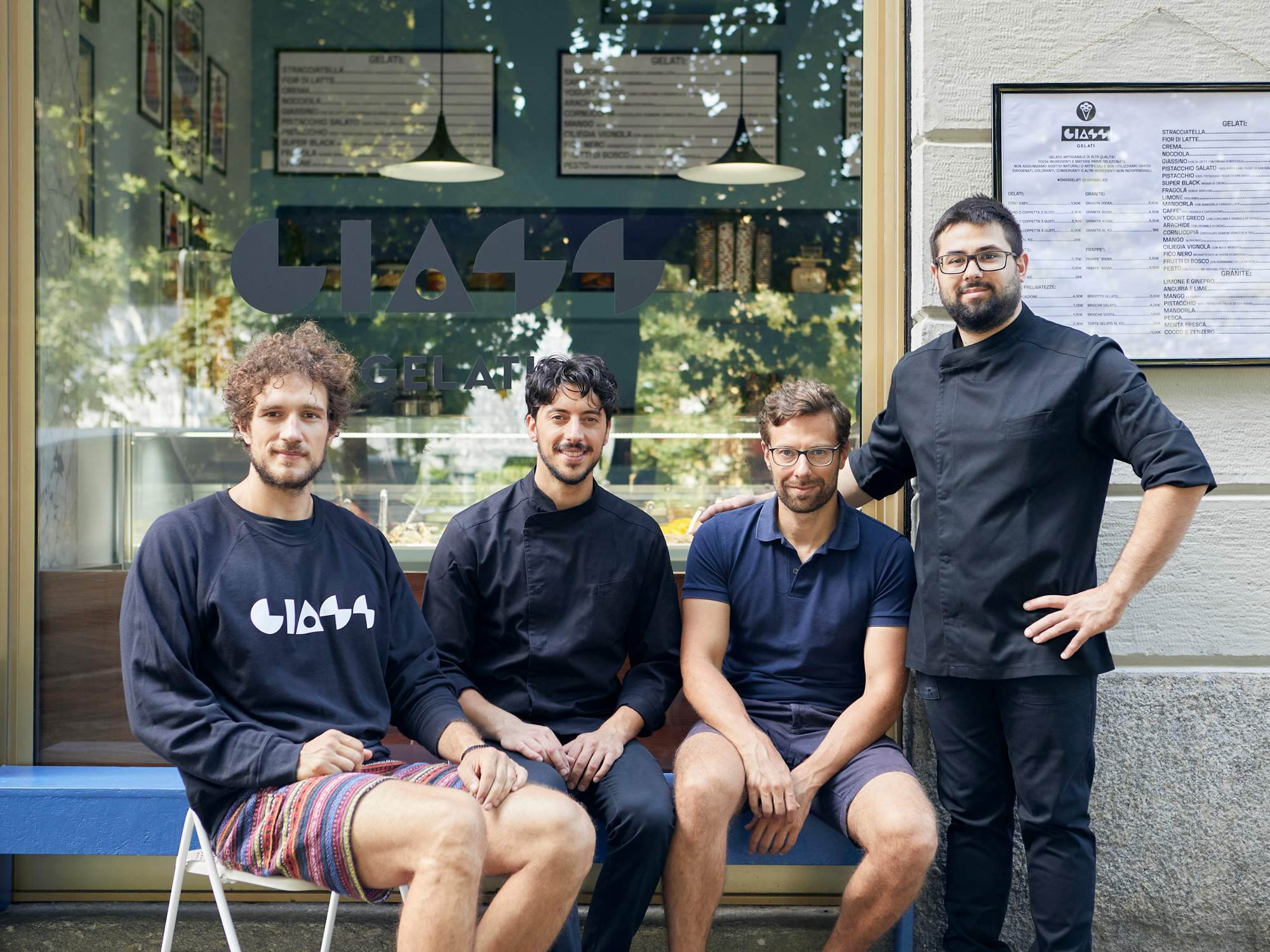 The neighbourhood gelateria is a fixture in Italy but a group of thirtysomethings in Milan think it's time for a new recipe. Giass serves water- and milk-based gelato, using ingredients such as Sicilian pistachios and Domori chocolate, with a dollop of design. The shop interior is cosy with wood accents, while plastic-free packaging and an eye-catching logo complete the picture. Former chef Mauro Spollon and artisan ice-cream maker Antonio Mandurino prepare frozen cakes, fruit popsicles and gelato flavours that  include black fig with cloves and lemon juniper granita.
Via Giorgio Washington 60
---
meals on wheels
Driving new business
In uncertain times for hospitality it pays to be agile. We visit three on-the-move innovators who are already in gear.
Happy Camper Pizza
melbourne
Two days into fatherhood, French-born engineer Remi Pham confessed to his partner – and new mother – that he wanted to give up his job to pursue a secret dream of making pizza. "I told him where to go," says Sonia Lear. That was in 2009 but within four years the Melbourne-based pair had invested their savings in a 1965 Airstream van and had it shipped from Colorado to Australia. They kitted it out with a pizza oven and launched Happy Camper Pizza. The gamble paid off: seven years later they had a fleet of five vehicles making and serving pizza, a staff of 26 and a roaring business mostly catering to weddings.
The advent of coronavirus forced a halt to events so the pair moved to home-delivering pizzas. But Lear is optimistic, noting that a trend towards backyard weddings will likely become entrenched in 2021. "People were already veering away from expensive events," she says. "We're mobile, so we are a perfect fit." 
happycamperpizza.com.au
---
Couvent Rouge's concept is as unusual as its business model. Founded in 2010 as part of a project to regenerate the Bekaa Valley village of Deir El Ahmar, locals claim it's the third-highest-altitude vineyard in the world. For years the area depended on cannabis crops until a new co-operative persuaded farmers to replant fields with vines. The founders sell their grapes to the co-operative privately and buy the resulting wine to help support the scheme. A portable "wine lab" in a refitted vintage minivan has been launched to introduce the product to new audiences, including wine-based cocktails using cordials made from Lebanese botanicals.
Take the scenic journey to the winery itself for a lazy lunch among the vines and a view that only grows more spectacular as the sun sets. "We're looking forward to putting Lebanon back on the map of great wine-producing countries," says co-founder Charbel El Fakhri. Couvent Rouge currently produces 100,000 bottles a year but has the capacity for half a million. Their wine hit the Lebanese market in 2018 and the current range is being exported to Europe, North America and Australia. "We want to do something very specific with the wine," says Khoury. "When you taste it, you have spices and aromas very particular to this part of the country."
196 1 7188 8714
---
The bakers at Dalston's Dusty Knuckle have not been twiddling their thumbs during lockdown. The bakery, which has been supplying the likes of Fortnum & Mason, Ottolenghi, Brat and Chiltern Firehouse since its launch in 2014, acquired an old milk float and transformed it into a delivery service and mobile shop. It now roves the streets of north and east London peddling sourdough, focaccia, sausage rolls and pastries. "We started doing home deliveries in early April," says managing director Max Tobias. "The milk float was a joke at first. Then I looked into it and found a guy in Surrey who supplied them." It felt like a bit of fun, he adds. "On the first day we sold out in 90 minutes. People are so happy to come out of their houses and chat to their neighbours."
thedustyknuckle.com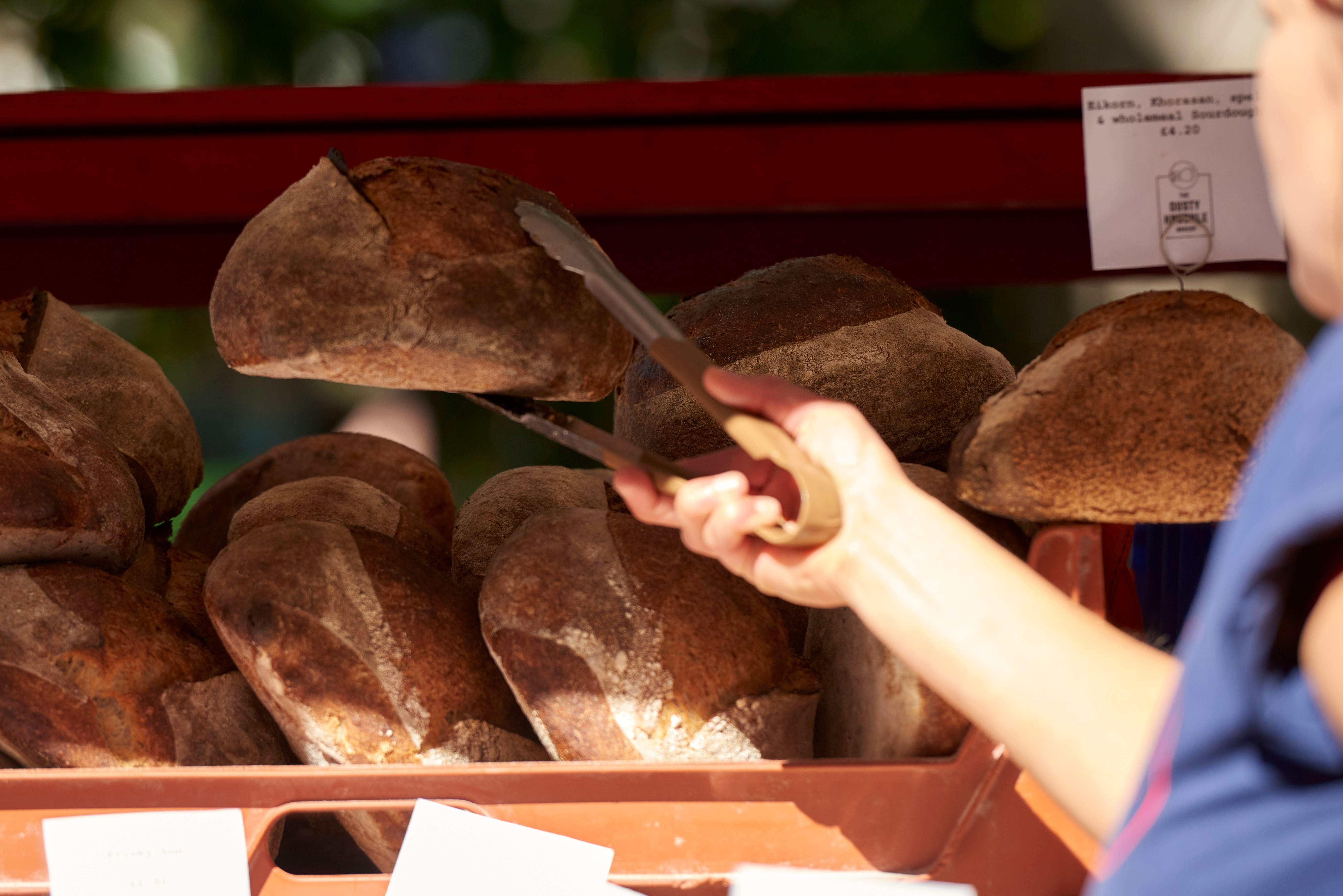 ---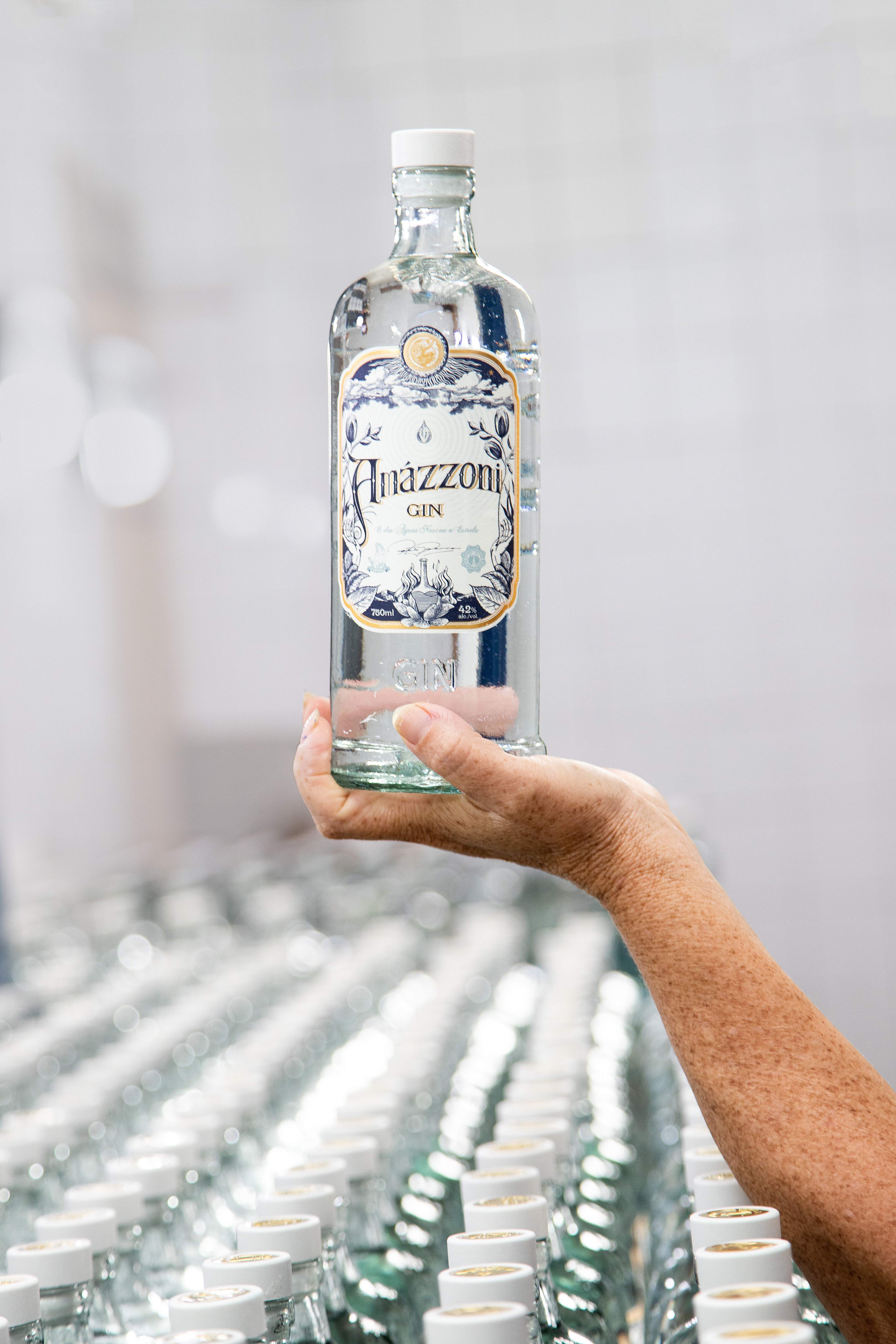 Distillers of Brazilian spirit cachaça are turning their hand to another centuries-old drink: gin. But what has inspired their newfound interest in the old-world tipple? Amázzoni made waves with London tastemakers at the 2018 World Gin Awards after founders Alexandre Mazza and Arturo Isola saw an opportunity to use botanicals native to the rainforest.
Fresh water from the Paraíba Valley is central to Amázzoni, which is produced in copper stills at the largest distillery of its kind in Latin America. "We're bringing Brazilian flavours such as cacao and water lily seeds to gin for the first time," says Isola. "We're proud of driving the craft-drinking revolution."
The São Paulo-based brand is transforming cocktail orders up and down the country and cachaça plantations have taken note; 16 nationwide have started producing gin already.
amazzonigin.com
---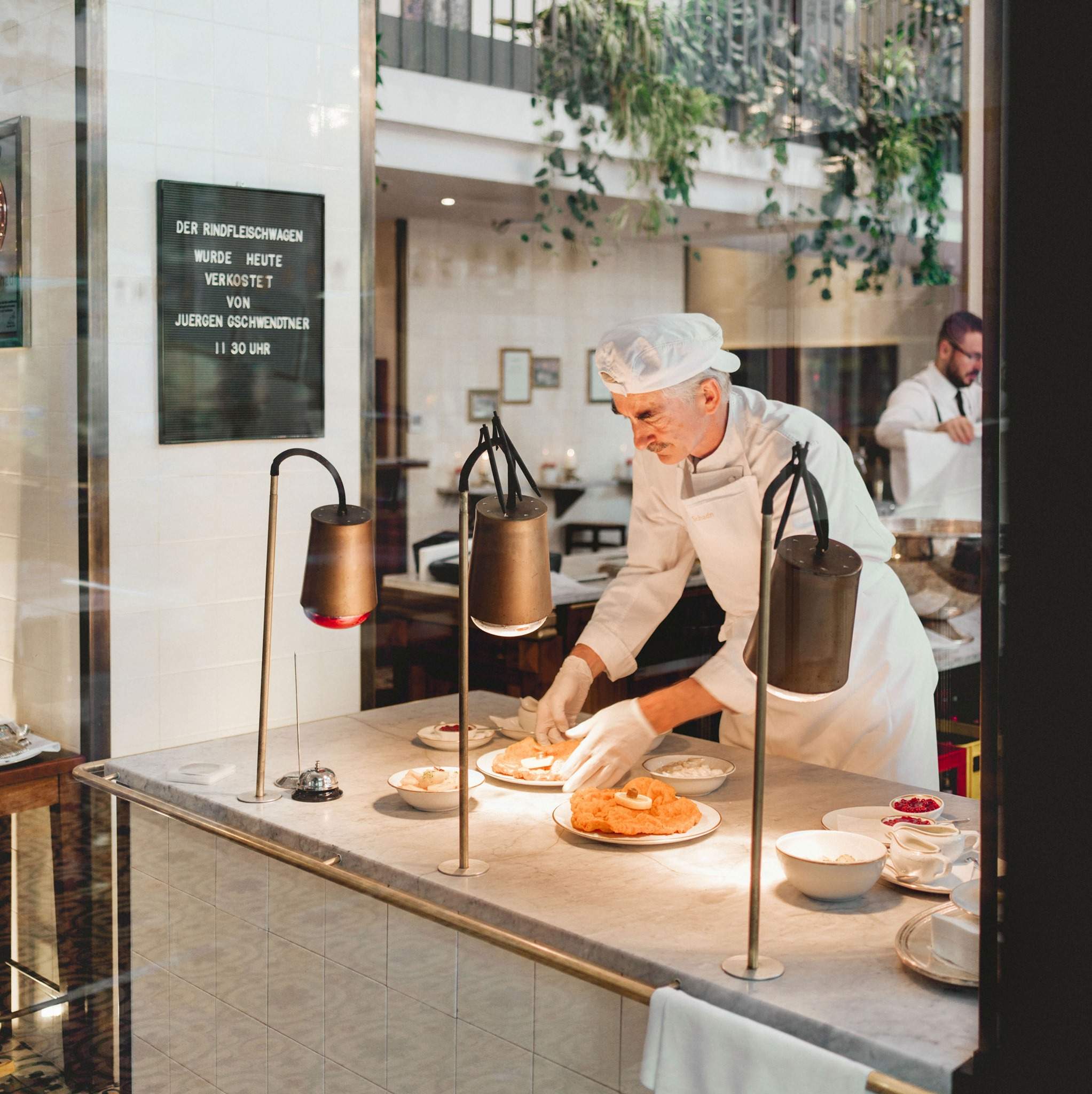 Bavarians craving a taste of the Bel Paese should head to Munich's Bravo bar to enjoy what co-founder Marlon Schuler calls its "simple food and a lot of vino". Opened last year on busy Fraunhoferstrasse, the bar's atmosphere is easygoing and the setting refined, with wood-panelled walls lit by softly glowing spherical ceiling lamps. Staff and clientele are equally cool. The concept, created by Schuler with business partner Damir Stabek, is about being on hand with what's needed (and quickly), whether that's a morning espresso or a midnight Campari and soda.
149 89 8130 2715
---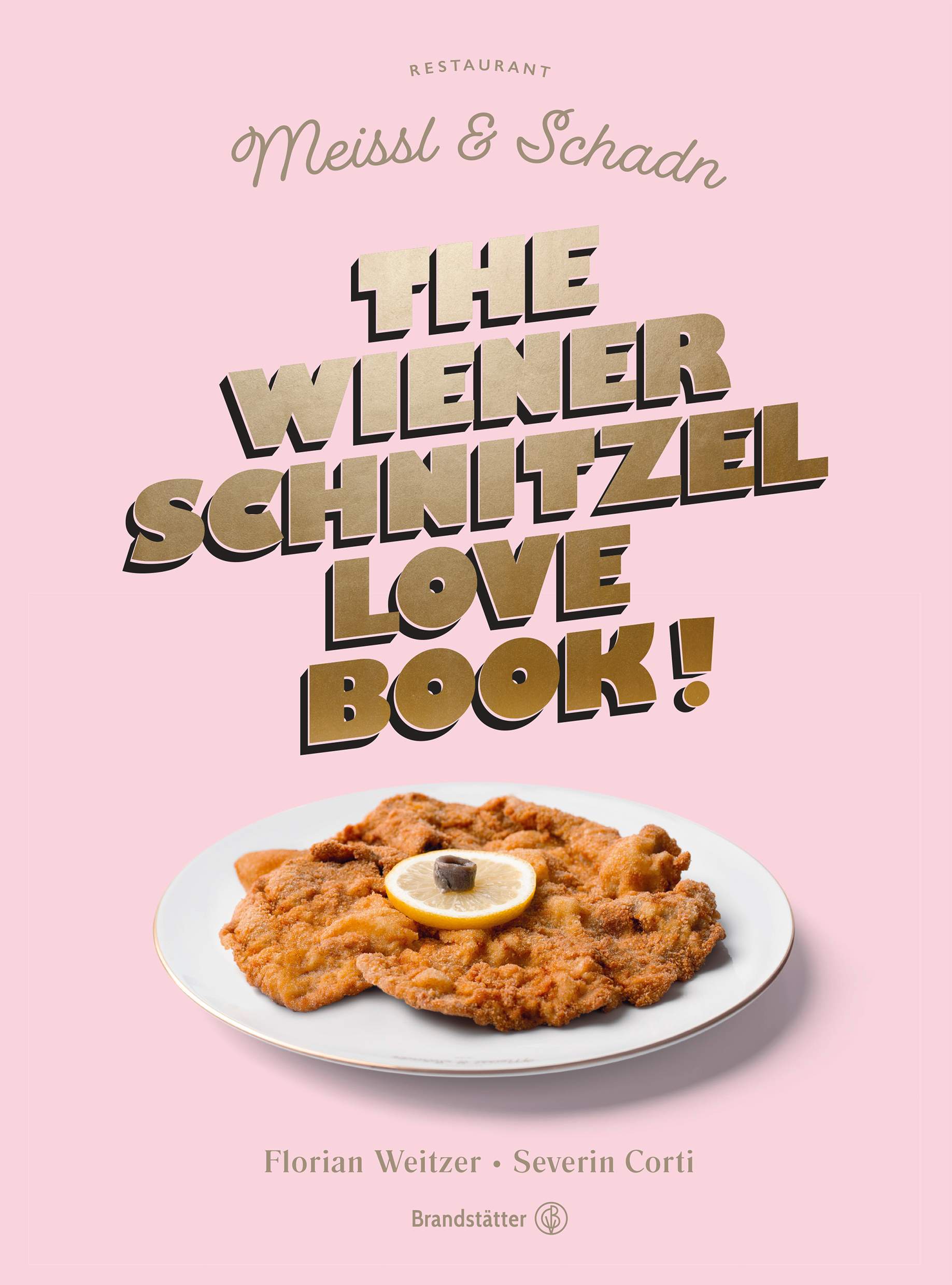 Austrians love their schnitzel. But there's more to this affair than crispy breaded pork or veal served with potato salad or chips – or even a dollop of lingonberry jam. The schnitzel is a cultural phenomenon.
The enduring social history of the country's favourite dish is explored in a new book published this September by Austria's Brandstätter Verlag, modestly titled The Wiener Schnitzel Love Book!. Its editor and mastermind is Severin Corti, the country's best-known (and best-loved) food writer. "Schnitzel makes us better people," he says, over a generous helping of (naturally) schnitzel at Meissl&Schadn, the Vienna restaurant that sponsored the publication and which is arguably the best place for the dish in the capital. "It brings out all the good things in you," he adds, citing a piece by late writer Alfred Polgar – one of many by authors both past and present collected in the volume. Other contributions include an inquiry into what schnitzel means for South Americans, Italians, Russians, Scandinavians and Japanese, an interview with Italian chef Massimo Bottura and 10 commandments of the perfect schnitzel, by Wolfgang Kralicek.
Corti's own contribution expands on the religious theme, comparing schnitzel to the Catholic communion wafer. "It looks like bread but it is flesh – that is to say meat, just like schnitzel," he writes. While the comparison might verge on blasphemy, it illustrates how schnitzel can arouse more fervour than dogmas of faith. "Which cut of the meat do you use, which frying set, what do you serve with it? It is almost a religion for Austrians."
brandstaetterverlag.com
---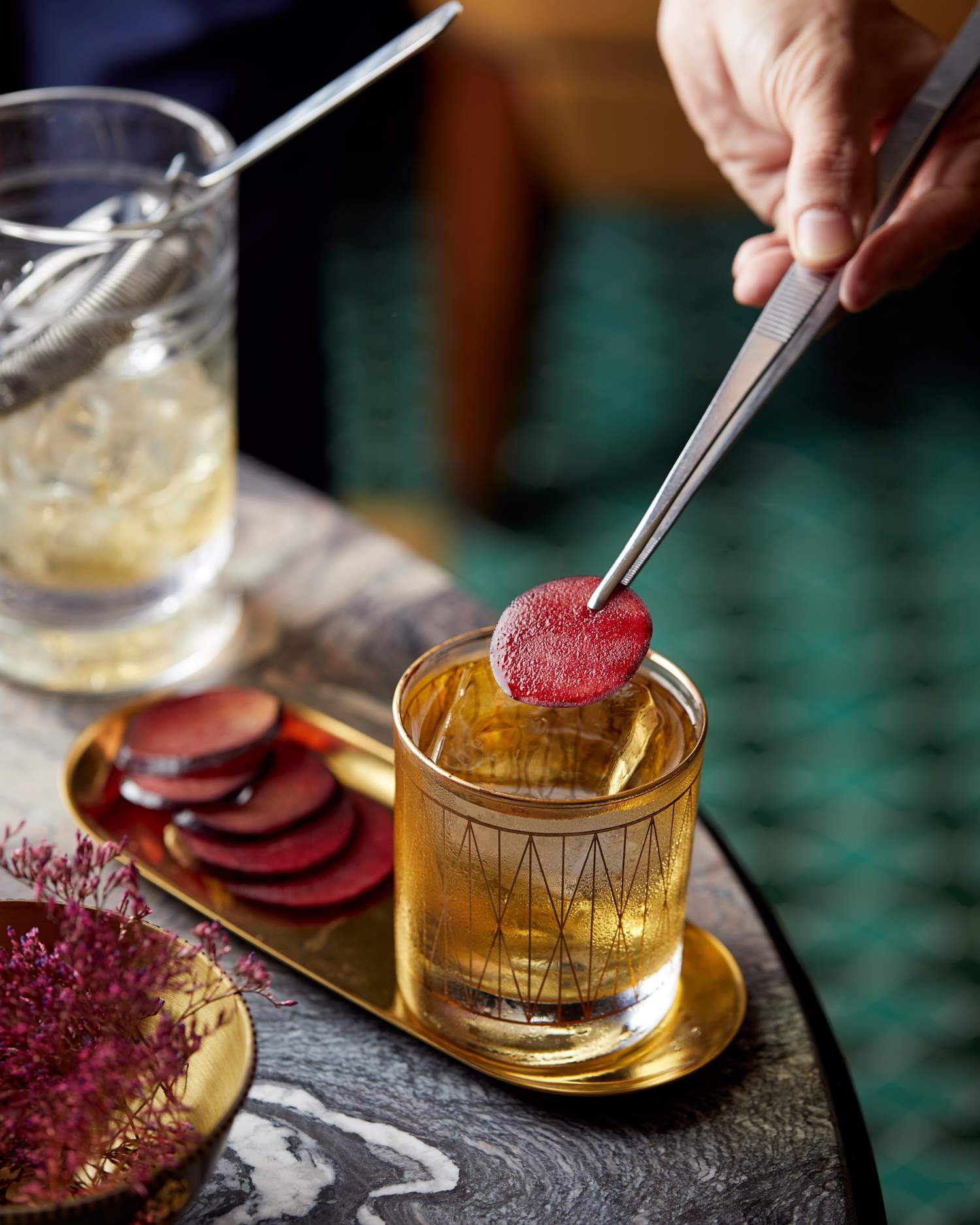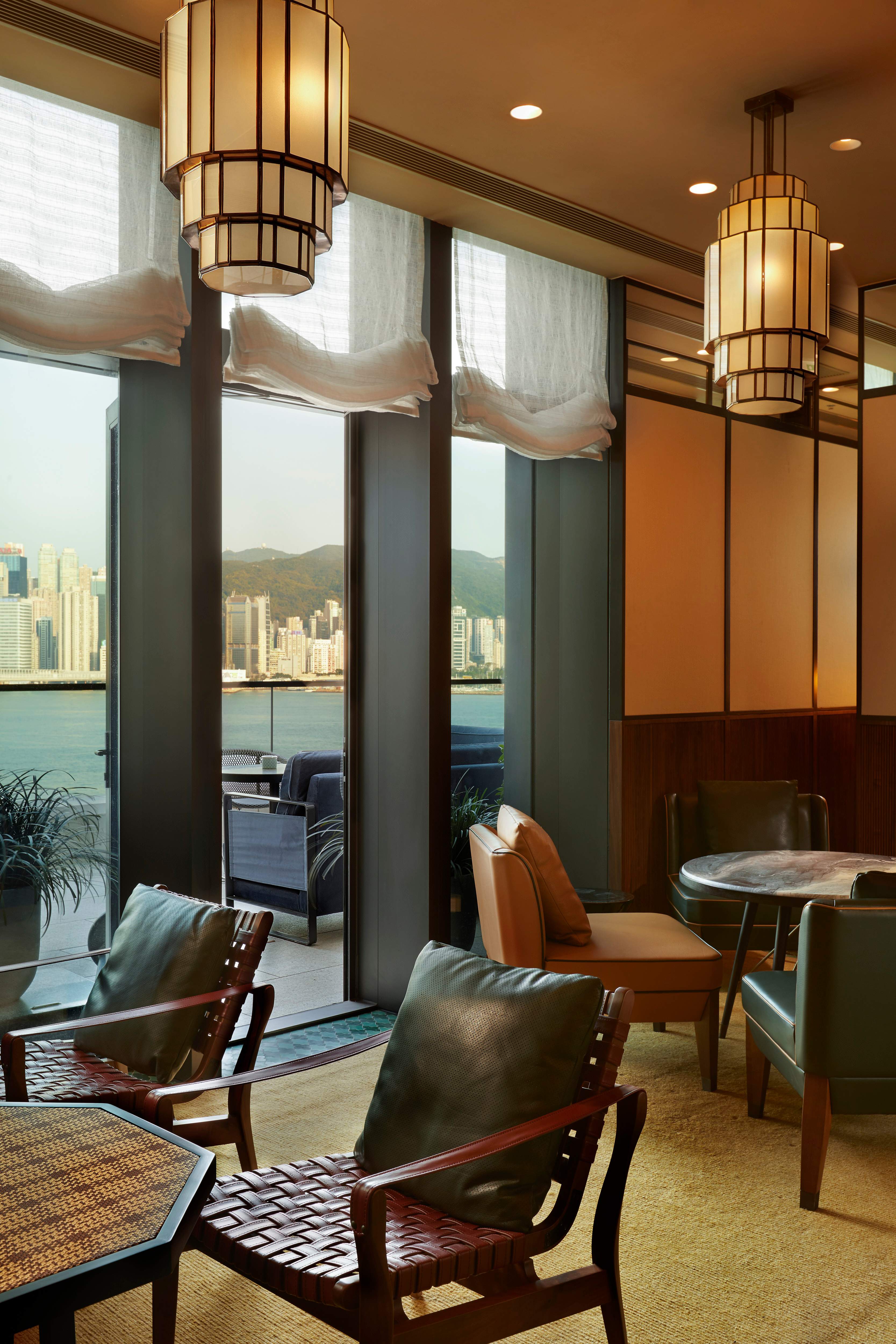 Chaat opened in May, with Indian chef Manav Tuli arriving in Hong Kong from London's Tamarind, the city's first Indian restaurant to earn a Michelin star. His fine-dining restaurant on the fifth floor of the Rosewood hotel is elevating Indian cuisine in the city. Delicate dishes, such as bhel puri scallops, are complemented by a green-hued decor that features a mural by Hyderabad artist Kandi Narsimlu. Lamb, hard to find in Hong Kong, plays a starring role on the menu and fans are clearly making it hard to get a reservation.
Circular booths at the back of the room offer the cosiest spots for tucking into tandoori lamb chops coated in pistachio. For a change of scenery, head to the terrace for a digestif and views over Victoria Harbour.
rosewoodhotelgroup.com
---
Switzerland
My mother's apple cinnamon swirls
Our Swiss chef Ralph Schelling makes us a morning treat that reminds him of home cooking. Apple keeps the buns moist, while sugar in the dough helps the yeast dissolve and the swirls rise promptly. Allow two hours.
ingredients
For the buns
200ml milk
60g butter
40g yeast
60g sugar
500g flour
1 tsp salt
1 egg
For the filling
2 sour apples
250g ground hazelnuts
½ tsp cinnamon
100g sugar
200ml single cream
For the glaze
4 tbsps fresh lemon juice
100g icing sugar
method
Heat milk in a pan until lukewarm. Cut butter into cubes, add to milk with yeast and sugar. Pour into mixing bowl, add flour, salt and egg. Knead into a thick dough.
Set it aside to rise in a warm place for one hour, or until it's doubled in volume. Preheat the oven to 180

c

.
For the filling, grate apples and mix with hazelnuts, cinnamon, sugar and cream.
Roll out the dough into a rectangle 5mm thick. Spread with filling and roll up into a single sausage shape. Cut into 15 portions. Place the "snails" flat on a baking tray and bake for about 25 minutes.
Mix lemon juice with icing sugar into a thick glaze and spread it on still-hot swirls before serving warm.
ralphschelling.com
---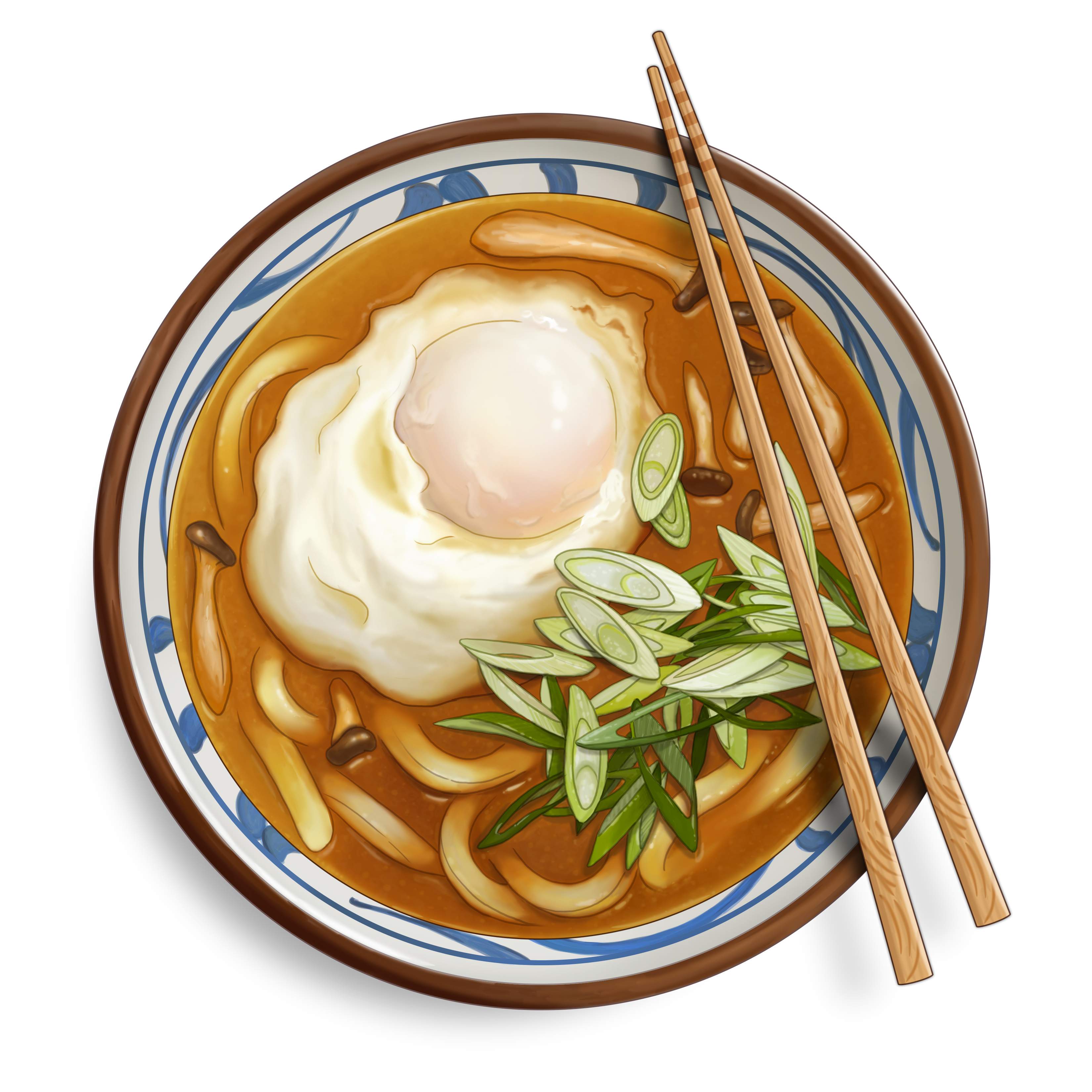 japan
Udon noodle curry with poached egg
The base of this beauty is dashi, a Japanese stock. It is often made using bonito flakes, kombu (kelp) or dried shiitake. You can make it from scratch (see the recipe below), get it fresh from many larger shops or Asian supermarkets, or buy it as a powder and then add water. If you are struggling with dashi then use chicken stock. Here's recipe-writer Aya Nishimura's take.
ingredients
2 medium eggs
150g oyster mushrooms, torn into 1cm strips, or any other mushroom sliced into 1cm chunks
600ml dashi; you can substitute with good- quality chicken stock
3 tbsps light soy sauce
2 tsps light brown sugar
2 tsps mild curry powder
2 tbsps arrowroot or cornflour
8 spring onions (green part), cut into thin diagonal slices
500g frozen fresh udon or 200g dried udon
method
To make the poached eggs, bring water to the boil in a medium-sized pan over a high heat. When the water is ready, crack an egg into a small dish. Create a whirlpool of water with a wooden spoon, carefully drop the cracked egg into the middle of the whirlpool and turn down the heat to medium. Cook for 3 to 4 minutes until the egg white is set but the yolk is still runny. When the egg is ready, scoop out with a slotted spoon and place on a plate lined with kitchen paper to drain. Repeat with the other egg and set aside.
Heat a pan with the dashi over a medium heat. Add the soy sauce, sugar and curry powder. Keep warm.
Heat a separate large pan with 2 litres of water over a high heat, bringing it to a boil. Then add the noodles, following the packet instructions for cooking. When cooked, drain the water.
While the noodles are cooking, add the mushrooms to the broth, cook for 2 minutes, then add the spring onion and cook for 1 minute.
Mix the arrowroot and 40ml water in a small bowl until there are no lumps. Add the liquid to the dashi broth and mix well. Simmer for 2 minutes until the broth thickens.
Boil water in a kettle and fill a bowl with the hot water. Carefully transfer the poached eggs to the hot water warm them up for a couple of minutes.
Divide the noodles and broth between 2 bowls. Top with the poached eggs. Serve hot.
How to make fresh dashi (optional)
ingredients
1 litre filtered water
10g dried kombu/dried kelp
10g katsuobushi (dried bonito flakes; large flakes are preferable for dashi)
method
Soak kombu in the water for 2 to 3 hours, or soak it overnight in the fridge.
Put water and kombu in a medium pot, place over medium to low heat and slowly bring it to just below the boil. Remove the kombu immediately (leaving it in boiling water results in slimy stock).
Bring kelp stock to the boil, add bonito flakes and turn off the heat. Set it aside for 10 minutes.
Strain the dashi through a fine sieve.
ayanishimura.com
---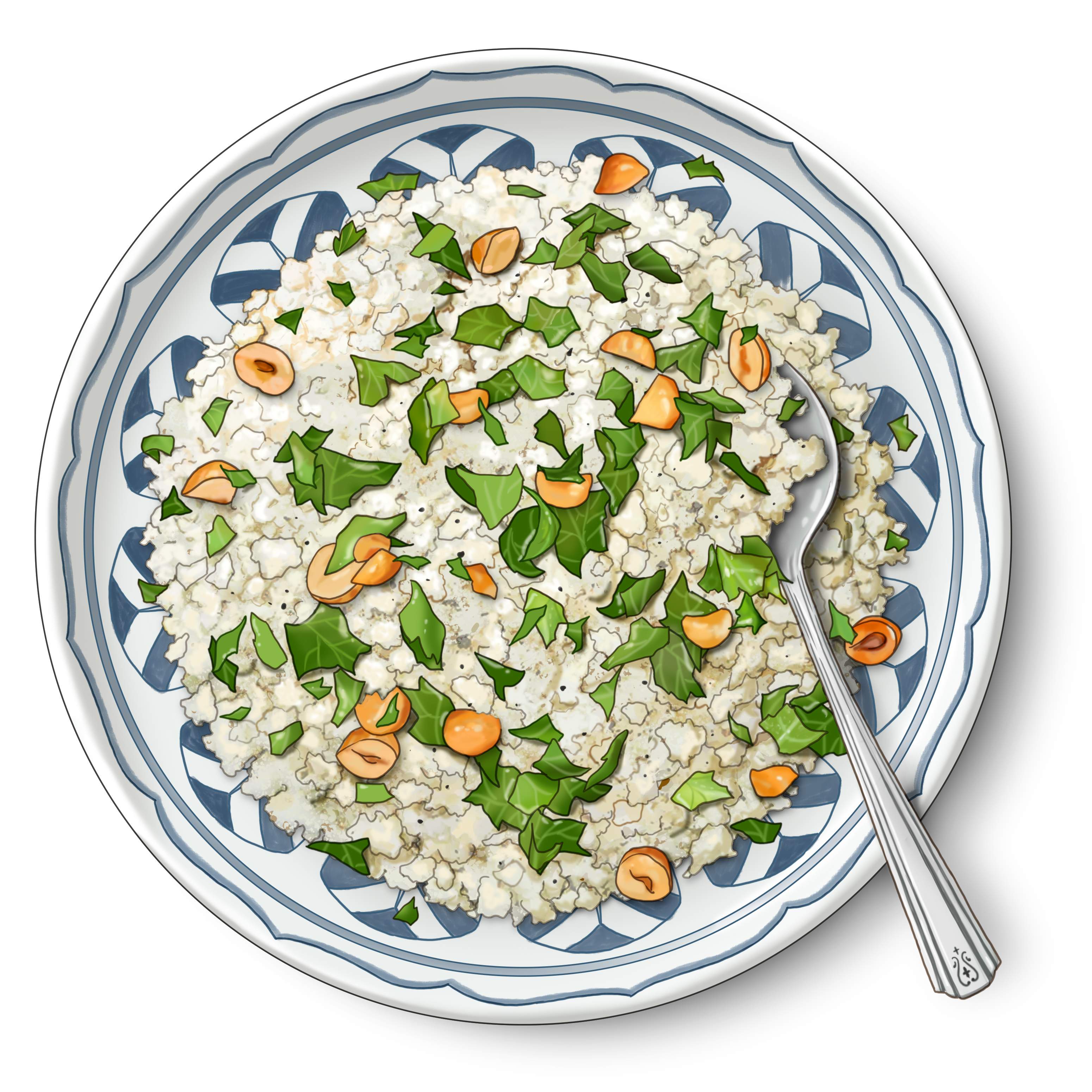 morocco
Cauliflower salad with Moroccan mint and roasted hazelnuts
Chef Schelling whips up a tasty summer salad (or starter) using refreshing mint and hearty hazelnuts. It's light, virtuous and it takes just minutes to make. It is also a base that rewards experimentation – try adding in pomegranate or dill, or switching the hazelnuts for pistachios, for instance.
ingredients
1 large cauliflower
4 tbsps lemon juice
2 tbsps olive oil
1 tsp honey
12.5g Moroccan mint, chopped
40g roasted hazelnuts, chopped
Salt and pepper to taste
method
Grate the cauliflower with a mandolin or standard grater to make smallish pieces the size of couscous.
Season with the lemon juice, olive oil, honey, a pinch of salt and a few turns of black pepper. Mix and arrange with mint and the roasted hazelnuts or optional extras.
Serve immediately or keep cool in the fridge for later.
ralphschelling.com
---
The Monocle Weekend Editions, our free email newsletters, are stuffed with ideas, insights, analysis and recommendations. These recipes are taken from the Sunday instalment, which focuses on food, entertainment and hospitality. Speaking of which, you are more than welcome to join the club.
monocle.com/minute
Photograpers: Luigi Fiano, Chris Baker, Sophie O'Keefe. Illustrator: Xiha