Hospitality / Copenhagen
Room for all
The Danish capital's latest hotel venture pays homage to its past life as the city's central post office. It gets our stamp of approval.
"It wasn't so much that I saw a gap in the market in Copenhagen," says Petter Stordalen in the atrium lobby of his latest venture, Villa Copenhagen. "It was more that as soon as I saw this building, I knew we could make something unique – something that you could never create from scratch."
For more than 100 years, the gargantuan neo-baroque building overlooking Tivoli Gardens on one side and the city's central station on the other, was Denmark's Central Post and Telegraph head office. Stordalen has spent dkk1.75bn (€235m) over four years transforming the 25,000 sq m building into a 390-room hotel with a 25-metre rooftop lap pool, restaurants, bars and meeting spaces.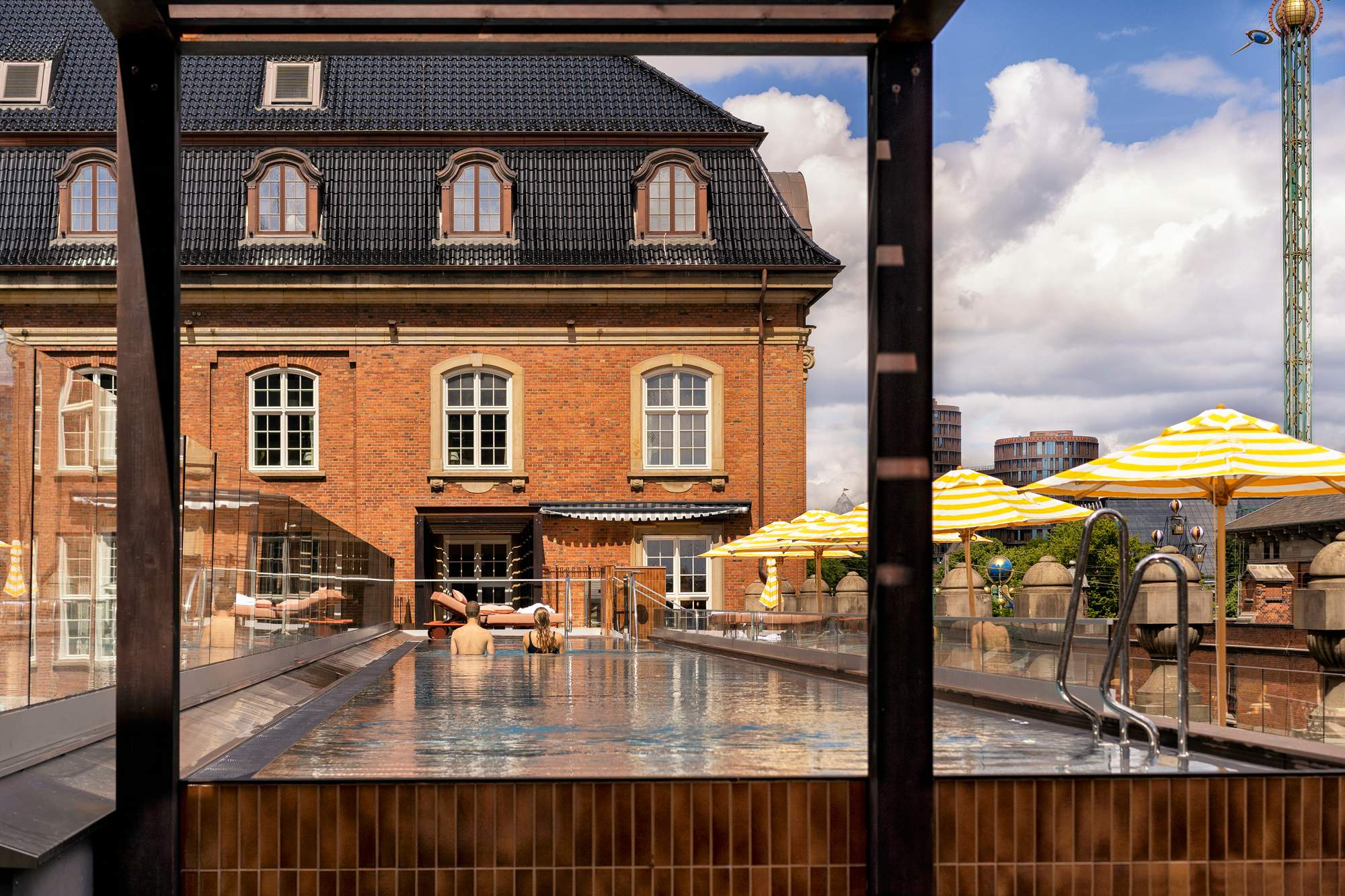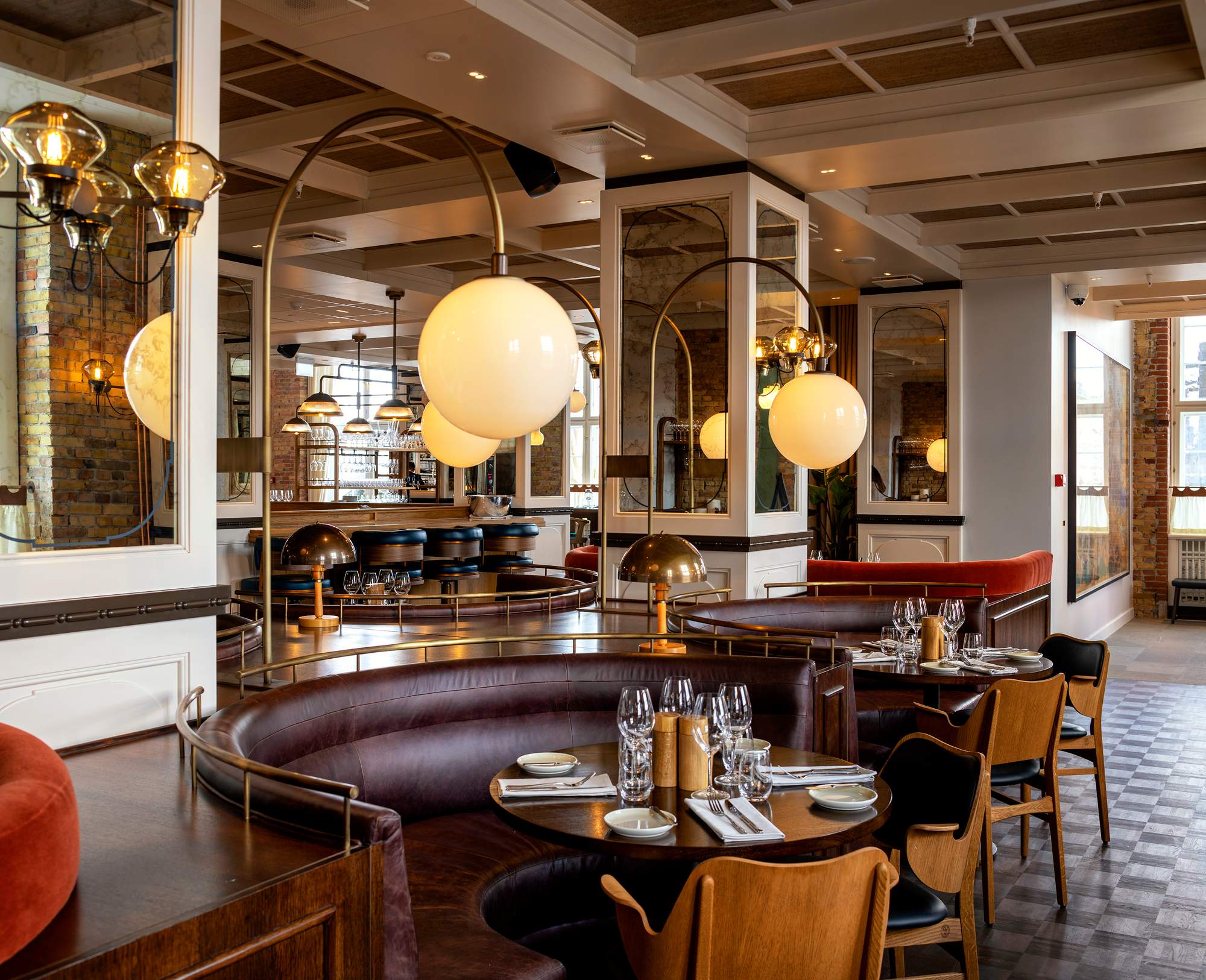 Despite the transformation, many original features remain, including the wavy glass in the windows (now also soundproofed, of course), marble pillars and floors, and extensive wood panelling. The former general manager's office has been transformed into the dkk55,000 (€7,400) a night Shamballa Suite, with an open kitchen and one of the building's only balconies, with a view over the train tracks leading into Copenhagen Central Station. We're told that this is where the post office manager would stand, pocket watch in hand, awaiting the arrival of the mail train. 
Meanwhile, on the ground floor is the t37 bar, which you enter from the street beneath a sign that still reads Her Indleveres Breve (Letters Deposited Here), while the entrance to the 1,000 capacity meeting space at the rear of the building is via large stone archways beneath which horse-drawn mail carriages once passed.
Peter Høgh Pedersen, the hotel's managing director, describes Villa Copenhagen's style as "new vintage", citing the buildings corridors, which are painted a shade of grey inspired by the palette of 19th-century Danish artist Vilhelm Hammershøi, who died shortly after the building was completed in 1912. Furniture is a mix of custom-made and Danish modern classics by Carl Hansen.
"The designers, Universal Design Studio, have taken lots of the original fittings and materials, such as the stucco ceilings and oak parquet floors, and given them a twist," says Pedersen. He points to the brown leather straps with buckles that form a centrepiece in the t37 bar and echo the straps of the postmen's bags. "We wanted to create something timeless, that looked like it had always been here, because that is how the building itself feels."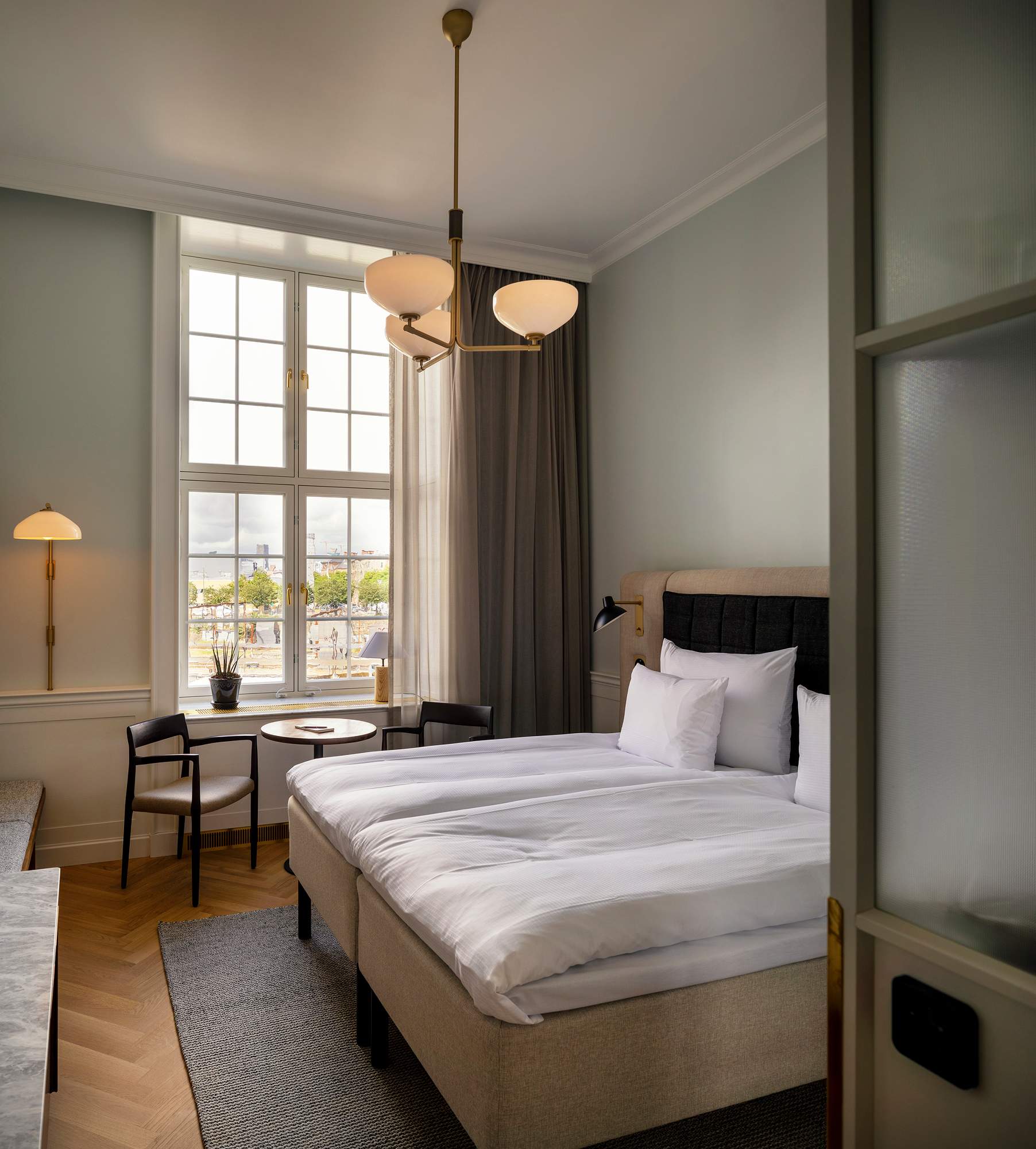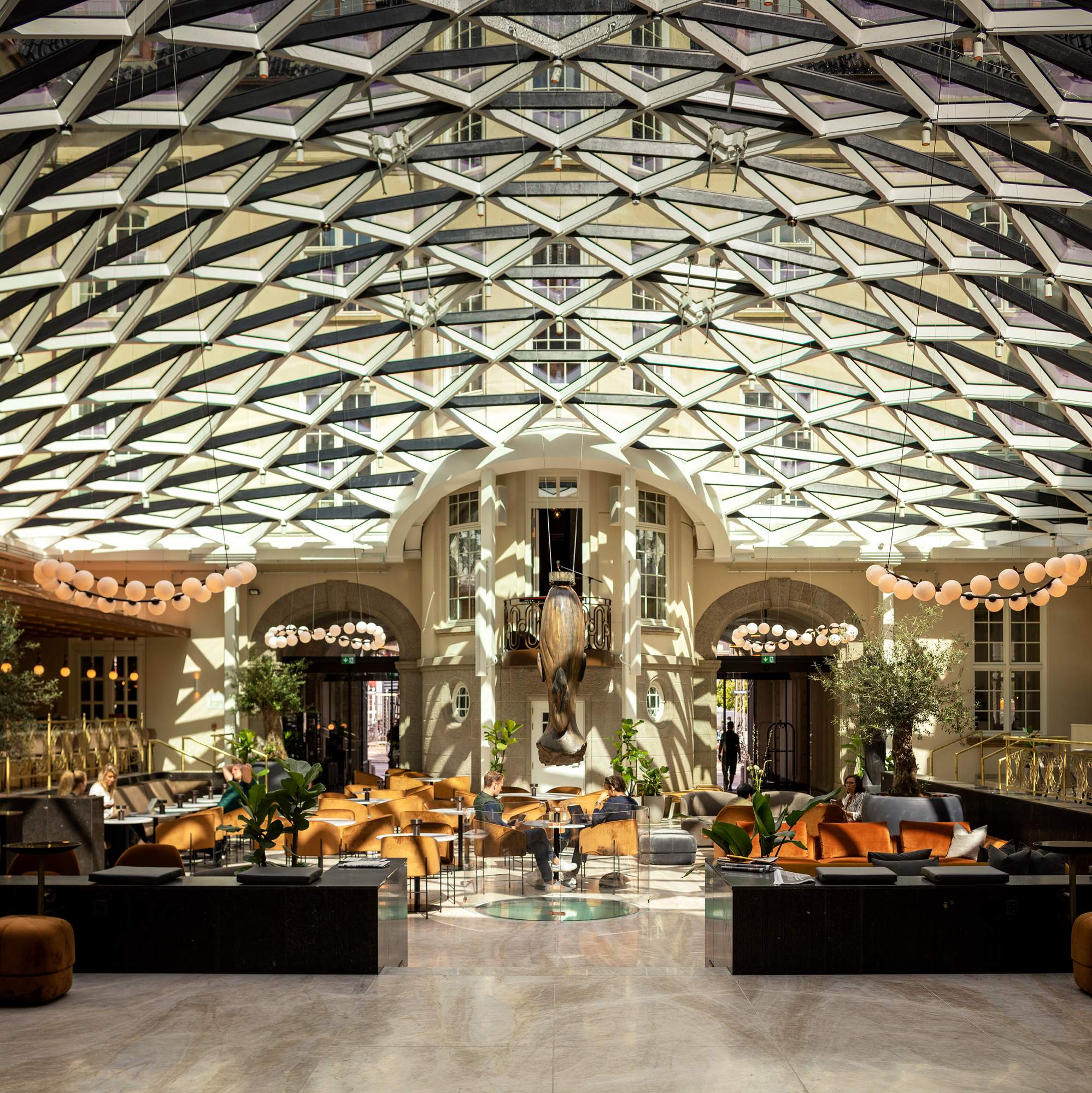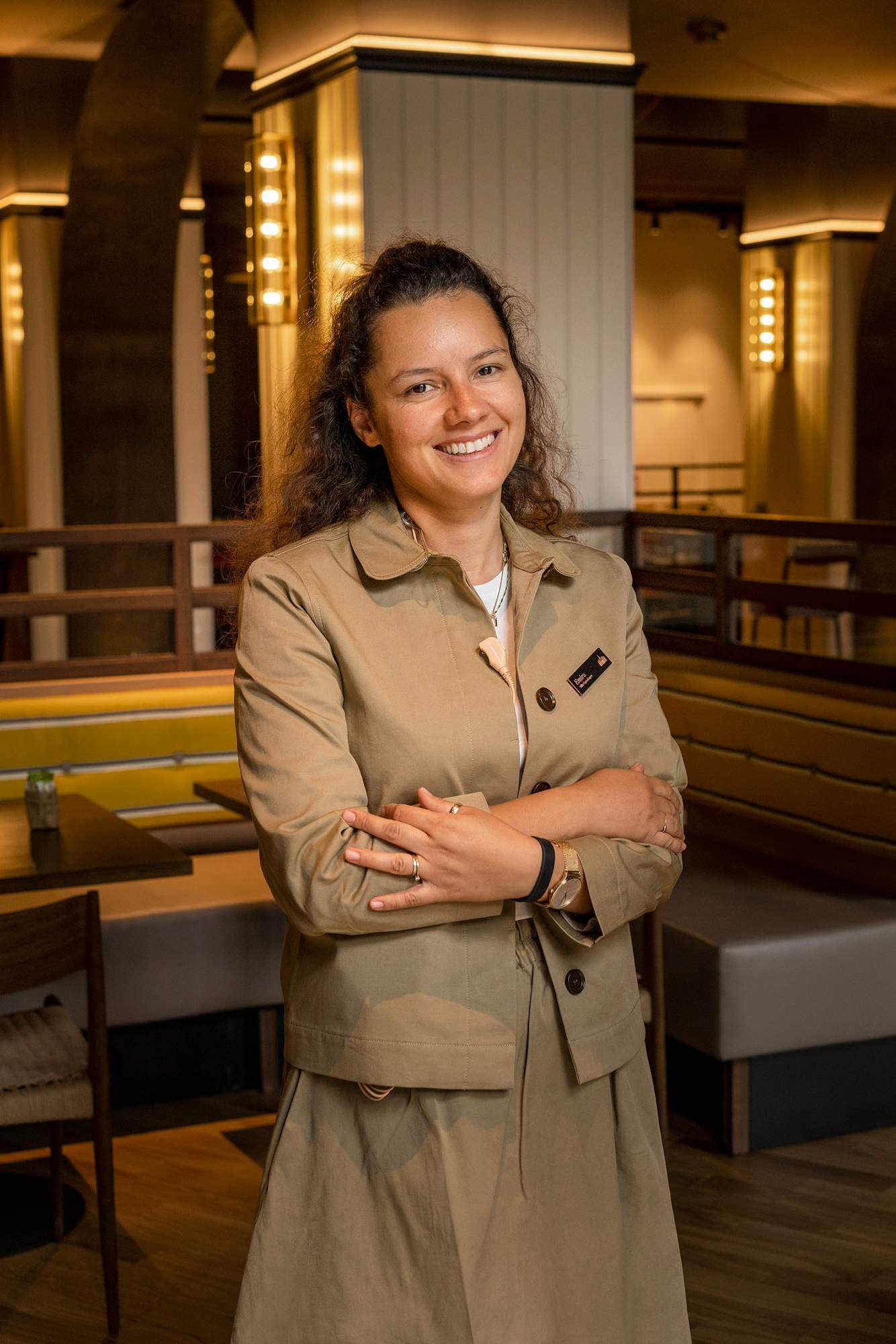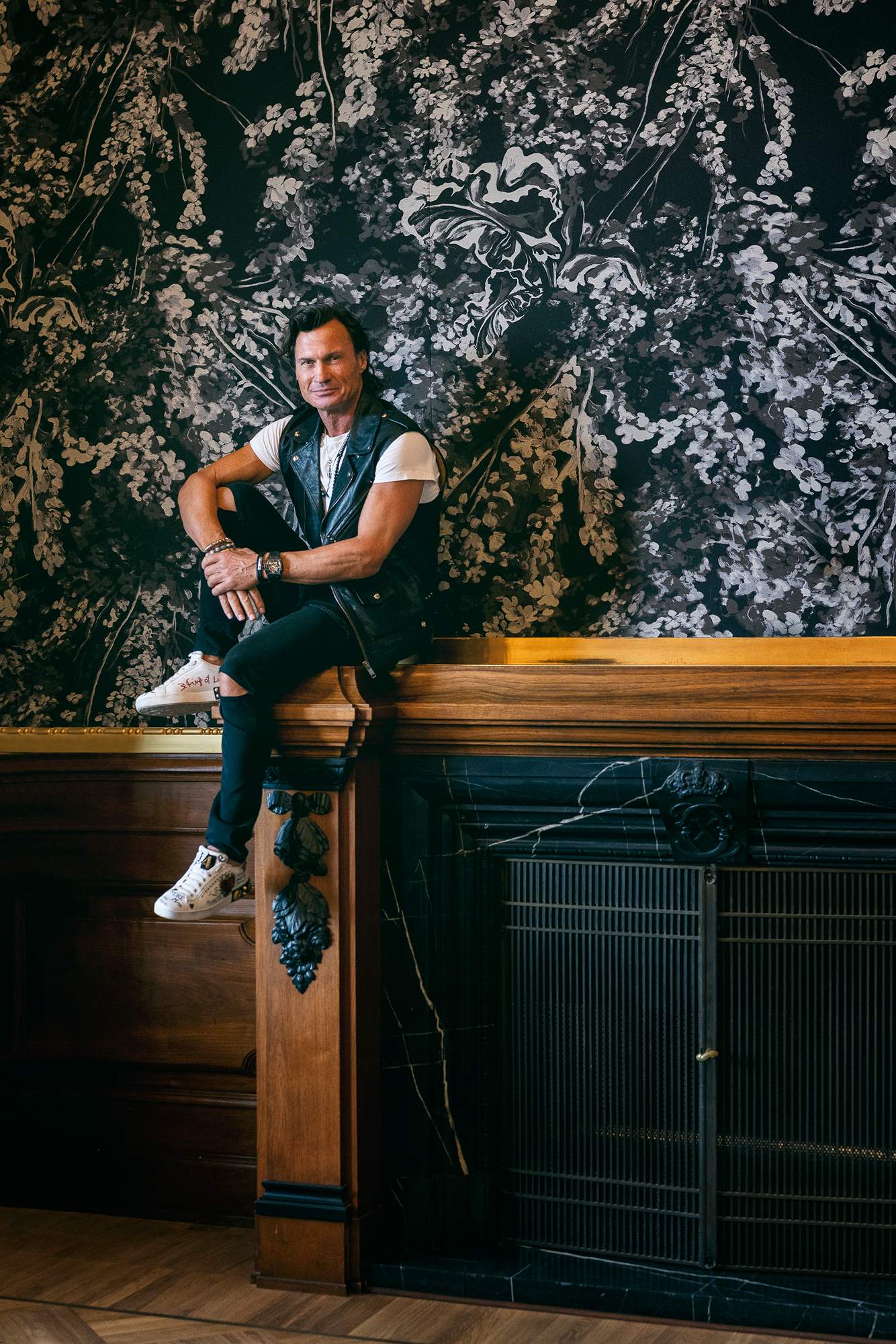 Stordalen is perhaps Scandinavia's answer to Richard Branson. Although he was a humble strawberry seller in his youth, he is now famed for his decidedly un-Scandinavian flamboyance (today he is sporting a sleeveless black leather biker jacket) and publicity stunts: he once abseiled down the front of a hotel he was opening. He tells Monocle that he has no specific type of guest in mind for what is now one of Copenhagen's largest hotels. "It's more important to me that the hotel is bustling," he says. "It's better that locals come by to sit and have a coffee or a beer than we have five stars. Luxury hotels can be quite exclusive but I want a broad range of people to come."  To that end, Pedersen has a range of pop-ups planned to keep curious Copenhageners flowing through the large, light-filled lobby with its bar and café.
Stordalen's Nordic Choice Hotels group now has 208 properties in Denmark, Sweden, Finland and his homeland of Norway. Last October he bought the Danish travel firm Spies, as well as two other travel companies, Tjaerborg and Ving, and Thomas Cook Airlines Scandinavia (now renamed Sun Class Airlines). Recent global events are obviously challenging for the travel industry; he concedes that this year is already a "lost year". He estimates that Nordic Choice Hotels will suffer a slump in turnover of 80 to 90 per cent and losses of about dkk3bn (€400m).
His company, which also includes Sweden's largest restaurant chain and the Norwegian ferry service Hurtigruten, had taken out insurance against epidemics worth dkk700m (€94m). Less happily, his Danish insurer is arguing that the policy does not cover losses resulting from Covid-19, as that is a "pandemic". "I expect we will be arguing in the courts for some years about that," says Stordalen, ruefully. 
Still, the businessman remains optimistic that things will return to normal. "This global travel trend has been growing steadily for the past 50 to 75 years. It probably won't return to normal until 2022 but it's not going to stop."
villacopenhagen.com