Cinema / Global
Bigger picture
Running a cinema is about much more than the silver screen. We meet the industry players who believe in the future of public screenings.
Touch of grandeur
Capital Bio, Stockholm
For some months earlier this year, Capitol Bio in Stockholm was one of the few places in the world where people could go to the cinema. Despite Sweden's well-known resolve to avoid full lockdown, most other screens chose to go dark. Capitol Bio was one of a few in Stockholm that decided to stay open – with caution and safety measures.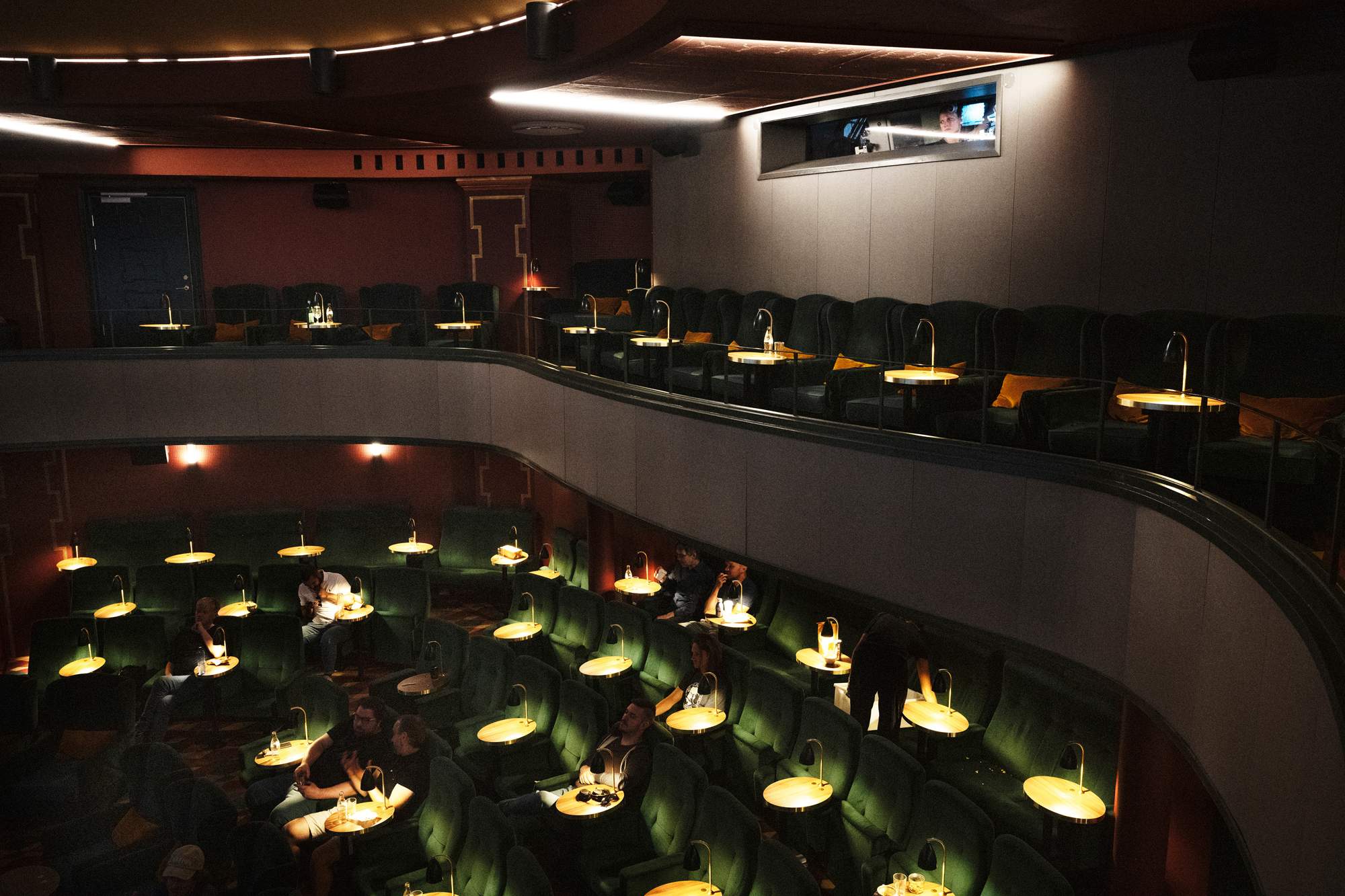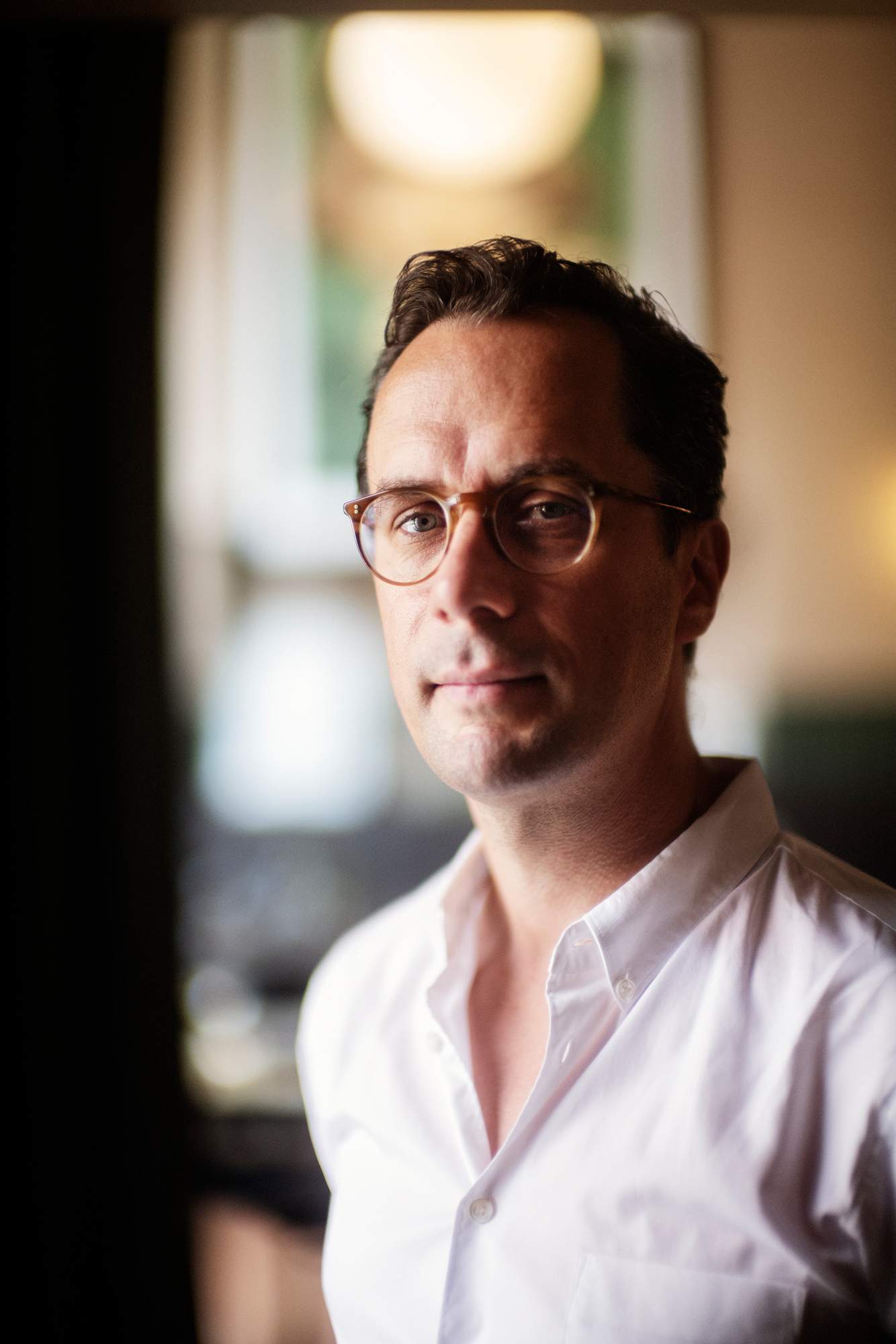 "People have been looking to get out of their homes and have a bit of culture," says CEO Jakob Abrahamsson. Staying open allowed Capitol Bio to make a point about its role as a community hub for lovers of cinema but also to bring in new regulars (even as it limited the number of tickets sold and spaced attendees apart). "We have some new regulars who tell us they didn't know that this place existed and then they just kept coming back," he says. Housed in a lovingly restored art deco building in central Stockholm, the cinema opened its doors in its current format in 2018. Its former occupant shut down in 1985 and the building's interior was in ruins when Abrahamsson and a handful of friends in the movie industry decided to revive it and offer something different to Stockholm's film aficionados. "[We wanted] to bring back some of that cinema-going magic," he says.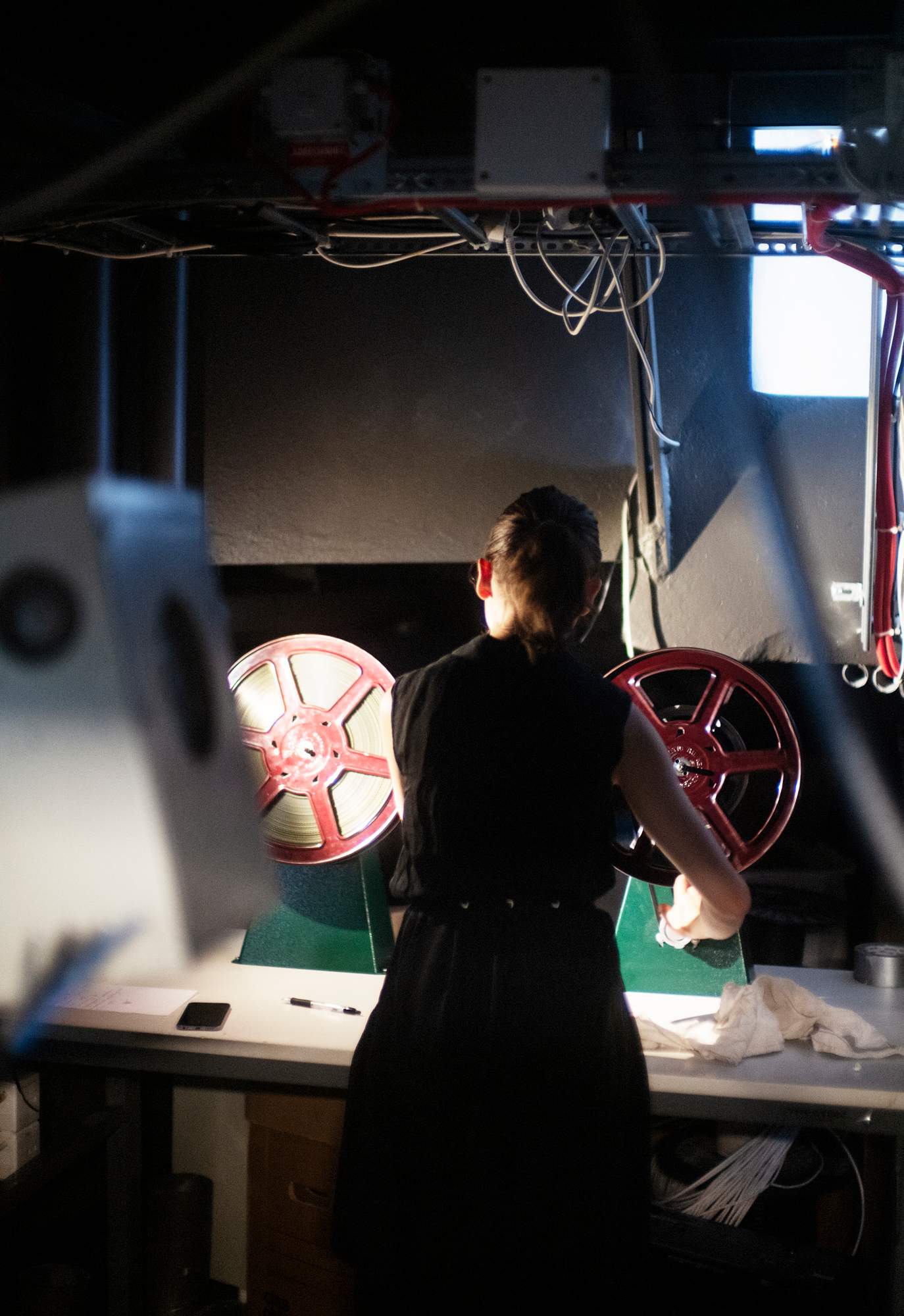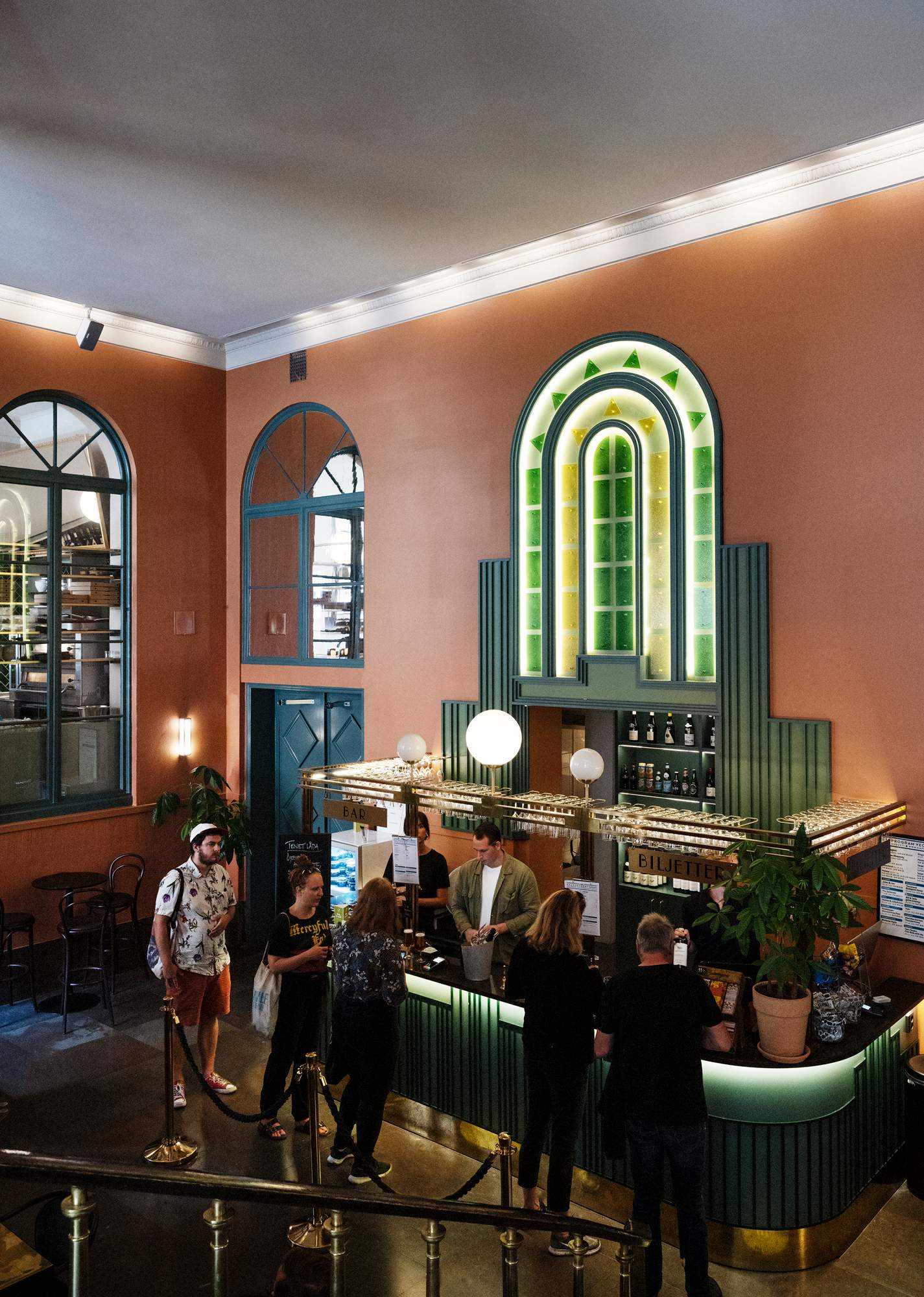 That meant giving patrons high-end theatre spaces with plush velveteen seats in muted green or blue, as well as plenty of space to stretch their legs during screenings. Small wooden side tables are placed between every other seat, with lamps giving off a cosy light. Not only that but they also fitted the foyer with a striking and well-stocked bar; patrons can spend time chatting over drinks there or take a bottle of wine into the screening. The adjacent Capitol Bistro – done up in a similarly elegant, old-school style – serves lunch and dinner most days. Perhaps most importantly, Capitol Bio approaches its programming by scheduling carefully selected current releases alongside classics and special repertory films – anything from hugely popular screenings of the likes of Chinatown to Christopher Nolan's Tenet (shown on a 35mm projector that the team finished installing this summer).
"We had this dream of a nicer, more grown-up cinema in Stockholm," says Abrahamsson. "And it turns out a lot of other people wanted that." As many of their patrons grew up in the 1970s and 1980s, watching films at home on small-screen VHS, the retrospectives are always very appreciated. "Now they have the chance to see these on a big screen for the first time," he says with a smile.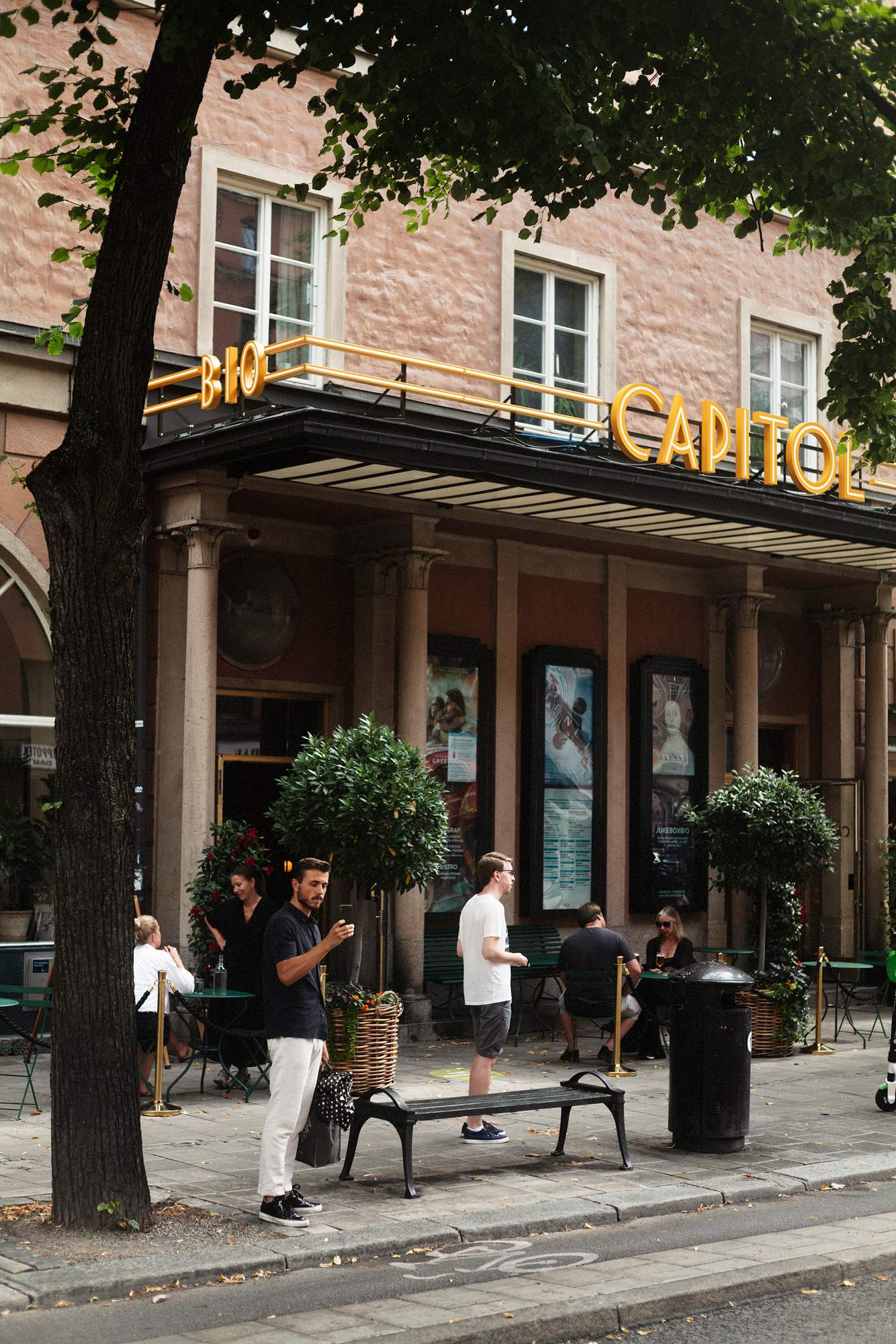 The enthusiastic audience is giving Capitol Bio hope that this cinema's role remains unchanged, regardless of fears that viewers might be switching permanently to streaming. "What the cinema can offer, beyond just seeing a film, is even more important," says Abrahamsson. "We're looking at a future where, on the one hand, the big immersive screens like Imax can do well and, on the other hand, what we do can too: a higher-quality experience, with a better selection of concessions – a nice bottle of burgundy instead of a coke. Those two paths to the future are looking bright. By being very classical, we're doing a bit of future-proofing as well." 
capitolbio.se
---
Service gets the credit
Palace Cinemas, Australia
Benjamin Zeccola, CEO of Australia's well-respected Palace Cinemas group, is looking forward to the new James Bond movie – a lot. "Of course, James Bondfilms are full of excitement and escapism but it's also very good for us; the name attracts a sophisticated adult audience and younger people too," says Zeccola of the summer blockbuster, which has been postponed until November. "We'll have lots of advanced ticket sales and customers are likely to spend on other things – certainly a few martinis at the bar."
Titles acting as a bellwether for the cinema business have been in short supply in 2020: the summer belonged to small-budget releases, streamed direct to locked-down cineastes at home. It's a tough thing to ask the boss of an expanding cinema group but is streaming the future of film? "It has certainly done wonderful things for storytelling methods but things are just better shared – and this comes out in the movies," he says. "People are social animals, they want to go out and mix."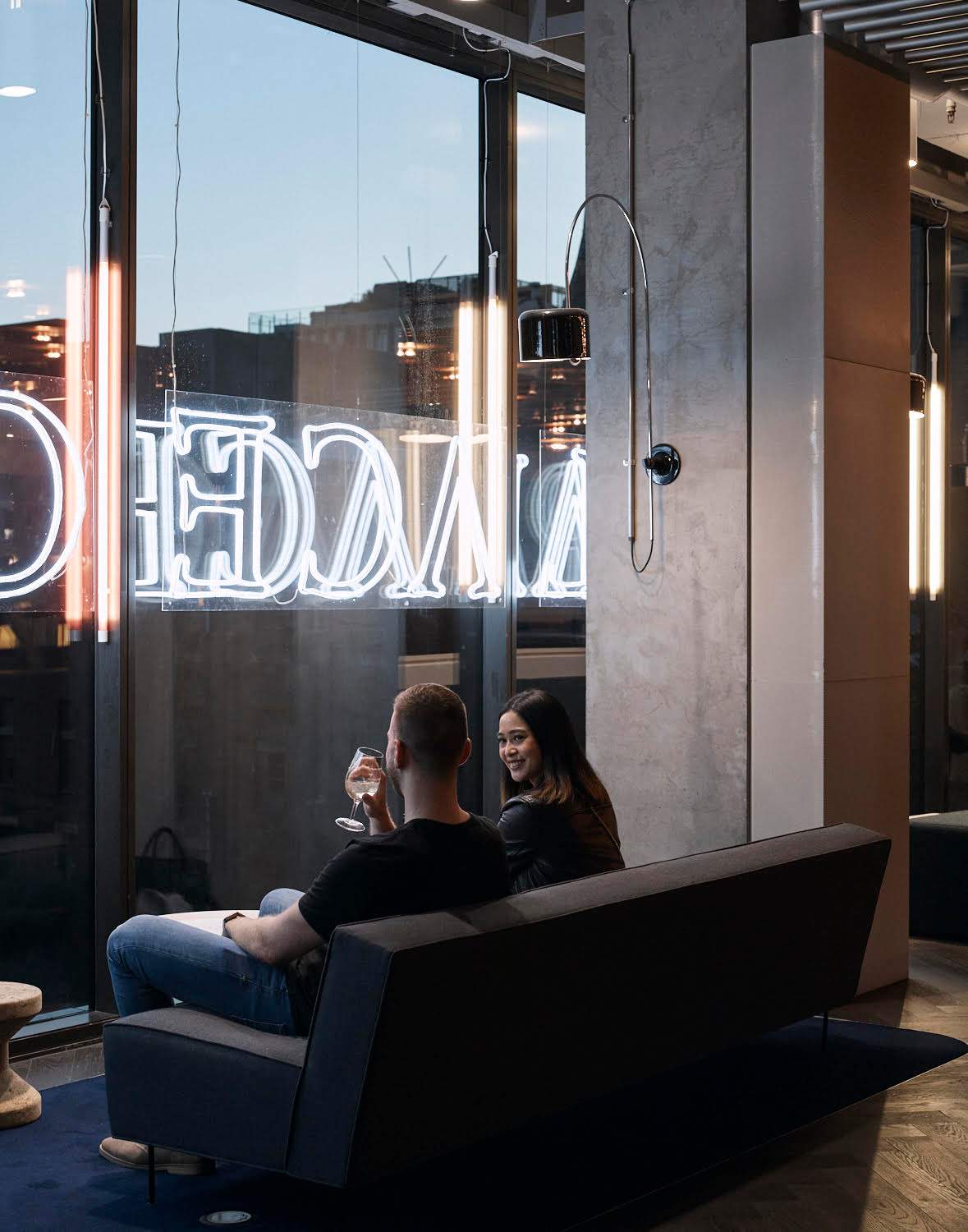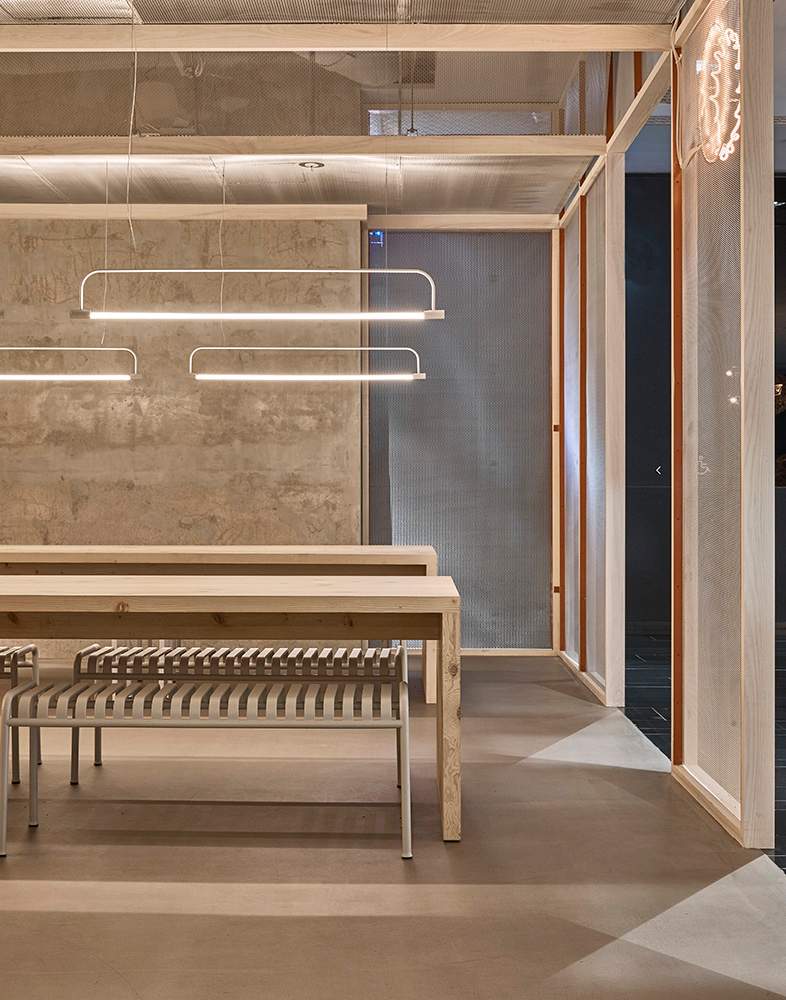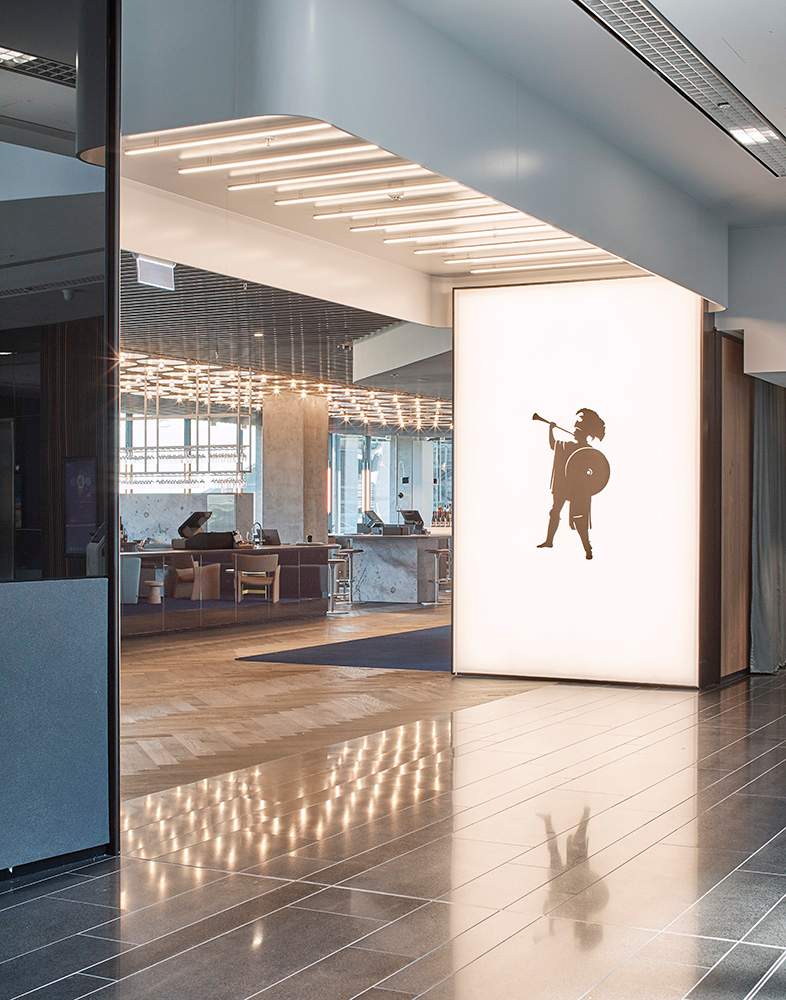 Palace Cinemas has 16 physical theatres and some 150 screens across Australia, with further plans for expansion. The company has a long history of getting people together: grandfather Giovanni Zeccola rented the church hall in Muro Lucano in Basilicata, south Italy, and put on movies during the postwar Italian Golden Age. His son Antonio moved to Australia in 1956, later doing a similar thing with larger venues. Is the idea to recreate a little of the spirit of the old Italian piazza in the Palace venues? "Cinemas are a place for romance, for first dates and falling in love with big stories," says Zeccola. "But they're also a place for hospitality and good service – and I'm happy to say that many of our staff and customers are on first-name terms."
Sure, your sofa might be comfortable but it has been warned. 
palacecinemas.com.au
Jake Garriock
Head of distribution strategy and group publicity at Curzon on engaging its audiences during the pandemic.
An independent chain of 13 cinemas specialising in arthouse films, Curzon sets the gold standard in how to run a business of this kind in the UK. Here, Garriock explains how the the company has adapted over the past few months. 
Did the closure of cinemas hinder planning or give you time to implement new ideas?
It accelerated a lot of trends we were looking at – that cinema has to be an event, an experience. For instance, we have a team of people who work on events and suddenly we had no events. You have all those skills so why not deploy them to do something really interesting while the cinemas are closed? We figured out that you can film in people's homes [live-streamed Q&As with directors and actors] and create an event that audiences will engage with.
What might improve the cinema-going experience?
We're considering installing equipment at a couple of our central London cinemas that would allow us to film Q&As and send them to other venues around the country. It's something we wanted to do anyway – we have so many brilliant directors and actors coming into the venues.
Do you see streaming as a threat to the industry?
We certainly don't have an antagonistic relationship with the streaming services, we work quite closely with all of them. It's not necessarily that streaming is cannibalising people going to the cinema; people use it to round off their engagement. There's competition but there isn't an existential worry.
Gearing up for a classic
Four Brothers, New York State
New York has hundreds of cinemas so why would anyone need to leave Manhattan to watch a movie? The answer lies in Amenia, a town of 4,000 people with one traffic light and one supermarket, about 150km north of the city. There, in a field, sits part of cinema's future.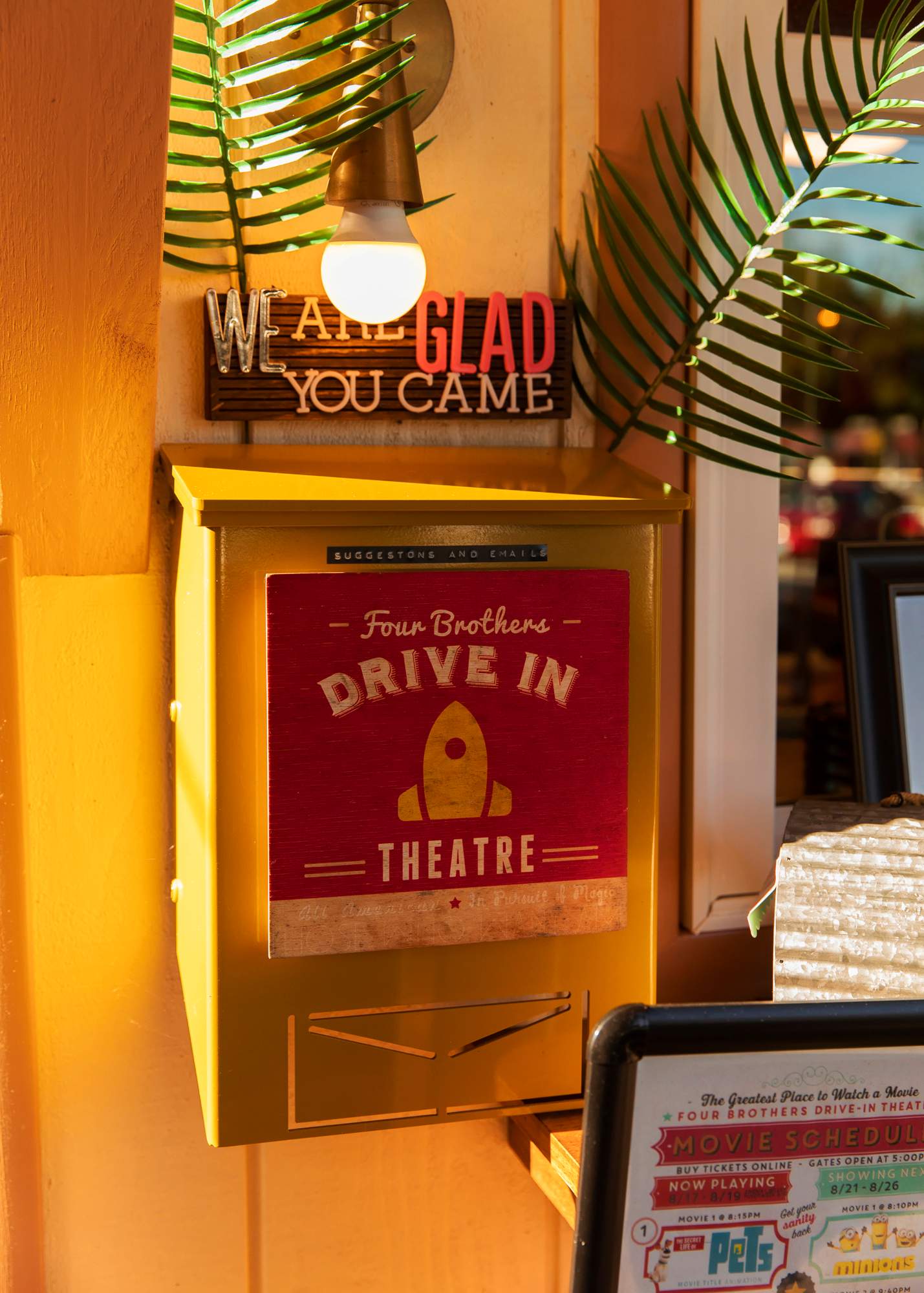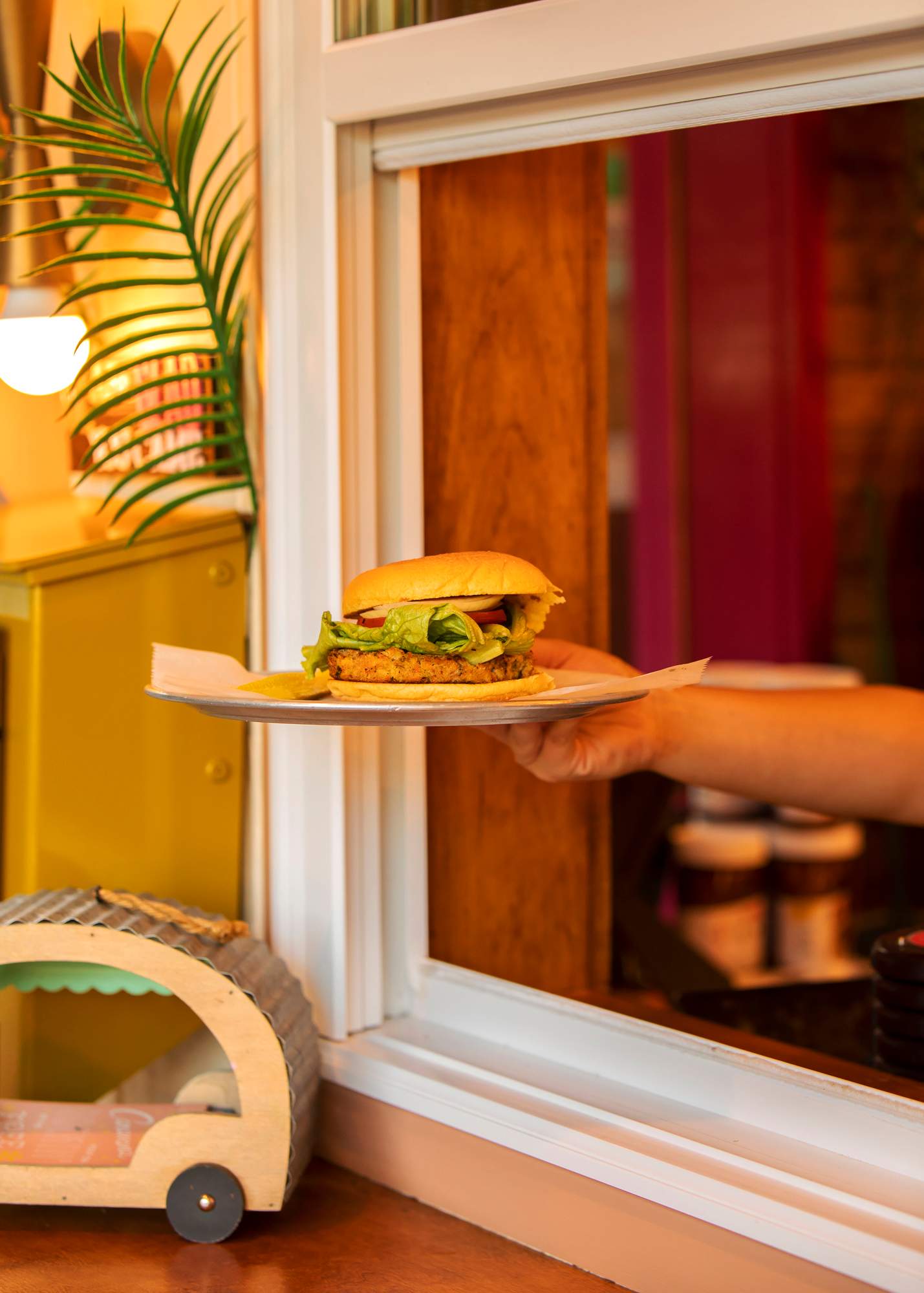 Four Brothers Drive-In is owned, in fact, by only two brothers: John and Paul Stephanopoulos. Its name comes from their father's restaurant next door, Four Brothers Pizza. In 2012, John and Paul turned the unused land behind the pizzeria into a drive-in cinema when such institutions were all but going extinct across the US. "We love movies and bringing people together," says John. "Plus there was no entertainment in the area."
Having no experience in running an enterprise of this kind, the first year was "pretty bootleg", says John. "We had a high-school projector attached to a DVD player; cars would drive over the cables and kill the signal," he says, laughing. Still, after investing in a digital projector and striking deals with distributors to show first runs, business picked up. Even before the pandemic closed most of the competition, Four Brothers was experiencing year-on-year growth, regularly filling its capacity of 150 cars.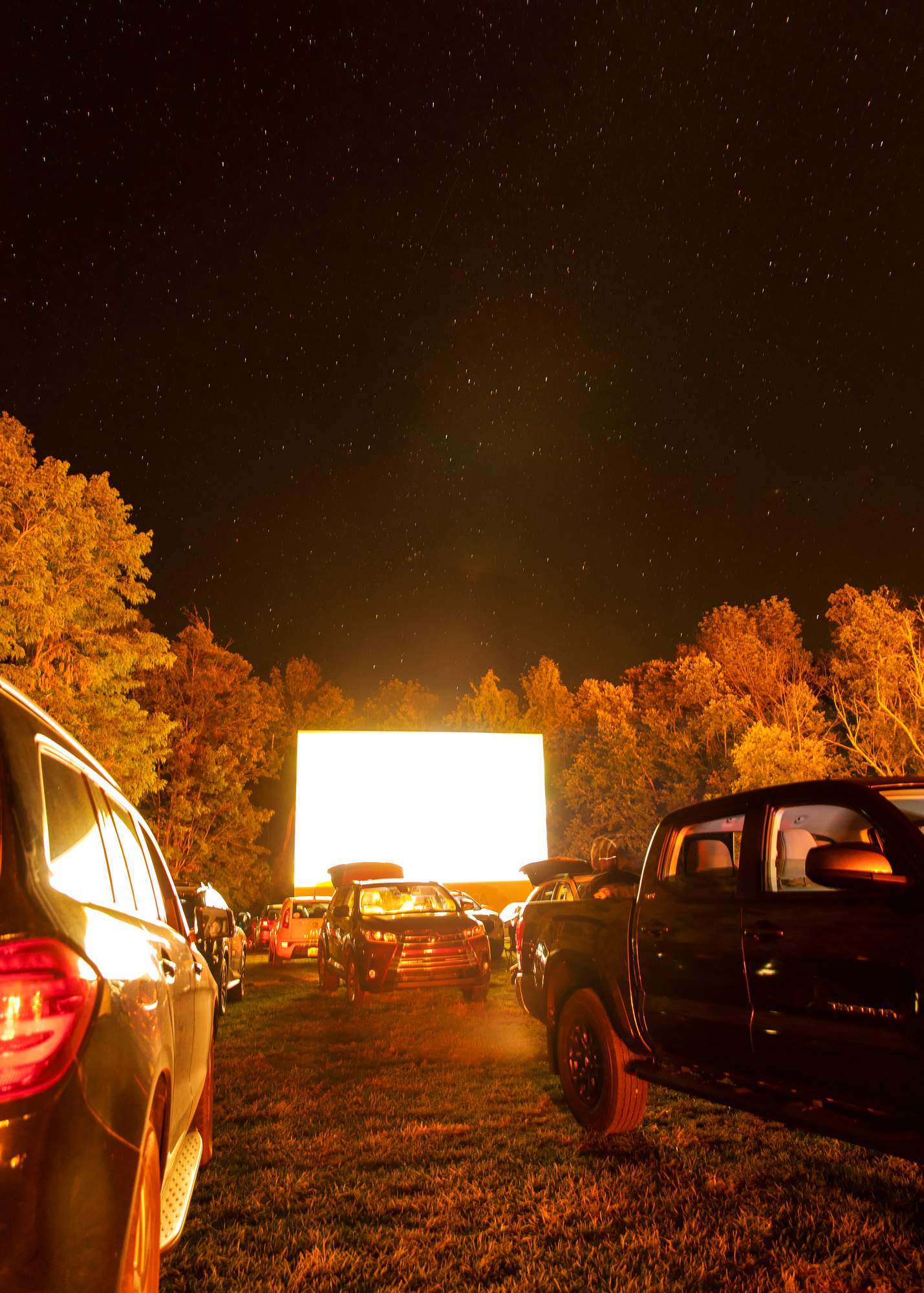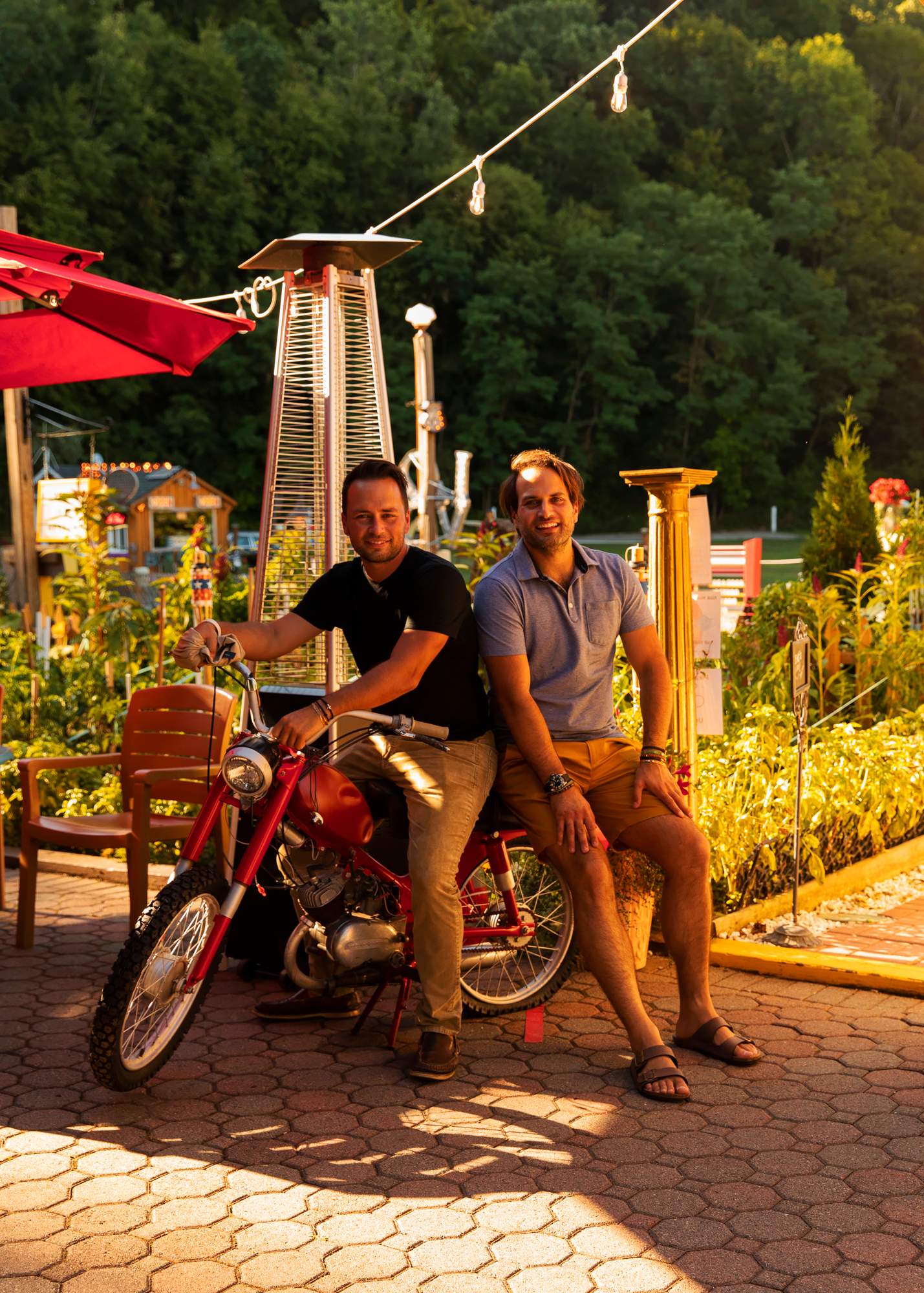 Customers travel from New York and the neighbouring states of Massachusetts and Connecticut to grab a spot and it's easy to see why: the drive-in is surrounded by trees, giving it the feel of a natural amphitheatre. The location is picturesque and the way the outdoor speakers compete with a chorus of frogs and cicadas only adds to the charm. You can listen to the film on your car's radio but in good weather most people watch from outside their car. When Monocle visits, most viewers are outdoors: some sit on lawn chairs next to their vehicles, others are on the roofs, in the beds of pick-up trucks or getting cosy in an open boot. 
"People want to be out of their homes," says John. "Anyone can come to a drive-in: your newborn, somebody with disabilities, your pet, your date, your lover, your family." Plus the pizza and burgers, delivered to the cars, help with revenue.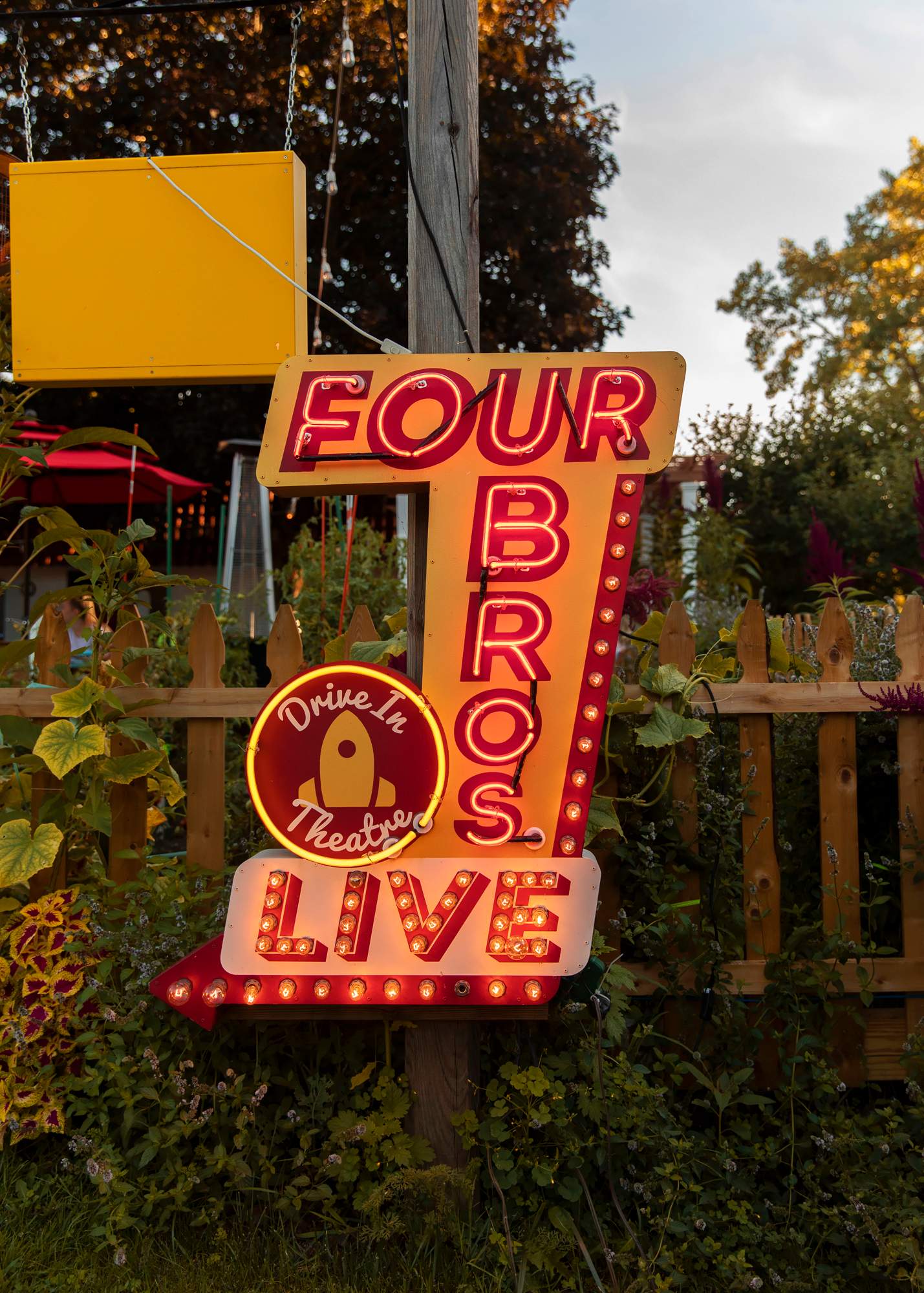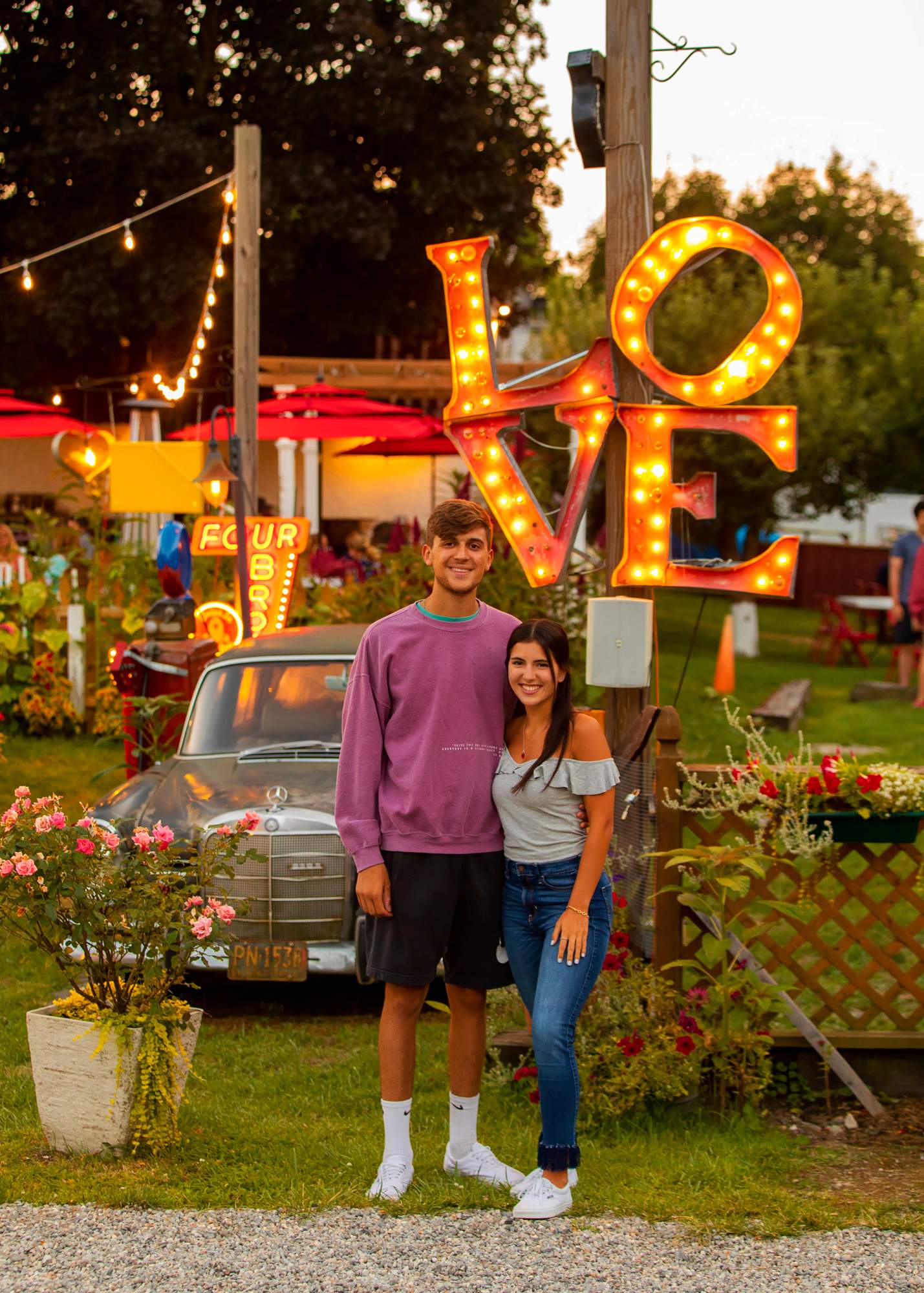 Despite the current enthusiasm for drive-ins, car ownership is predicted to drop. So do the brothers feel that this business has long-term prospects? John does. "People are being pushed out of cities like New York by crazy prices and moving up here," he says. "They want something different but they also miss things." The high-end cinema experience that Four Brothers provides is one of them. "I must have received 50 or 60 enquiries from around the world on how to run a drive-in or whether we'd like to adopt a franchise model," he says. Perhaps the future of cinema won't be about big screen versus small screen; the windscreen could well be a factor too. 
playeatdrink.com
---
Keishi Kobayashi
Vice-director at the Motion Picture Producers Association of Japan on a box-office boost.
Although more and more people are streaming films, the Japanese cinema industry is still faring well: screen numbers are growing and so are box-office sales,  particularly for home-grown films. Keishi Kobayashi tells us what's behind the rise.
What ups and downs have you spotted in the Japanese industry?
Since 2000 we've seen a lot of ups. The number of screens increased from 2,524 to 3,583; annual films shown from 644 to 1,278; visitors from 135 million to 194 million; and box office sales from ¥170bn (€1.3bn) to ¥261bn (€2bn). The rise of the cinema complex largely explains this growth.
Streaming services are shaking up the global cinema industry. What is the situation in Japan?
Streaming can only replace watching movies on DVDs and TV but it can't compete with the behind-closed-doors, shared experience at a cinema that is equipped with a state-of-the-art screen and sound system. People know how special it is.
What services and technology are industry players introducing?
On the technology front, they have the latest, including Imax, Screen-X multi-projection and 4D with rain, wind and fragrance effects. Service-wise, distributors and cinema complexes are doing everything from limited-edition freebies to encouraging audience participation. You can't have any of this with streaming. These special shows are more expensive but they often sell out faster than normal ones.
Milica Bozanic
Executive director at the Serbia Film Commission on the country's unique industry.
Belgrade was once the centre of a substantial Yugoslav film industry. War and international embargoes shattered the physical infrastructure and scattered its talent. But in recent years the prodigals have returned, equipped with newfound know-how. Serbia is now pulling in productions attracted by low costs, a highly skilled workforce and co-operative authorities. 
Why have productions been coming to Serbia?
The proximity of Hungary, an established destination, has an effect. But we distinguish ourselves in access that you can't get easily in other countries – especially when it comes to street closures, doing extreme stunt scenes and car chases. A number of films have come here just for this purpose, such as the Luc Besson film Anna.
What about the crews and studio facilities?
Our production-design department has a reputation – this is part of the heritage of Yugoslav cinematography. They can build huge sets, providing bigger production values. The series The Outpost is finishing its third season in Serbia; they can have a backlot three times the size of what they could afford in the US. And for the Paramount project Crawl, an entire set was built in Belgrade Port to double as Florida during a hurricane.
How will you ensure that progress continues?
We will expand our studio capacities. But we also want to bring in more high-budget projects where Serbia plays Serbia to promote the industry and the
country.
neighbourhood cinemas
Where credit's due
Films alone can't turn cinemas into community hubs. But these storied examples are building an industry and strengthening their 'hoods.
1
Open up – against all odds
cinema troisi
Rome
When a group of Romans first occupied and fixed up Cinema America in 2012, they transformed a disused space into such an integral part of its Trastevere neighbourhood that the state formally recognised it as a cultural institution.
Still, police forcefully ended the occupation in 2014 but the Ragazzi del Cinema America didn't give up on their mission and established outdoor film screenings in San Cosimato and other piazzas in the city instead. Now the ragazzi have their sights set on their most ambitious project: spearheading the November opening of a €1.4m conversion of the 1933 Cinema Troisi into a 300-seat cinema and social centre. "This is not the time to let up," says Valerio Carocci, president of the organisation. "More than ever we need young people to give culture a positive push for our country and our city." 
cinematroisi.it
---
2
Build a community beyond the screen
paradise theatre
Toronto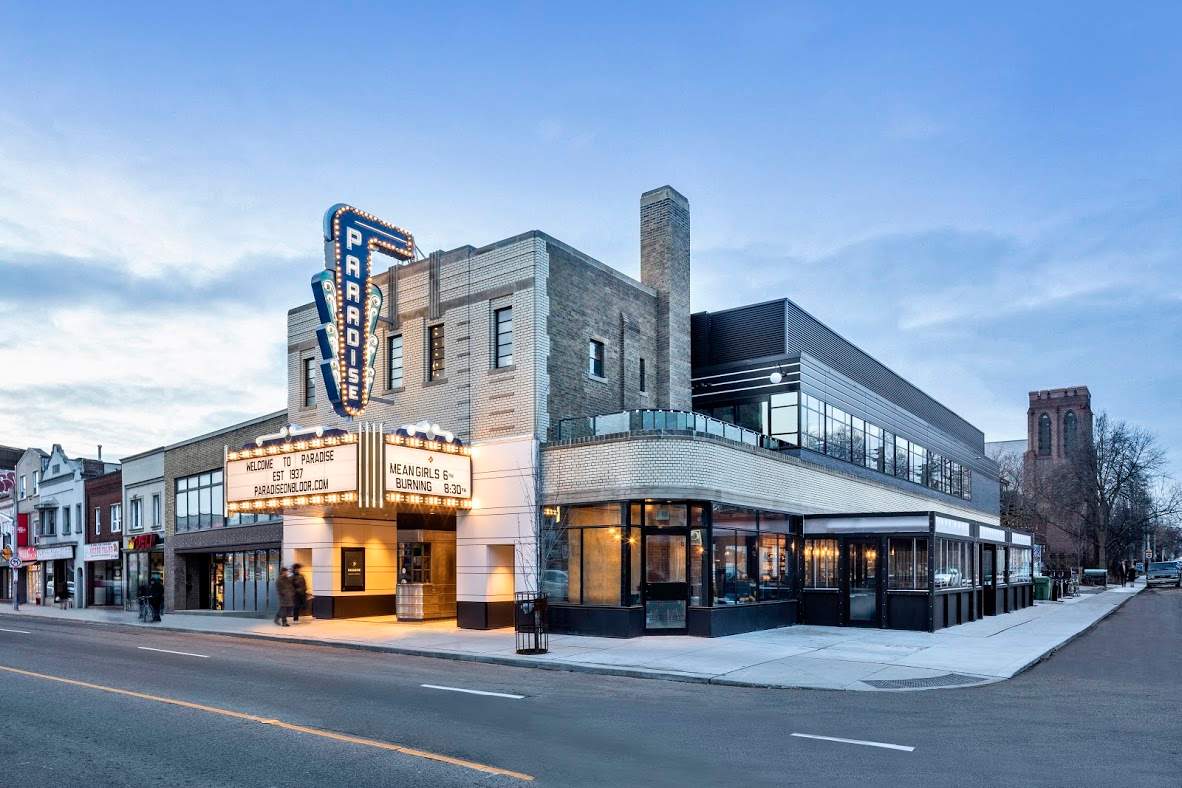 It took 13 painstaking years to renovate Paradise Theatre – built in 1937 in Toronto's west end – before its doors finally reopened in 2019. The idea was not only to revive a once-beloved institution but to reimagine the role a neighbourhood cinema plays in the life of the city. "It is more than just a cinema," says Scott Hadley, who oversees the drinking and dining offering at the Paradise. "It's a real cultural hub and a vividly photogenic addition to the streetscape."
The redesign was intended to make it a nimble venue. As well as screenings of under-the-radar classics, new documentaries and Netflix premieres, there are several fine watering holes and a restaurant on-site. There are live performance spaces too: the first five rows of theatre seats can be folded away to make way for a dancefloor.
"There's something important about a sense of place," says Hadley. "So it's important for us to ensure that we're tuned into the neighbourhood. There's a real cacophony of voices and experiences here and that's something we have to value, as our neighbourhood's cinema." 
paradiseonbloor.com
---
3
Support your film-makers
cinema centenario
Quezon City, the Philippines
Filipino director Hector Barretto Calma knows the struggle of trying to break into commercial theatres without backing from major film studios. So in 2017, along with a few movie-buff friends, he opened his own cinema to provide a venue for homegrown film-makers.
"We are small and our screenings are intimate," says Barretto Calma about the 65-seater Cinema Centenario. "We are developing a community of Filipino film lovers who wish for the advancement of local cinema." Being a director also helps him with making particularly informed (and sometimes left-field) decisions on what the programme should entail. "As a film-maker you have the eye to pinpoint films that you think and feel the audience would enjoy seeing," he says. "Or present something new that they don't usually see in mainstream cinemas." 
95 Maginhawa Street, Manila
---
4
Preserve – and create
cimatheque
Cairo
Launched in 2012 by film-makers frustrated by a lack of infrastructure for independent Egyptian cinema, Cairo's Cimatheque has grown from a small silver screen into a community hub, with a co-working space, film archive and processing studio. Cinephiles, budding directors and producers can attend workshops here, as well as enjoying a well-selected roster of films.
The hope, according to executive director Maged Nader, is to inspire local film-makers and help them reach their potential. "Our workshops are quite advanced so they actually help the existing cinema community gain skills," he says. "We mostly screen films from the likes of Morocco, Tunisia and Lebanon because they're made under the same conditions so it's good to see their work." Developing a film scene isn't just about funding. A space like Cimatheque, which inspires and supports growth, is just as important. 
cimatheque.org
---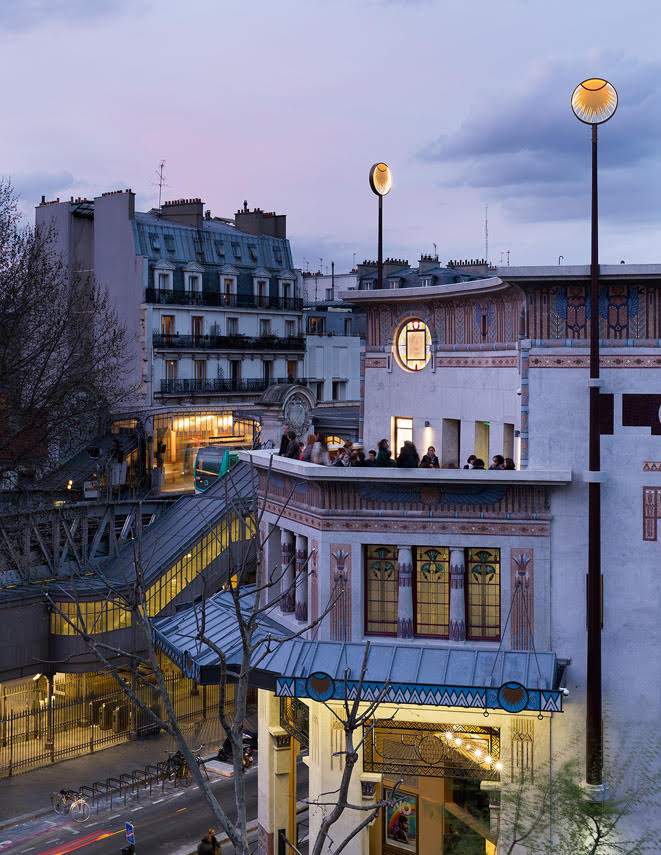 5
Stick it out
le louxor
Paris
Sitting on a busy intersection in Paris's 10th arrondissement is Le Louxor, one of the city's oldest cinemas and no stranger to a crisis. In its tumultuous 100-year history, it has been renovated in an art deco style inspired by ancient Egypt, abandoned, turned into a nightclub and, finally, restored after residents mobilised to save it.
Since its rebirth it has become a potent symbol of regeneration in the area and a source of neighbourhood pride so its reopening in June might have caused more than one instance of dejà vu. While director Emmanuel Papillon worries about future uncertainty, he remains hopeful. "This crisis has taught us that films cannot exist without cinemas," he says. "Works of art need to be admired collectively." 
cinemalouxor.fr
Photographers: Felix Odell, Terence Chin, Levi Mandel