Expo / Italy
The coast is clear
Italy may have been struggling in the spring but come August there was no stopping its citizens from shutting up shop and flocking to its sun-baked, salty edges. So what is it like, being on holiday, in Italy, with only Italians? Our senior correspondent finds out – that is, when he's not busy bronzing and guzzling gin cocktails.
Italy's cough rattled louder than most this springtime. The north reeled and sweated and locked itself inside; the south peeped up as if fearing a second Vesuvian lash. And then July ticked over into August and Italy went on holiday, just like that. The nation went to the beach to cure itself, maybe to kid itself too – but it certainly knew how to make itself feel better.
August in Italy is like noon struck on a Schwarzwälder cuckoo clock – except the little soldiers parading from their sentry boxes are guys in tiny swimming briefs; the milkmaids, girls in bikinis who make you think, someone should call the police. You can still set your watch by it, by Italy's exodus to its Tyrrhenian, Ligurian and Adriatic edges. Nothing, bar nothing, will keep the Italians from the sacred summer splash of Ferragosto, a public holiday in the middle of August, or the long, hot weeks around it. In Naples, just as they did in October 79ad, the townsfolk drop their tools and run. A nation of Fred Flinstones hollering "yabba-dabba-dooooo!" as they slide beachwards down the brontosaurus's tail. You can't keep a good holiday down, nor a good nation. And it makes you think, isn't being better just feeling better anyway? Aren't they the same thing?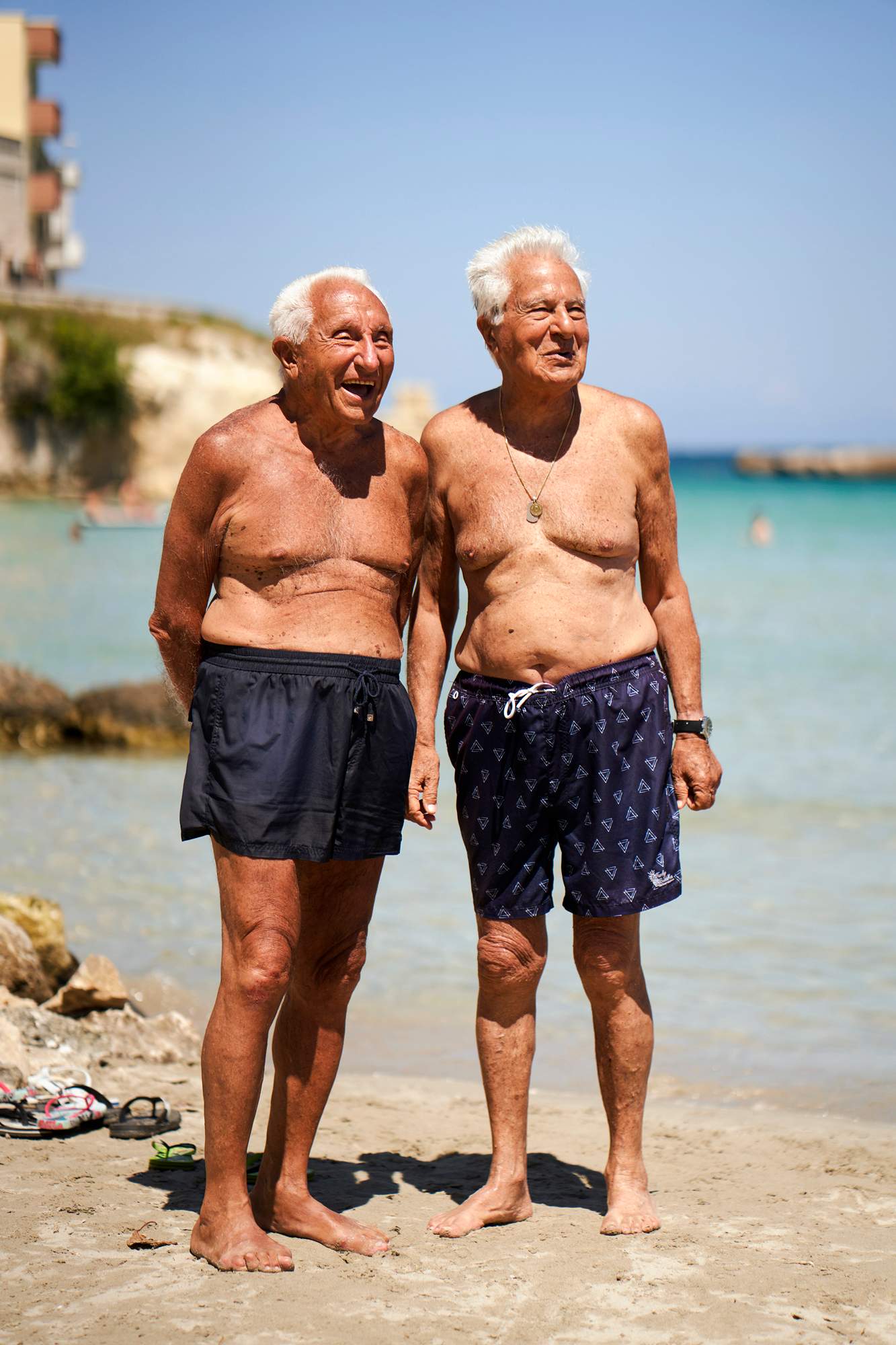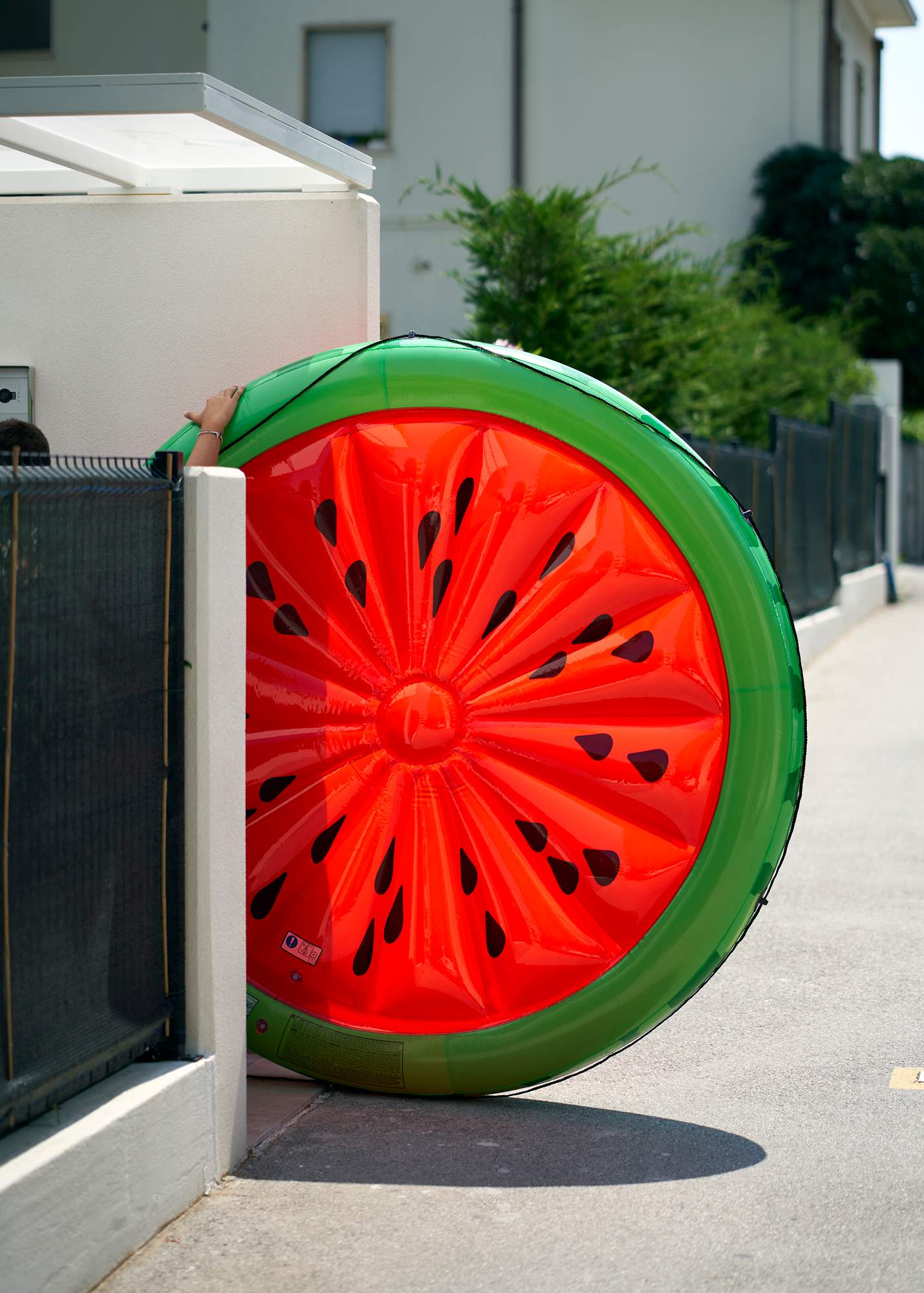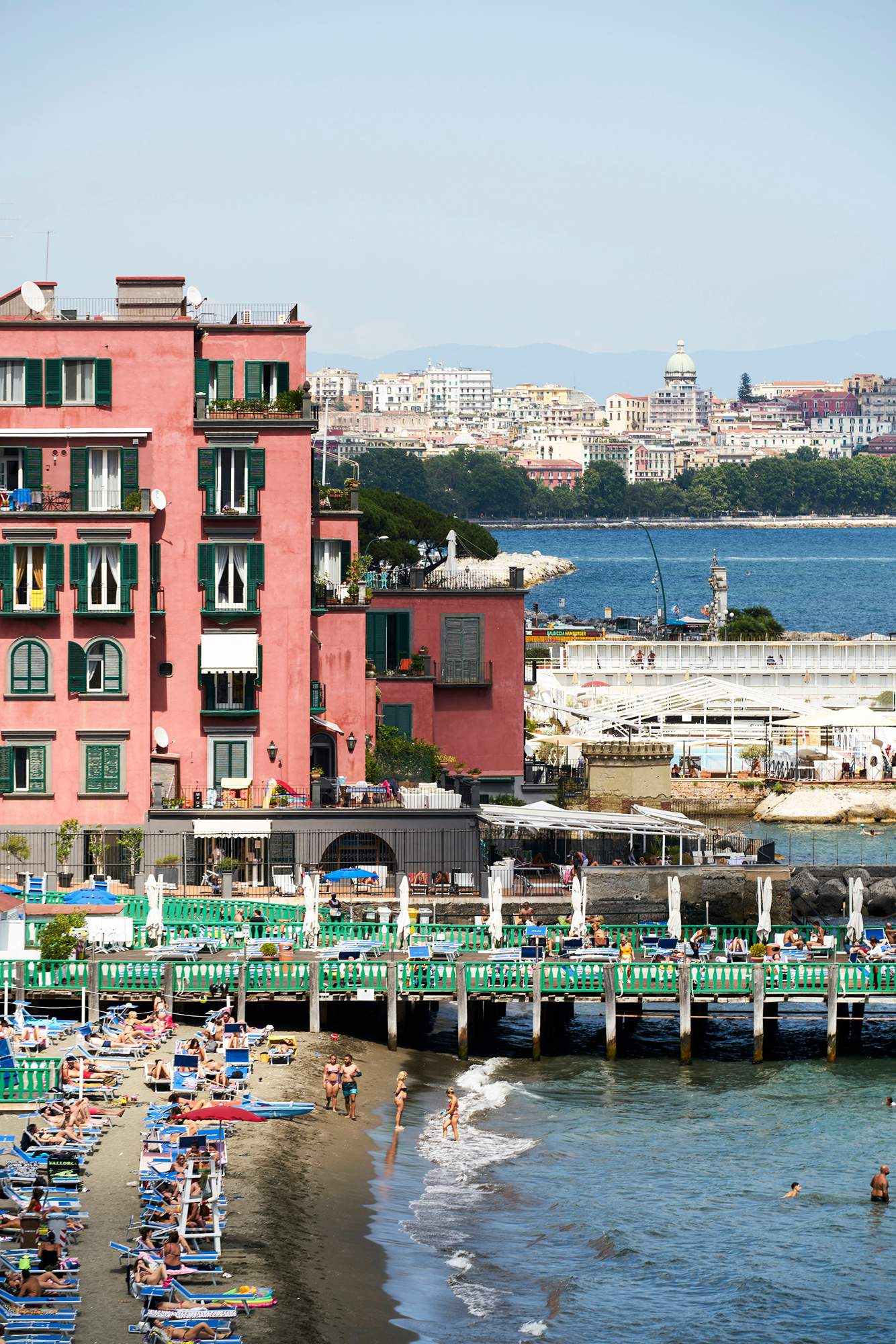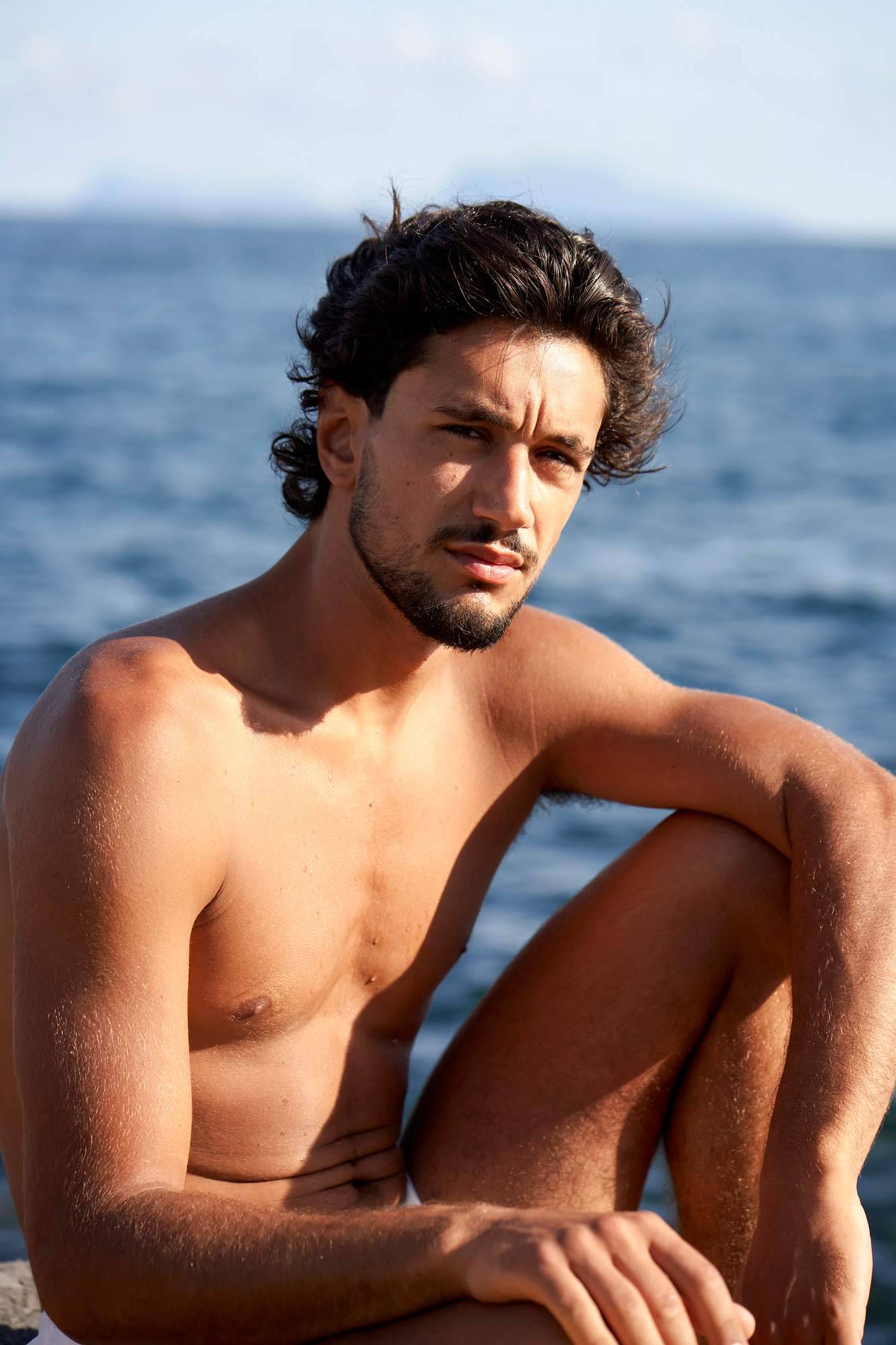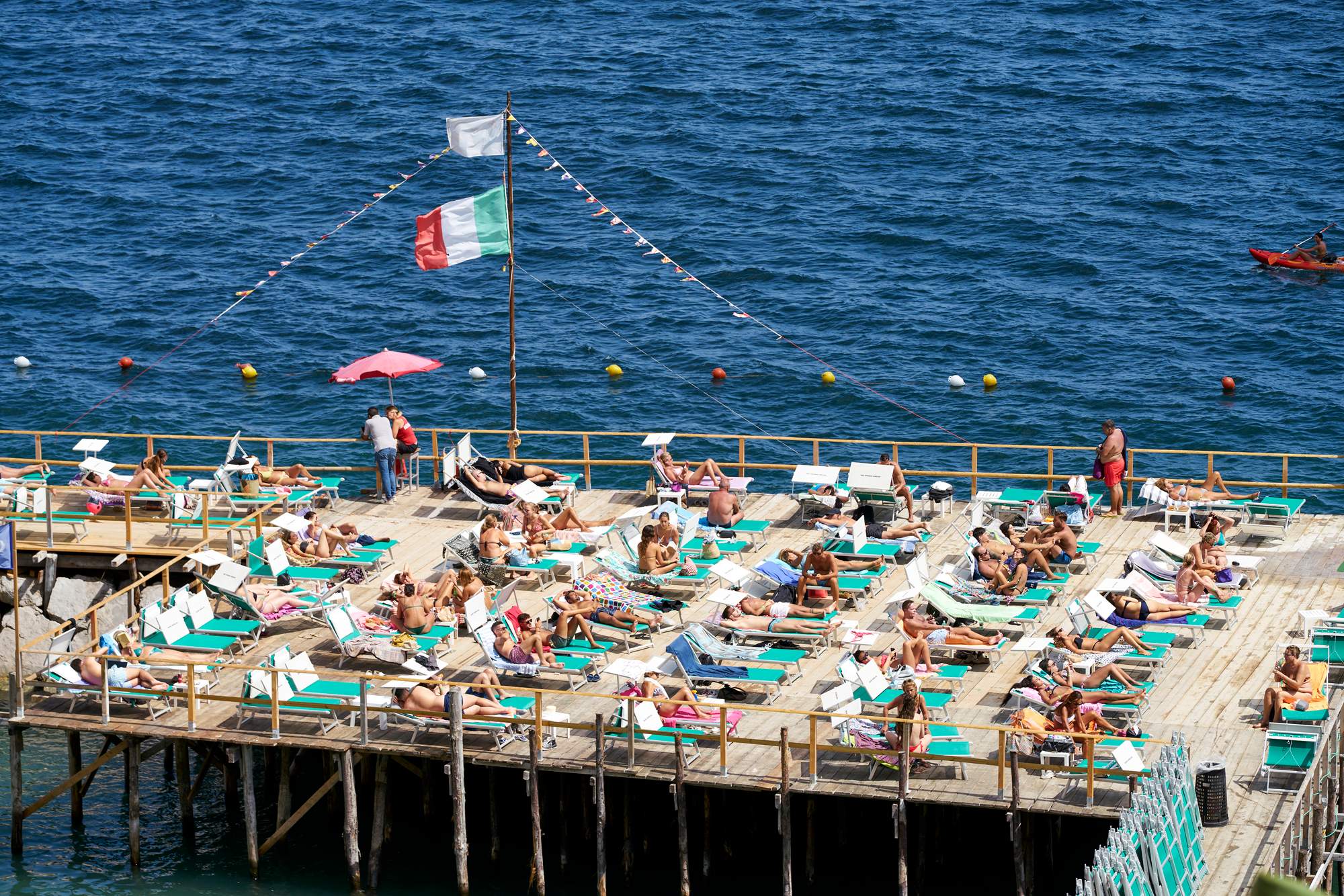 At the Pontile Castello dell'Ovo, the old timers are chilling, their thin towels laid on the giant boulders of the Neapolitan sea defence. Aldo, Vincenzo and Giuseppe have been coming here every day between March and November "since he had hair," says Aldo, 73, jabbing a thumb at 83-year-old Giuseppe, intent on clambering down the rocks for the last dip of the morning. "Nothing has stopped us," he adds, puffing up his chest. "The sea keeps us strong." Garrulous yet punctilious, Aldo wears a stars-and-stripes bandana to honour Donald Trump – "il forte Presidente" – while using a fine shoehorn to ease his neat feet into pristine white trainers. They're slowly getting dried and dressed for an early lunch in town. "Of course it's been quiet this summer," says Vincenzo. "But Italians will always go out; restaurants don't go out of business in Napoli."
The Castello sits at the eastern end of Lungomare, Naples' reach of soapy lagoons and scant city beaches where children scream across dark sand, their parents dozing under sun-bleached parasols. In the slim shadow of the Colonna Spezzata, teenagers gossip, big ladies frown at wordsearches, old men nod along to chatter about calcio (football) without crowds. It's rough and ready and as definitively Neapolitan as the smarter bagni, up westward where Mergellina becomes Posillipo and bougainvillea shades the priceless villas that jut over the bay.
At Bagni Sirena, Mary is the fifth generation of the Mercante family to straighten the sunloungers on the timber pier. She apologises for her spotless English. "I haven't really needed it this year," she says, shrugging at the white-and-pistachio striped sunbeds, spaced to allow 300 bodies to swim and tan, rather than the usual 600. "We're lucky: Italy can help itself," she adds, with a nod to the world's springtime of subjugation. "People from Turin and Milan and the north were shut up but maybe this is, not a cure, but something you also need, like a release."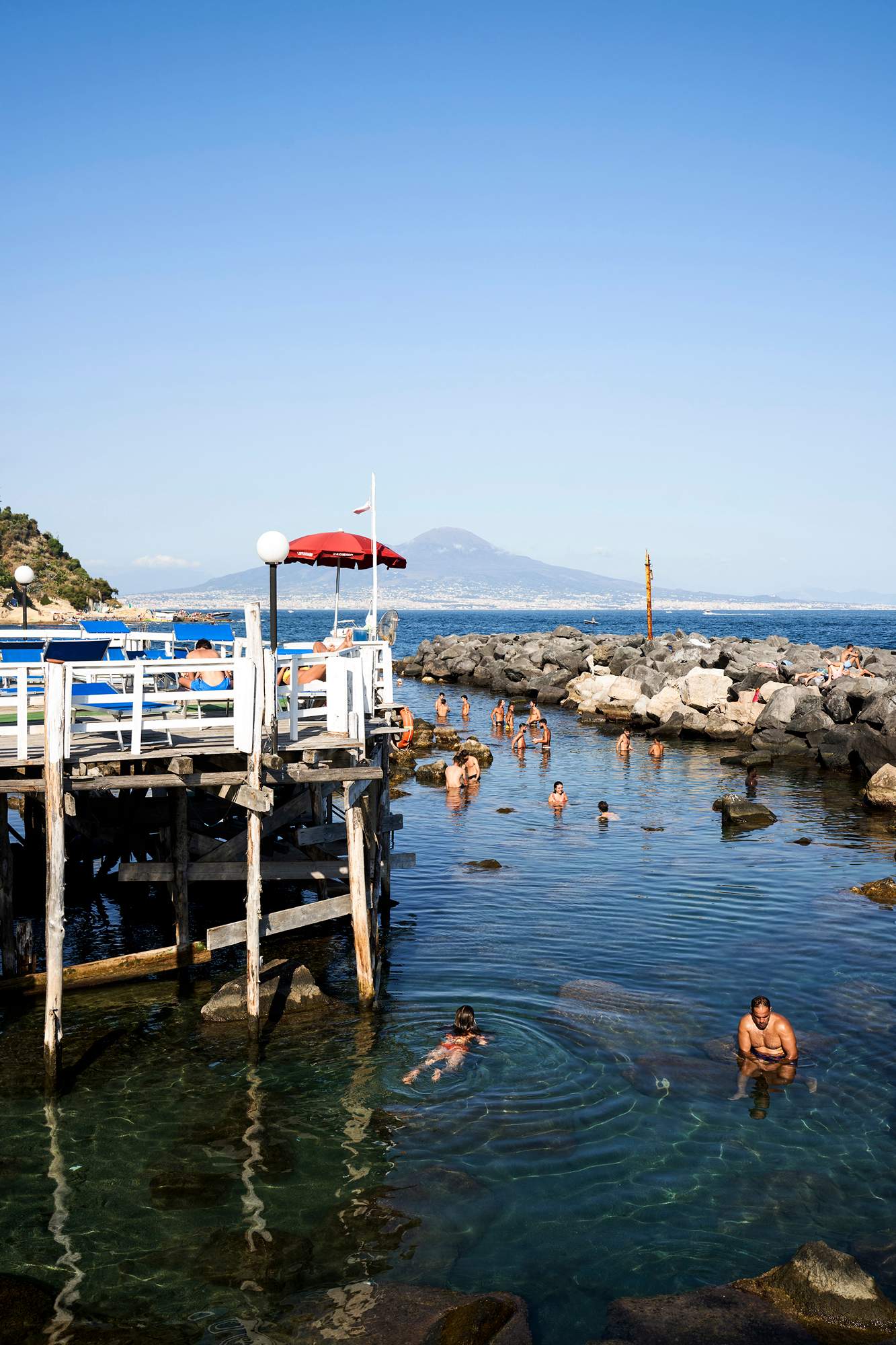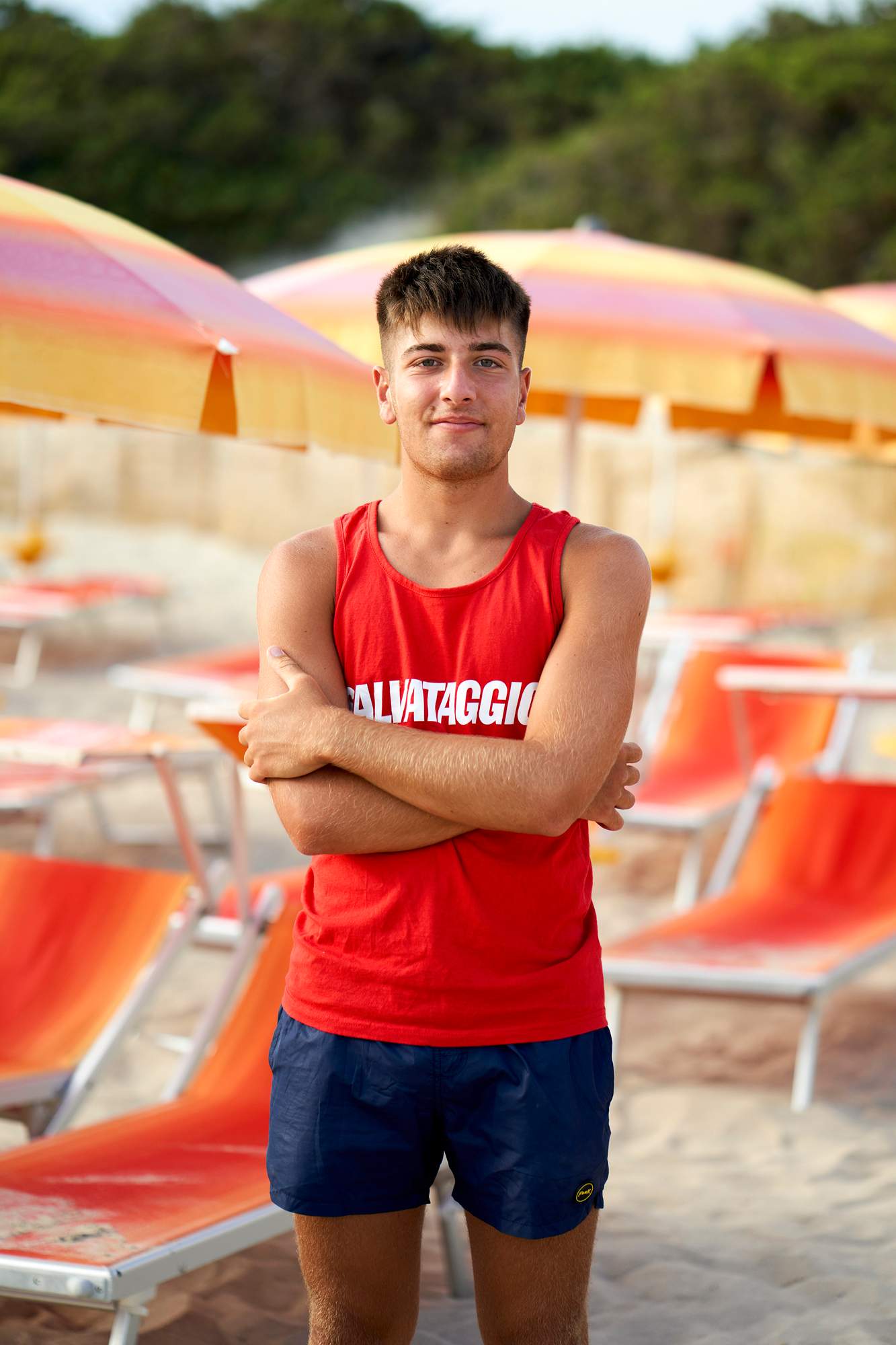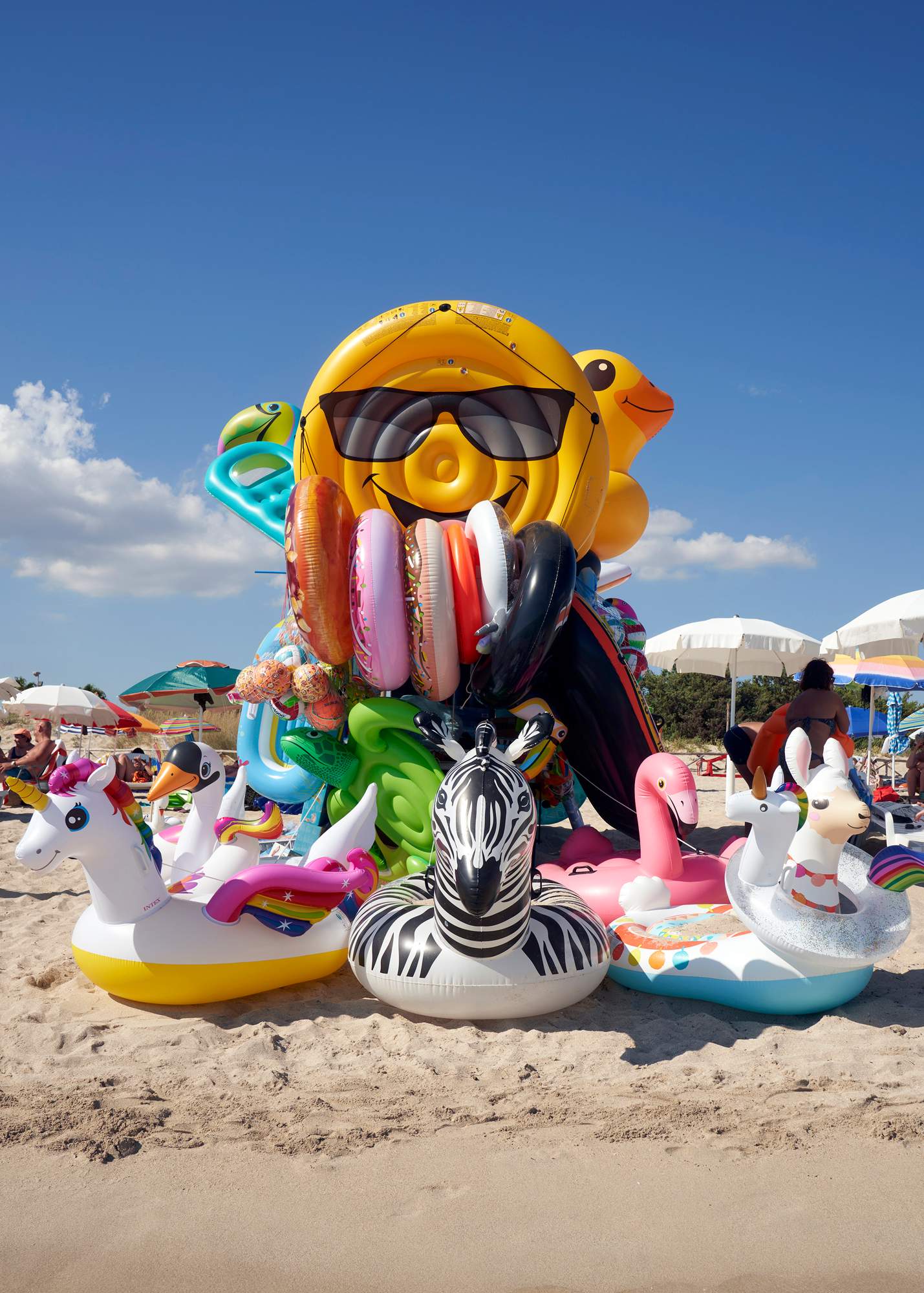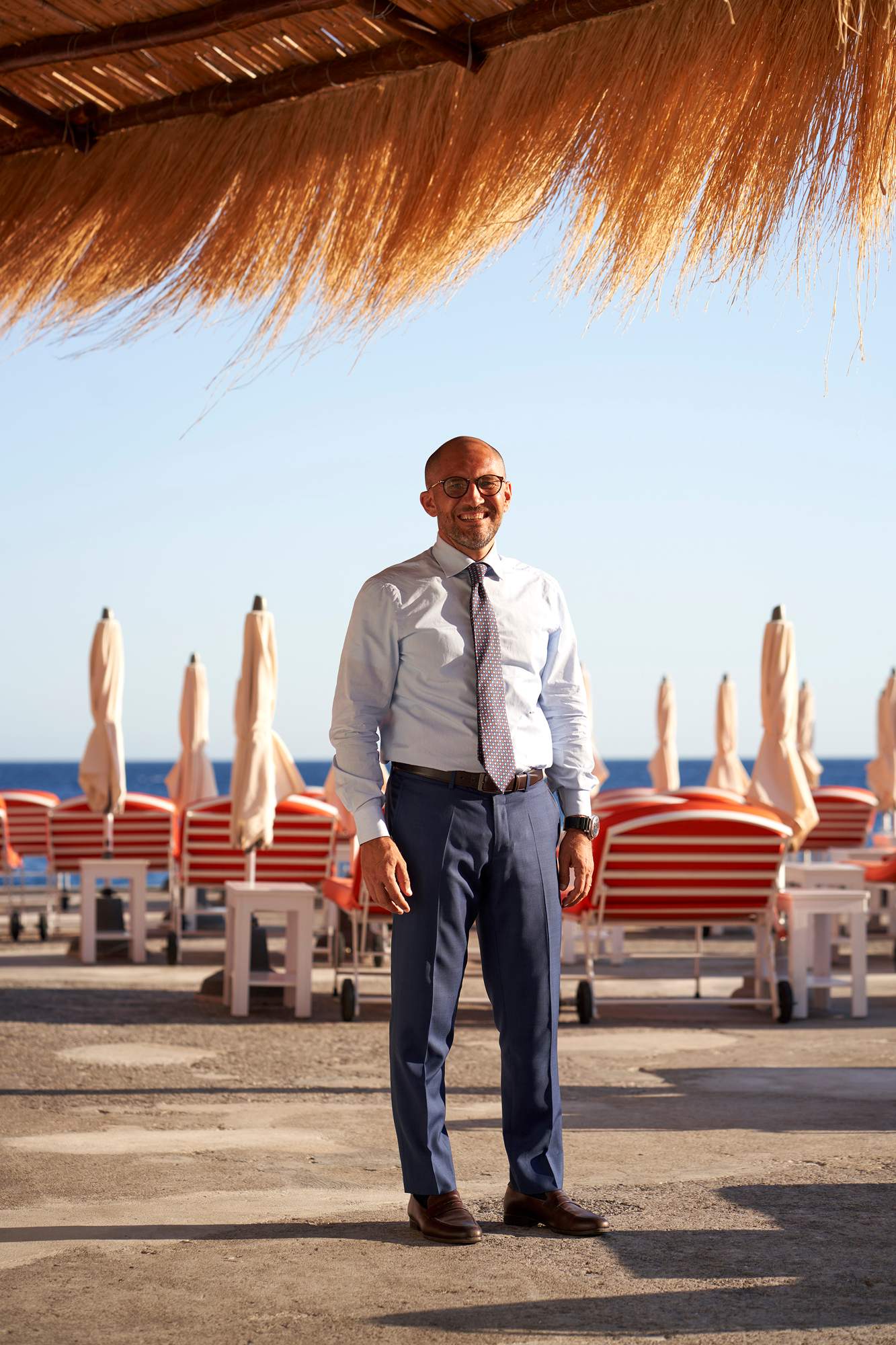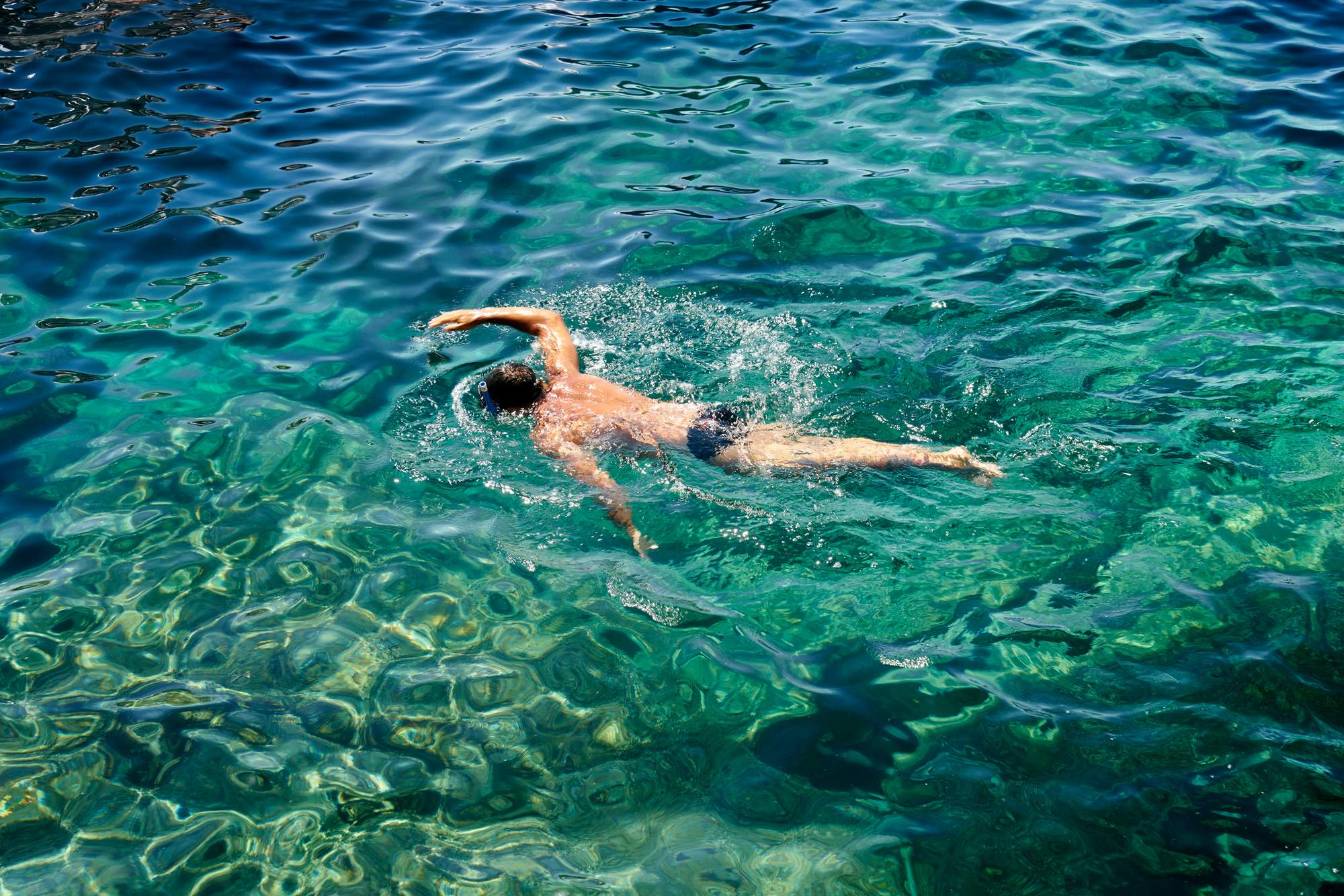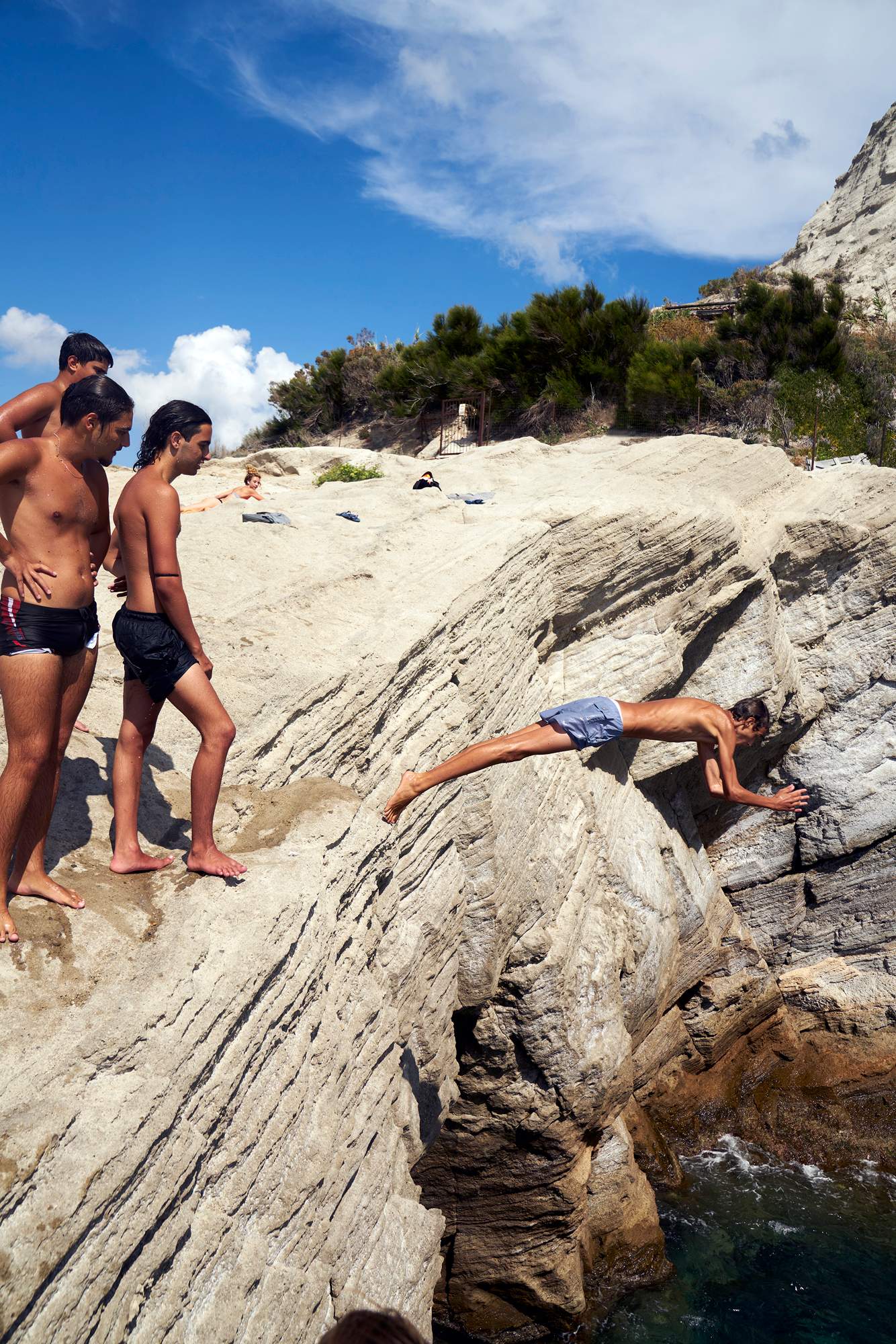 Normally Mary and her five cousins would be taking money and serving beer to Americans, Brits and Germans, and fewer Italians. This year, aside from the northern powerhouses of Piedmont and Lombardy, she's entertained guests from Bologna, Florence and even Puglia, which has a beautiful coastline of its own. "Italians want to go somewhere for their tan, some quiet, good food, a swim," says Mary. "This summer we've sold more wine, less beer," she adds with a smirk. She's not the only one keeping an eye on her patrons' best interests. A boat from the waterborne constabulary of the carabinieri motors toward a group of girls giggling and vamping for photos. The officers grin and make a pantomime of goggling through their binoculars. Seems as though someone did call the police.
"The boat to Ischia, it was full of Italians?" asks the taxi driver as we wind through the island's lemon groves and Spanish broom. It was. "So that means Ischia will be full of Italians; it will be like 100 years ago!" The times they are a-changing but maybe not for long. In the southernmost beach town of Sant'Angelo, Domenico, chef- proprietor of the pizzeria Da Pasquale, laughs that everyone wants to eat dinner at 21.00 because everyone holidaying here this year is Italian. "We have our habits, we eat together," he says. "The Germans have finished and gone by 21.00 and the Spanish have not even arrived." Does he have to try harder to keep Italian diners happy? "We try the same with everybody but it's good to show hospitality to your countrymen," he says. "We hope they'll remember the personal touch and return." And does he sell less beer? "Oh, of course. You're the first person to have one today."
The zigzag through corridor-ish streets to reach the beach funnels the innocent tourist into Ines's souvenir shop, where tea towels, trinkets and T-shirts have been attracting buyers from "Veneto, Piemonte, close by in Italy but not the usual foreign people". But would a Venetian buy an "Ischia, Italia" sun visor or beach bag? "Yes, more than I thought" says Ines. "They think it's a comedy, an old-fashioned thing to buy on vacation." The ironic seaside purchase seems a universal idea. I buy a T-shirt printed with nautical knots above their beguiling Italian names but my accent is off enough for Ines to ask this Englishman for "quindici, signor; fünfzehn, bitte". Dankeschön, Ines.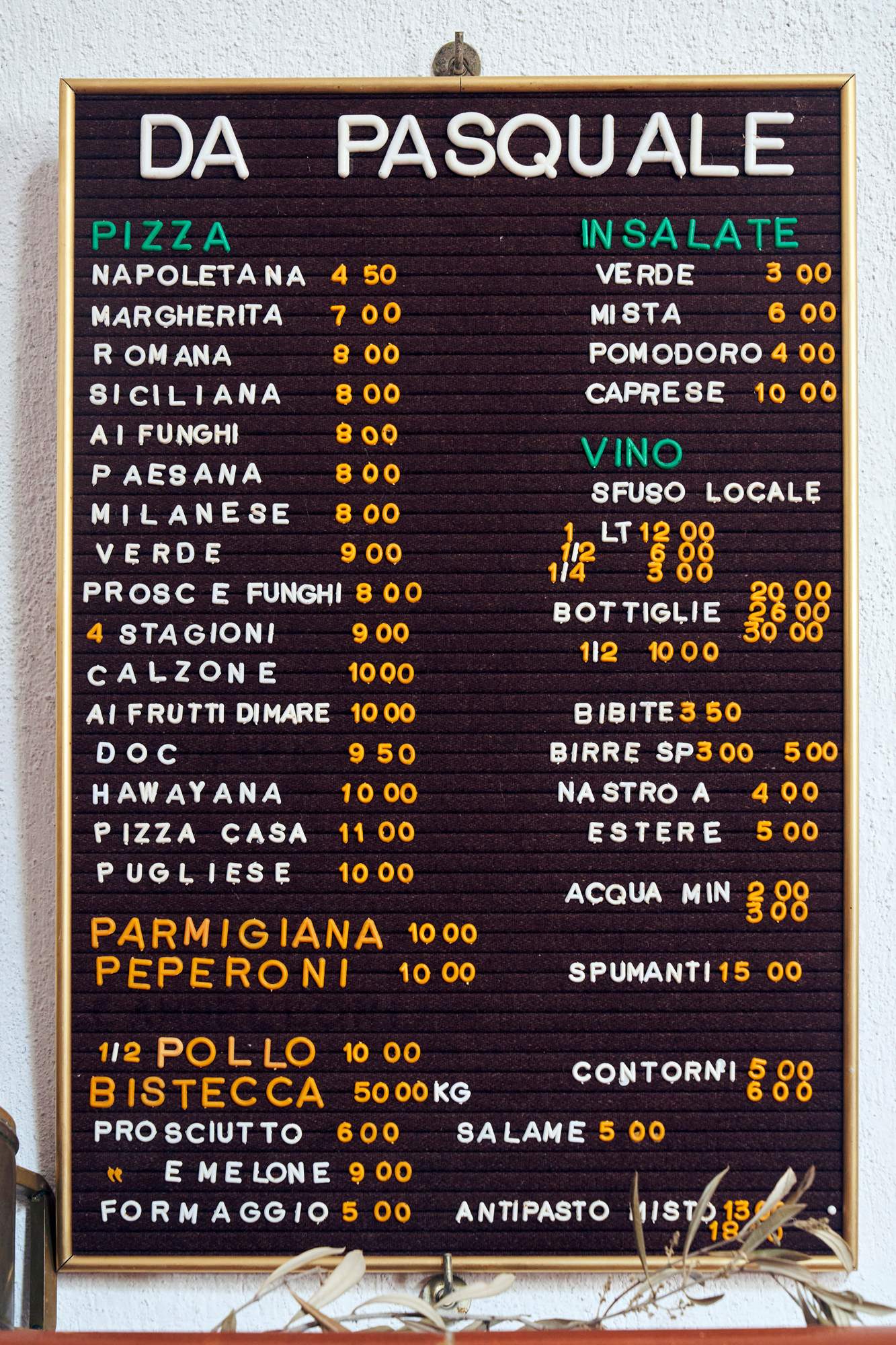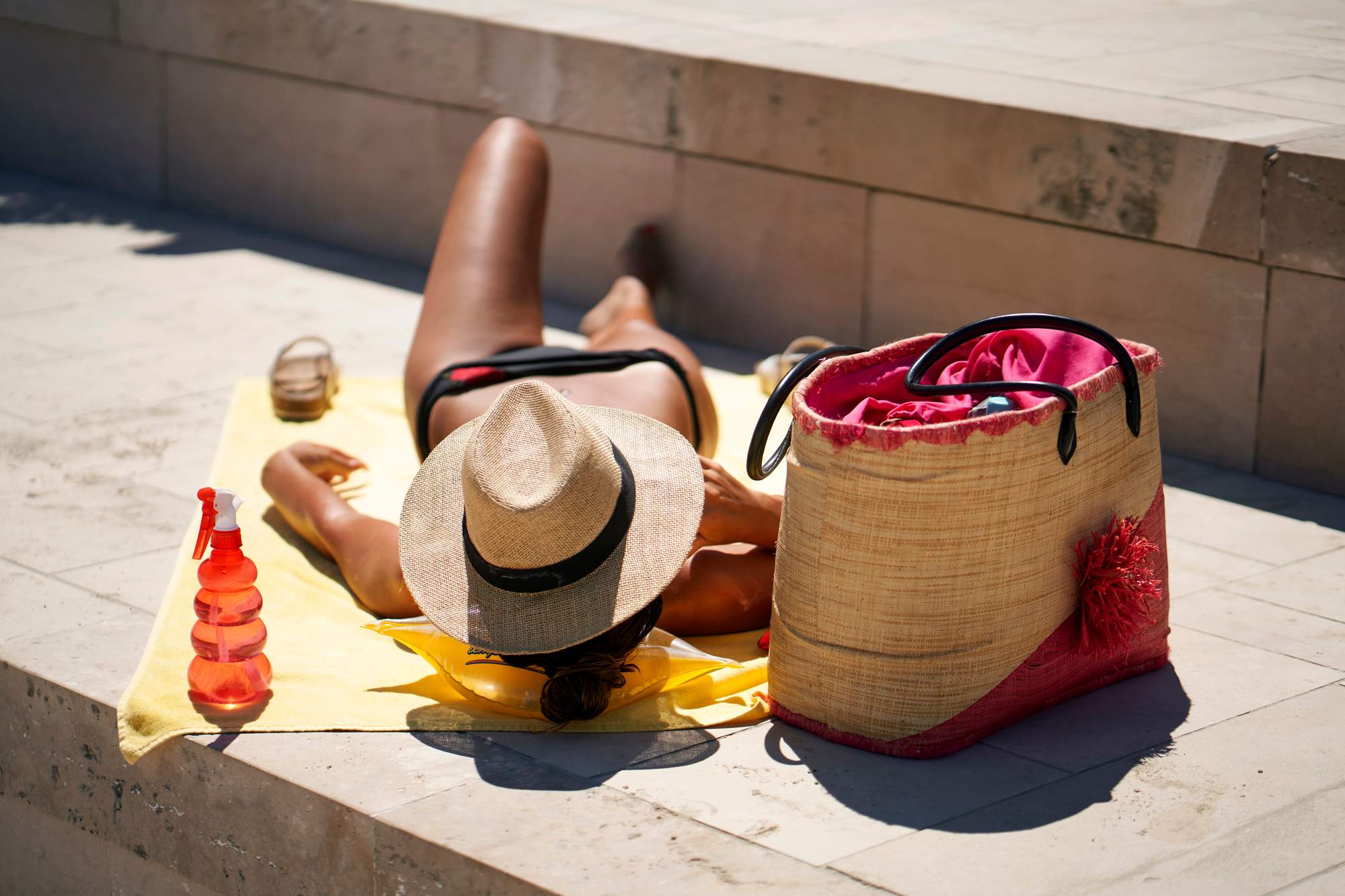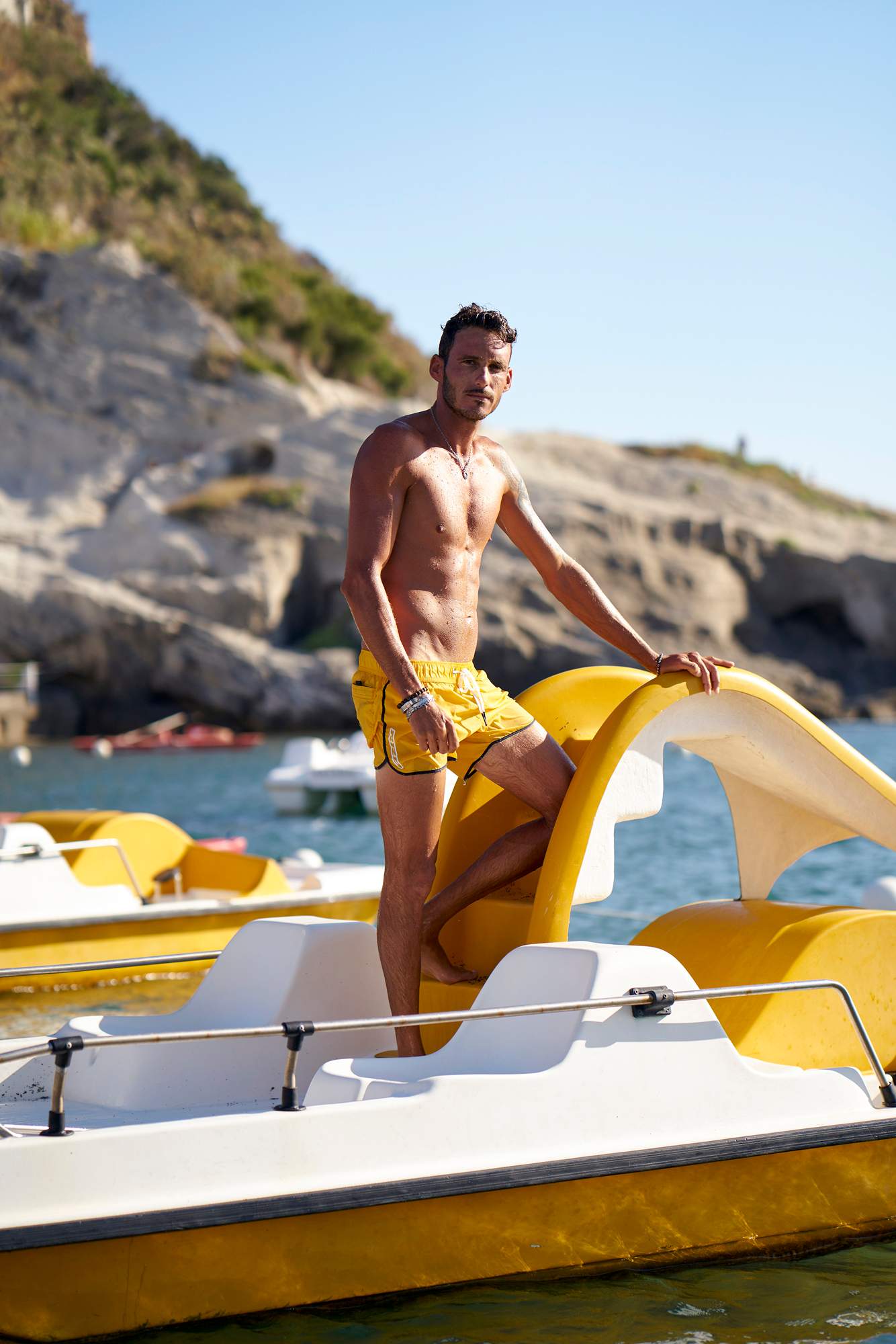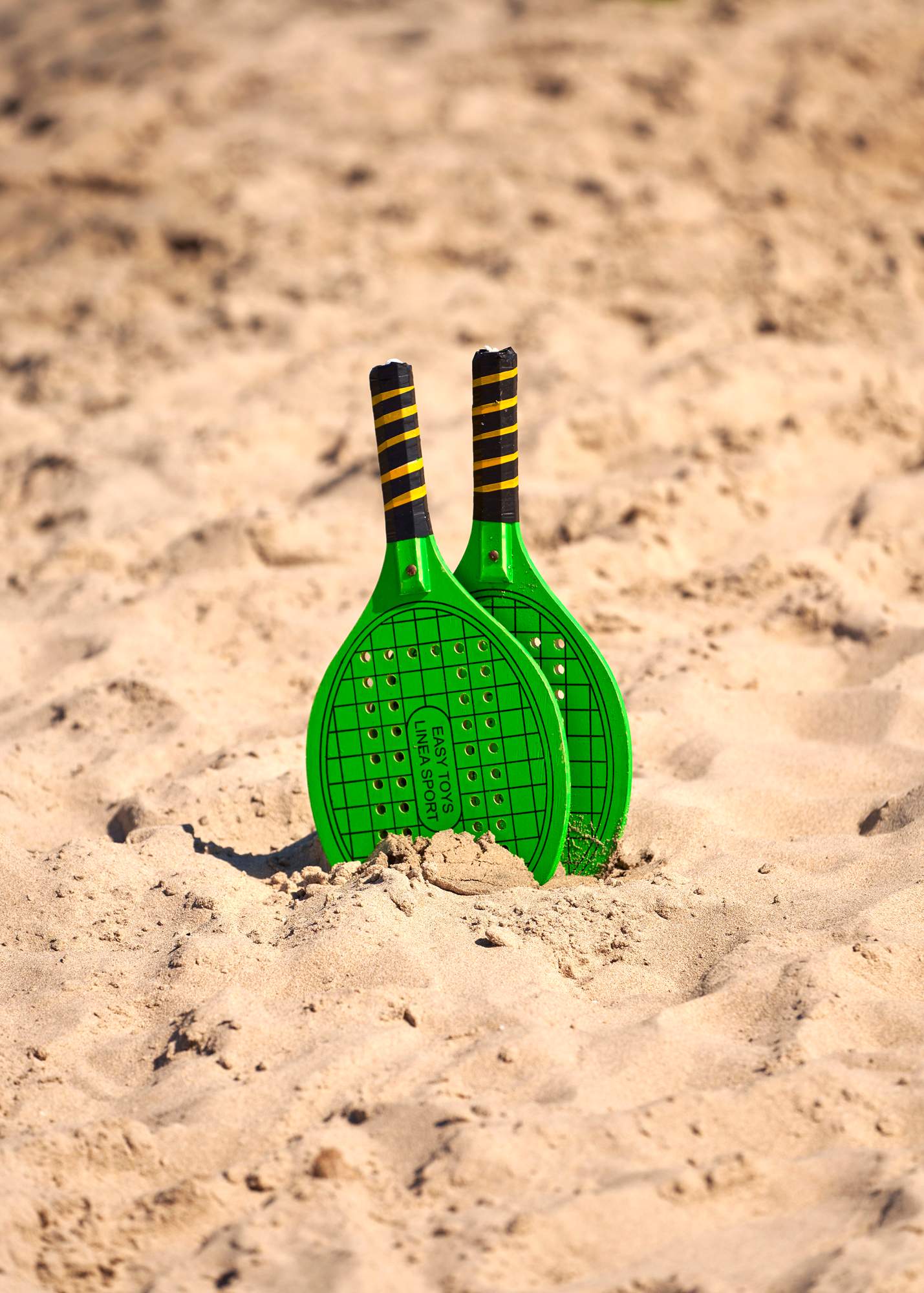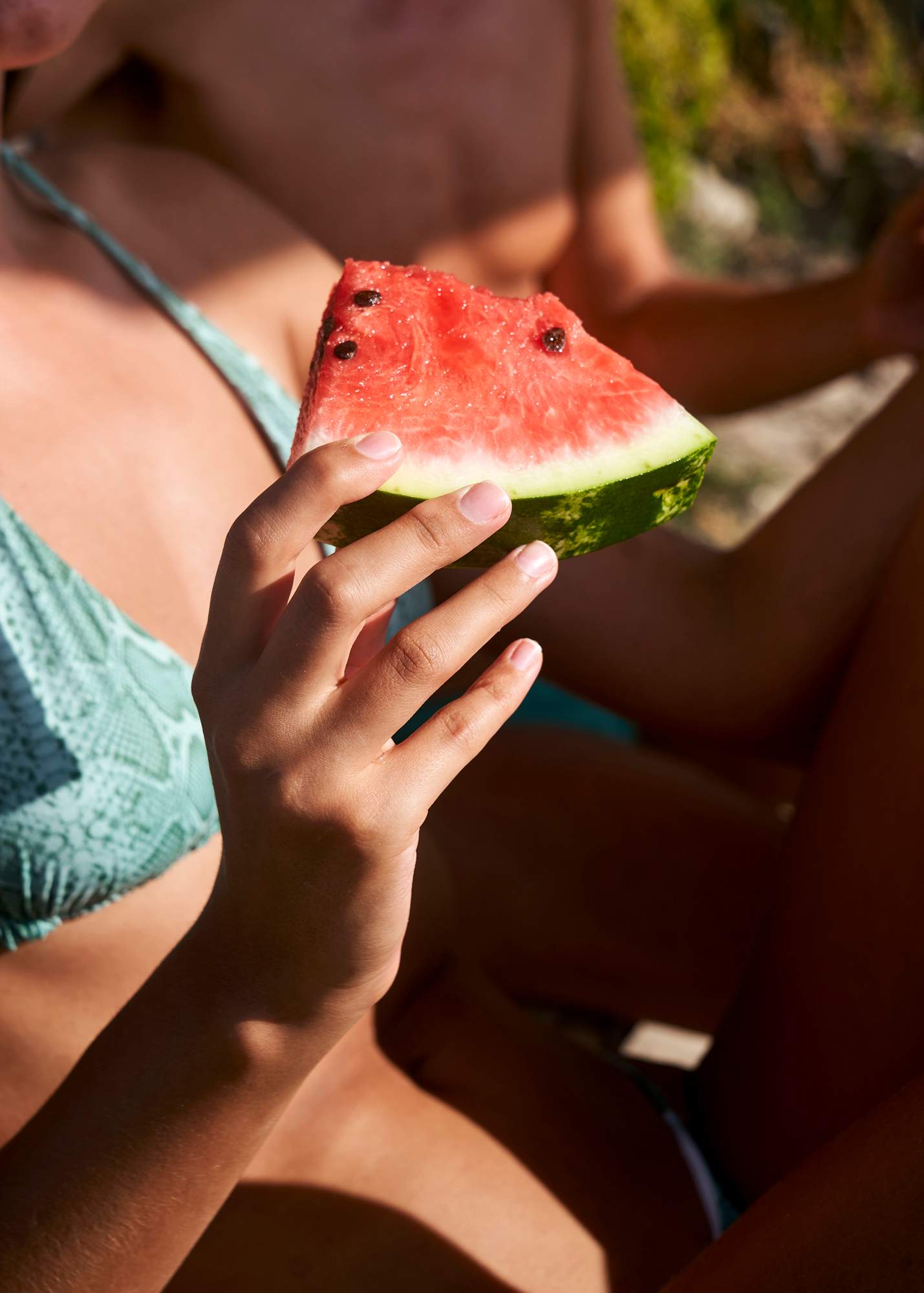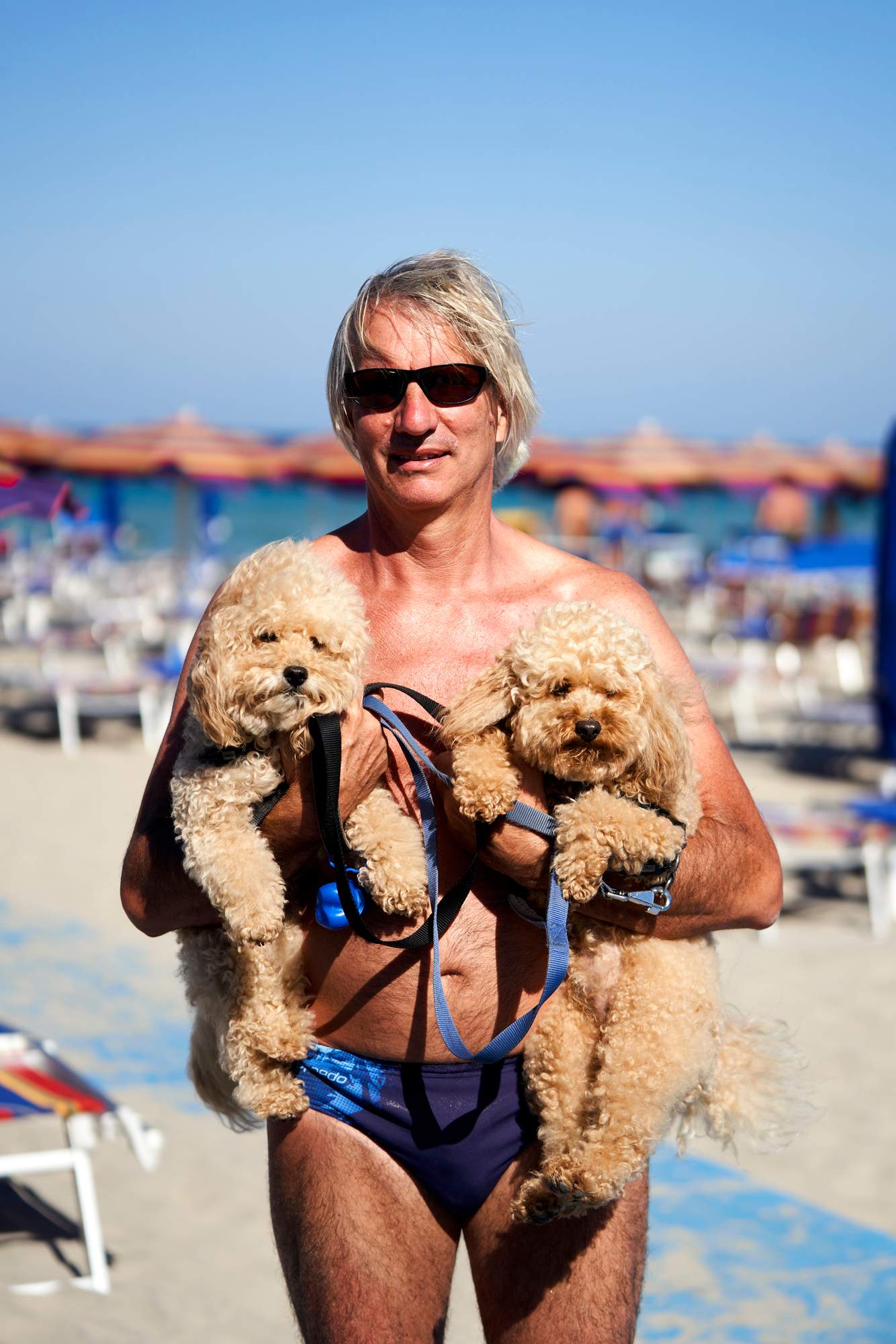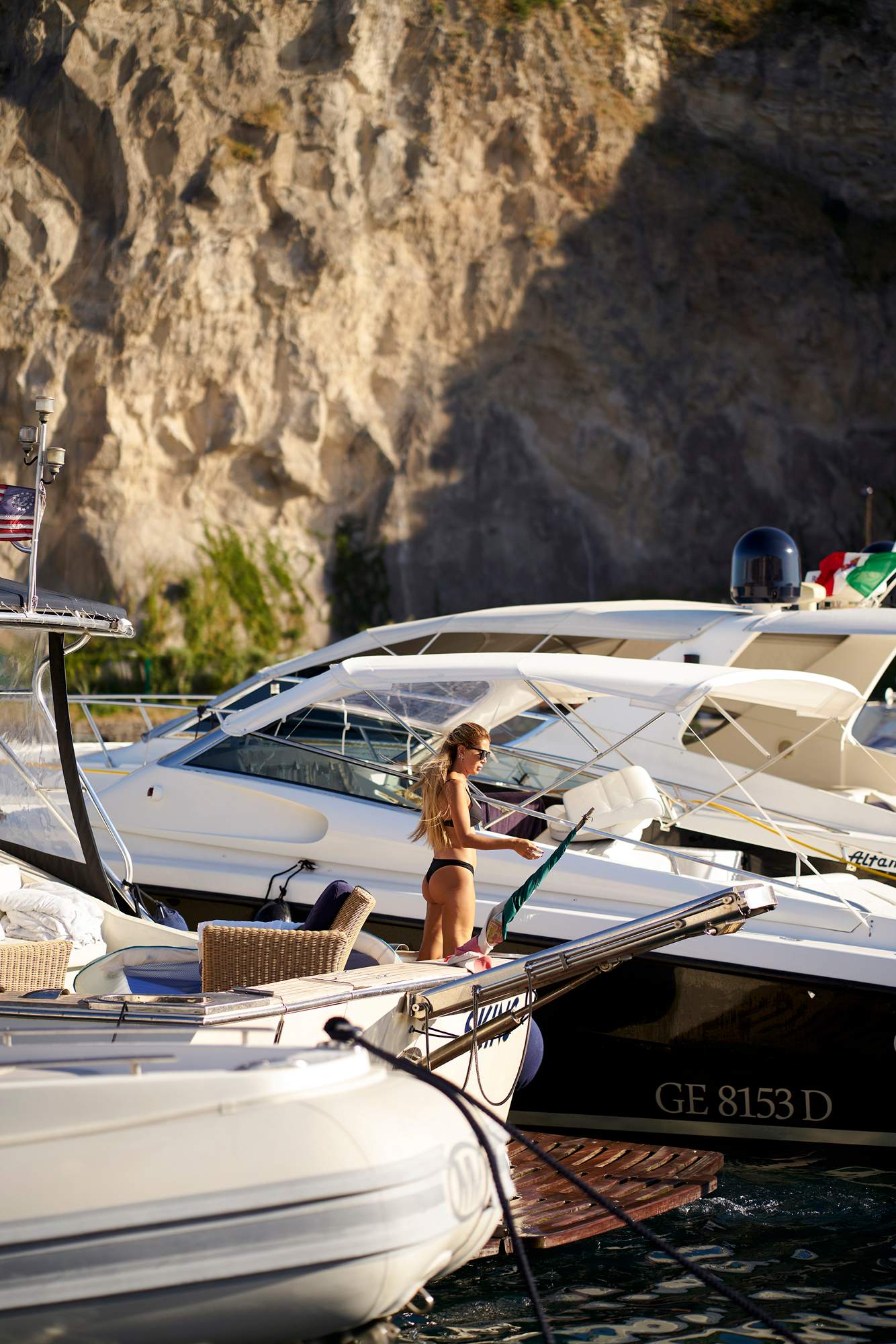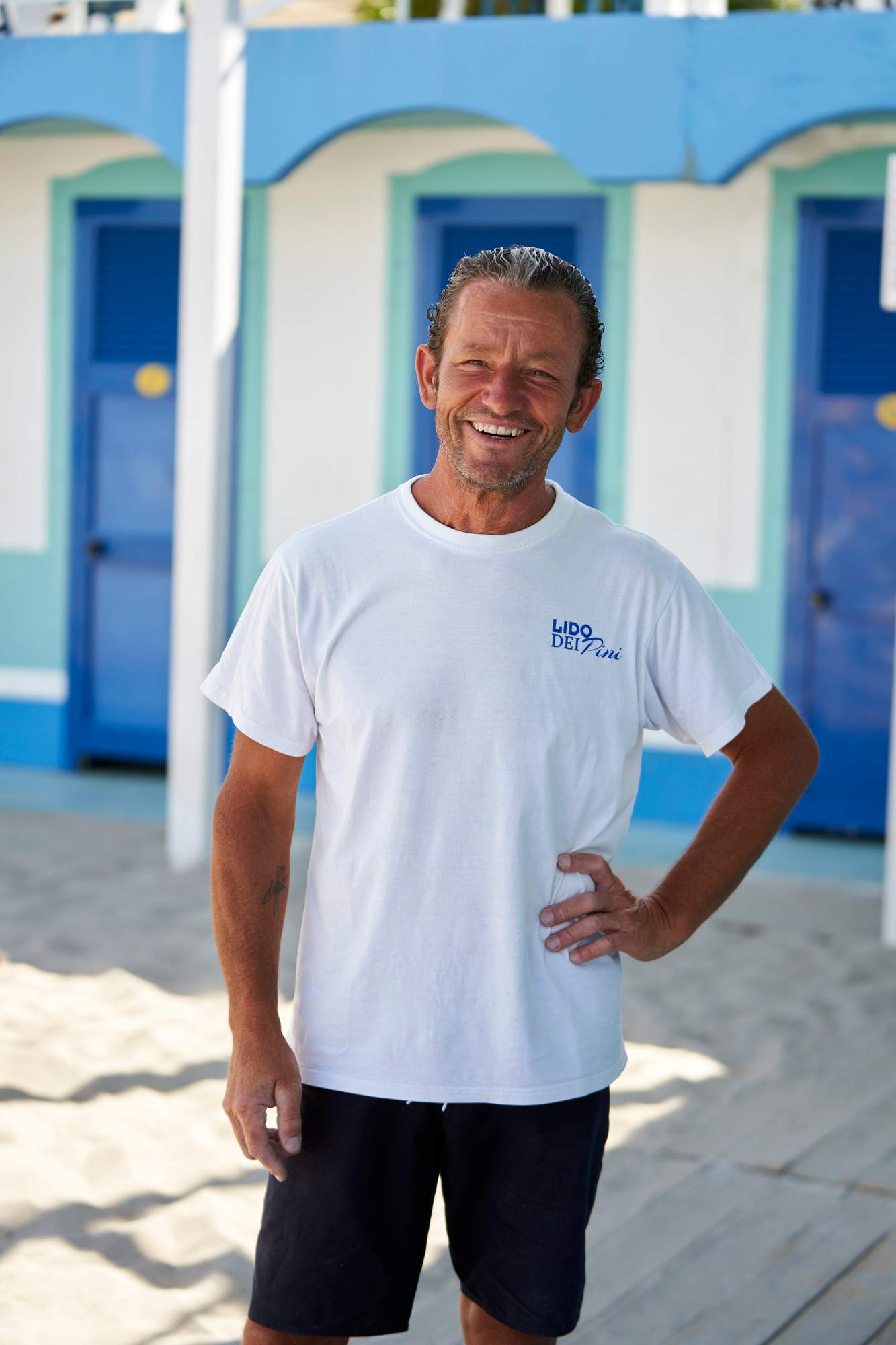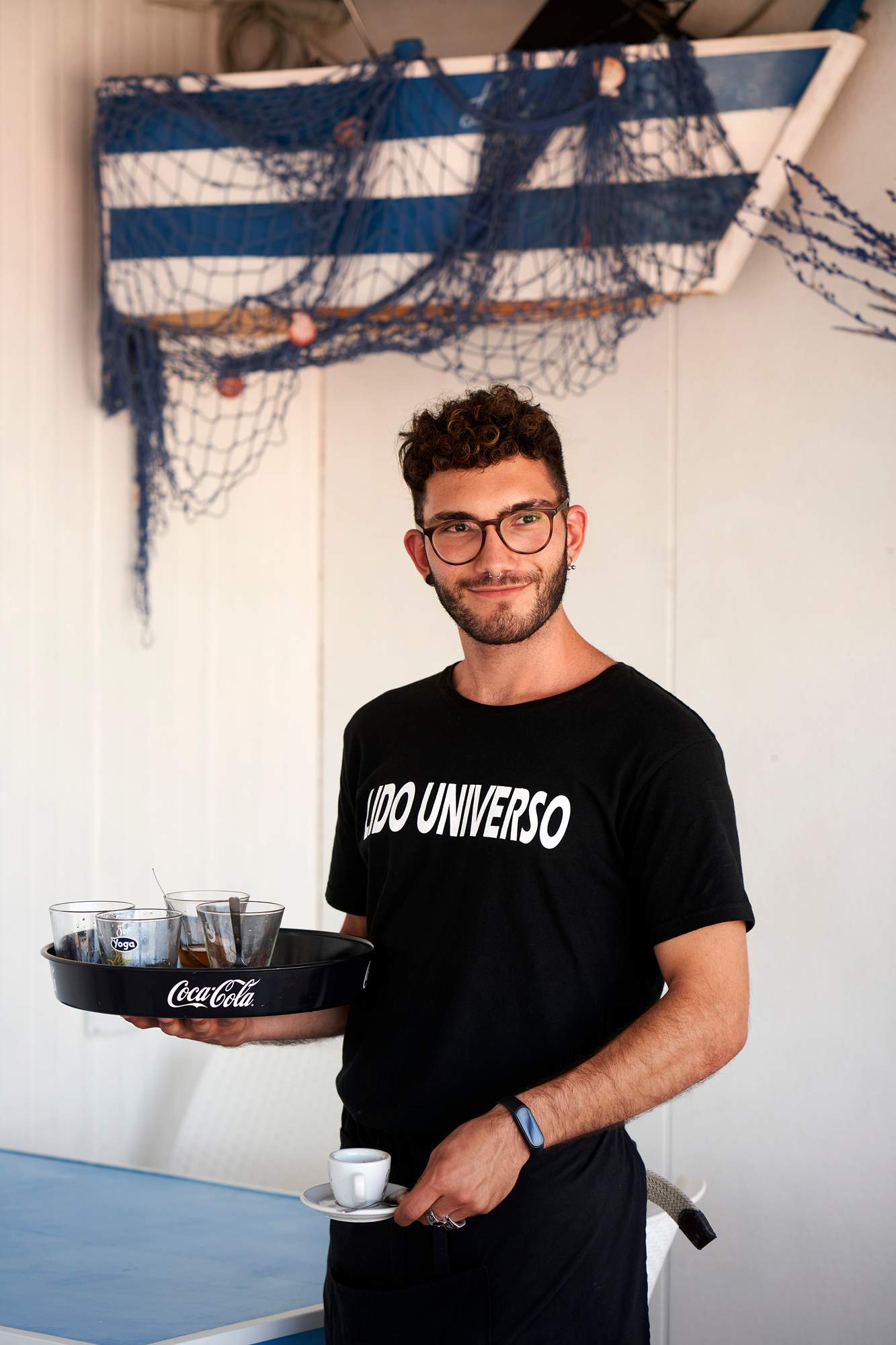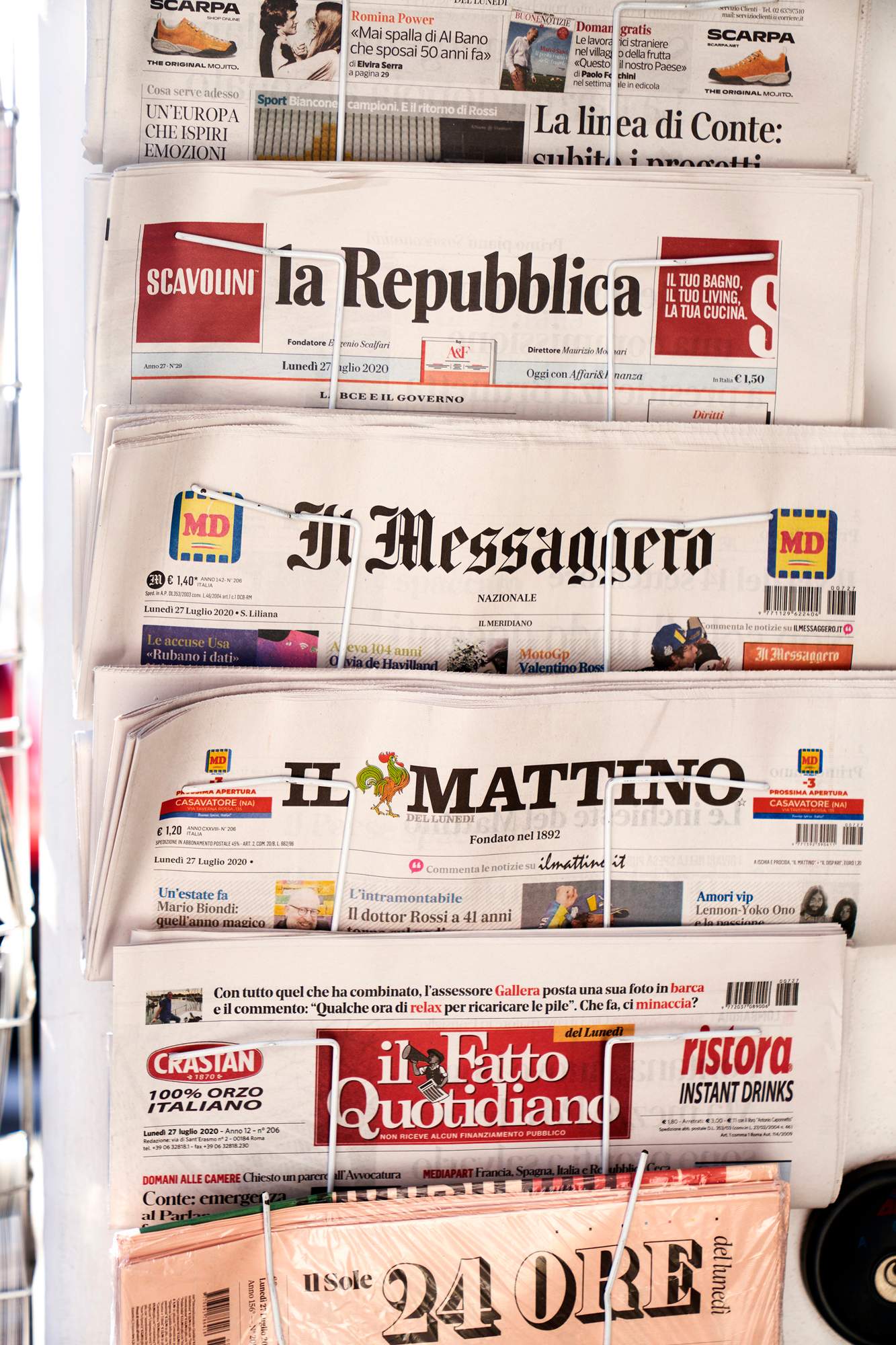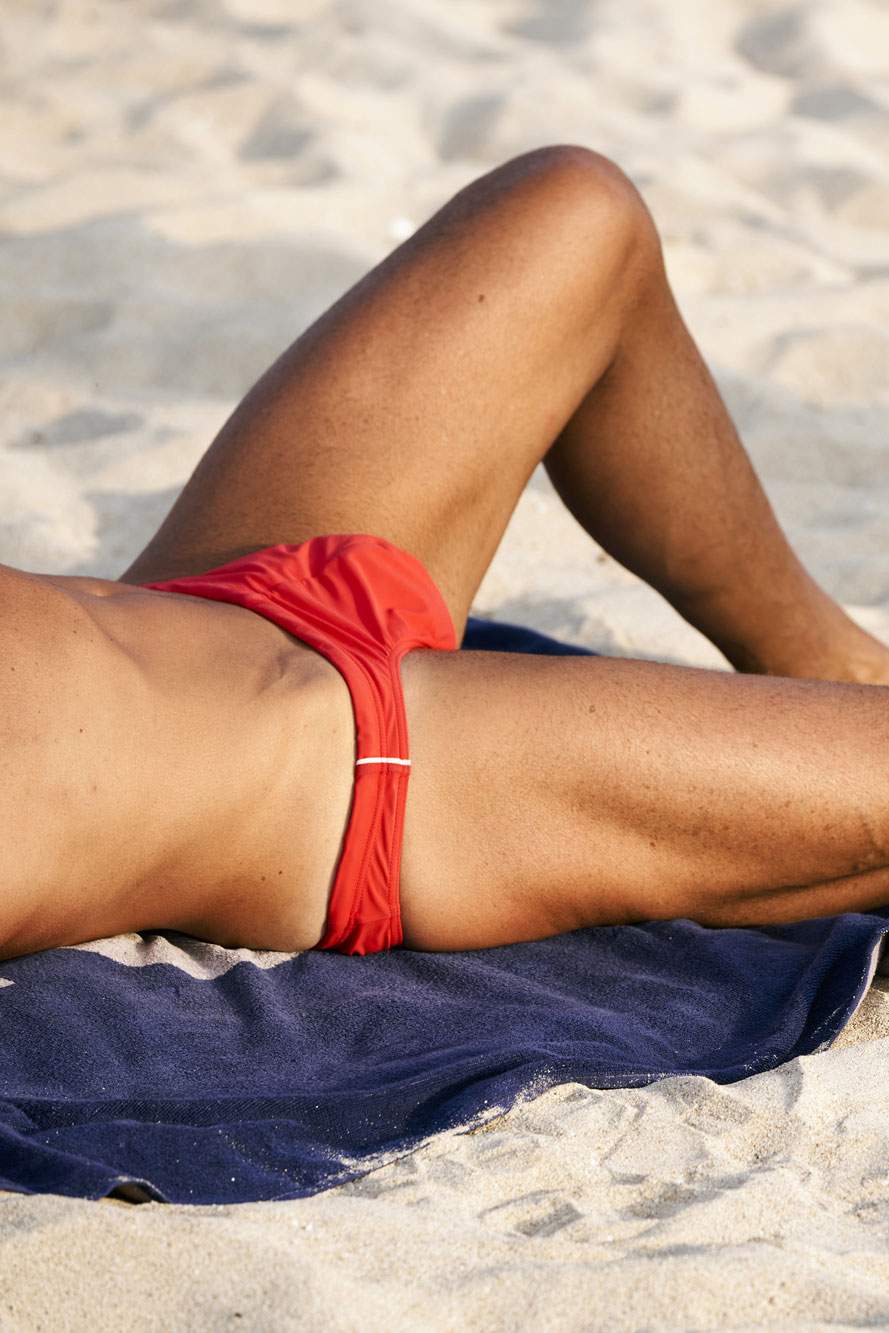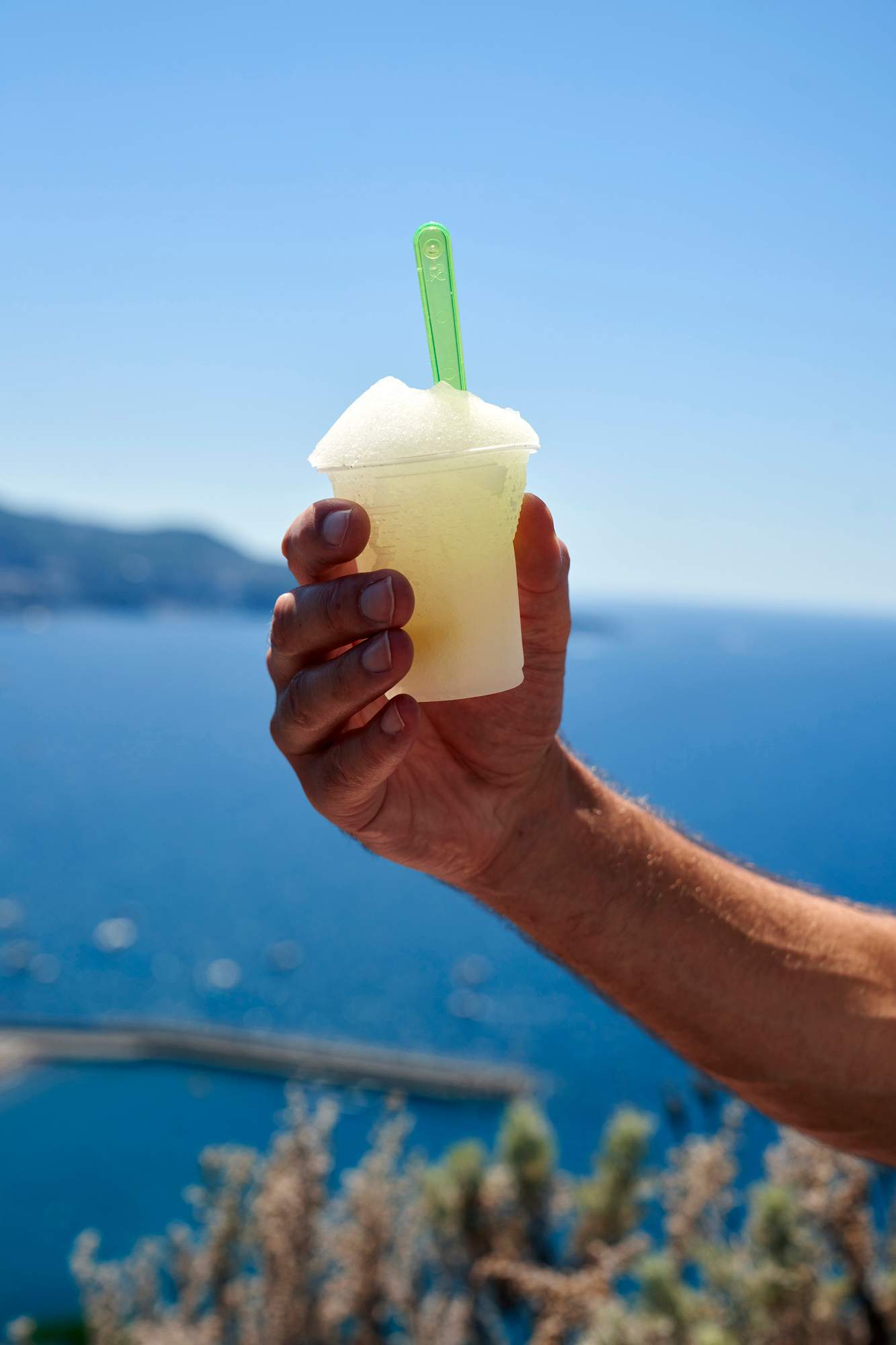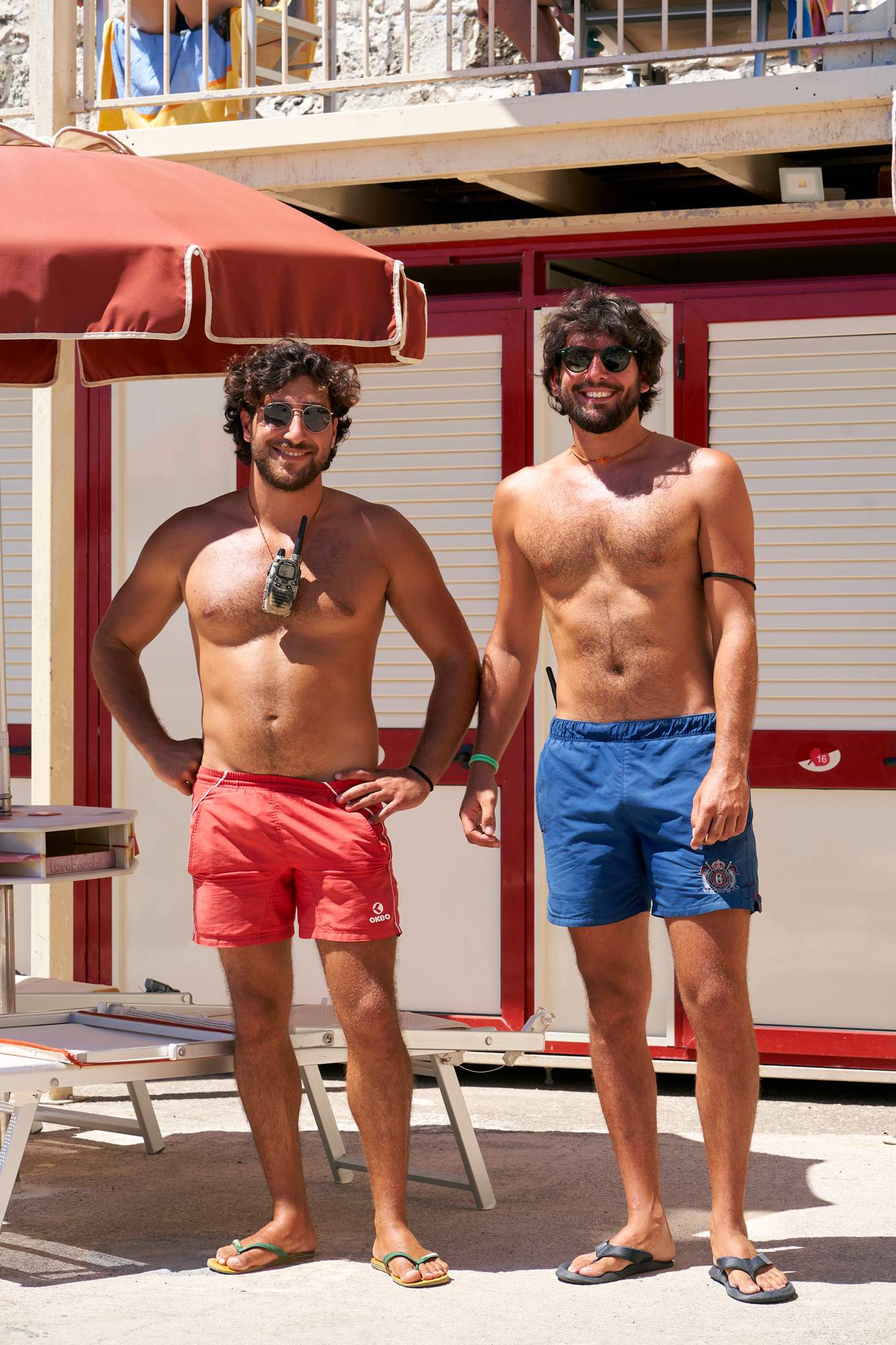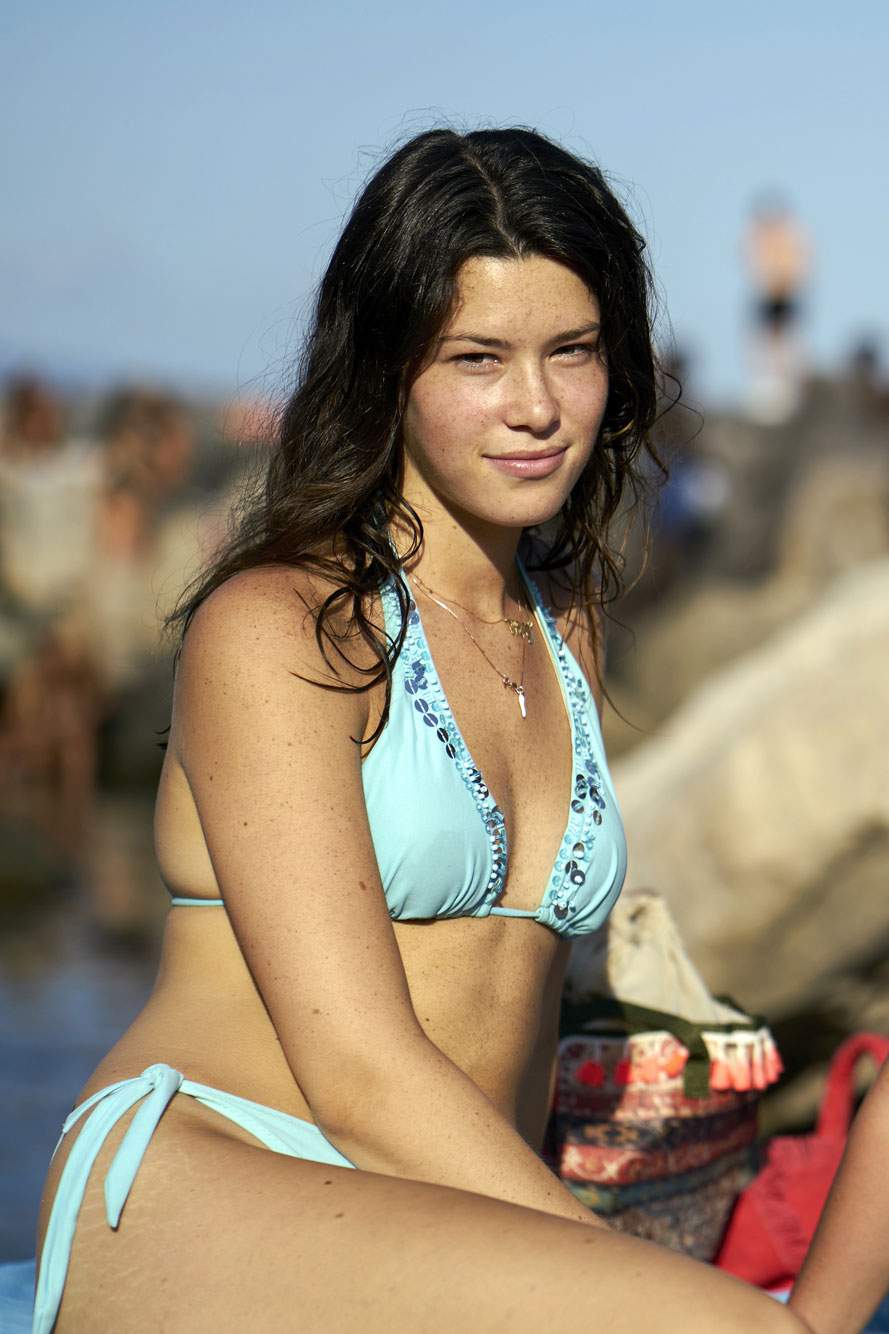 Down on the sand, Alessandro the lifeguard is also Alessandro the sun-lounger attendant. "Let's call this a chilled summer," he says. "Last year we had 71 beds and I met Australians who had come here from Bondi Beach. This year we have 37 beds and I've met people from Lazio." But you'd still save their life, right? "Oh, you'd never get the chance," he says, grinning from behind his aviators and surf-dude locks. "A Roman would never ask for help."
On the cliffs that enclose Sant'Angelo beach, a diving competition is hotting up. The boys (lean, tanned and nervously eager) have become more daring because the girls (lean, tanned and less nervously eager) have turned up to watch. Chiara and her friends, on holiday from high school in Naples, finally deign to skip over the rocks to the cliff edge. Renato looks like Michelangelo's "David" in black trunks and with a small gold ring in his ear. He's not the bravest diver but Chiara doesn't mind. They make a good couple, don't they? "Only sometimes," she says, with an attitude it will take a northern European girl another 20 years to master. The waves swell and crash some 30 metres below, maybe 40. Campania's coast is rich in stories about sirens – and men dashing themselves on the rocks.
Back on dry land stands the Hotel Parco dei Principi, Sorrento's loveliest hotel and a masterpiece of modern architecture, completed by Gio Ponti in 1962 on a plot for a palace that belonged to the King of Naples. The young, charming direttore is Giada Falanga, here since February so yet to see a proper summer season. She has been very keen to get to work. "Look, it's been difficult and northern Italy has been stressed out," she says. "And when they need to relax, we get to restart." Simple, then. "Yes, you're never without a friend in the south; we spread la dolce vita, we spread the warmth." The hotel's private beach, like the hotel itself, is humming along nicely but far from crowded. It suits this setting, the self-possession, the space. "After the Second World War, when Italy was rebuilding, this place was an icon of Italy's design success," says Falanga. "This isn't a war, of course. But perhaps we again have that opportunity to stand for something, to be calm."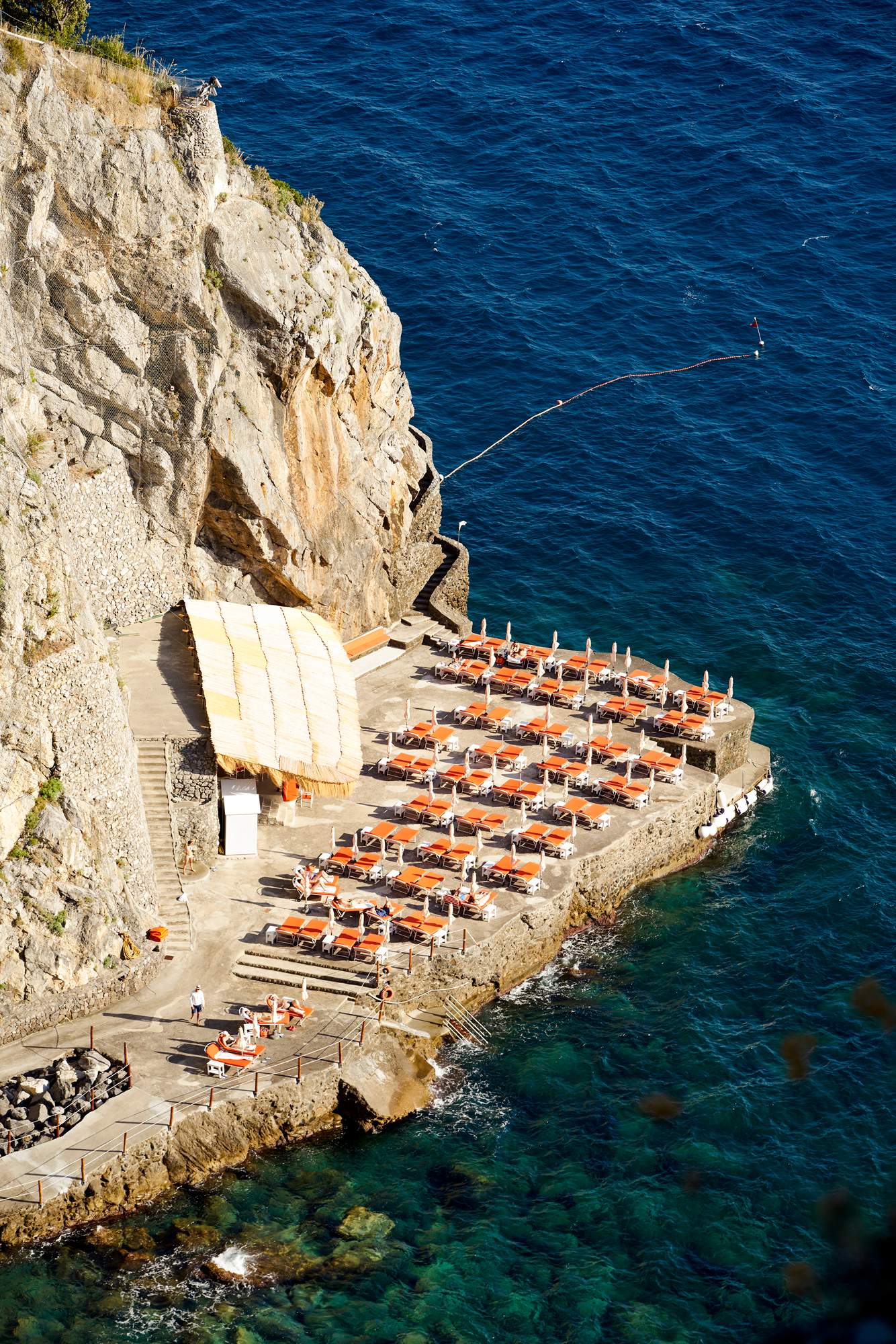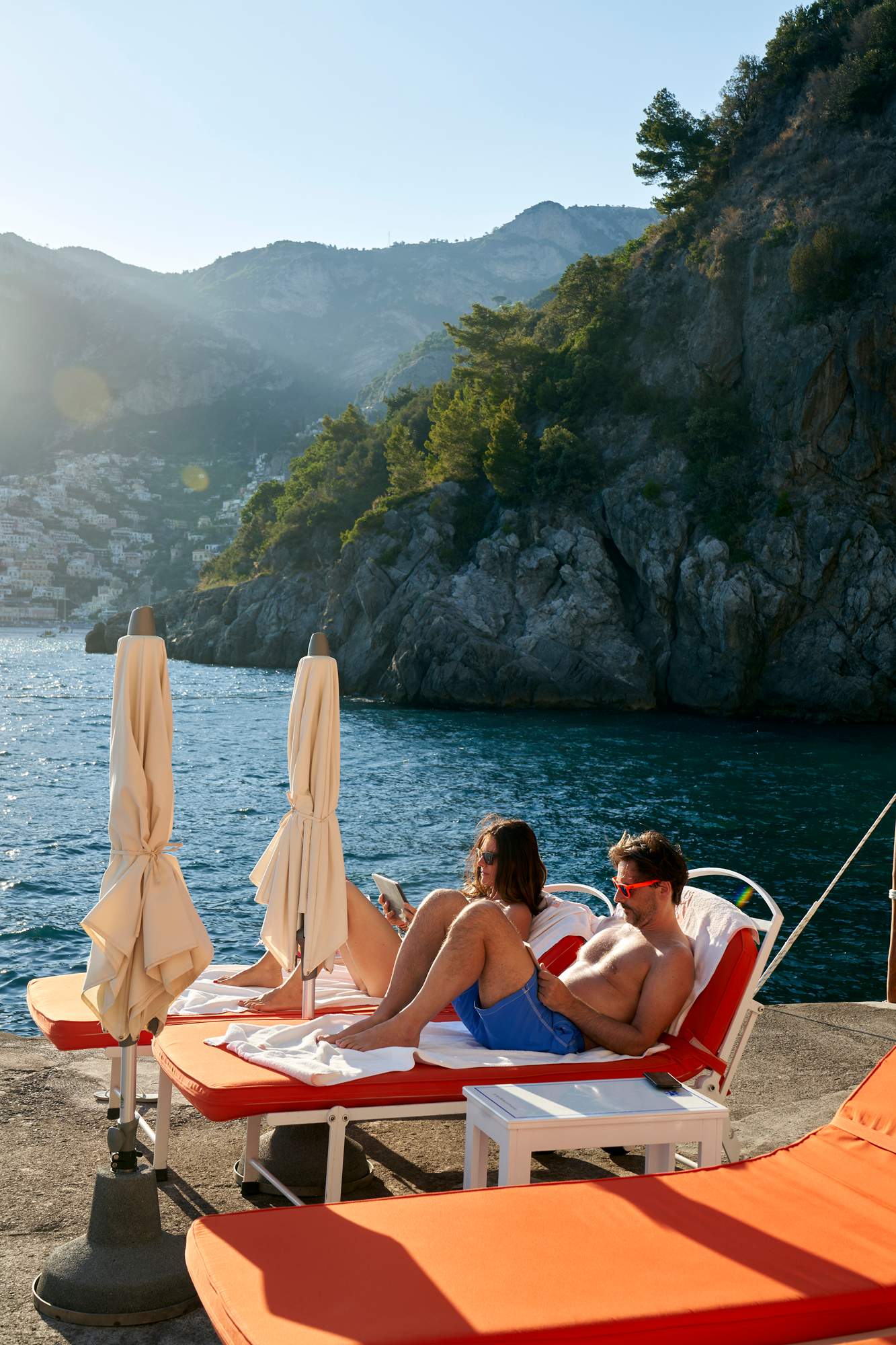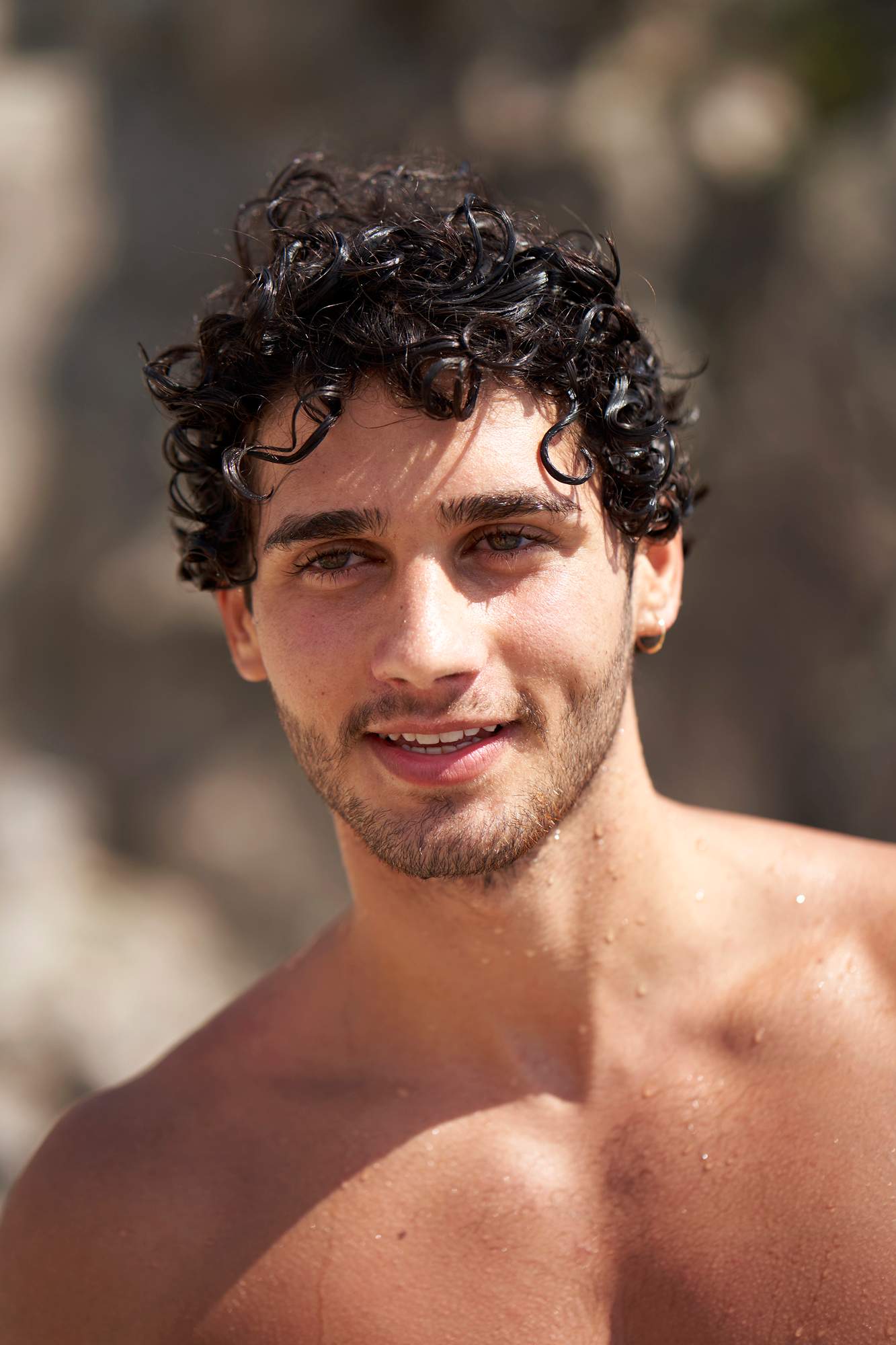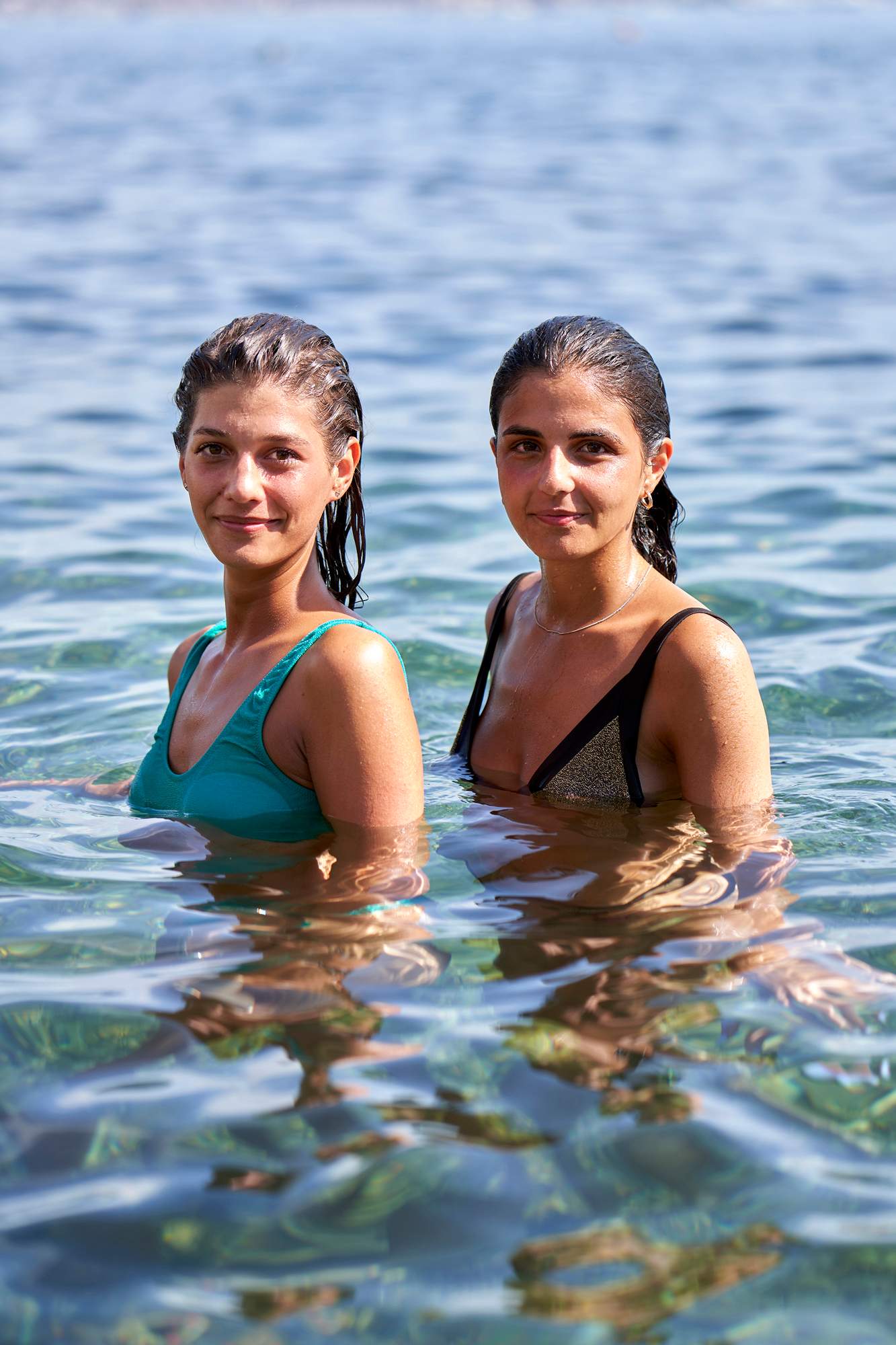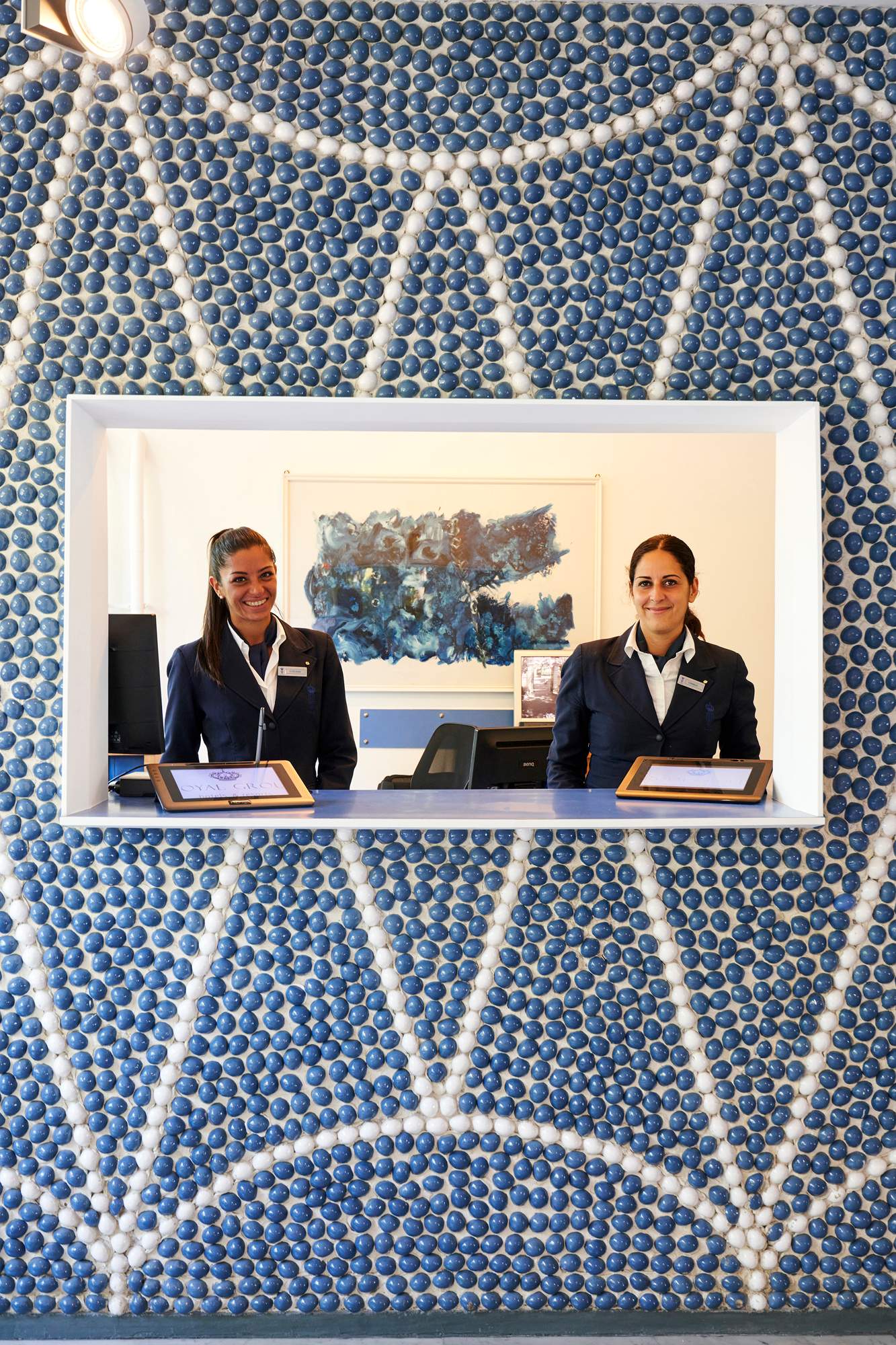 If you've seen a man walk into a lamppost while staring at a woman, the drive from Sorrento to Positano is that but with roads. The views from the unpromisingly named Strada Statale 163 are beautiful, plunging from wisteria-shaded hairpin to deep blue sea. The roadside is all Vespas and Pandas parked up the verge, their drivers scrambling down steep paths in search of beaches below. After Positano, that chocolate box on ecstasy, has taken your breath away, the San Pietro hotel, perched on the next high cliff, might well steal your heart. Its stunning rooms are stacked into the cliffs and shrouded in bougainvillea, and its private beach and mooring are a heady mix of tiki-bar glamour and maritime modernism topped off by the sort of scene- setting Slim Aarons would frame for a fortune. Vito Cinque, the hotel's owner, is in Genoa collecting a new boat to sail back to his hotel – but we find general manager Andrea Zana to be generous with his time, stories and gin cocktails.
"Normally almost half of our guests are return customers," says Zana, poised and athletic in a summerweight suit. "This summer, they're returning from a little nearer than usual." Italians, Europeans? "Exactly. Normally our guests fly in and arrive by taxi, so there's plenty of space in the carpark," he adds. "But this year they're driving all the way; we don't need to ask where people have come from." A quick survey turns up Italian plates, two Swiss and a Belgian. Like the hotel, the cars are serious pieces of engineering. They're not Pandas and nor are they parked up a verge. That's because they haven't been on the San Pietro martinis, which are sí, per favore.
At a Positano beach club the next morning, Francesco, another lifeguard and sun-lounger attendant, is philosophical about the summer while taking €50 from a couple who fancy a dip. "The problem with serving Italians is that they treat you like a brother," he says. "But then the beauty of serving Italians is the same: they treat you like a brother." A country, then, a model for the world; reunited by sunshine, by good service, by a smile? Well, Italy went on holiday. Just like that.