Travel / Germany
Change attire
A roadtrip in a southern German region rich with wine, dining and climbing.
Depending upon whom you speak to, Franconia is either a spiritual notion like la France profonde, a medieval realm of the senses that happens to be both a gastronomic revelation and a vast natural playground, or simply "the quieter quarter of Bavaria", in which it sits. Asked about their beautiful old patch, Franks scratch their chins and wonder. It's that unusual thing, an "administrative area" that has acquired the romance of mystery – perhaps it is an idea as much as a place. It seems, then, Franconia is open to discussion over a few glasses of exceptional wine. And we're on holiday, so that's just fine.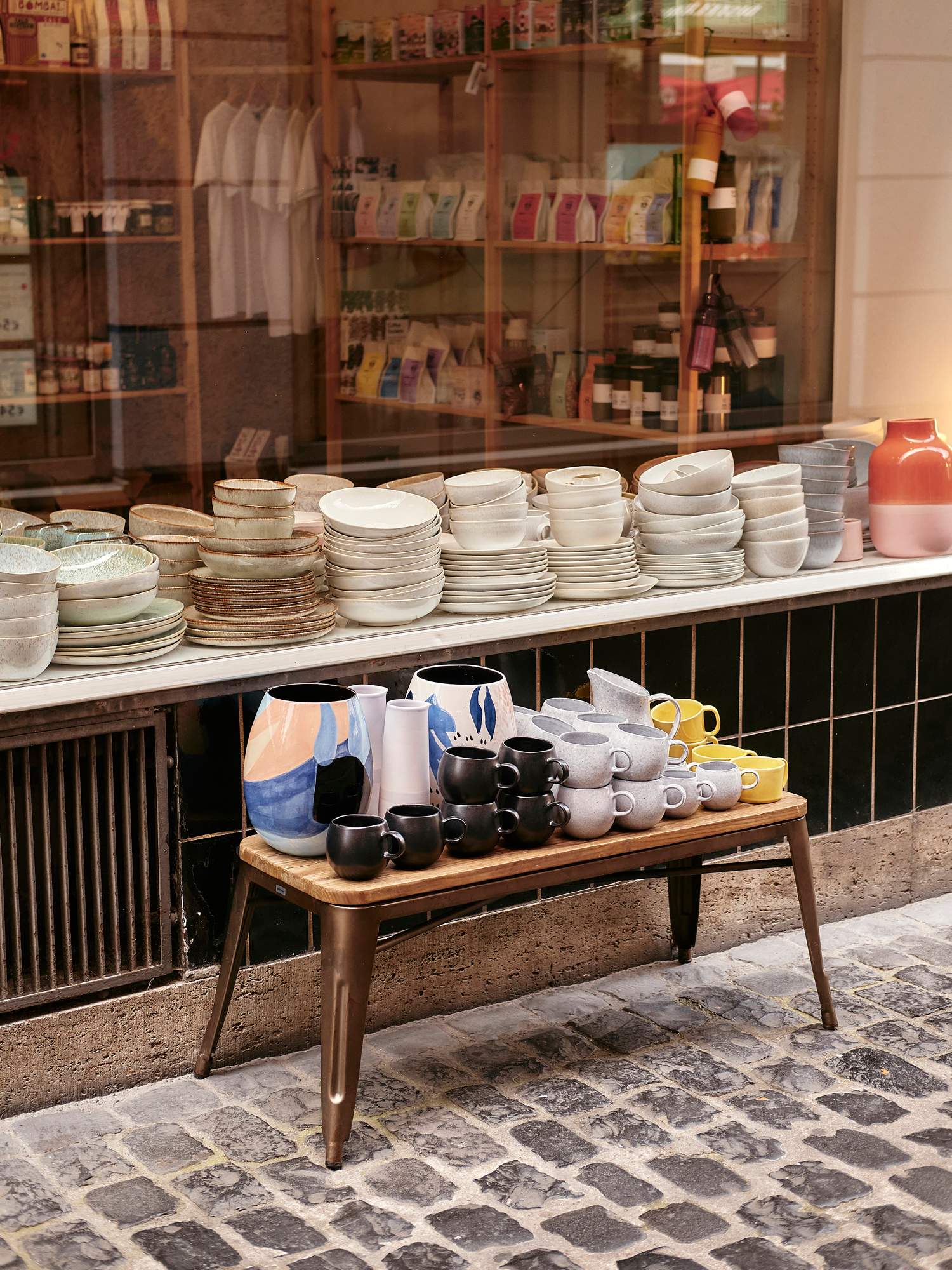 Würzburg is a lot to start with: a winding medieval city with rococo flourishes and baroque baubles that was bombed to hell, beautifully rebuilt and possesses an air of quiet bourgeois grace enlivened by a sizeable student population. On the evening monocle arrives, all generations are discussing much over many beers in and outside the bar at Sternbäck, spilling out into Sternplatz. Markus Engert is a goldsmith and designer who makes sure that some of those baroque baubles, and Bavaria's general air of luxe Roman Catholic trim, stay as good as new while making modernist and contemporary designs of his own. His workshop is a long, well-lit window where craft becomes subtle showmanship. He shows us a golden chalice from 1700 in better nick than a museum piece and a new diamond ring set in chunky gold; you'd dare not show a photograph of it to your wife. There's a lot of care here, facilitated by wealth: every monument, church, cross, Christ and Virgin shine in the autumn sun.
The gleaming city has lately attracted café-owners from Berlin, a fresh vintage of wine-makers from all over Europe and families from Munich who would like to be even closer to nature, according to Joanna Mazur, who runs the Vue Café and pop-up shop. "You have everything here – nature and culture," she says, as her coffee machine grinds and froths, and she runs through a selection of very local wines from vines that run down the steep banks of the Main to kiss the river, less than a stone's throw away. "I think there's a new generation making something different."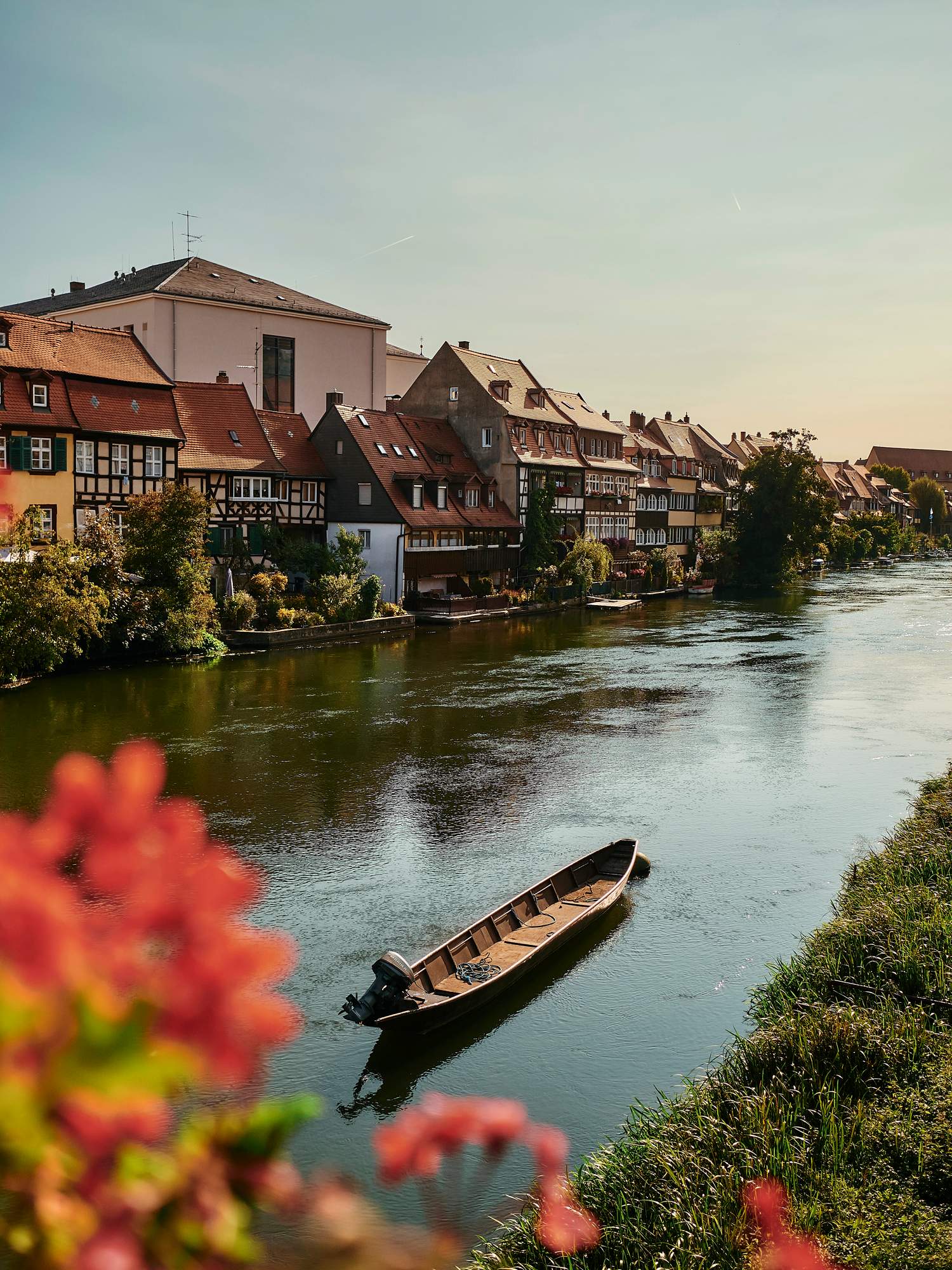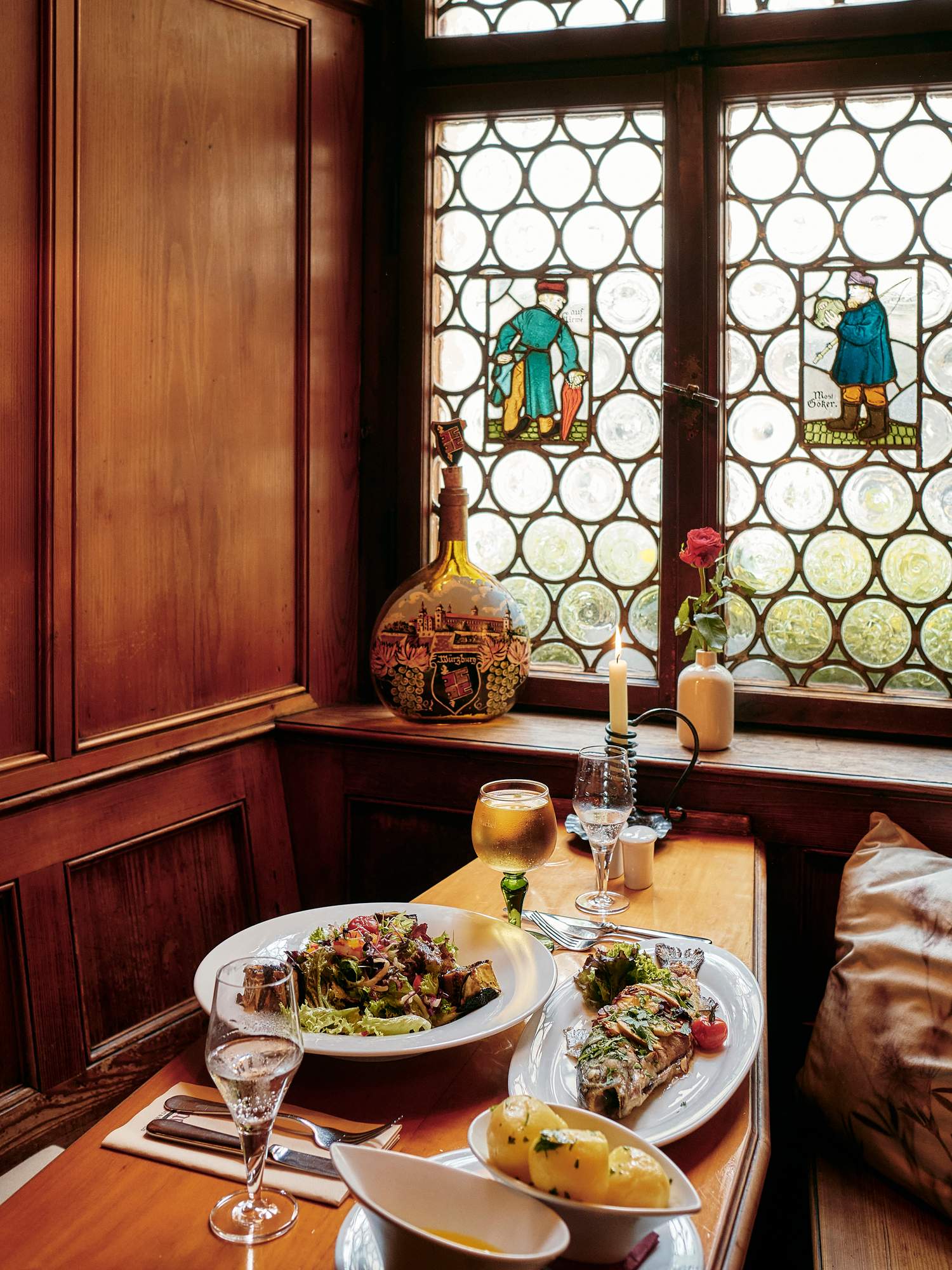 When Joanna talks about the "old way of doing things", she's not talking about ancient duffers demanding bratwurst for breakfast but rather the city's "20-year obsession with Italian café culture" (well get you, Würzburg). And there are a few places nudging up alongside the city's renowned culinary stagers: Glouglou deconstructs the traditional Lower Franconian fare of country cooking and river fish with class over fuss, Café Centrale does that Italian obsession thing very well and Maiz makes good Mexican. Stachel, though, named after a sort of horrible spiked mace, has been going for some 600 years – but just seven of them under the direction of Rolf Schulz, a cool, amused Bavarian Bill Nighy. All stained glass and low lighting, it executes the traditional with excellence: Fränkisches Sauerbraten is braised beef in dark wine-and-vinegar sauce with potato dumplings; pork roast and lamb knuckle weigh in over the wiener schnitzel; and pike-perch and trout, from the Main and its tributaries, boss it over the herring of Germany's Hanseatic cities in the north. "But you guys are looking for wine, right?" says Schulz. "Well go on, you go off to Iphofen; it's ground zero for Frankenwine, OK?"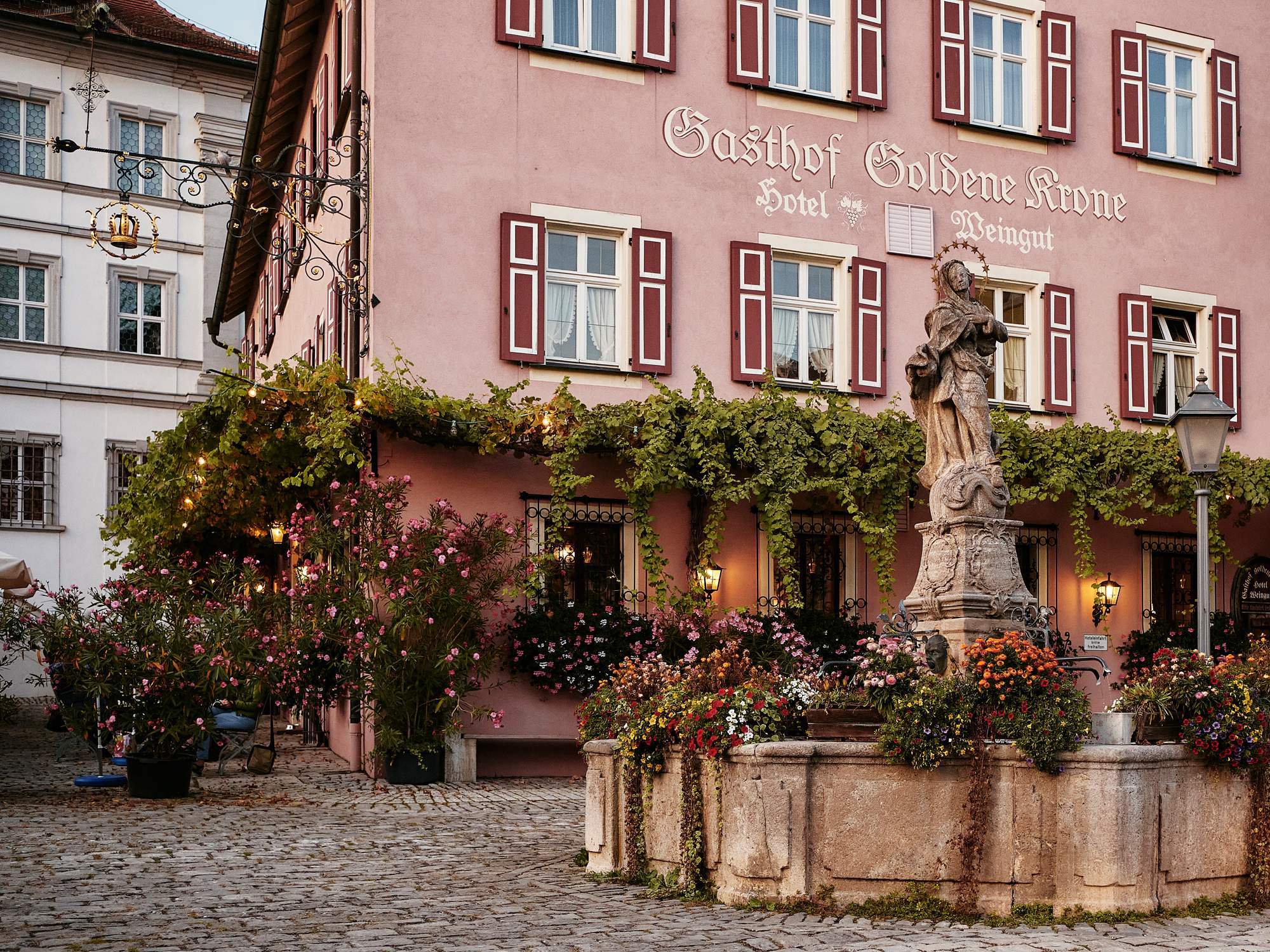 Totally OK. In roadtrip terms, pretty little Iphofen is just around the corner in a gypsum-rich flat valley floor, once a primordial ocean, now a sea of silvaner, riesling and Spätburgunder vines (and many more), about a third of which are owned by Weingut Hans Wirsching. This going concern since the 1630s is now run by the 14th generation of Wirsching: Andrea, a charming blur of deep knowledge, sly jokes and endlessly popping corks. "Fortunately for us at the winery, the soil around Iphofen is wonderful for grapes but the water is too bad for beer," says Wirsching, as she leads us through the winery to taste a second pressing of rosé. "But we need to think of the future and export more: in 20 years there won't be enough Germans to drink my wine because the next generation have different lifestyles." She is referring both to the other sort of wasted youth – propriety as sobriety – and the idea among vintners that the Germans, and especially the Franconians, don't export their best stuff. "We can only make a certain quantity at the best quality and the German market is big enough to keep us happy," says Andrea, "at the moment". Of course, her best stuff is exquisite and holds a passport but the heavy old Bocksbeutel, the traditional Franconian flask-like bottle, is a rare sight abroad compared with the sleek spires of the wine of the Mosel. We drink silvaner grand cru and the afternoon gets very golden.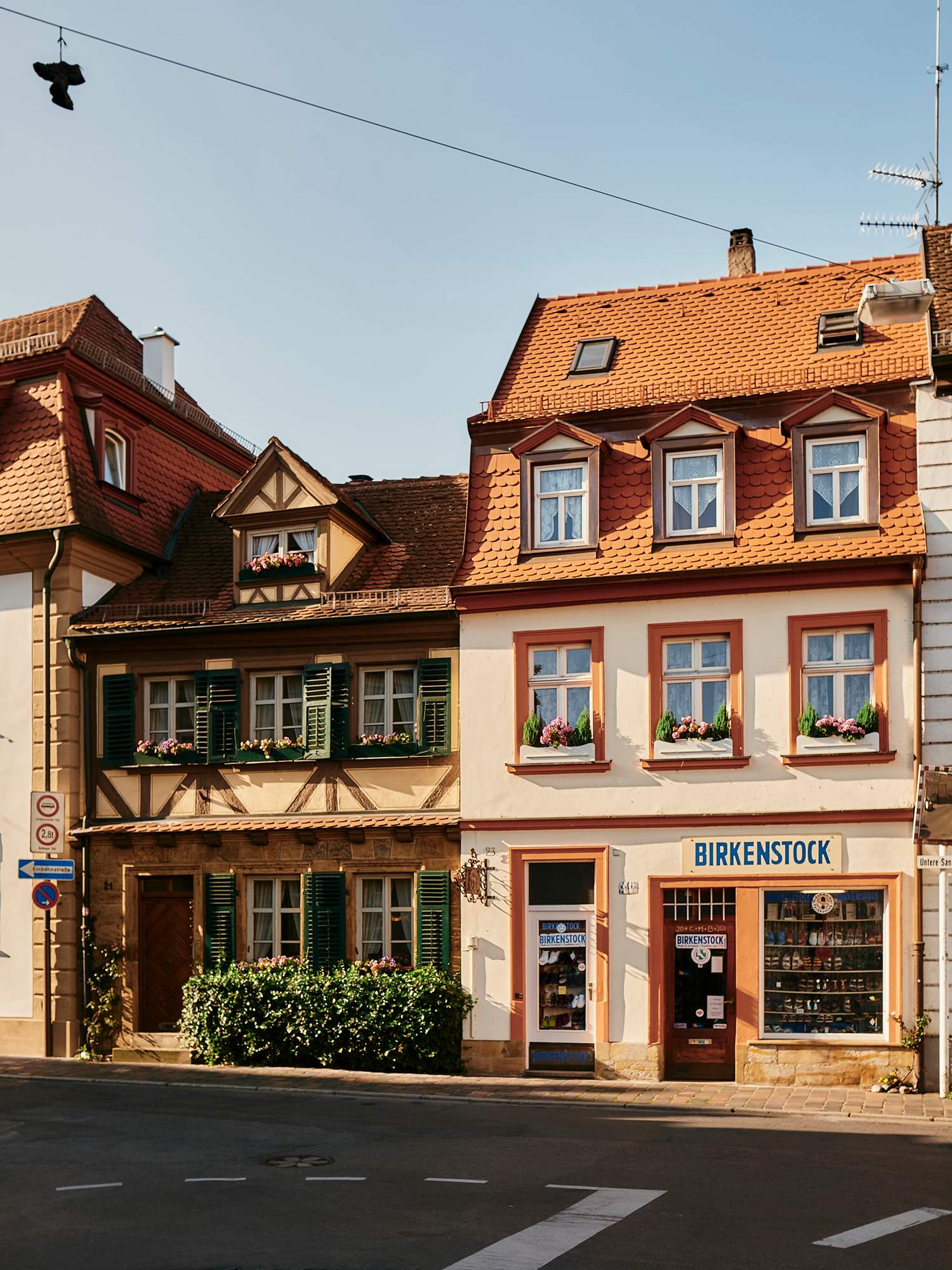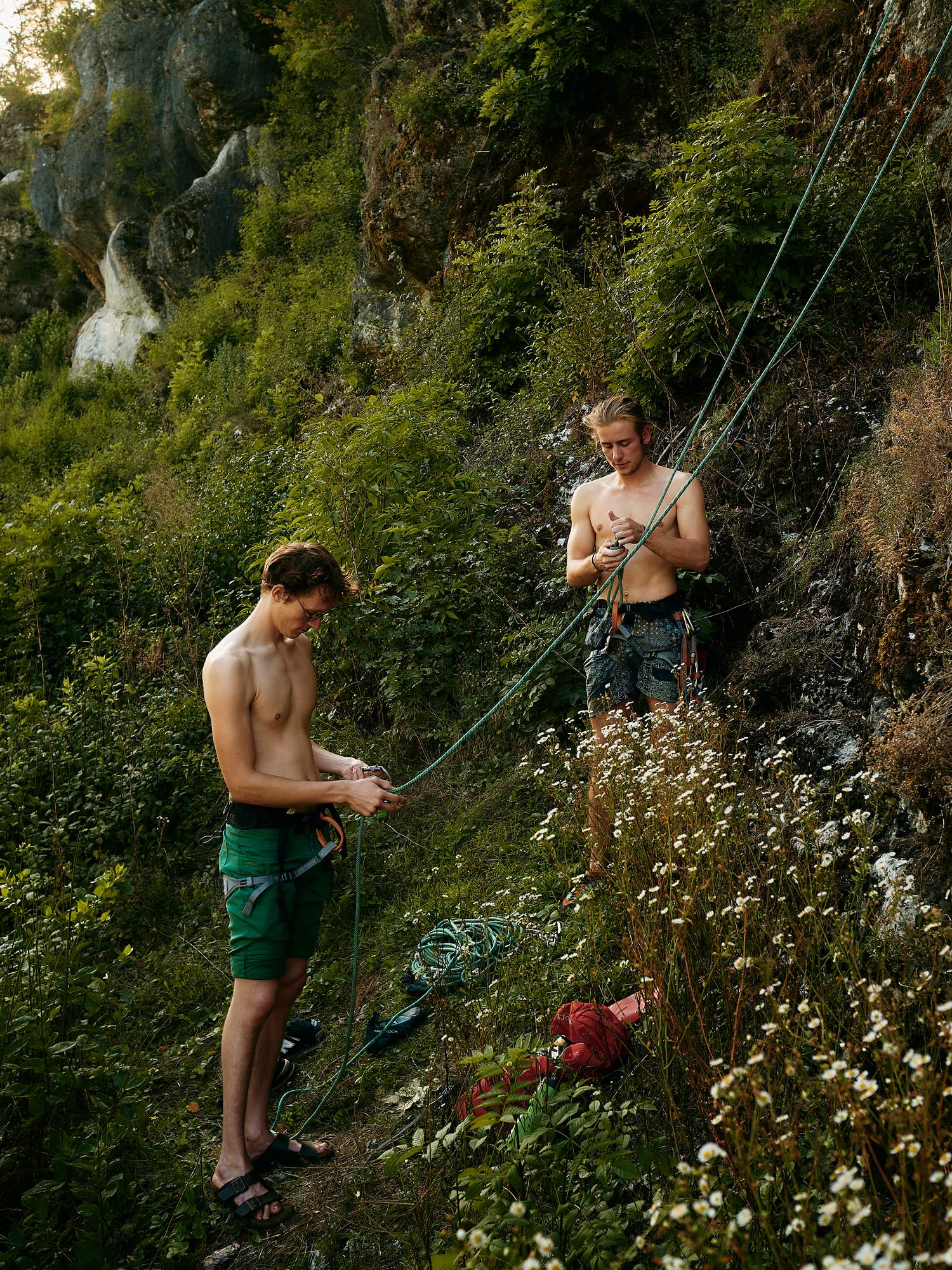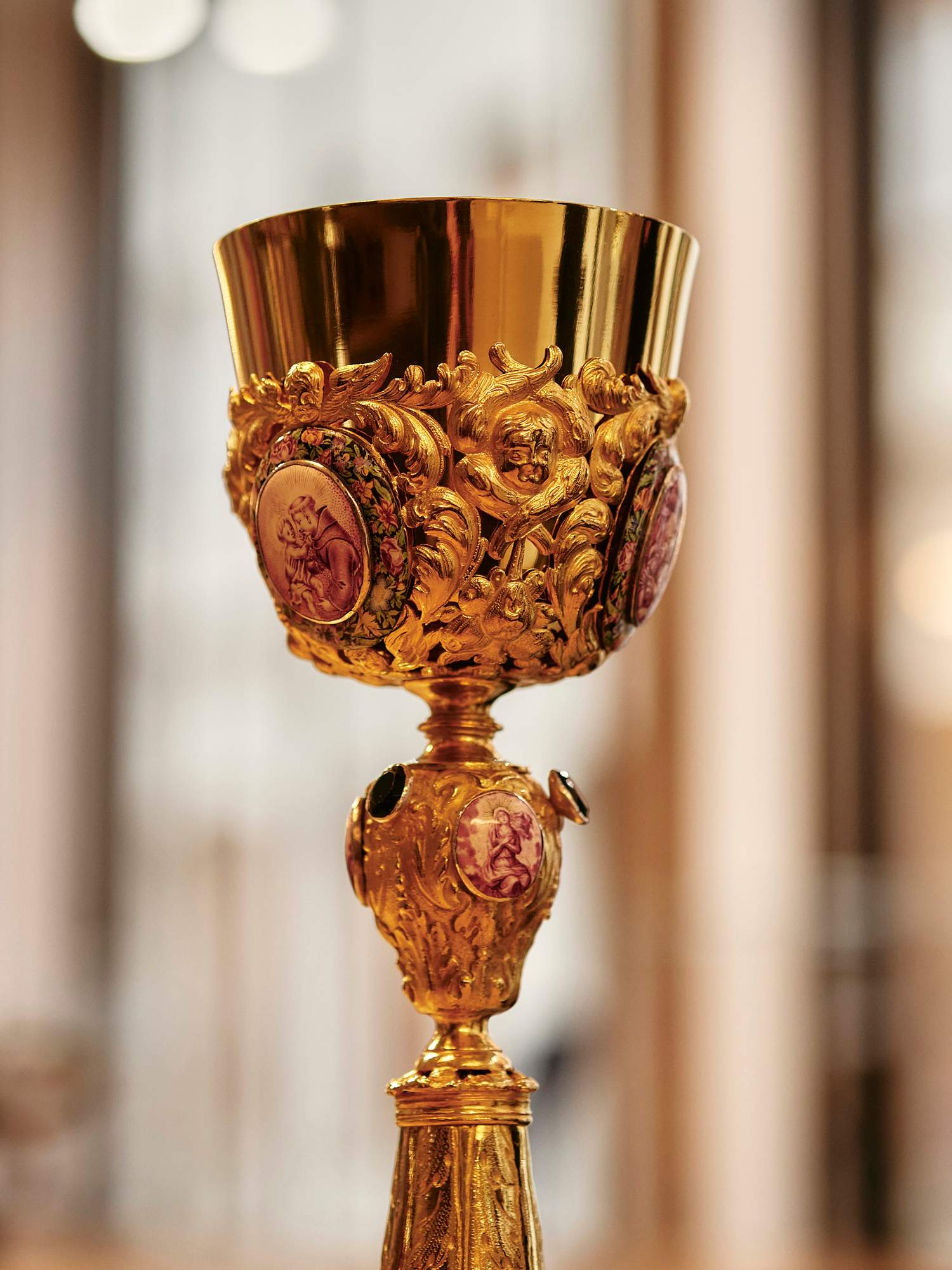 With the car from Wolfsburg packed with bottles, the road to Bamberg seems even dreamier. We're headed from Lower to Upper Franconia, to an area (even) more specifically known as Franken Schweiz, due to its vertiginous good looks and snaking roads. Yes, it's another town of absurd medieval beauty that would make Walt Disney weep into his sketchbook. But Bamberg is also a bustling young place of cafés, bars, good shopping, a daily market and an incredible venue in the Villa Concordia for visiting international artists. In the centre of town, on the bridge running through the Altes Rathaus, teenagers flirt and take photos above canoeists slaloming in the currents of the Regnitz as it rushes to meet the Main. No bad water here: dozens of small breweries jostle for your refreshment and affection. Brauerei Fässla and Der Pelikan keep our whistles wet but there are dozens of beer gardens and cosy restaurants, most with typically jolly Franconian service. We're clearly in stay-the-night territory. Gute Nacht.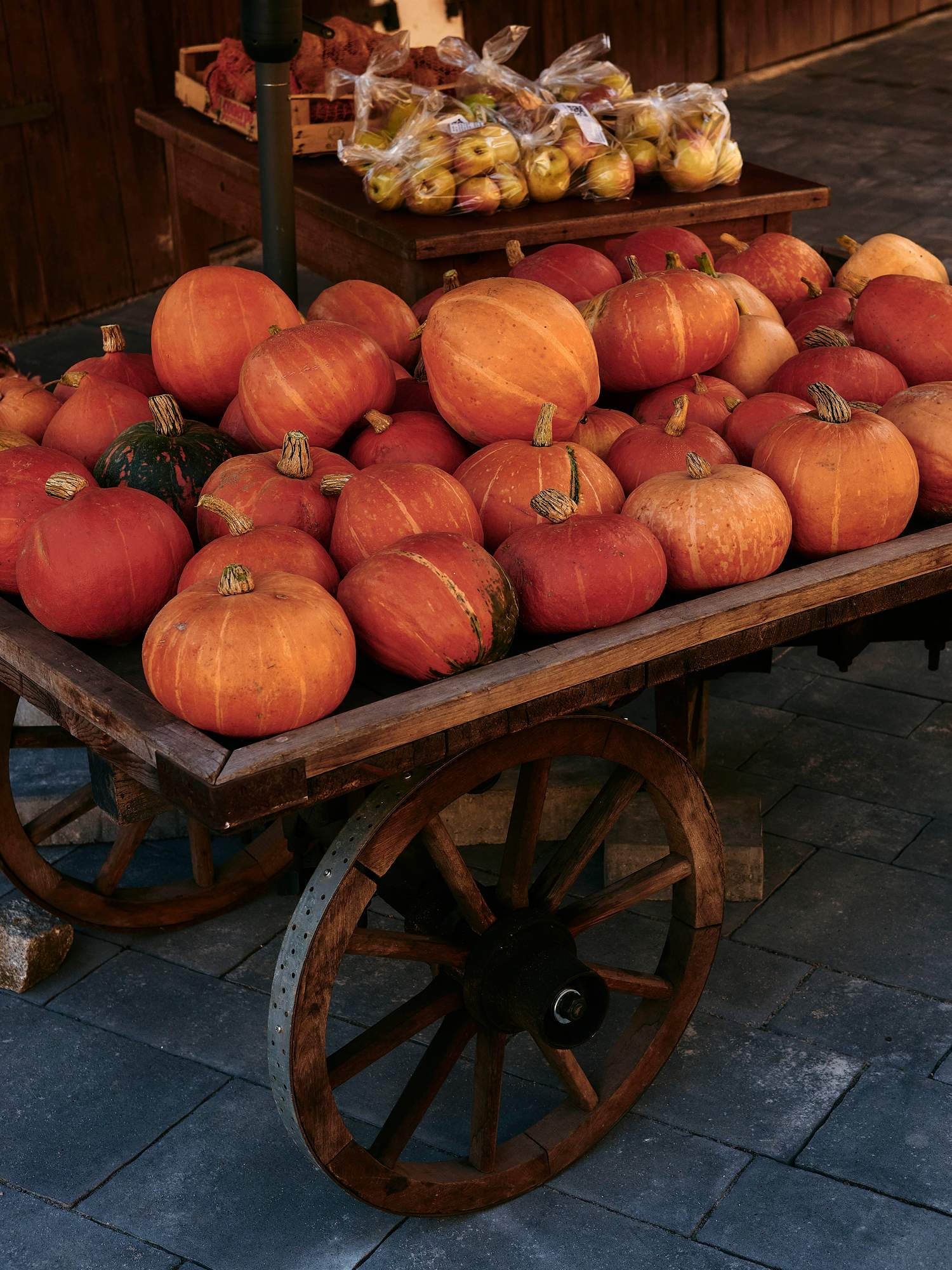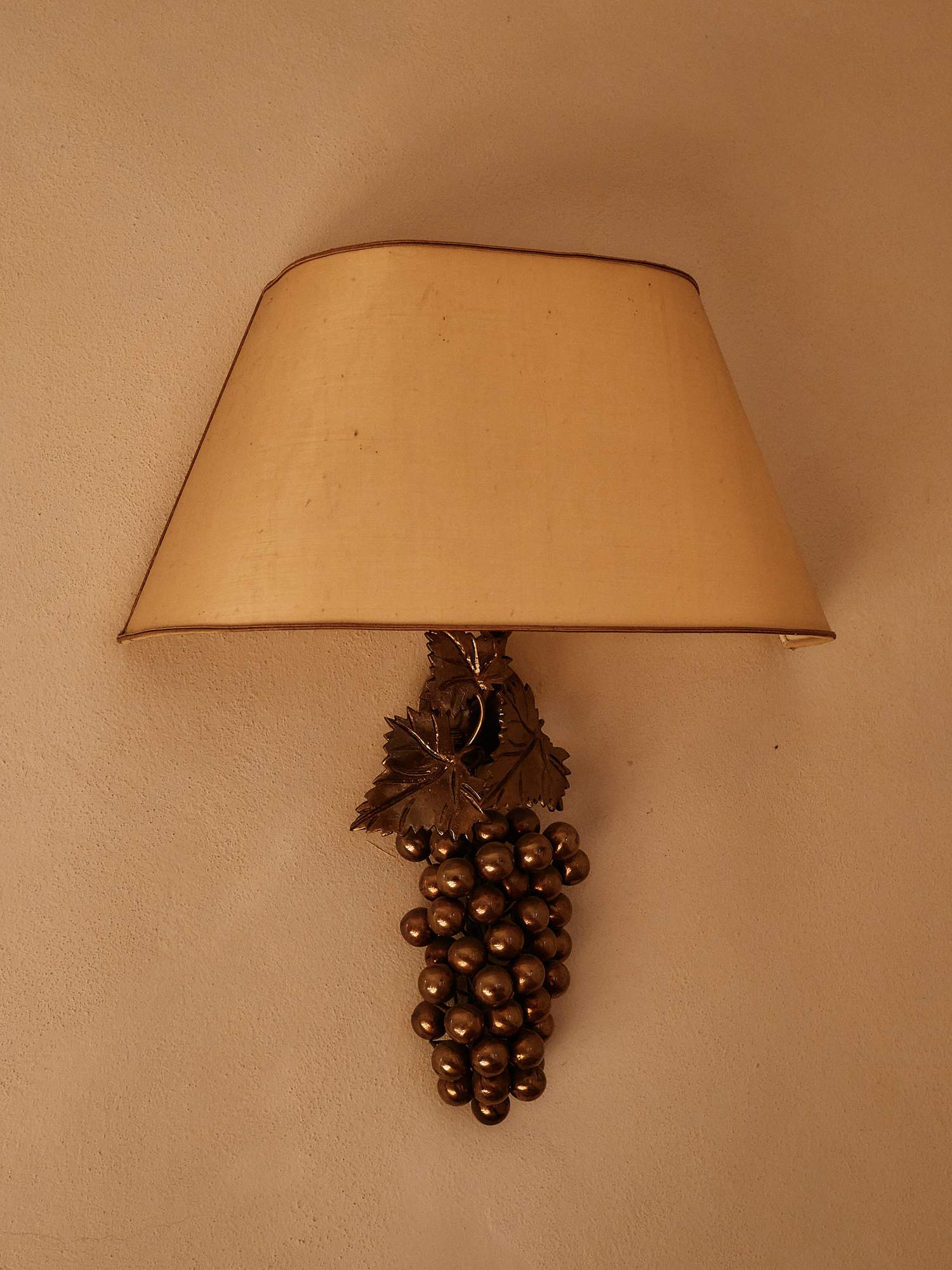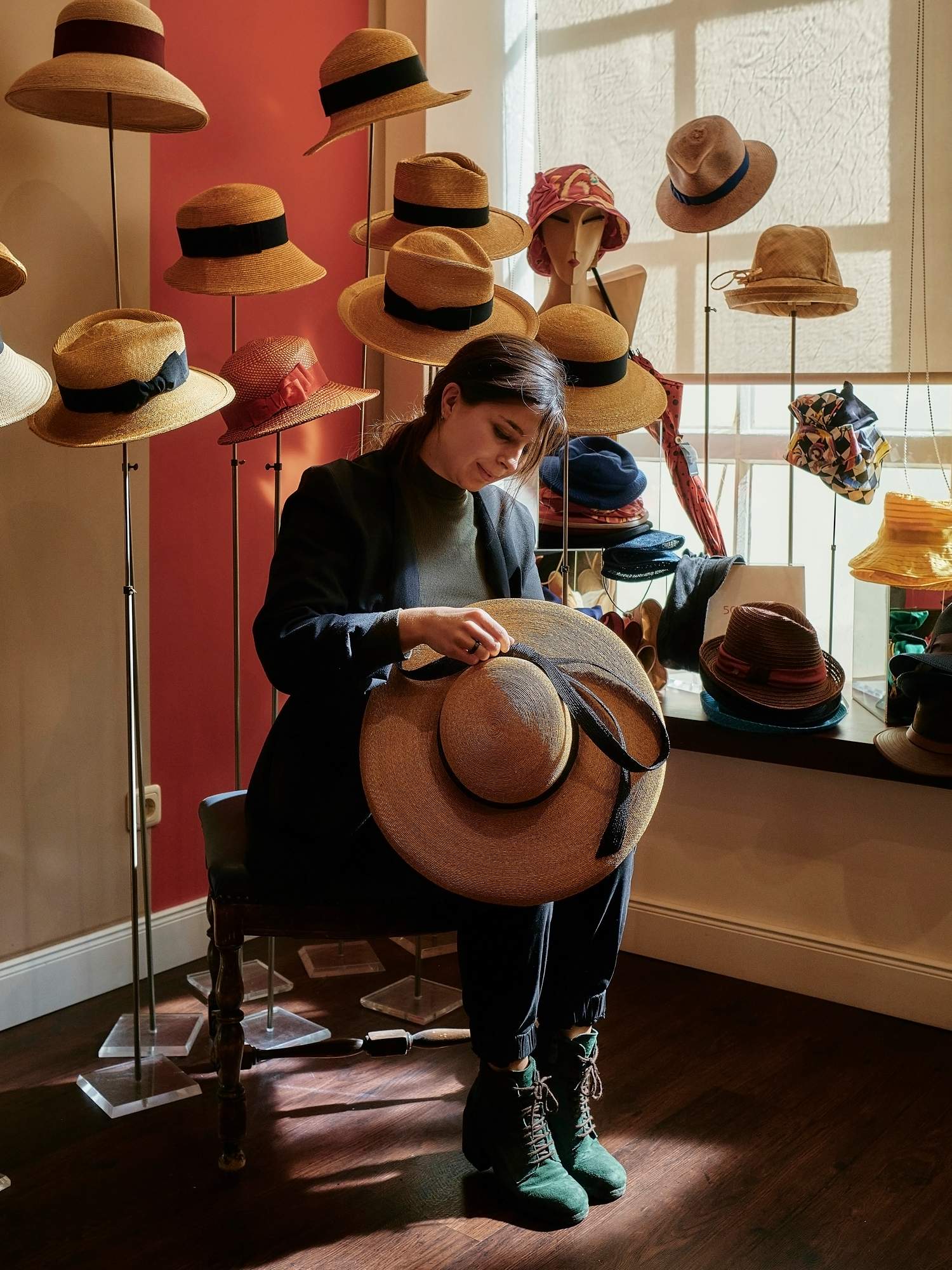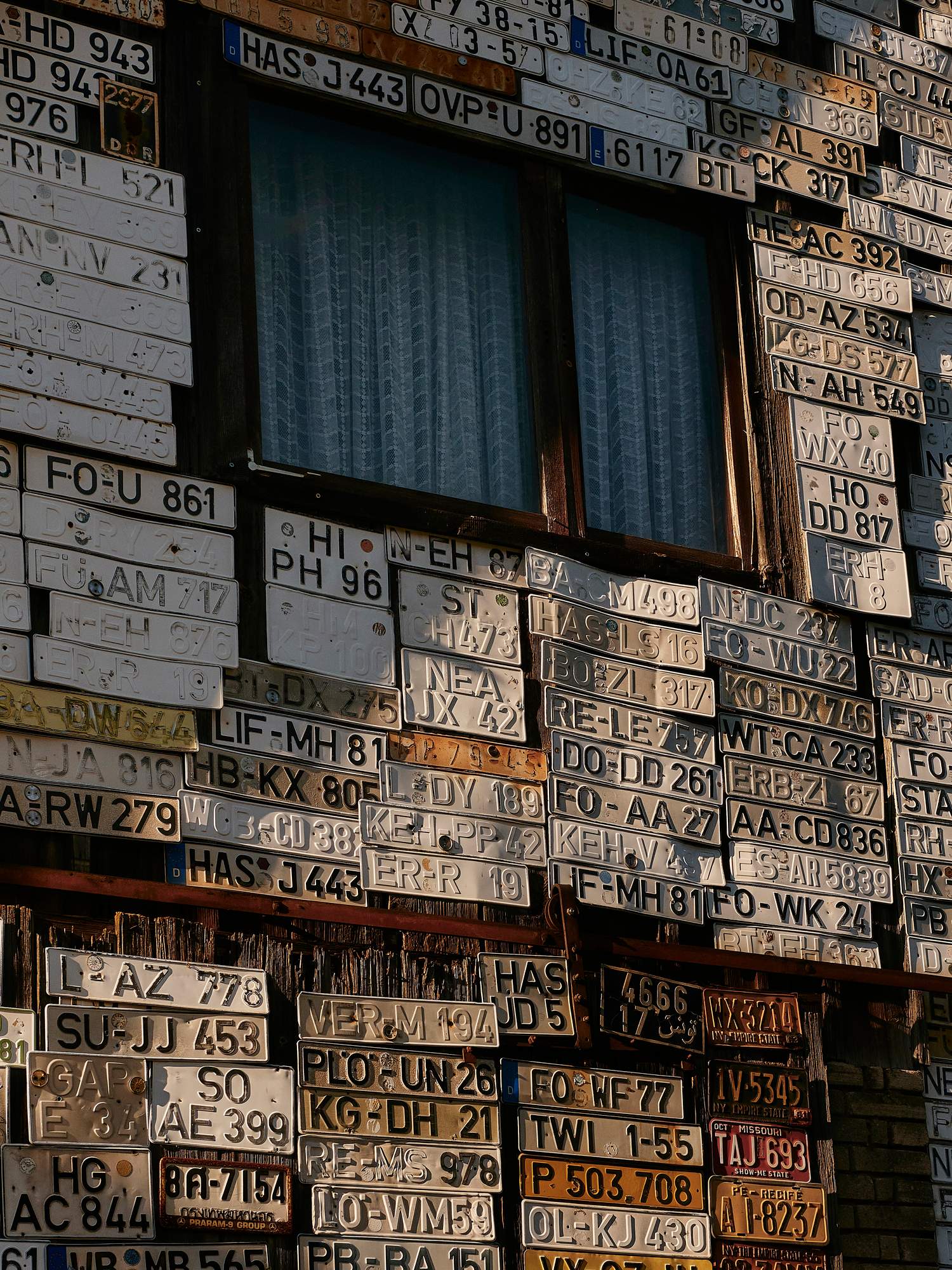 The next day the hills beckon and we're on the lookout for climbers and sheer rock jutting from the pine forests of Obertrubach's mini-Alps. Wolfsberg is a narrow hamlet above a ridge that Torben and Ben have come from Berlin and Hanover to climb. "It's our first time and we heard that the hills are beautiful and not too tough," says Torben. "The wi-fi's terrible but the beer and the views are good." Oh, we know. The last leg of our adventure descends through the little farms and twisting roads of Spies and Strahlenfels before circumnavigating Nuremberg to reach Regensburg. The thought of that – albeit stunning – city on the Danube being Franconian will have Franks spitting out their Weissburgunder. We peep into Oberpfalz but we wanted to see three rivers and were promised a tour of some bars – and, really, the Autobahn is every bit as fast as they say.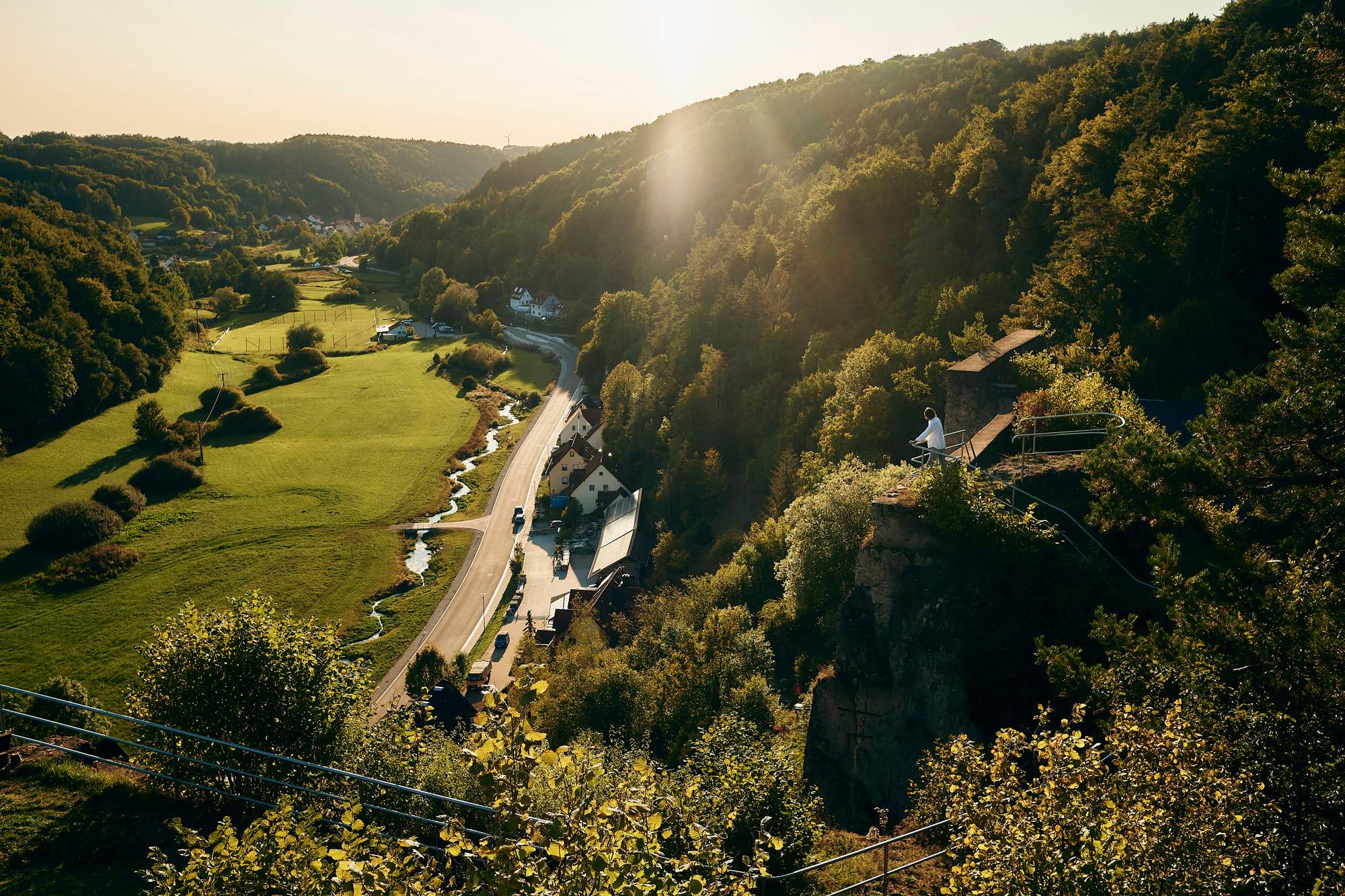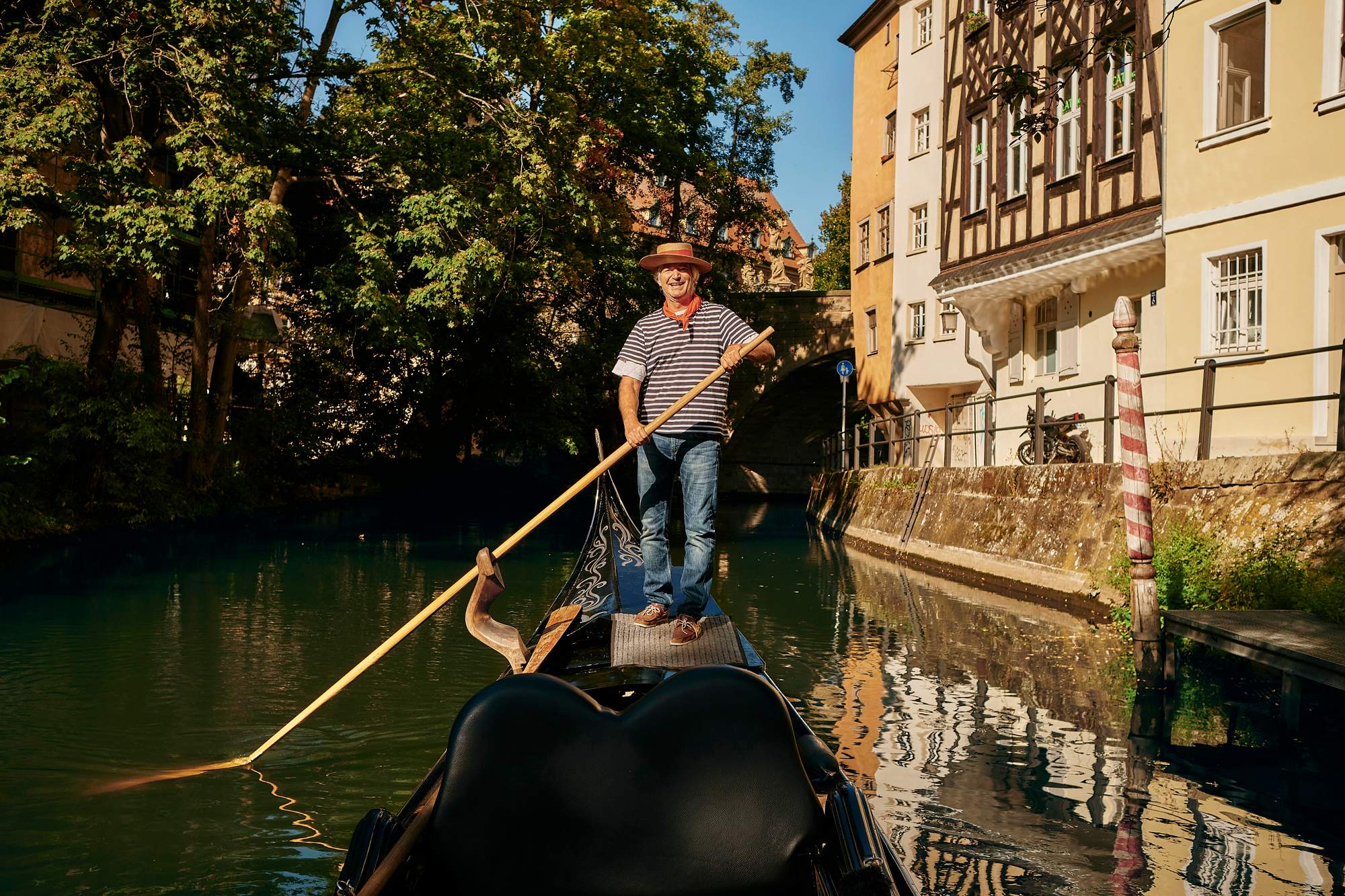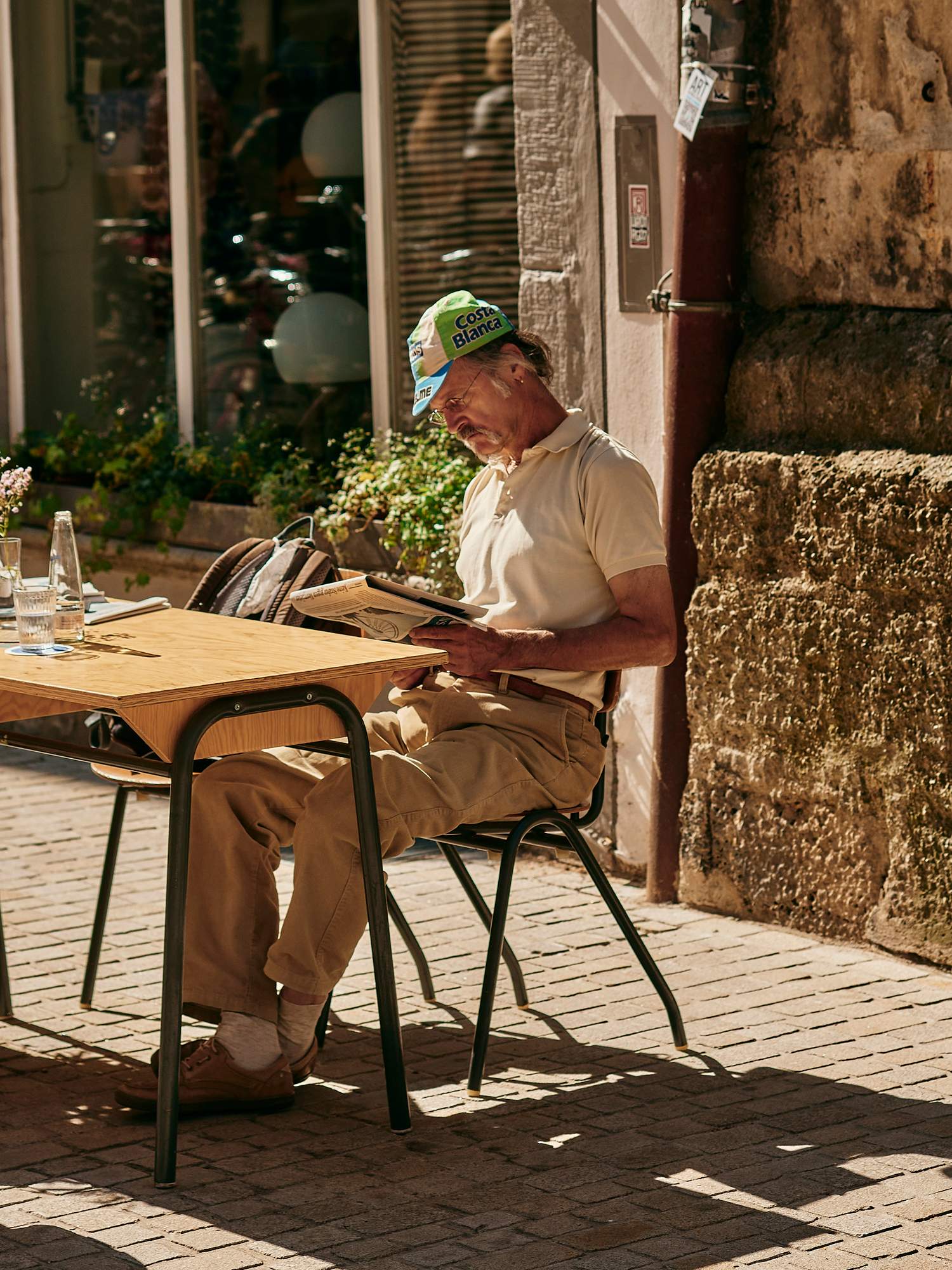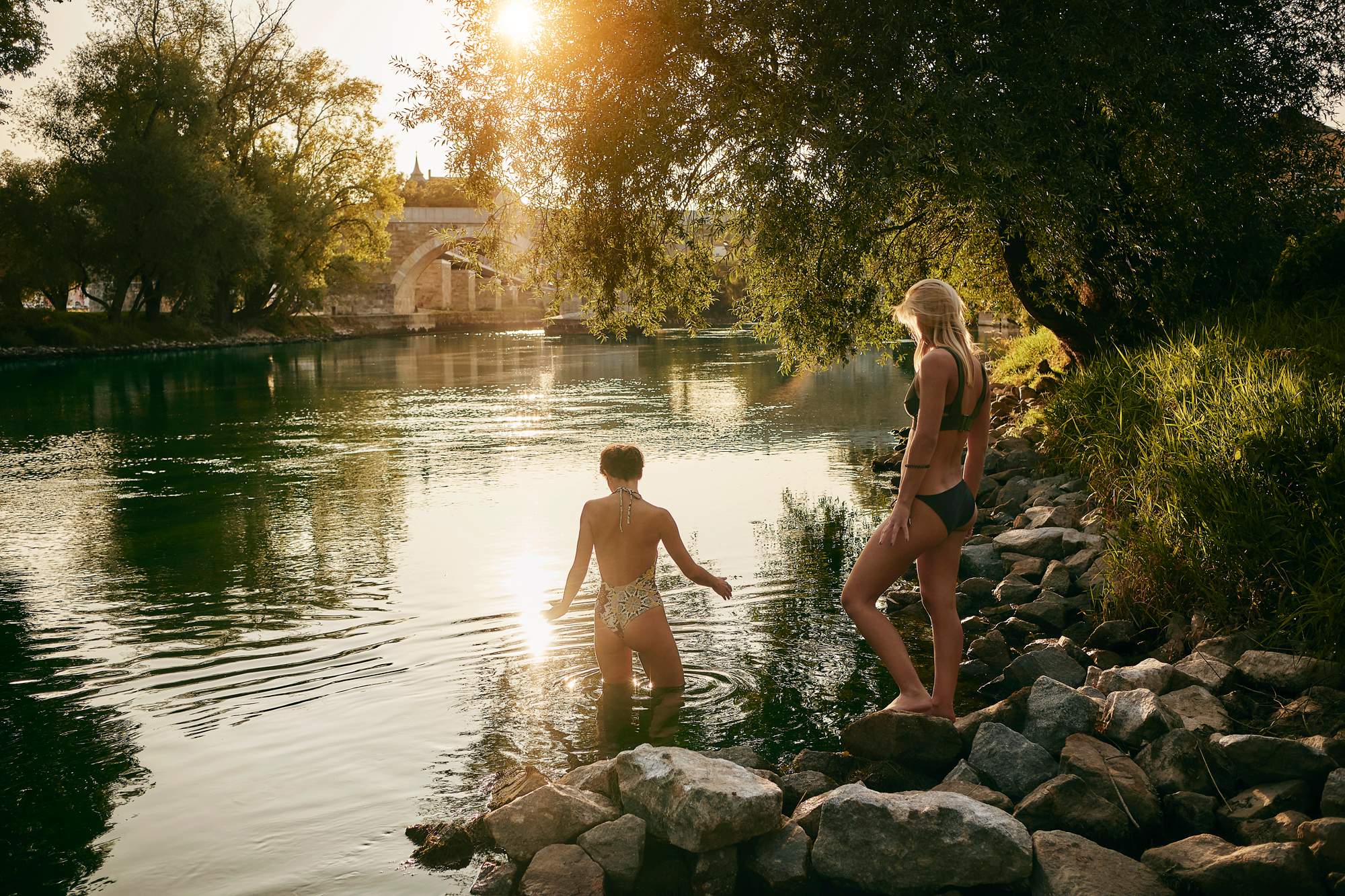 Miri and Klara are drama students in Regensburg, rehearsing for Electra. It's less horrendous than Oedipus Rex but you can still see why they're keen on a swim to wash away all that old Greek blood – and the Danube seems romantic to its last drop. Later, Dom St Peter calls 20.00 for dinner and drinks, and the evening winds on. To wake up in Regensburg with a head a little full of last night can be cured by a hearty breakfast in the crisp sun of Bischofshof am Dom's courtyard. That and a stroll through the city to the Danube, looking back at the shingles and gargoyles and gothic and baroque, at the ancient stone and stained-glass and the onion domes and copper roofs, and the sun glinting off 100 golden Christs and on plump silvaner grapes a day before harvest – all across Franconia.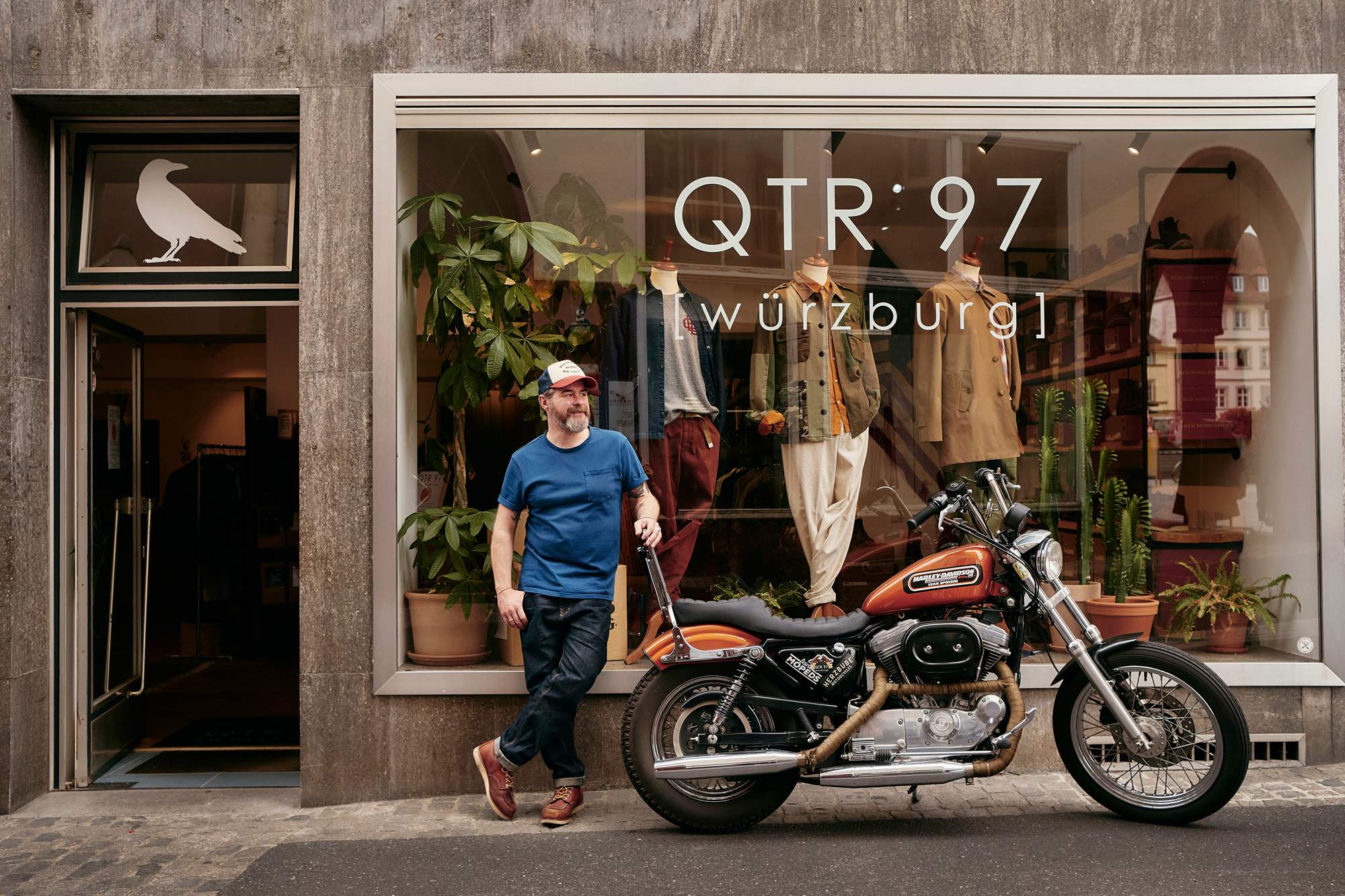 Franconia address book:
eat & drink:
Stachel
1 Gressengasse, Würzburg
weinhaus-stachel.de
Glouglou
31 Karmelitenstrasse, Würzburg
glouglou.de
Spezial Keller
8 Sternwartstrasse, Bamberg
spezial-keller.de
Storstad
5 Watmarkt, Regensburg
storstad.de
shop:
Goldschmiede Markus Engert
Goldsmith and jeweller.
18 Domstrasse, Würzburg
markusengert.de
Quartier 97
US workwear with a hint of Franconian flair.
5 Marktgasse, Würzburg
quartier97.de
Schneiders Hutmanufaktur
Hatmaker and milliner.
12 Grüner Markt, Bamberg
schneiders-hutmanufaktur.de
Keramik Werkstatt Gerhard Küffer
Ceramics.
1 Goldene Bären Strasse, Regensburg
kueffer-keramik.de
stay:
Hotel Rebstock
7 Neubaustrasse, Würzburg
rebstock.com
Hotel Bamberger Hof-bellevue
4 Schönleinsplatz, Bamberg
bambergerhof.de
Hotel Bischofshof am Dom
3 Krauterermarkt, Regensburg
hotel-bischofshof.de
see:
Museum im Kulturspeicher
Art museum.
1 Oskar-Laredo-Platz, Würzburg
kulturspeicher.de
Dom St Kilian
Church.
40 Domstrasse Würzburg
dom-wuerzburg.de
Weingut Hans Wirsching
Winery.
16 Ludwigstrasse, Iphofen
wirsching.de
Altes Rathaus
Old town hall.
Obere Brücke, Bamberg
Dom St Peter
Cathedral and Sunday service choir.
1 Domplatz, Regensburg